Smoked Caramelized Onion Butter is your next baked potato or steak's best friend. It takes smoked and caramelized onions and combines them with high-quality butter, and then whipped to form the softest, most flavorful butter, ever.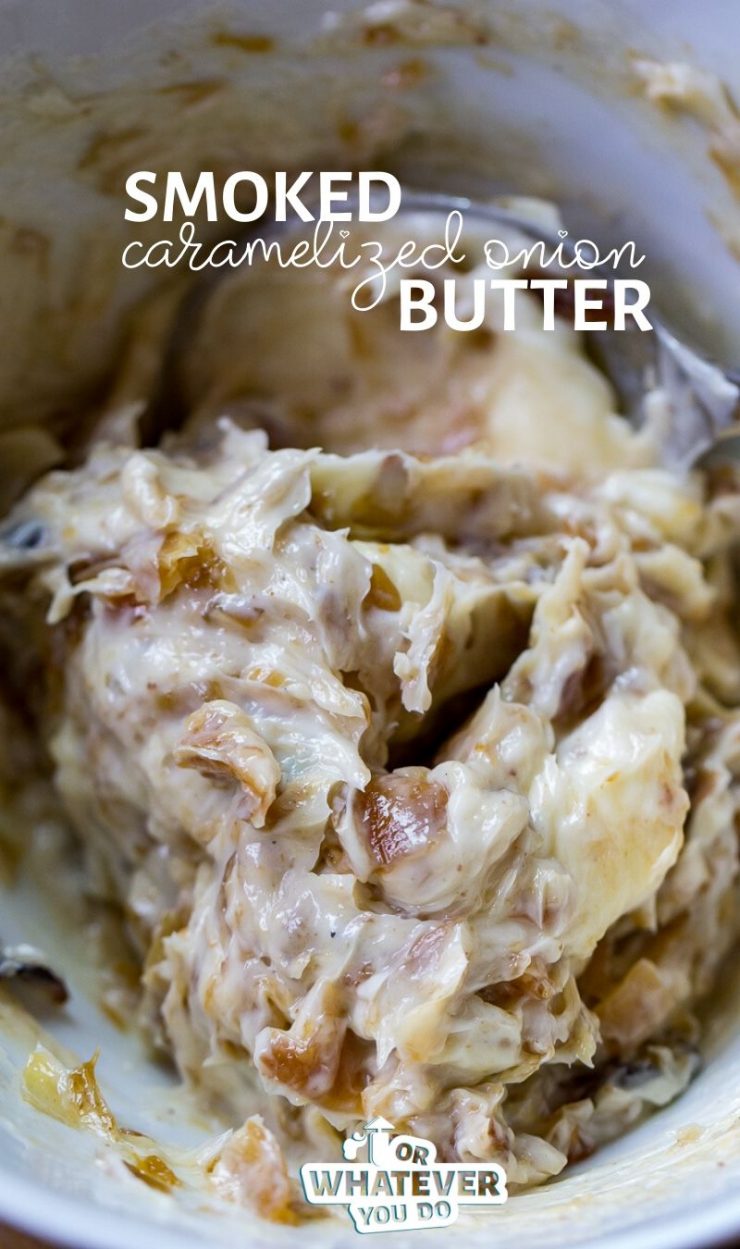 Smoked Caramelized Onion Butter
I'm so excited about this, you guys. It seems so simple, and it is, but holy cow.
I think I just leveled up my baked potato game.
This recipe was directly inspired by the fine ladies over in the Traeger Women Facebook group. Someone shared my Traeger Caramelized Onions recipe over there, and it totally made my day. Then they went on to talk about how awesome they were in caramelized onion dip, and how good they would be in butter on a baked potato.
I was all the way in favor of this plan.
I'm a member of more Traeger recipe groups than I can count, at this point, and I even run one myself.
They are great resources to figure out what went wrong with your cook, get new ideas for dinner, and just generally hang out and converse with other pellet grill enthusiasts.
Or Whatever You Do participates in several different affiliate programs. As an Amazon Associate, we earn from qualifying purchases.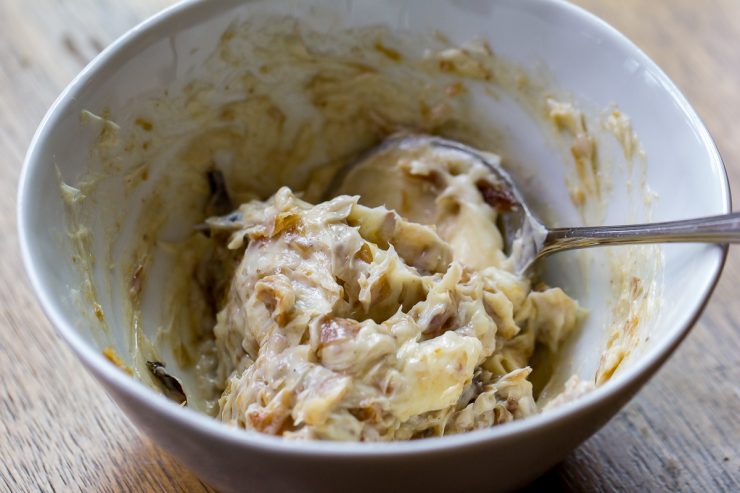 Caramelized Onions are maybe the best food there is
I used to HATE onions. When I was a kid, I was the kind of kid who would stop eating a meal entirely if it had chunks of onion. It really ruined the whole thing for me.
Little did I know that onions (and sushi) are actually incredible.
I don't even know how one can classify caramelized onions in the same category as raw onions. One ingredient rarely sees such an incredible transformation with so few steps and ingredients between them.
All that to say, even if you haven't historically enjoyed onions all that much, you may be surprised how many uses you could find for this caramelized onion butter.
More Easy Traeger Recipes here!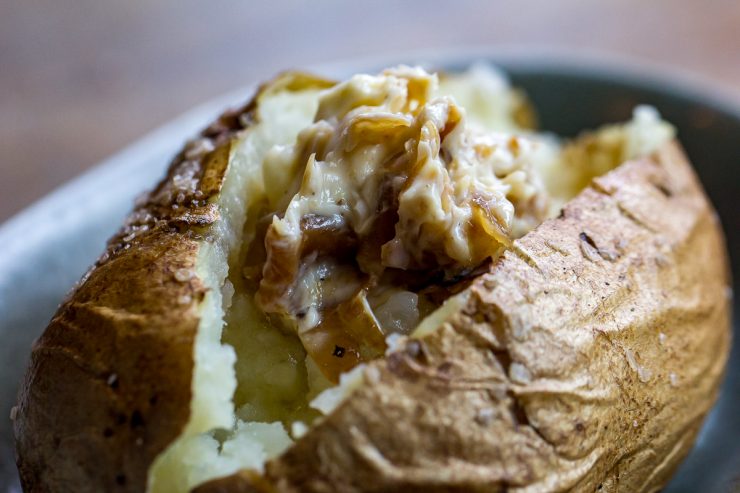 What if you don't have a smoker or pellet grill?
If you don't have access to a pellet grill, you can use any kind of caramelized onions here. There are stovetop methods, crockpot methods, Instant Pot methods, all kinds of ways to make these.
I think the wood fire and smoke adds an element that can't be substituted or replaced, but the end result will still be delicious with or without it, so don't let the lack of a pellet grill in your life put you off.
But. . . . . . . . . . . there are some good ones available. Just sayin'.
Buy your own pellet grill here!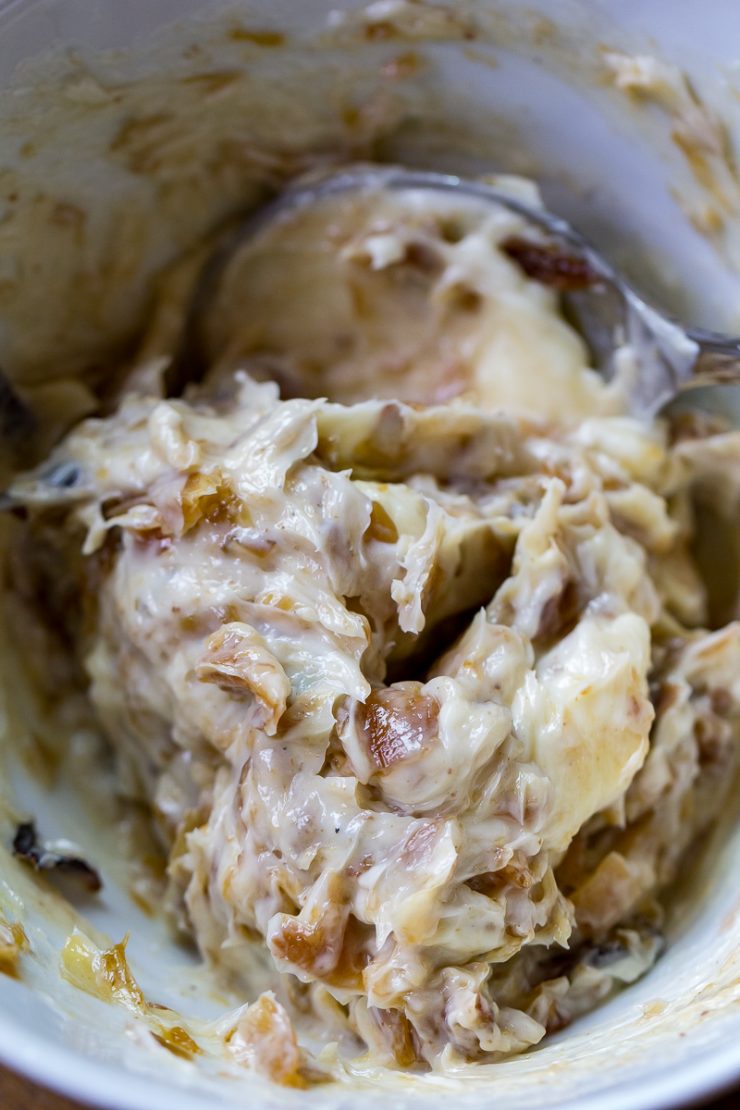 What should you use smoked onion butter on?
The first priority I had when I made this butter was BAKED POTATOES.
Not just baked potatoes, though.
Smoked, steakhouse-style bakers.
Enter in the trusty Louisiana Vertical Pellet Grill and we had a whole batch of bakers ready to go in just a few hours.
The other possibilities are endless.
You can use compound butter on the following dishes:
Steak
Fish
Seafood
Fresh bread
Baked potatoes
Toasted on bread (think garlic bread but w/ caramelized onions oh.my.gosh)
As a base to cook an omelet
on toast? (I mean. . . . . . . . . . . maybe.)
Make my Smoked Baked Potatoes with this!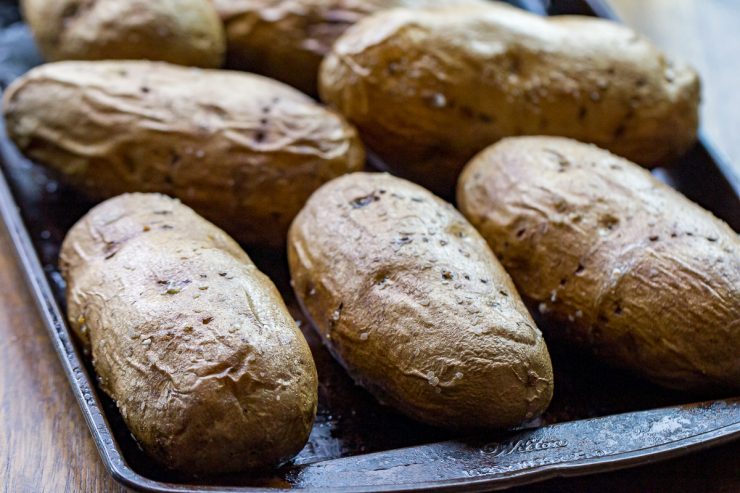 How to store caramelized onion butter
Store this butter in the fridge, and remove it several hours before you would like to serve it. Alternatively, chill and use a melon-baller to portion out into single servings, and then freeze to store long-term.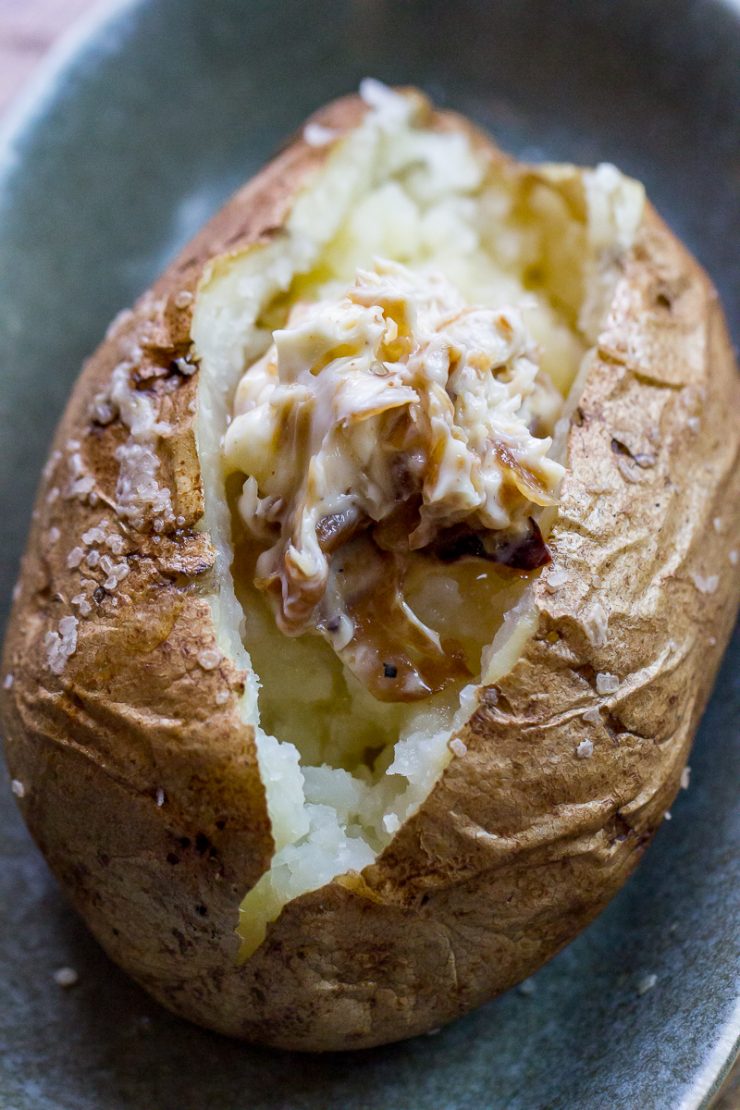 Need the caramelized onions still?
Here's my recipe for Smoked Caramelized Onions below. Click on the button to see the full post, and make extra! You are going to want to put these on and in everyyyything for a while.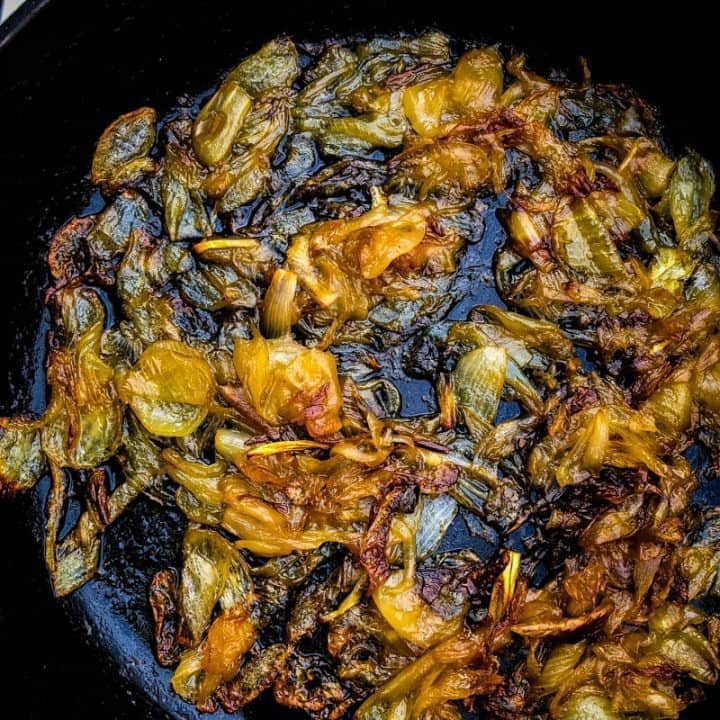 Traeger Smoked Caramelized Onions
Delicious smoked caramelized onions are a whole new level of onion awesomeness.
Ingredients
6 cups sliced onion
1/2 cup salted butter
1 tablespoon brown sugar
1/2 teaspoon salt
Instructions
Place all ingredients into a large cast-iron skillet. Turn on your Traeger and preheat to 325°.
Place the cast-iron skillet on the grill, shut the lid, and cook for 15 minutes.
Stir well, close the lid again, and cook another 10 minutes before stirring again.
Continue cooking and stirring until the onions are browned and shrunk. Remove from the heat and enjoy!
Recommended Products
As an Amazon Associate and member of other affiliate programs, I earn from qualifying purchases.
Nutrition Information:
Yield:

6
Serving Size:

1
Amount Per Serving:
Calories:

242
Total Fat:

16g
Saturated Fat:

10g
Trans Fat:

1g
Unsaturated Fat:

5g
Cholesterol:

41mg
Sodium:

305mg
Carbohydrates:

25g
Fiber:

3g
Sugar:

12g
Protein:

3g
Nutrition data provided here is only an estimate. If you are tracking these things for medical purposes please consult an outside, trusted source. Thanks!
Pin For Later!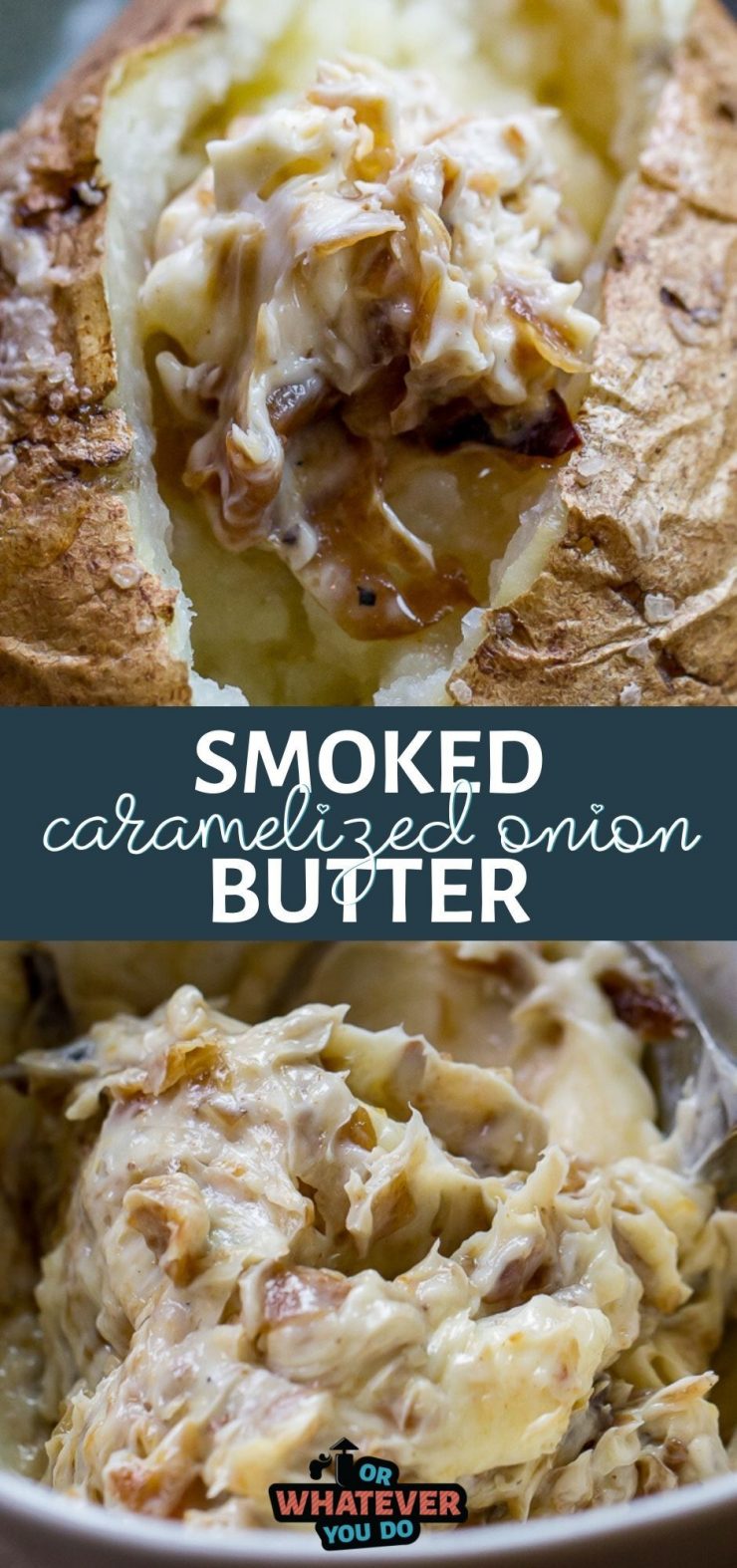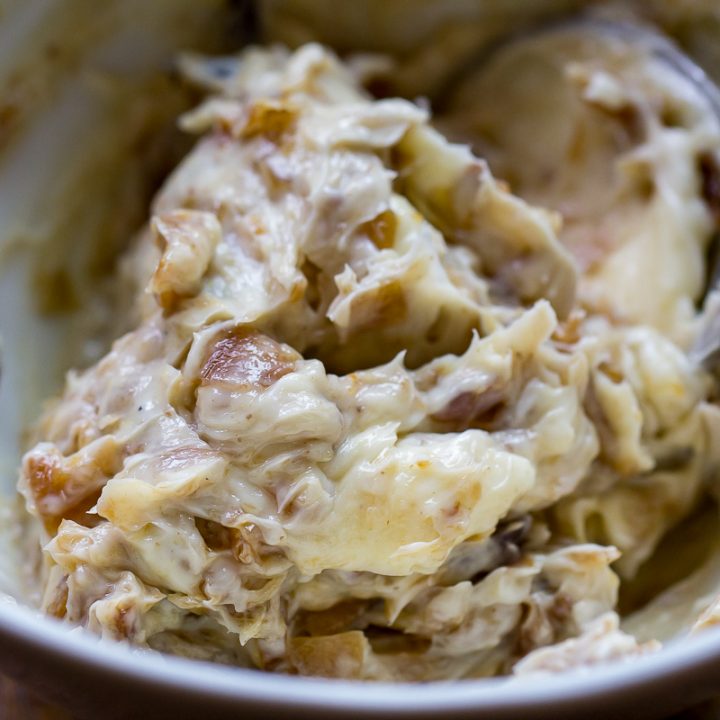 Smoked Caramelized Onion Butter
This smoked caramelized onion butter is something that is so packed with flavor, you are going to wonder where it has been all of your life. This is a baked potato's perfect match, or chill it into a compound butter log and slice and put on a steak hot off the grill.
Ingredients
1 cup salted butter
1 cup chopped caramelized onions
1/2 teaspoon salt
1 tablespoon chopped fresh parsley *optional
Instructions
Chop the caramelized onions roughly and mix together with the softened butter. Stir in the salt and parsley, if using. Slather on backed potatoes, or chill and form into a roll to go on top of a freshly cooked steak.
Use or freeze within a week for best results.
Recommended Products
As an Amazon Associate and member of other affiliate programs, I earn from qualifying purchases.
Nutrition Information:
Yield:

8
Serving Size:

1
Amount Per Serving:
Calories:

204
Total Fat:

23g
Saturated Fat:

15g
Trans Fat:

1g
Unsaturated Fat:

7g
Cholesterol:

61mg
Sodium:

315mg
Carbohydrates:

0g
Fiber:

0g
Sugar:

0g
Protein:

0g
Nutrition data provided here is only an estimate.