Traeger Kalbi Beef Short Ribs are a quick and easy recipe that is full of flavor and is soon to be a family favorite in your house.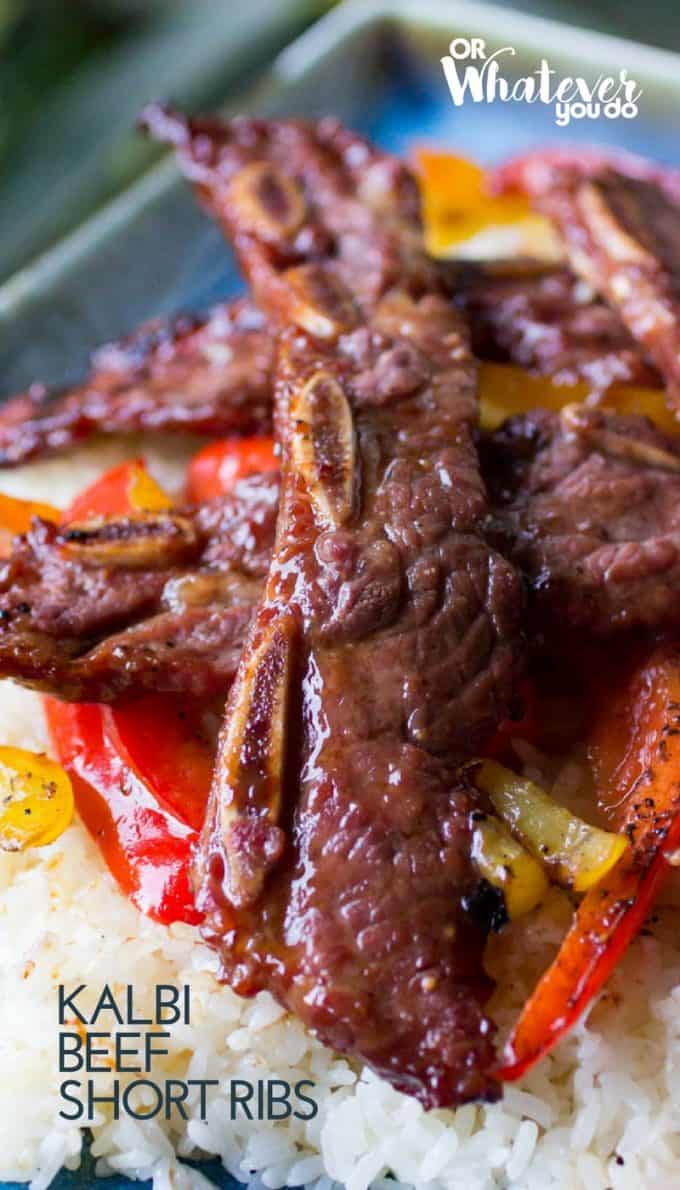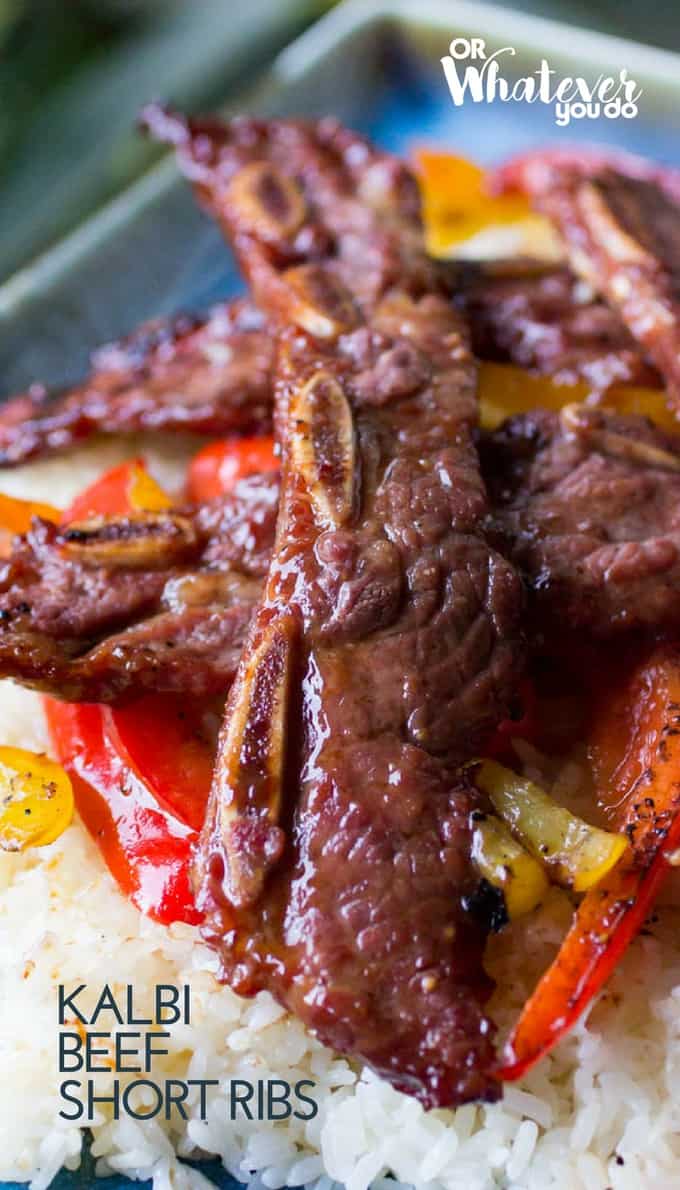 Traeger Kalbi Beef Short Ribs
Making these tender short ribs on your Traeger Grill adds another layer of flavor to the meal. Serve with rice and some sauteed vegetables, and you've got a full meal that will have even your picky eaters coming back for seconds.
I've been obsessed with Korean food for a long time, but it has been an underrated regional cuisine in the United States when compared to others.
Thankfully, that has started to change in recent years.
Korean immigration saw a significant increase in the nineteen-eighties, and as a result, more Korean restaurants started opening in the United States in the mid-to-late nineteen-nineties.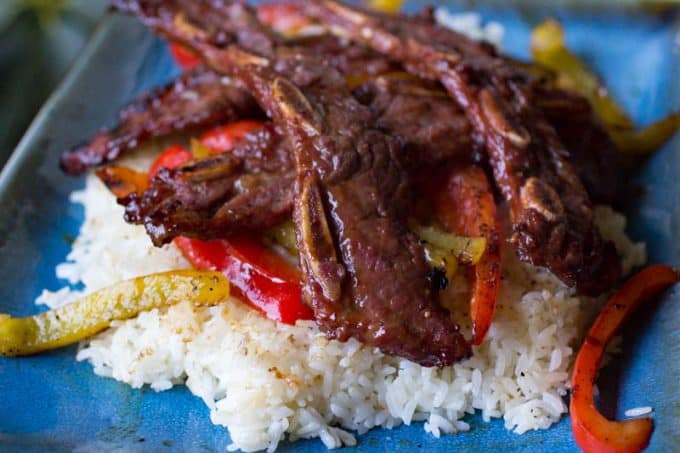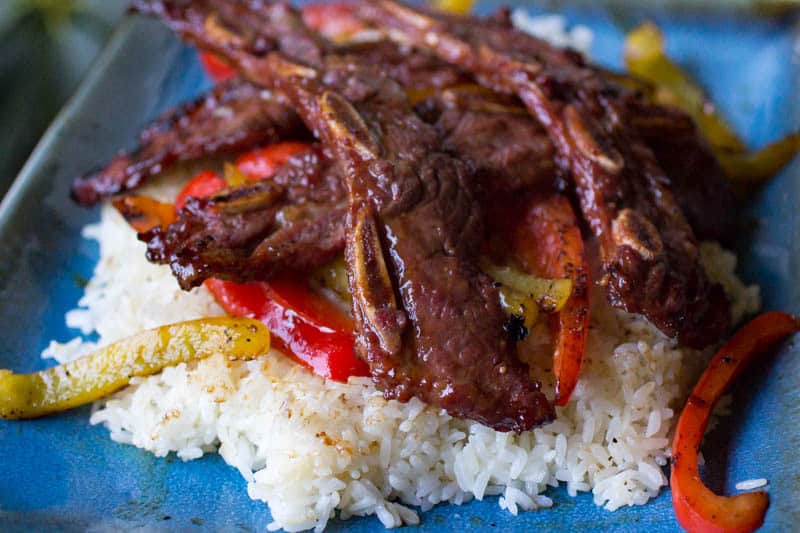 My first experience eating Korean food happened in the year 1999 at a restaurant in Eagan, Minnesota called Hoban. It was magical eating there.
Flavor profiles I had never tasted, let alone dared to imagine. Fermented food was a foreign concept to me. Kimchi for the first time blew my mind. Make sure to check out Nicole's Korean Spicy Chicken Stir-fry and Vegetables too.
It wasn't until I discovered something called Korean BBQ that I knew I was hooked for life. I was twenty-six at the time, so forgive my naivete, but I thought at that time that BBQ was uniquely American.
Imagine how excited I was when I realized peoples from other cultures were just as obsessed with cooking meat over an open flame as I was.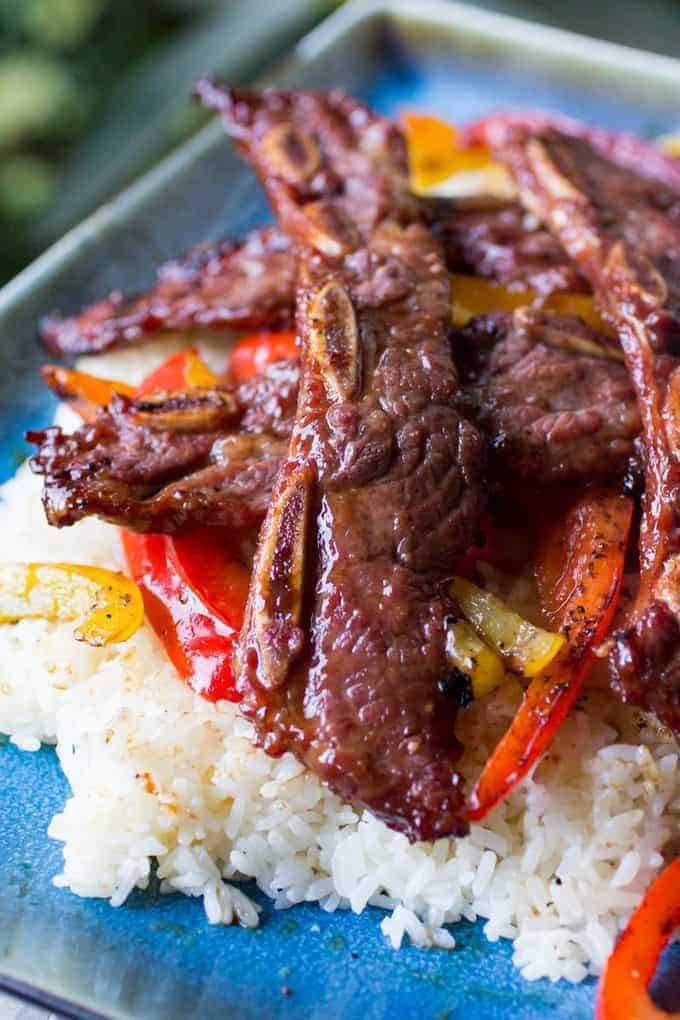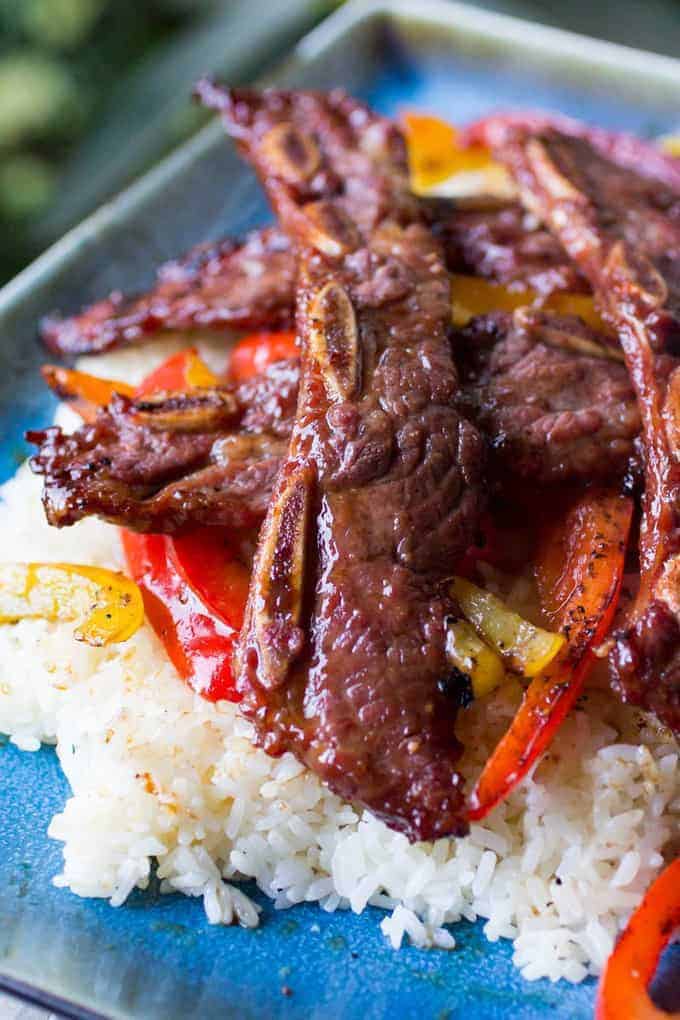 Please keep in mind when you go into a restaurant to eat, there are always limitations on methods for barbecuing and, of course, we can get caught up in the age-old argument of the exact definition of barbecue. But for the sake of sanity and all that is good and pure, I will not get on any soapboxes for this post.
What is Kalbi?
The dish that really sealed the deal for me was the when I ordered something called kalbi beef short ribs.
Kalbi is simple and delicious.
It combines most of my favorite flavor components: sweet, salty, fatty, and intensely beefy, into one perfect dish. Just remember when you are doing your shopping you are looking for the ones that are thinly sliced containing several small pieces of bone, and not the individually cut short ribs.
The thinly sliced ribs are great because they don't need very long to marinate, and the cook time on a hot Traeger that's pre-heated to 450° Fahrenheit is less than ten minutes.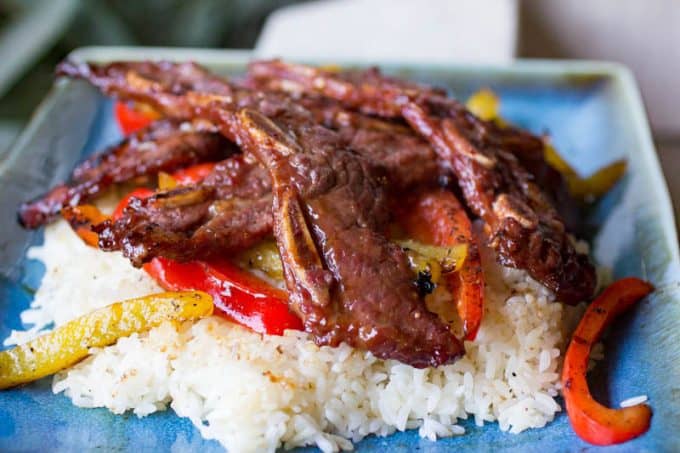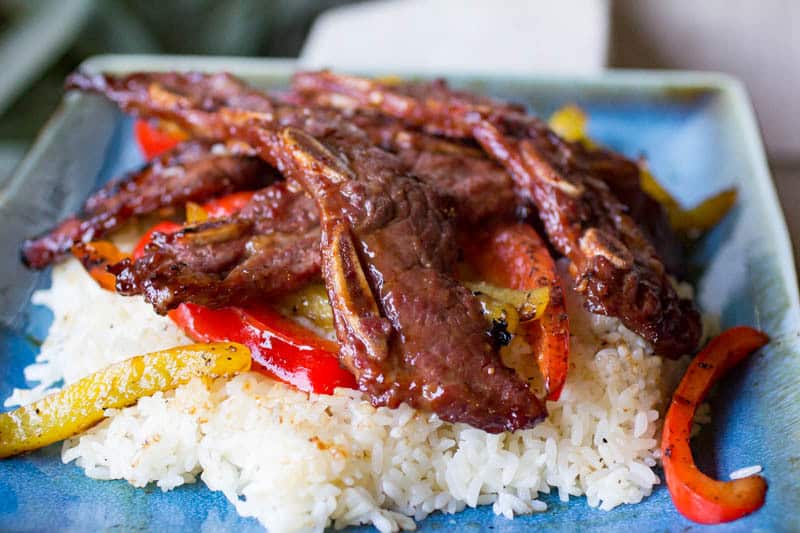 Let me ask you guys a question, and let's be honest here.
Do you ever feel like there aren't enough foods that you can pick up and eat with your hands?
With no regard to the fat and sauce running down your face.
No, just me? Okay. Well then, do you ever think to yourself, "Today I feel like I need a little fat to chew on?"
Food culture in America has gotten to the point where we have traded in a lot of flavorful food items for the perfect texture. It's one of the reasons I don't order filet mignon in a restaurant. I mean, it's good and it's tender, but it just doesn't have the really good beefy fatty stuff I love about a cow.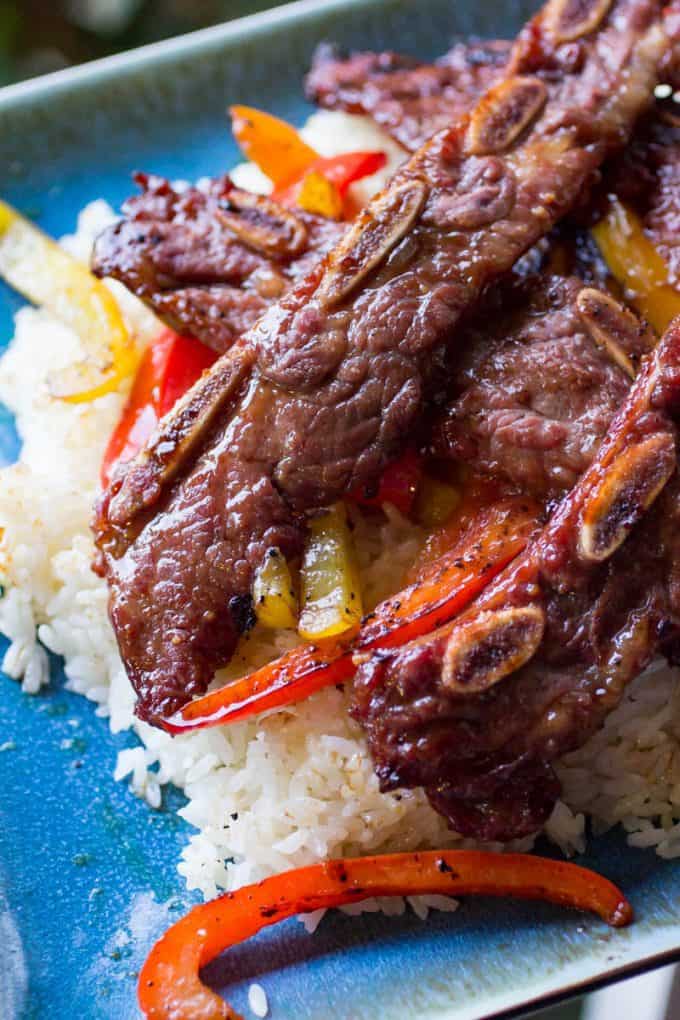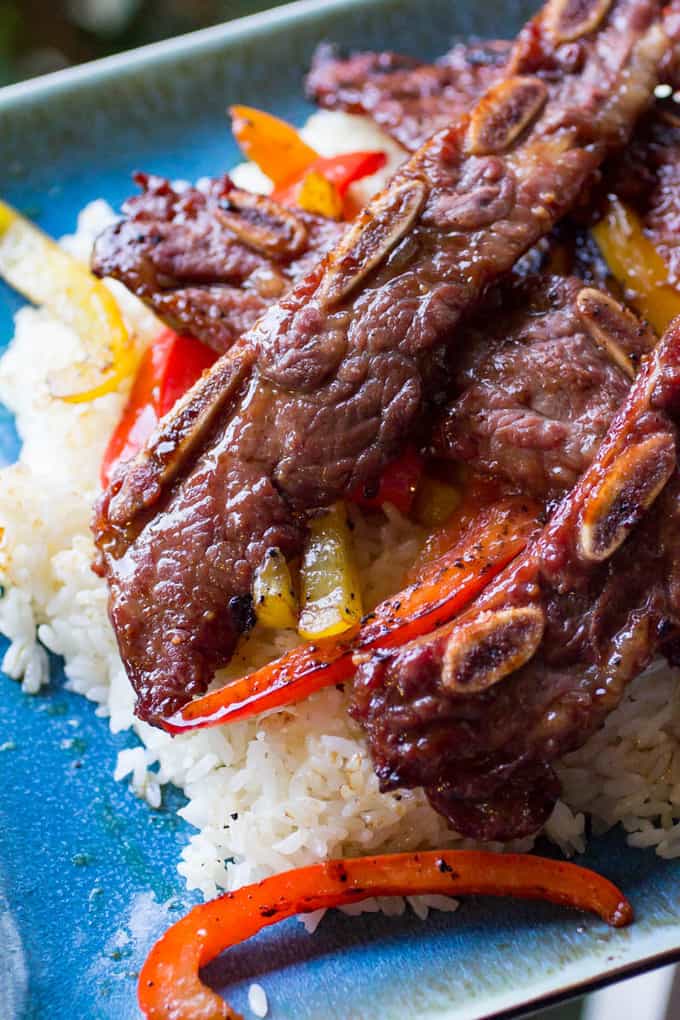 These short ribs are a way different cut of meat than a filet. Where the filet is beautiful and elegant, the short rib is fat and the tender bits are mixed with some tougher, fattier bits and you have to do some ripping and tearing with your teeth.
The trade-off for the lack of tenderness and refinement of short ribs is massive flavor. They are so beefy and fatty you wouldn't want the alternative. It's a very primal thing to gnaw away at a piece of beef with a bone in it.
I love sitting in a restaurant eating these with my hands, chewing away at the bones in order to get every last piece of meat and fat off and not a single person bats an eye at me because it's the expected way to eat them. Now that I make these at home, can you imagine how hog wild I go in the privacy of my own bedroom kitchen. I (almost) never eat in our bedroom.
Tips for making kalbi beef short ribs
Less is more. The marinade is thick enough to stick, so don't marinate longer than six hours. One hour is plenty.
Go for the char. Cook them on your Traeger set on high. A little char never hurt anyone.
Make sure you pre-heat the Traeger so when you put them on you hear the sizzle.
Don't overcook them. Four to five minutes per side.
Don't overload your grill. It will bring the temperature down and you won't get any good markings or char.
Best served over a bed of rice along with any Asian inspired appetizers you know. We have a great egg roll recipe here as well as a fried dumpling that you'll love!
These Traeger beef short ribs are as easy to cook as a burger or a chicken breast. Heck, they may be easier. The marinade is simple and the prep time is only ten to fifteen minutes.
YES, you can use a pre-made marinade.
Now, I'm not saying that you should stray from the recipe, however as a guy with a large family I understand the desire to save time, so if you're going to get a premixed marinade I would suggest you get one from an Asian food market, or if you can find it, in a plastic tub in the refrigerated section by your meat department. Those will be the highest quality versions you can get.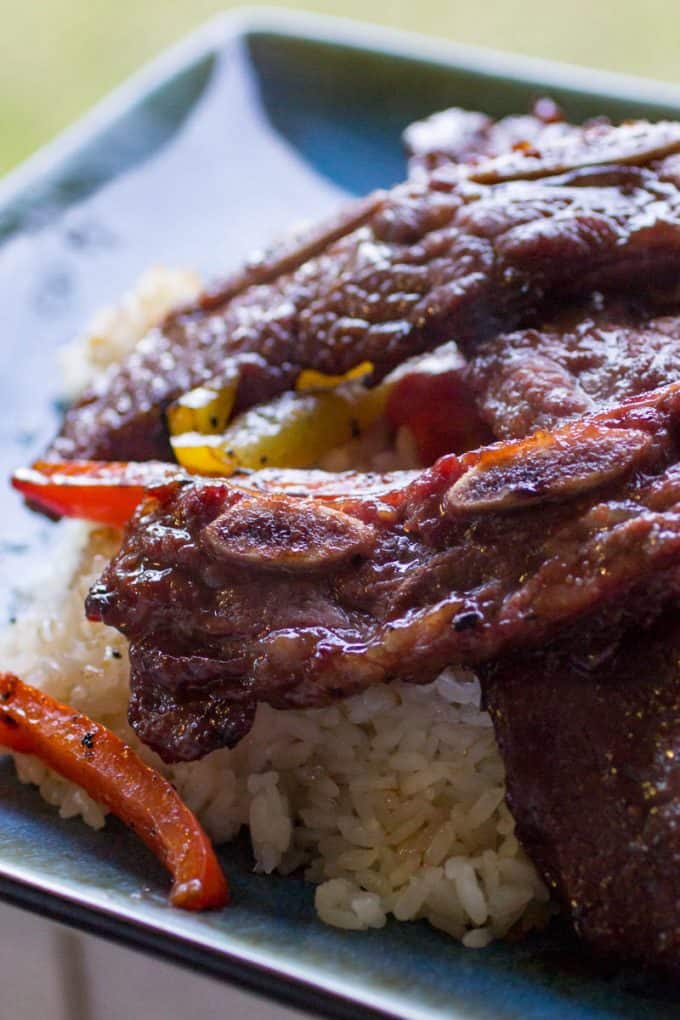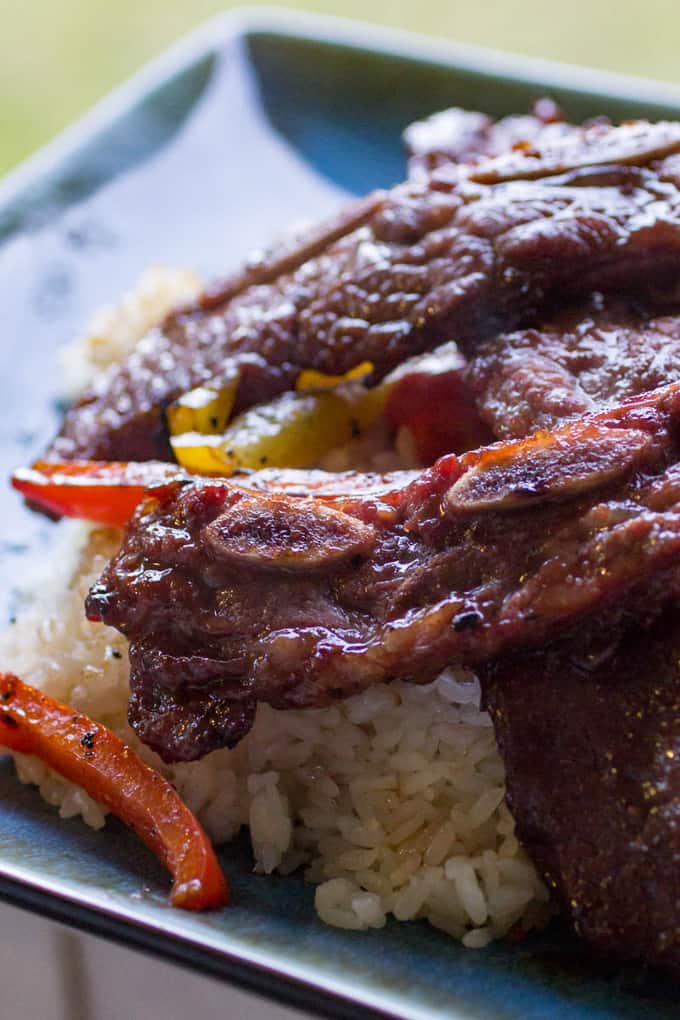 Have fun making these! I know you'll love them. They might be the ultimate gateway food into Korean cuisine. Who knows, you might end up finding yourself pickling, fermenting and storing various food items. Enjoy, and I would love to read your comments!
Yield: 6
Traeger Kalbi Beef Short Ribs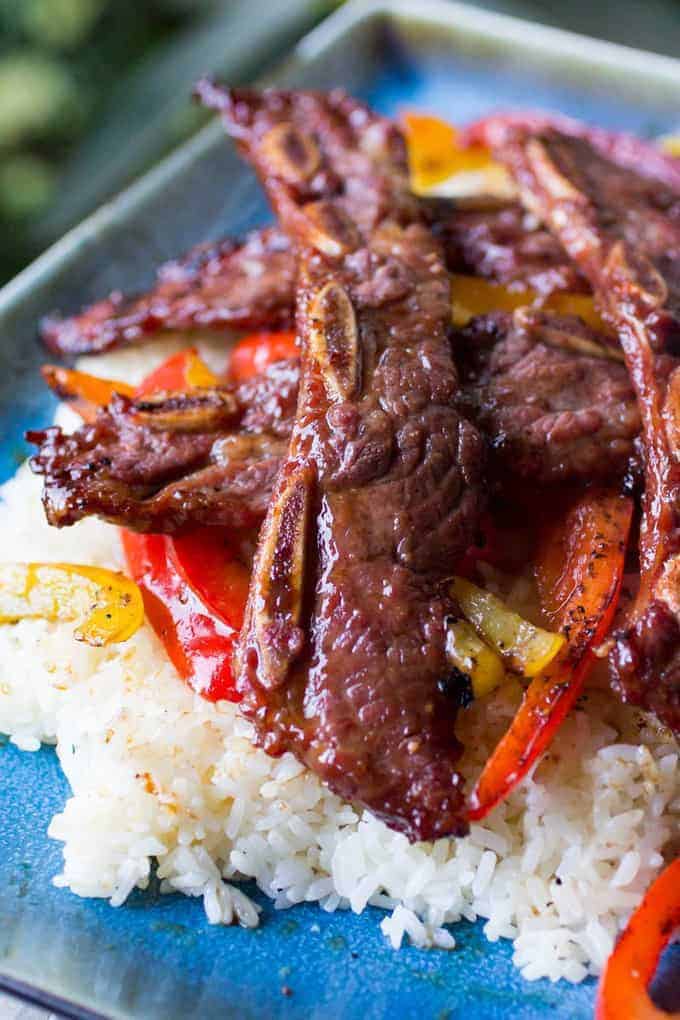 Traeger Kalbi beef short ribs are the easy, and delicious way to begin your culinary journey into the many wonders of Korean cuisine.
Ingredients
2 1/2 pounds Beef short ribs, Thin sliced
1/2 cup soy sauce
1/2 cup brown sugar
1/8 cup Mirin , (rice wine)
2 tbsp minced garlic
1 tbsp sesame oil
1/8 cup finely grated onion
Instructions
In a medium-sized bowl, mix soy sauce, brown sugar, Mirin, garlic, sesame oil, and grated onion.
Add the beef short ribs to the mixed marinade in the bowl, covering the meat completely.
Cover the bowl with plastic wrap and place in the refrigerator for 1-6 hours.
Start your Traeger grill and turn it up to high. Make sure the grill is properly pre-heated.
Remove marinated meat from the refrigerator and place directly on the grill surface. Close grill as fast as you can, to make sure you lose as little heat as possible.
Cook for four minutes, then turn and cook on the other side for another four minutes. Pull the meat off the grill and serve on a bed of rice along with your favorite grilled vegetables.
Nutrition Information:
Amount Per Serving:
Calories:

355
Saturated Fat:

6g
Cholesterol:

81mg
Sodium:

1213mg
Carbohydrates:

22g
Sugar:

19g
Protein:

28g