Smoked Spicy Asian Pork Ribs are cooked low and slow on your Traeger Pellet Grill before getting an Asian sauce smothered all over them for a braise that leaves these ribs so tender that they fall off the bone.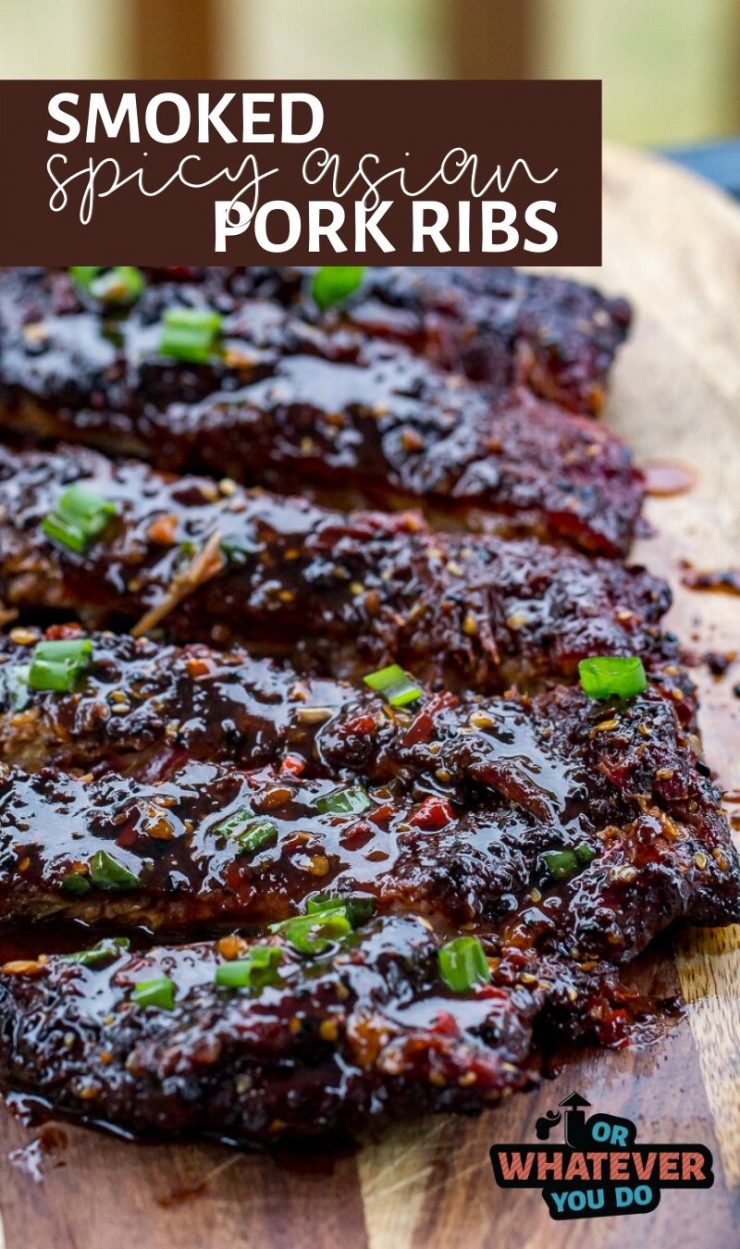 Smoked Asian Pork Ribs
These sticky delicious pork ribs sound delicious, but I am going to warn you right now; this is a dish seasoned with patience and peppered with love. It cooks for hours. Then a few more hours.
Then you will wonder if you made enough because if you don't have enough you can't start more ribs four hours into the process. Hopefully, you had the foresight to make extra because they are easy to store and you are going to want more later, and everyone is asking for seconds after these hit their plates.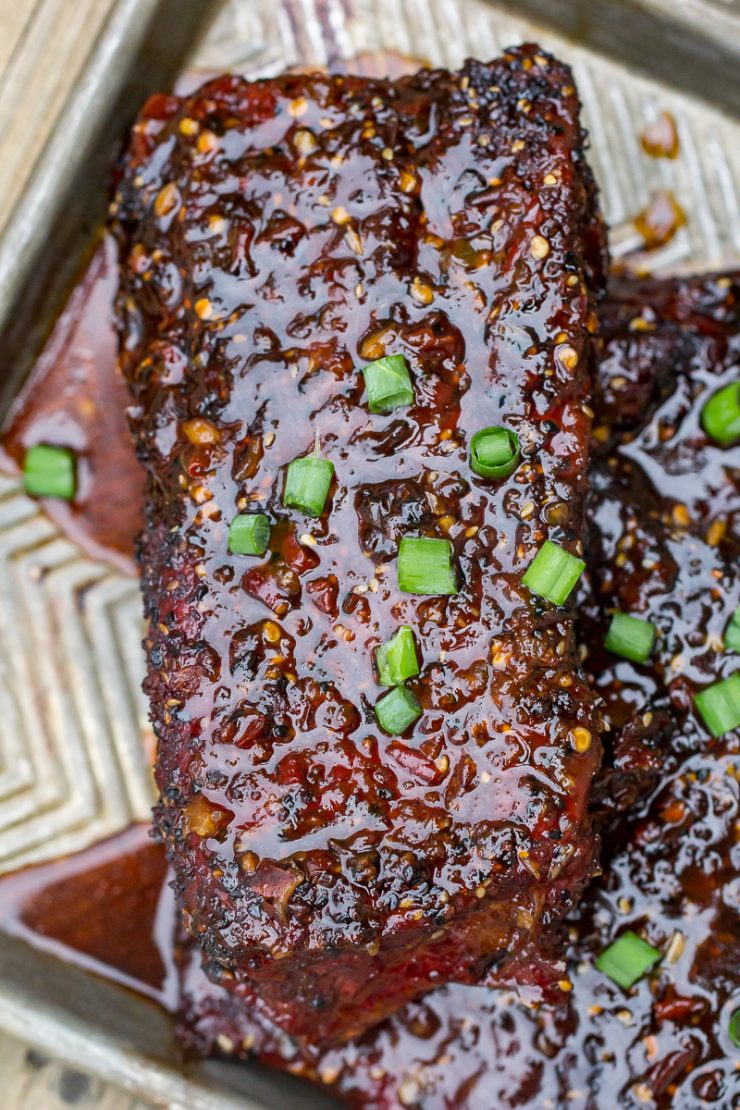 Smoked Spicy Asian Pork Ribs
There is a lot of spice cooked into these ribs, but truthfully they aren't too hot. It is the sort of hot that hits a level but then keeps pretty steady. Sure, they might have you reaching for a beer or soda, or a blackberry jam daiquiri or two even, but you aren't going to need a hose to put out the fire.
People that are really sensitive to heat can tone it down easily by cutting back on the chili sauce. Thai sweet chili sauce is a little spicy, but not too much. (The sweet is in there for a reason, to knock down the heat.)
Togarashi is a Japanese spice blend but it adds a bit of pep, not a pot of fire. Still, if you are super sensitive to hot and spicy then you can tone this back a notch too.
More Easy Traeger Recipes here!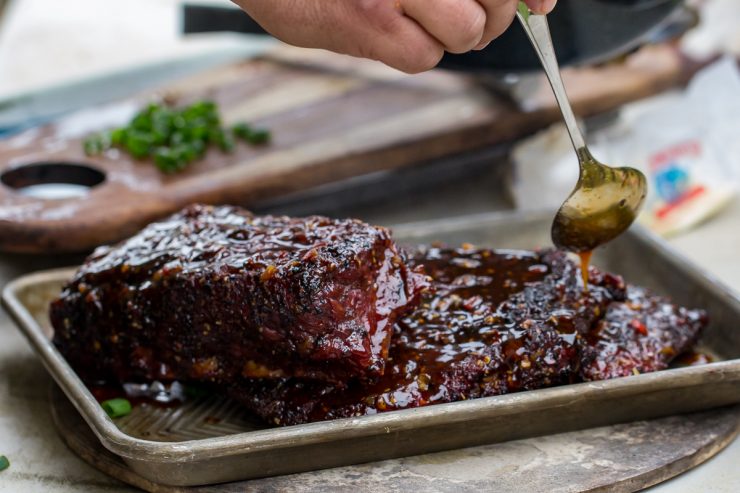 5-4-1 Ribs
These ribs are a riff on my 5-4-1 smoked pork ribs recipe. If you don't have all of that time on your hands, you can also use my Faster Smoked Pork Ribs method, which utilizes a pressure cooker for part of the process.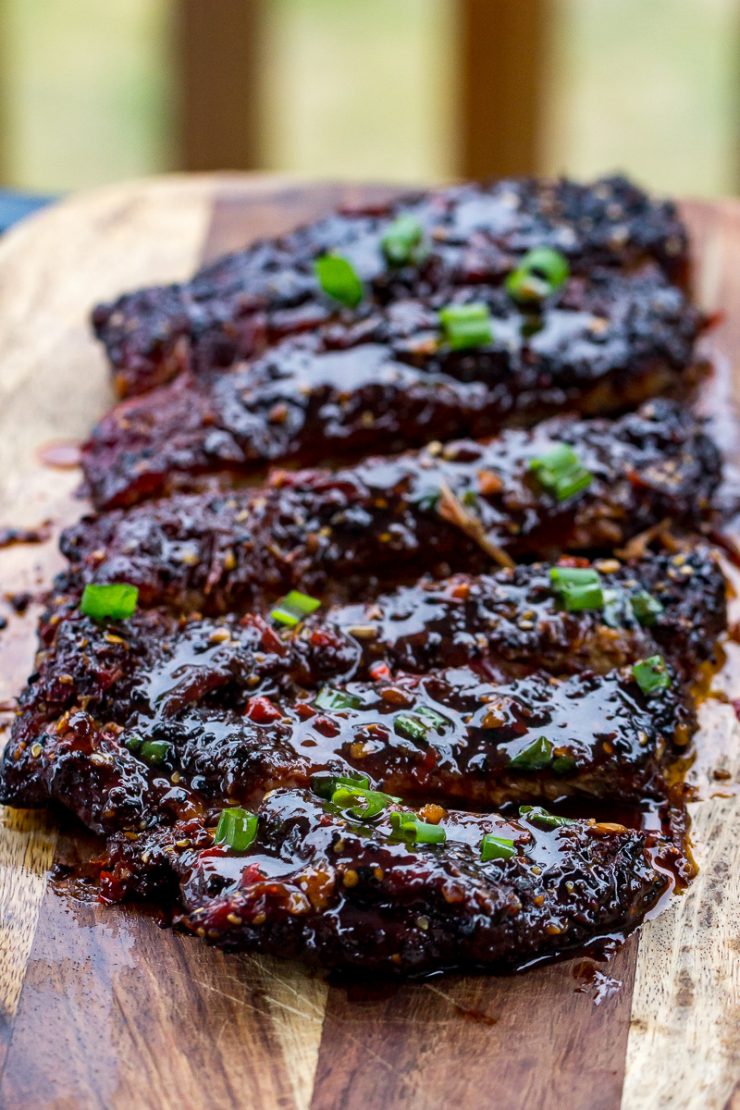 What is togarashi?
Togarashi is an ancient spice blend combining seven main ingredients. It combines red pepper with ground dried orange peel, ginger, white and black sesame seeds, and a bit of seaweed, and poppy seeds. The seaweed, of course, adds a bit of saltiness to it too. Think of togarashi as one the original seasoning salts.
Different blends contain different ingredients, and also varying degrees of spice. Some, like the kind that they serve alongside a bowl of legit Ramen, are pretty hot. Others, like the rub I buy from Spiceology (find a link to buy your own down in the recipe card), is milder but PACKED full of flavor.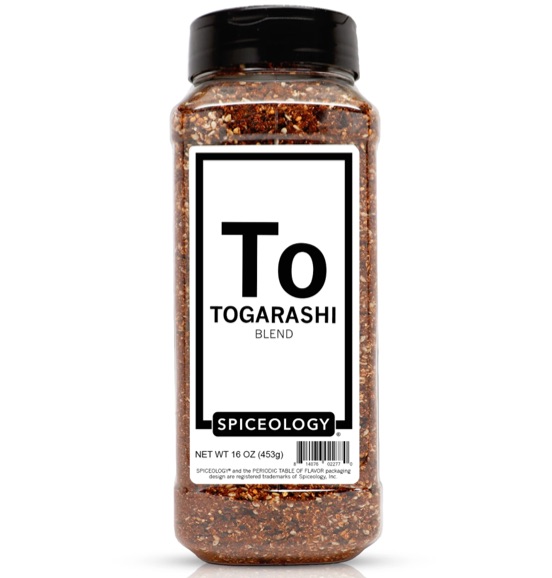 Japanese 7 Spice blend from Spiceology is one of our favorite rubs and something we use in the kitchen all the time!
The togarashi is used as a dry rub so give the ribs an hour or more to season with it before you pop the ribs in the smoker. The ribs are going to be on the smoker a good four hours drinking in the smoke. Plenty more time to absorb all the savory and spicy seasoning.
Togarashi is pretty handy if you have some leftover. You can sprinkle it on everything from your eggs in the morning to your pork chop that evening.
What kind of ribs would you use for Asian pork ribs?
If you want to be like the restaurant that serves those little spare ribs, then use baby back ribs. Don't feel like that is your only option, though. You can do St Louis or even make spare ribs with this recipe.
Country-style ribs are big and meaty, but they would also work. It isn't like cooking them for seven hours is going to under-cook them.
What is sriracha?
If you still haven't heard of sriracha, you quite possibly have been living under a rock for the last 5-10 years. Sriracha exploded in popularity back in 2008 and 2009, and it is now more than just a household name, it is actually a household staple in many cases.
Nowadays there is sriracha everything. Burgers, chips, even sriracha ice cream. The sauce originated in Thailand and it is a paste of red peppers, garlic, vinegar, sugar, and salt. At this point, it has certainly taken the world by storm.
You don't just see it in your local pho shop anymore. It is everywhere. People pretty much use it as casually and commonly as they would use ketchup at this point.
The togarashi will season the meat, but the glaze of sauce is poured over and then baked into the ribs, and that is where the sriracha really shines.
Sriracha, in this case, acts like any great tomato-based barbecue sauce would. The vinegar helps tenderize the meat, and the red pepper and garlic bring the heat. Just like any typical barbecue, this sauce will bake into a nice glaze over the ribs.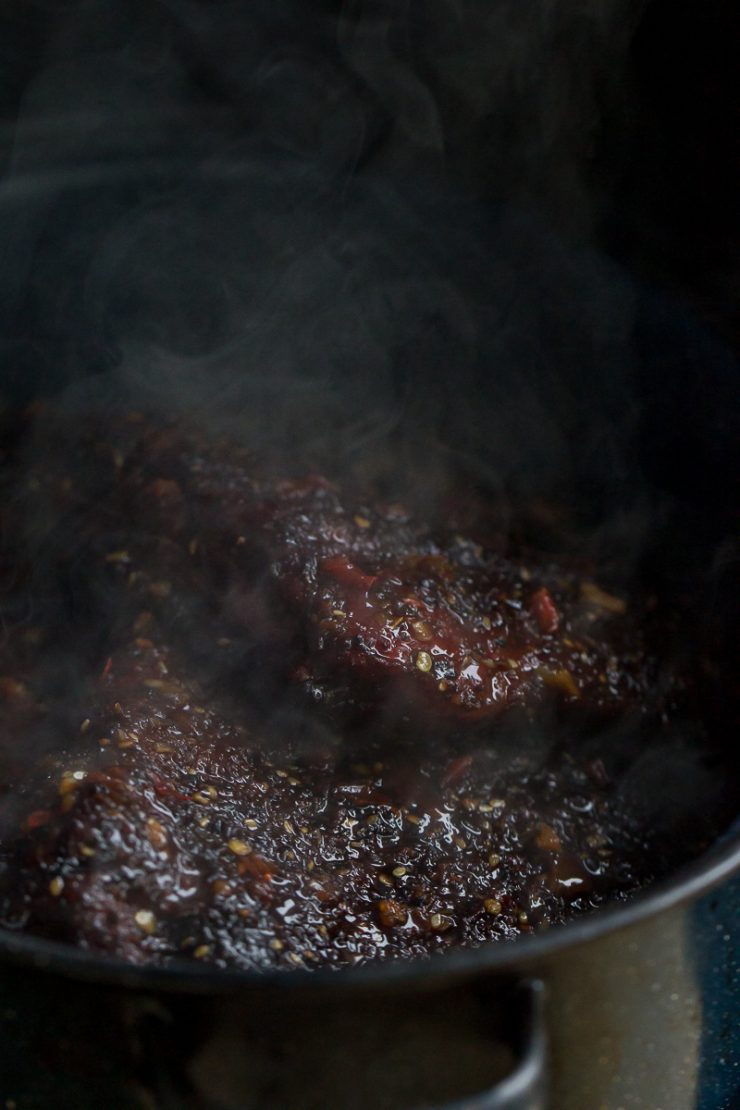 More Sriracha-inspired recipes to check out
If you love sriracha and would like some more recipe ideas to take advantage of it, I have a few worthy suggestions: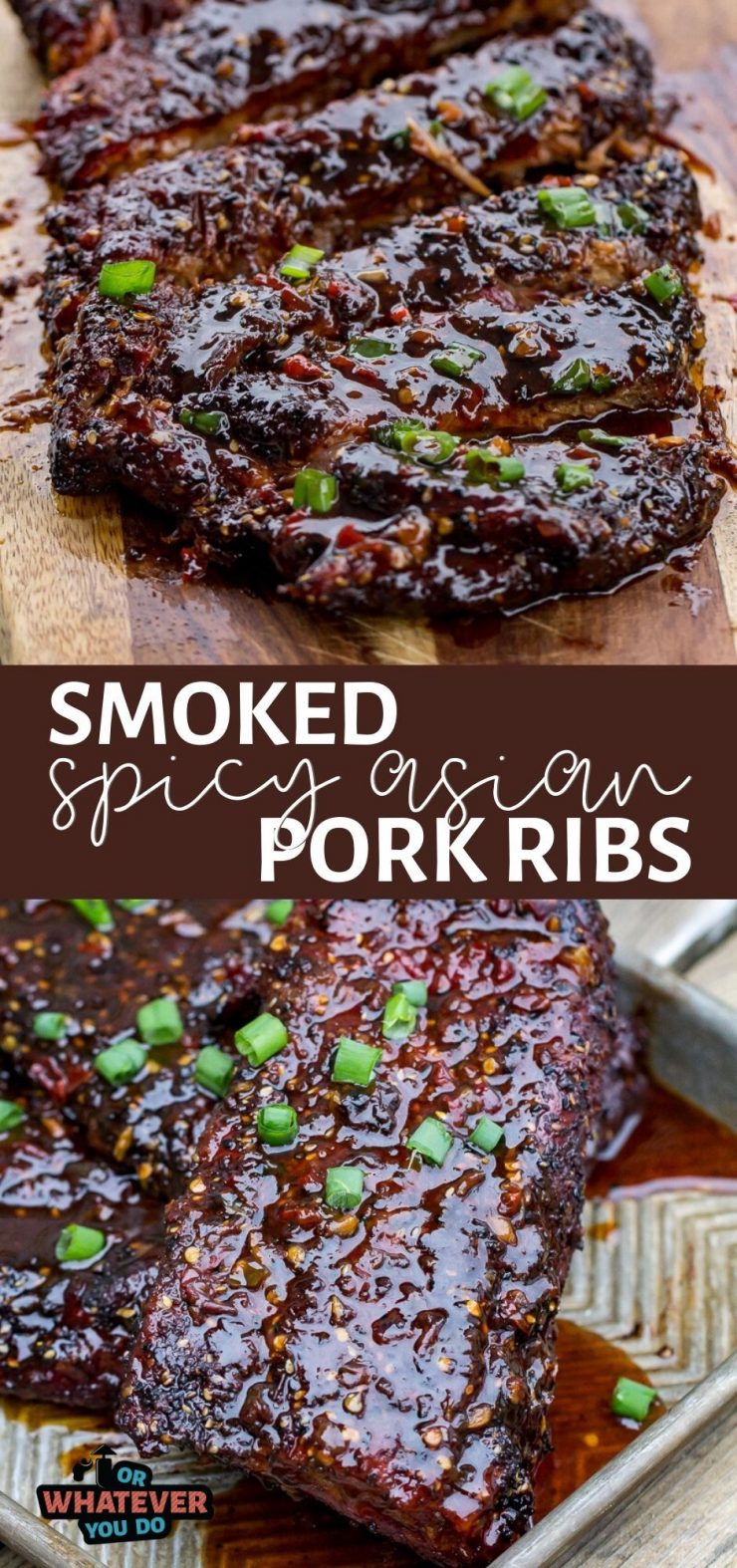 Yield: 6 servings
Spicy Asian Pork Ribs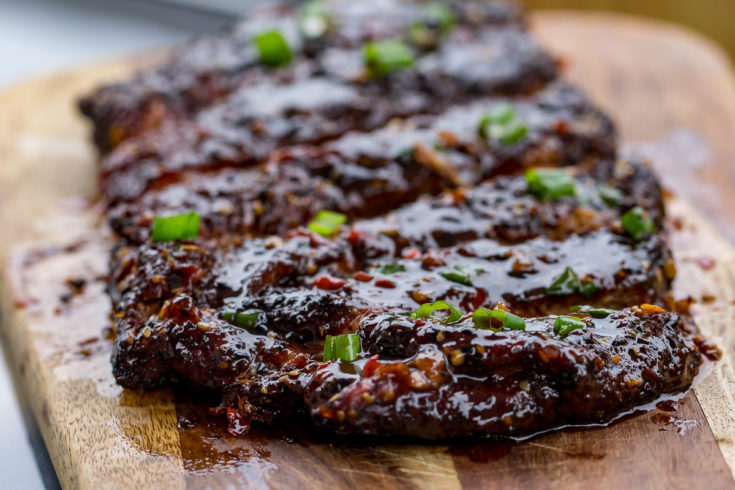 Sticky Smoked Asian Pork Ribs are going to be the best thing to hit your Traeger Pellet Grill all summer long. Smoked with a Togarashi rub for 3-4 hours, and then braised for 2-3 hours longer in a covered pan with a boldly spicy Asian marinade, these fall off the bone and onto your list of MUST MAKE recipes.
Total Time
6 hours
15 minutes
Ingredients
2 racks baby back ribs
1/2 cup togarashi seasoning
Sauce
1 cup soy sauce
1 cup sweet chili sauce
1 tablespoon sriracha
2 tablespoons garlic chili sauce
1/4 cup rice wine vinegar
1/2 cup pineapple juice
1 teaspoon powdered ginger
Instructions
Preheat your grill to 180-190°, or the "Smoke" setting, if it has one.
Coat your ribs with the Togarashi rub, and place them on the grill.
Smoke for 4-5 hours.
Combine the sauce ingredients and mix to combine.
Place the ribs into a foil pan and coat with the sauce and cover tightly.
Place back into the grill and turn the heat up to 250-275°. You can also use the oven for this if you want to save pellets.
Check on the ribs hourly and baste with the excess sauce. You'll want to cook them for 2-3 more hours, or until you can stick a form in them and they are tender.
Optional – Place the ribs back on the grill for 20-30 minutes at 350°, uncovered and right on the grates, to caramelize and set the sauce.
Serve hot! Or cold. You'll love these either way.
Recommended Products
As an Amazon Associate and member of other affiliate programs, I earn from qualifying purchases.
Nutrition Information:
Yield:
4
Serving Size:
1
Amount Per Serving:
Calories:

733
Total Fat:

35g
Saturated Fat:

12g
Trans Fat:

0g
Unsaturated Fat:

21g
Cholesterol:

132mg
Sodium:

13364mg
Carbohydrates:

61g
Fiber:

3g
Sugar:

49g
Protein:

43g
Nutrition data provided here is only an estimate.