All of the OWYD recipes featuring RIBS!
Baby back ribs, country-style ribs, short ribs, beef ribs, ALL of the ribs are here!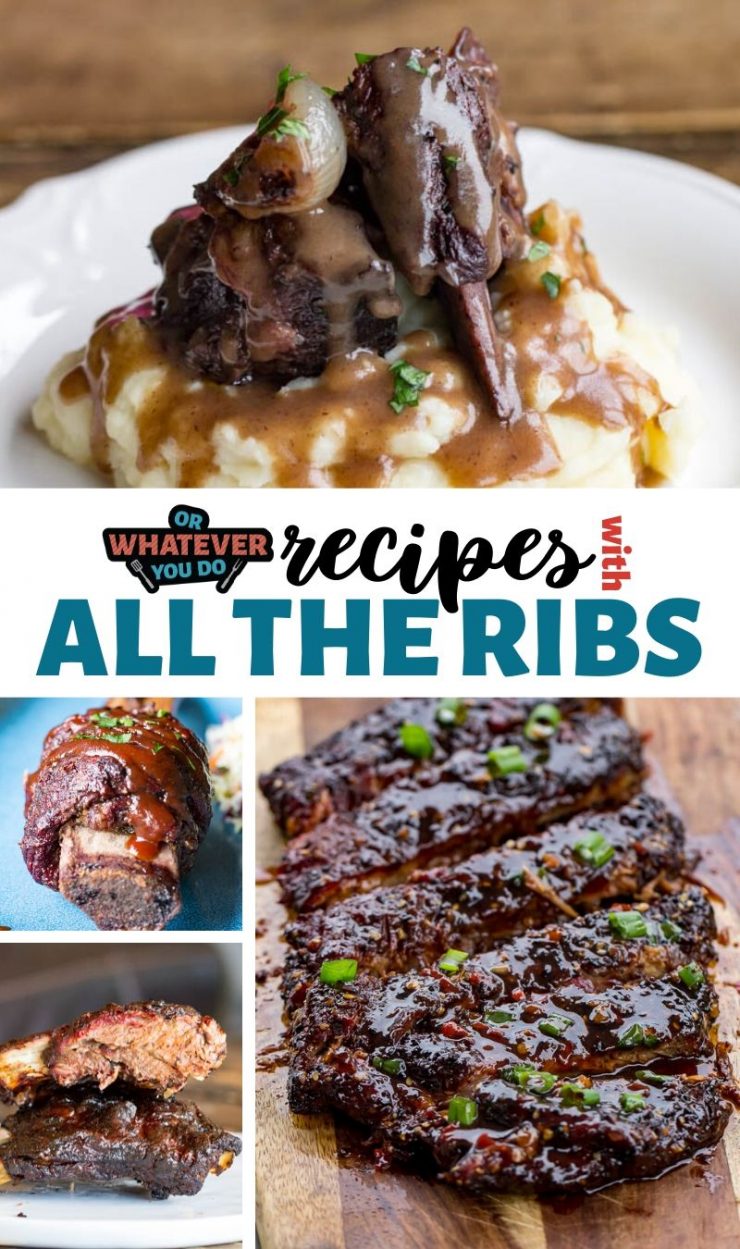 Ribs Recipes
Ribs, ribs, ribs, ribs. Not matter what kind you get, ribs are one of the best pieces of meat you can eat. But there's a cost too, since truly wonderful ribs take time, patience, and a bit of luck.
Smoked Ribs
These ribs are made at least partially on a smoker or pellet grill! Get that smoke rolling and have the best ribs of your life!
My Traeger Smoked Pork Ribs leaped immediately to #1 on my favorite grill recipes list. These aren't quick, but they ARE easy. 5-4-1 take on the 3-2-1 method.
My Shortcut Traeger Grilled Pork Ribs are faster than my 5-4-1 and the 3-2-1 rib methods but aren't lacking in flavor or tenderness, at all. Great way to put ribs on the table in less time!
Sticky Smoked Asian Pork Ribs are going to be the best thing to hit your Traeger Pellet Grill all summer long. Smoked with a Togarashi rub for 3-4 hours, and then braised for 2-3 hours longer in a covered pan with a boldly spicy Asian marinade, these fall off the bone and onto your list of MUST MAKE recipes.
Smoked Cherry Coke Ribs are cooked on your pellet grill over low heat for 4-5 hours, and then they get put into a pan, slathered with a barbecue sauce + Bourbon & Cherry Coke mixture, and cooked for another 2-3 hours over medium heat. What you are left with is fall-off-the-bone tender ribs with a sauce that you'll all be fighting over.
My hearty smoked beef ribs are cooked low-and-slow before cranking up the heat a bit and cooking for several more hours until they are super tender.
These tender smoked short ribs are slow-cooked on the pellet grill until they are fork tender and amazing.
Fire up the smoker because we are cooking the biggest, meatiest, beefiest rack of beef plate ribs, aka "dino" ribs, and you're going to want seconds.
These no-fuss Traeger No-Wrap Ribs are amazing! Cooked straight through at 275°, no-wrap needed, until they are bendy and tender.
Delicious, tender, packed-with-flavor Traeger Smoked 3-2-1 Ribs! This is a solid method for cooking ribs. Get my suggested rubs below!
Unique Ribs
Some unique takes on a great cut of meat!
These fall-off-the-bone tender braised beef short ribs are cooked right on your Traeger grill after being seared in the Dutch oven. Big onions, all the red wine, and one of the best comfort foods there is.
Traeger Kalbi beef short ribs are the easy, and delicious way to begin your culinary journey into the many wonders of Korean cuisine.
Inside-Cooking Ribs
These ribs will keep you inside during the whole process. Great in the frozen north in the dead of winter, or if you have gone temporarily insane and don't have a smoker.
These tender and delicious Instant Pot Pork ribs are going to have you coming back for seconds!
Decadent, tender, and juicy braised beef short ribs are going to be one of your new favorite dinner options. This recipe is not fast, but it IS easy and is something anyone can master.