Smoked baked potatoes are a side dish staple in our house! You can make a baked potato on the grill but, fair warning, after you do one you may never want to make them any other way. I am also going to show you the differences between how to grill potatoes and how to make smoked potatoes!

Smoked Baked Potatoes
Grilled and smoked baked potatoes are an excellent side dish for both grilling and smoking fanatics. They go great with just about any kind of protein you might be making, and once you figure out how to grill potatoes you'll never want to make them in the oven again!
What you'll need to make smoked baked potatoes
We're going to focus mostly on the process of grilling baked potatoes today and the ingredients are going to be pretty universal. The ingredients will be the same for grilling and smoking potatoes.

What type of potato works best for grilled baked potatoes?
You can use any kind of potatoes you like, but I prefer to use russet potatoes. They're readily available and they are perfect for a classic baked potato!
Do I really need to wash and wrap the potatoes?
Yes!
You are going to want to give those potatoes a good scrub to get them clean…after all, you'll want to eat the skin once you see how tasty it is!
The wrapping part will help keep the potatoes from getting burnt or scorched, and it also helps them cook more quickly by trapping the steam inside. The foil helps keep the oil and salt on the potatoes as well which aids in making the most delicious grilled baked potatoes.
You can unwrap them halfway through the cooking process if you want some extra wood-fire flavor and a crispy exterior. That's what I like to do.
How to grill potatoes
The process for how to grill potatoes is pretty simple. There are just a few steps, so don't skip any of them! They have a purpose, and once the baked potato on the grill is finished and you get to dive in, you'll understand why.
Preheat your grill
Wash and dry your potatoes
Rub with oil
Season
Wrap in foil
Grill!

What kind of grill is best for making grilled potatoes?
You can use whatever kind of grill you have to make grilled baked potatoes. Same goes for smoking them! Obviously, I'm partial to my pellet grills, but this recipe will work with any kind of grill or smoker.
If you use a traditional gas or charcoal, make sure you are cooking over indirect heat to avoid burning the potato.
Things to avoid when making a baked potato on the grill
Grilled baked potatoes are easy, but there are a few common issues we see people run into that you should try to avoid. Read on to make sure your potatoes end up perfect!
Take it slow
Don't rush! It's going to take some time to get a perfectly grilled potato when making baked potatoes on the grill.
Keep the grill closed
Try not to hover and open the grill a lot to check the potatoes. Give them time and trust the process. If your grill is always working to stay up to temp the potatoes won't have a chance to cook evenly.
Stagger your cook
Don't put your meat and potatoes on at the same time unless they have similar cooking time. For most grilled meats you can start the potatoes first and then add your meat towards the end so that everything finishes at the same time.
If you are doing a long cook, it might be okay to put them on together, but just keep that in mind when deciding when and how to time everything. It is better to have the potatoes done first though because they keep much better than meat.
How to make smoked baked potatoes
If you have a smoker or a pellet grill, you can easily make smoked baked potatoes instead of grilled by reducing the heat a bit and making a few adjustments to the cook time.
The ingredients are the same and the process is similar but there are slightly different temperatures and cooking times.
Prep your potatoes the same way you would for the grill, but you don't need to wrap them in foil.
After your potatoes are prepped you can follow these instructions for making smoked baked potatoes:
Preheat the smoker to 225°. Any wood will work for making potatoes, but fruit woods are usually a good choice!
Add your potatoes to the preheated smoker and close it up for about 2 hours.
Check the potatoes with a fork to see if they're done! Once you can easily pierce them with a fork they're ready to eat.
What should I put on top of my amazing grilled baked potatoes?
Toppings are the second best part of a good grilled baked potato so we can't forget about those! You can put whatever you like on your potatoes but here are some ideas to get you started:
Plain Greek Yogurt
Sour Cream
Butter
Shredded Cheese
Chives
Garlic
Chili
Salt & Pepper
Pulled Pork BBQ
The possibilities are endless! Grilled baked potatoes go so well everything that you'll find it difficult to choose incorrectly for toppings or pairings.
What should I serve with these Smoked Loaded Baked Potatoes?
I love baked potatoes so much I could basically make a meal out of them, but that isn't generally considered a meal for most people. If you are most people, I'd suggest one of these delicious dinners to serve next to these epic potatoes.
Smoked Traeger Brisket | This is basically the ultimate piece of meat you can make on the smoker. There are a million recipes and secret tricks, but all it really takes is patience and a good thermometer.
Traeger Ribs | I like my ribs TENDER, so I go beyond the 3-2-1 method for these super-tender and tasty ribs. You can even make a short cut version with your pressure cooker in the mix if you are short on time!
Traeger Tri Tip | Tri-tip is a great cut of meat, and it is faster than the other options above.
Smoked Pork Chops | Another quick and easy option for your pellet grill. Make them bone-in or boneless, but definitely make them.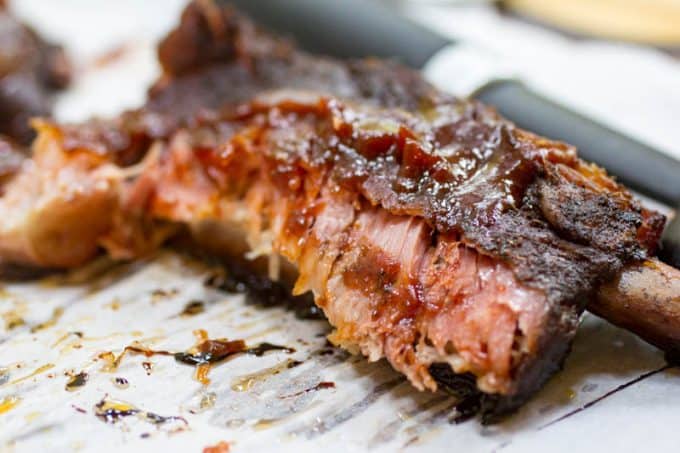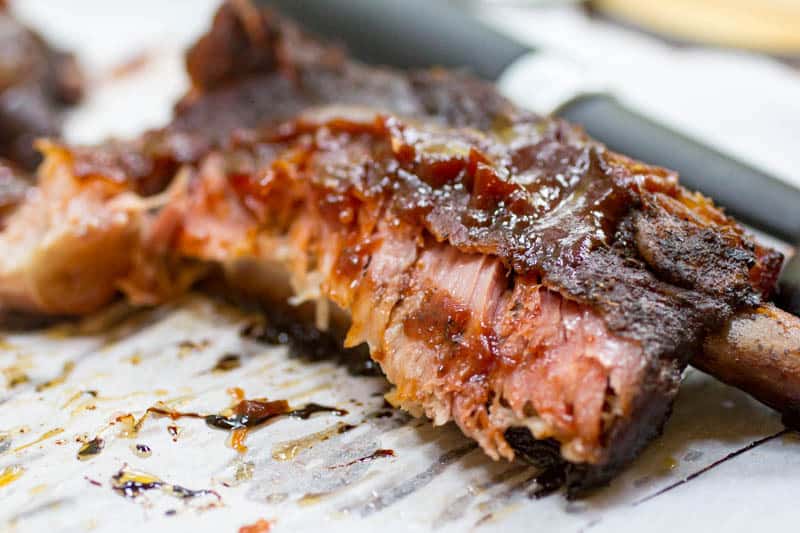 Grilled Baked Potatoes
These easy grilled baked potatoes are cooked right on your pellet grill, and make the best bakers!
Ingredients
6 large russet potatoes
1/4 cup avocado oil
1-2 tablespoons kosher salt
Toppings:
Cheddar Cheese
Sour Cream
Butter
Bacon
Chives
Instructions
Gas or Charcoal Grill
Preheat the grill to 425°. Lower temperature to 350 if using larger potatoes.
First, you will want to wash and dry your potatoes. They're grown in the dirt so they are going to be...dirty!
Next, we need to take a fork and pierce the skin in several places on each potato. This will let the steam evaporate and help them cook evenly.
Rub each potato with olive oil or avocado oil.
Sprinkle on all sides with kosher salt and pepper, the oil will help the salt stick to the skin of the potatoes!
Wrap each potato in foil after coating with the salt and pepper.
Place the potatoes on the preheated grill for 25-30 until they are tender enough to pierce with a fork.
For larger potatoes, you'll want to use the lower temperature for a longer time, about 45-60 minutes depending on their size.
Pellet Grill or Smoker
Preheat your pellet grill to 225-275°.
Wash and dry your potatoes.
Pierce the skin on the potatoes in several places on each potato.
Rub each potato with olive oil or avocado oil.
Sprinkle on all sides with kosher salt and pepper, the oil will help the salt stick to the skin of the potatoes!
Place the potatoes on the preheated grill for 1-2 hours, depending on the size of the potato. Cook until they are fork tender.
Recommended Products
As an Amazon Associate and member of other affiliate programs, I earn from qualifying purchases.
Nutrition Information:
Yield:

6
Serving Size:

1
Amount Per Serving:
Calories:

370
Total Fat:

9g
Saturated Fat:

1g
Trans Fat:

0g
Unsaturated Fat:

8g
Cholesterol:

0mg
Sodium:

2157mg
Carbohydrates:

64g
Fiber:

7g
Sugar:

3g
Protein:

8g
Nutrition data provided here is only an estimate. If you are tracking these things for medical purposes please consult an outside, trusted source. Thanks!