Smoked Beef Ribs on the Traeger Grill are the beefy version of your favorite OWYD rib recipe. Tender, full of flavor, and a legit competitor for my favorite rib.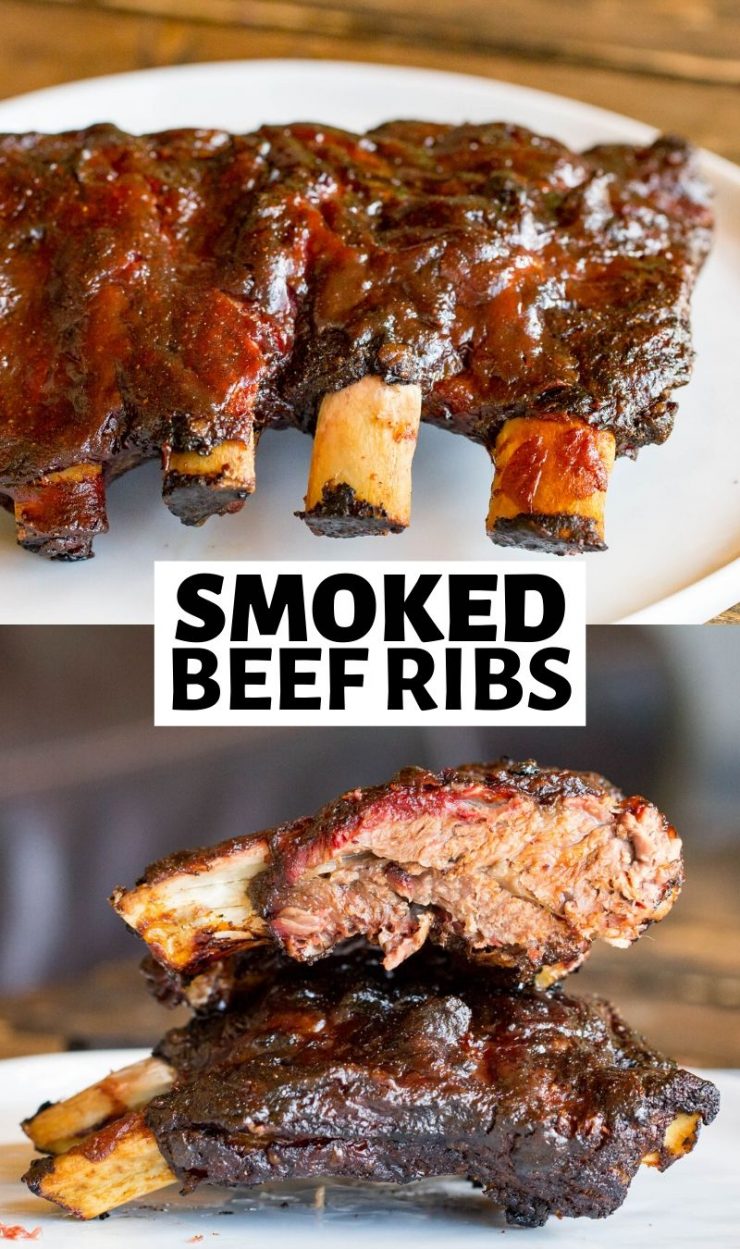 Smoked Beef Ribs
When most people think of ribs, they think of baby back pork ribs, but if you never venture into the beef rib territory you are missing out. They are good for more than just stock and gravy. These smoked beef ribs take a little time, but the end result is one of the best bites of barbecue you can have.
Barbecue ribs set the bar in the grilling world. Making great ribs cooked low and slow requires an investment, not only in time, but in cost as well. So, creating one of the most mouthwatering beef dishes known leaves very little room for mistakes. But don't let that put you off, because truth be told, grilling great ribs is actually very simple!
Or Whatever You Do participates in several different affiliate programs. As an Amazon Associate, we earn from qualifying purchases.
How to cook tender beef ribs
Start by seasoning your ribs liberally with your favorite barbecue rub. I really like our homemade bbq rub, but if you want an easy commercially produced rub, those are readily available. I have some recommendations down in the recipe card.
Those will help keep the meat tender as well as help the exterior develop that "Maillard reaction" effect, which brings out the flavor of the beef.
Basically, you cook the ribs twice. Yes, that sounds crazy, but essentially you use the low and slow cooking to get the meat perfectly tender, then you will be searing in the flavor in the second phase.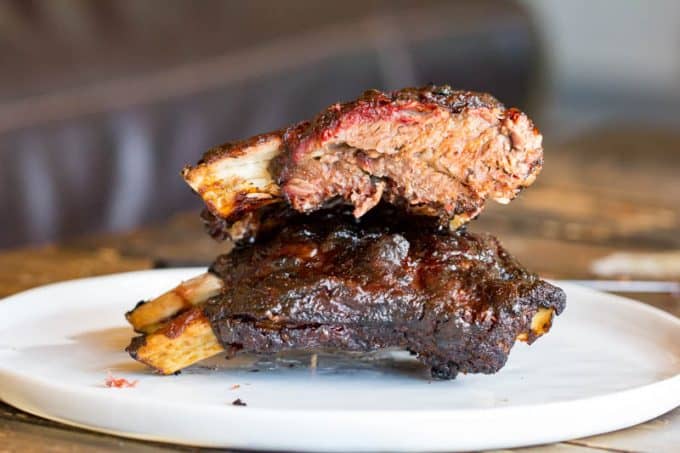 First, use your Traeger Pellet Grill, or the grill of your choice, to do the heavy lifting. Pellet grills are my favorite because they cook so evenly, are easy to operate, and produce really consistent results every time.
For the first part, get the temp at 180 degrees. During this period, trust in the process. Give your grill thermometer a chance to do its job. If you keep second-guessing it and opening and closing your grill then you just lose heat and the process will take longer. The last thing you need is a bunch of hungry people looking at you like you should be on the menu. Nothing like grilled ribs to bring out those carnivore instincts.
More Easy Traeger Recipes here!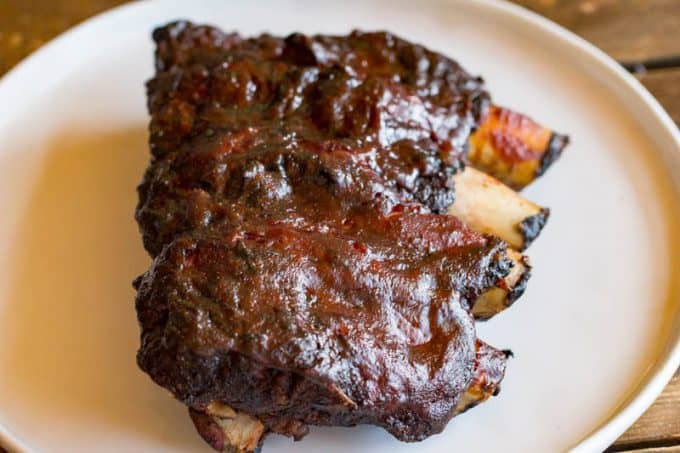 Do you cook beef ribs bone up or bone down?
It isn't a rib without a bone right? The bone in the rib helps impart flavors as well. Park the ribs next to each other with the bone on the bottom. Not only does it help the rib from falling on its side while cooking, but it also breathes flavor into the meat as it cooks on top.
More great BEEF recipes here!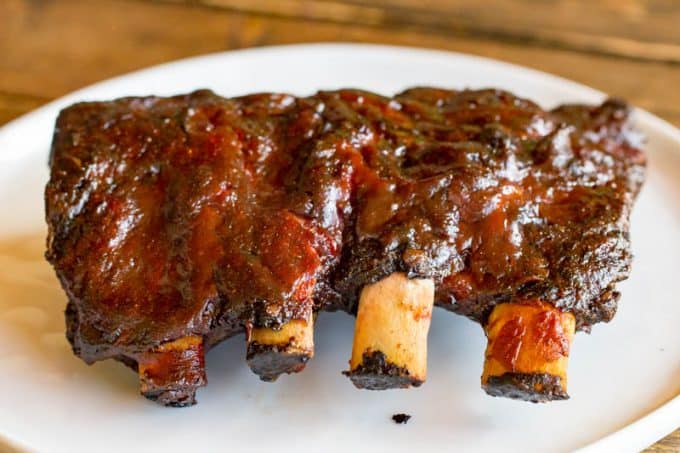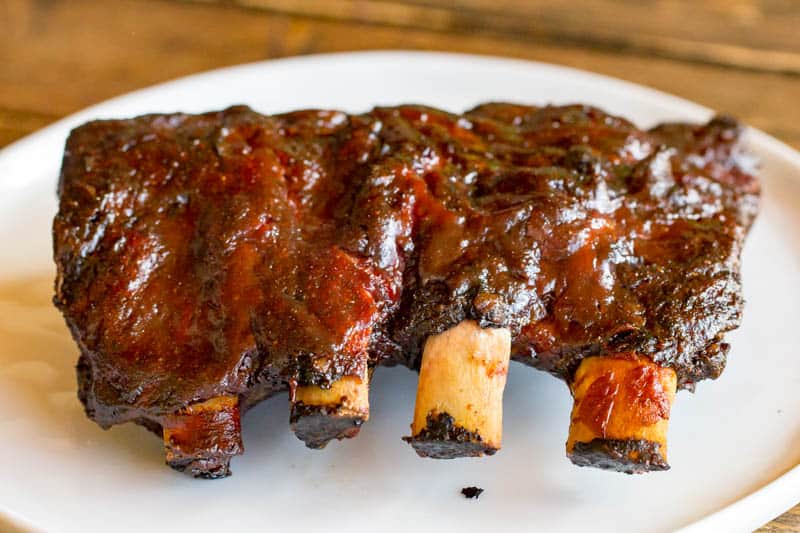 How to smoke beef ribs
During this low and slow phase, the ribs can sit side by side. The proximity of the ribs allows all that flavorful steam to be put to good use.
The second half of the cooking process aims to singe the exterior and lock the flavor in. It is also used for baking on a glaze of barbecue sauce while at the same time reducing the risk of the sauce burning and adding any sort of acrid flavors to your wonderful grilled barbecue ribs.
Turn up the heat to 225° for this part of the cook. Let the ribs get cozy here at this temp for about 2 hours. Then you're going to crank up the heat a little more to 325° and paint on some barbecue sauce.
This is the first layer of sauce. You are building on it so you want a good foundation. Don't worry about adding a bunch of sauce. This first slathering is to allow the sauce to melt into the meat. Most of your saucing will go on during the final thirty minutes. You also want the meat to absorb any flavorful juices back into the meat.
Get all my recipes for RIBS here!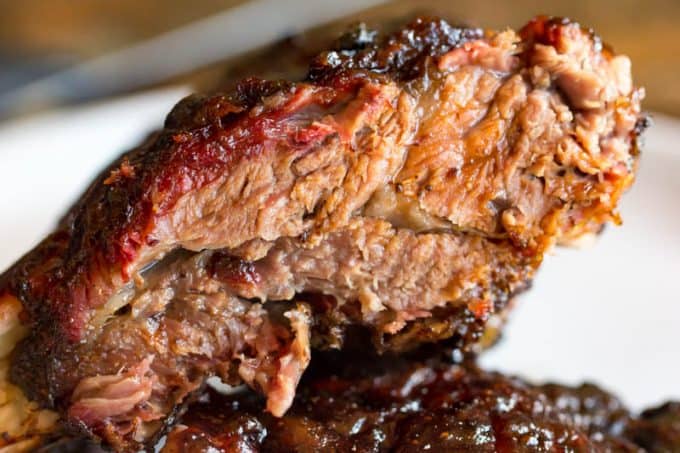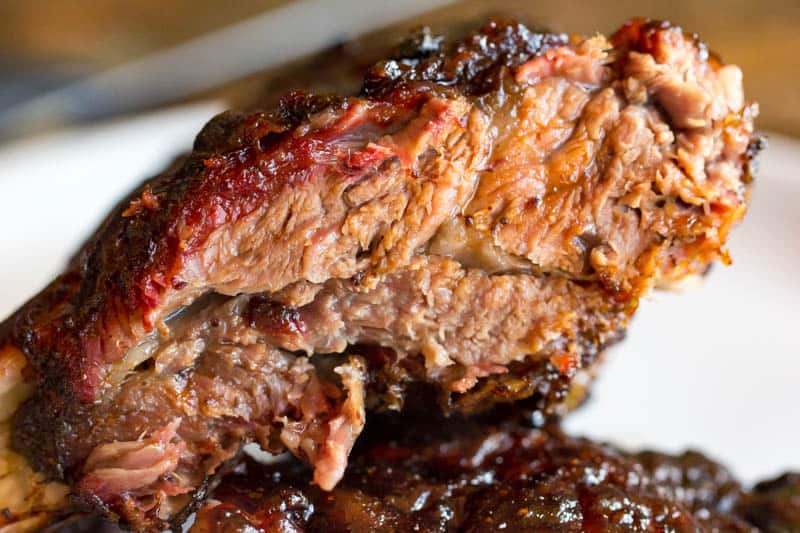 For grilled barbecue ribs, you wipe the ribs liberally with your chosen sauce. When it comes to great barbecue grilled ribs, in some circles passionate avid chefs have been known to brawl with grilling tools over whether or not a tomato-based or non tomato-based sauce works best.
Your taste buds know best. Even better, there is always next time to do it in a different way.
Buy Pellets here!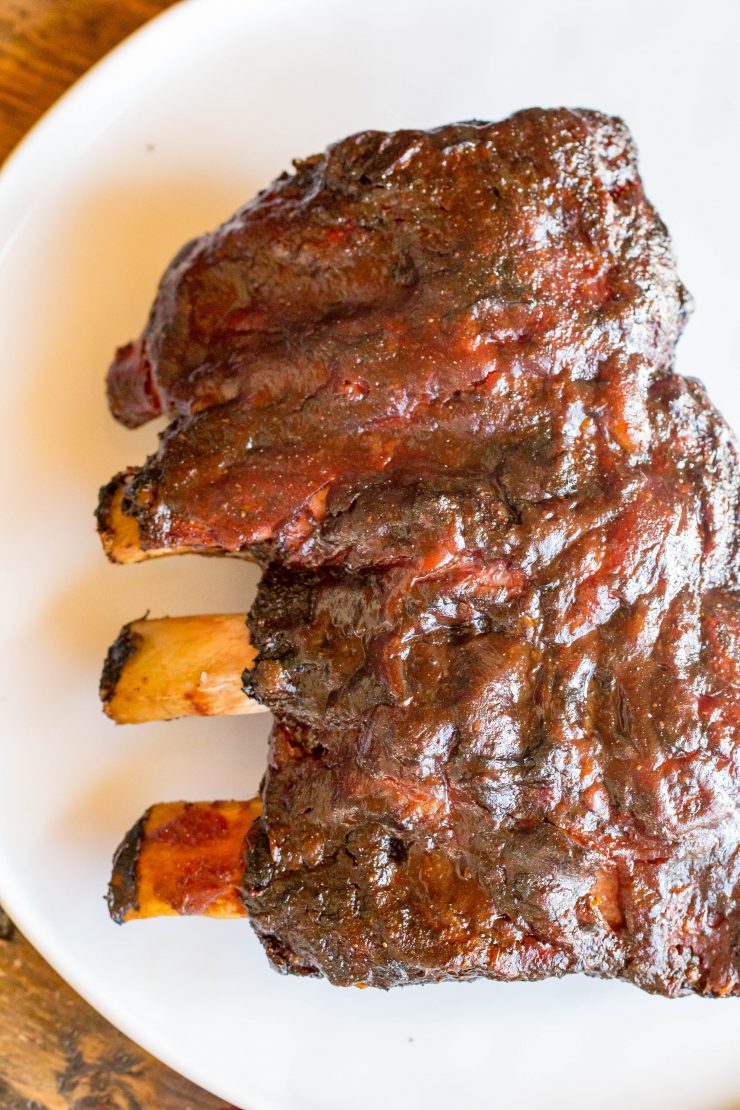 When are smoked beef ribs done?
For the last part of the cooking, the temp runs much higher at 325°. The ribs will cook an additional 1-2 hours at this temp depending on the size. Add some separation to the ribs on the grill so that you have plenty of room to baste them and slather on more sauce to glaze on the meat. You might need longer than 2 hours even. It really depends on the piece of meat. It is done when it is fork-tender.
Keep basting the ribs with more barbecue sauce every 10-15 minutes for another few hours until the meat is super tender.
Join the OWYD crew on Patreon!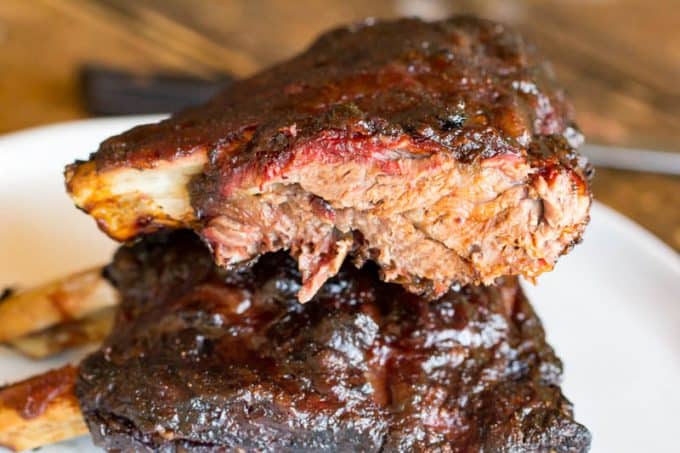 Don't worry about the heat coming out when you open the grill to hit those juicy grilled barbecue beef ribs with your sauce. The heat is high enough that it rebounds to temp quickly. You also can keep an eye on doneness.
Stick a fork in them periodically to check for tenderness. Ideally, spend the last 30 minutes of cooking time brushing on the remaining sauce. Again, you want a good glaze on the meat, not a burned sauce on a perfectly cooked rib.
Let them sit briefly, about fifteen minutes. This lets the meat redistribute the juices evenly. Some folks like to baste one more time with sauce, but you can tell by how they look if the sauce glazed on properly because they will have a slightly shiny appearance.
Follow me on Instagram!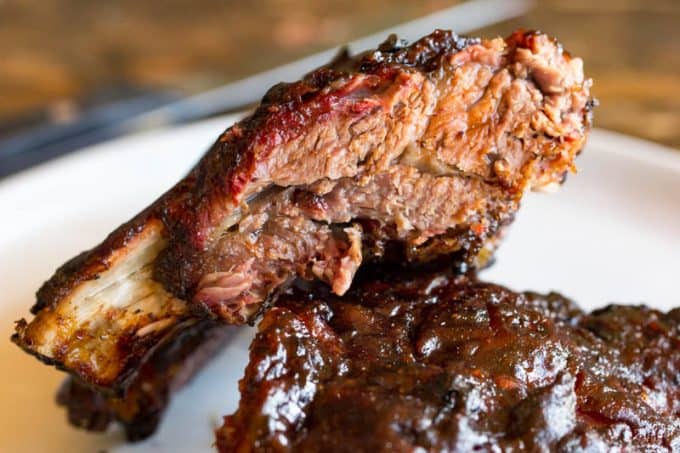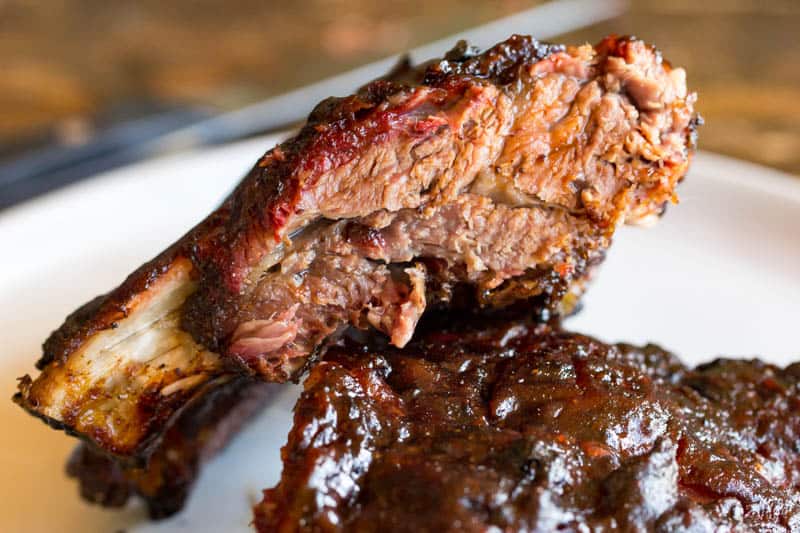 What should I serve with bbq beef ribs?
There are a lot of good options for side dishes with these hearty beef ribs. Some of my favorites are:
Featured Reader Reviews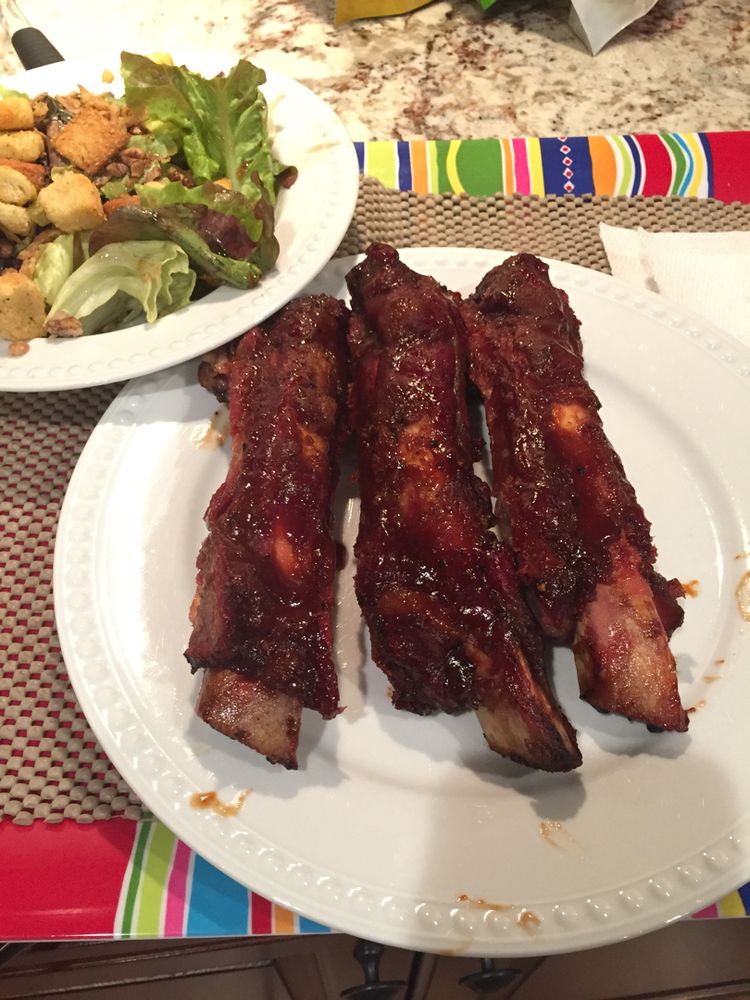 "Yummy! You need these in your life!"

Lynn from Pinterest
Pin For Later!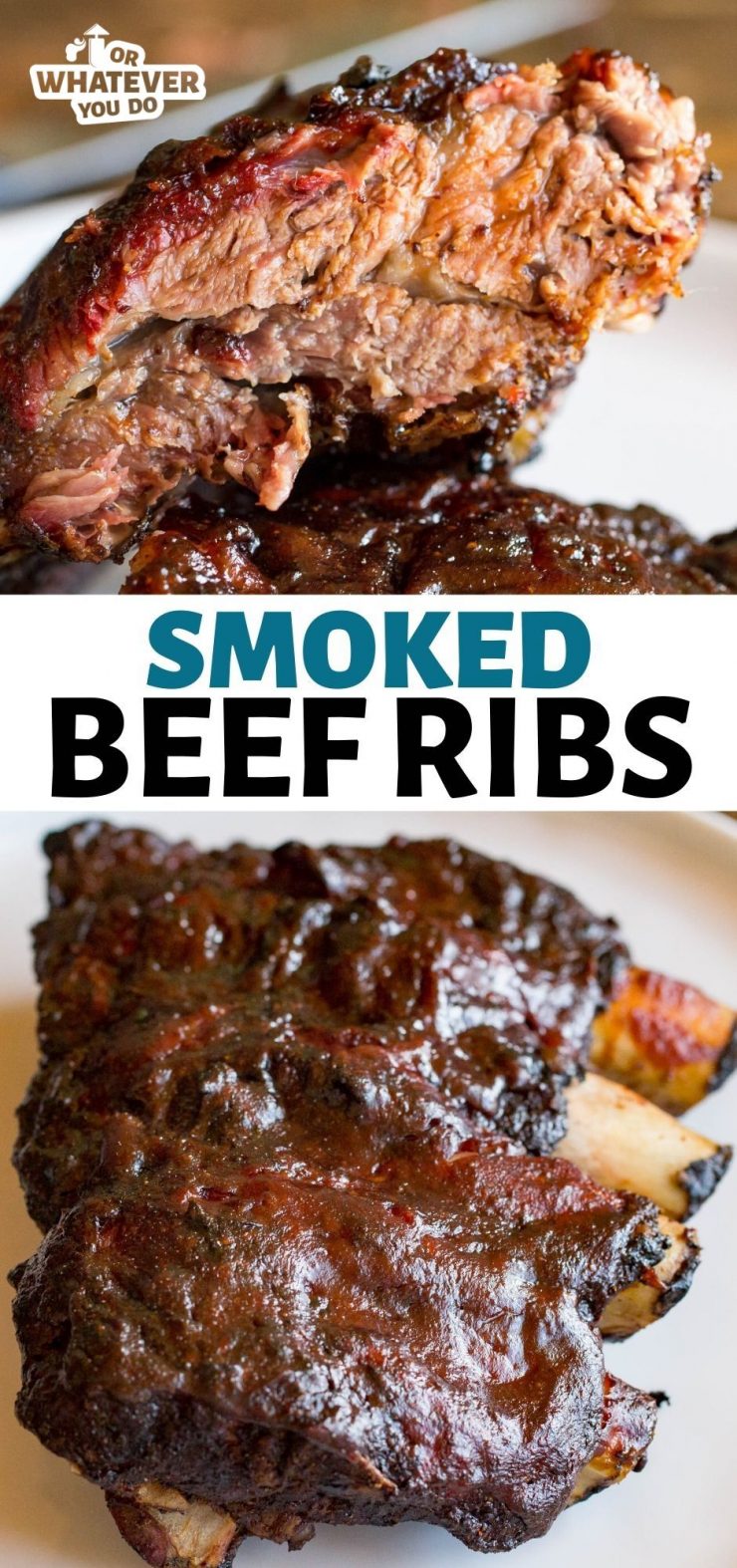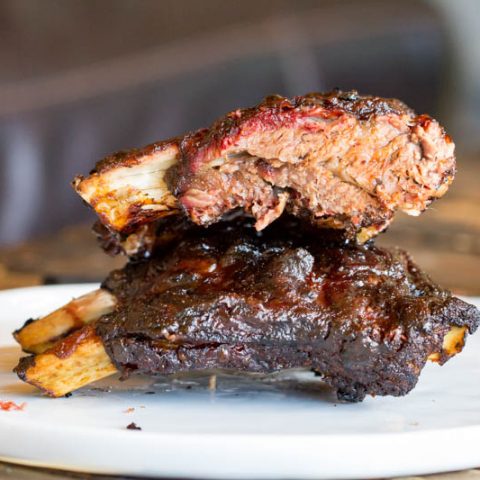 Smoked Beef Ribs
Total Time:
5 hours
15 minutes
My hearty smoked beef ribs are cooked low-and-slow before cranking up the heat a bit and cooking for several more hours until they are super tender.
Ingredients
5 pounds beef ribs
3 tablespoons beef rub
3 cups barbecue sauce
Instructions
Coat the beef ribs with the rub, and preheat your grill to 180° (or the smoke setting) according to factory directions.
Place on the grill and smoke for 2 hours.
Turn the heat up to 275°, and cook for another 2 hours.
Turn the heat up to 325°, baste with barbecue sauce every 10 - 15 minutes for the last hour, or until the ribs are fork tender. The time can vary here depending on your meat.
Remove, let rest for 10 minutes and serve.
Recommended Products
As an Amazon Associate and member of other affiliate programs, I earn from qualifying purchases.
Nutrition Information:
Yield:

10
Serving Size:

1
Amount Per Serving:
Calories:

954
Total Fat:

65g
Saturated Fat:

26g
Trans Fat:

0g
Unsaturated Fat:

30g
Cholesterol:

194mg
Sodium:

1018mg
Carbohydrates:

35g
Fiber:

1g
Sugar:

28g
Protein:

53g
Nutrition data provided here is only an estimate. If you are tracking these things for medical purposes please consult an outside, trusted source. Thanks!