Smoked Beef Ribs on the Traeger Grill are the beefy version of your favorite OWYD rib recipe. Tender, full of flavor, and a legit competitor for my favorite rib.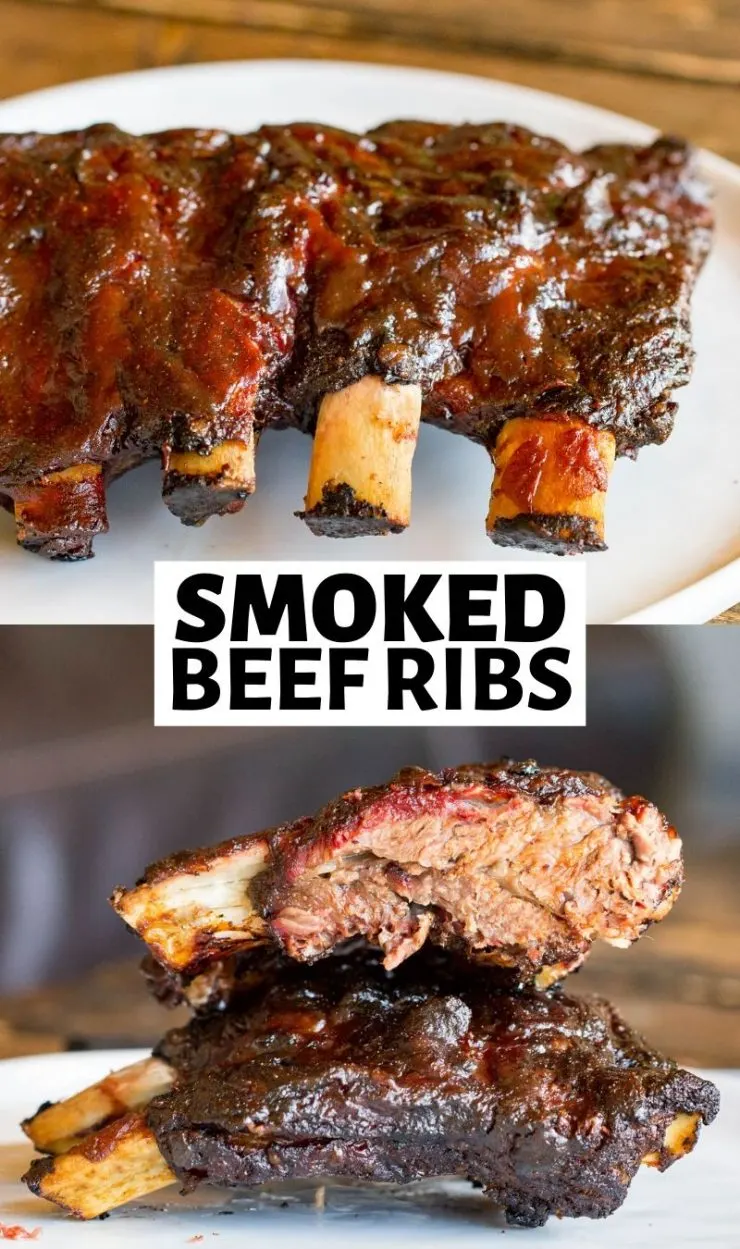 Smoked Beef Ribs
When most people think of ribs they think of baby back ribs, but if you have never ventured into the beef rib territory you are missing out. Beef ribs are good for more than just stock and gravy. My Smoked Beef Ribs take a little time, but the end result is one of the best bites of barbecue you can have.
Barbecue ribs set the bar in the grilling world. Making great ribs cooked low and slow requires an investment, not only in time but in cost as well.
Get all of my Easy Traeger Recipes here!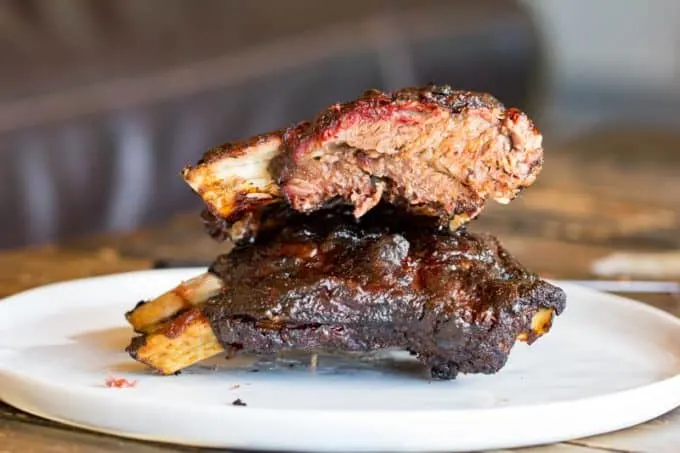 How to make Smoked Beef Ribs
This is just the overview so you can see what you're actually getting into here. When you are cooking, you'll want to use the full recipe at the bottom of the page.
Preheat and season
Preheat your pellet grill to 180-200 degrees. Start by seasoning your ribs liberally with your favorite barbecue rub. I really like our homemade bbq rub, or our OWYD Everything Rub.
Smoke 'em
For 2 hours. Right on the grates.
Turn it up
Turn the heat up to 275° and cook for another ~2 hours. Make sure they aren't over any hot spots and keep an eye on the level of tenderness. When the ribs reach about 205° internal, they should be at or approaching the fork-tender phase.
Turn it up more and baste
Turn the heat up again to 325° this time, and pain on your favorite barbecue sauce. I like thinner vinegar-based sauces for this best. Baste with the sauce every 10-15 minutes for the last hour.
Ribs are done when they are tender!
Keep an eye during the process. Depending on the size and composition of your ribs, they might be ready sooner or later than the times called for here. Pay attention to the meat, and pull once it is fork-tender. When it is getting close, baste with sauce for the last hour.
More Easy Traeger Recipes here!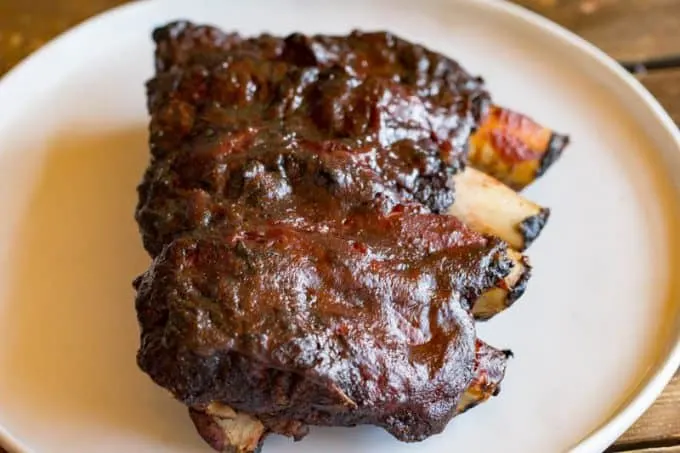 Do you cook beef ribs bone up or bone down?
It isn't a rib without a bone right? The bone in the rib helps impart flavors as well. Park the ribs next to each other with the bone on the bottom. Not only does it help the rib from falling on its side while cooking, but it also breathes flavor into the meat as it cooks on top.
More great BEEF recipes here!
What's the best way to baste beef ribs?
Lightly! Don't worry about adding a bunch of sauce at once. This first slathering is to allow the sauce to melt into the meat. Most of your saucing will go on during the final 30-60 minutes as you paint on additional layers onto the meat.
We use a vinegar-based barbecue sauce for this, and if I'm feeling adventurous I put on a thicker tomato-based sauce on during the end. Either works well here, however, so choose your own adventure!
Get all my recipes for RIBS here!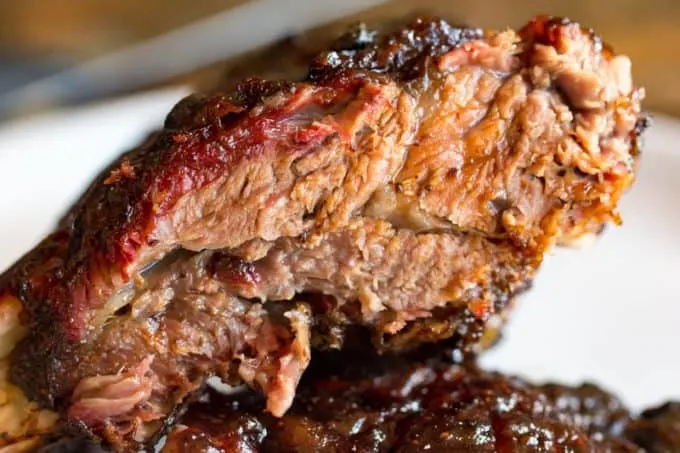 Try our Smoked Dino Ribs Recipe too!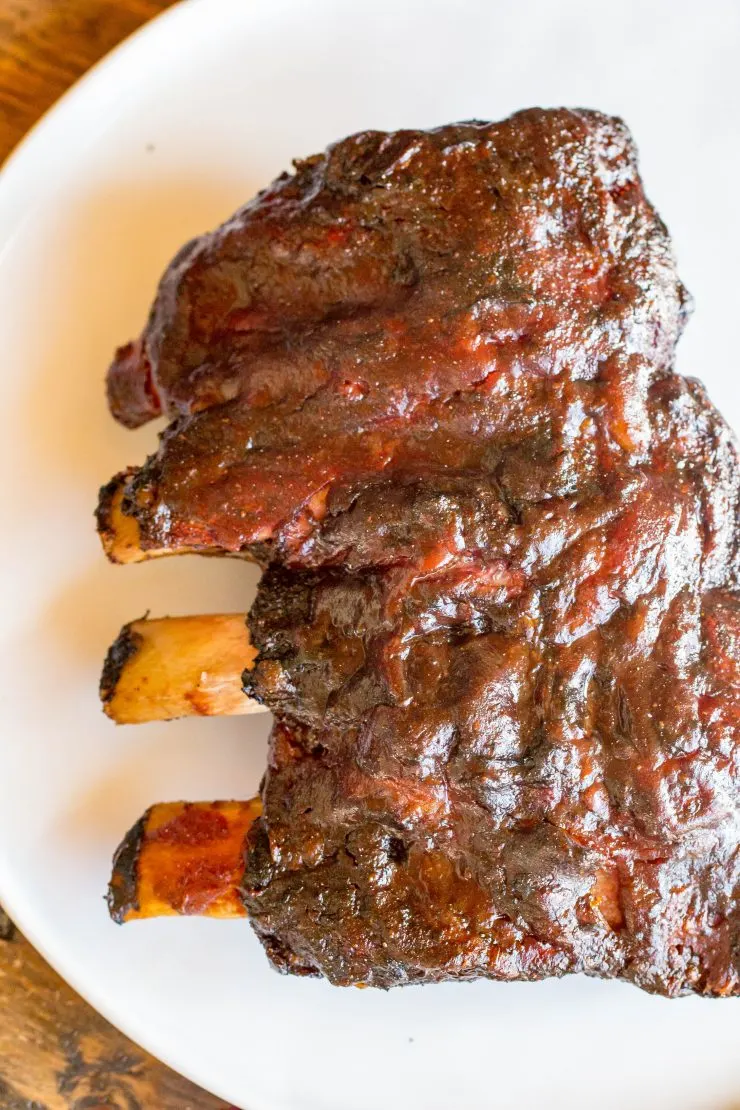 When are smoked beef ribs done?
For the last part of the cooking, the temp runs much higher at 325°. The ribs will cook an additional 1-2 hours at this temp depending on the size. Add some separation to the ribs on the grill so that you have plenty of room to baste them and slather on more sauce to glaze on the meat. You might need longer than 2 hours even. It really depends on the piece of meat. It is done when it is fork-tender.
Keep basting the ribs with more barbecue sauce every 10-15 minutes for another few hours until the meat is super tender.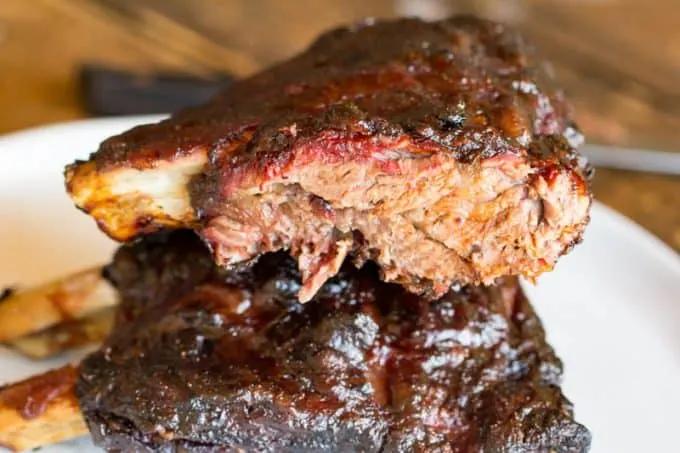 How can you tell when Beef Ribs are done?
Stick a fork in them periodically to check for tenderness. Ideally, spend the last 30 minutes of cooking time brushing on the remaining sauce. Again, you want a good glaze on the meat, not a burned sauce on a perfectly cooked rib.
Let them sit briefly, covered, once they are removed from the grill. About ten to fifteen minutes is usually fine. This lets the meat redistribute the juices evenly.
Follow me on Instagram!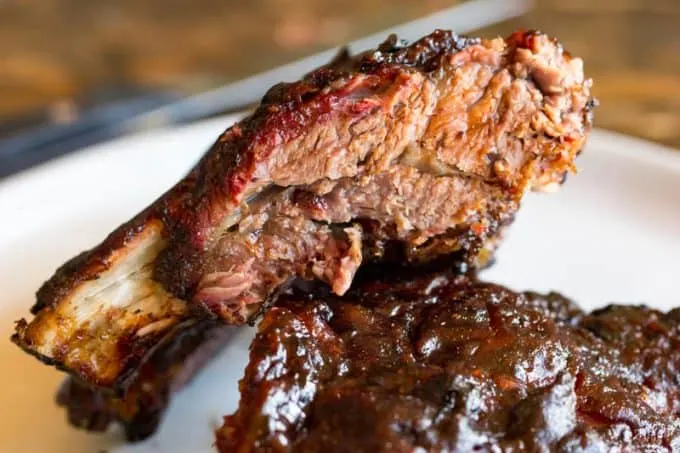 What should I serve with bbq beef ribs?
There are a lot of good options for side dishes with these hearty beef ribs. Some of my favorites are:
Featured Reader Reviews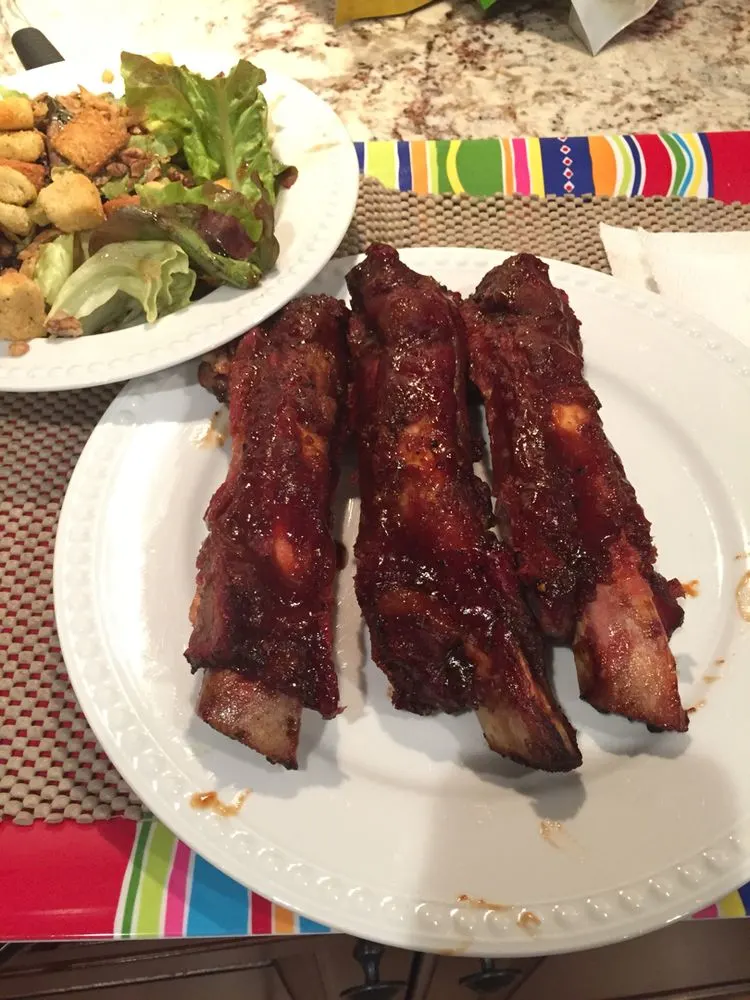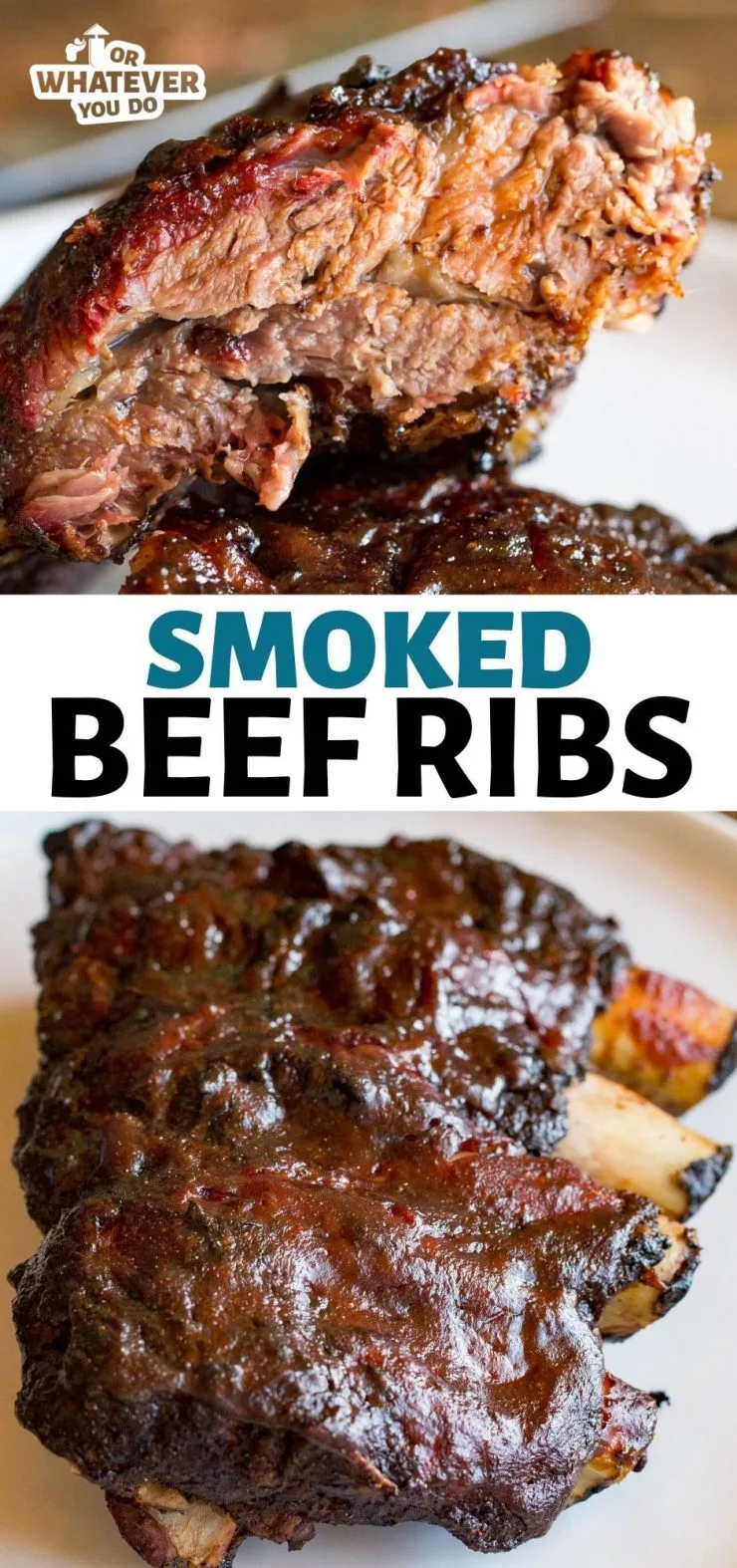 Yield: 6 servings
Smoked Beef Ribs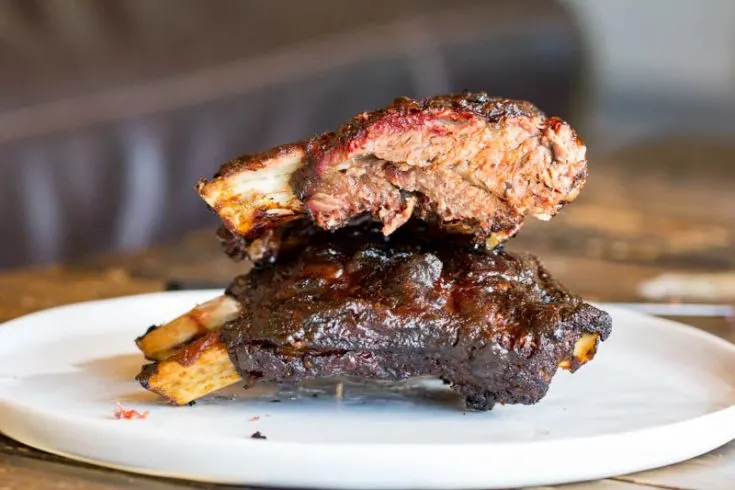 My hearty smoked beef ribs are cooked low-and-slow before cranking up the heat a bit and cooking for several more hours until they are super tender.
Total Time
5 hours
15 minutes
Ingredients
5 pounds beef ribs
3 tablespoons beef rub
3 cups barbecue sauce
Instructions
Coat the beef ribs with the rub, and preheat your grill to 180° (or the smoke setting) according to factory directions.
Place on the grill and smoke for 2 hours.
Turn the heat up to 275°, and cook for another 2 hours.
Turn the heat up to 325°, baste with barbecue sauce every 10 - 15 minutes for the last hour, or until the ribs are fork tender. The time can vary here depending on your meat.
Remove, let rest for 10 minutes and serve.
Recommended Products
As an Amazon Associate and member of other affiliate programs, I earn from qualifying purchases.
Nutrition Information:
Yield:
10
Serving Size:
1
Amount Per Serving:
Calories:

954
Total Fat:

65g
Saturated Fat:

26g
Trans Fat:

0g
Unsaturated Fat:

30g
Cholesterol:

194mg
Sodium:

1018mg
Carbohydrates:

35g
Fiber:

1g
Sugar:

28g
Protein:

53g
Nutrition data provided here is only an estimate. If you are tracking these things for medical purposes please consult an outside, trusted source. Thanks!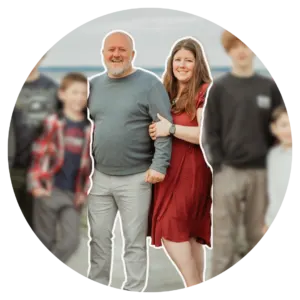 Nicole Johnson, a self-taught expert in grilling and outdoor cooking, launched Or Whatever You Do in 2010. Her blog, renowned for its comprehensive and creative outdoor cooking recipes, has garnered a vast audience of millions. Nicole's hands-on experience and passion for grilling shine through her work. Her husband, Jeremiah Johnson, also plays a pivotal role in recipe development, adding his culinary flair to the mix. Together, they form a dynamic duo, offering a rich and varied outdoor cooking experience to their followers.