Our Loaded Smoked Mashed Potatoes make a great addition to any meal! Add as many (or as few) of the extras as you want, and try to resist making an entire meal out of just these delicious, creamy, smooth, and cheesy mashed potatoes.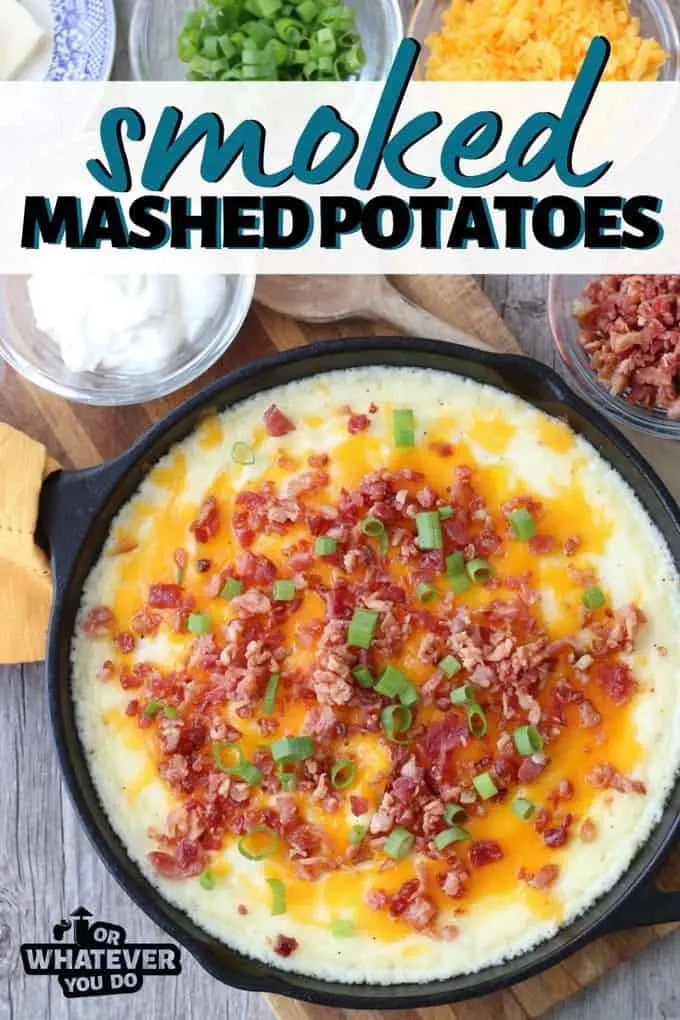 Smoked Mashed Potatoes
Maybe you have had mashed potatoes before, but have you had Smoked Mashed Potatoes? These will hands-down be one of the best recipes you've tried in a while. Loaded Smoked Mashed Potatoes aren't traditional, but they are delicious. The success of these potatoes is found in the russet potatoes used in the recipe.
You can easily use russet potatoes for baking, smashing, or smoking. You get to decide how you make these versatile potatoes. However, today we are making Smoked Mashed Potatoes. Another reason these loaded mashed potatoes are so good is that we are making mashed potatoes with sour cream. If you have never made mashed potatoes with sour cream, you're in for a real treat.
Another way I would describe these Smoked Mashed Potatoes is that they are very buttery and flavorful. When I eat mashed potatoes, they have to be smooth and delicious. You definitely get that with this recipe!
You can totally take these mashed potatoes to any family gathering, church potluck, neighborhood bbq, friendsgiving – anything you want.
Having a party at your house? LOADED POTATOES. Need to feed your family something delicious? Loaded.Mashed.Potatoes.
The next time you are looking for something a little different, this Smoked Mashed Potato recipe should be at the top of your list. The smoked flavor, the creaminess of the potatoes, and the loaded toppings (ALL THE BACON) – everything just comes together perfectly.
More Easy Traeger Recipes here!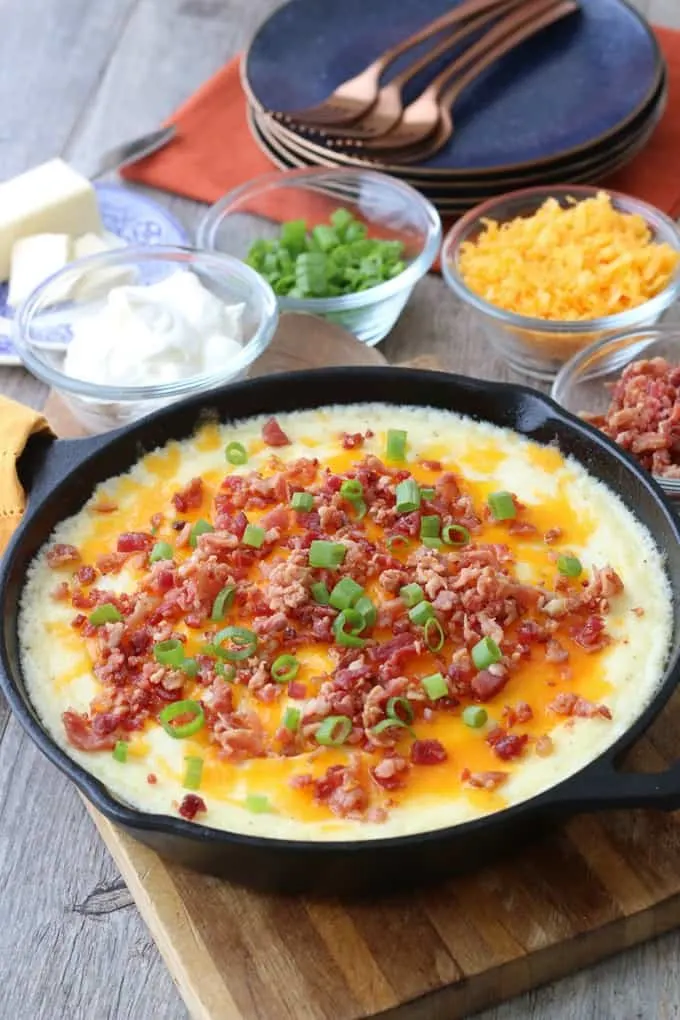 Don't be afraid to add variation
One of my favorite parts of this recipe is that you can add so much variation. There is never a reason to be bored with Smoked Mashed Potatoes. You can also smash these potatoes, instead of mashing them, for a different texture.
I also love adding different combinations of add-ins to these mashed potatoes.
Get my easy Side Dish recipes!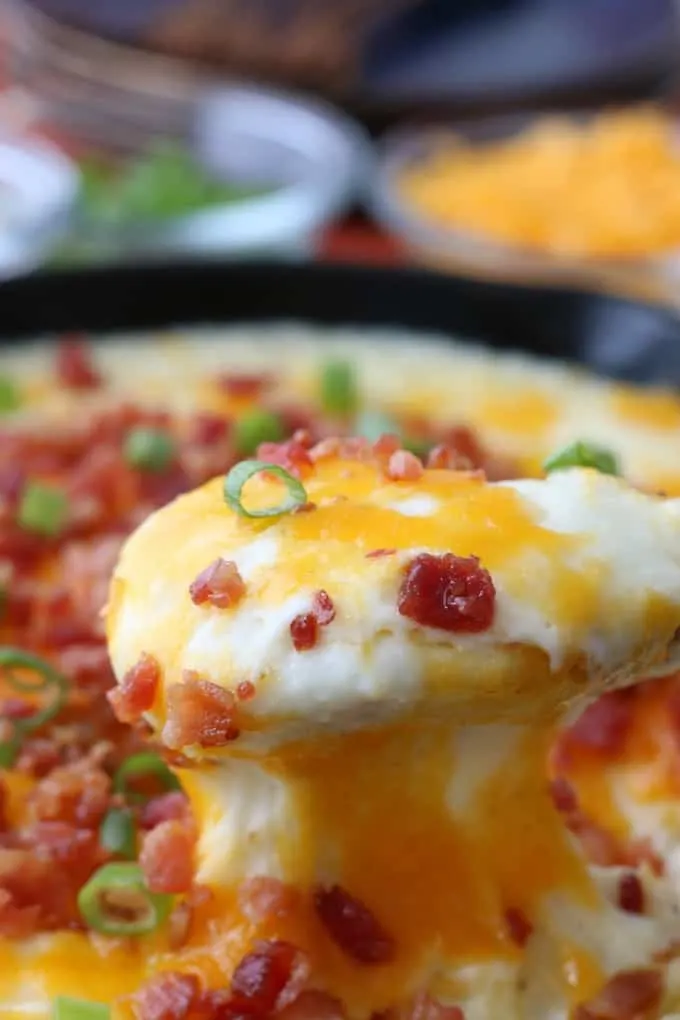 Where Can I Serve Smoked Mashed Potatoes?
So, you think that these mashed potatoes sound delicious, but are you wondering where you can bring them?
Literally, anywhere.
My favorite place to have these potatoes is at barbecues. Most people aren't expecting them, but since they are smoked they really fit right in.
I have only had people compliment the flavor of this simple side dish recipe.
Sunday dinner? Yup.
Church picnic? OH YEAH.
Baby shower? YESSSS Pleaseeeee.
Thanksgiving? You betcha.
Make Traeger Bacon to use in these loaded mashed potatoes!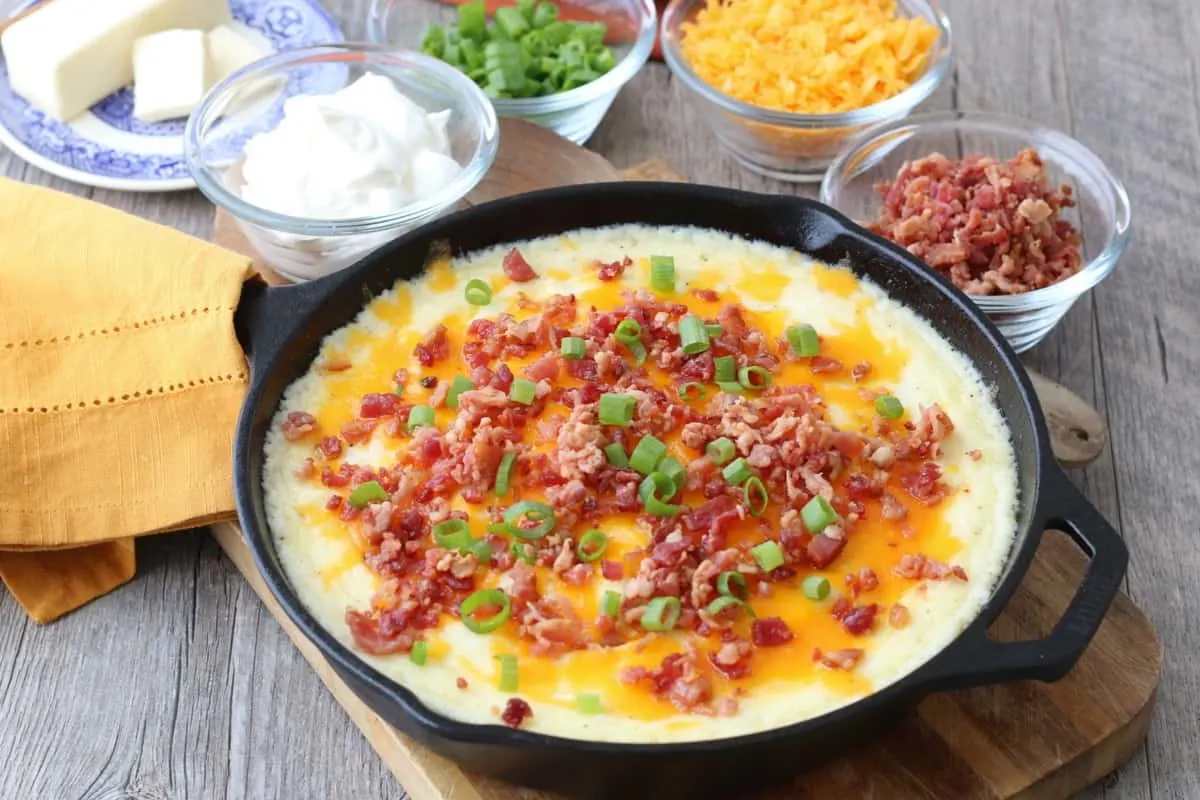 What can I serve with pellet grill mashed potatoes?
If you are going to spend the time making these amazing potatoes, then don't you think you should have something delicious with them? The beautiful thing about these Smoked Mashed Potatoes is that you can serve any kind of meat with them. Grilled chicken, steak, hamburgers, hotdogs, or whatever else you want to have with them, go for it!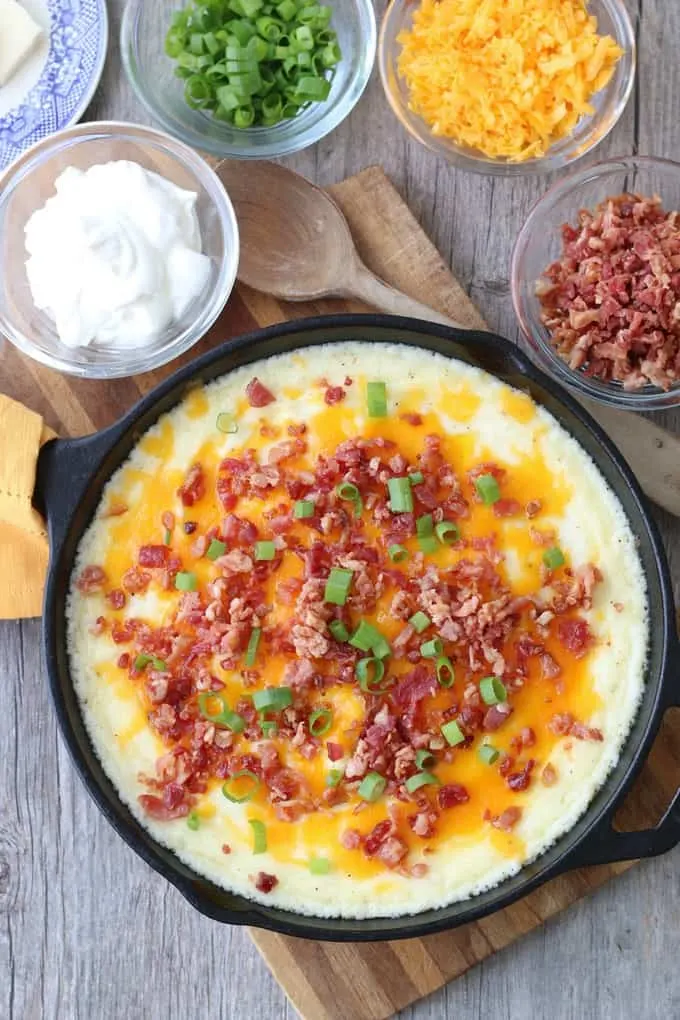 How to make smoked mashed potatoes
Loaded smoked mashed potatoes are easy to make. Just whip up a batch of mashed potatoes like you normally do. Salted water is not optional. Drain them well, and leave the burned on low to cook out a bit of the excess water that doesn't drain.
Where to cook
I have shared with you how to make Smoked Smashed Potatoes before, but these Loaded and Smoked Mashed Potatoes are the best! The pellet grill makes all the difference with these potatoes.
The best part is, it doesn't even take longer than it would if you made these in the oven.
If you don't have a pellet grill, you can also use a smoker or a gas grill with a smoke tube.
Mash the potatoes
Get your potato masher out and get to squishin'. Whatever you do, DO NOT BRING OUT YOUR HAND MIXER. Hand mixers = gummy or potatoes that resemble the texture of glue, and we're trying to avoid that at all costs.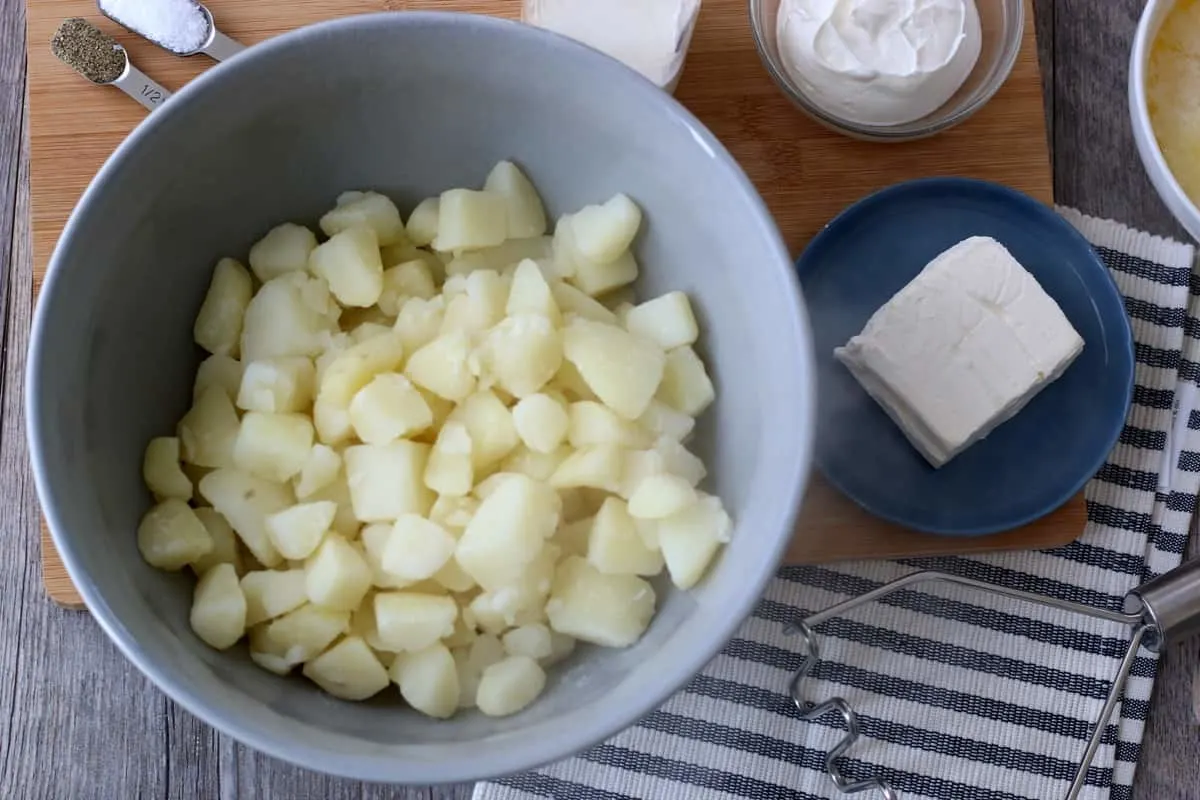 Stir in the mixings
Gently fold in the mixings into the potatoes. No need to get crazy here. There could be some streaks of visible cheese and sour cream, and that's okay.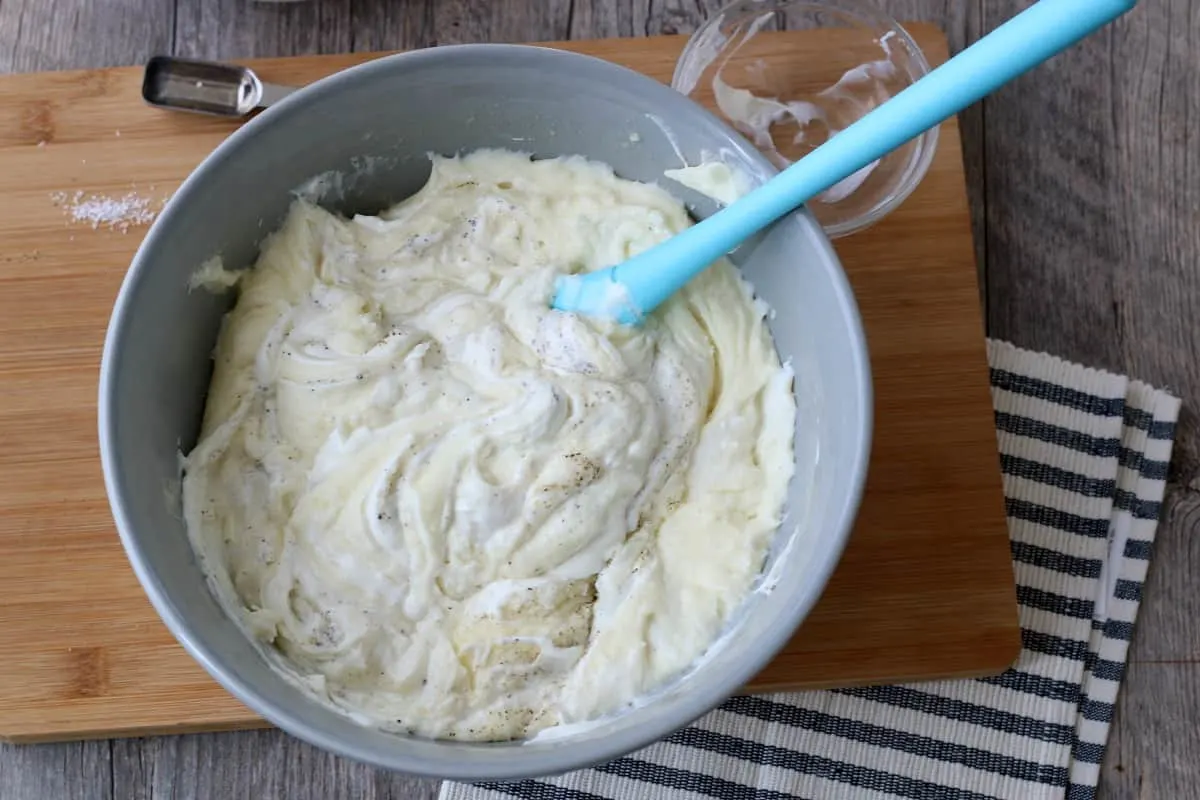 Grill it
Okay so not really grill it. There are a lot of options here. If you want a heavy smoke flavor, I'd hit it on SMOKE mode (or aroung 160-200°) for around 15 minutes before cranking it up to 325°. If you just want a TOUCH of smoke, like – you can tell it was cooked next to a camp fire, basically, just skip the smoke portion.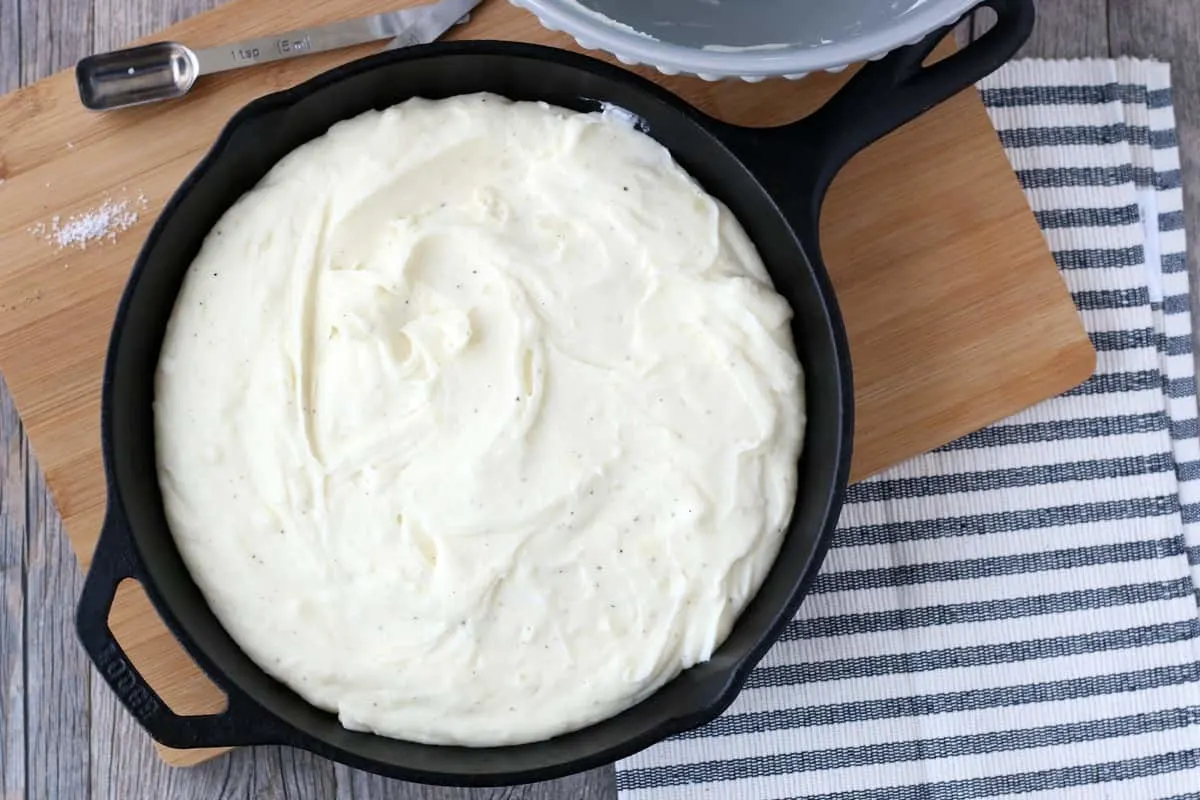 More Potato Recipes here!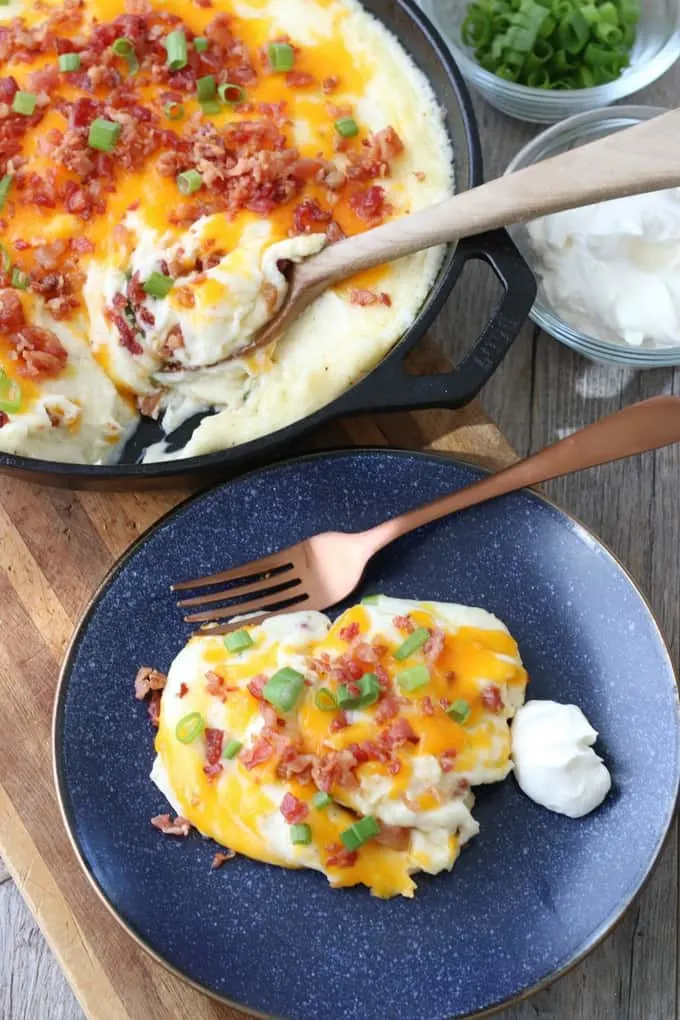 What kind of pellets should I use?
I'm really of the semi-unpopular opinion that what pellets you use isn't really going to have that big of an impact on the end results. Maybe slightly on long smokes? But for quick grilling, especially, it just doesn't matter enough to really worry about, and definitely doesn't matter enough to empty a hopper and switch things out.
We usually fill our hoppers with whatever is handy, and call it good. That tends to be one of the following (affiliate links where available):
Traeger Cherry
Traeger Maple
Camp Chef Competition
Follow me on Instagram!
Maybe the BEST mashed potatoes, ever…
As you can see, these Smoked Mashed Potatoes are a hit at any get together we have! I'd recommend giving this recipe a try for your next gathering. It's time to break out of the old mundane recipes and try something new. These mashed potatoes are calling your name.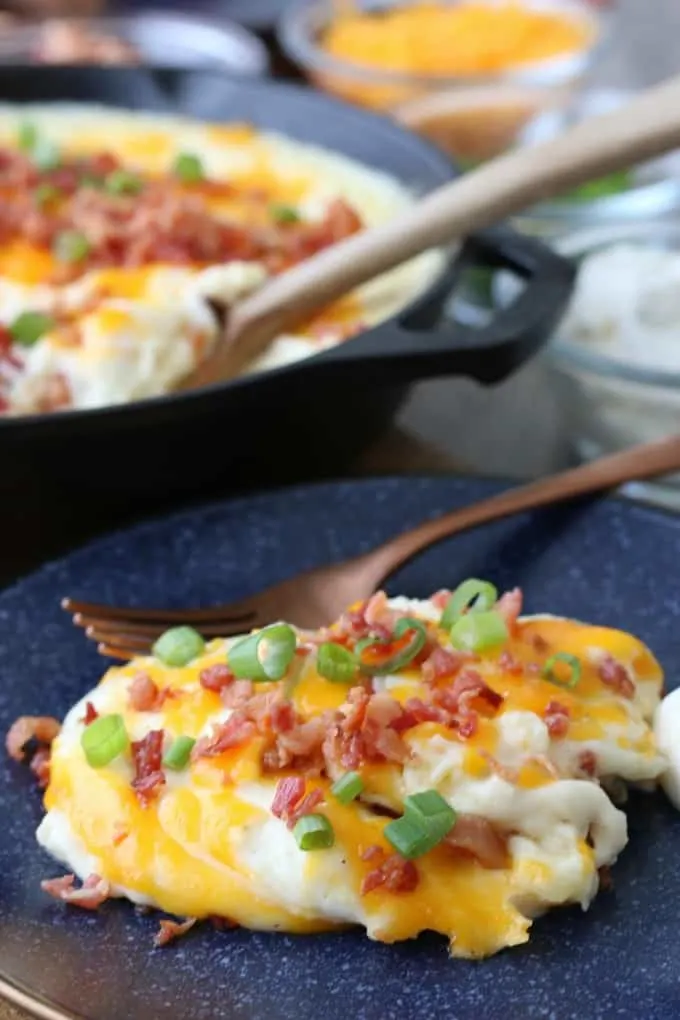 Featured Reader Reviews
"10/10 fully recommend this. It was a huge hit!"

– Casey from Pinterest
Made this for my family along with a Ribeye roast. The potatoes were better than the roast. Love it ! This is one I will add to my favorites. Thank you!

– Timm from Pinterest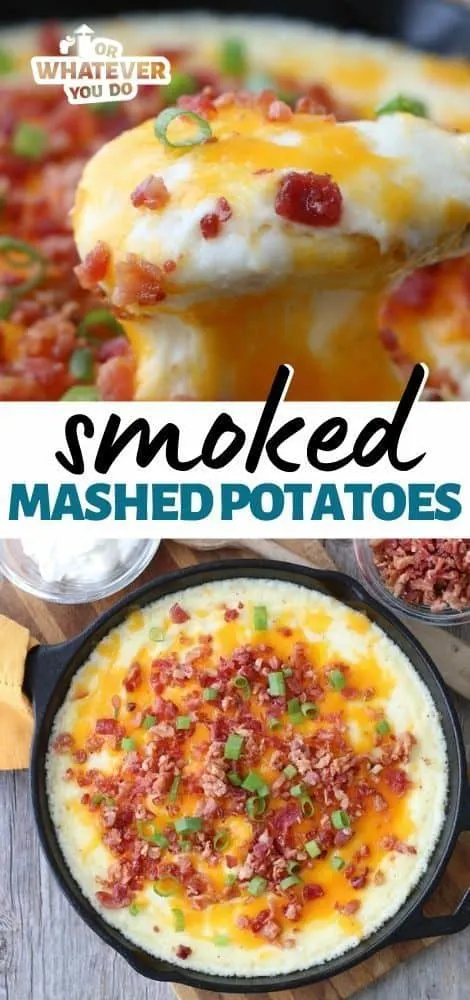 Yield: 6 servings
Loaded Smoked Mashed Potatoes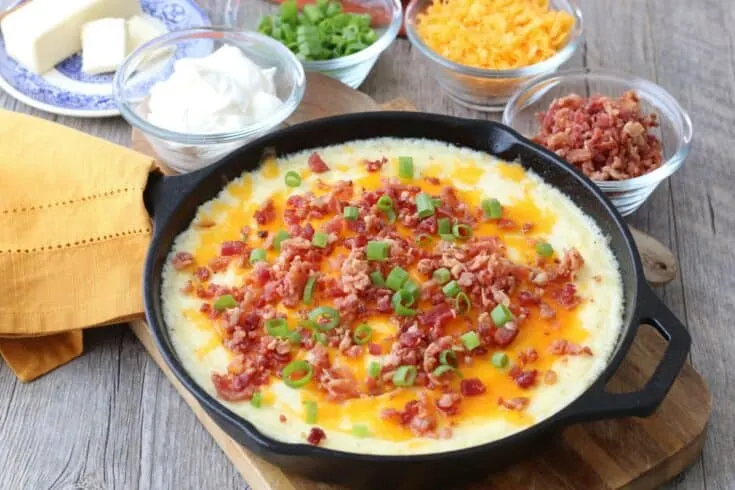 These loaded smoked mashed potatoes are the perfect side dish for whatever meal you want to cook. Especially great served with steaks!
Cook Time
1 hour
15 minutes
Total Time
1 hour
50 minutes
Ingredients
Potatoes
3 pounds russet potatoes, peeled and cut into pieces
water + 2 tablespoons salt (to boil potatoes)
1 cup butter, softened
½ cup cream cheese, softened
½ cup heavy cream
½ cup sour cream
1 teaspoon salt
½ teaspoon pepper
1/2 cup cheddar cheese
1 tablespoon dry ranch dressing mix (optional)
Toppings
1/2 cup cheddar cheese
1/2 cup chopped cooked bacon
1/4 cup chopped green onion
Instructions
Peel and cut potatoes into cubes. Add to a large saucepan, and cover with water. Boil potatoes until fork-tender, about 15-20 minutes
Drain water from potatoes, place the pot back on the stove over low heat and cook for 2-3 minutes continually stirring to cook the remaining excess water out.
Using a potato mashed, mash the potatoes and add butter, cream cheese, and heavy cream. Mash until your desired consistency is reached.
Add salt and pepper to taste, and fold in sour cream, cheddar cheese, and ranch powder.
Spray a grill-safe dish with cooking spray, and spoon the potatoes into the pan and spread evenly. A 8-9" cast iron pan works great for this. If you double the recipe you'll want to use a 10x13.
Preheat pellet grill to 350° according to factory directions. Place the potatoes onto the grill, and bake for 45 minutes. Cover with foil if the top starts to brown.
Remove from the grill and top with the additional cheese and bacon. Sprinkle the green onions on immediately before serving.
Recommended Products
As an Amazon Associate and member of other affiliate programs, I earn from qualifying purchases.
Nutrition Information:
Yield:
8
Serving Size:
1
Amount Per Serving:
Calories:

631
Total Fat:

46g
Saturated Fat:

27g
Trans Fat:

1g
Unsaturated Fat:

16g
Cholesterol:

130mg
Sodium:

2556mg
Carbohydrates:

40g
Fiber:

4g
Sugar:

4g
Protein:

15g
Nutrition data provided here is only an estimate. If you are tracking these things for medical purposes please consult an outside, trusted source. Thanks!