These Traeger Grilled Beef Short Ribs are a definite must-have for your collection of grilling recipes for this season! Cut and trimmed into a "lollipop" style, then cooked low and slow on the Traeger Grill with my homemade BBQ sauce, fall-off-the-bone tender and savory flavors will have your family licking their fingers and asking for MORE!
Traeger Beef Short Rib Lollipop
Ribs are a popular choice when it comes to grilling. They are easy to prepare and as long as you don't get into a rush when you're cooking them! Braised, smoked, or grilled – the key is low and slow for these delicious short ribs.
What are beef short ribs?
Beef short ribs are basically the same cut as pork spare ribs. Beef ribs come in two different kinds; short ribs and back ribs.
Short ribs are cut from the short plate section near the flank and brisket areas (near the bottom of the animal). You can choose bone-in or boneless when buying. They used to be a cheap cut of meat until it was discovered that cooked properly, they are a tender, delectable alternative to pork ribs and even pot roast.
Finding short ribs in lollipop form isn't your typical short rib cut and might not be readily available everywhere you go. If you do find one, it is really a treat. Ask your local butcher if they ever have these in stock and grab a few to try!
How to buy the best short ribs
When buying your short ribs, be sure to inspect the package to make sure that each bone has a good portion of meat on it. The meat should also have a good amount of marbling.
Short ribs and back ribs are available in different "grades". What you will find at your local grocery store will be the select grade meat and is the least expensive. Choice and prime grades are usually available at certain grocers (like Costco and upscale grocery stores) or butcher shops, but they cost more because you'll find more marbling which adds to the flavor and tenderness.
Kobe or Wagyu beef is beef from the Tajima strain of Japanese Black cattle and may only be available if special ordered at your butcher. This beef is considered a delicacy.
You also have a choice of organic, grass-fed, or conventional beef. Organic is typically the most expensive compared to grass-fed or conventional.
Get our 75 ESSENTIAL Traeger Recipes here!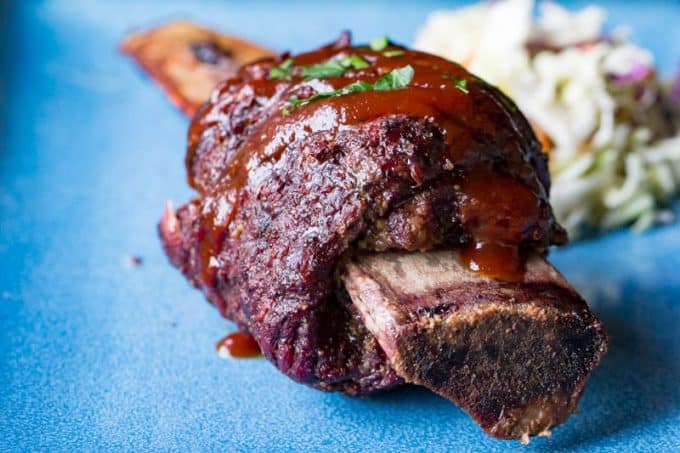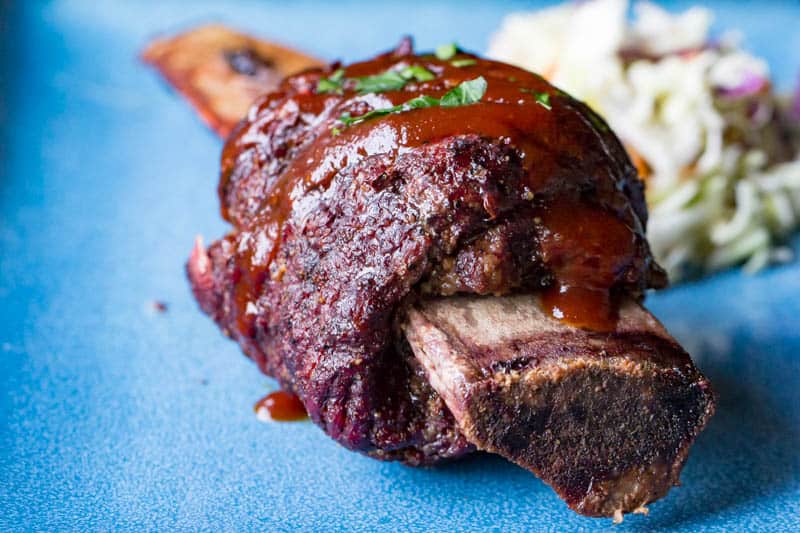 Short Rib Lollipop shopping list
Wondering if you have to hit the store? Here's the list of items you'll need to make this recipe. For specific amounts, please refer to the printable recipe card at the bottom of the post.
beef short ribs – lollipop-style
More Traeger Beef Recipes here!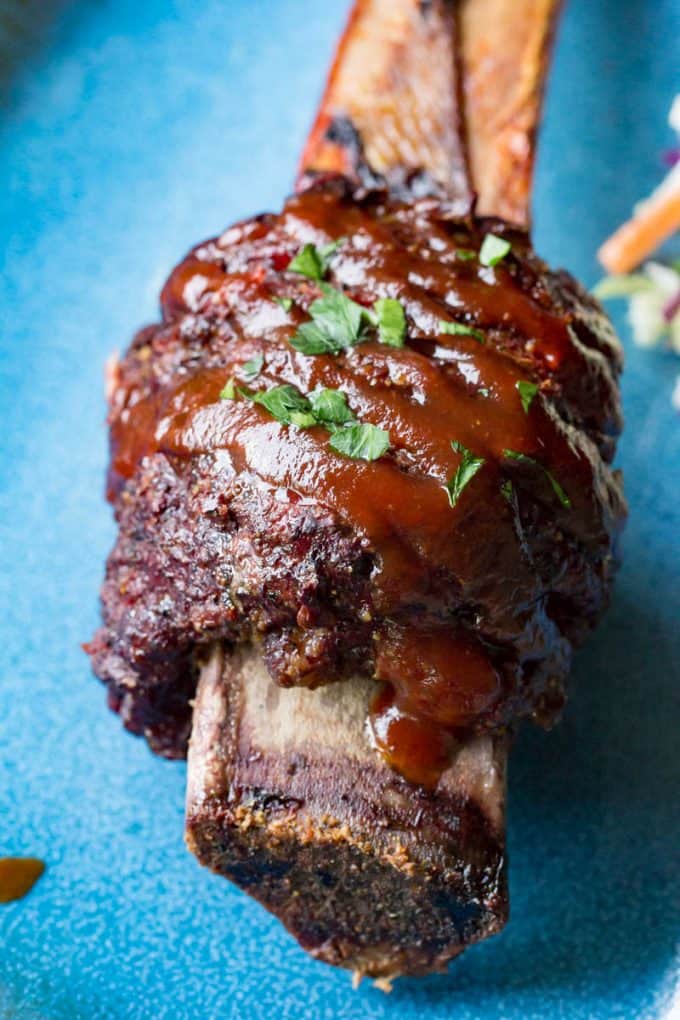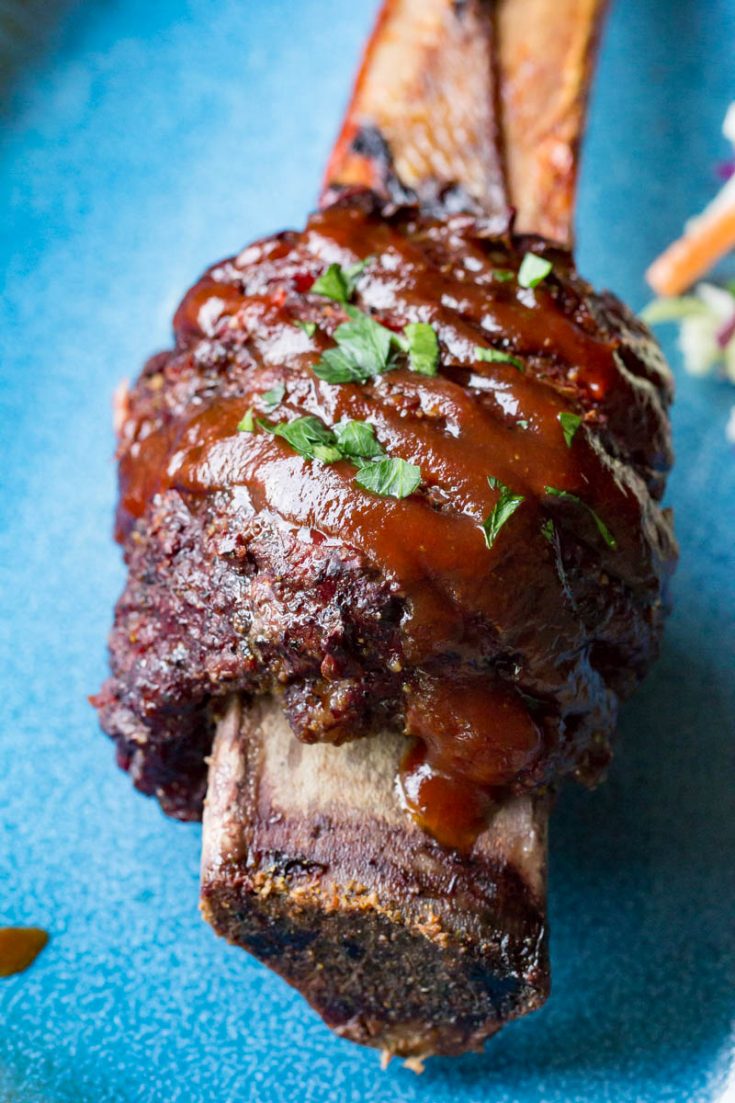 How to make Lollipopped Beef Short Ribs
This is just the overview so you can see what you're actually getting into here. When you are cooking, you'll want to use the full recipe at the bottom of the page.
Preheat
You want low-and-slow here, so shoot for around 275°.
Season
Season the meat with your favorite bbq rub. I have a great homemade version that works really well here!
Smoke
An average-sized short rib lollipop will take about 3-4 hours to cook. You want to make sure it gets up to 203-204° and is probe-tender. The one pictured was cooked without wrapping, but if you like to wrap you sure can! Sauce with a vinegar-based BBQ sauce and wrap away.
Enjoy
These are rich, tender, and delicious. You'll want one for every person if they have a big appetite. If they have a smaller appetite, one might be enough between two people.
Don't forget to check out our Pellet Grill Hub!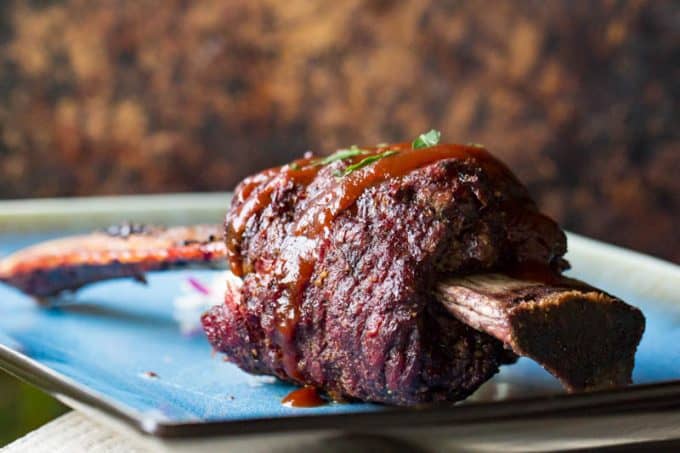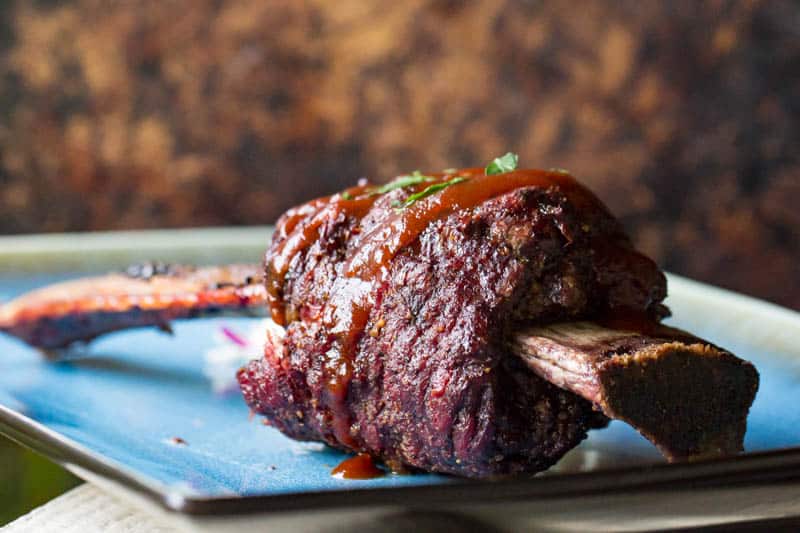 Beef Short Rib Lollipop FAQ
How many pounds per person?
It depends on the specific cut, but a reasonably hungry person could definitely have one of these to themselves. I'd suggest serving this as a part of a bunch of barbecue offerings rather than all on its own.
Can you cook this in the oven?
Yup! If you don't have a smoker, get one! But you can still make this in the meantime in the oven.
What is a lollipop short rib?
The "lollipop" short rib is simply a rib where the rib is frenched (exposing the bone and trimming the meat)
They are then seasoned and smoked, braised, or grilled slowly. Some choose to cook them "standing" with the bones resting together to provide support for the "tower".
If you are intimidated by attempting this cut at home, you can always ask your butcher to prepare them this way for you.
Follow me on Instagram!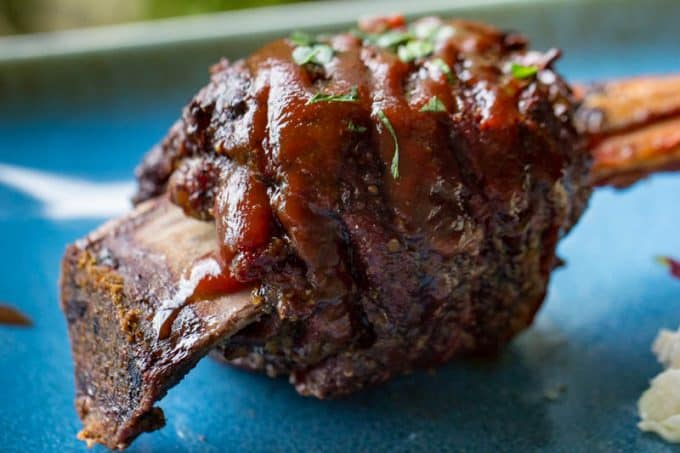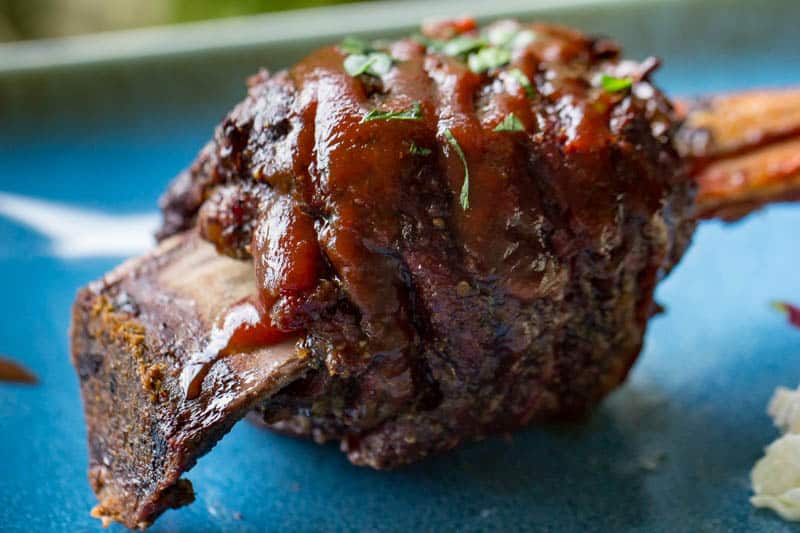 What should you serve with Smoked Short Rib Lollipops?
BBQ Ribs are great any time of the year, but especially in the nicer weather months when you can kick off your shoes and have the kids playing in the yard while you run the grill.
BBQs always bring to mind sides that only tend to appear in the summer! I have many ideas here for several perfect side dishes that would compliment these Grilled Beef Short ribs.
If you want to include a vegetable option, my BBQ Wood Fired Veggie Tray is a GREAT option for variety and also continuing with the wood-fired flavor of the ribs. Or Traeger Grilled Corn on the Cob is another option that everyone loves!
My Traeger Smoked Macaroni and Cheese is DELISH! Again keeping with the wood-fired smoky flavors and not to mention…….KID FRIENDLY!!!!!!!!
If you want to go traditional, you could always whip up a pot full of homemade mashed potatoes, or even polenta. Serve some warm corncakes on the side and there you have a heart-warming home-cooked meal to serve your family and friends.
Personally, I like to get full use of my Traeger Grill(s) to make my WHOLE meal. Saves time and prevents me from running back and forth to the kitchen all while my guests are trying to visit with me. Just bring out your stuff and your beverage and hang outside with the rest of the fun crowd.
See all of my amazing Side Dish Recipes here!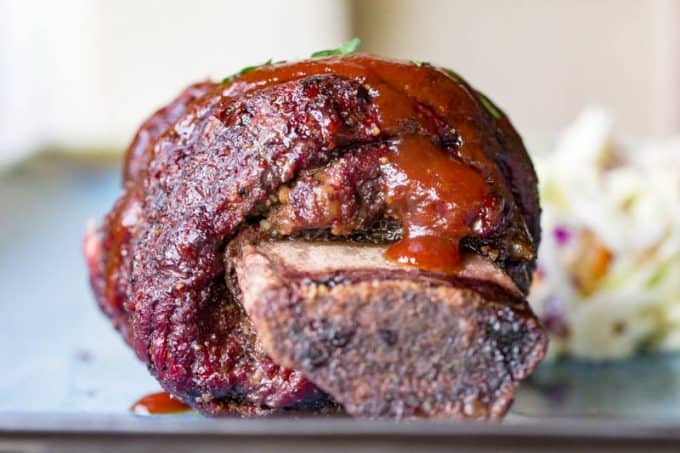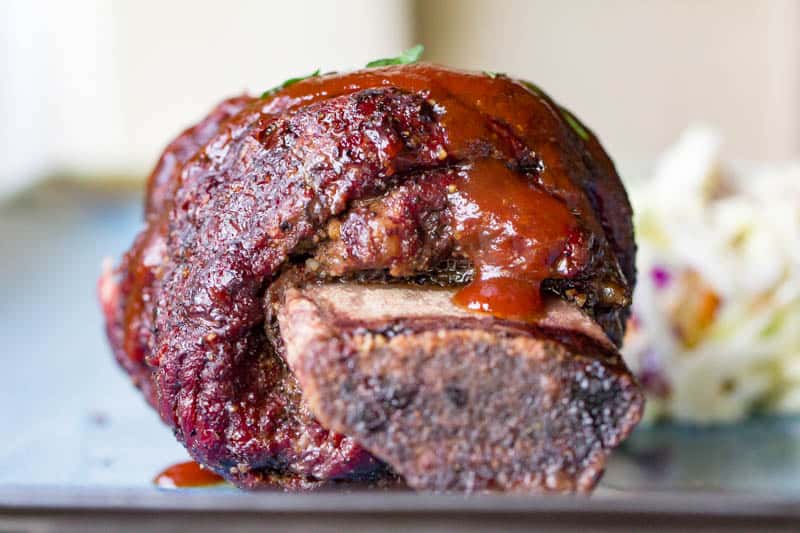 More great recipes to love!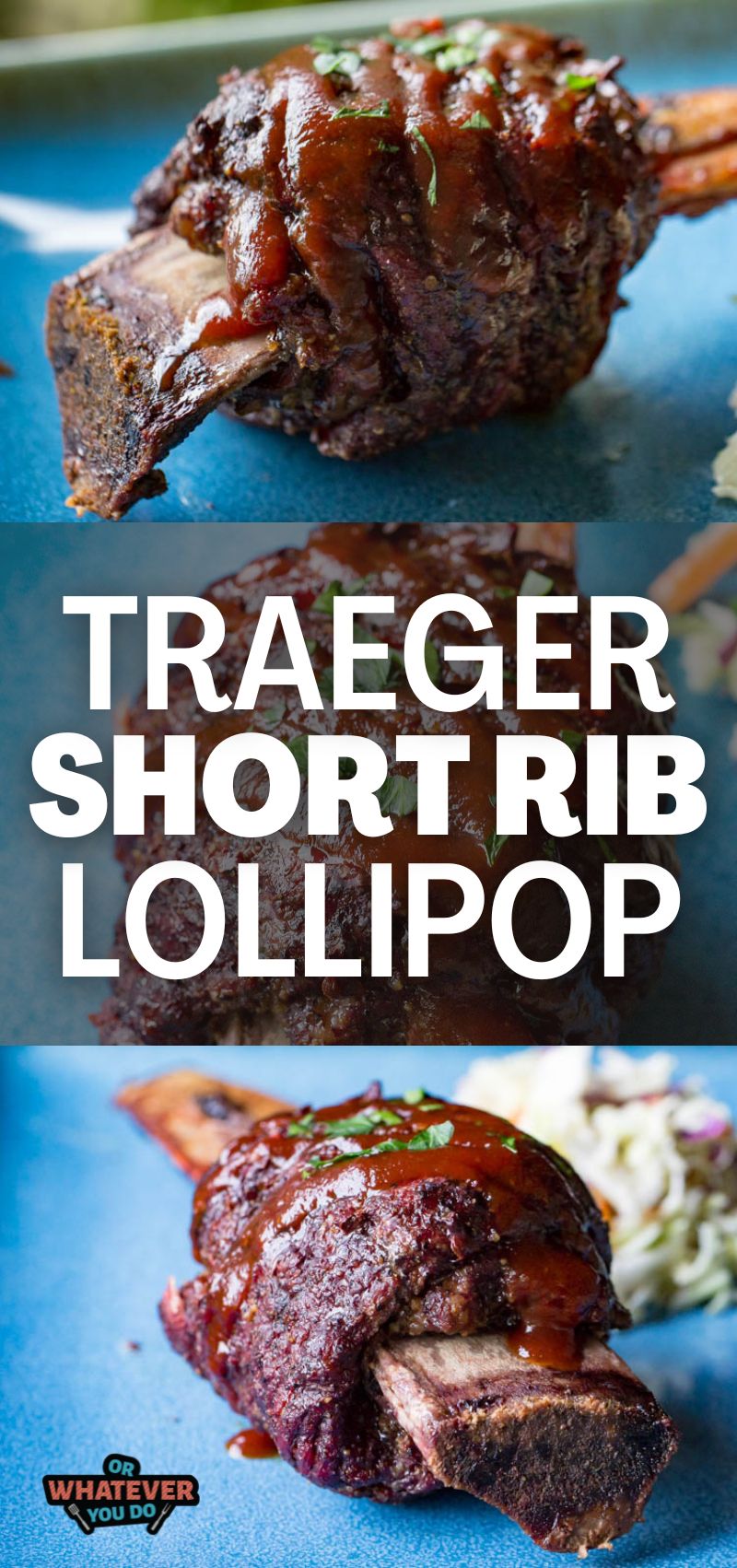 Yield: 4 servings
Traeger Beef Short Rib Lollipop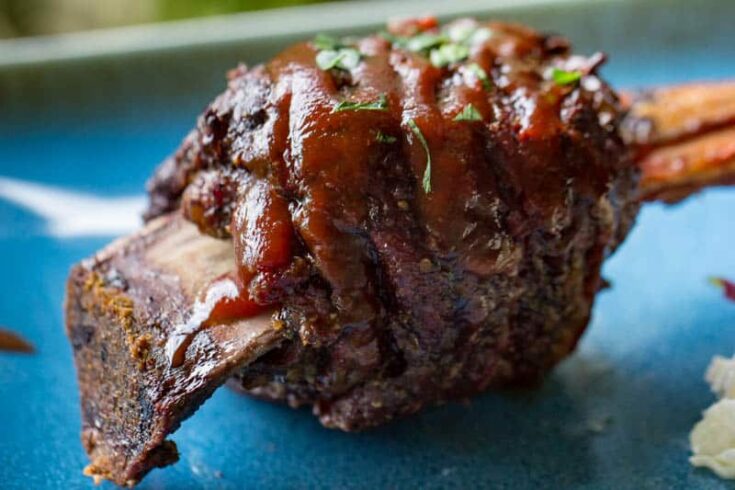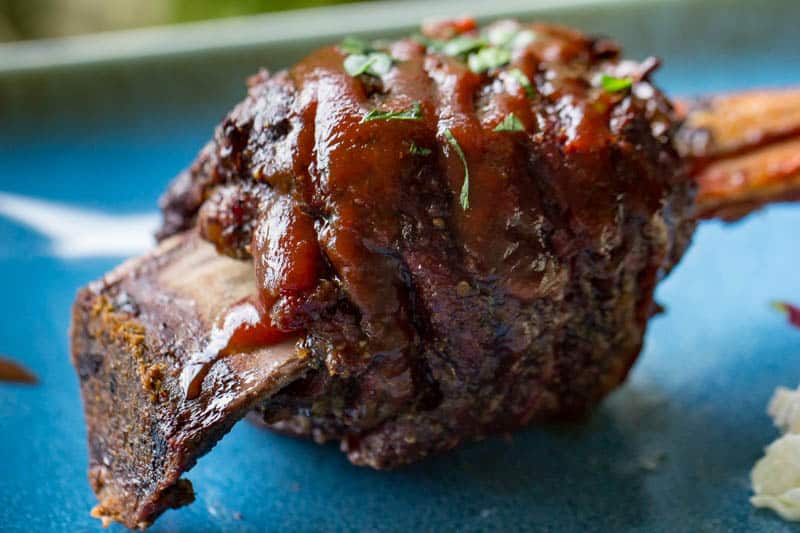 These tender smoked short ribs are slow-cooked on the pellet grill until they are fork tender and amazing.
Total Time
3 hours
30 minutes
Ingredients
4 beef short rib lollipops
Liberal amounts of BBQ Rub
Instructions
Preheat your pellet grill according to factory instructions to 275°.
Season all sides of the lollipop with the rub, and place on the grill.
Cook for approximately 3-4 hours, turning regularly, until the meat is tender.
Baste with barbecue sauce during the last 30 minutes, if desired.
Recommended Products
As an Amazon Associate and member of other affiliate programs, I earn from qualifying purchases.
Nutrition Information:
Yield:
4
Serving Size:
1
Amount Per Serving:
Calories:

265
Total Fat:

19g
Saturated Fat:

9g
Trans Fat:

1g
Unsaturated Fat:

11g
Cholesterol:

85mg
Sodium:

60mg
Carbohydrates:

1g
Fiber:

0g
Sugar:

1g
Protein:

22g
Nutrition data provided here is only an estimate. If you are tracking these things for medical purposes please consult an outside, trusted source. Thanks!