My easy Coleslaw Recipe with Vinegar is one of my favorite versions of coleslaw, includes NO mayo, and goes well with any barbecue or other coleslaw-friendly meal.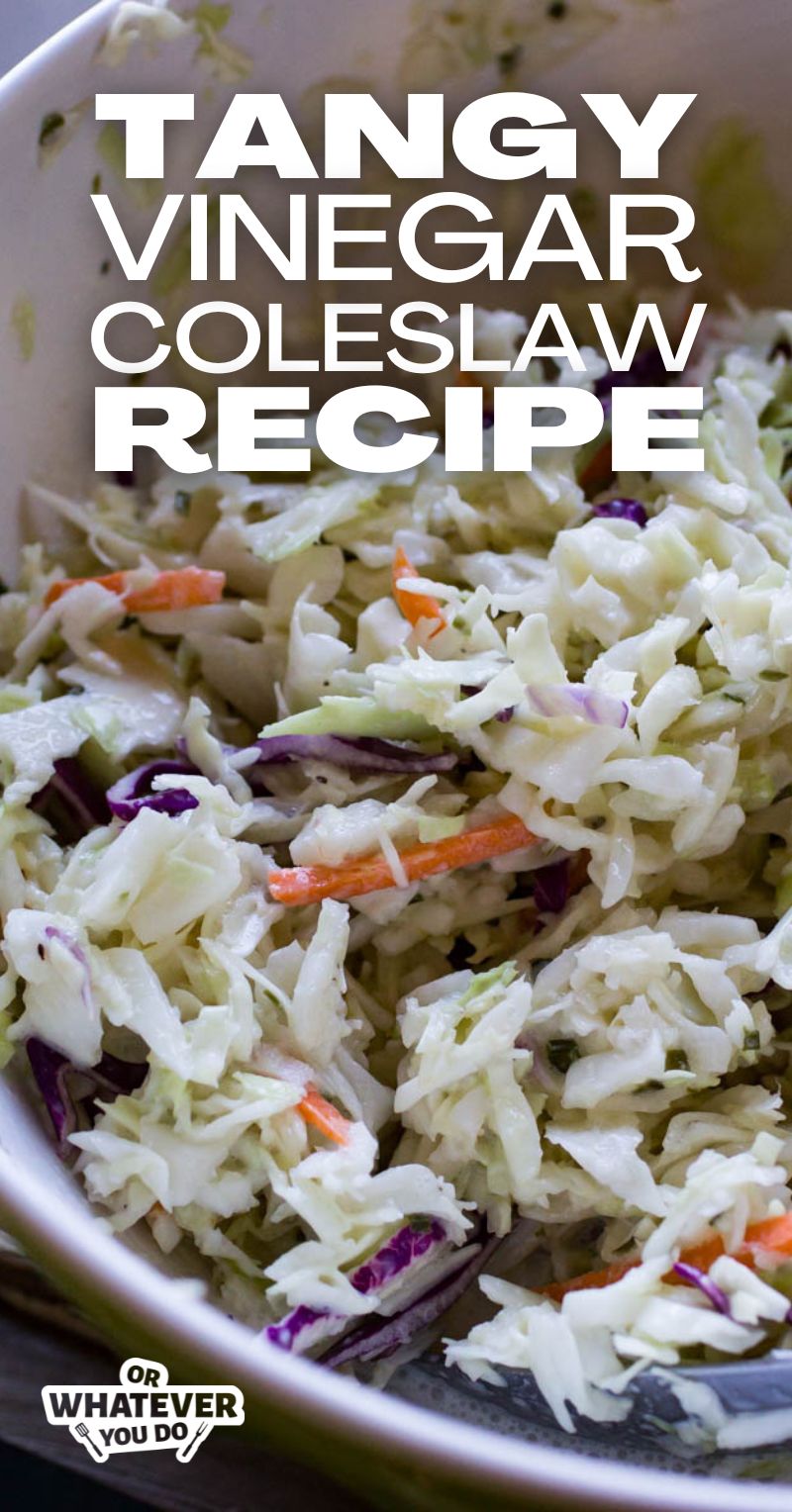 Coleslaw Recipe with Vinegar
Coleslaw is such a classic side dish to make, and there are as many coleslaw recipes as there are people. This particular one is my favorite non-mayo version. I have a classic Creamy KFC Coleslaw copycat on the site as well, and if you are into creamy, tangy coleslaw that is something you'll definitely want to check out.
Don't forget to check out our Pellet Grill Hub!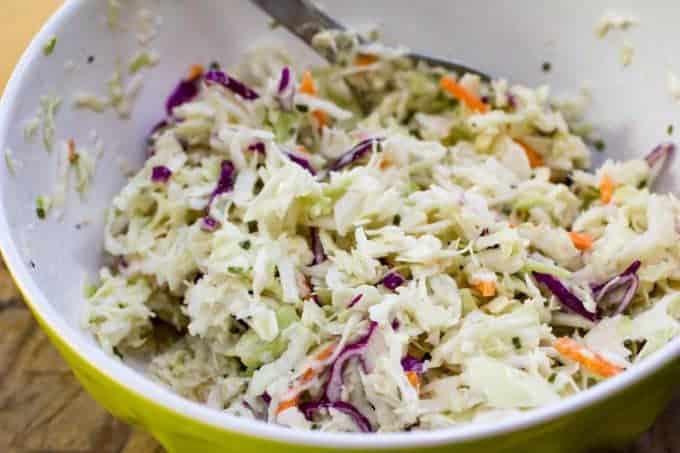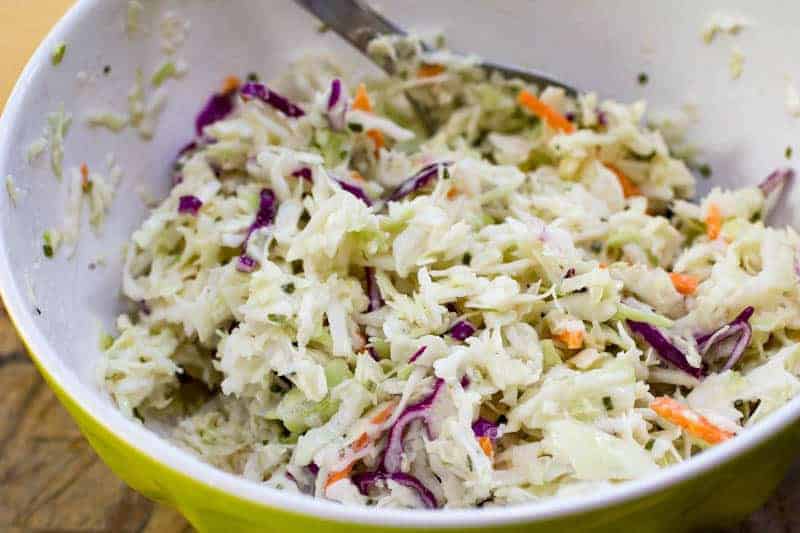 What Goes Well With Coleslaw?
ALL THE THINGS. But especially:
I really REALLY like loading up my barbecue pulled pork sandwiches with coleslaw right on top. It is a great texture to go with the smokey meat.
Follow me on Instagram!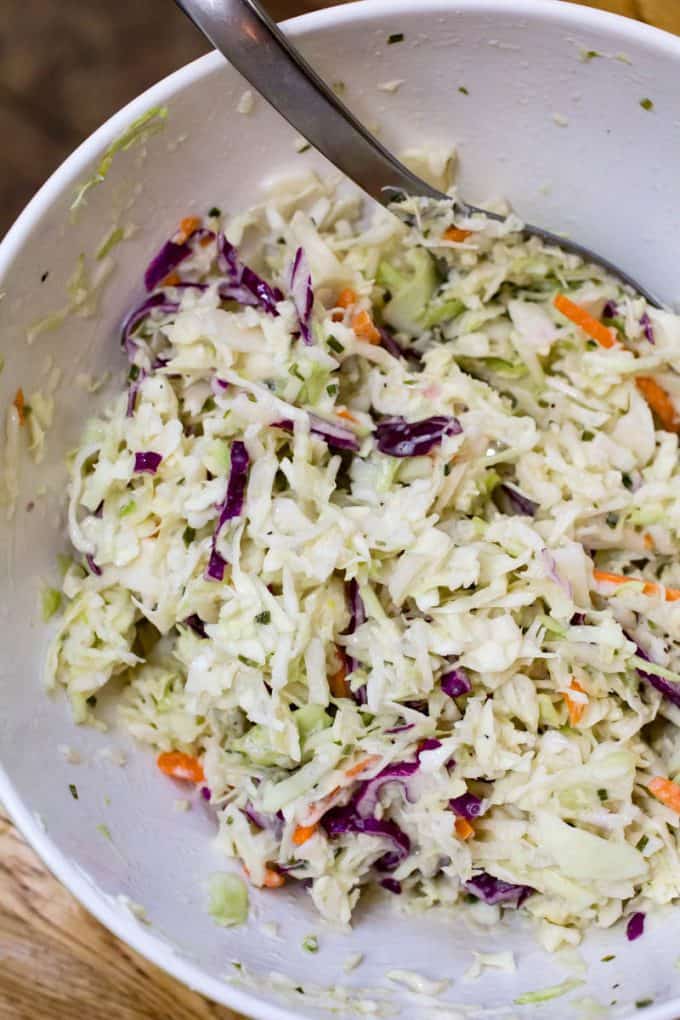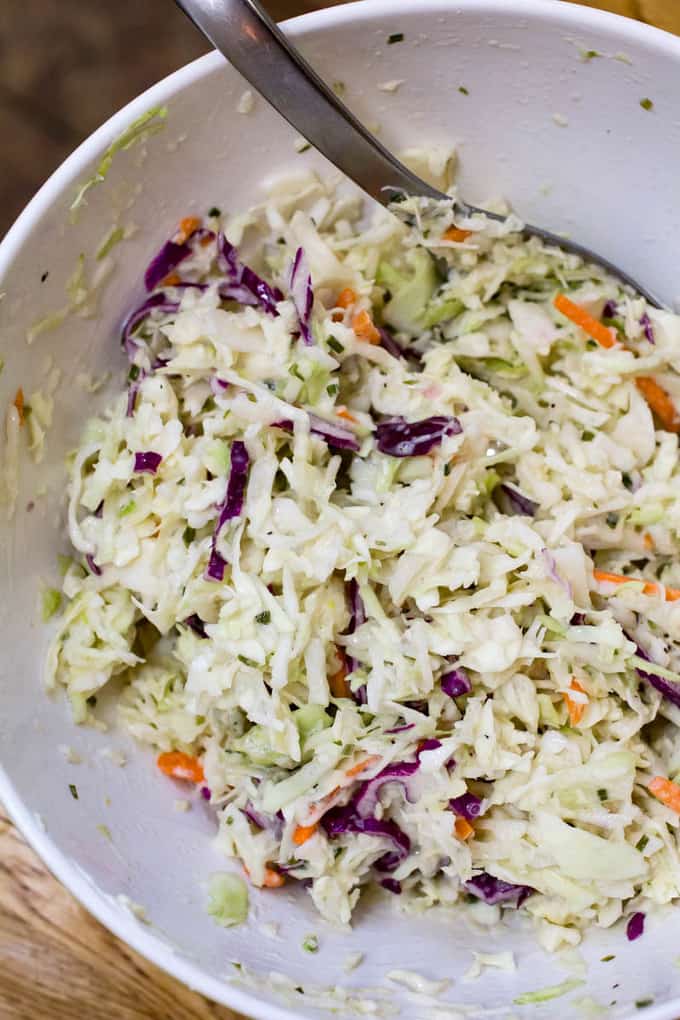 How long can coleslaw stay out?
Food shouldn't stay out in the "danger zone" longer than a couple of hours to be safe. The danger zone is basically anything under steaming hot, and anything over fridge temperature. There is an actual temperature range that you can look up if you want, but a good rule of thumb is to keep hot things hot and cold things cold, and put away things promptly once you are done serving them.
Get my easy Side Dish recipes!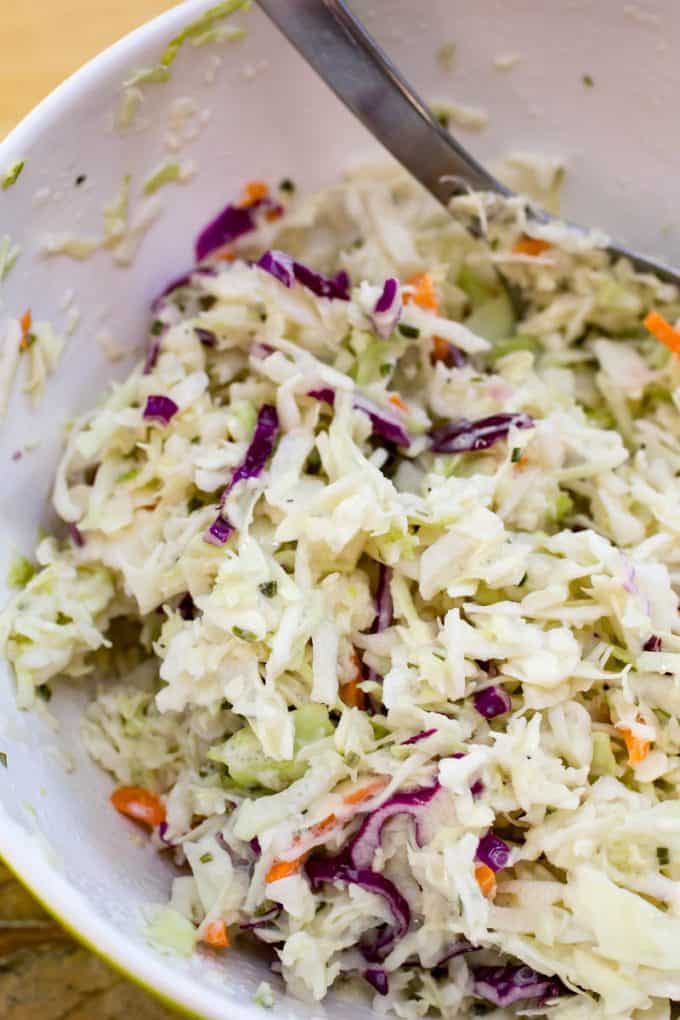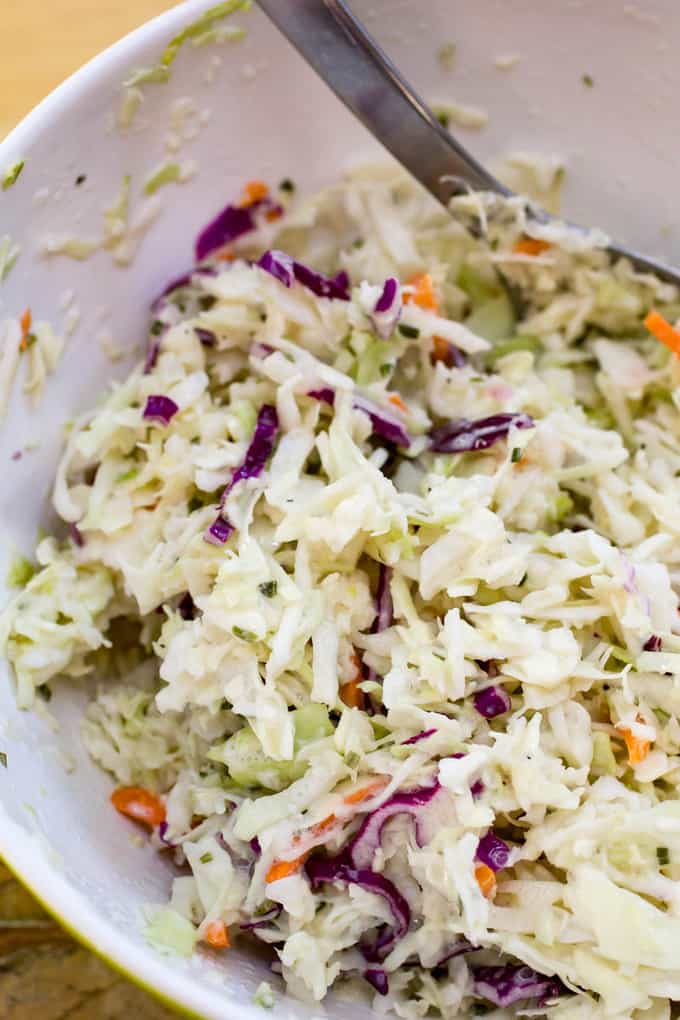 Is coleslaw healthy?
It is vegetables. Cabbage and carrots and more cabbage, oh my. Vinegar based coleslaw is definitely better than creamy coleslaw from a calorie perspective, but whether it is "healthy" or not really depends on your diet and your goals. I don't like to call things healthy or unhealthy. Everything is cool in moderation, right?
See all of my chicken recipes!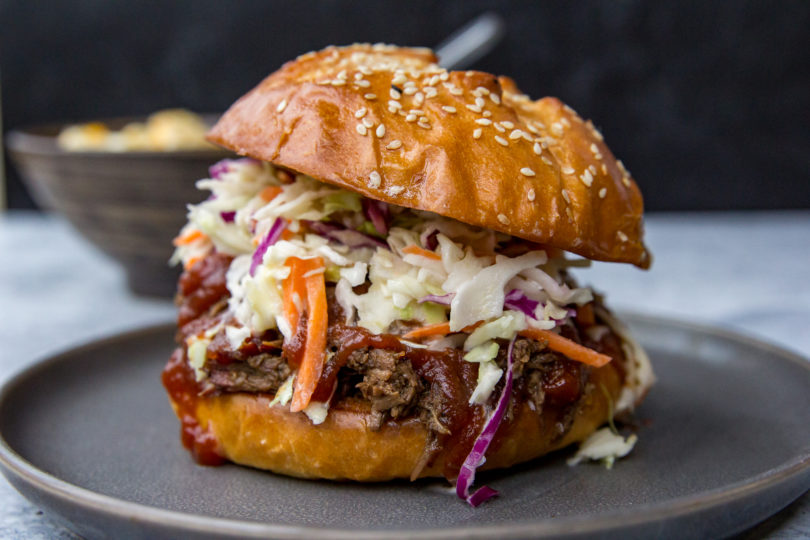 What is the best thing to do with cabbage?
Homemade coleslaw is way up there on MY list, but if you need some more ideas I have some of those too.
More great recipes to love!
Reader Reviews!
"I make this coleslaw recipe when I make pulled pork or fried fish. It is my favorite recipe to use. Thank you for sharing."

Jane from Pinterest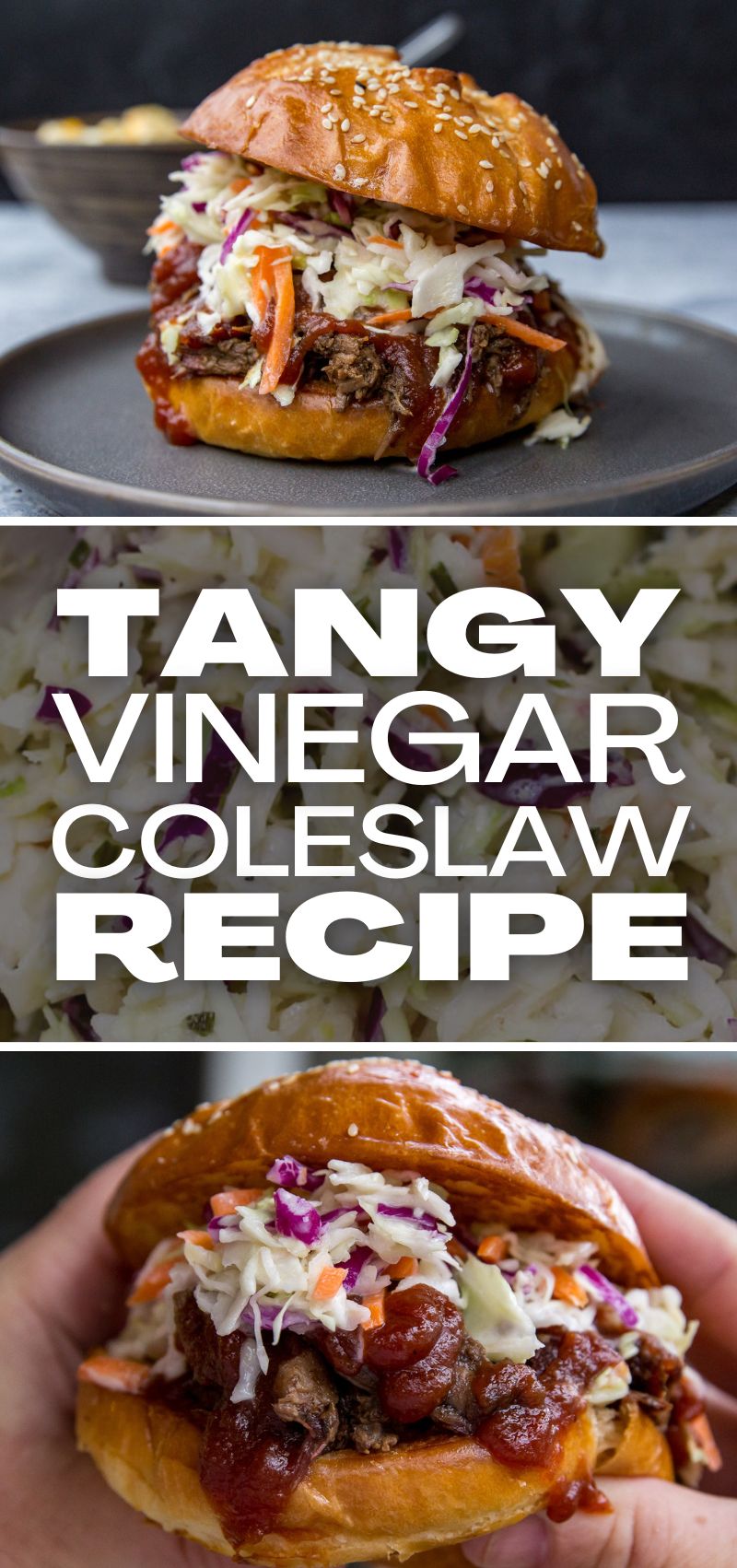 Yield: 8 servings
Coleslaw Recipe with Vinegar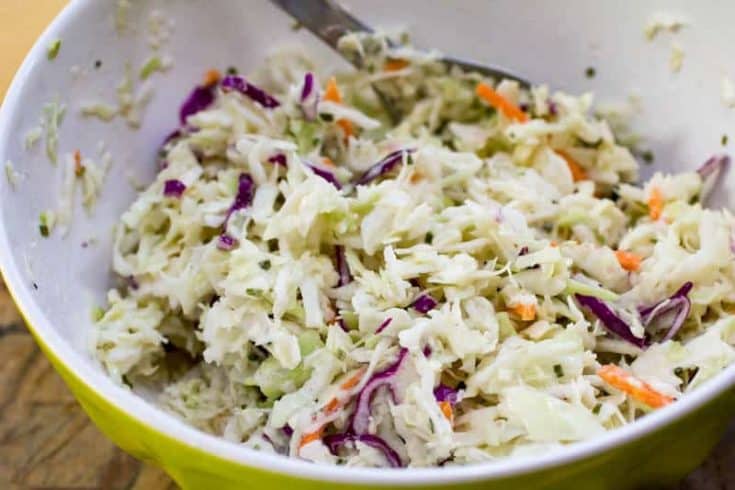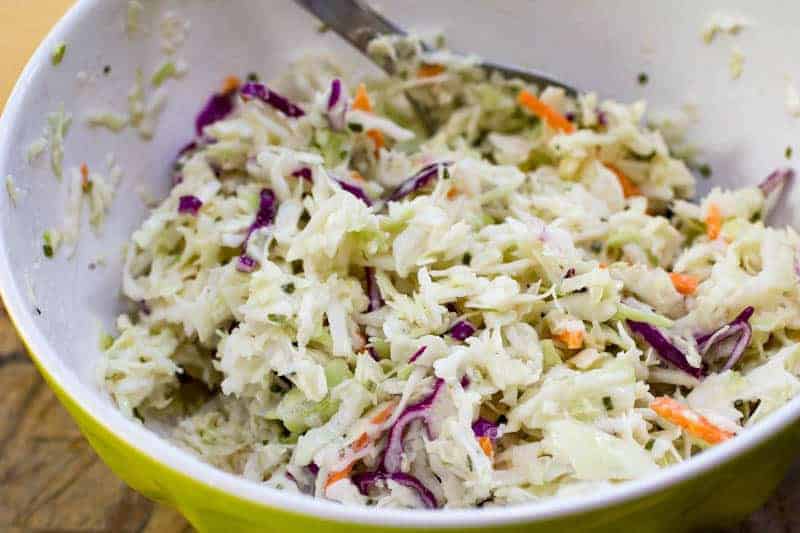 Easy vinegar-based coleslaw recipe that gets thrown together in 5 minutes and will leave you wanting to make a meal out of it.
Total Time
1 hour
5 minutes
Ingredients
16-ounce bag shredded coleslaw
1/3 cup sugar
1/2 cup apple cider vinegar
1/4 teaspoon onion powder
1/2 teaspoon salt
3 tablespoons oil
1/2 teaspoon celery seeds (optional)
1/2 teaspoon diced garlic
Instructions
Mix all of the sauce ingredients together.
Toss in the shredded cabbage.
Chill for at least 1 hour and stir again before serving.
Nutrition Information:
Yield:
8
Serving Size:
1
Amount Per Serving:
Calories:

173
Total Fat:

12g
Saturated Fat:

1g
Trans Fat:

0g
Unsaturated Fat:

10g
Cholesterol:

5mg
Sodium:

259mg
Carbohydrates:

16g
Fiber:

1g
Sugar:

14g
Protein:

1g