Traeger Braised Beef Short Ribs are a tender, delicious, and unexpected way to use that wood-pellet grill to make something truly amazing. This is the ultimate comfort food, and the wood-fired cooking adds a touch of smoke that you just can't get from cooking in the oven or on the stovetop.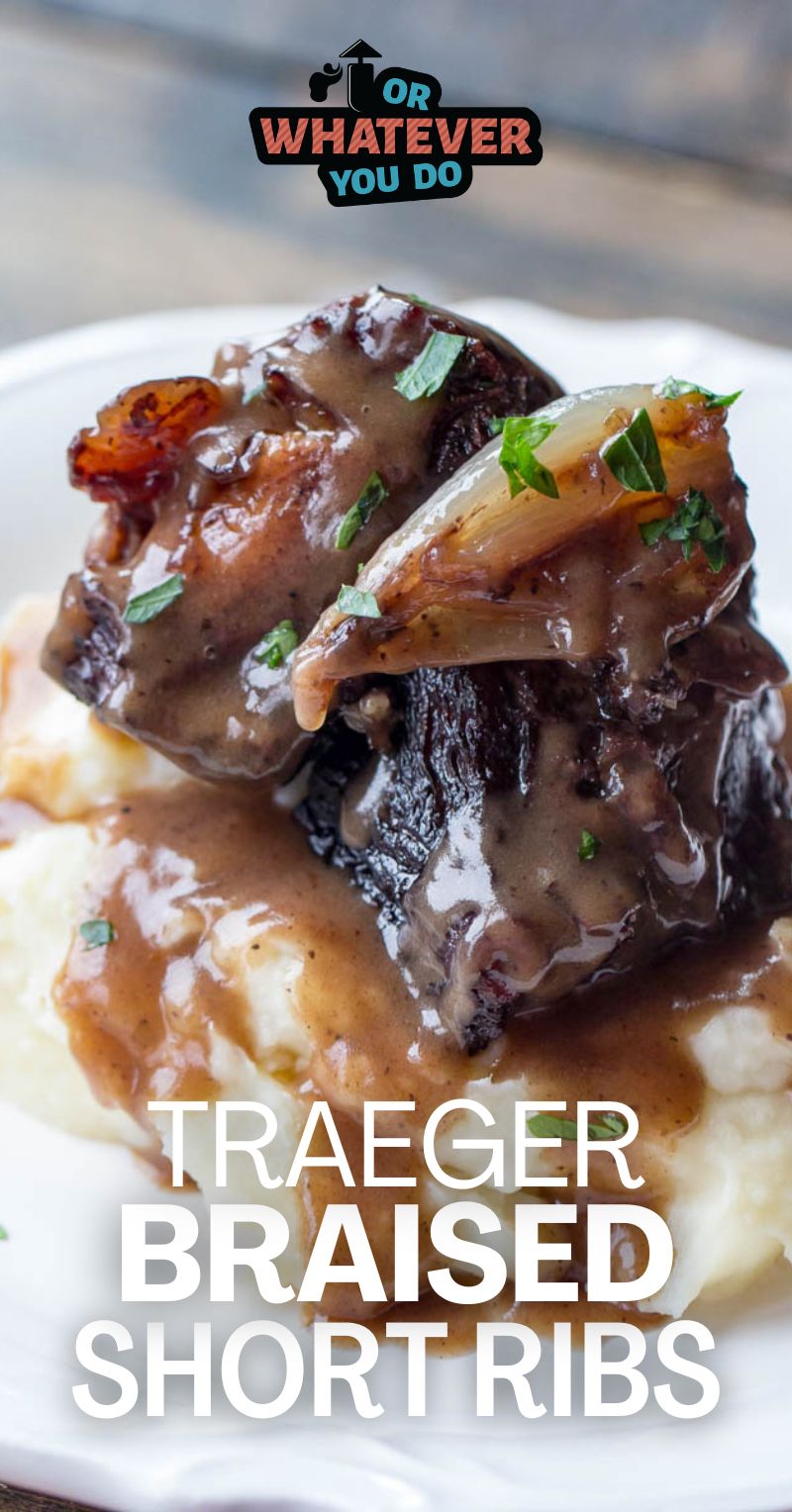 Traeger Braised Beef Short Ribs
These Traeger Braised Beef Short Ribs are fall off the bone tender and bursting with rich and vibrant flavors. Red wine, savory beef broth, and onions complement the hearty beef.
Beef is always welcome here. I had some beef short ribs staring at me in the fridge last week, and I just knew with a few ingredients I could make something pretty special that our whole family would love.
We piled our ribs onto creamy mashed potatoes, and this became an instant family favorite. Tender and juicy beef ribs, chopped salad, and mashed potatoes. Perfect!
Check out this Traeger Pot Roast too!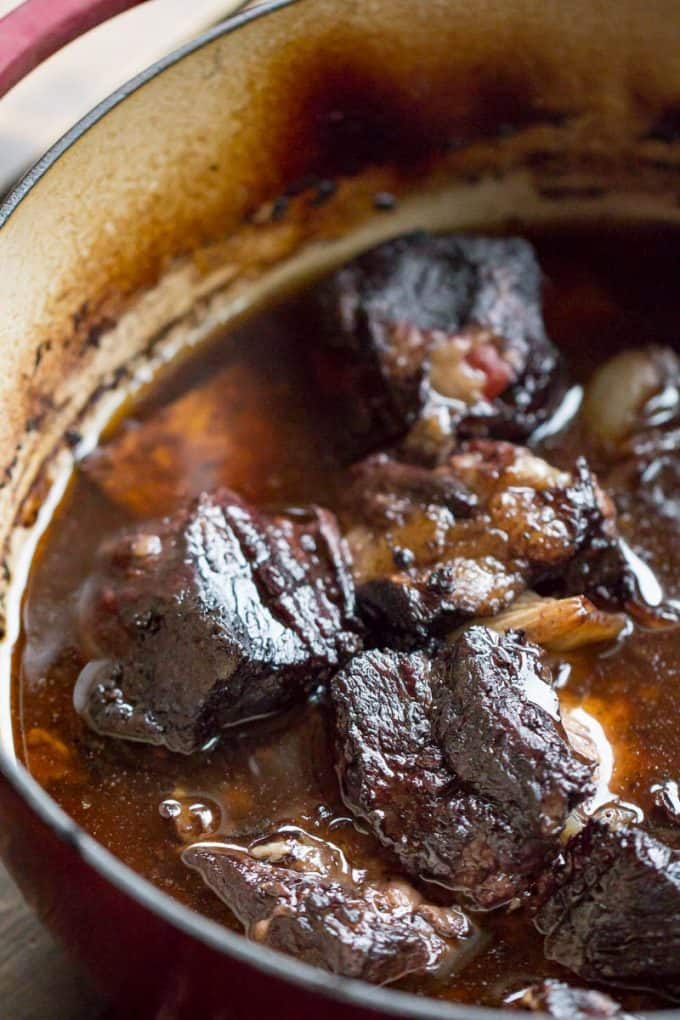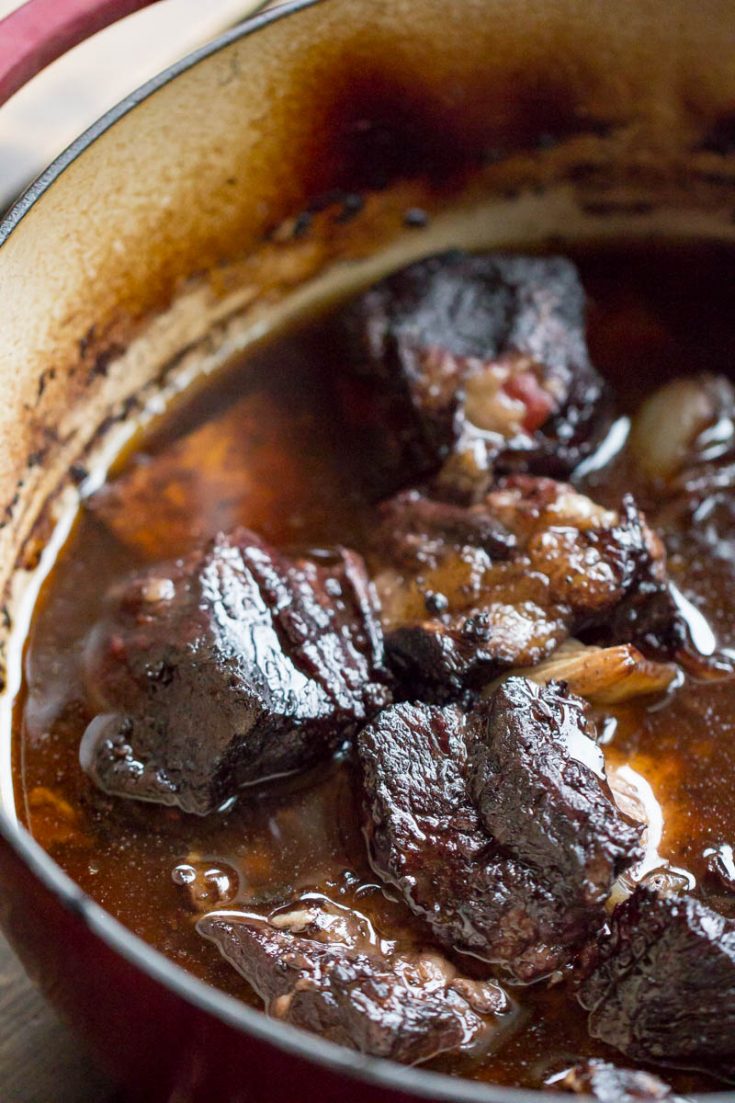 Traeger Braised Beef Short Ribs Shopping List
Wondering if you have to hit the store? Here's the list of items you'll need to make this recipe. For specific amounts, please refer to the printable recipe card at the bottom of the post.
beef short ribs
salt
pepper
garlic powder
onion powder
canola oil
onion
beef broth
red wine
fresh thyme
flour
More Traeger Beef Recipes here!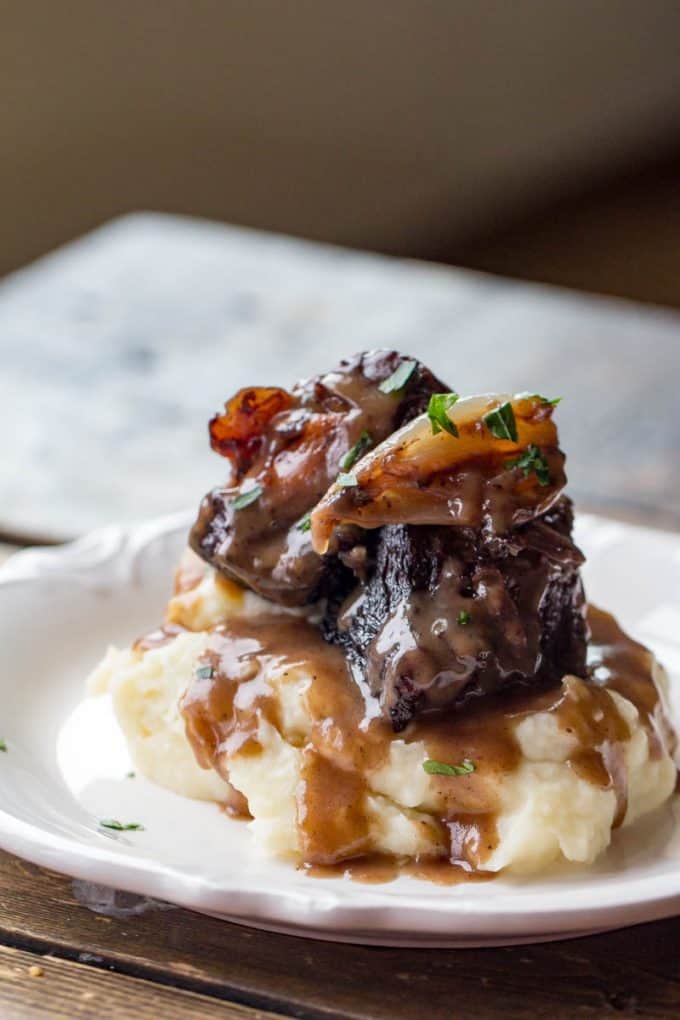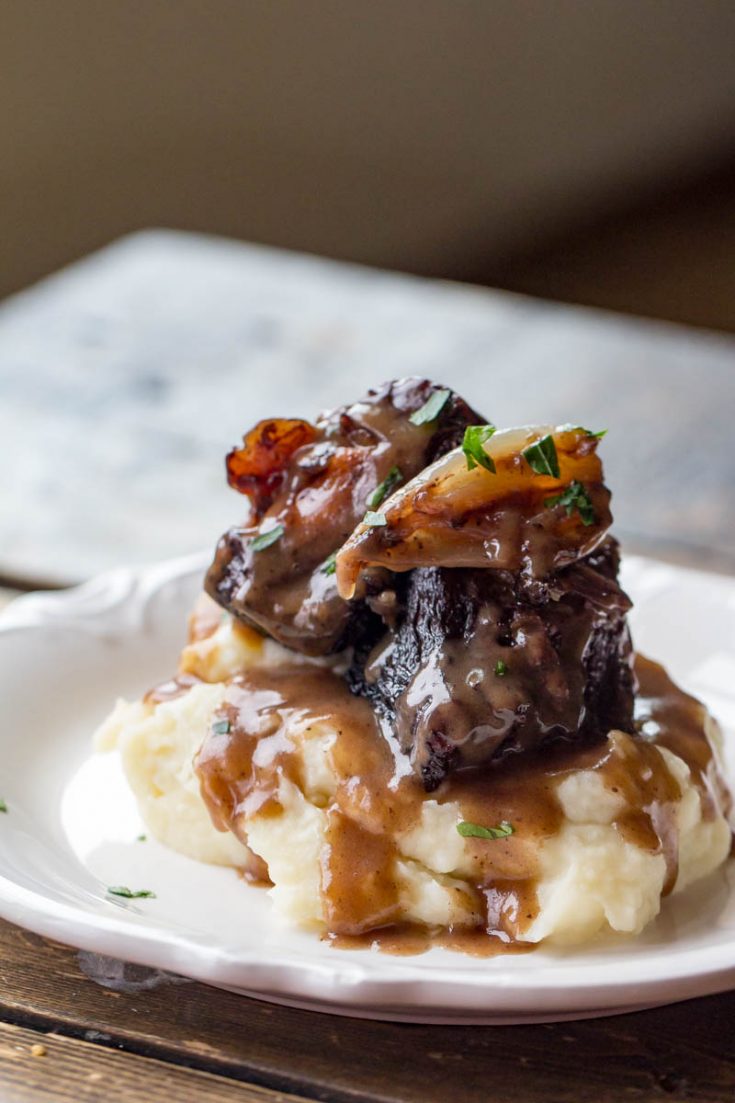 How to make Traeger Short Ribs and Gravy
This is just the overview so you can see what you're actually getting into here. When you are cooking, you'll want to use the full recipe at the bottom of the page.
Preheat
You're going for about 275°F here!
Season and Sear
Season the ribs and sear them in a Dutch Oven on the stovetop. Quarter the onion and brown it too. Put the ribs back in the pot, add the wine, thyme, and beef broth, and bring to a simmer.
Smoke
Transfer the pot, carefully, to the preheated grill. Let it cook, uncovered, for 3-5 hours, or until the beef is fork-tender.
Make the gravy
Remove the meat and onions from the pot. Strain the broth to remove any chunks. Let it sit for a few minutes, or use a fat separator to separate the fat from the cooking liquid.
Put the broth back in the Dutch Oven and simmer gently. In a small saute pan, add the fat and enough flour to make a roux. Stir and cook over low heat for 3-5 minutes, stirring almost constantly.
Whisk in the roux to the broth while simmering. Add slowly, and stop when you get to your desired consistency. You may not need to use it all.
Enjoy
Serve over mashed potatoes with lots of that gravy.
Follow me on Instagram!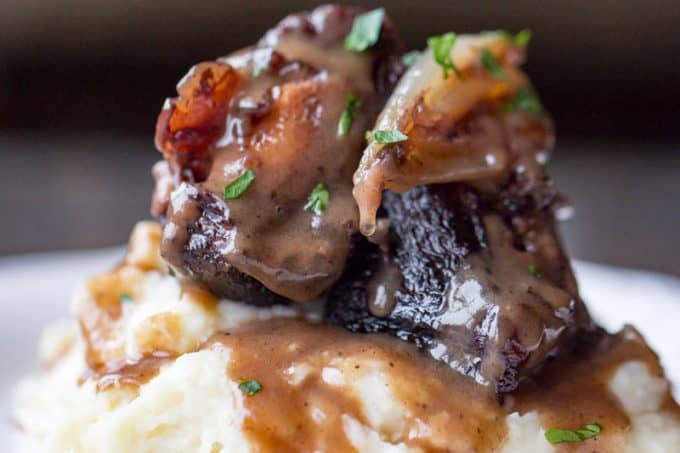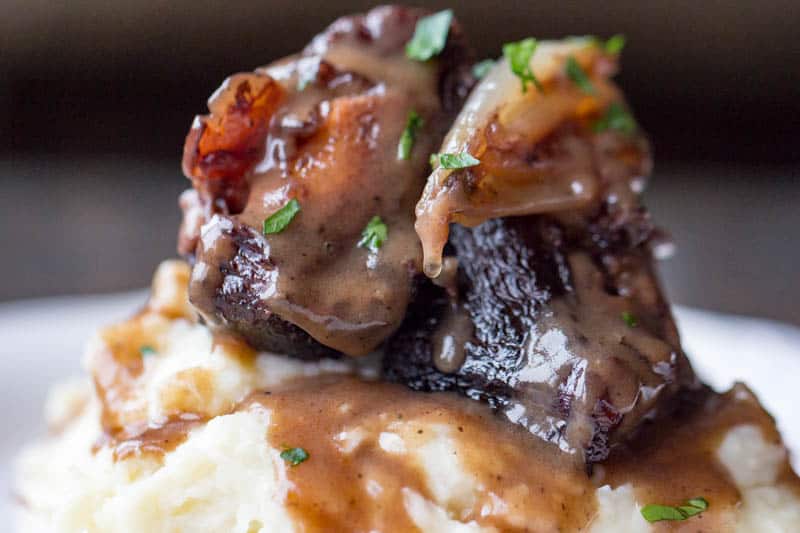 Tips for making the best short ribs and gravy EVER
Don't skimp on the seasoning
Liberally season your short ribs and sear them on the stovetop in a large Dutch oven. Remove the ribs and set aside, and then brown your onions on a couple of sides and quickly deglaze the pot with red wine and beef broth. Immerse the short ribs, so that as it cooked down it would infuse with flavor, and offer tender ribs.
Use an enameled cast iron Dutch oven
I tossed the short ribs right on the grill in our Dutch oven and allowed it to cook low and slow. How long it'll take depends on a lot of different factors, but you should figure 3-4 hours at the least. You want the meat to be fall-off-the-bone tender, and for the braising liquid to reduce.
Get the most tender meat
Let your pan get nice and hot with the oil in it before adding your meat. You'll get the best results that way, and give it a chance to form that awesome browned crust that gives the dish so much of the flavor.
While your pan or Dutch oven is heating up, liberally season your short ribs. Don't be shy! Then place your ribs into the hot pan and let it sizzle and develop that deep dark brown crust.
Join our Easy Traeger Recipes Facebook group!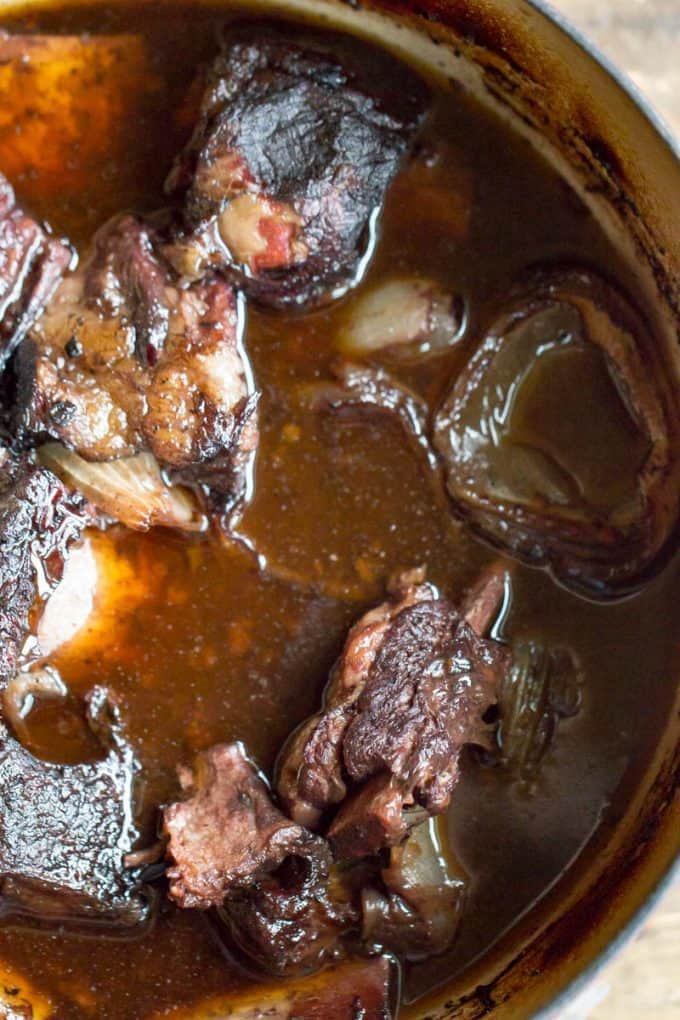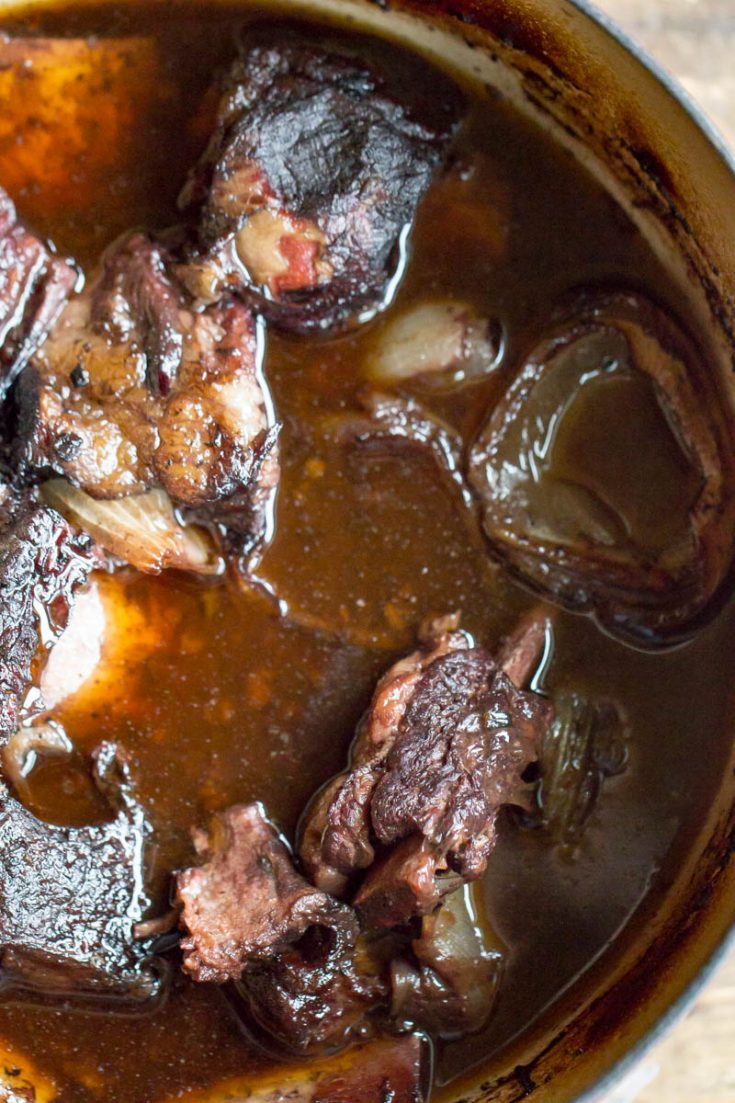 Traeger Braised Short Ribs FAQ
How long does it take to make short ribs on the grill?
This is going to depend on a lot of different factors, but in most cases, you should plan on the short ribs braising from 3-5 hours.

Keep an eye on things during the last couple of hours and test your ribs for tenderness. Once they are fork tender you can pull them off of the grill.
Does the wine you choose really matter?
Quality is always essential, so reach for a good bottle of red wine. When you buy good quality wine, you will find the result is exactly what you want.

I am not saying you have to go all out and spend tons of money on wine, buy a mid-grade price and don't just reach for the cheapest bottle on the shelf just because you are cooking with it. If you wouldn't drink it, you shouldn't cook with it, is my rule.
Can you get good results with cheaper meat?
Not that short ribs are cheap, they are decidedly not, but if you have the choice between grades pick the best that you can reasonably afford. The end result will thank you.
Is there anyway to hurry this along?
Not only for life in general but for braising too. You need to let dinner happen when it will. You are on the beef's time clock, not the other way around. Roasts and slow-cooked meats need to not be rushed or held for too long because they taste the best right off the heat, in most cases.
What if you don't have a Dutch Oven?
If you don't have a Dutch Oven you can use a pan to sear the meat, and then transfer your short ribs into a sturdy pan that can be used on your grill. A roaster would work really well for this.
What can you substitute for the red wine?
If wine isn't your thing, that is okay. Just use ½ cup more beef broth, one tablespoon Worcestershire sauce, and 1 cup of water. This mixture can be a good substitute for wine.

The wine does offer tons of flavor to your ribs, but if you don't want to cook with wine you can use this option. It will change the flavor slightly, but it'll still be delicious.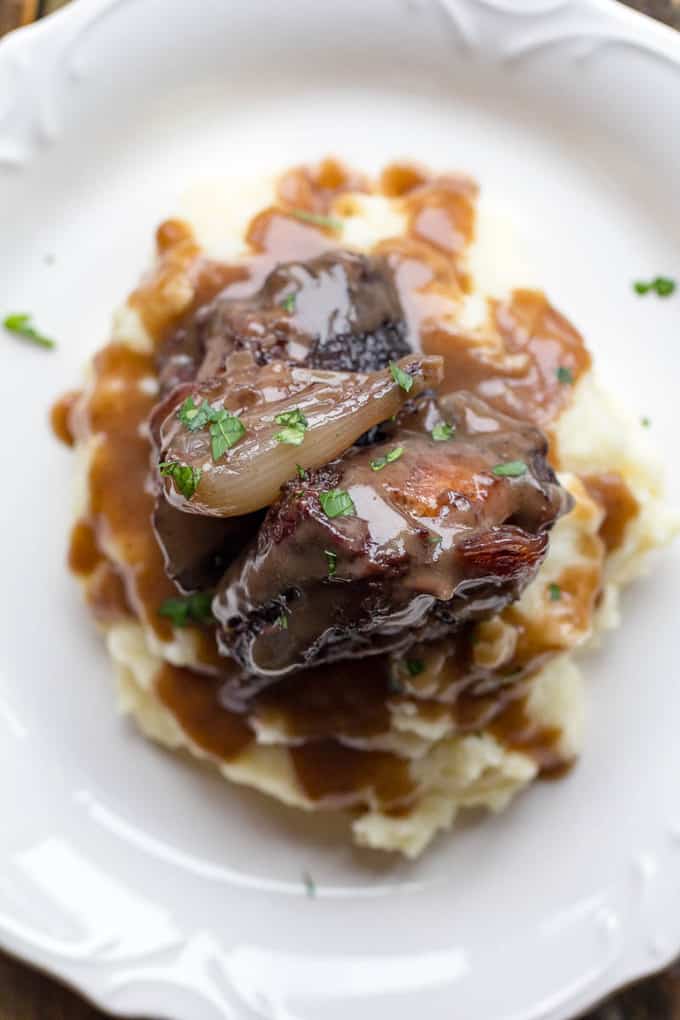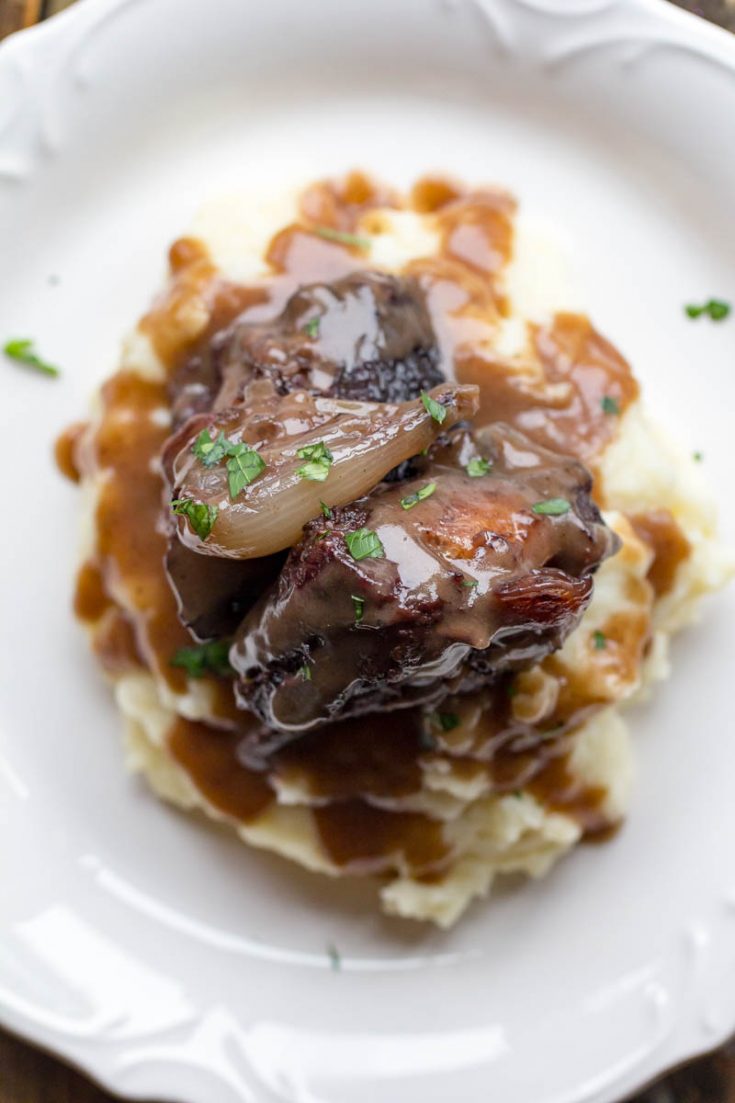 What should you serve with beef short ribs?
You can serve these short ribs with almost any of your favorite side dishes. The ones listed above are what we generally rotate in. If you are a fan of ribs and beef, I think this easy Traeger recipe might be a wonderful fit.
Root Vegetables
Potato Salad
Polenta
Sauteed Mushrooms
More great ribs to love
Featured Reader Reviews
"This was absolutely delicious! We kept it on the traeger for 5 hours. Fall of the bone tender. Will definitely be making this again!"

– Melody from Pinterest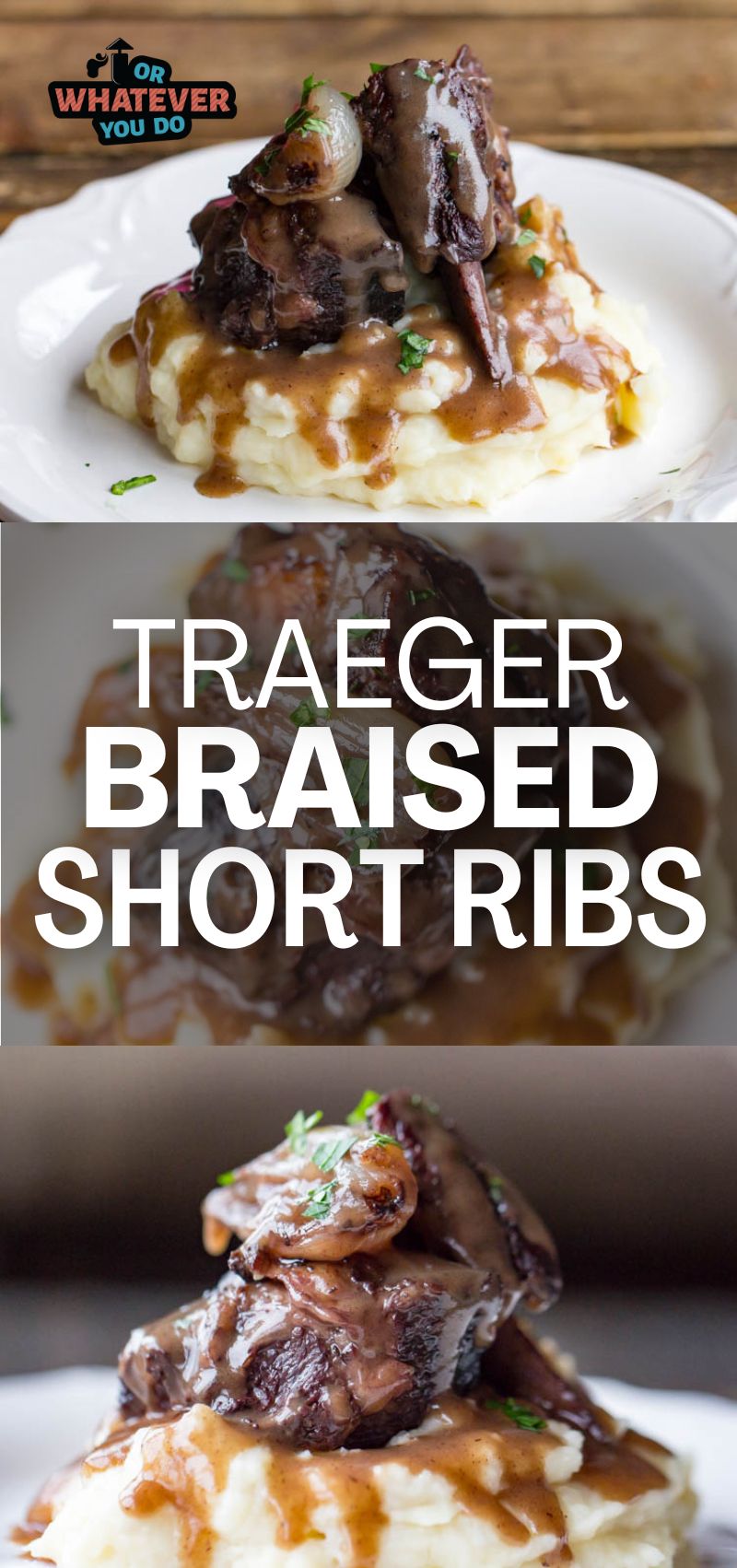 Yield: 8 servings
Traeger Braised Beef Short Ribs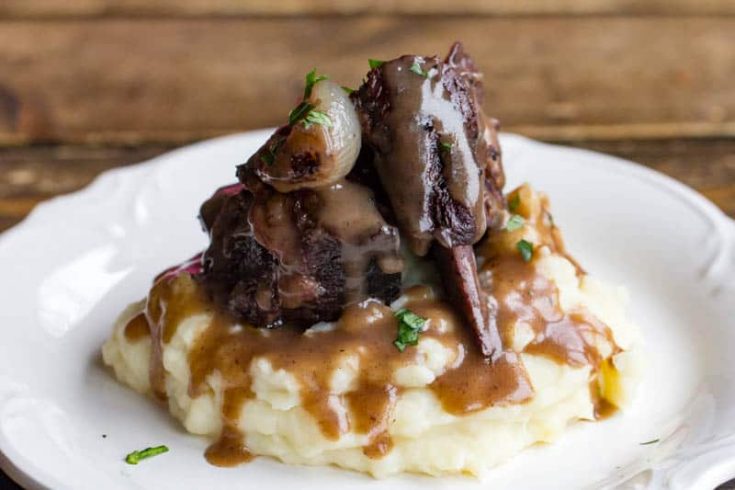 These fall-off-the-bone tender braised beef short ribs are cooked right on your Traeger grill after being seared in the Dutch oven. Big onions, all the red wine, and one of the best comfort foods there is.
Total Time
5 hours
15 minutes
Ingredients
4 pounds beef short ribs
1 teaspoon salt
1/2 teaspoon pepper
1/2 teaspoon garlic powder
1/2 teaspoon onion powder
3 tablespoons canola oil
1 large onion
3 cups beef broth
3 cups red wine
2 sprigs fresh thyme
flour (amount varies)
Instructions
Start your Traeger grill according to factory instructions. Preheat to 275°.
Season the meat with the salt, pepper, onion and garlic powder. Place the Dutch oven onto the stove top over medium-high heat, and let it heat up until the oil is shimmering and hot, but not smoking.
Carefully place the short ribs inside. Don't crowd the pan. You'll likely need to do this is several batches.
Brown a few sides of the ribs and remove from the pan once they are done.
Peel your onion and slice the ends off, and then cut the onion into quarters. Place it in the pan and brown it on the flat sides.
Place the ribs back into the pan and pour in the beef broth and red wine. Add the thyme to the pan.
Let the mixture come up to a simmer on the stove, and then carefully transfer, uncovered, to your preheated 275° Traeger grill.
Cook on the Traeger for 3-5 hours. You want it to be fork tender at the end, and the amount of time that will take depends entirely on your grill and your meat. Once the meat is fork tender, remove the Dutch oven from the grill.
Remove the meat and onions from the braising liquid and set aside, covered to retain the heat.
Strain the liquid through a fine mesh strainer. Run it through a fat separator, and pour the broth back into the Dutch oven, reserving the fat. Turn the burner onto medium heat. You want the mixture to come up to a simmer while you are cooking the beef fat roux.
Place the beef fat into a small skillet and turn the heat to medium-low. Let any remaining broth simmer away until it is evaporated. Whisk in an equal amount minus 2 tablespoons of flour and whisk to combine. (If there is 1/3 cup beef fat, scoop out 1/3 cup flour and remove 2 tablespoons from it.) Cook over low to medium-low heat, stirring constantly, for 3-4 minutes.
Whisk your beef fat roux into the simmering broth until combined. Let it simmer until thickened, and remove from heat. If it is too thick, add in some additional water.
Serve the short ribs and onions on top of a pile of mashed potatoes or buttered noodles, and ladle the gravy on top.
Recommended Products
As an Amazon Associate and member of other affiliate programs, I earn from qualifying purchases.
Nutrition Information:
Yield:
12
Serving Size:
1
Amount Per Serving:
Calories:

884
Total Fat:

57g
Saturated Fat:

23g
Trans Fat:

3g
Unsaturated Fat:

33g
Cholesterol:

227mg
Sodium:

763mg
Carbohydrates:

16g
Fiber:

1g
Sugar:

1g
Protein:

61g