Smoked Shredded Beef Tacos are a mouthful, all by themselves, but throw in a braising liquid spiked with tequila and the whole thing goes in a freshly fried puffy taco shell? Forget about it.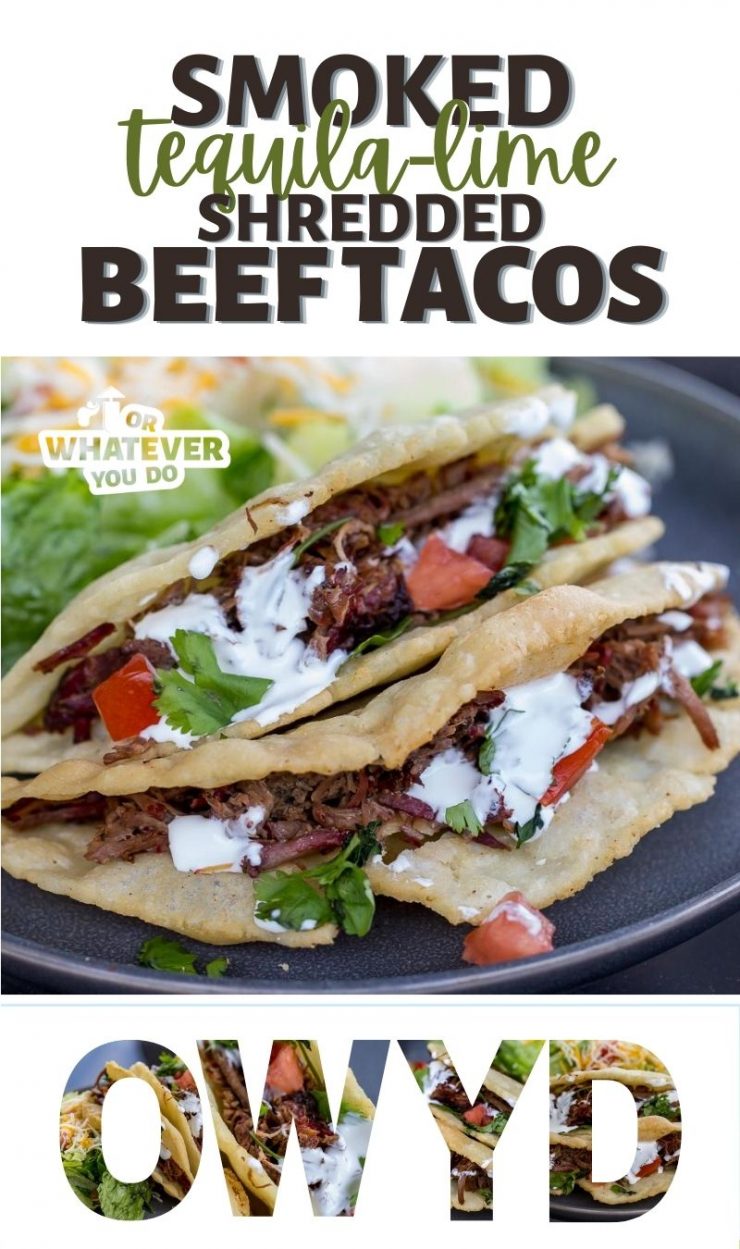 Tequila Lime Smoked Shredded Beef Tacos Recipe
I am, like many of you, obsessed with tacos. Back when traveling was a thing, I ate tacos almost as much as I ate ramen. That's to say – EVERY CHANCE I GOT.
While I'm at home, tacos can kind of get a bad rap. Not that I don't LOVE a good ground beef taco, but just that it is a thing I default to when I "don't feel like cooking". The same with a good spaghetti and meat sauce.
When it is time to change things up and make something a little different, these smoked beef tacos are easy AND delicious.
In this version, I utilized both my Camp Chef Woodwind pellet grill for the smoked portion of things, and then we threw things into the Instant Pot to speed up the process.
More Easy Traeger Recipes here!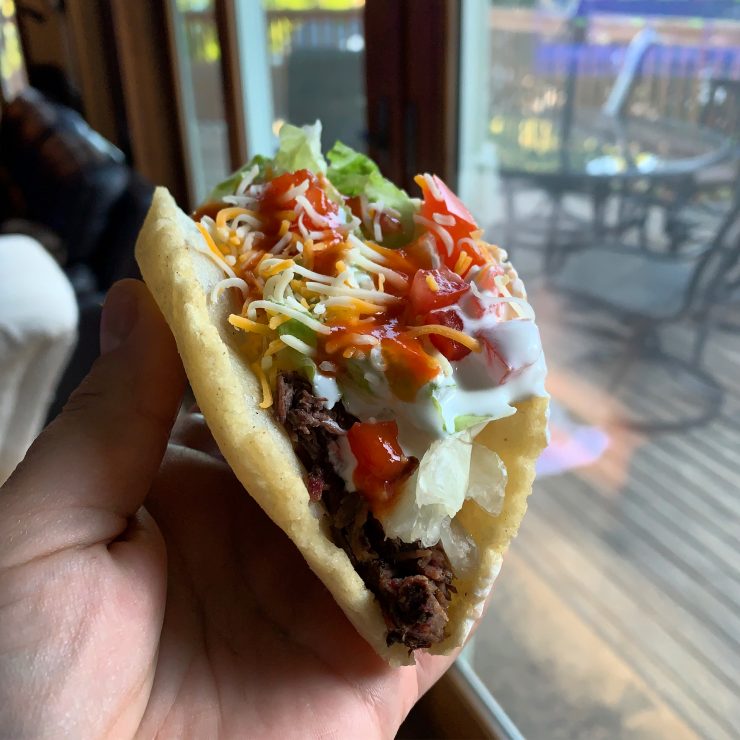 Shopping List
If you don't have something that this calls for, the recipe itself is pretty forgiving. Find your closest dupe and go to town.
Chuck roast
tequila (use code "DRIZLYDEAL" for $5 off!)
Limes
vegetable oil
Check out our OWYD shop!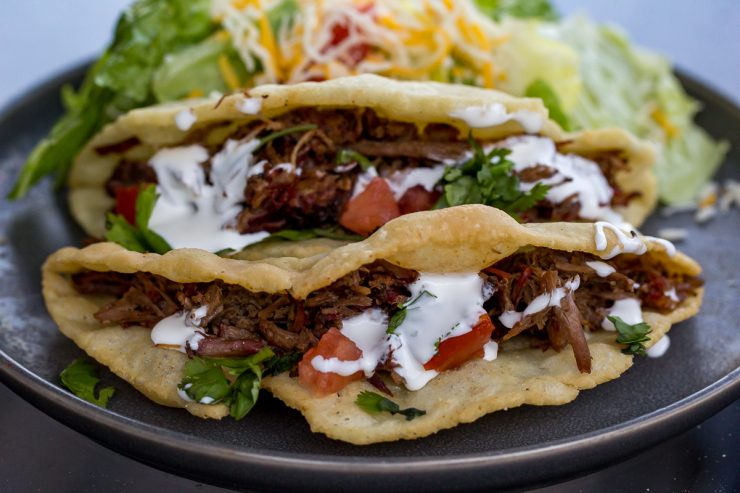 How to make smoked shredded beef tacos
The process is easy, even though it takes a while, and you have a lot of options too.
Rub
Smoke
Braise
Shred
Rub it
First, rub the meat. I used a combination of SPG (salt, pepper, garlic) and Spiceology's Chile lime blend. If you don't have those around, use your favorite Mexican rub. This Tajin blend is one I see at a lot of grocery stores.
Smoke it
Next, smoke it! We used our pellet grill, but you could use a stick burner or an electric smoker if that's what you have around. You can even use a smoke tube in a charcoal or gas grill if that's what you have.
Braise it
Once the meat has a chance to smoke for a few hours, it is time to braise the meat. In this recipe, I used my Instant Pot. In the electric pressure cooker under high pressure, it took 60 minutes with a 15-minute natural pressure release to get it there. I always start with a 30-minute high-pressure cook and then test it to see how close it is. Different cuts of meat cook at different rates, and it also depends on how far along the meat got during the smoke portion.
If you don't have an Instant Pot you can also use the oven, a crockpot, or even continue things on your smoker. You'll want to run it at around 300-325°, tightly covered, until the roast reaches 204-205° and is fork-tender.
Shred it
Once the roast is done braising, it'll be fork tender. That's how you know it is done. Shred the beef in your braising liquid, and simmer to reduce the liquid a bit.
More South-of-the-Border Inspired Recipes here!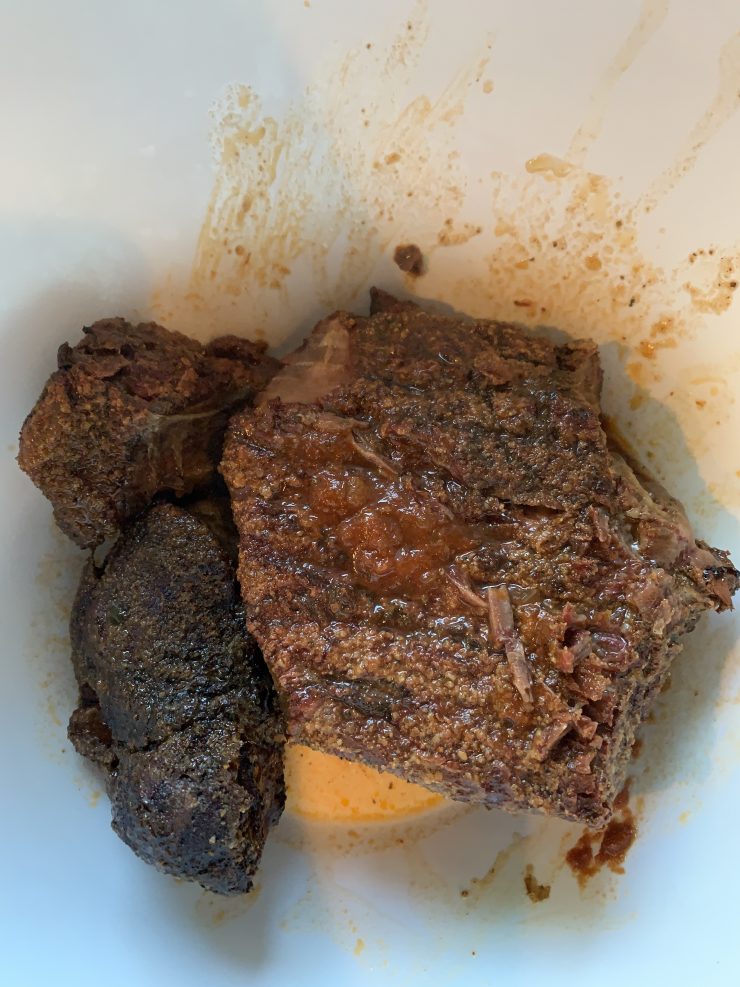 How to make puffy shells
Puffy tacos are a San Antonio staple, but you can make them at home even if you've NEVER made tortillas before, ever.
They are corn tortillas made with masa harina corn flour, water, and some salt.
They take about 5 minutes to mix up, and 2-3 minutes a shell to fry. If you're making these for a big crowd you might want to throw things at the end, but for 3-5 people at 2-3 tacos each, it is a manageable amount. Find a friend and fire up two pots of oil if you need some extra hands.
Puffy taco recipe from KCET.
The frying big is the trickiest to get the hang of. You NEED at least 3 inches of oil in your pan. Don't try and skimp and think it'll be okay – it won't.
You also need an accurate oil temp. Between 350-375° is ideal.
A good tortilla press is also a great investment, even if you'll only make tortillas a couple of times a year. It makes the job SO MUCH easier!
Then you press it and lightly drop it into the oil and let it cook until it puffs up. Once that happens, you flip over the tortilla in the oil, fold it in half and submerge it, and use the second set of tongs to hold the top of the taco shell open while it finishes cooking so you have some room for stuffing.
Remove to paper towels, and repeat until all 12 of your shells are cooked. 30 minutes well-spent!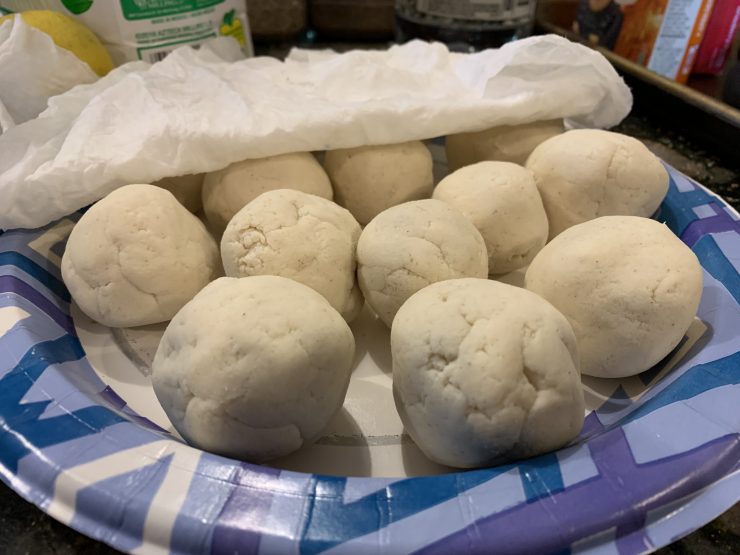 What if you don't have a pellet grill?
If you don't have a pellet grill, you can use any other sort of smoker or grill that you have around. Run it at around 200-225°, keep that smoke rolling, and cook the roast for about 3 hours.
Buy Pellets here!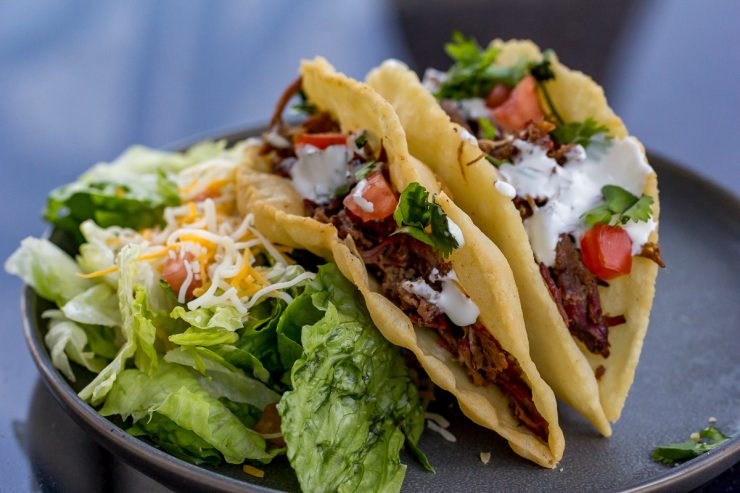 Do you have to use an Instant pot or pressure cooker?
Nope! An Instant pot will definitely speed up the process significantly, but it isn't necessary. You can crank the heat up a little to 300-325° and cook it in any vessel that'll maintain that temp for the next 3-6 hours for you.
That could be your oven, a slow cooker, or even back out on your grill.
Just make sure you tightly cover your braising container because you want all of that moisture and liquid staying WITH the roast and not evaporating out of it.
More Instant Pot Recipes here!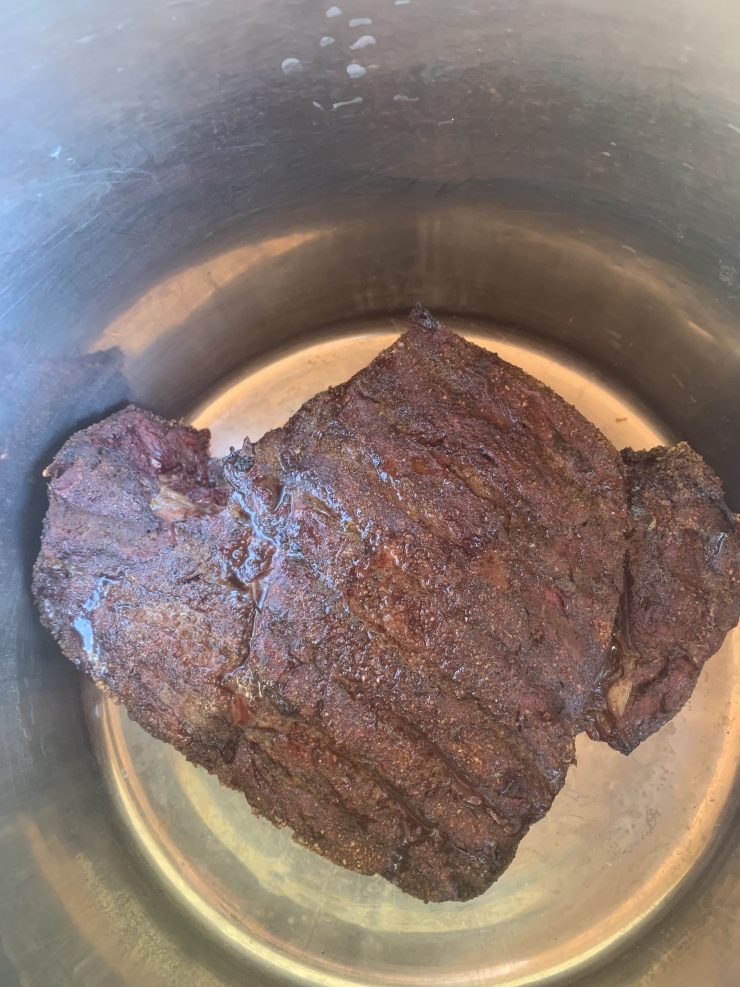 Can you omit the tequila from this recipe?
Yup! It adds a nice mellow flavor to the dish, but if you don't have any tequila or don't cook with alcohol for whatever reason, you can still make this and it'll still be delicious.
Have a Cocktail with dinner!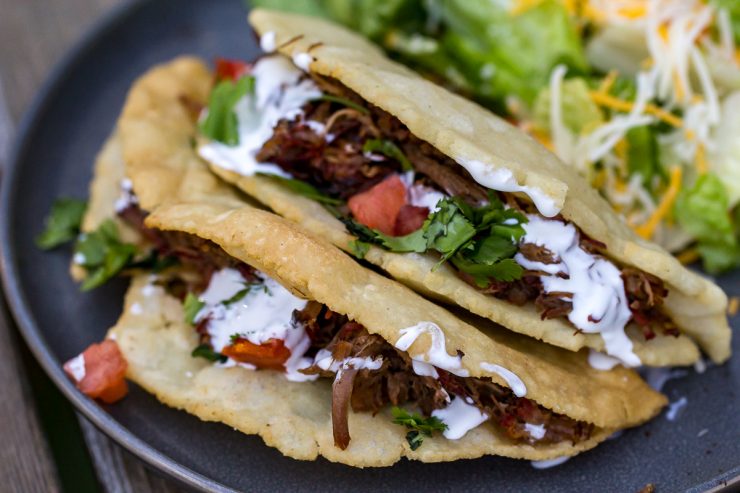 What should you serve with shredded beef tacos?
I like serving tacos with Bean Dip, Smoked Salsa Verde, and Mexican Rice.
I would never turn down a piece of Elote or a Mexican Shrimp Cocktail either.
For a little sweet heat, try these pickled sweet and spicy jalapenos from Forgone Itinerary.
Need a great vegetarian option? These Chickpea Tacos from Kelly Neil look fabulous!
Get my easy Side Dish recipes!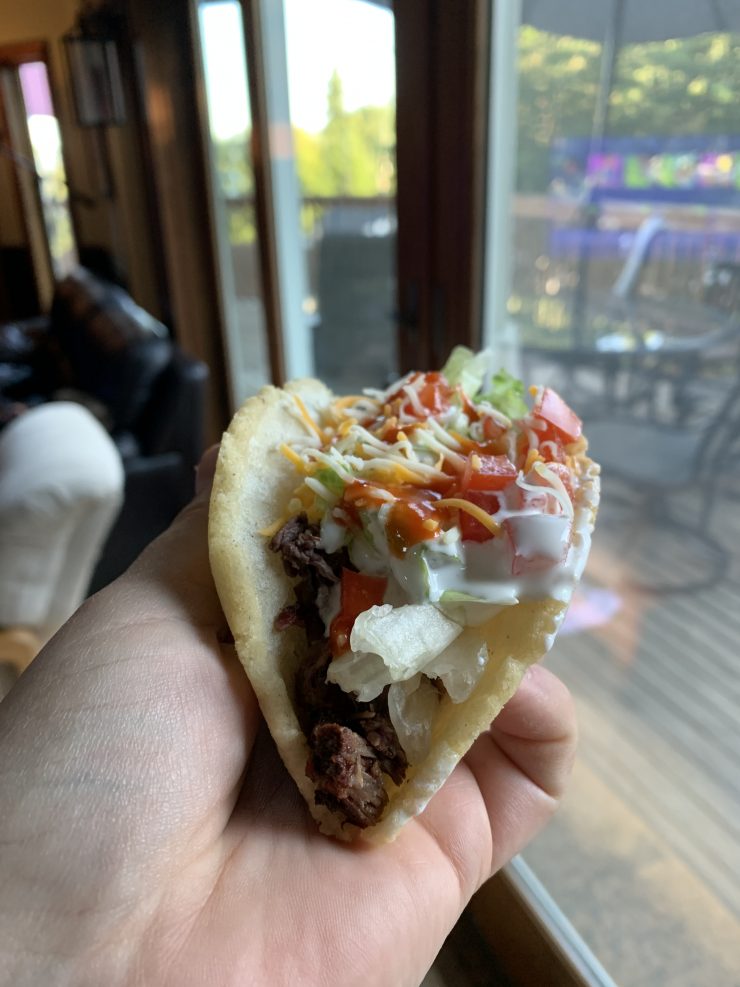 What else can you make with the tequila lime shredded beef?
If you get ambitious or your people aren't that hungry and you end up with more leftovers than you can eat in a reasonable amount of time, you have options!
Blackstone Quesadillas are a perfect match for any kind of leftover meat you have hanging around, whether it is beef, pork, chicken, or shrimp.
Enchiladas are another good option. Use my Smoked Pork Enchiladas recipe and just sub in the already-cooked beef instead.
More Blackstone Recipes here!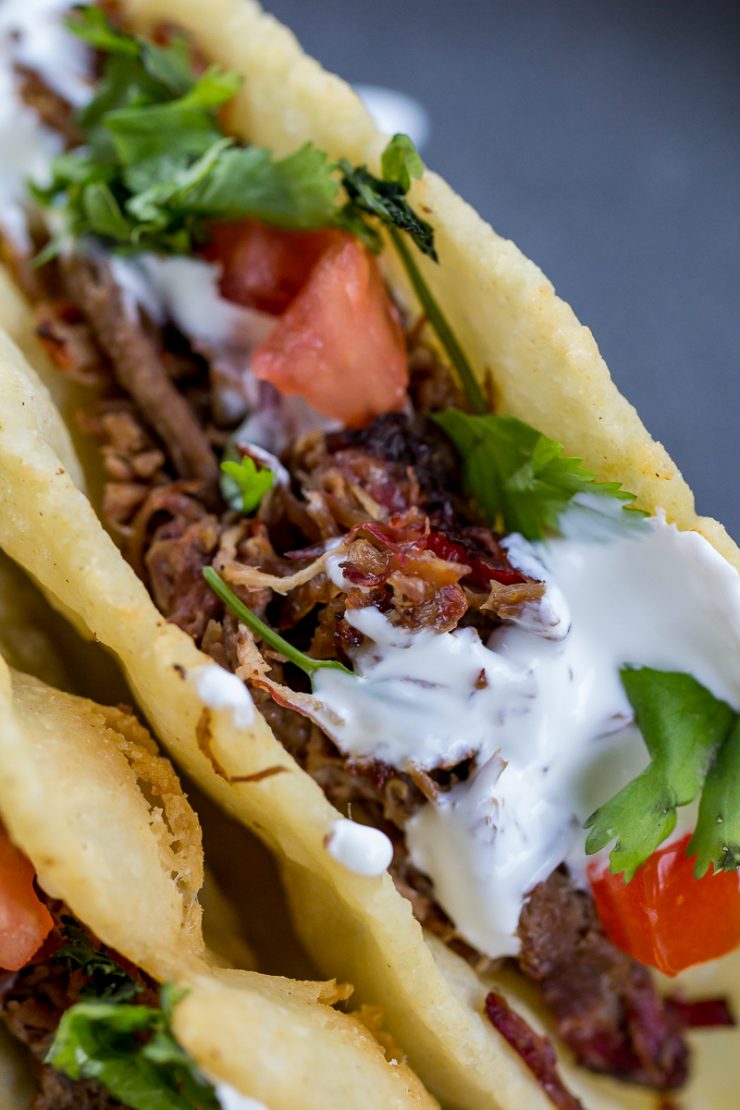 How should you store the leftovers?
Leftovers of your shredded beef tacos should be stored in an air-tight container in the fridge. You can keep them for 3-4 days after cooking safely, but if you plan on holding over any longer than that you should freeze instead.
Your leftovers will keep in the freezer best in a freezer bag with as much of the air removed as possible. If you have a vacuum sealer, even better.
Join our Easy Traeger Recipes Facebook Group!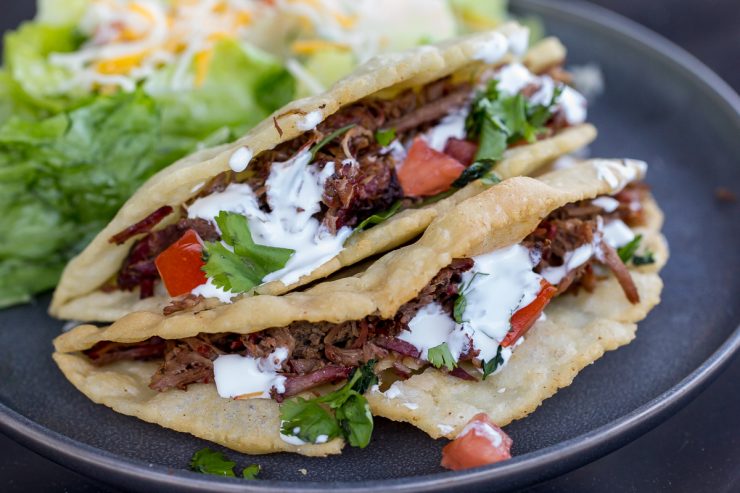 How should you reheat the leftovers?
These leftovers are simple to reheat. Just put into the microwave and cover with a damp paper towel, or reheat in a tightly-sealed baggie in a pot of hot water. Other options include pan-frying in a bit of oil or bacon grease for a "carnitas" style experience.
More great taco recipes!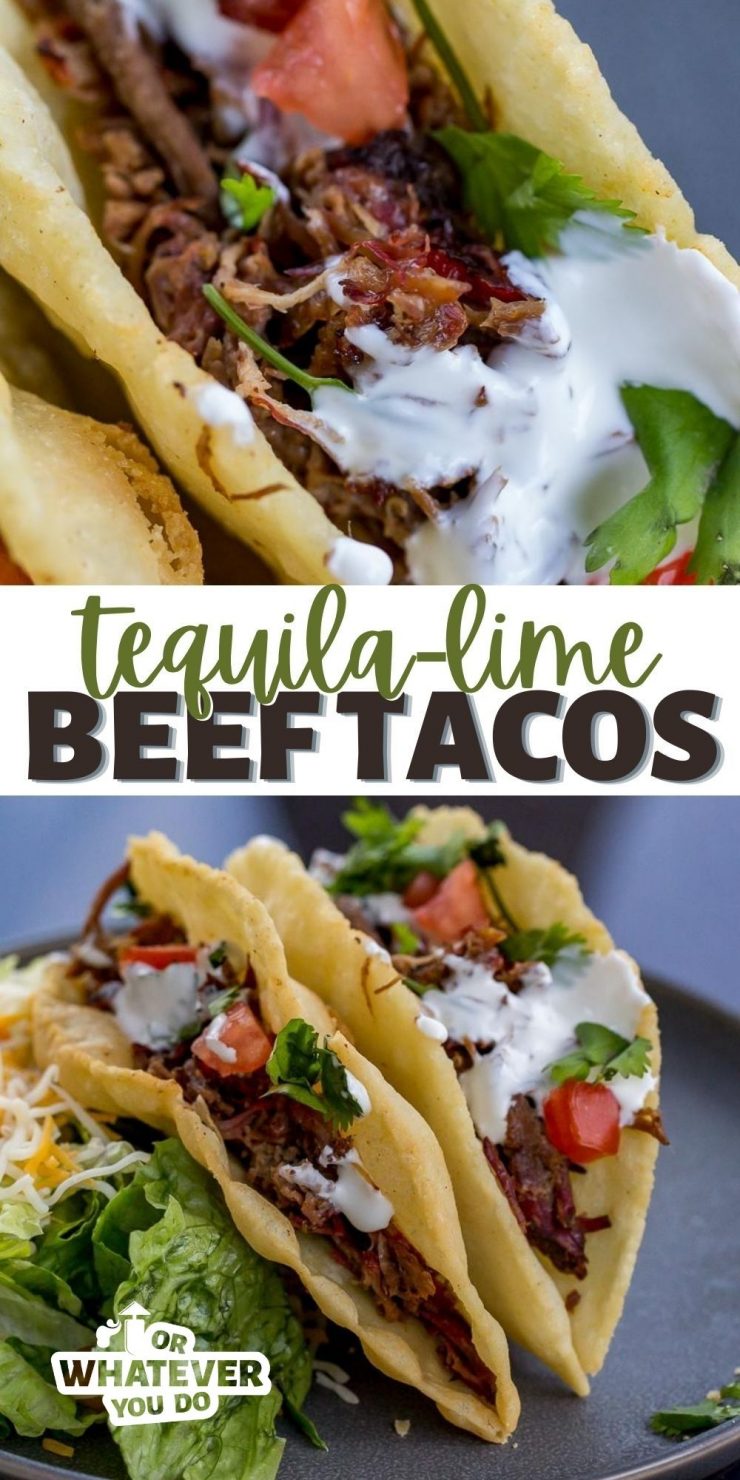 Yield: 12 servings
Tequila Lime Smoked Shredded Beef Tacos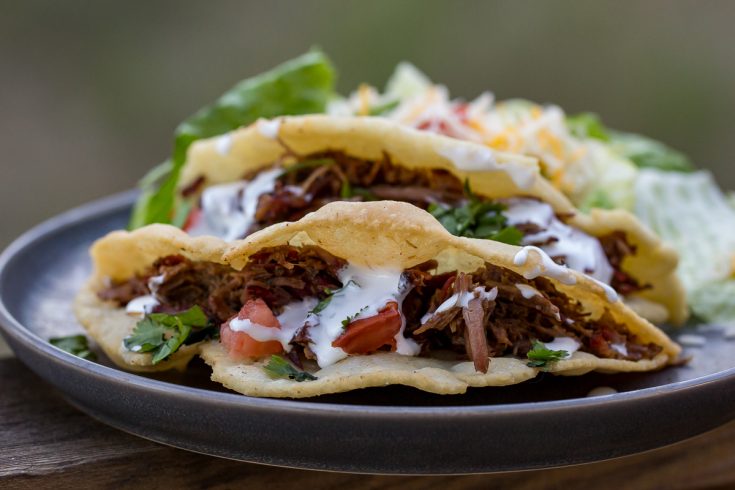 These shredded beef tacos are rubbed with Chile Lime rub, smoked on the pellet grill, braised in a tequila-lime cooking liquid, and then get shredded and stuffed into the best puffy taco shells, EVER.
Total Time
4 hours
20 minutes
Ingredients
Roast
4-pound beef chuck roast
3 tablespoons chile margarita blend
2 tablespoons salt, pepper, garlic blend
Braising Liquid
2 cups beef broth
4 ounces silver tequila
2 limes, juiced
2 cans El Pato Jalapeno tomato sauce
Puffy Taco Shells
2 1/2 cups masa harina
1 1/2 teaspoons salt
1 2/3 cups warm water
oil for frying
Instructions
Preheat your pellet grill to 200-225°.
Rub the meat with the rub ingredients, and put it into the smoker, directly on the grill grates.
Smoke for 3 hours, turning over once mid-smoke.
After three hours, place into your Instant pot. If you are NOT using an Instant Pot, a large baking dish suitable for braising will do. A Dutch oven, high-sided disposable foil pan, or a large rectangular piece of enameled stoneware would work also.
Pour over the braising liquid ingredients, place the cover on the pot, and set to 60 minutes, high pressure. If not using an Instant Pot, increase the heat on your grill, oven, or slow cooker to be around 325°. Tightly cover your baking dish to keep all the juices and moisture inside the baking dish.
Once the Instant Pot cycle is finished, let the pressure release naturally for at least 15 minutes before venting the excess and opening it up. The roast should be fork-tender. If it isn't, put it back in the pot and close it up for another 15-minute cycle.
If not using an Instant Pot, just cook the roast until it is fork-tender and shreddable. The amount of time it will take varies greatly depending on your particular piece of meat, the environment you are cooking in, etc. I'd personally start checking at about 2 1/2 - 3 hours and continue to check every 30-45 minutes until it was finished.
Shred the beef, removing any large chunks of fat or gristle. Keep the meat in the braising liquid to keep it moist.
Start the shells about 30 minutes before the beef is finished cooking by mixing together all of the Puffy Taco Shell ingredients until it is smooth and fully combined, and preheating 3 inches of oil in a medium-sized saucepan or fryer to 375°.
Roll the dough into 12 equally sized balls. Take a large ziplock and cut open along the two side seams. Leave the bottom seam intact. Place this into your tortilla press or onto your counter, and either press or roll the tortilla ball into a circle that's about 5-6" across and 1/8 inch in thickness.
Carefully drop the tortilla into the hot oil and let it puff up. It should take less than 30 seconds.
Using two sets of tongs, flip over the puffy tortilla and immediately press down in the center of the taco shell and submerge the shell under the oil. You're forming the taco shape here, but you don't want to un-puff the sides, if you can help it.
Using one tong, keep the taco pressed under the oil. Using the other, keep the top part of the taco at least two inches apart so you can stuff the shells without breaking them in half.
Remove when golden brown to a paper towel. Repeat with the other 11 shells.
Stuff with taco meat and all of your favorite fixings!
Recommended Products
As an Amazon Associate and member of other affiliate programs, I earn from qualifying purchases.
Nutrition Information:
Yield:
12
Serving Size:
1
Amount Per Serving:
Calories:

504
Total Fat:

25g
Saturated Fat:

10g
Trans Fat:

1g
Unsaturated Fat:

14g
Cholesterol:

125mg
Sodium:

1672mg
Carbohydrates:

22g
Fiber:

2g
Sugar:

3g
Protein:

40g
Nutrition data provided here is only an estimate.