Traeger Blackened Fish Tacos are healthy, boldly flavored, and are as easy to make as they are delicious to eat. Grilled fish tacos cook quickly on the grill in a cast-iron pan, and you will be ringing that dinner bell in no time. Grab some corn tortillas and serve with fresh lime juice or make a fish taco slaw to pile on your tacos.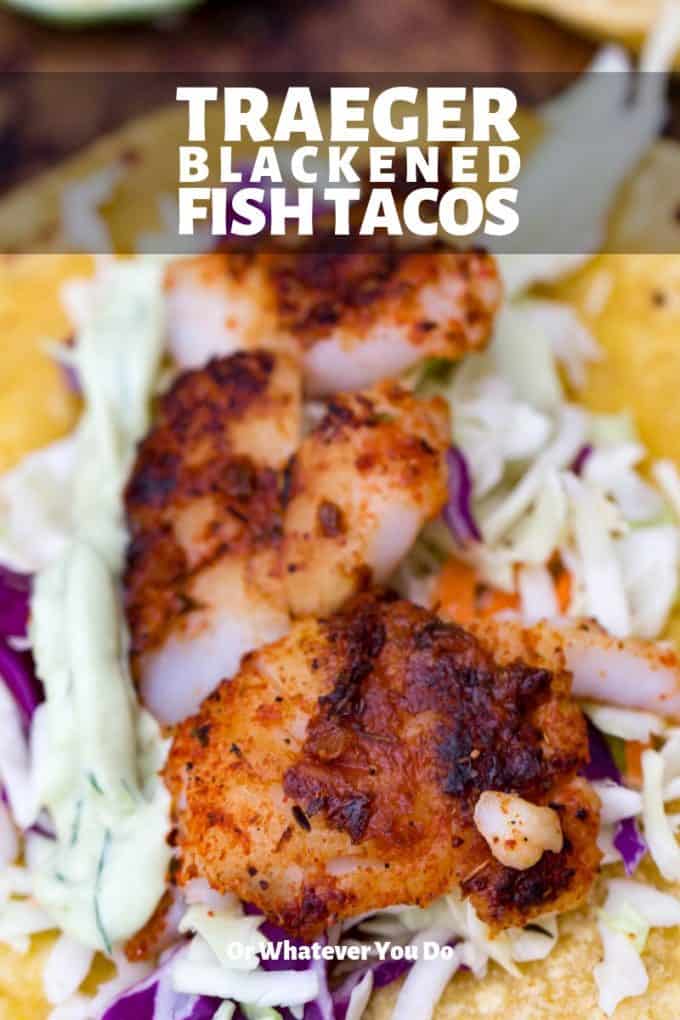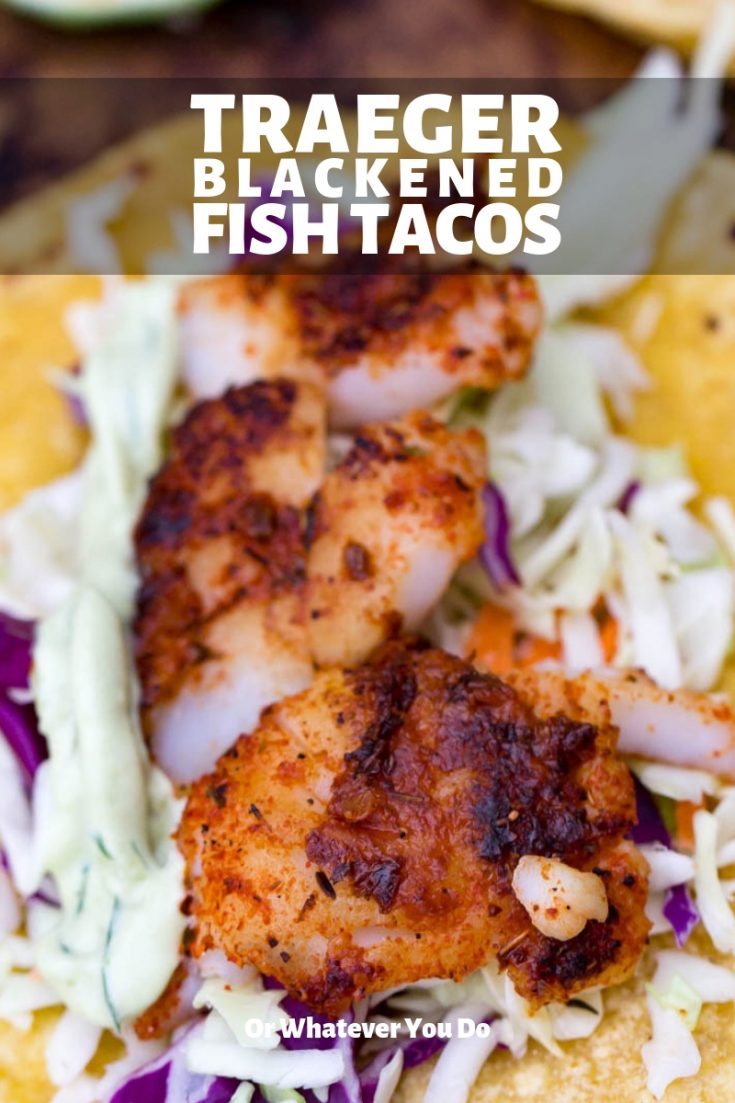 Traeger Blackened Fish Tacos
Trager fish tacos are a dinner favorite around here! These are simple, delicious, and only take about 20-30 minutes from start to finish.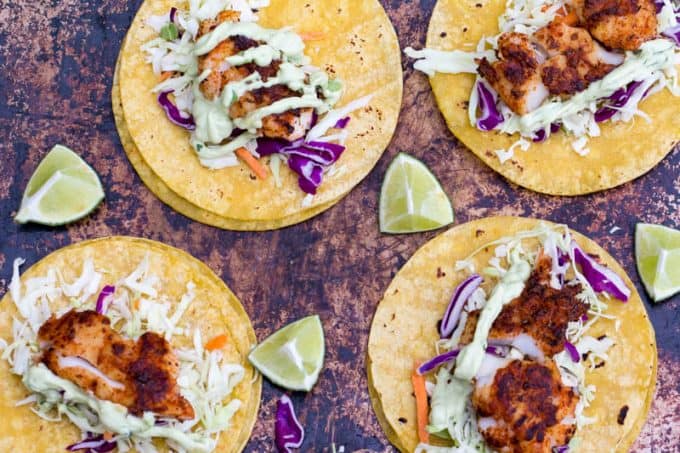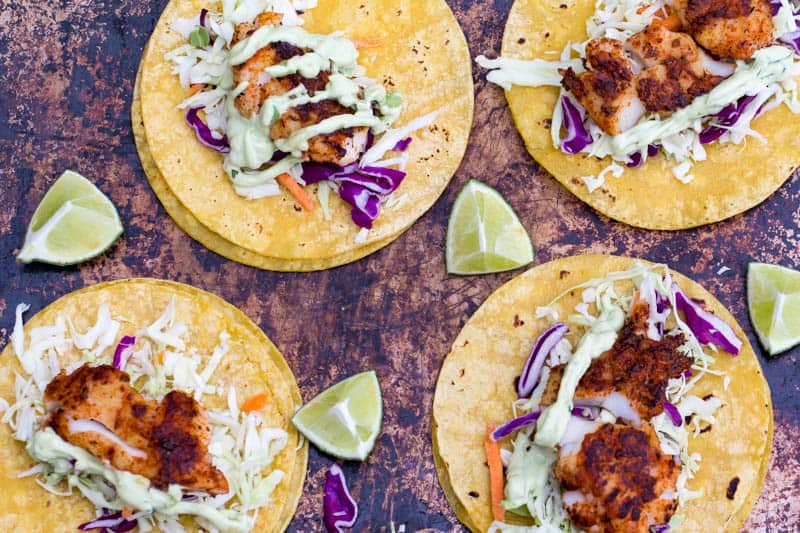 What's in the slaw?
Create a super simple slaw with coleslaw mix and fresh lime juice to soften up the cabbage. I just add a thin layer of slaw on a corn tortilla and then top with some fish and salsa, and you are ready to serve! Easy assembly for that perfect no-fuss dinner or lunch.
Join our Easy Traeger Recipes Facebook group!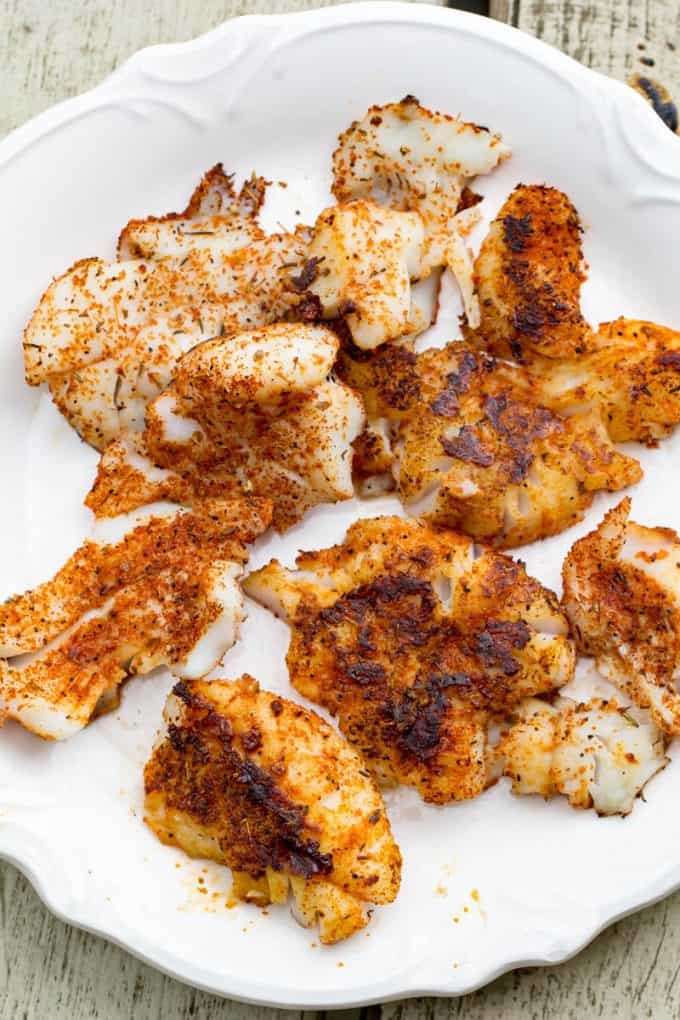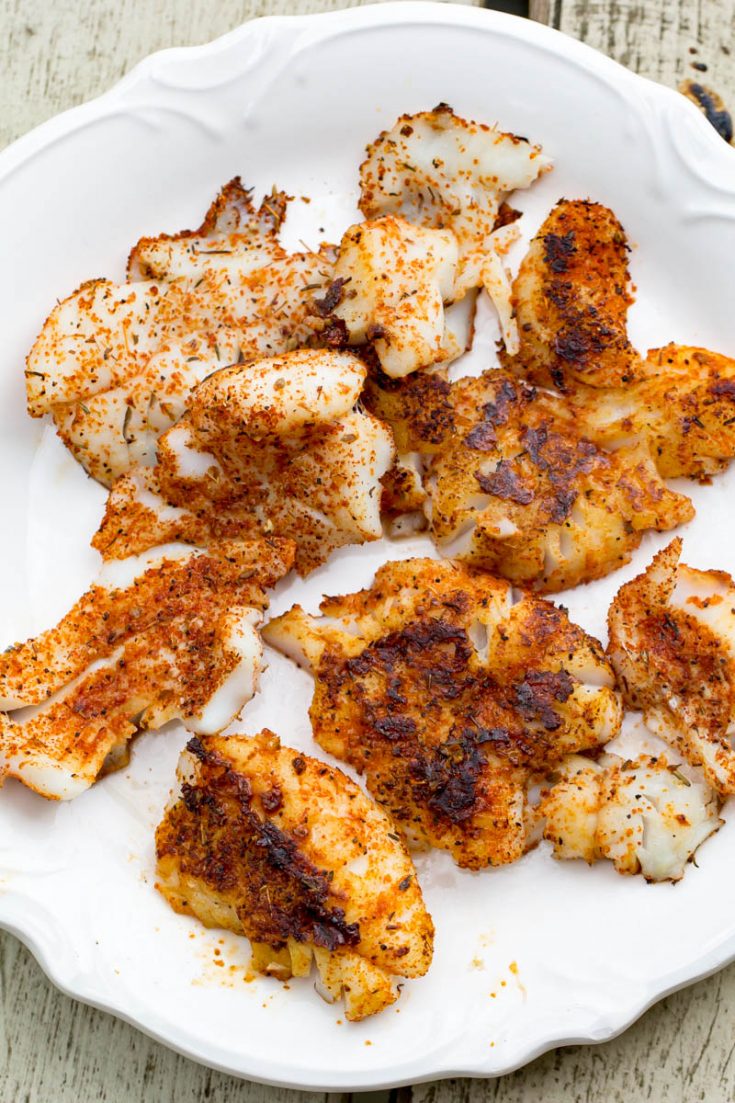 What kind of fish is best for grilled fish tacos?
We used rockfish for our blackened fish tacos, but you are welcome to use any fleshy whitefish that's available. I find that bass is another excellent fish that cooks up beautifully on the grill. Halibut would be wonderful, and cod is another option I wouldn't hesitate to use. If you have walleye available, you guys know that's my ultimate favorite!
Pro-tip, check out this walleye with lemon cream sauce!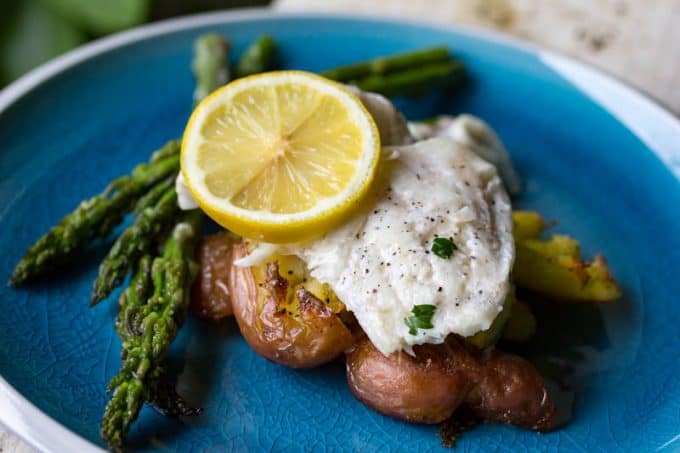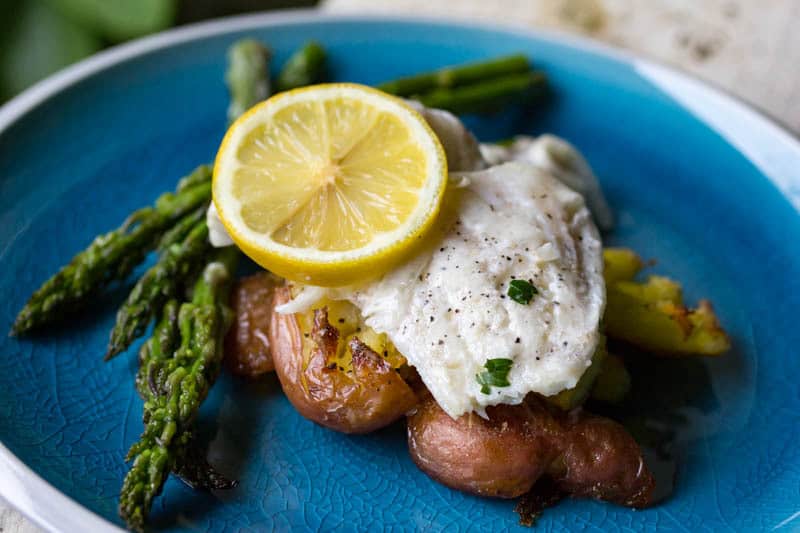 More of my favorite fish recipes
These are some of my favorite fish recipes here at Or Whatever You Do. I have a houseful of fishing-obsessed boys right now, so our freezer is literally overflowing with fish. Here are some of the ways that we've found to prepare it!
What kind of sauce goes on fish tacos?
Fish tacos lend themselves really well to any number of toppings, much like other varieties of tacos. I like to put out a variety of different toppings so that everyone could customize their plate just the way they want.
With these, we make a quick slaw for that citrus and crunch. If you want a creamy sauce, you have lots of options!
Avocado Lime sauce is a popular option for blackened fish tacos.
Another option is to reach for a sour cream-based sauce. Just mix in with some fresh lime juice, garlic, and if you want some heat you can add a splash of Tapatio or Cholula.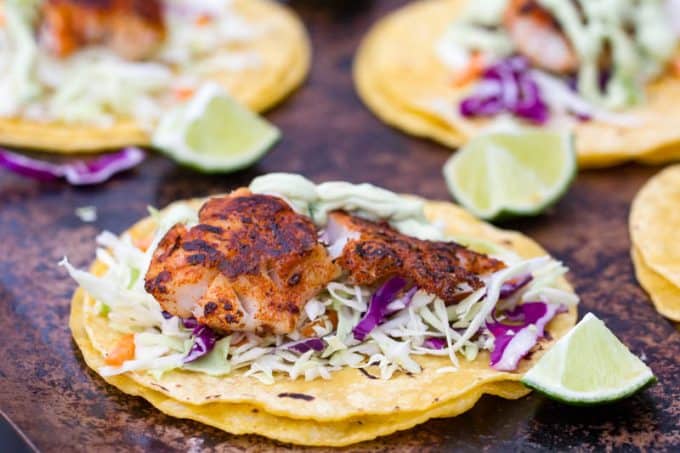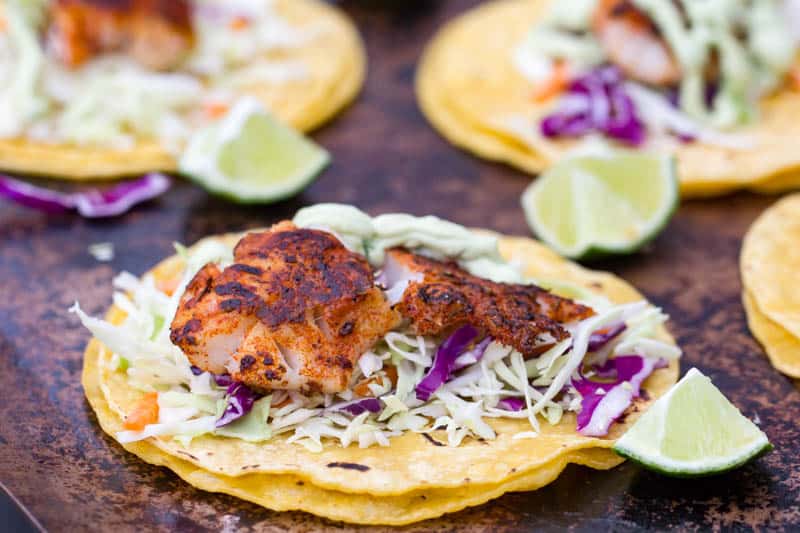 Can other types of fish pinch hit?
These blackened fish tacos work great with any white fish. I have found that pretty much any white fish will handle the heat of the grill and the blackening nicely and leave you with a tender and flavorful fish. Try cod, flounder, rockfish, cod, walleye, halibut, etc.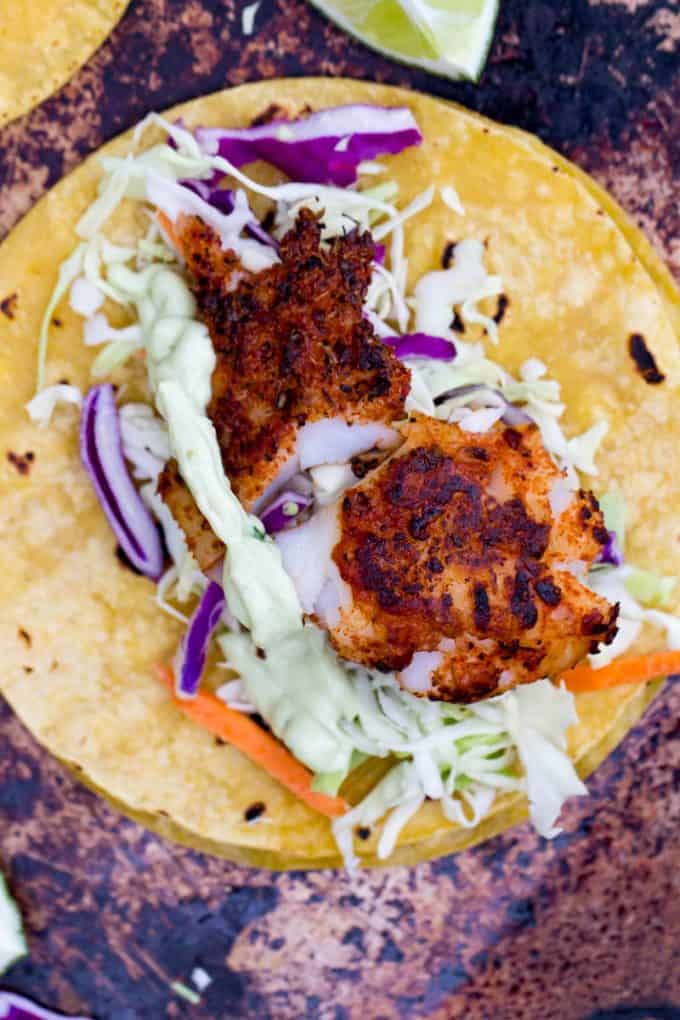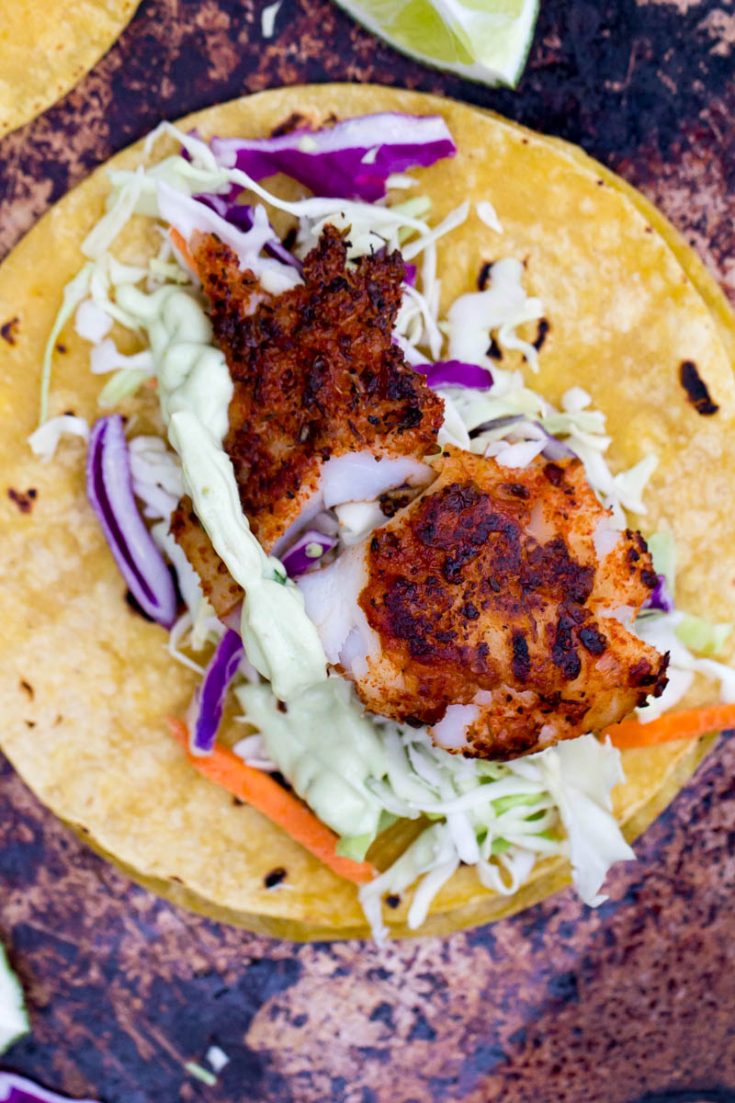 What is blackening?
Blackening is a way to prepare fish and other types of proteins. Typically, you just dip your fish into melted butter and then generously dredge your fish into a mix of spices and herbs.
In this case, I skipped the butter step because I wanted to go with a slightly healthier alternative. Instead, I just used a really well-seasoned cast iron pan that had a generous spray of avocado oil cooking spray to prevent sticking.
You will find that a lot of blackening rubs are mixed with herbs and spices like garlic powder, onion powder, thyme, oregano, peppercorns, chili pepper, etc. Your fish will be incredibly flavorful when you use the blackening method.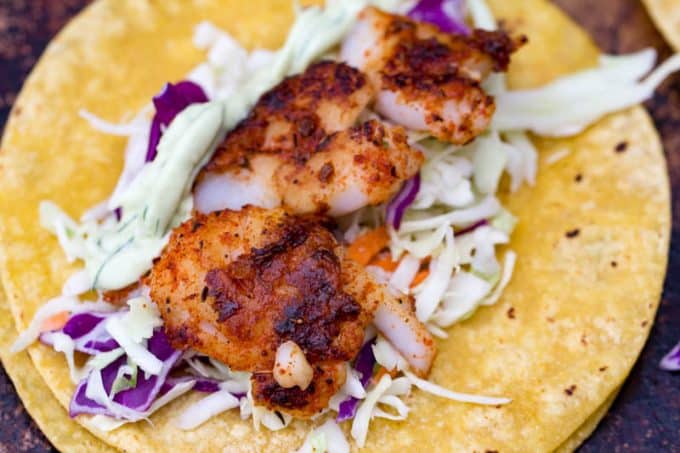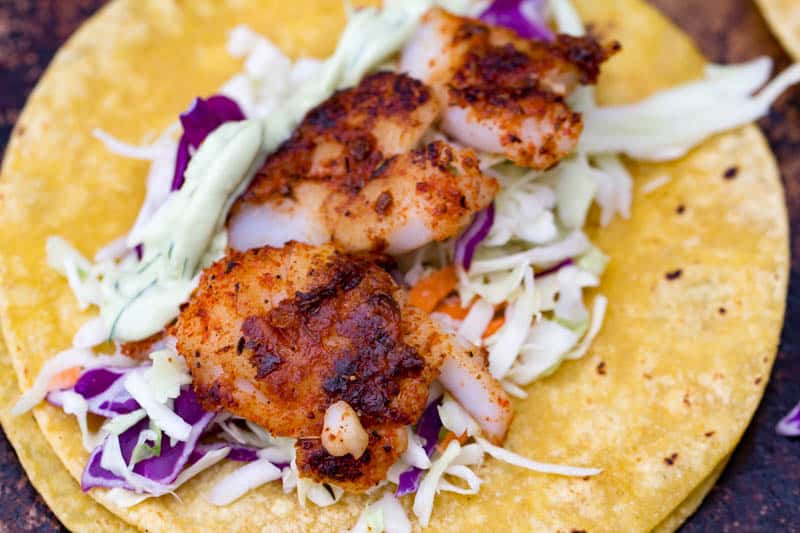 Where can I get blackening seasoning?
My favorite blackening seasoning comes from Spiceology. There's a link in the recipe card below if you want to buy some!
If you don't have any yet and can't wait for it to get here, you can make your own. The Wicked Noodle has an awesome recipe for Homemade Blackening Seasoning that I'd highly recommend!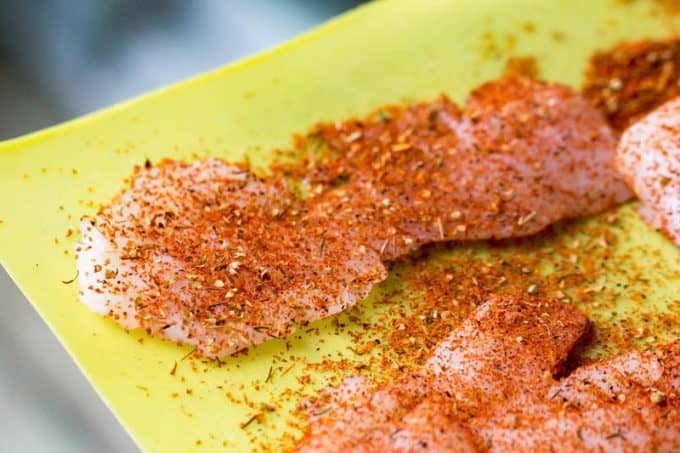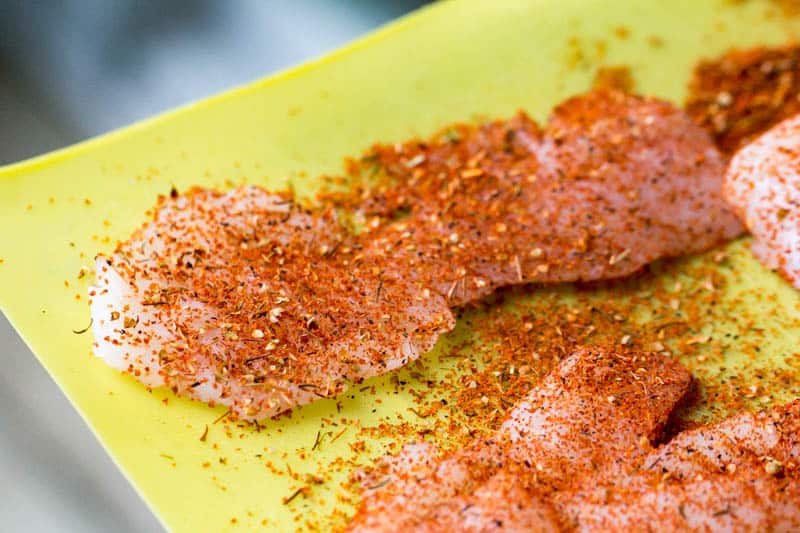 Is blackened fish burnt?
No, not at all. Your blackened fish will offer a really dark crust, but in no way is it burnt or will taste burnt. It is the mix of butter and mixed herbs and spices that give it that deep dark coloring.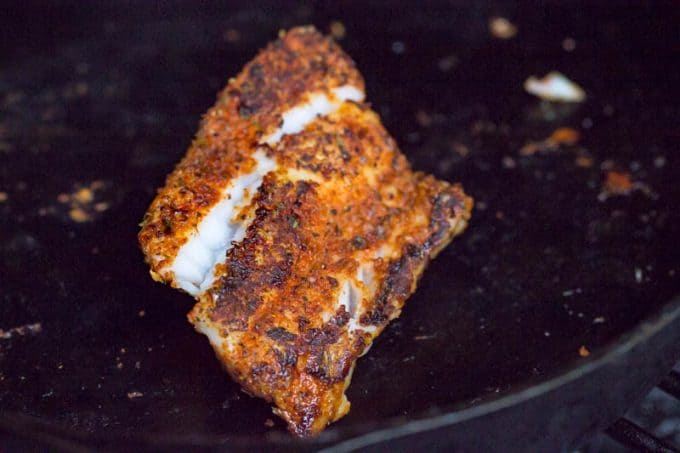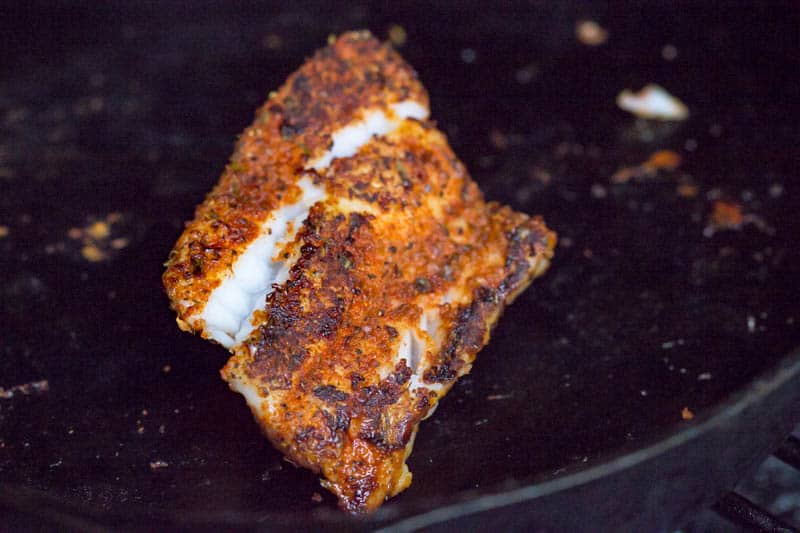 Can you reheat these?
With any fish recipe, I think it is safe to say it tastes best the first time. If you do save any leftovers, you can store in the fridge for 2-3 days safely.
To warm up the leftover fish, stay away from the microwave. Far, far away. I recommend giving these a quick reheat in an air fryer or in your oven. Just preheat to about 250° and stick the filets inside in an oven-safe pan for about 10 minutes.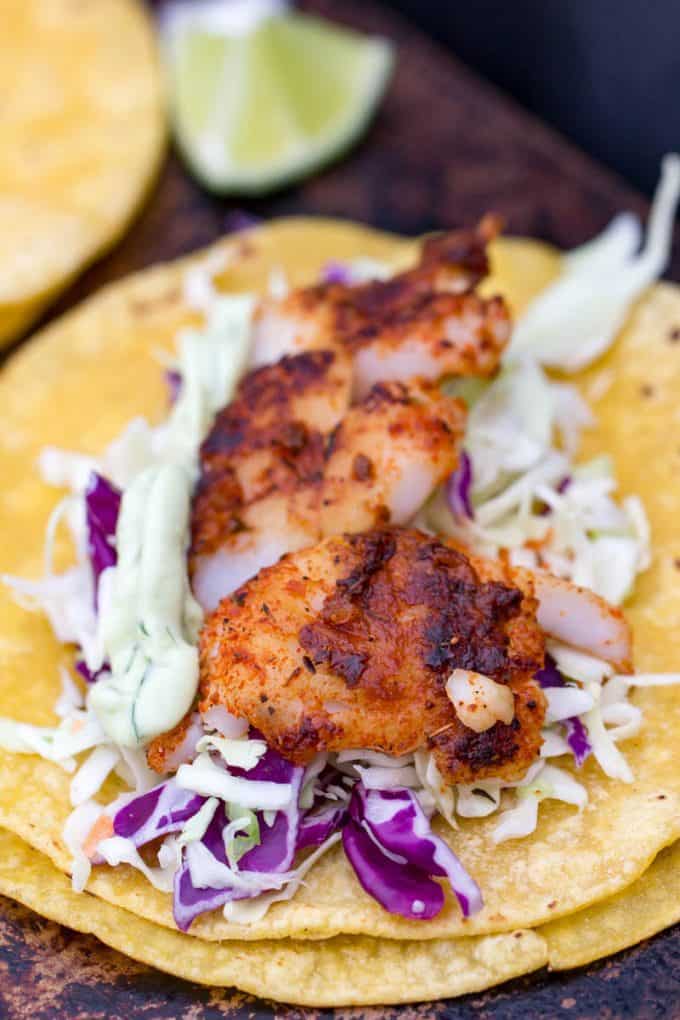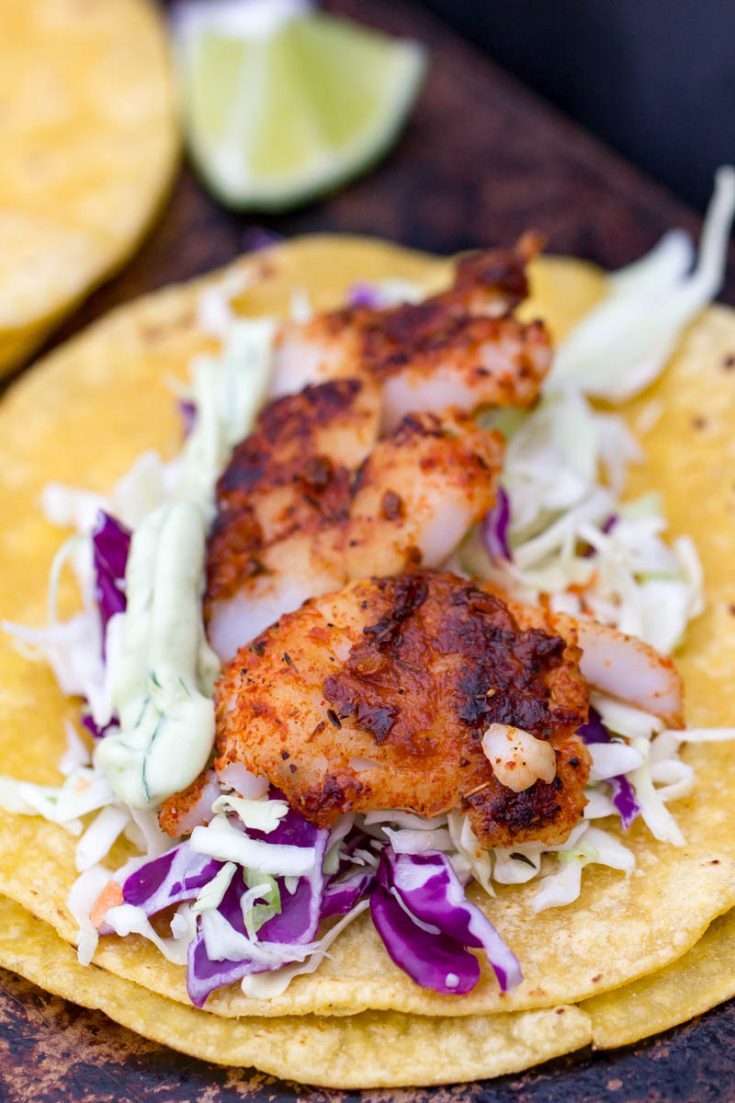 How to make grilled blackened fish tacos
Making grilled blackened fish tacos is easy, but you need to know a few things.
You need a cast-iron pan
First, you'll need a pan or a grill mat that will keep your fish from falling apart or going through the grates. That part is not negotiable.
Preheat your pan WITH the grill
To get the best crust on your fish you'll want to put the pan on the grill while you are preheating it. That'll make sure the pan is blistering hot when you put your fish in.
Don't skimp on the seasoning
Aside from the blackening that we already talked about, don't be shy with that seasoning. It needs to be liberally applied.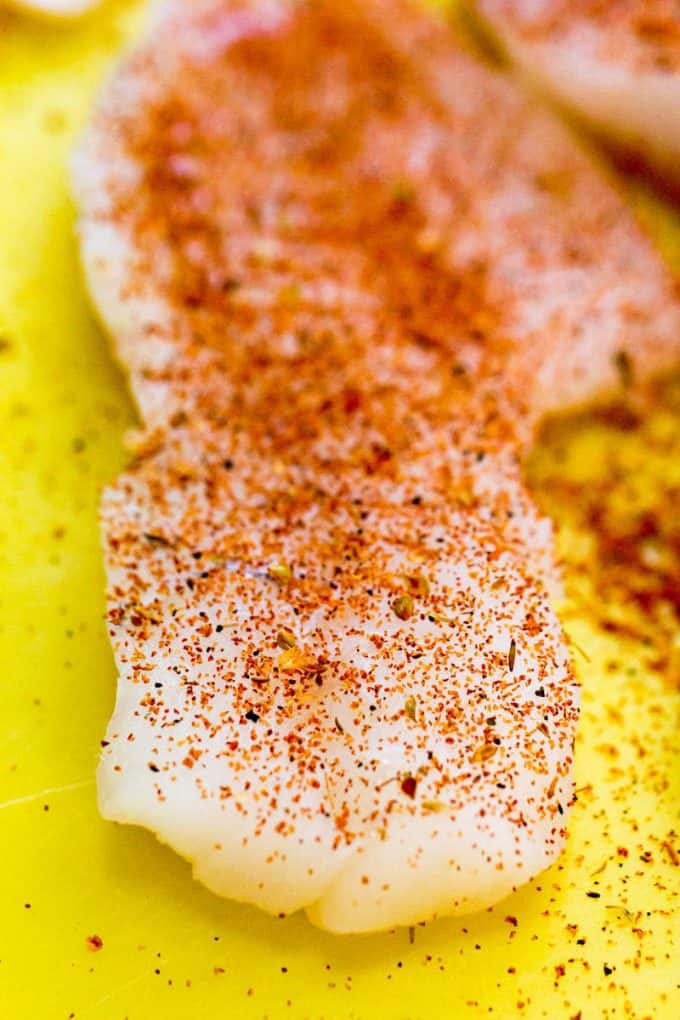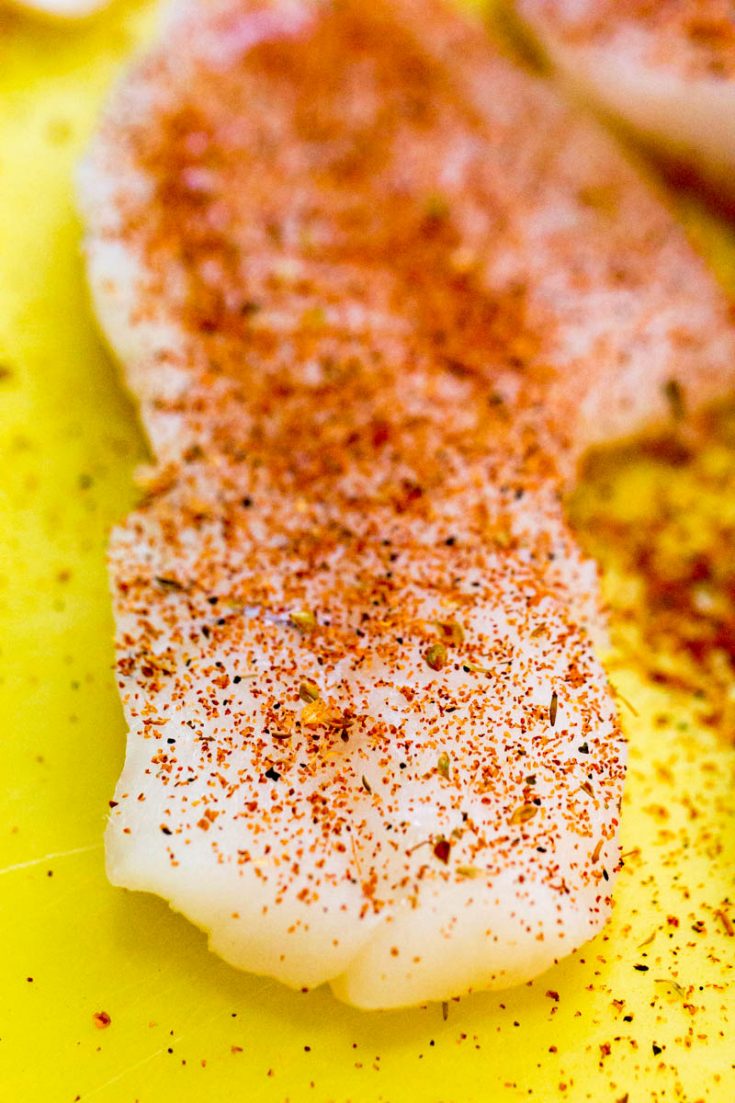 LEAVE IT ALONE
Once you put that fish in the pan on the grill, don't touch it! The more you touch it the likelier it is to fall apart. You'll only want to flip it ONCE, and do it carefully to keep the fish filets together.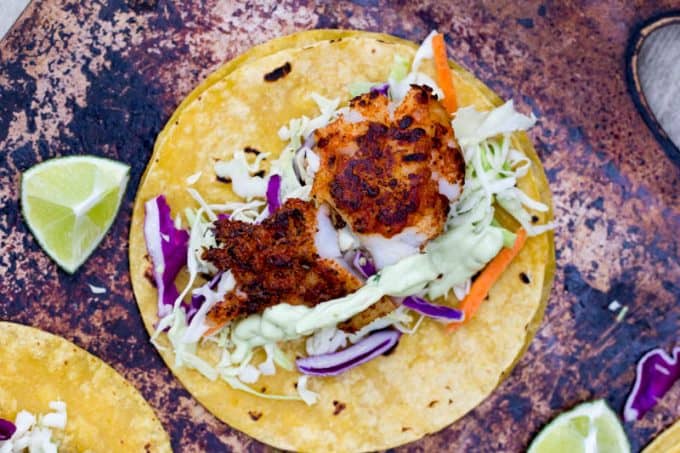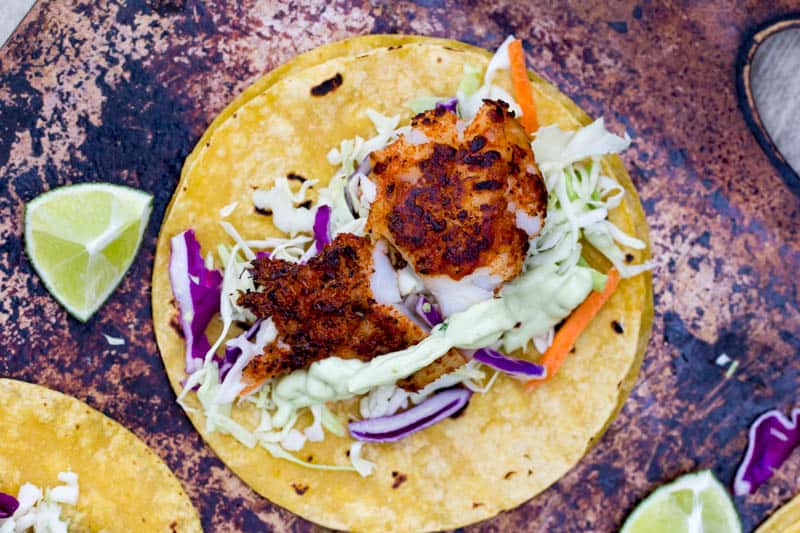 Can I cook blackened fish tacos in the oven or on the stove?
You sure can! If you cook these on the stovetop, just make sure you preheat your pan well before putting the fish inside, and I would cook them with a cover following the same tips I described above. Don't flip more than once, etc.
If you cook in the oven, the same rules apply. Preheat your pan. Don't touch them unnecessarily. All of the above.
I really hope you'll give the grill a try though! It just barely gives them a wood-fired flavor that is one of my favorite aspects of this dish.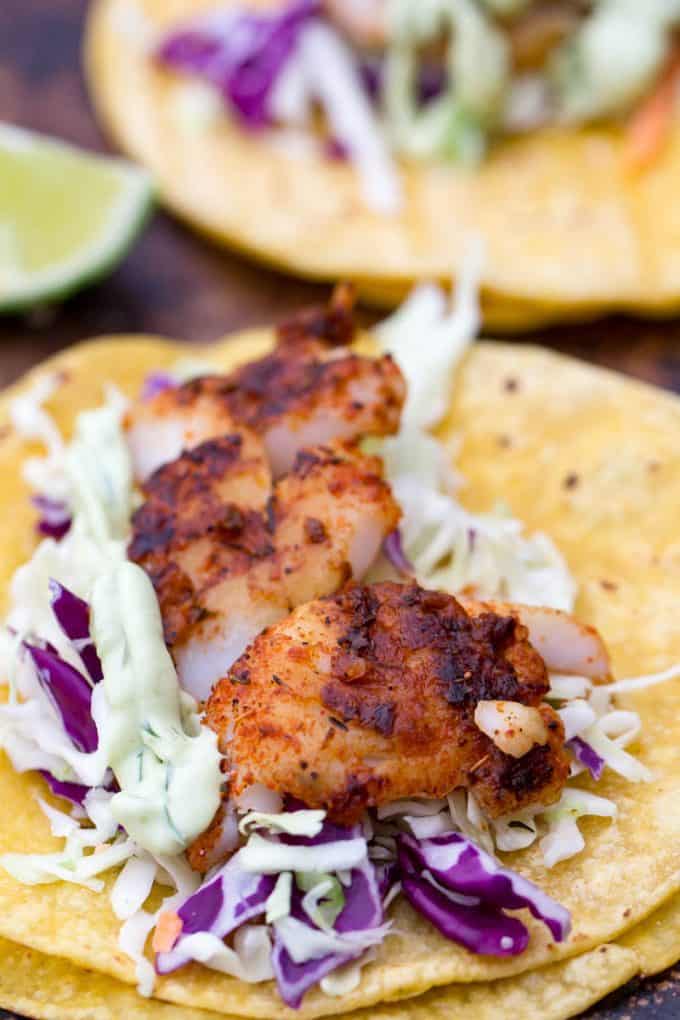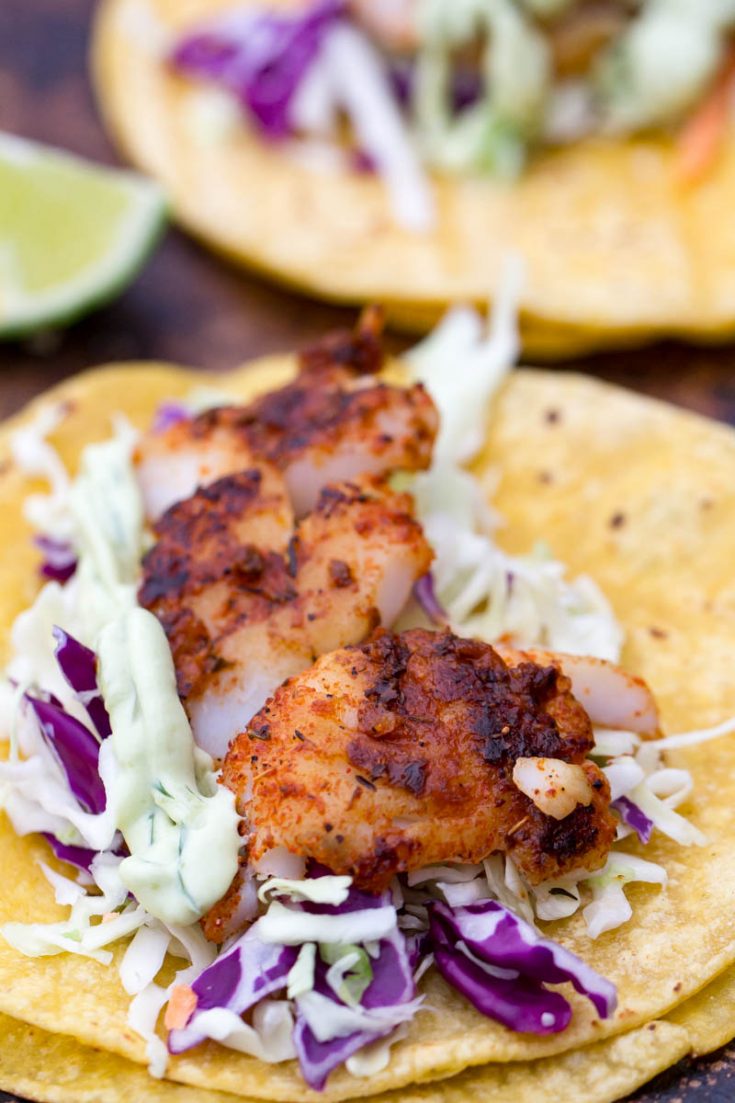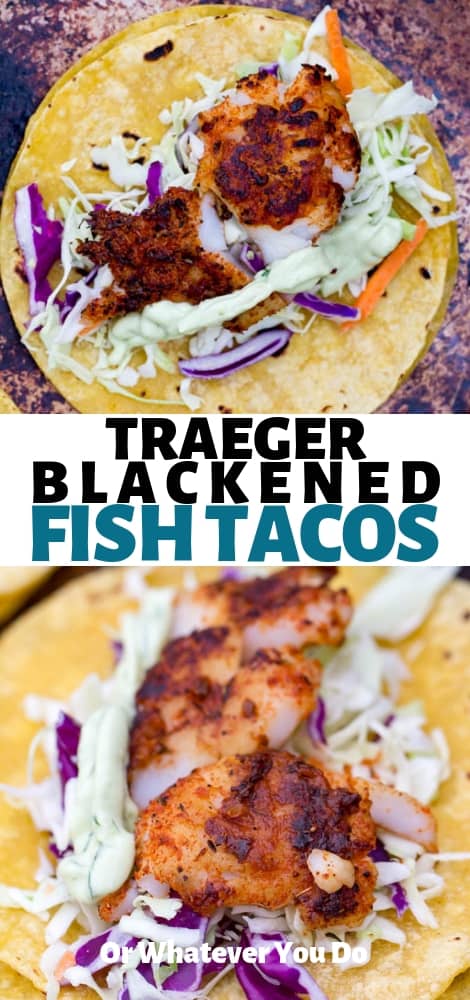 Yield: 6 servings
Traeger Grilled Blackened Fish Tacos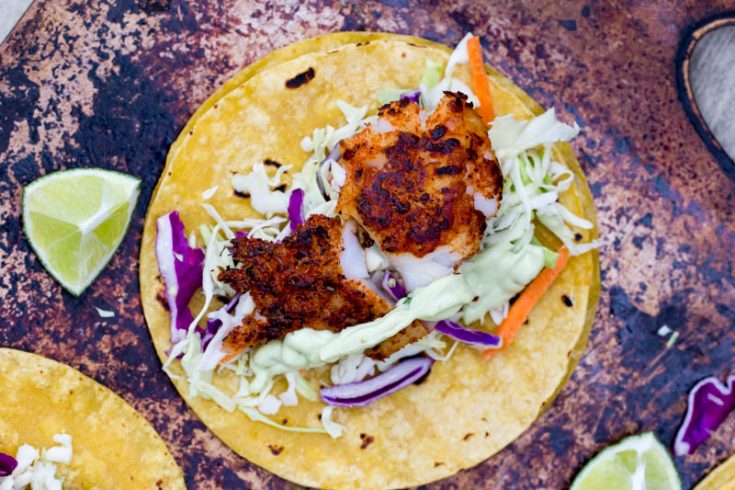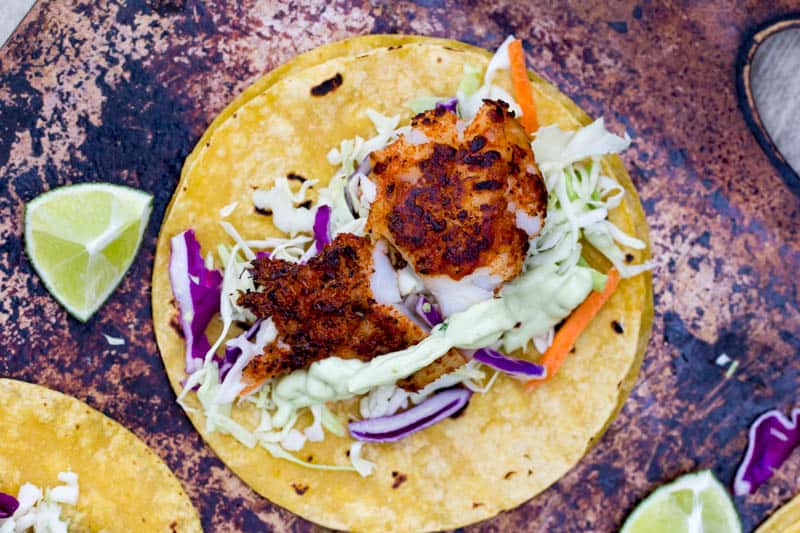 These easy Traeger grilled blackened fish tacos are an easy and healthy way to add some more fish in your family's diet! Super flavorful and fresh.
Ingredients
18 ounces fresh fish filets
4 tablespoons blackening seasoning
Limes for garnish
Shredded cabbage
Corn tortillas
Instructions
Preheat your Traeger grill according to factory directions to 400 degrees. Place your cast iron pan inside while it is preheating.
Liberally dust all sides of your fish with blackening seasoning.
With a pot holder, carefully remove the pan from the grill, and spray liberally with cooking spray. (Don't spray while it is on the grill! Cooking spray is flammable!)
Put the pan back on the grill and immediately place the fish inside and close the grill lid.
Grill for 4-5 minutes, or until the bottom is browned and a crust has formed.
Carefully flip the fish one time using a wide spatula. Close the lid and cook for an additional 4-5 minutes.
How long you will need to cook your fish depends on how thick your filets are. Thinner filets will cook more quickly than thick filets.
Your fish is done with the inside is no longer translucent and the fish is flaky.
Serve with corn tortillas, limes, and all of your favorite taco fixings!
Recommended Products
As an Amazon Associate and member of other affiliate programs, I earn from qualifying purchases.
Nutrition Information:
Yield:
6
Serving Size:
1
Amount Per Serving:
Calories:

104
Total Fat:

1g
Saturated Fat:

0g
Trans Fat:

0g
Unsaturated Fat:

0g
Cholesterol:

80mg
Sodium:

3137mg
Carbohydrates:

3g
Fiber:

1g
Sugar:

1g
Protein:

21g