Smoked, pellet grill carnitas take Mexican street food to another level. With your Traeger, Camp Chef, or comparable Pellet Grill, you smoke the pork low and slow then crisp it in a skillet for amazing grilled carnitas tacos.
Easy Traeger Pellet Grill Carnitas
I bet you've probably tried carnitas before. Whether you got them in a restaurant or from a food truck, you know how delicious this simple meal can be. On a small corn tortilla with a few onions, some cilantro, and a squeeze of a lime wedge, the taco doesn't really get better than that.
It is SO simple. Every ingredient works together to make the culmination better than the sum of its parts. Dishes with so few ingredients that taste so good don't seem to have any room for improvement, but that's where your pellet grill comes into play.
When you slow smoke the pork before shredding it, and then crisp it up by adding the shredded pork to a very hot cast-iron skillet or flat top griddle, you're going to want tacos for breakfast and lunch the next day too. The combination of the wood-fired flavor with the crisped-up pork is my favorite!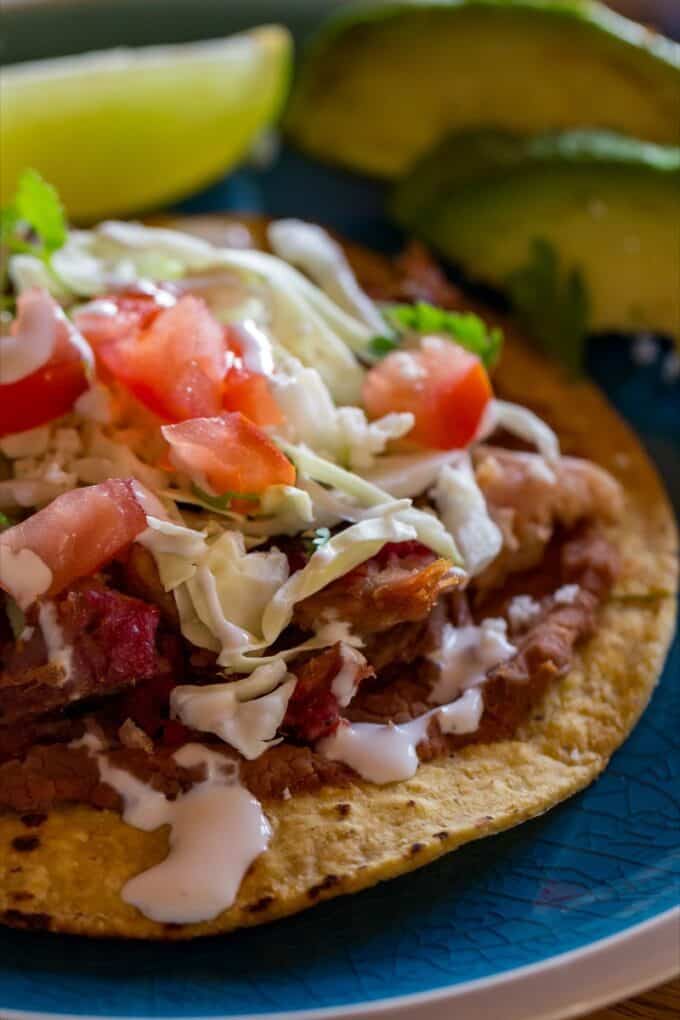 The best cut of pork for grilled carnitas tacos
I recommend the pork shoulder roast for smoked carnitas, and for a few reasons.
First, it isn't as fatty as some of the other cuts, but it still has plenty of fat that melts into the meat and keeps it moist and flavorful. The rendered fat is also enough to make the meat fry up on the skillet and get crispy without adding more oil.
The meat on the shoulder roast has longer fibers too so it holds up to the low and slow roasting without crumbling into pieces too fine to crisp up easily.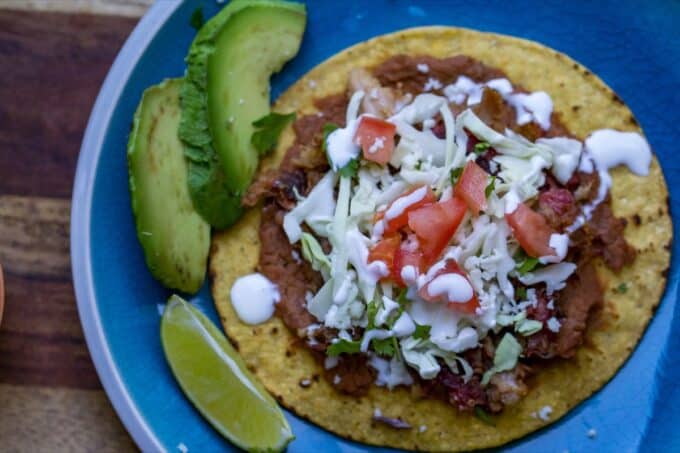 Take a pair of forks and shred the meat along the grain. It will pull into long strands similar to making pulled pork barbecue. Make sure you don't shred it too finely. The idea is to get nice pieces of pork that will be easy to sear in the skillet.
Also, make sure the less fatty parts of the pork are well coated by some remaining fat in the roast. The fat of course helps add flavor but it also makes it easier to crisp up the meat when you have it in the hot skillet.
The skillet should be very hot at around 500° because you want a very quick browning on the pieces of pork. Allow the meat to get the sear and watch that it doesn't burn. You already smoked the meat for so long, no need to smoke it again!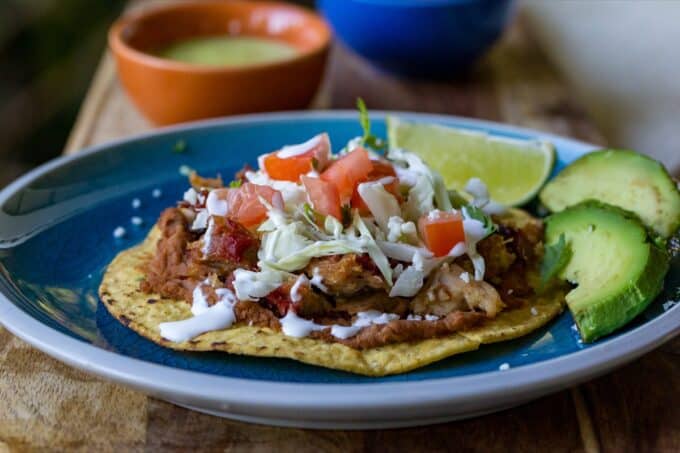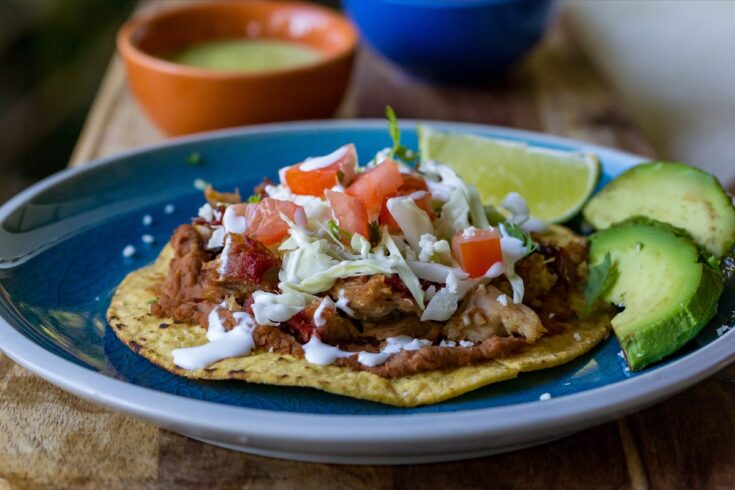 What condiments do I need for smoked grilled tacos?
Traditionally, smoked grilled tacos are served with precious few ingredients. Some chopped onions, some cilantro, and a squeeze of lime are all you really need. Add some hot sauce if you like. The Mexican hot sauces like Tapatio and Cholula work great. Both have a bit of smokiness as well.
For those that want some heat, you can also serve it with some slices of radishes and some pickled jalapeno peppers with carrots and onions or some grilled jalapeno peppers.
If you want to add a bit of cheese, then go with a cotija cheese. This Mexican cheese comes from Cotija and it is a hard but crumbly cheese similar to Feta. You can find it by all the other cheeses in the grocery store.
However, if you do have a hard time finding it then Feta works as another option. The similarity between those cheese is that they all have a sort of salty tangy funkiness that just works really well with the carnitas.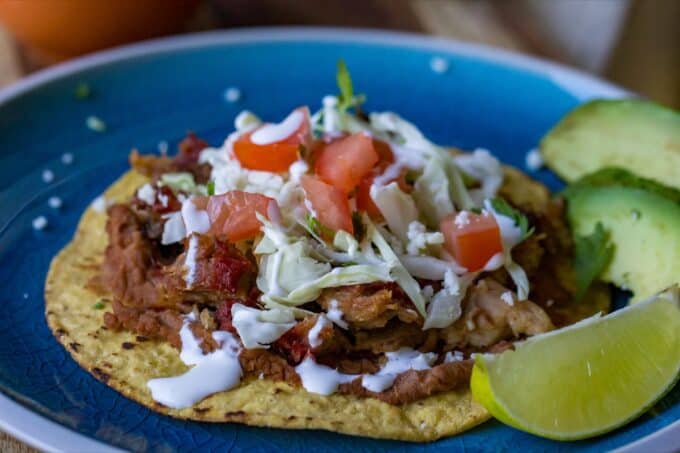 What sides are best with carnitas?
With great street food like grilled carnitas, you might want to consider side dishes that compliment them. Not only in terms of taste, but also in terms of ease of preparation, and ideally you want something to make while the pork is on the smoker.
Here are some of my favorite things to serve with carnitas: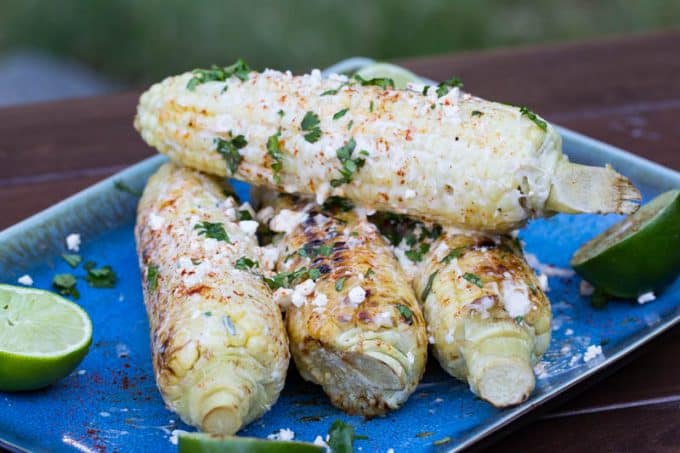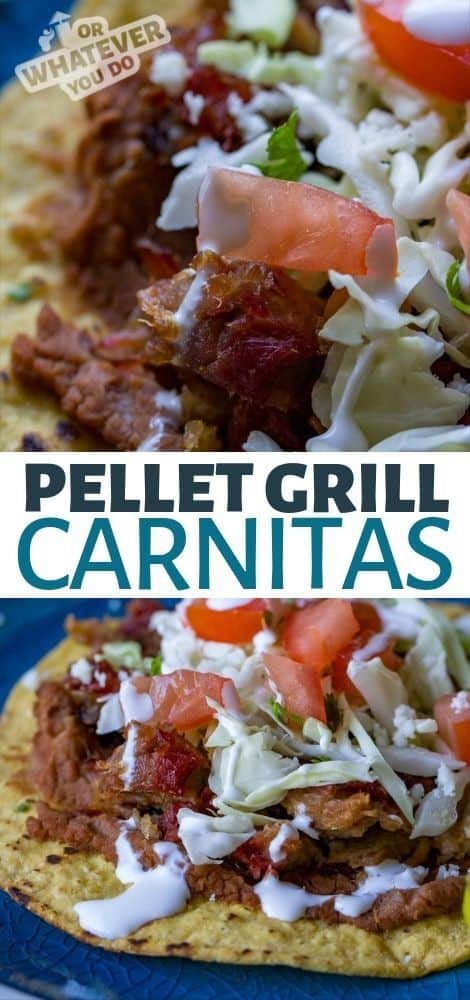 Yield: 12 servings
Pellet Grill Carnitas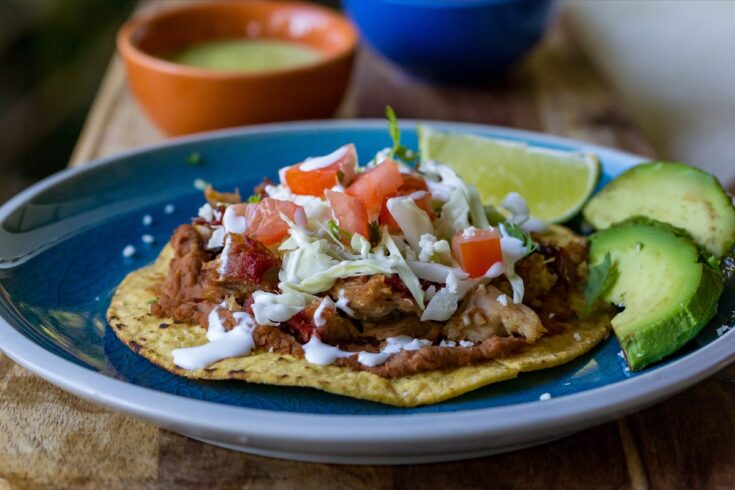 This pork shoulder roast smokes on the pellet grill until it is shreddable, and then gets hit with a blast of heat on a griddle or cast iron pan to become your new favorite taco.
Total Time
10 hours
10 minutes
Ingredients
5 pound pork shoulder roast
Pork Rub
2 tablespoon salt
1 tablespoon onion powder
1 1/2 teaspoon granulated garlic
1 teaspoon cumin
1 teaspoon chipotle chili powder
1 teaspoon paprika
1 teaspoon cayenne pepper
2 teaspoon brown sugar
Instructions
Combine all of the rub ingredients and set aside.
Coat the roast with the rub.
Preheat your grill to smoke (180-200°), and place your pork shoulder in a small foil pan on the grill.
Let the roast smoke for 2 hours, and then turn up the temperature to 325°.
Allow the roast to come up to 190-195°. This will take between 8-12 hours, most likely. ALWAYS COOK TO TEMP AND NOT TO TIME.
Shred the pork roast, remove the excess fat, and set aside.
Preheat a cast-iron skillet or your flat top griddle over medium-high heat, lightly coat the cast iron with oil and place the meat inside. Fry it for a couple of minutes, until a crispy crust forms on the bottom, and then serve with taco fixings.
Recommended Products
As an Amazon Associate and member of other affiliate programs, I earn from qualifying purchases.
Nutrition Information:
Yield:
12
Serving Size:
1
Amount Per Serving:
Calories:

560
Total Fat:

41g
Saturated Fat:

15g
Trans Fat:

0g
Unsaturated Fat:

22g
Cholesterol:

170mg
Sodium:

1194mg
Carbohydrates:

2g
Fiber:

0g
Sugar:

1g
Protein:

44g
Nutrition data provided here is only an estimate. If you are tracking these things for medical purposes please consult an outside, trusted source. Thanks!