My spicy Bison Bolognese is one of my favorite kinds of spaghetti sauce and is one of our family favorites. You can use ground beef if you prefer, or almost any type of ground wild game like venison, elk, or even ground moose.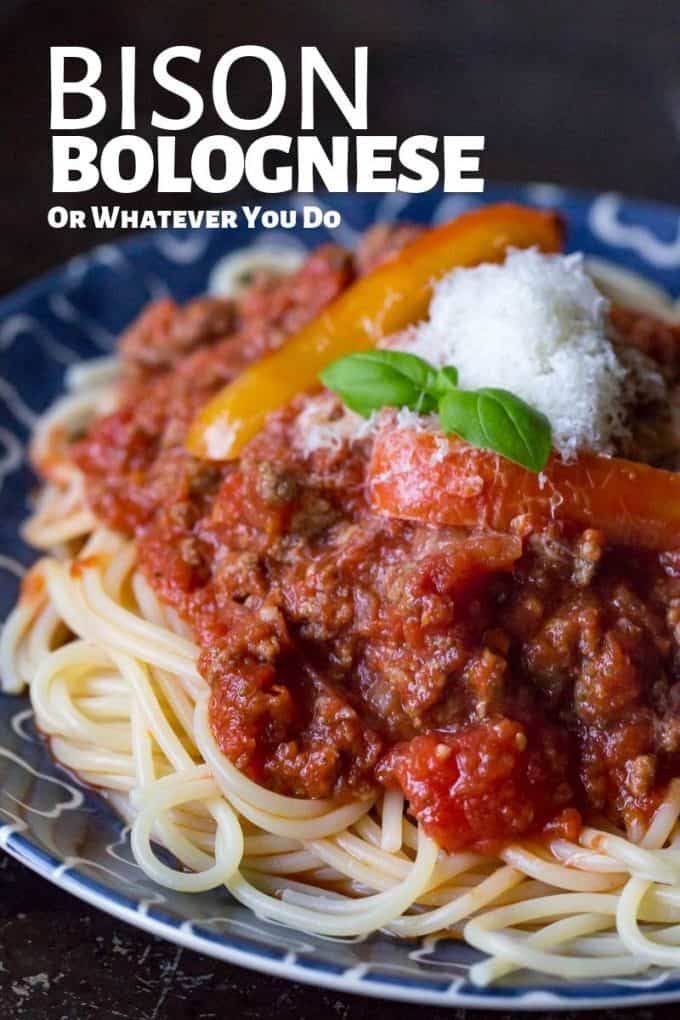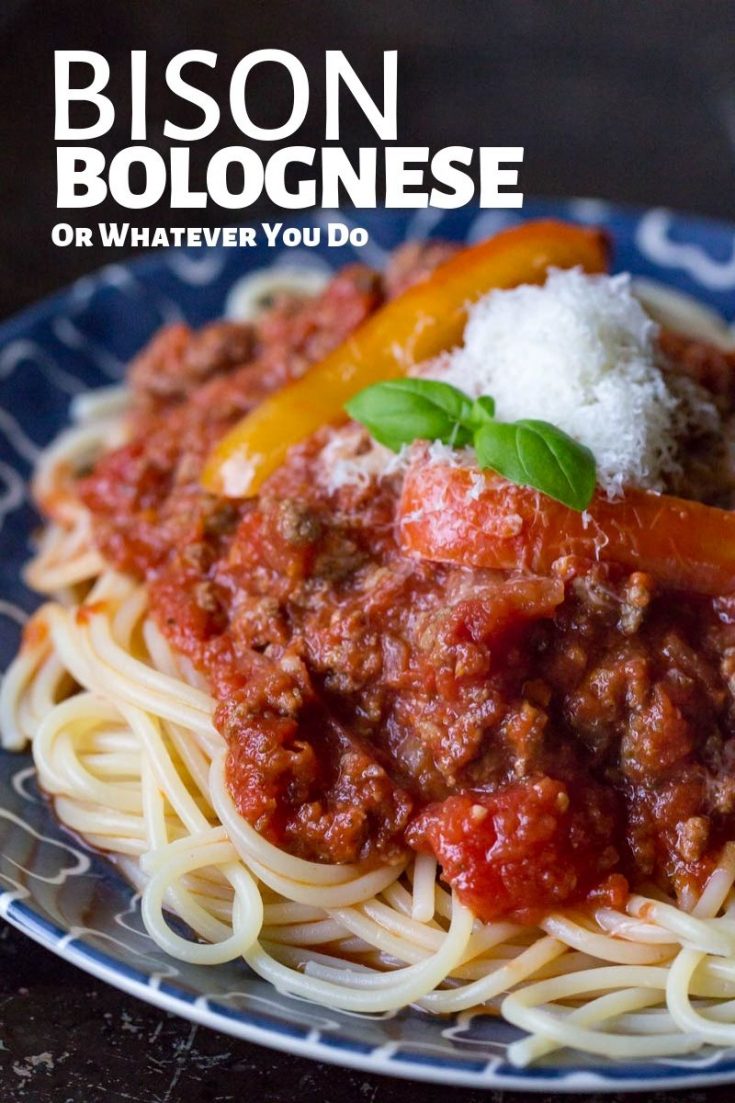 Bison Bolognese Recipe
When you are craving a hearty bowl of pasta that your whole family will love, look no further than this bison bolognese. This hearty spaghetti with meat sauce is simple to prepare and only has to simmer for about 45 minutes before you have a pot of steaming savory tomato sauce that is packed so full of meat and flavor that you're going to want to double this already giant batch to freeze for later.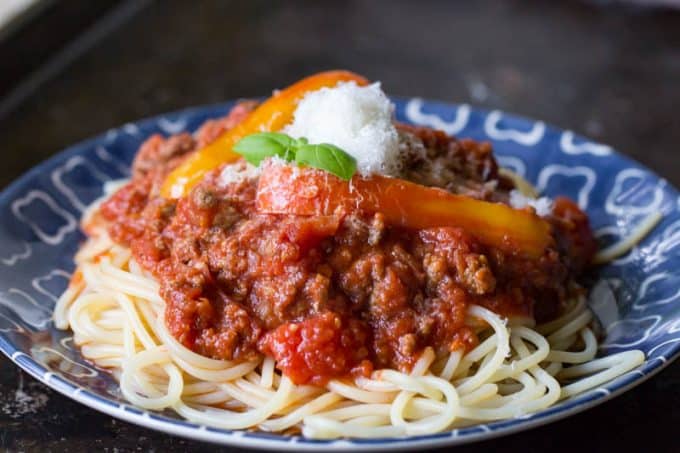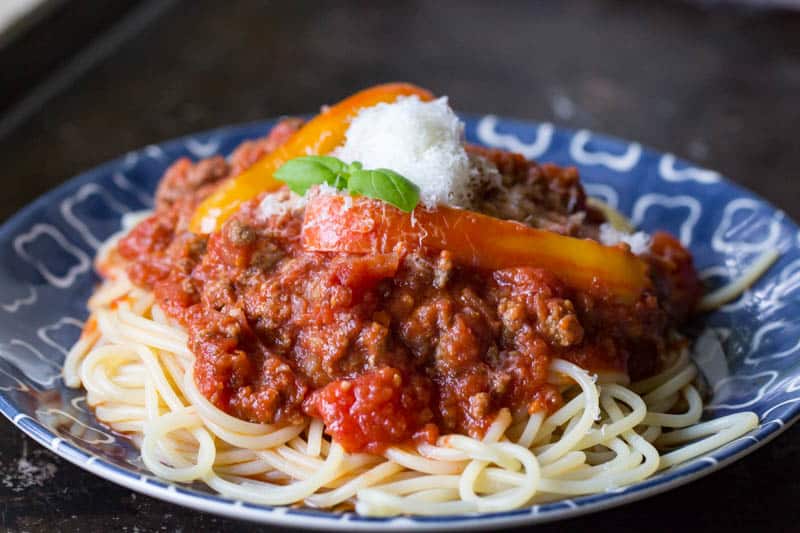 What is bolognese?
Bolognese sauce is an Italian sauce that is heavy on the meat, and traditionally light on the tomato and includes milk or cream. This recipe isn't an authentic bolognese in that sense because I love the tomato, but this recipe is definitely more bolognese than marinara, so there you have it.
I suppose an argument could be made for calling this a spaghetti and meat sauce, but that's not what I ended up landing on here. No matter what you want to call it, you're going to want to whip this up one of these nights, stat.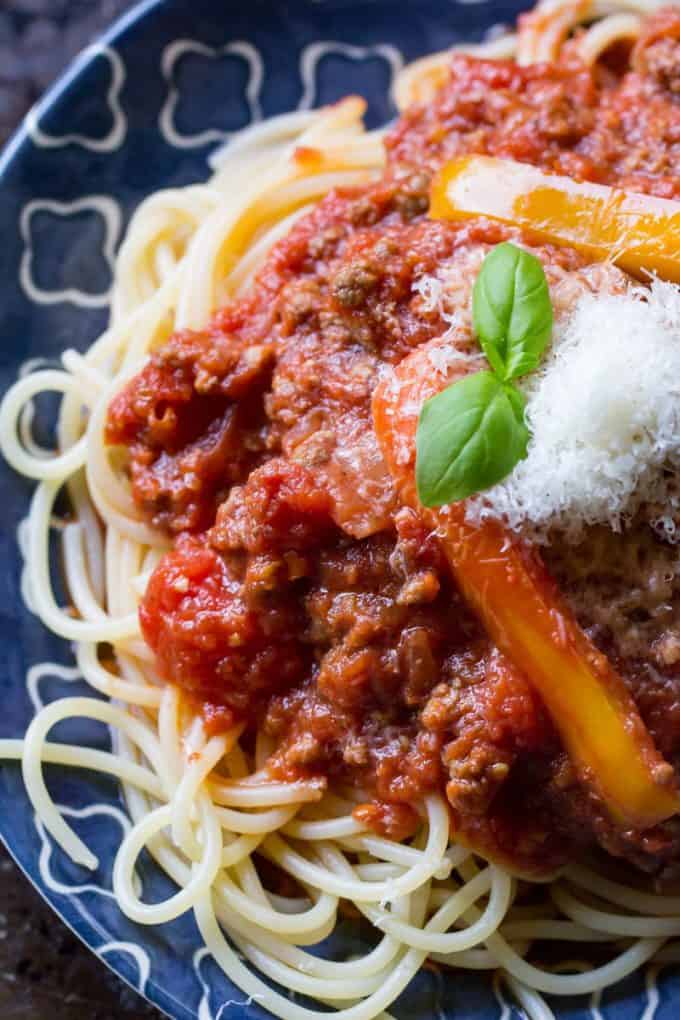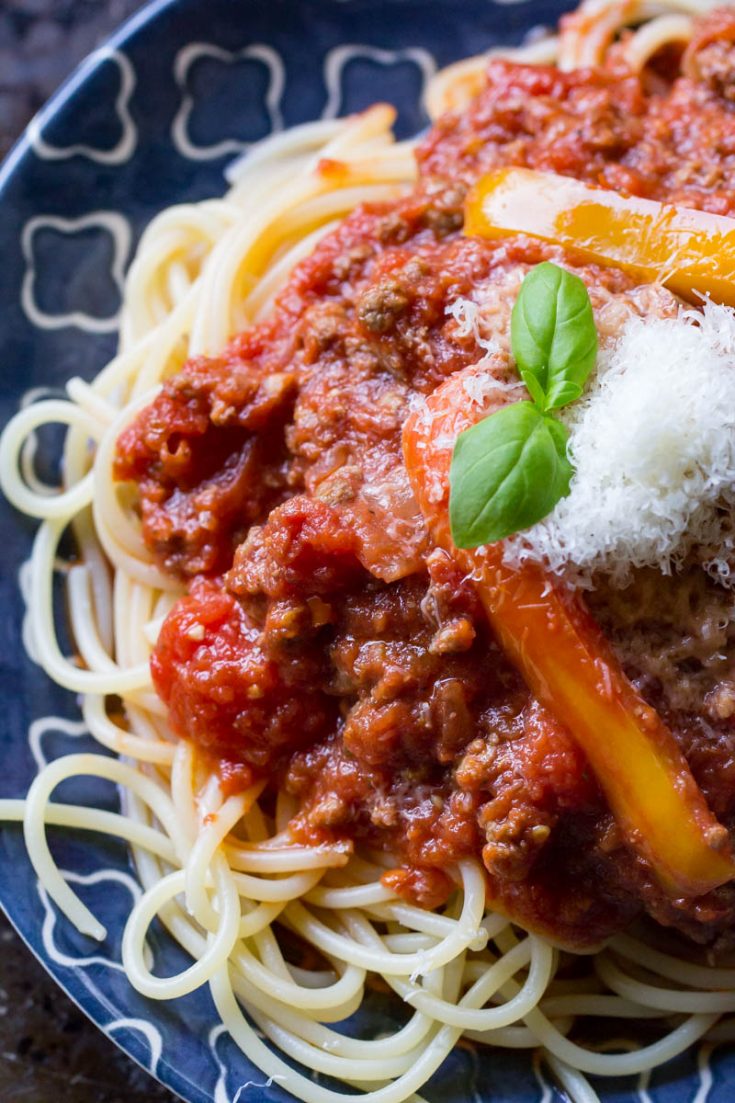 Can I use a different kind of ground meat instead of bison?
Absolutely. Any type of ground meat could work in this delicious sauce. Try adding in some ground venison, elk, caribou, or even moose in this versatile sauce. Or you can always stick to ground beef as well, which is a great standby if wild game meat isn't available.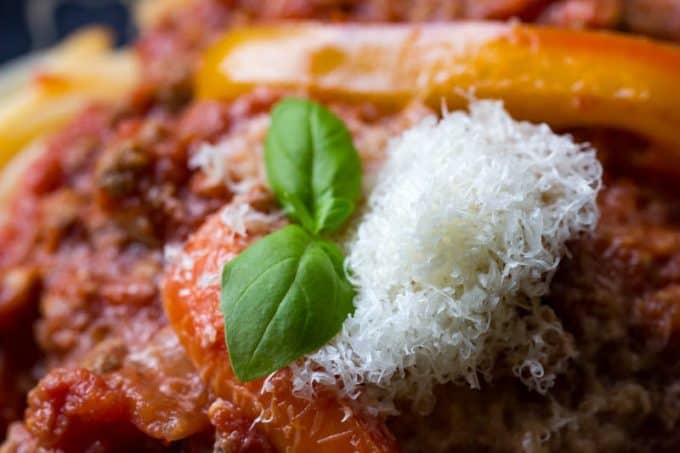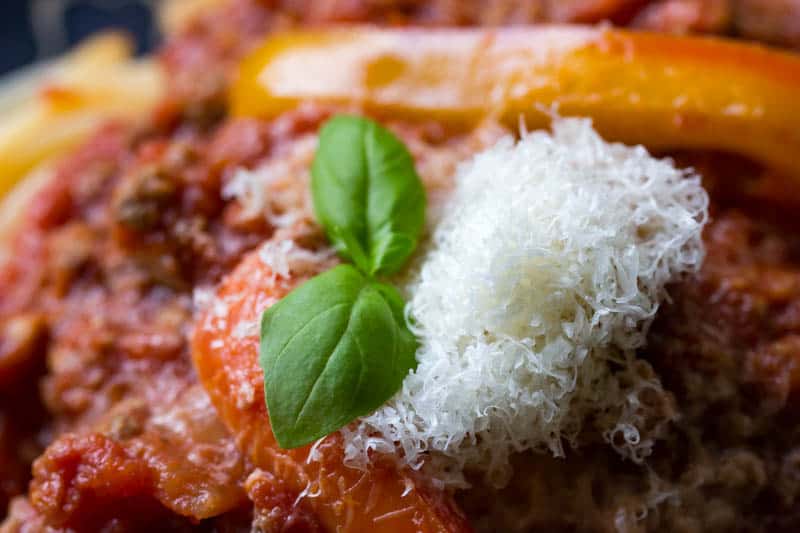 What is the difference between a marinara and a bolognese?
Marinara is typically made without meat, and is a simple sauce of fresh tomatoes, basil, garlic, and olive oil.
Bolognese, on the other hand, typically contains meat as the main ingredient, with some tomatoes, seasonings, and dairy cooked into the mix as well. It is generally very thick and hearty, and hits a totally different set of notes than marinara.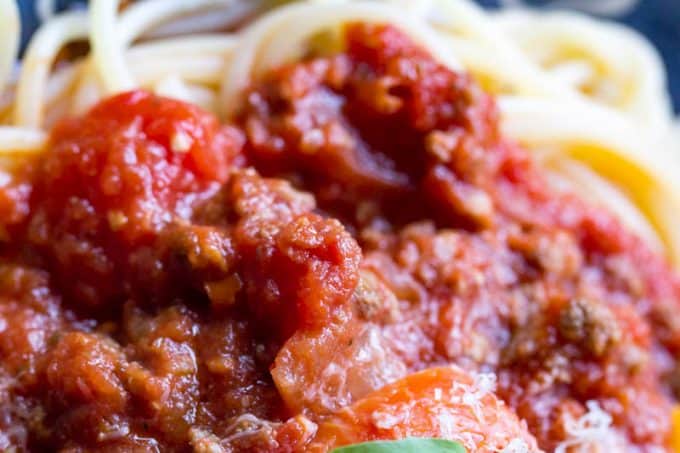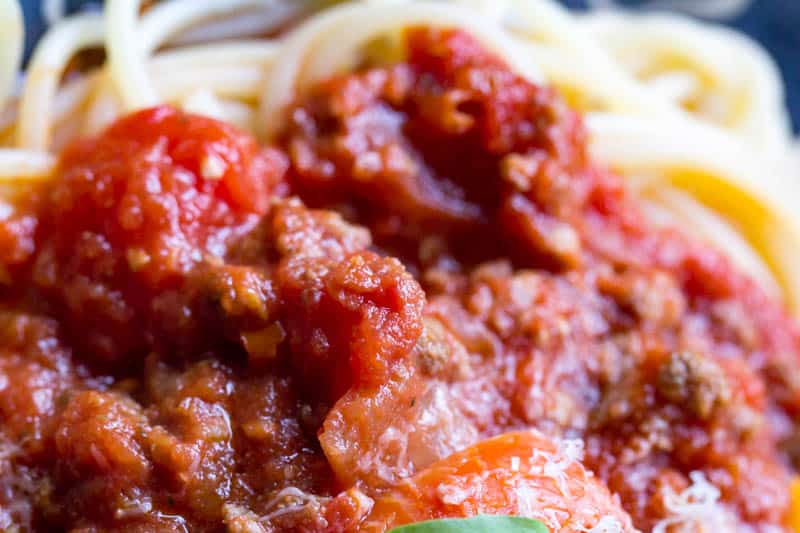 How to make bolognese sauce
Bolognese sauce is easy to make, but it does require some forethought and some time. A great bolognese can take several hours to make properly, so make sure you have some mental energy or a really great reminder/alarm system to keep an eye on it.
Step 1
The first step is to brown your meat, onions and garlic in a large Dutch oven over medium-high heat. Don't skimp on the seasoning when you cook your meat. The little things really make a big difference as you build the various layers of your sauce.
Step 2
Next, add in the red wine. Don't skip this part either. A good full-bodies red wine with Pinot Noir or Malbec will be perfect here. You don't need a lot, maybe a cup or a bit more if you are feeling generous with your bottle, but it makes a really big difference in the end result.
Step 3
Next comes the tomatoes and the olive oil and the rest of the seasonings. Get the best tomatoes you can. I have mine on order from Amazon, and they come monthly. That's how much I care about sauce. You can find a link to my favorites down in the recipe card.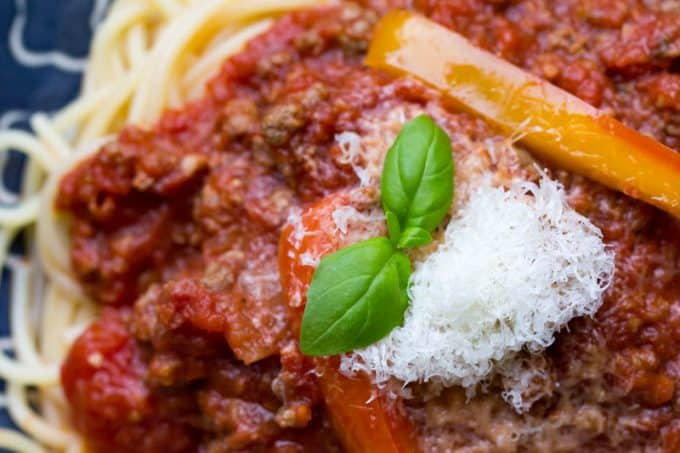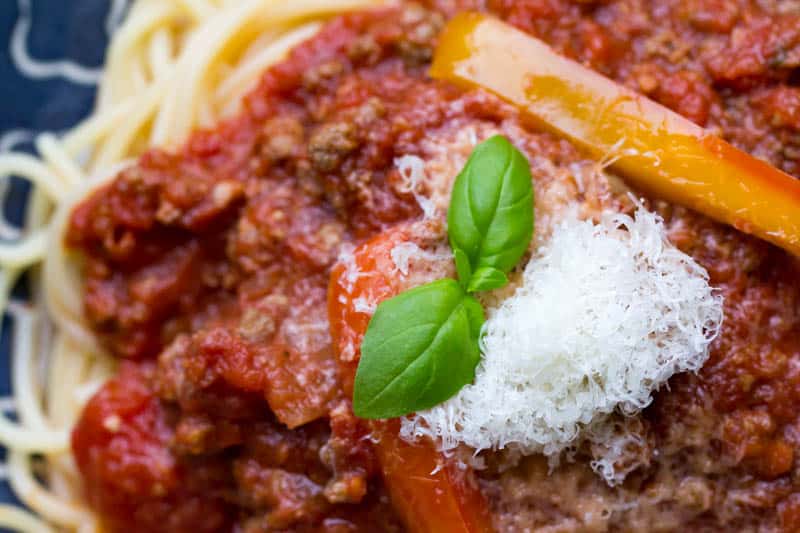 Step 4
This step is the hardest. It is just patience. You need to simmer your sauce, stirring it frequently, for about 2-3 hours ideally. Don't forget to stir though. Meat sauces really like to let the meat sink and if you aren't stirring enough or have the heat up too high, it can scorch. If you end up with a scorched pot, read on for how you can *possibly* save your sauce.
Step 5
Once you've gone and spent all of that time and effort on the sauce, don't go and ruin your perfect pasta dinner with botching the noodles! The key to the perfect noodle is to make sure you are properly salting your water.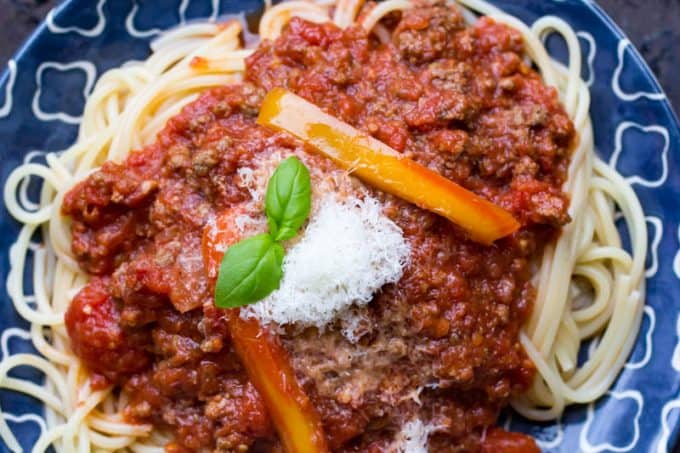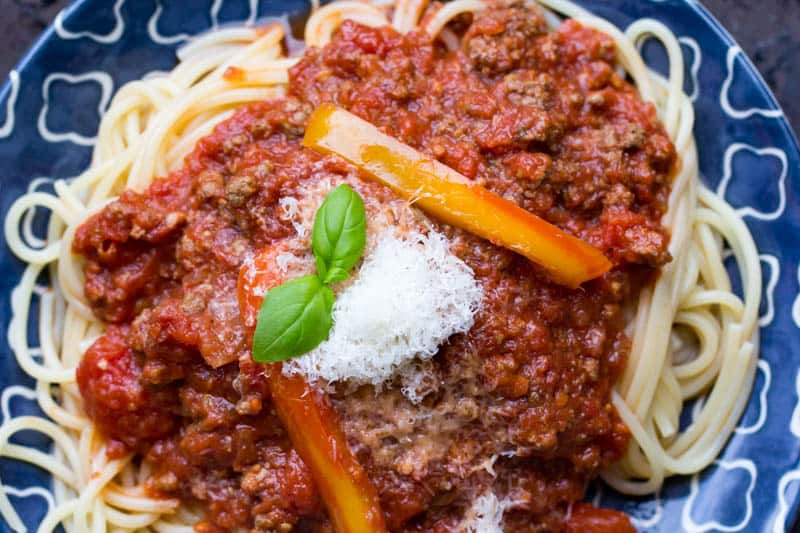 How salty should it be?
You should take a taste. It should taste like seawater. Salty enough so you can REALLY tell it is salt water, not so salty you want to immediately spit it out.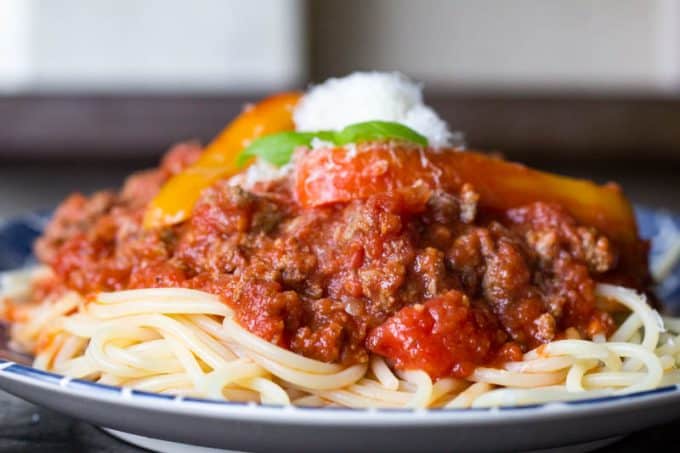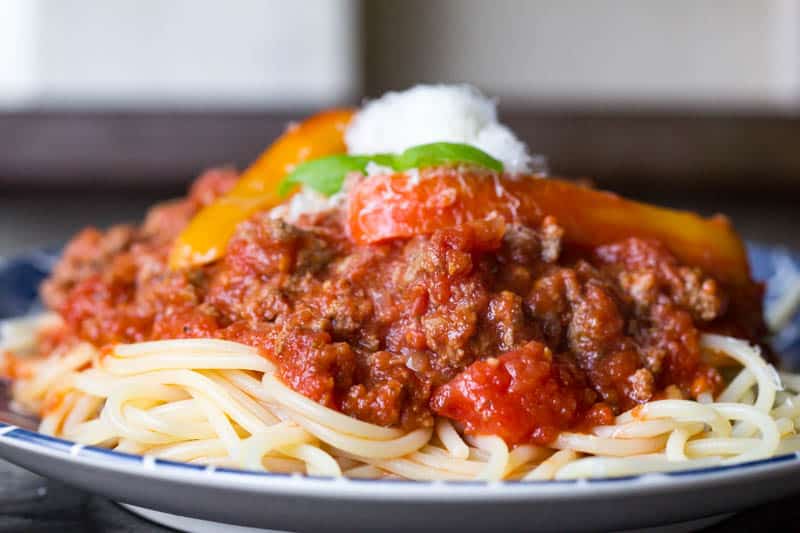 How to save a bolognese with scorched meat on the bottom
If the unthinkable happens and you forget to stir your sauce and wind up with a scorched-bottom pan, don't worry! Also – DO NOT SCRAPE THE BOTTOM OF THE PAN.
That's always my first instinct so I can check and see "how" burned it is. Ridiculous, I know. So RESIST. The moment you break through that layer into the burned portion, that flavor will wind up through the whole entire pot.
If you've scorched the bottom of your sauce, the first thing you want to do is to kill the heat on your stove.
Next, carefully spoon all the sauce that isn't stuck from the burnt pot into a fresh pot, leaving that burnt layer intact.
If you can manage to do this, you'll likely save the bulk of your sauce from the garbage can! Leave the burned sauce in the burned pan and soak it in water with a dryer sheet in it overnight. It should come off very easily in the morning.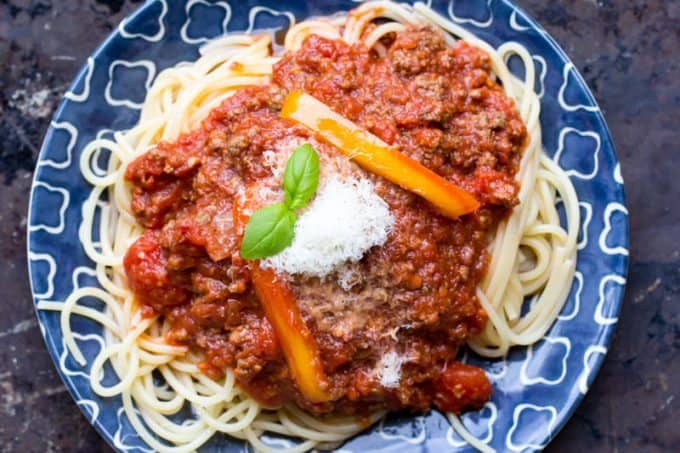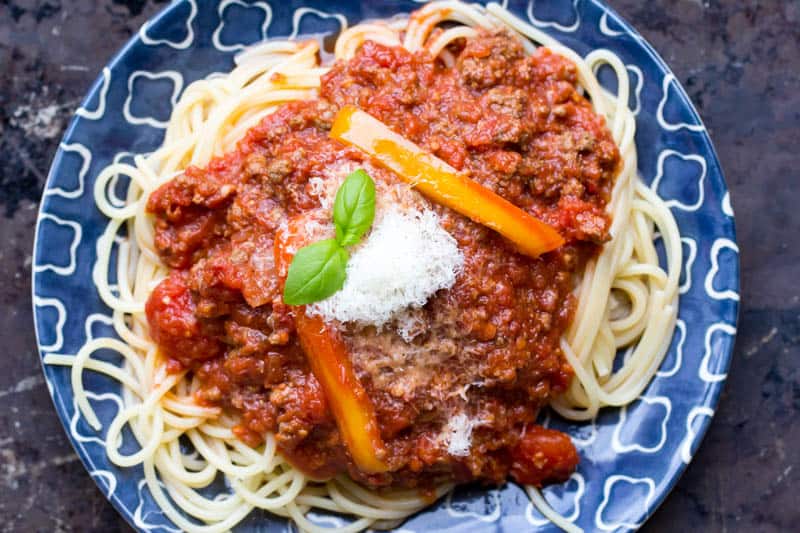 What should you serve with bolognese?
I'm a traditionalist when it comes to my spaghetti and sides, so on my table you're likely to see a giant caesar salad along with a loaf of french bread spread with garlic spread and lightly toasted in the oven.
If I'm making this ragu for company and I'm feeling particularly ambitious, you might find this Grilled Garlic Twisty Bread on the table as well.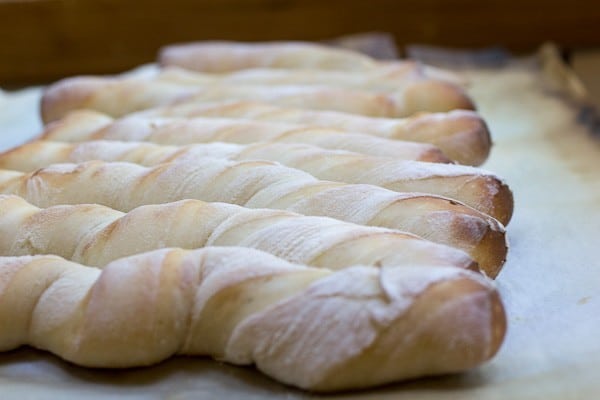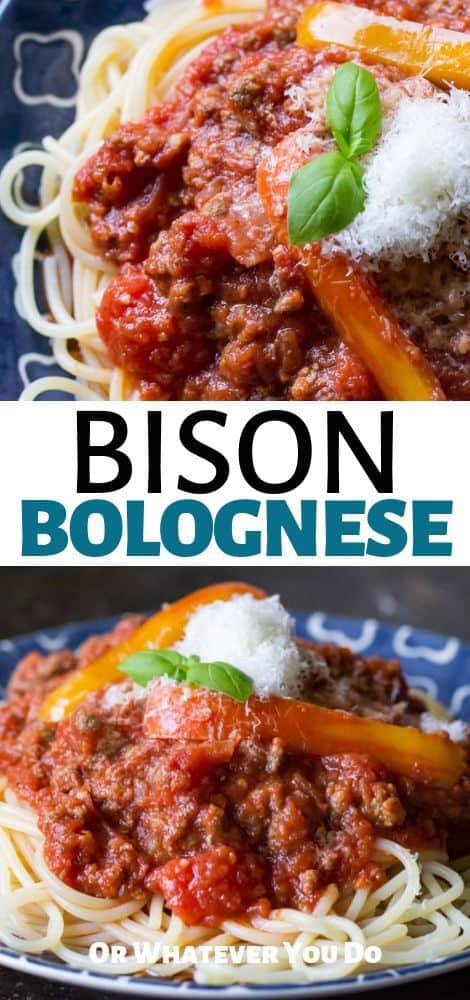 Yield: 12 servings
Bison Bolognese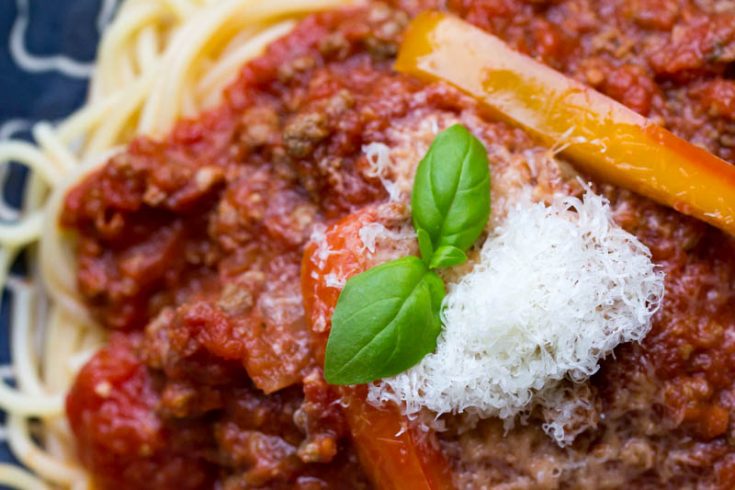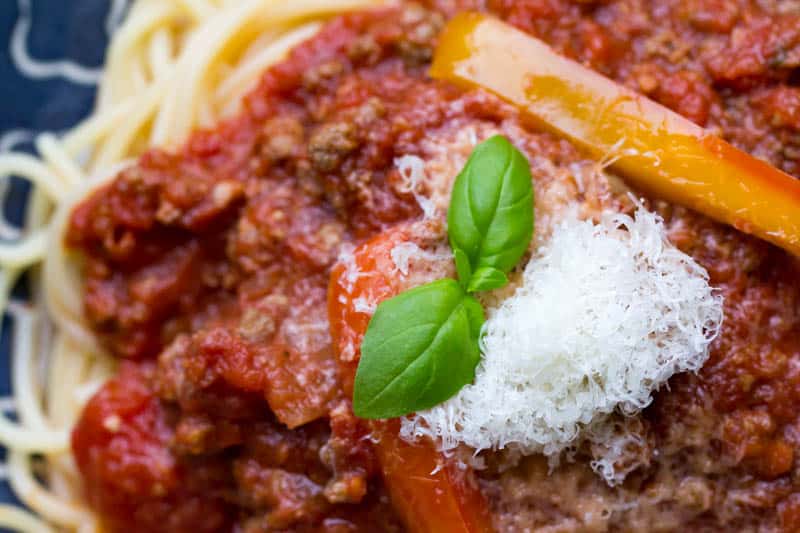 This hearty meat sauce is full of ground bison, tomatoes, red and orange bell peppers, and gets a kick from the crushed red peppers.
Total Time
3 hours
15 minutes
Ingredients
1 large yellow onion, diced
4 cloves garlic, minced
3 pounds ground bison
1 teaspoon salt
1/2 teaspoon pepper
1/2 teaspoon garlic powder
1/2 teaspoon onion powder
1 teaspoon dry oregano
1/2 cup extra virgin olive oil
3 28-ounce cans crushed tomatoes
1 28-ounce can diced tomatoes
1 28-ounce can whole roma or san marzano tomatoes
1 cup red wine, like Malbec or pinot noir
1/2 teaspoon oregano
2 teaspoons dried basil
1 teaspoon dried red peppers
1 red bell pepper, seeded and sliced
1 orange bell pepper, seeded and sliced
additional salt to taste*
Instructions
Place the onion, garlic, and ground bison in a large stock pot over medium-high heat along with the salt, pepper, garlic powder, onion powder, and dry oregano. Stir frequently and break up the meat as you brown it.
Add the rest of the ingredients to the pot and let cook for 2-3 hours.
Serve over hot pasta
Notes
This makes a lot of sauce! You'll definitely have leftovers. We do - and I feed 9 here! That is by design. I like having lunches for a few days, or leftovers for another night later in the week, or another meal to freeze.
The amount of salt you will need in your end result will vary GREATLY depending on what brand/type of tomatoes that you use. There's no absolute amount here, so taste and stir and check, and when in doubt stop salting before you need to because you can't go the other direction.
Nutrition Information:
Yield:
15
Serving Size:
1
Amount Per Serving:
Calories:

486
Total Fat:

27g
Saturated Fat:

9g
Trans Fat:

0g
Unsaturated Fat:

16g
Cholesterol:

94mg
Sodium:

759mg
Carbohydrates:

24g
Fiber:

6g
Sugar:

14g
Protein:

32g