My homemade Bean Dip Recipe is made with a can of refried beans, cheese, seasonings, and some stock or water to give it that great dip consistency that perfectly coats your chip without being too thick.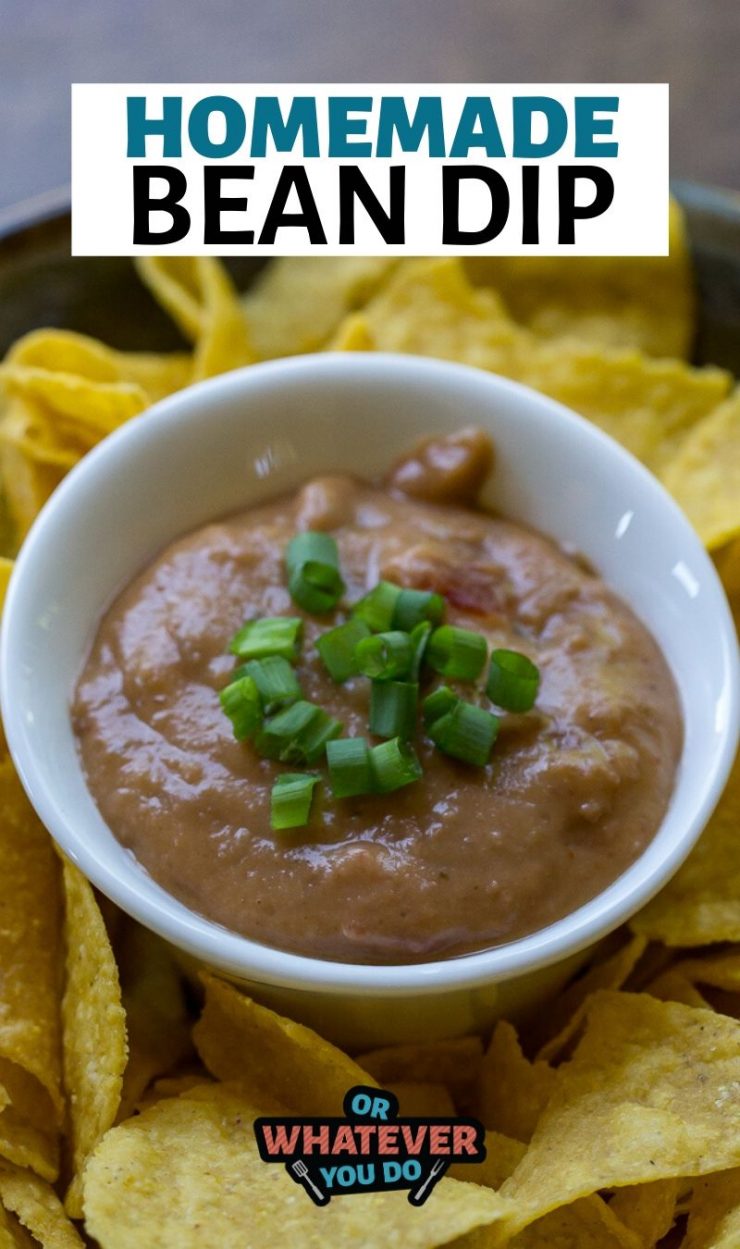 Homemade Bean Dip Recipe
You never need to buy a pre-mixed bean dip again if you just keep a couple of ingredients on hand in the pantry. A can of refried beans and some taco seasoning. That's it for the shelf-stable items. You dress it up with sour cream and Mexican cheeses to serve, and that's it!
You can open a can of beans then mix everything in and be serving it up before anyone even realizes it is snack time.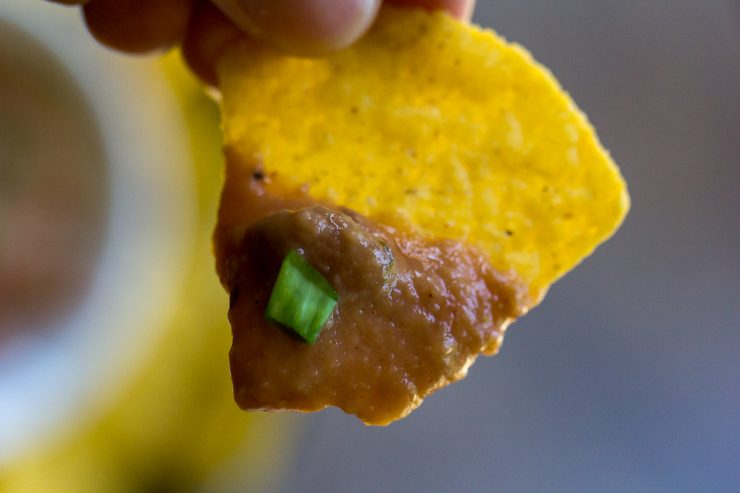 What kind of refried beans is best for bean dip?
These days you have tons of options for types of refried beans to use. You can get refried beans that are made the traditional way with lard, or you can get the vegetarian version of refried beans.
There are cans that come pre-seasoned with chilis, or you can get refried black beans too. Lots of options to choose from.
What kind you ultimately want depends entirely on your personal preferences, so pick your favorite!
Get more awesome Appetizer Recipes!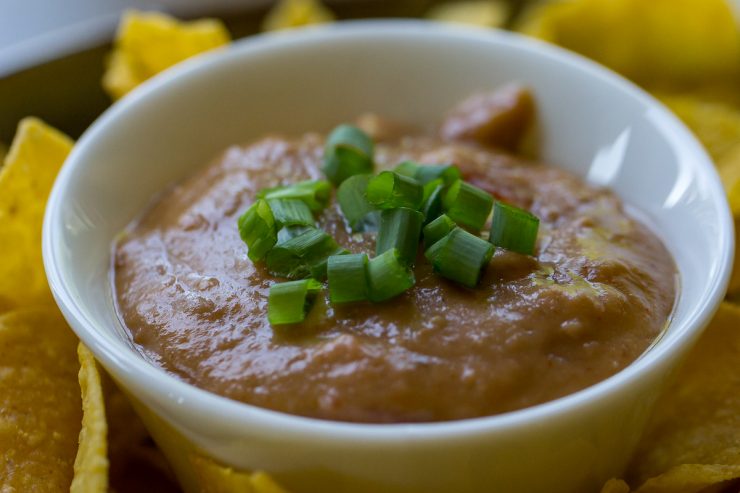 What seasoning is best for bean dip?
I like using a good taco seasoning in our bean dip. Taco seasoning is a simple mix of onion and garlic powder with some paprika, chili, and cumin, a bit of salt and pepper. If you don't have premixed taco seasoning, then it is easy to make your own.
My favorite taco season is by Spiceology! Pick some up by checking out the link in the recipe card.
Follow me on Instagram!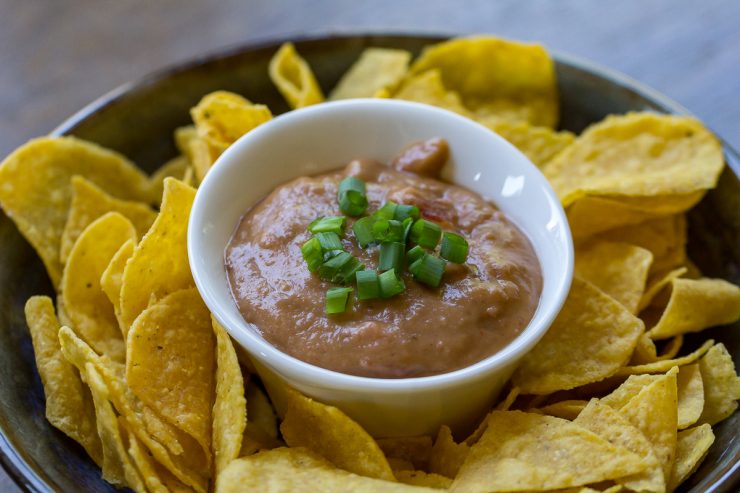 How to store homemade bean dip
Bean dip will store pretty well in the fridge, covered, for up to a week.
To reheat it, you just need to pop it in the microwave for a minute or two, stirring midway.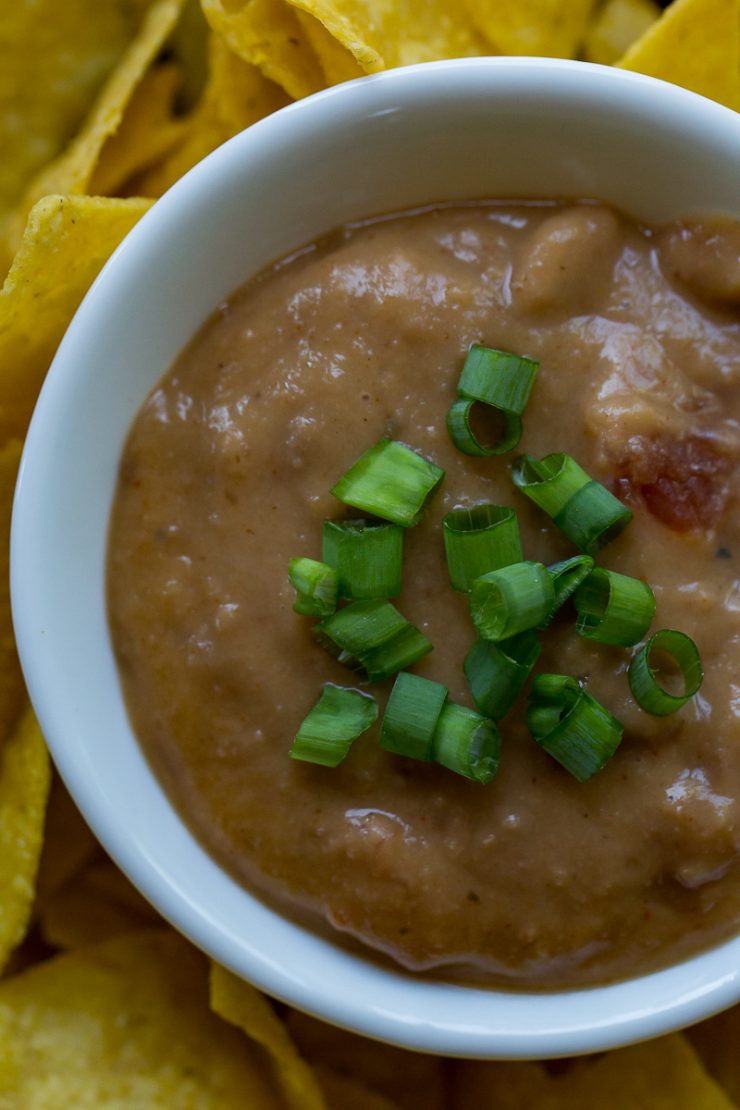 Variations on simple refried bean dip
Basic bean dip provides a great start for all sorts of variations.
Fans of spicy bean dips will certainly want to chop in some pickled jalapeno peppers. You can also go a bit hotter and add some smokiness with a chipotle pepper or two. Be careful. This will draw a line in the sand between those that like some heat and those that prefer the other way.
Chop in some onions or tomatoes and cilantro if you want to. You can even mix in some salsa if that's your thing.
Also, if you are able to find it, then try using the Mexican style of sour cream. It tends to be a bit sourer and has a more liquid consistency. It will help the creaminess. This style of sour cream also preserves well so it helps the bean dip keep longer.
More South-of-the-Border Inspired Recipes here!
Mexican inspired recipes to go with your bean dip
If you are serving bean dip with tortilla chips, then chances are you may be looking for more Mexican style dishes to go with it. I happen to love Mexican style street corn.
I also think that Mexican style seasoned rice makes a perfect side, so I have another version of it to check out too, one-pot seasoned Mexican rice. Either way is easy to do so it just comes down to what is more convenient based on which method you have the right utensils for.
Traeger Carnitas would be a killer option if you are looking for something that'll really impress whoever you are feeding!
Or check out this Cheesy Tamale Casserole from Sugar Dish Me!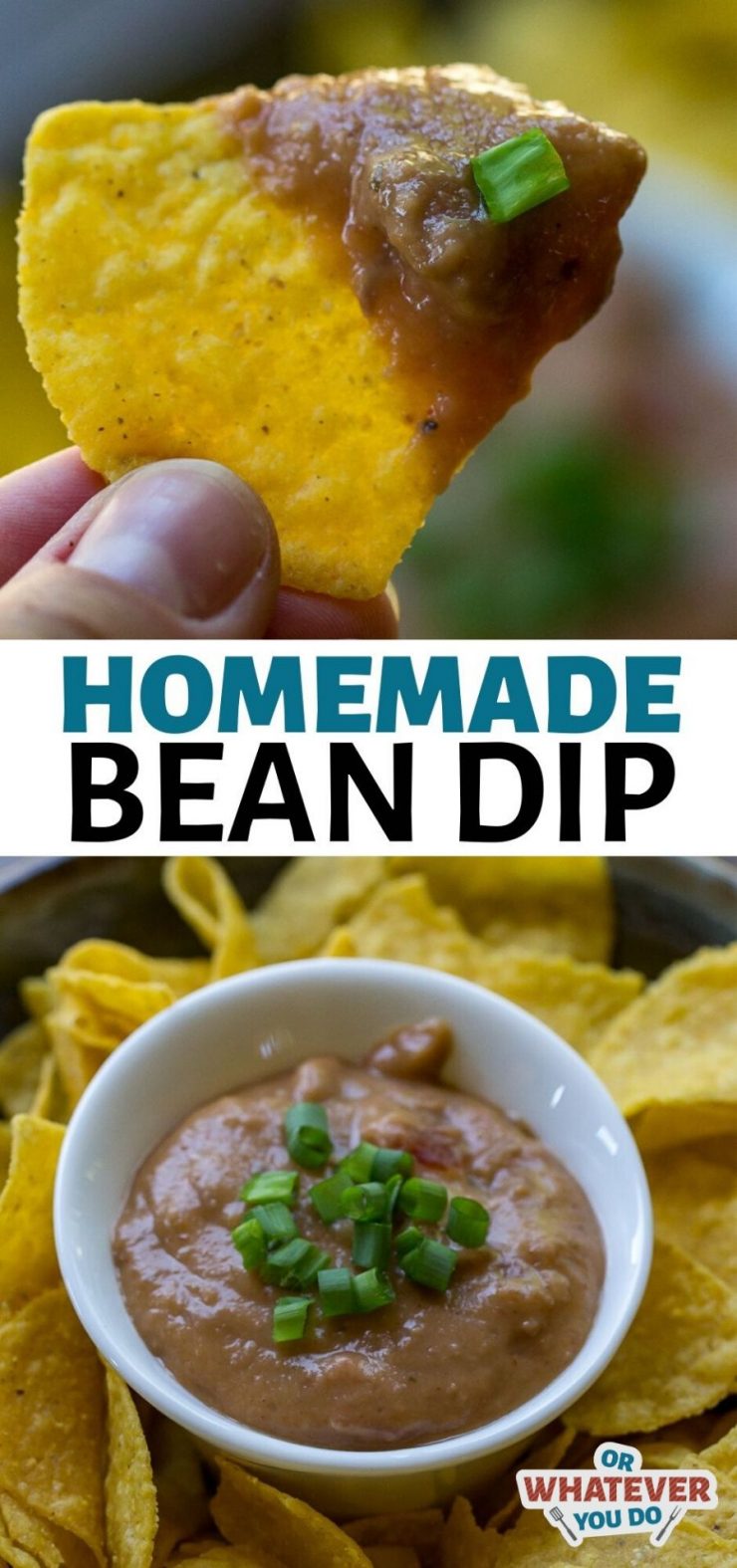 Yield: 8 servings
Bean Dip Recipe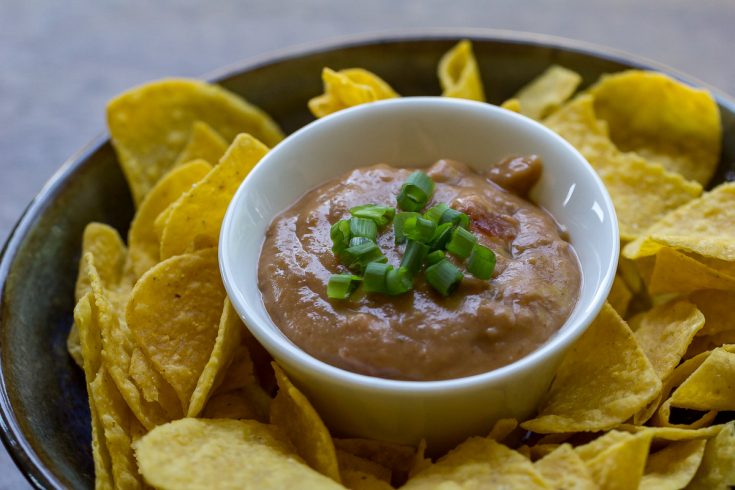 Easy homemade Bean Dip comes together in just 5 minutes and is one of my favorite appetizers to throw together in a snap. It is endlessly customizable, and you probably have all of the ingredients on hand right now.
Ingredients
1 16-ounce can refried beans
2 tablespoons taco seasoning
1 cup shredded Mexican cheese
1/4 cup sour cream
3-4 tablespoons water or broth, as needed
1/8 cup salsa (optional)
1 teaspoon hot sauce (optional)
Instructions
Place the beans and taco seasoning into a microwave-safe bowl. Cover loosely, and heat for 2-3 minutes in the microwave (or until it is hot).
Mix in the cheese until it is melted. Add in the water until it is at your desired consistency.
Stir in the sour cream last, and make sure it is warm but not HOT when you do it so the cream doesn't "break".
Serve warm with tortilla chips!
Recommended Products
As an Amazon Associate and member of other affiliate programs, I earn from qualifying purchases.
Nutrition Information:
Yield:
12
Serving Size:
1
Amount Per Serving:
Calories:

90
Total Fat:

5g
Saturated Fat:

2g
Trans Fat:

0g
Unsaturated Fat:

2g
Cholesterol:

12mg
Sodium:

333mg
Carbohydrates:

7g
Fiber:

2g
Sugar:

1g
Protein:

5g
Nutrition data provided here is only an estimate.