Mexican Shrimp Cocktail is a spicy twist on a traditional appetizer that you'll want to serve anytime you need something a little different.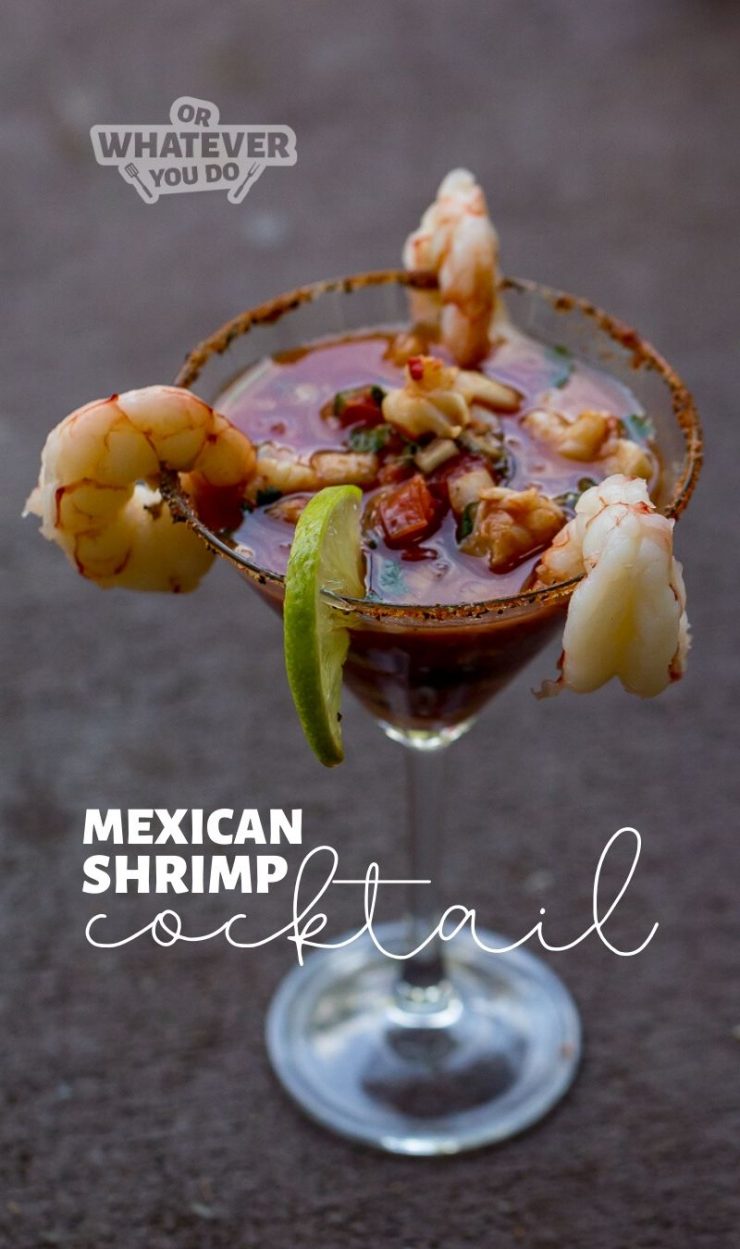 Mexican Shrimp Cocktails
Mexican shrimp cocktail is not just "Mexican" because there is a jalapeno involved. Just like Hawaiian pizza is not necessarily "Hawaiian" because a pineapple comes into the picture. If you ever have enjoyed a shrimp cocktail in Mexico or in your favorite Mexican restaurant, then you know the difference.
The Mexican style shrimp cocktail throws down with a lot more layers of complexity than just your basic ketchup and horseradish cocktail sauce. There are onions, cilantro, jalapenos, and actual tomatoes involved too. Plus, the sauce is more like a juice you will actually want to drink.
I bet you don't ever pick up the little cup of horseradish ketchup and drink it. With a Mexican shrimp cocktail, you may even be tempted to toss in some adult beverage, perhaps, tequila or vodka once the shrimp disappear.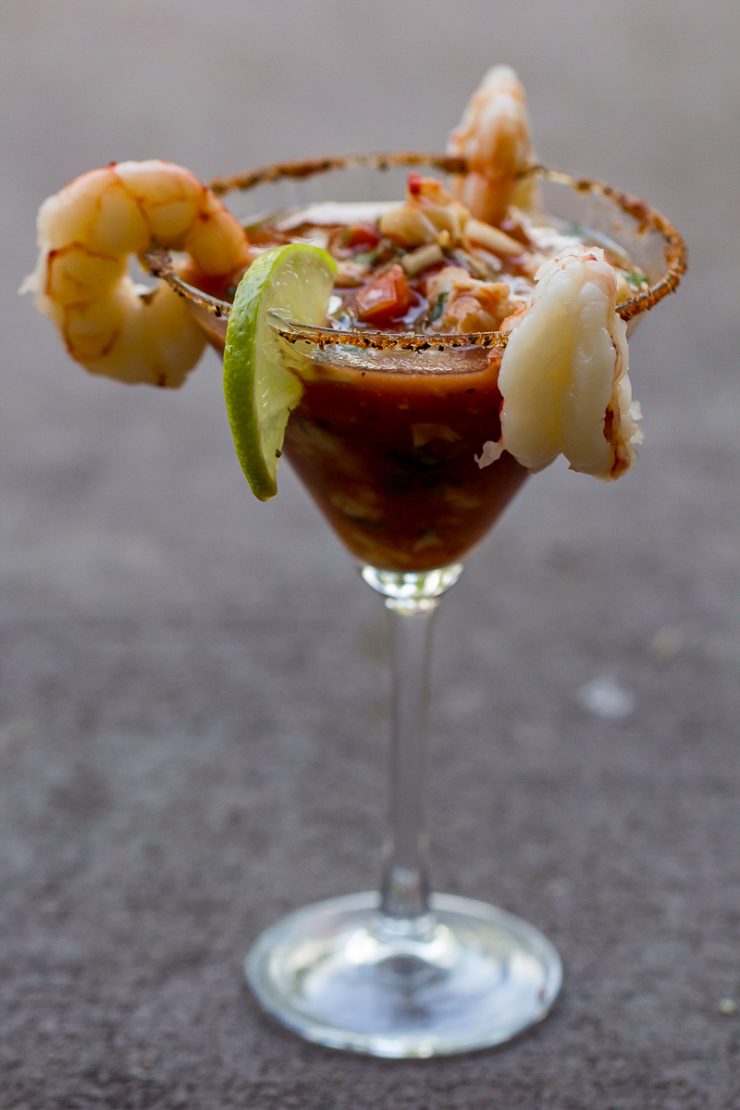 What makes Mexican shrimp cocktails special?
There is just something about serving a shrimp cocktail that always carries a bit of "special occasion" with it. It seems like they always come out for holidays and special dinner dates. But in this case, don't wait for those times so few and far between each. Just go ahead and treat yourself. I have no doubt you deserve it.
With the Mexican version of the shrimp cocktail, the shrimp are served in and on the cocktail sauce. Only the sauce is not too thick because the base is V8 juice. In essence, the sauce really resembles a chilled soup like gazpacho. If you do favor a thicker style cocktail sauce, then you just add some tomato paste to it.
The other difference is that the chopped tomatoes and the veggies add a nice chunkiness and plenty of flavors. They shine in the dish every bit as much as the shrimp.
The jalapenos do also add a bit of bite that is a different sort of heat than horseradish. Everyone has their own tolerance for spice, but jalapenos are very easy to dial in for what you prefer.
Get more awesome Appetizer Recipes!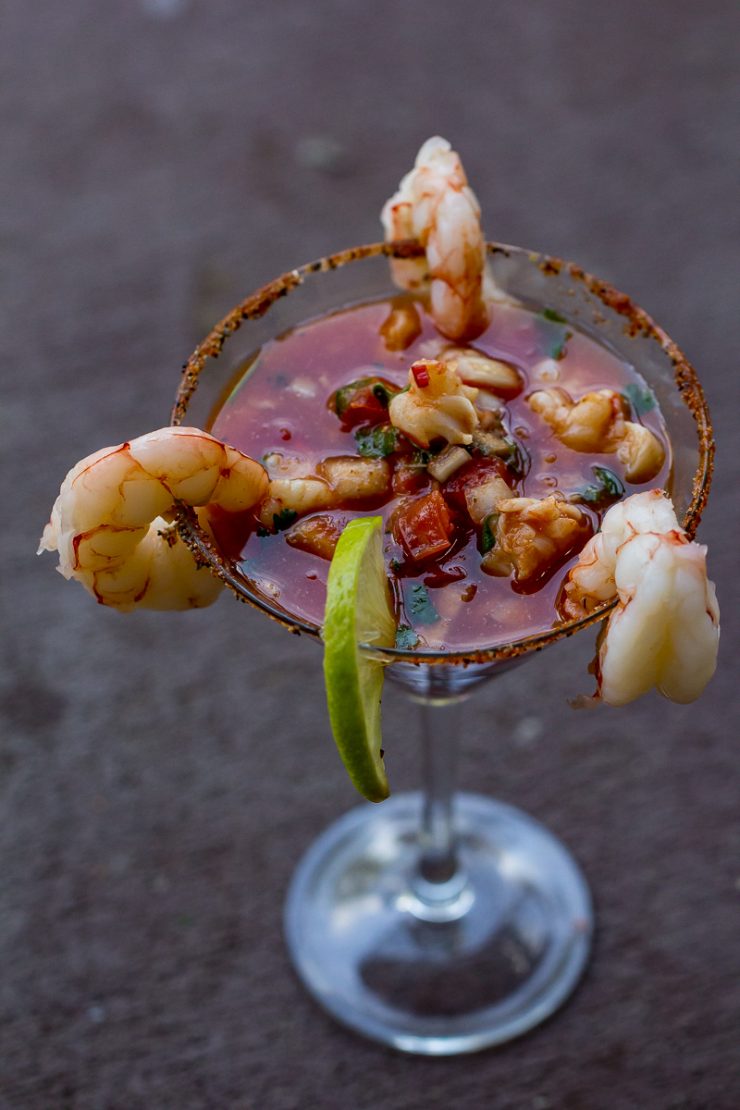 Mexican Shrimp Cocktail variations
If you like, you can always add in chunks of avocado or a couple of olives to add some creaminess or brininess, per your preference.
A garnish of celery stalk just adds to the flare and offers an edible addition.
If you want to get a really attractive color, then toss in some finely chopped purple or red cabbage too.
Come to think of it, you could use that giant shrimp (otherwise known as lobster) for the meat if you wanted to.
Have a Cocktail with dinner!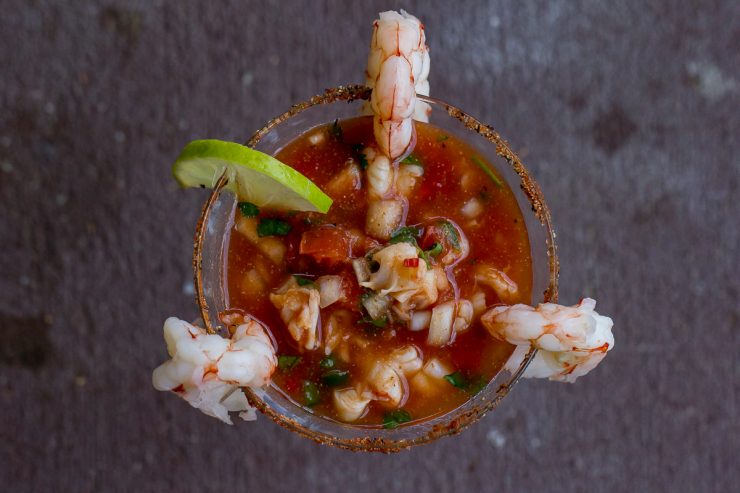 What is the best size shrimp for shrimp cocktail?
Since most of the shrimp is getting mixed into the sauce, really – any type and size of shrimp will do. Some love the biggest shrimp possible, where others are fine with the small and medium-sized shrimp. My preference is for fresh shrimp, but if frozen is what is handy and convenient then all good.
These shrimp cocktails are actually like a full meal, so you don't have to just consider it an appetizer either. With enough shrimp per serving to make a meal, plus the "salad in a glass" of everything else, you are all set.
So the size of the shrimp you use might also depend on whether you are serving it as an appetizer or an entre.
It might also depend on whether you want it more like soup or more like a sauce. Bigger shrimp are better if you want just sauce, or smaller if you want to take it more in the soup direction. In my opinion, smaller shrimp usually have more shrimp flavor but larger ones tend to have a nicer texture. I like both, regardless.
More South-of-the-Border Inspired Recipes here!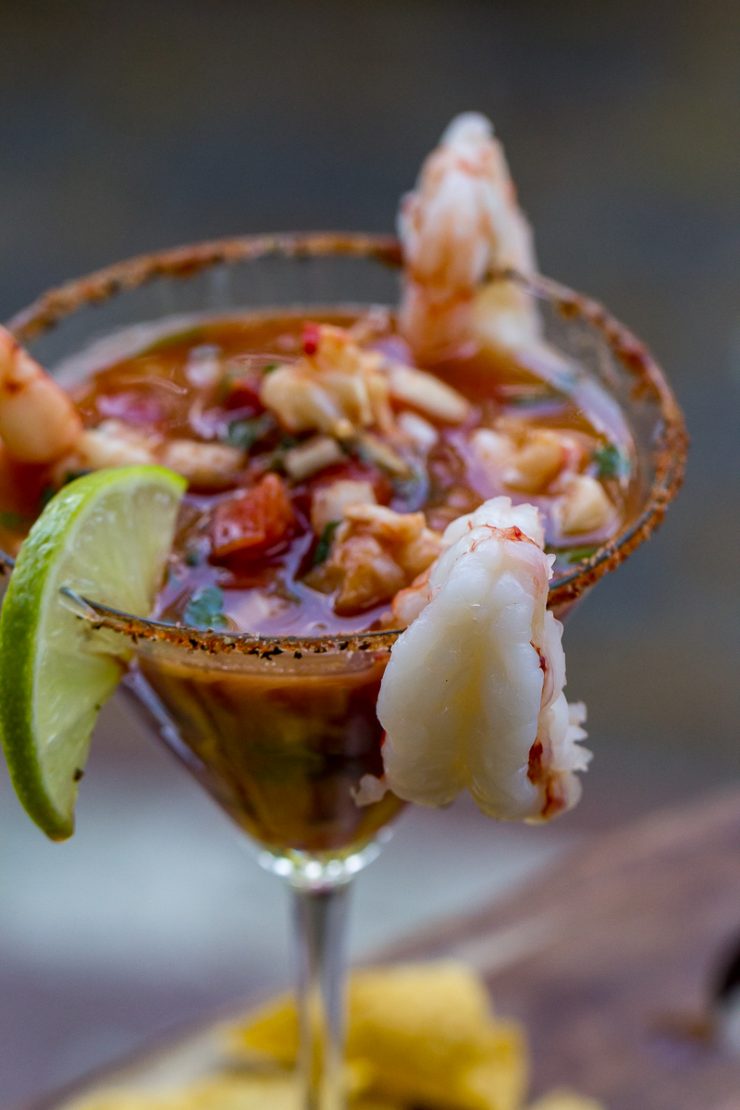 Handy tips for the best Mexican Shrimp Cocktails
Chop your ingredients to equal approximate size and thickness, except the jalapenos. You can chop those a bit smaller.
Keep the pith and seeds out of the jalapeno if you don't want as much heat
Let the juice/sauce sit overnight, if possible, to really develop the flavors.
Don't forget to enjoy the juice, sauce, soup, or whatever it is. By any other name, it is just plain tasty.
Serve nice and chilled, if possible.
Make sure to squeeze your lime wedge into the top of the cocktail too. It isn't just there for looks alone.
Check out our OWYD shop!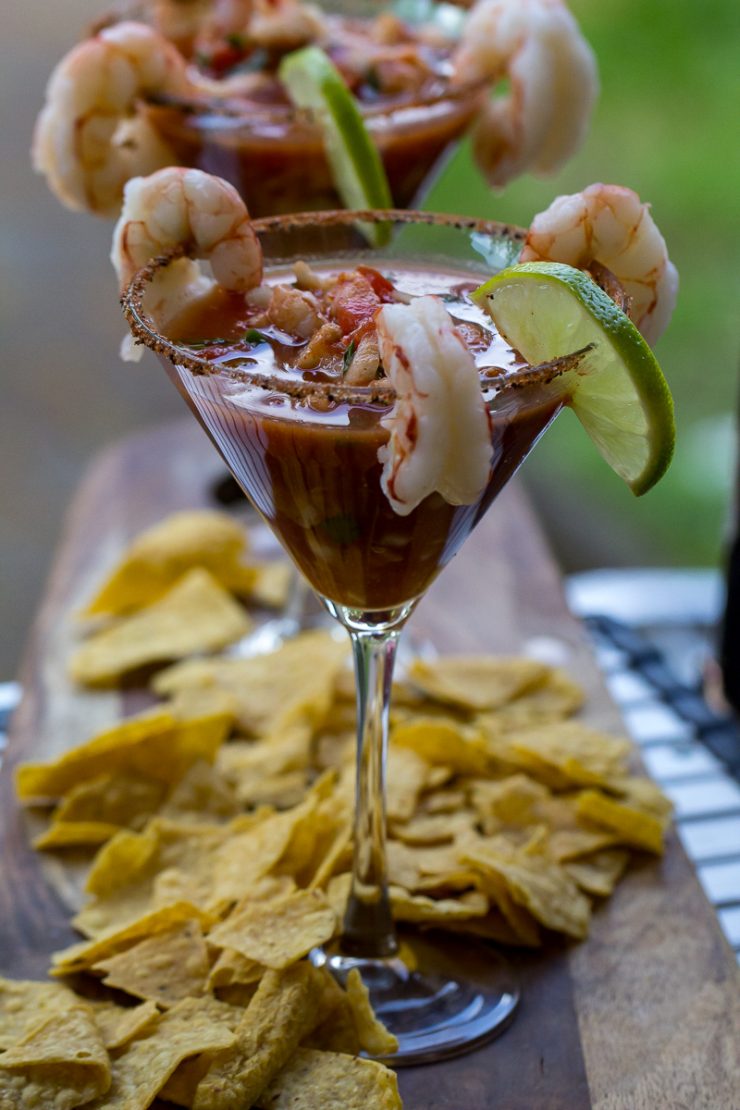 More Mexican-inspired recipes we love
If you love the flavors of Mexico, which has such a rich cultural heritage of cuisine, then I am right there with you. You can check out a bunch of suggestions here to help get the creative juices flowing.
I also can recommend these Traeger Pulled Pork Enchiladas. They are incredible and easy and a great way to use up leftover pulled pork. If you don't have a smoker, you can make them with oven-roasted or crockpot pulled pork too.
You might as well whip up a Margarita to go with this feast too.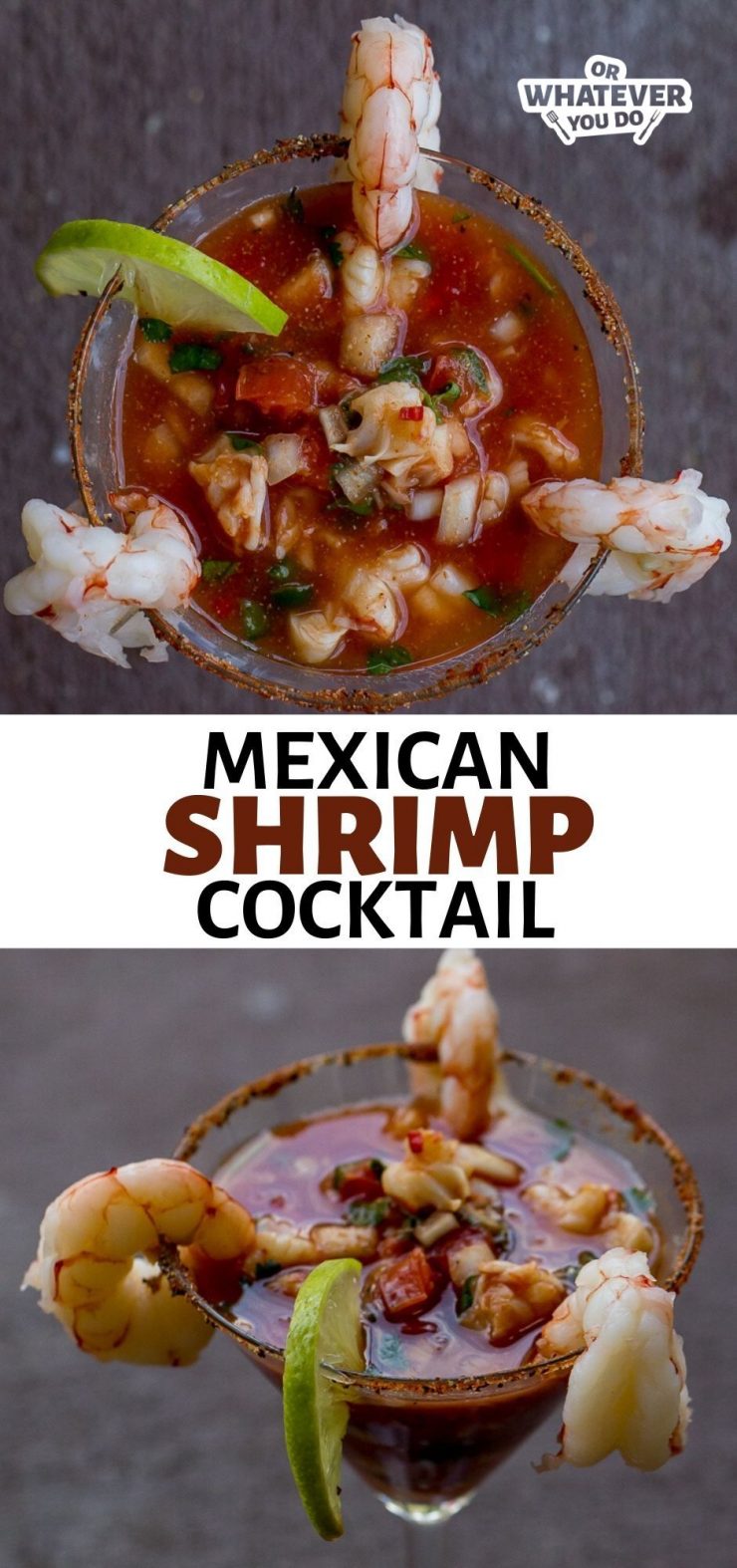 Yield: 6 servings
Mexican Shrimp Cocktail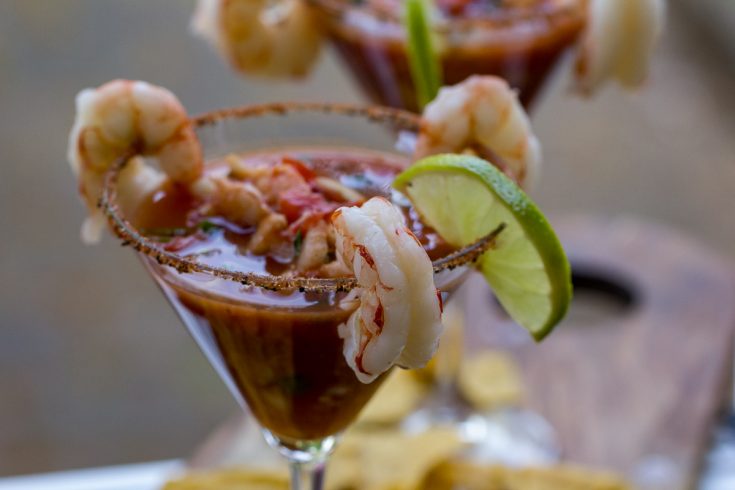 Spicy Mexican Shrimp Cocktail is a fun change-up to your typical shrimp cocktail! One of my favorite unique appetizers to serve.
Ingredients
Shrimp
1 pound peeled and deveined shrimp
1/4 teaspoon salt
1/4 teaspoon garlic
1/4 teaspoon black pepper
Sauce
1 small onion diced
1 diced jalapeno pepper
1/2 teaspoon granulated garlic
1/2 teaspoon salt
1/4 teaspoon black pepper
1 medium diced tomato
1/4 teaspoon celery salt
1/4 teaspoon cayenne pepper
1 tablespoon chopped cilantro
1 5.5 oz can V-8 vegetable juice
Instructions
Preheat your grill to about 400°. Season your shrimp with the salt, pepper, and garlic powder, and grill for 2-3 minutes, or until the shrimp is pink. A vegetable grill mat helps with this task (the one I used is linked in the recommended products section of this recipe card.)
Remove from the grill and chill in the fridge.
While the shrimp is chilling, mix together the sauce ingredients and place in the fridge to chill and let the flavors meld.
Once the shrimp is chilled, take 2/3 of them and cut into bite-sized pieces, if applicable.
Serve in martini glasses. Optional: Rim the glass with a mix of celery salt, cayenne, and pepper before placing the shrimp and sauce inside. Place a lime wedge on each glass and serve immediately.
Recommended Products
As an Amazon Associate and member of other affiliate programs, I earn from qualifying purchases.
Nutrition Information:
Yield:
6
Serving Size:
1
Amount Per Serving:
Calories:

120
Total Fat:

2g
Saturated Fat:

0g
Trans Fat:

0g
Unsaturated Fat:

1g
Cholesterol:

160mg
Sodium:

1162mg
Carbohydrates:

8g
Fiber:

1g
Sugar:

4g
Protein:

18g
Nutrition data provided here is only an estimate.