Smoked Pork Loin Tacos are easy to make, super flavorful, and a lower-fat way to enjoy pork tacos without sacrificing flavor. Use your favorite pellet grill or smoker, and give this easy pork loin recipe a try.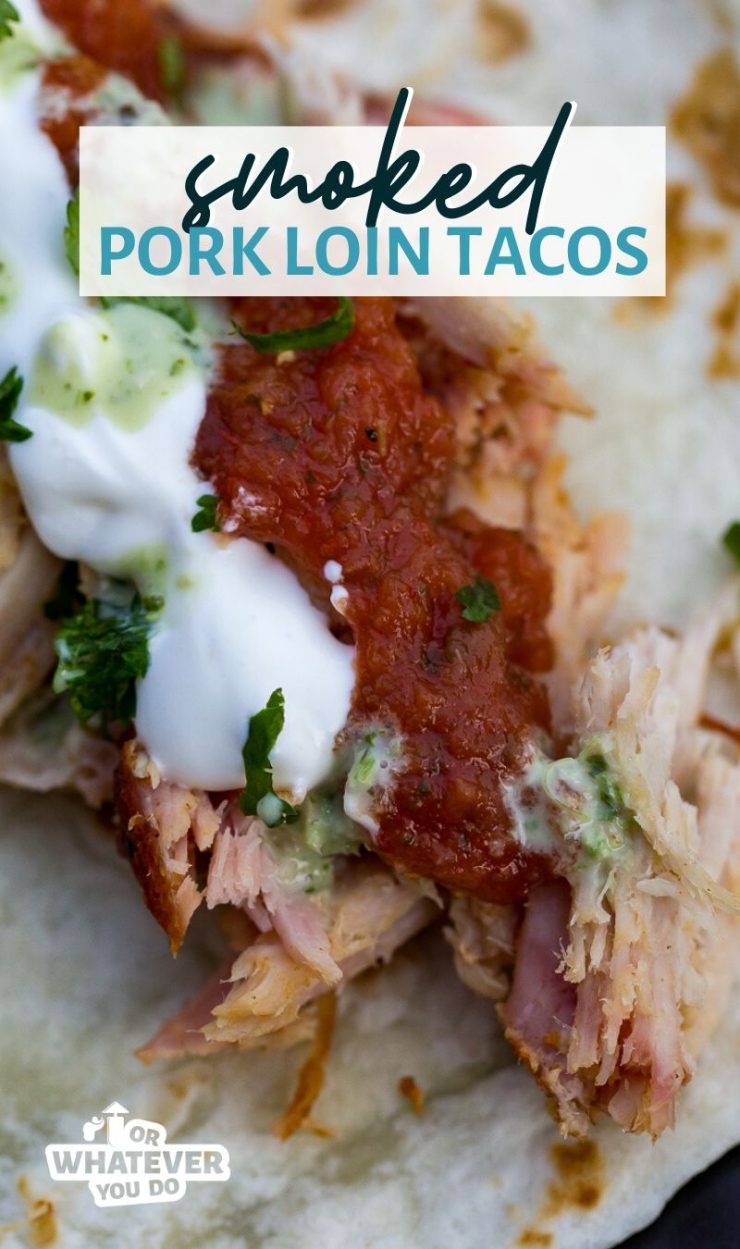 Pellet Grill Pork Loin Tacos
Okay, save the hate mail, pitmasters. I know you probably saw the title of this post and instantly rolled your eyes.
I KNOW. Pork loin isn't ideal for pulling and isn't typical for this type of recipe.
I know that the end result would wind up much moister if we used pork shoulder. We know because we make those too, and enjoy them very much.
But guess what? I have 7 kids and a job and a blog and a couple of hobbies too, so sometimes dinner isn't "ideal".
That doesn't mean it can't be great, though.
This recipe is also great if you are looking for lower-fat alternatives to traditional recipes, for whatever reason.
Pork loin is a relatively lean portion of pork. There is a strap of fat that goes across it and when you want that on top when you slow roast the pork loin. The fat will soak down to moisten the meat as it cooks, so don't cut that off if you can help it.
If yours came pre-trimmed, you can still proceed. The sauce is what really keeps this dish amazing, even minus the fat.
The great thing about smoked pork loin is that it is easy to shred once it is cooked, and the shredded meat works wonderfully for a taco filling.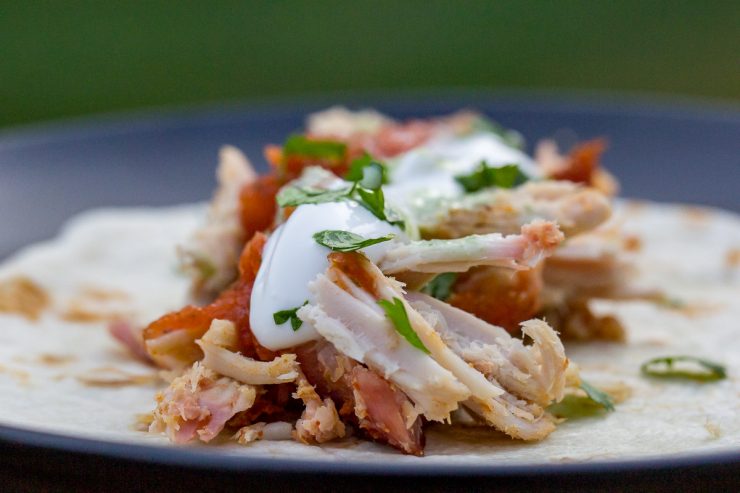 What's the difference between pork loin and pork tenderloin?
There is a big difference between pork loin and pork tenderloin. You can use pork tenderloin for this if you'd like, but I don't recommend it. Tenderloin is more expensive too.
I do have some great tenderloin recipes if you want to check them out, like my tenderloin with mustard sauce.
Tenderloin refers to the strap of meat right underneath the rib cage. In beef, the tenderloin is what gets cut into medallions referred to as filet mignon. Pork tenderloin is much cheaper than filet mignon, of course, but pork loin is even more affordable.
Pork loin comes from the back of the pig and it is a big muscle that is less tender than the aptly named tenderloin. That is a big reason pork loin, like any of the tougher cuts of meat, do so well with low and slow cooking methods.
More Easy Traeger Recipes here!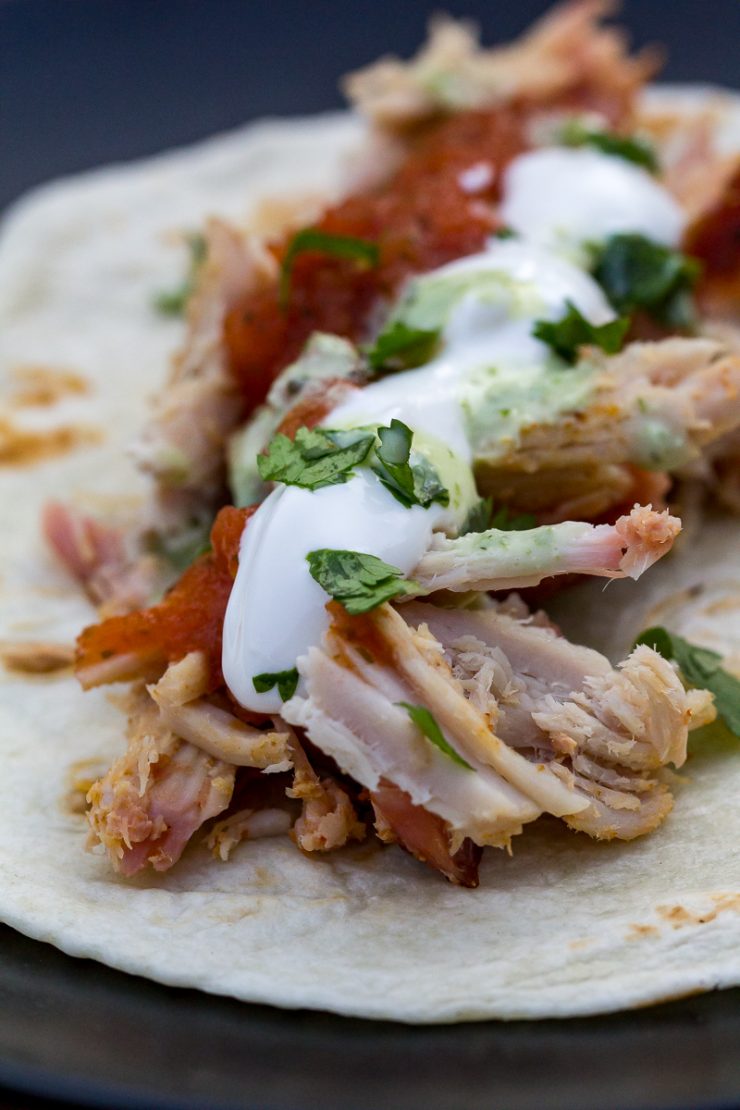 What flavor of pellets should you use with pork?
If you use a pellet grill, there are a variety of pellets to use for smoking. Every kind of wood is available, but I think some work particularly good for smoked pork tacos.
Any type of fruitwood works well like applewood or cherry wood. If you like a deeper smoke flavor, then a mix that includes mesquite is a good choice. The great thing about pork is it absorbs the smoke flavors really well, so the choice of wood pellets does make a difference in this case since we'll be smoking the meat for quite a while.
The classics like alder, hickory, and maple also work well with pork too.
Buy Pellets here!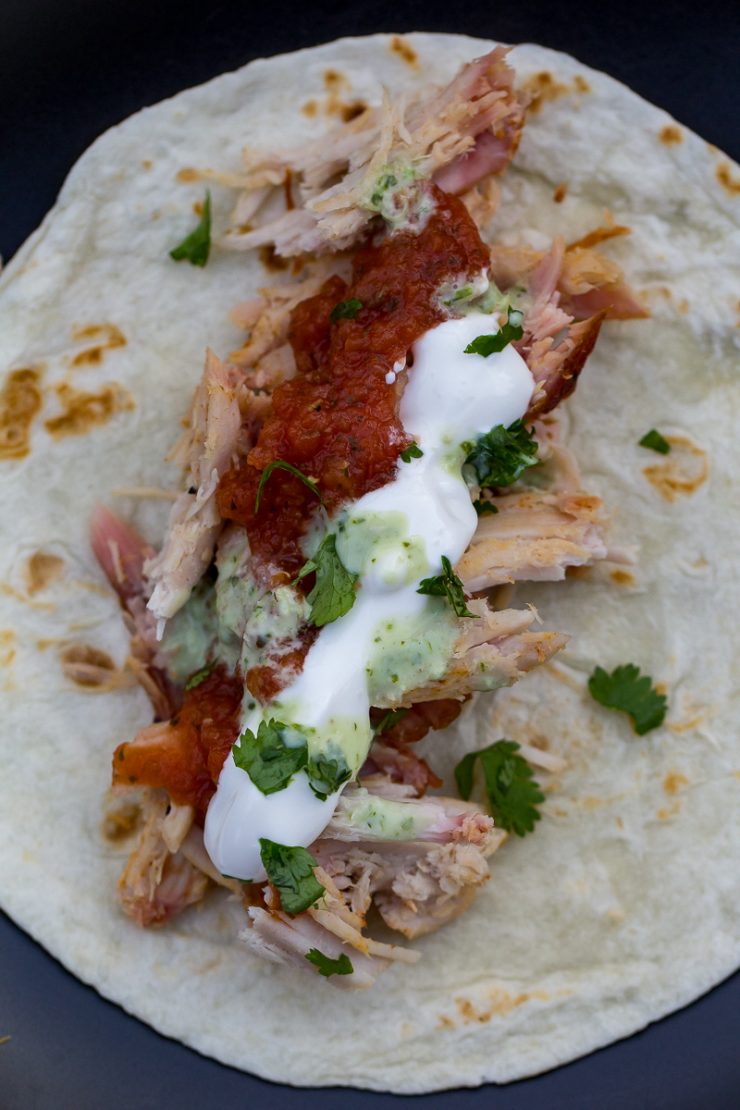 Seasonings and sides for Traeger pork loin tacos
Pork is delicious but one of its greatest virtues is how well it absorbs seasonings and how nicely it plays with garnishes and sauces.
If you want to keep things more authentically Mexican, then of course you want to have salsa, guacamole, and sour cream handy.
I like the smoky hatch chili Verde in this chilaquiles recipe. Chili Verde is green chili sauce, and this green salsa will grace any pork perfectly.
You could also go with a simple blender salsa. This salsa can be made in less than a minute using your blender and it keeps well enough that you can store it a couple of weeks, no problem.
If you want to season the pork before you put it on the pellet grill, then I recommend using a simple dry rub using cayenne, salt, pepper, garlic powder, onion powder, cumin, and smoked paprika and a bit of brown sugar.
Use a teaspoon of the salt, and a tablespoon of everything else, then about a cup of brown sugar. Rub it into the meat and let it set up for at least a half hour before you toss it on the pellet smoker.
Don't want to mix your own rub? You can't go wrong with a Salt, Pepper, Garlic and a Chile Lime Blend, both from Spiceology.
More Cocktail Recipes here!
Current BBQ Deals
The latest deals and favorites from Or Whatever You Do!
Photo Credit: The Spice guy
Some of our most heavily utilized rubs and spices in the kitchen. Get some! Highly recommend the Midnight Toker and Roasted Garlic Blend!
Photo Credit: ThermoWorks
I use my Thermoworks favorites EVERY time I grill or griddle. Get one, and up your bbq game! This page links you to all of my "must haves". Use the code OWYD at checkout for 10% off!
Photo Credit: Grill Masters Club
The Grill Masters' Club is a monthly subscription box FULL of grilling favorites. Last month I got a killer hot sauce, bbq sauce, and rub. I have been a member of this club for several months now and have found some real winners! I can't wait for you guys to check it out.
Photo Credit: ButcherBox
We have been monthly ButcherBox subscribers for a couple of years now, and LOVE it! Hit the easy button for your beef, pork, chicken, fish, and seafood!
Photo Credit: spiceology.com
We LOVE Spiceology and use a ton of their products! This gift pack is a great way to sample some of their most popular blends.
What to serve with pork loin tacos
If you want to serve other dishes with your smoked pork loin tacos and you want to keep things on the Hispanic-inspired side, then I have a few recipes to recommend.
Mexican Street Corn – This has to be one of the best ways to eat corn, ever. It is slightly spicy, a little bit sweet, and a touch of sour from the lime. Just amazing!
Pressure Cooker Mexican Rice – the seasoned rice that you see served at every single Mexican restaurant is super simple and quick to make in a pressure cooker or quick pot.
Homemade Queso Sauce – Drizzle some of this on your tacos!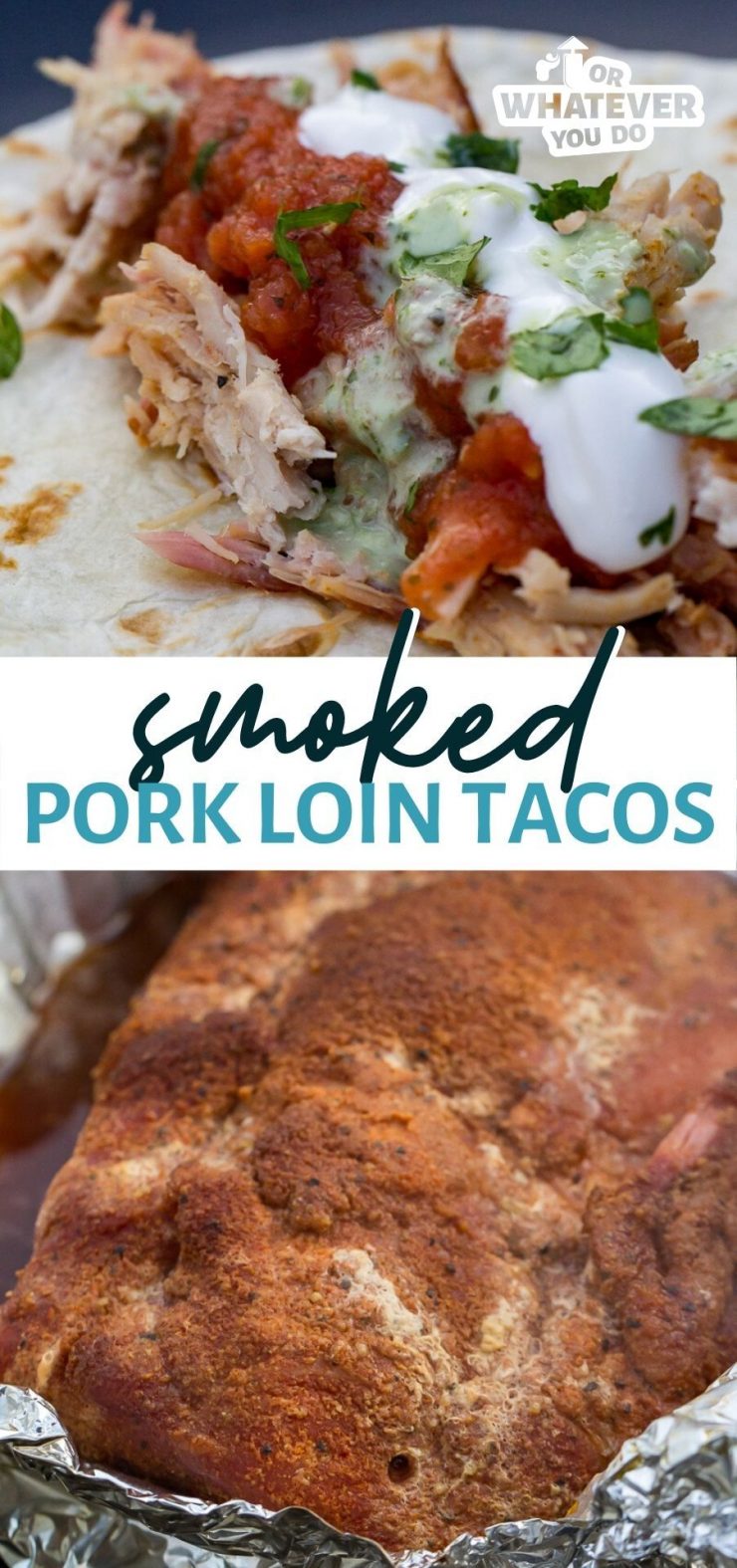 Yield: 12 servings
Smoked Pork Loin Tacos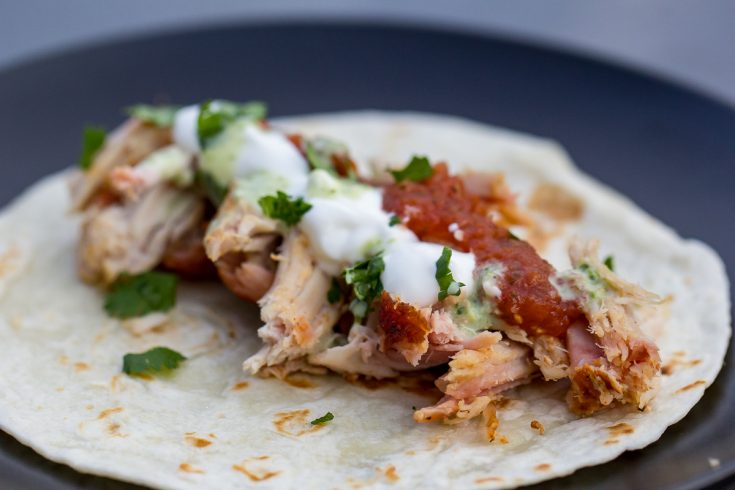 This simple Smoked Pork Loin is turned into tacos for an easy, delicious meal any time of the week!
Total Time
4 hours
10 minutes
Ingredients
4-pound pork loin
1/4 cup chile-lime seasoning
2 tablespoons salt, pepper, garlic
8-ounce can El Pato yellow
8-ounce can El Pato green
1 cup Mexican beer
Instructions
Preheat your pellet grill to 200-225° according to factory directions.
Rub your pork loin liberally with the chile-lime and salt, pepper, garlic. If you don't have those specific rubs, any good chile-heavy rub will work, and equal amounts of salt, pepper, and garlic powder. It is hard to go too far when seasoning the outside of a cut of meat.
Place the meat on the smoker, and smoke for 2 hours.
Remove the meat from the grill and place in a grill-safe pan. I like disposable tin foil pans for this.
Place the roast inside and pour the beer and El Pato sauces in the pan. Cover tightly.
Finish cooking in the grill or oven (your choice), covered, for another 1-2 hours at 325°, or until the internal temperature reaches 195°-200° and it is easily shreddable. If you check it during the cook time, turn over the loin in the pan so another side of it is in the liquid.
Serve with tortillas and all of your favorite condiments.
Recommended Products
As an Amazon Associate and member of other affiliate programs, I earn from qualifying purchases.
Nutrition Information:
Yield:
12
Serving Size:
1
Amount Per Serving:
Calories:

303
Total Fat:

13g
Saturated Fat:

4g
Trans Fat:

0g
Unsaturated Fat:

7g
Cholesterol:

121mg
Sodium:

1160mg
Carbohydrates:

2g
Fiber:

0g
Sugar:

0g
Protein:

40g
Nutrition data provided here is only an estimate.