Our Pellet Grill Beef Birria Tacos recipe might be a mouthful to SAY, but you're going to go crazy for this tender roast beef that's been smoked and braised in a homemade chili sauce before getting shredded, stuffed into tortillas that are covered in the consomme, and finally fried on your flat top griddle until they are crisp.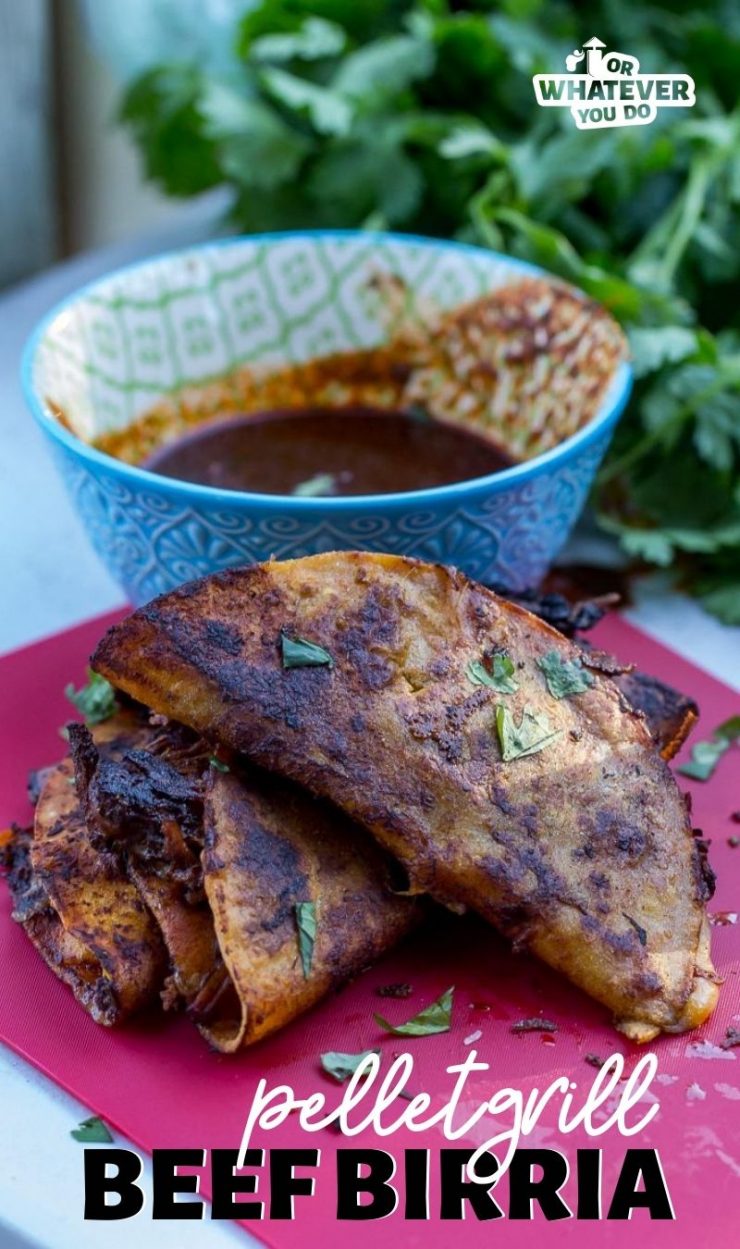 Pellet Grill Smoked Beef Birria Tacos
I first became aware of Birria tacos really recently. I started seeing these ALL OVER Instagram. What really pushed me from, "Hmmm that looks interesting." to "I NEED TO MAKE THIS, LIKE YESTERDAY!" was this post from Beto, of @bbq_bboy.
Except I wanted to go a step in a slightly different direction and roast my own peppers.
Or Whatever You Do participates in several different affiliate programs. As an Amazon Associate, we earn from qualifying purchases.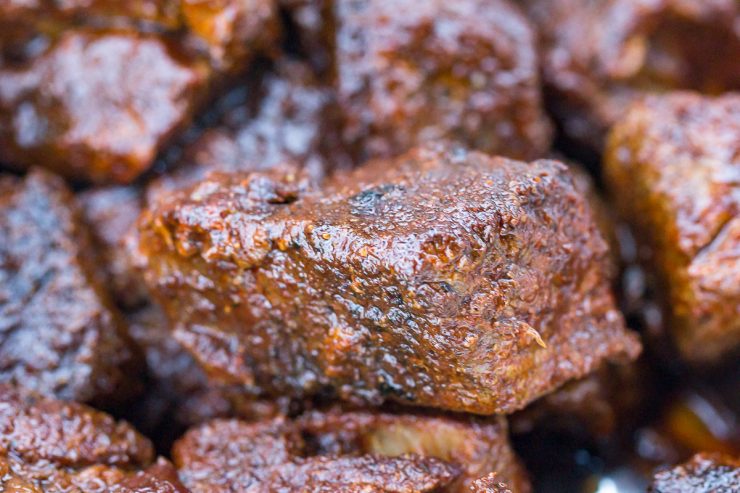 What is birria?
Birria is a dish that originates in Jalisco, Mexico. It is traditionally made with goat, but can also be made with beef or mutton. You'll often find it served as a stew, and it is a bit of a "special occasion" dish that's often found at celebratory gatherings.
It is very similar to Barbacoa, but birria is typically served "wet", as in, with the consomme that it cooks in, and barbacoa is not.
In this beef birria taco recipe, the meat from the birria is shredded, stuffed into corn tortillas that have been dipped in the consomme and covered with cheese before being crisped up on your Blackstone (or any other flat-top gas griddle you have around.)
More Easy Traeger Recipes here!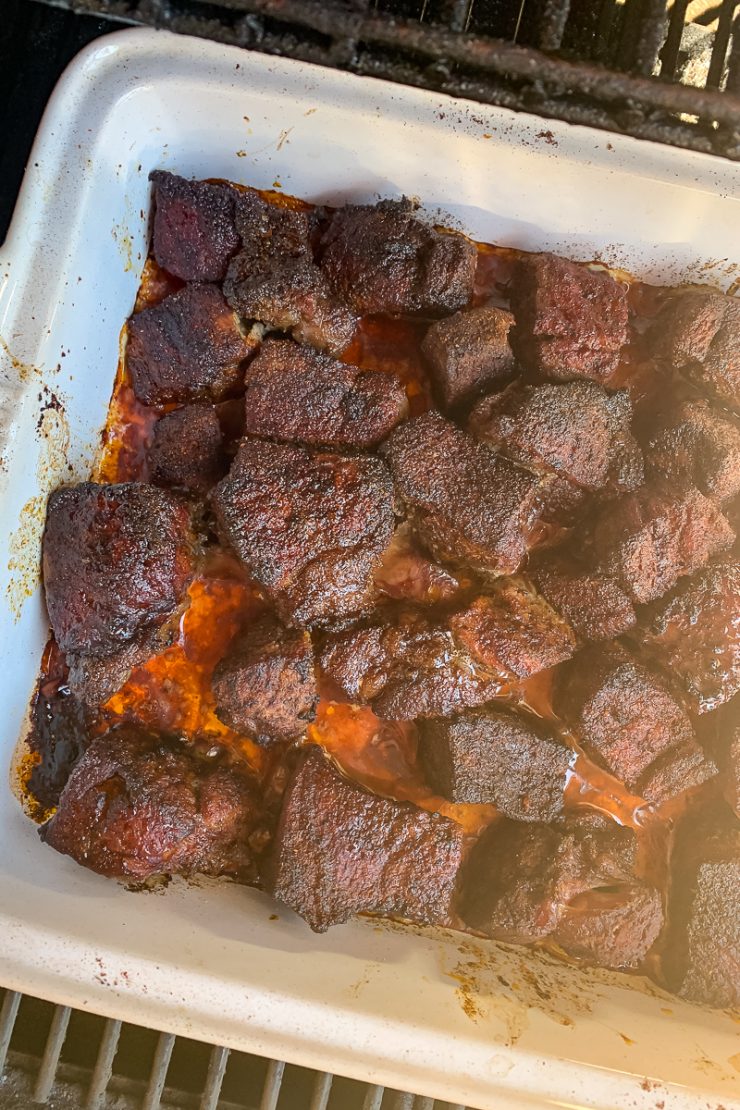 Beef Birria Shopping List
I'm going to assume you have a relatively well-stocked pantry for this and keep things like garlic powder, onion powder, oregano, and beef bouillon on hand. Make sure and review the recipe below before you shop to make sure you aren't missing anything of that nature!
4-ish pounds of beef roast
8 red anaheim or hatch chili peppers
chipotle peppers in adobo
corn tortillas
onion
cilantro
cheese
Follow me on Instagram!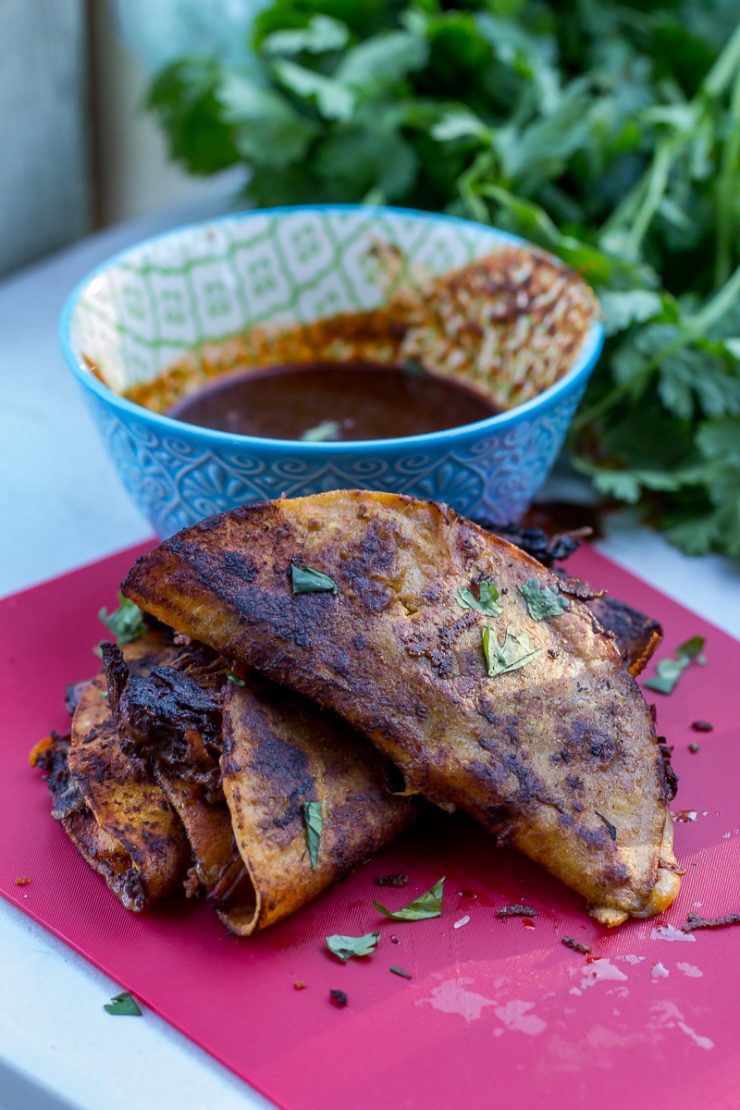 What kind of beef should you use?
Many people use several different cuts of meat to make birria, and I'm of the same opinion. Different roasts have different textures, even when shredded, so as long as you make sure at least one of the cuts has adequate amounts of fat marbling you can mix in a leaner (and often less expensive) cut if you'd like.
I happened to have a nice chuck shoulder roast and tri-tip that needed to be cooked.
More South-of-the-Border Inspired Recipes here!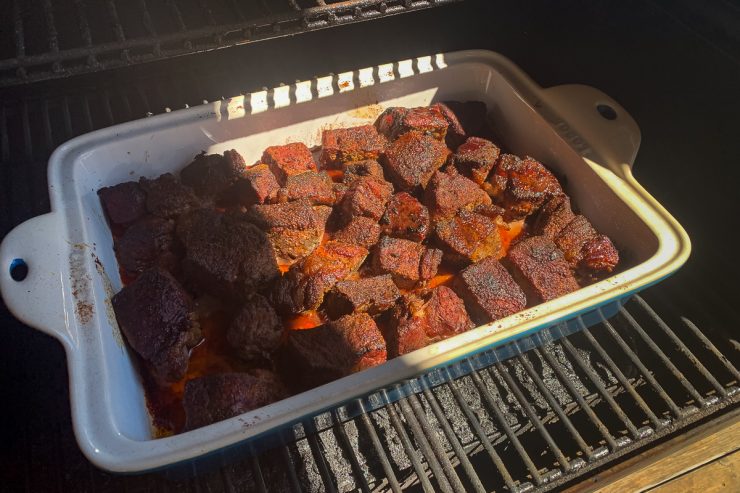 How to prepare the beef
Some people like to leave their roasts whole, but in cases where we'll be shredded it at the end anyway, I really prefer to chunk up my meat before it cooks.
So cube up your beef into large 2-inch pieces, and season well with the salt, pepper, garlic powder, and adobo seasonings.
Next, brown the beef in a splatter of oil on a couple of sides on your flat top or stovetop.
More Traeger Beef Recipes here!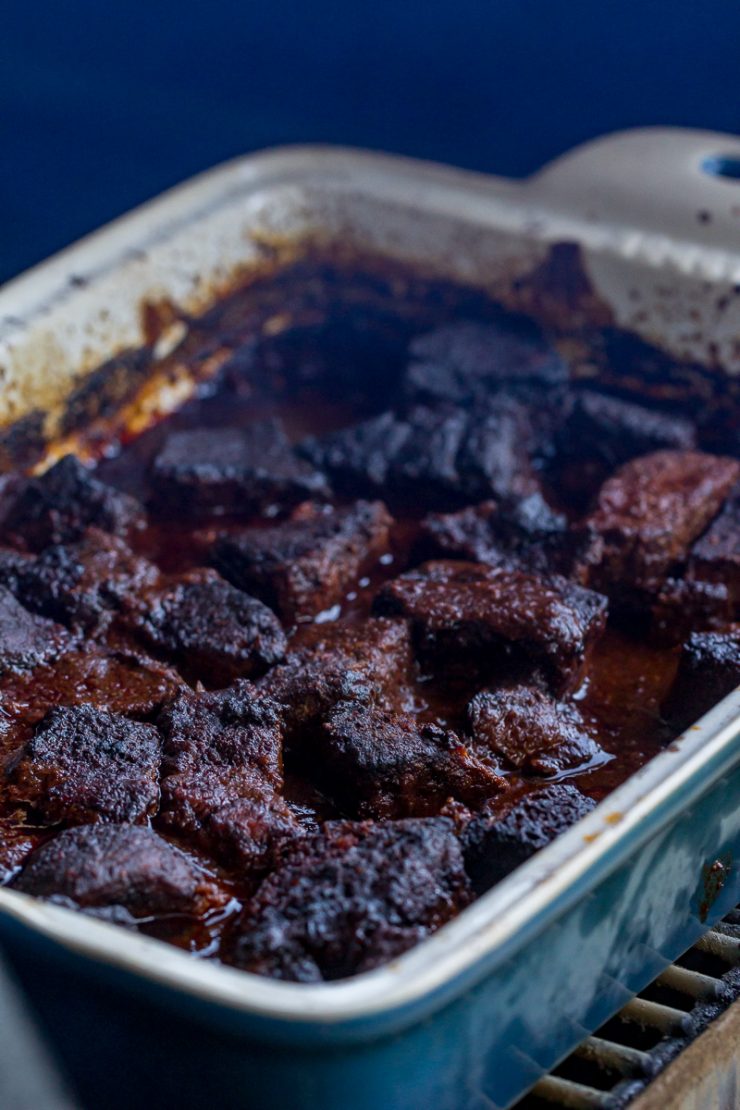 How to cook beef birria
Once the beef is browned, toss it into a disposable foil pan and stick it on your smoker for 1 1/2 hours at 180-200°.
While it is cooking those first two hours, roast your peppers that will eventually become your consomme.
After 1 1/2 hours, turn the grill up to 300°. Let the peppers stay on the grill for another 30 minutes, checking every few minutes and removing before they burn.
More Blackstone Recipes here!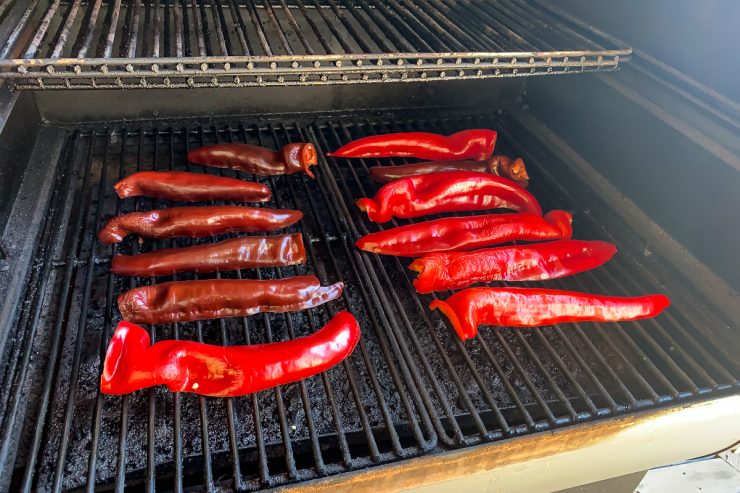 Make the consomme
Once the peppers are roasted, stick them in the blender with the rest of the consomme ingredients and blend until smooth.
Pour the whole mixture over your beef chunks and cover tightly with foil.
You're going to let that whole mixture braise and roast for another few hours, or however long it takes for the meat to get shreddable and fork-tender.
Check out all of the gear I use!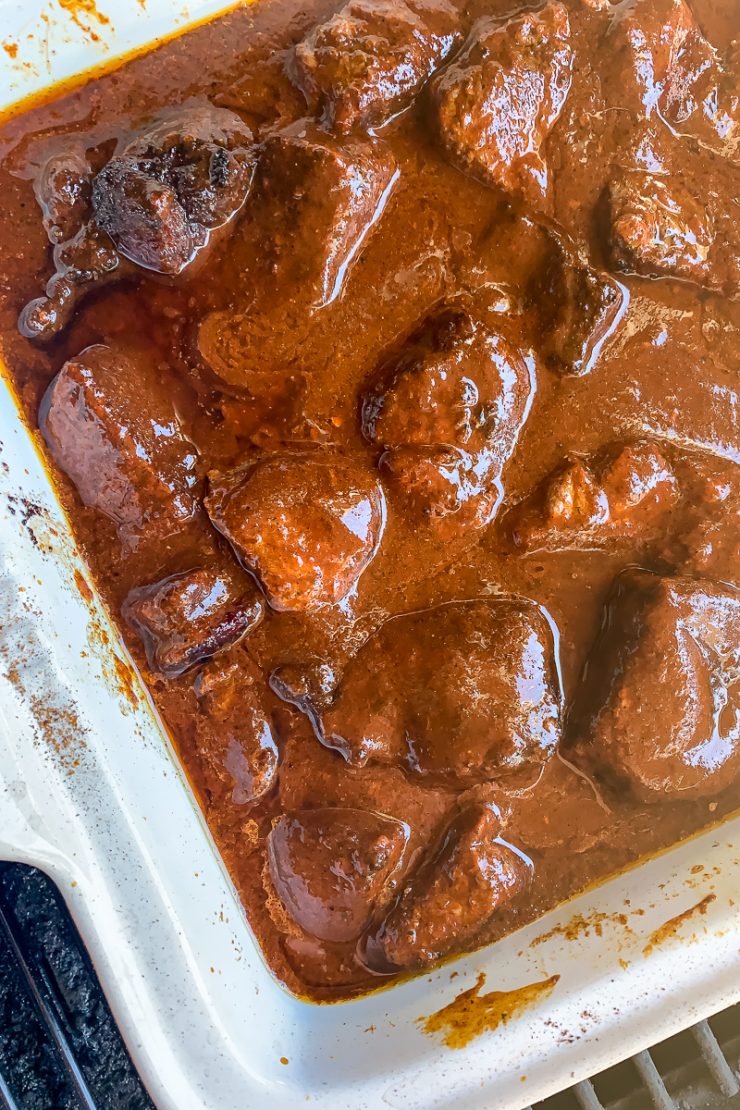 Fire up the griddle
Once the meat is done cooking it is time to fire up your Blackstone. You'll want it on medium to medium-low heat. You want your tacos to crisp up but not burn.
Set up your whole situation in an assembly line. Frying these goes fast, so you'll have to have everything you need in arm's reach to get it done.
Dip your tortillas in the consomme and lay them out on the griddle. Top the WHOLE tortilla with cheese, and then half of it with some beef, some cilantro, and some diced onions (if you are into that sort of thing).
Fold the shell over, press lightly with the spatula, and fry on both sides until the shell is crisp and the cheese is melted.
Have a Cocktail with dinner!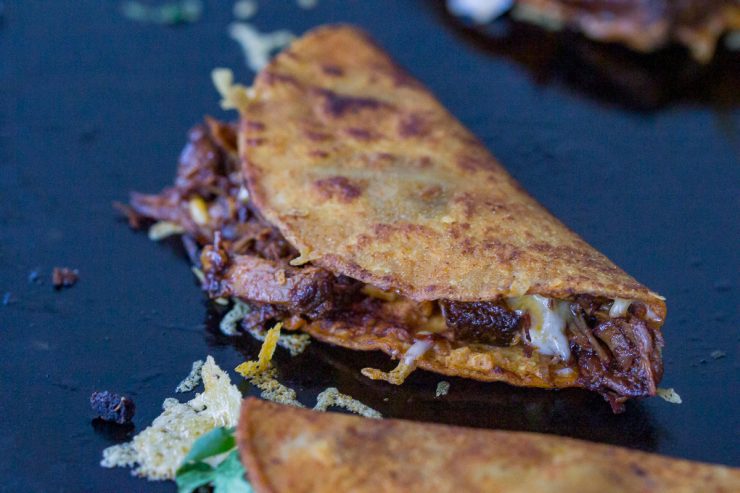 What should you serve with Smoked Birria Tacos?
Serve these awesome tacos with some of my Instant Pot Mexican Rice. It is simple, set-it-and-forget-it, and works great as a side dish.
I'd also recommend some OWYD Bean Dip, Traeger Salsa Verde, and your favorite hot sauce. I really love these Yellow Bird hot sauces.
Pin For Later!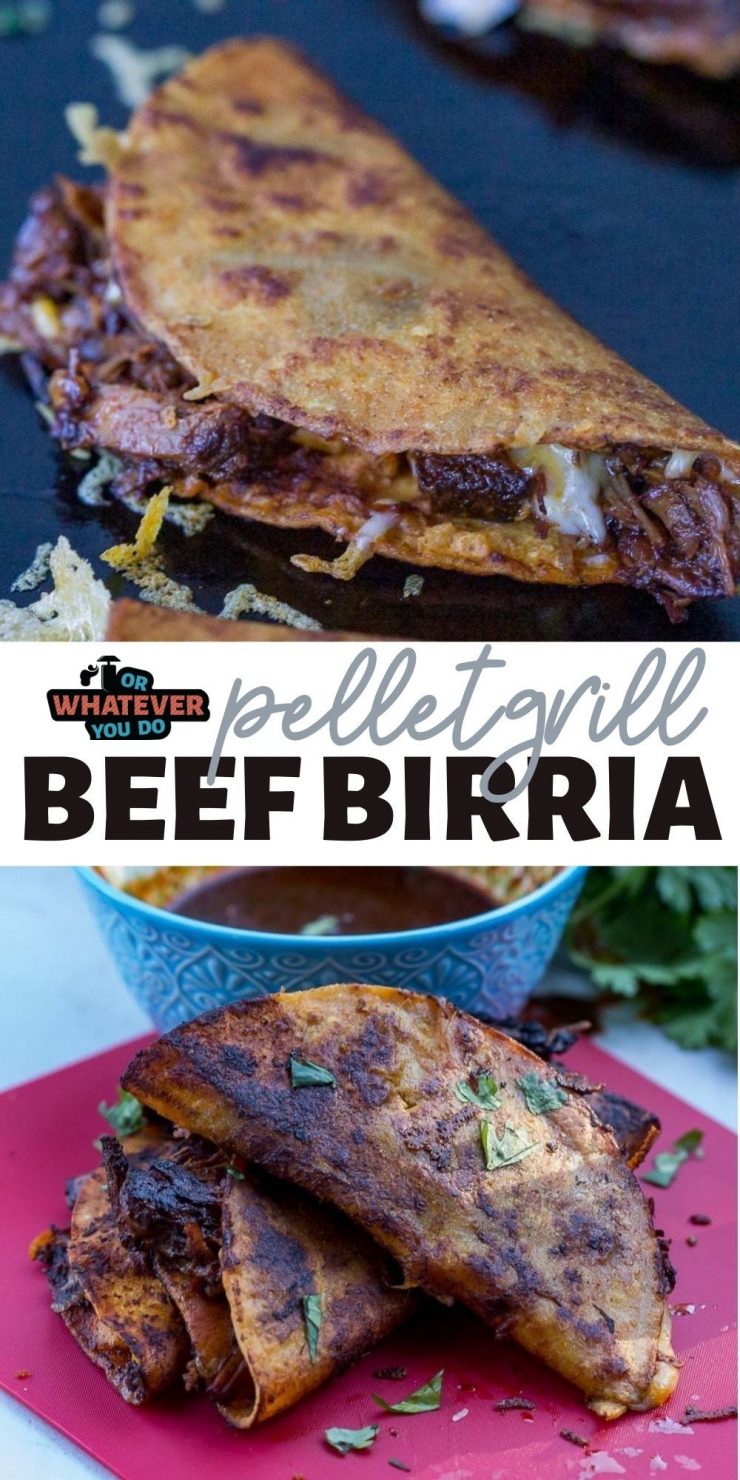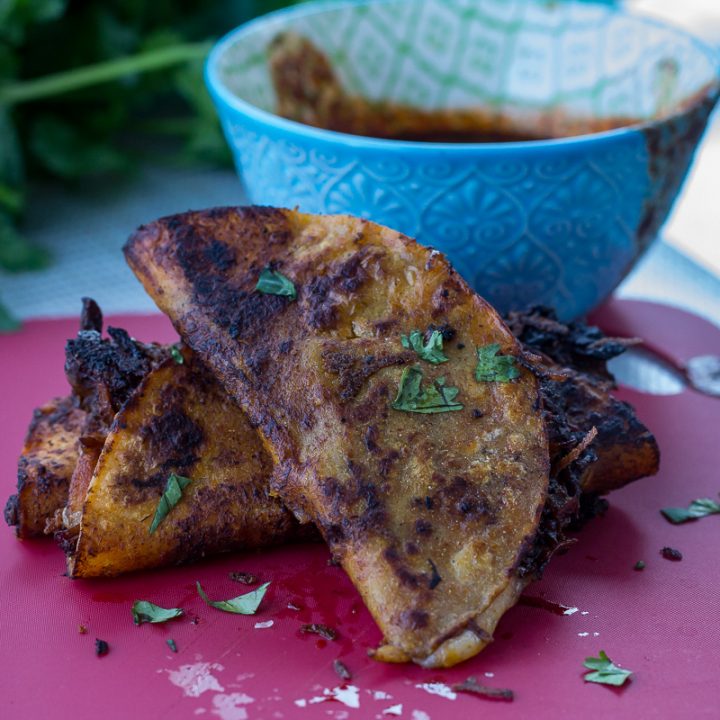 Pellet Grill Beef Birria Tacos Recipe
Total Time:
5 hours
15 minutes
Tender beef roasts are smoked and then smothered in a chili consomme before getting braised until they are fork-tender. The final step has you stuffing these into tortillas that have been dipped in the consomme and then frying them until then are crisp.
Ingredients
Meat
2 pounds beef chuck shoulder roast
2 pounds beef tri-tip roast, top round, bottom round, or another similar beef roast
4 tablespoons Adobo seasoning blend
1 teaspoon salt
1 teaspoon garlic powder
3 tablespoons canola oil
Consomme / braising liquid
8 large, red, mild chile peppers (such as Anaheim or red Hatch peppers)
1 tablespoon beef bouillon
1 teaspoon onion powder
1 teaspoon garlic powder
1 teaspoon salt
1 tablespoon chili powder
1 tablespoon hatch chili powder (optional)
1 tablespoon oregano
3 cloves garlic
1 small onion, diced
1/3 cup apple cider vinegar
2 chipotle peppers in adobo sauce
4 cups hot water
Tacos
avocado oil
24 corn tortillas
6 cups shredded Mexican-blend cheese
diced onion
cilantro
Instructions
Brown & smoke the meat
Turn on your pellet grill to "smoke" at 180-200°.
Cube your beef and season with the adobo, salt, and garlic powder. Brown the meat on your flat top griddle in a bit of oil, or in a cast-iron skillet on the stovetop.
Put the browned cubes of roast into a grill-safe high-sided pan or Dutch Oven, uncovered.
Cut the peppers in half lengthwise and remove the seeds and the stem. Place on the grill along with the meat.
Smoke at 180-200° for 1 1/2 hours.
Turn the grill up to 300° and cook the peppers for an additional 30 minutes.
Make the consomme
Remove the peppers from the grill, place into a blender with the beef bouillon, onion powder, garlic powder, chili powder, oregano, garlic, onion, apple cider vinegar, chipotle peppers, and hot water.
Blend until smooth, and dump over the beef chunks.
Braise the meat
Cover tightly and continue to cook for another 2-4 hours, or until your beef is shreddable and tender. The times will vary based on your beef and your grill.
Once the beef is tender, remove it from the consomme and shred it with some tongs or a couple of forks. Reserve the consomme for later.

Fire up the flat top
Preheat your Blackstone to medium heat. Lay down a little avocado oil and let it get hot.
While it is heating, dip your flour tortillas in the consomme and place on the flat top griddle. Top the whole tortilla with cheese, and half of it with some of the shredded beef, onions, and cilantro.
Fold over the empty half of the tortilla and lightly press down. Cook for an additional 1-2 minutes, and flip. Continue cooking until the other side is crisp and then remove from the griddle.
Repeat until all of the tacos are cooked. You can keep them hot in a foil pan held on one part of the griddle and covered with foil over low heat.

EAT!
Serve the tacos with any kind of fixing you like (I like lettuce and sour cream with salsa) and a small dish of the consomme for dipping.
Notes
If you can't find fresh peppers for roasting, you can substitute chili powder instead.
A variety of chili powder is ideal. Examples include ancho, pasilla, and guajillo. These varieties and others can be found in the Mexican spice section of your local grocer.
Check your roast during the wet cooking phase to make sure the water doesn't evaporate! If you have the pan covered tightly, it shouldn't, but it never hurts to check and add some water if things are tightening up too much.
Recommended Products
As an Amazon Associate and member of other affiliate programs, I earn from qualifying purchases.