Our Traeger Beef Birria Tacos recipe might be a mouthful to SAY, but you're going to go crazy for this tender roast beef that's been smoked and braised in a homemade chili sauce before getting shredded, stuffed into tortillas that are covered in the consomme, and finally fried on your flat top griddle until they are crisp.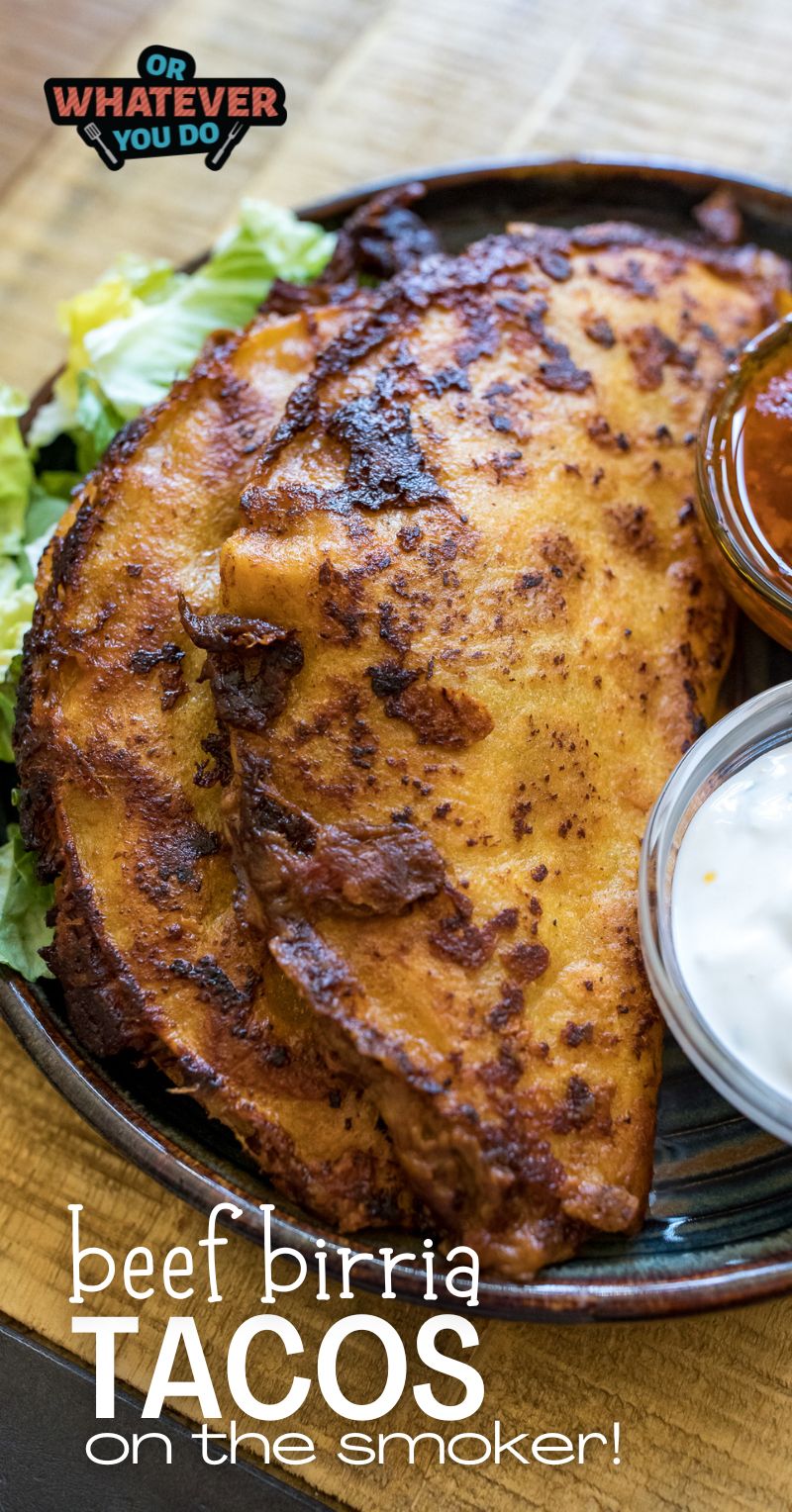 Traeger Beef Birria Tacos Recipe
Birria tacos have exploded in popularity over the past couple of years, and for many many delicious reasons.
This recipe was originally published back in August of 2020. The recipe and photos have been updated in July 2022. This time around we tweaked and perfected the recipe and used some dried guajillo peppers, which is a more traditional way to make the consomme for this epic dish.
We love the chuck roast here, and this is another great way to use one of the most versatile cut of beef on the entire steer.
More Easy Traeger Recipes here!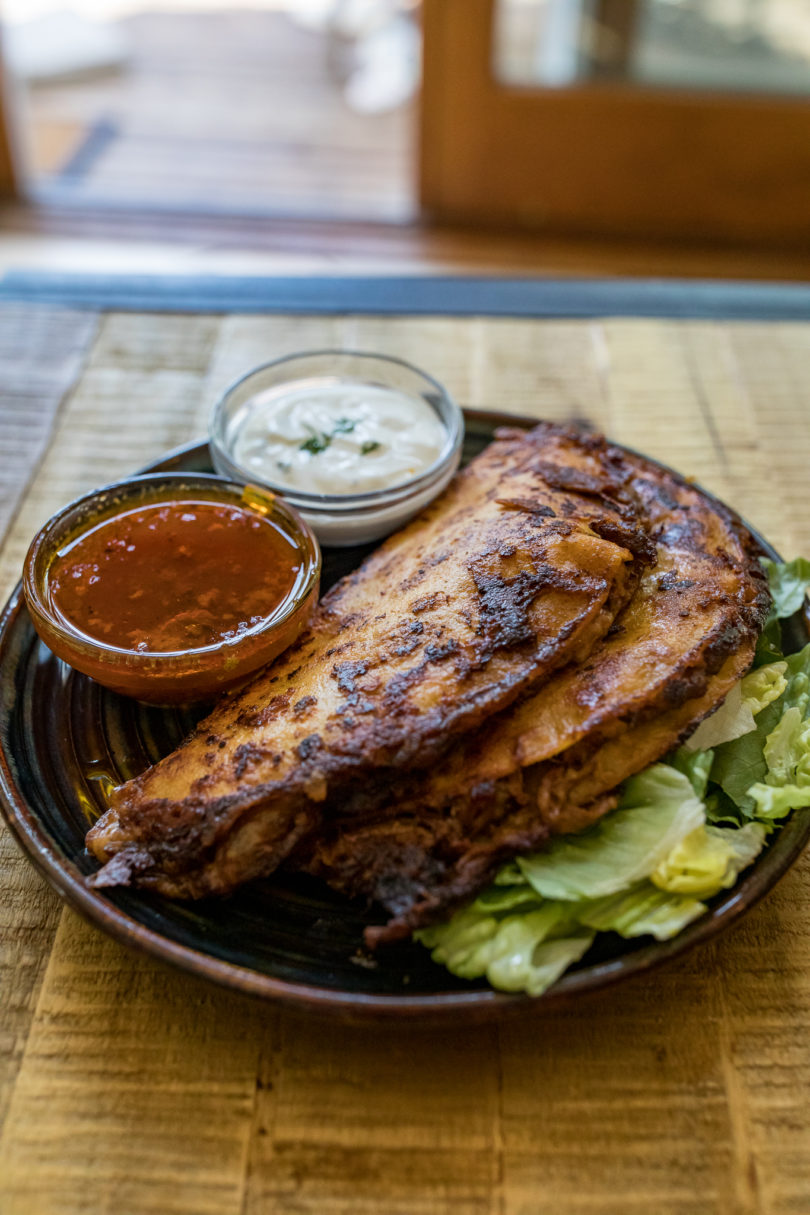 What is birria?
Birria is a dish that originates in Jalisco, Mexico. It is traditionally made with goat, but can also be made with beef or mutton. You'll often find it served as a stew, and it is a bit of a "special occasion" dish that's often found at celebratory gatherings.
It is very similar to Barbacoa, but birria is typically served "wet", as in, with the consomme that it cooks in, and barbacoa is not.
In this beef birria taco recipe, the meat from the birria is shredded, stuffed into corn tortillas that have been dipped in the consomme and covered with cheese before being crisped up on your Blackstone (or any other flat-top gas griddle you have around.)
Get our 75 ESSENTIAL Traeger Recipes here!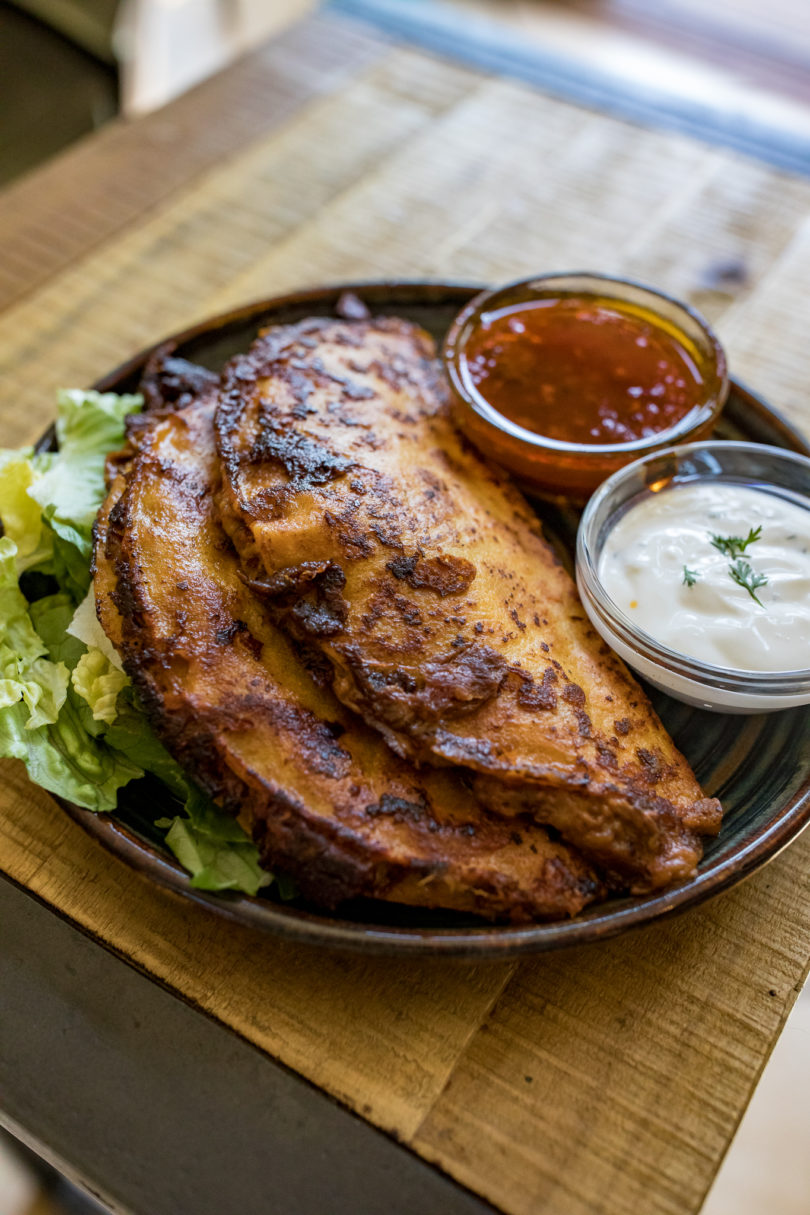 Beef Birria Tacos Shopping List
I'm going to assume you have a relatively well-stocked pantry for this and keep things like garlic powder, onion powder, oregano, and beef bouillon on hand. Make sure and review the recipe below before you shop to make sure you aren't missing anything of that nature!
beef chuck roast
salt & pepper
Mexican bbq rub (optional)
onions
garlic
dried guajillo chile peppers
cayenne or habanero powder
whole canned tomatoes
thyme
Mexican oregano
cumin
bay leaves
corn tortillas
cilantro
cheese
Follow me on Instagram!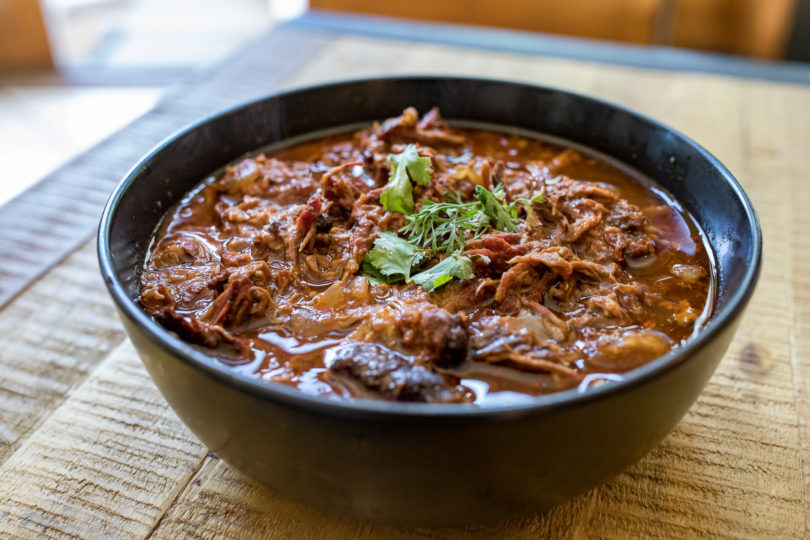 What cut of beef is good for birria?
Many people use several different cuts of meat to make birria, and I'm of the same opinion. Different roasts have different textures, even when shredded, so as long as you make sure at least one of the cuts has adequate amounts of fat marbling you can mix in a leaner (and often less expensive) cut if you'd like.
For this recipe, I used a chuck roast.
More South-of-the-Border Inspired Recipes here!
How to make Smoked Beef Birria Tacos
This is just the overview so you can see what you're actually getting into here. When you are cooking, you'll want to use the full recipe at the bottom of the page.
Season and Smoke
Season your roast with salt, pepper, and your favorite Mexican-flavored bbq rub. I'm currently digging El Mariachi from Spiceology lately!
Smoke for 2-3 hours.
Make your consomme
Remove the stems and seeds from the peppers. Place them in a large pot and cover with water. Throw in the garlic and onion as well as the rest of the seasonings. Bring to a simmer. Let cook for 15 minutes. Remove from the heat, set the onion aside, let the mixture cool for a bit, and then place in a blender and blend on high until everything is properly pulverized.
Braise
In a slow cooker, instant pot, or Dutch oven, strain your sauce through a fine-mesh strainer. Add back in the onion, and place the beef roast into the sauce. The roast should be covered. If it isn't, add some beef stock until the roast is covered.
Cook on low to medium-low heat until the roast is tender and shreddable. Shred, keeping the meat in the cooking liquid, and discard any fat or unappetizing bits.
Cook
Dip corn tortilla shells briefly in the consomme. Place into a non-stick pan over medium heat (or fire up the Blackstone to make these in bulk!) Add cheese and some of the shredded meat. Fold over and fry on both sides until the outside is golden brown and it is crispy.
Serve the crispy tacos with a side of the consomme and enjoy!
More Traeger Beef Recipes here!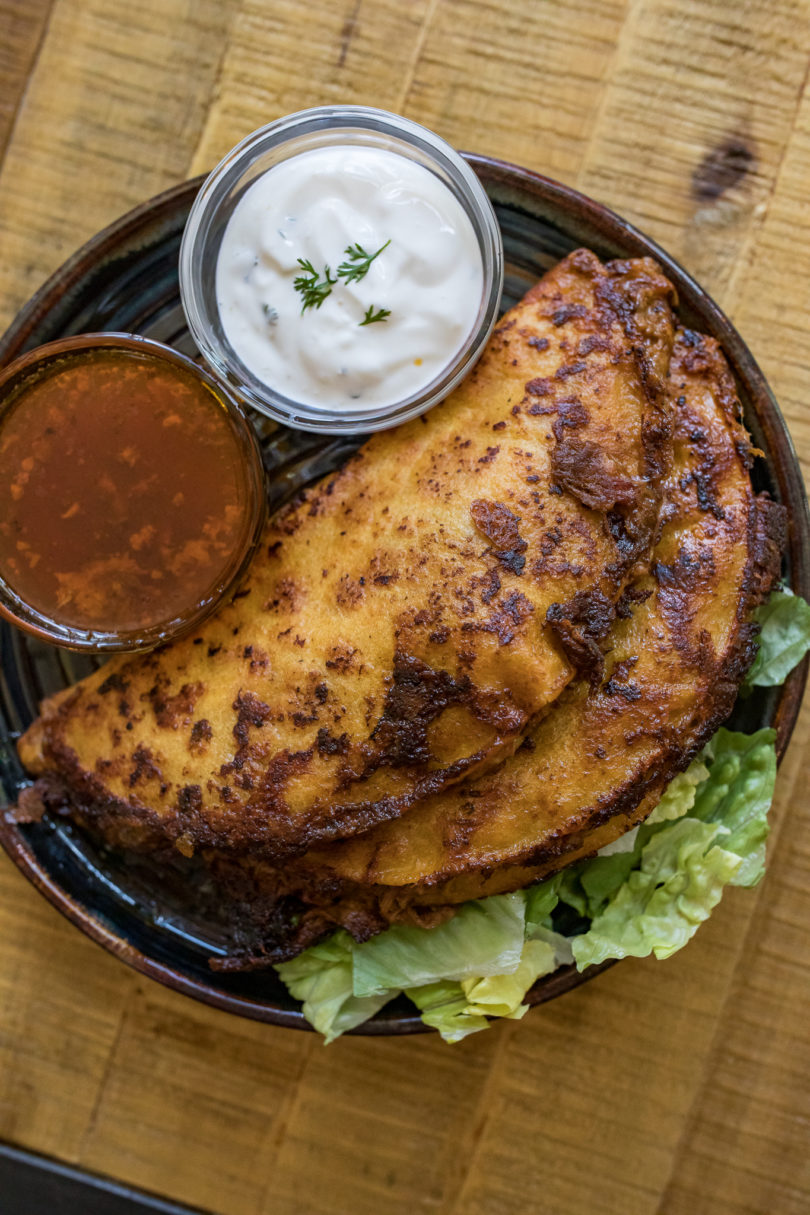 Fire up the griddle to make a bunch of beef birria tacos quickly!
Once the meat is done cooking it is time to fire up your Blackstone. You'll want it on medium to medium-low heat. You want your tacos to crisp up but not burn.
Set up your whole situation in an assembly line. Frying these goes fast, so you'll have to have everything you need in arm's reach to get it done.
Dip your tortillas in the consomme and lay them out on the griddle. Top the WHOLE tortilla with cheese, and then half of it with some beef, some cilantro, and some diced onions (if you are into that sort of thing).
Fold the shell over, press lightly with the spatula, and fry on both sides until the shell is crisp and the cheese is melted.
Have a Cocktail with dinner!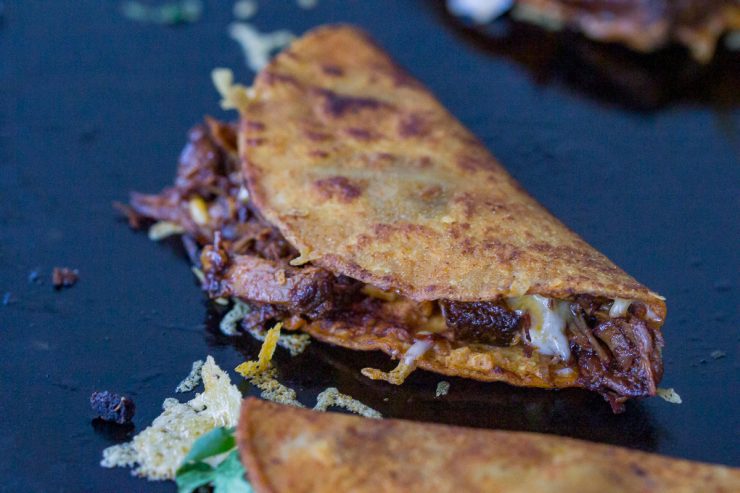 What can you serve with smoked beef birria?
Serve these awesome tacos with some of my Instant Pot Mexican Rice. It is simple, set-it-and-forget-it, and works great as a side dish.
I'd also recommend some OWYD Bean Dip, Traeger Salsa Verde, and your favorite hot sauce. I really love these Yellow Bird hot sauces.
More recipes to enjoy!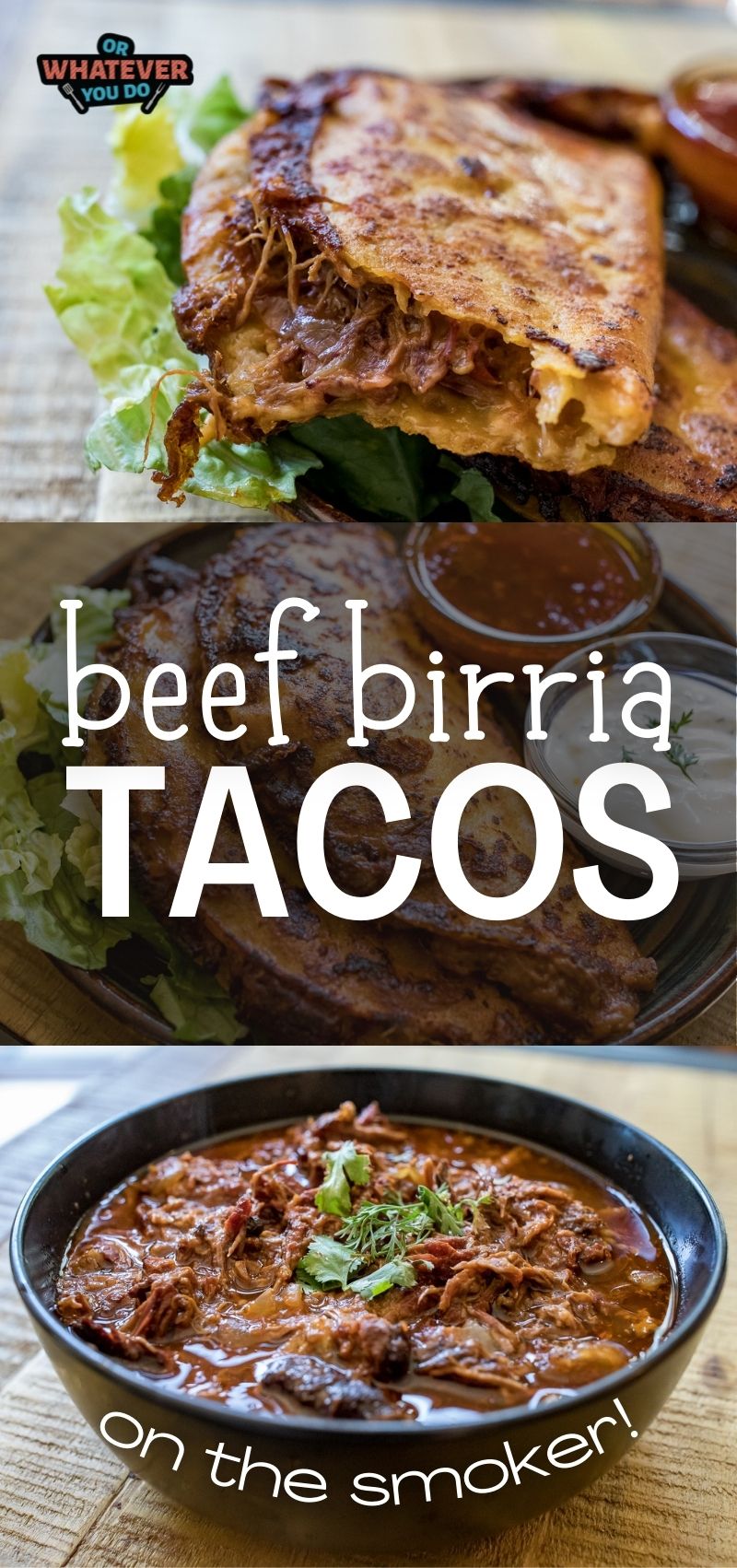 Yield: 8 servings
Traeger Beef Birria Tacos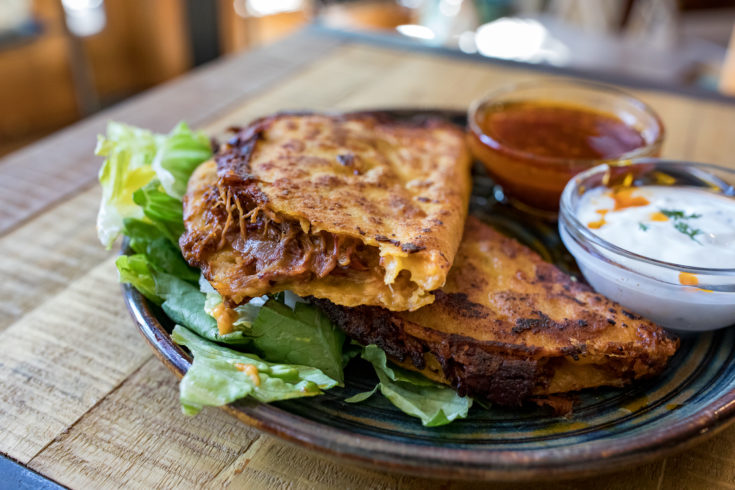 We smoked a chuck roast and then smothered in a chili consomme before getting braised until fork-tender. The final step has you stuffing these into tortillas that have been dipped in the consomme and then frying them until they are crisp.
Total Time
5 hours
15 minutes
Ingredients
Meat
4 pounds beef chuck shoulder roast
4 tablespoons Mexican seasoning blend
1 teaspoon salt
1 teaspoon pepper
Consomme / braising liquid
12 dried guajillo peppers, seeds and stems removed
1 teaspoon salt
1/4 teaspoon ground cloves
1 teaspoon thyme
1/2 teaspoon cumin
1 teaspoon peppercorns
1 teaspoon cayenne or habanero powder (optional)
1 tablespoon Mexican oregano
5 cloves garlic
1 large onion, halved
1 15 ounce can whole plum or roma tomatoes
6 cups water
2 cups beef broth (optional)
Tacos
24 corn tortillas
6 cups shredded Mexican-blend cheese
diced onion
cilantro
Instructions
Brown & smoke the meat
Turn on your pellet grill to "smoke" at 220°.
Season your beef with the Mexican seasoning blend and the salt and pepper.
Smoke for 2-3 hours.
Make the consomme
Remove the stem and seeds from the peppers and place them into a pot with the rest of the ingredients for the consomme. Bring up to a simmer, and let cook for 10-15 minutes.
Remove from heat and let cool for 15-20 minutes.
Blend until smooth, and set aside.
Braise the meat
Place the meat into a slow cooker, Instant Pot, or Dutch Oven. Strain the blended consomme mixture through a fine mesh strainer. If the liquid doesn't cover the beef, pour in some beef broth until there's enough to cover.
Let braise over low heat for 2-3 hours, minimum, or until the meat is tender and shreddable.
Shred, removing any unappetizing bits, and reserve the consomme.

Fire up the flat top or non-stick pan on the stove
Preheat your Blackstone over medium-low heat.
While it is heating, dip your corn tortillas in the consomme and place on the flat top griddle. Top the whole tortilla with cheese, and half of it with some shredded beef. You can also add onions and cilantro at this stage if you want.
Fold over the empty half of the tortilla and lightly press down. Cook for an additional 2-4 minutes and flip. Continue cooking until the other side is crisp and then remove from the griddle.
Repeat until all of the tacos are cooked. You can keep them hot in a foil pan held on one part of the griddle and covered with foil over low heat.

EAT!
Serve the tacos with any kind of fixing you like (I like lettuce and sour cream with salsa) and a small dish of the consomme for dipping.
Recommended Products
As an Amazon Associate and member of other affiliate programs, I earn from qualifying purchases.
Nutrition Information:
Yield:
12
Serving Size:
1
Amount Per Serving:
Calories:

647
Total Fat:

30g
Saturated Fat:

14g
Trans Fat:

0g
Unsaturated Fat:

11g
Cholesterol:

168mg
Sodium:

2332mg
Carbohydrates:

38g
Fiber:

6g
Sugar:

9g
Protein:

58g
Nutrition data provided here is only an estimate.