These savory, spicy Ground Beef Tacos pack a flavor punch! This is a classic beef taco recipe with the seasoning kicked up to eleven. They have everything from beef to green chiles to El Pato jalapeño tomato sauce, plus plenty of cheese and tons of flavor. These tacos are bound to be your new favorite go-to meal.

Ground Beef Tacos
You won't want to wait for Taco Tuesdays to try these sizzling, delicious Mexican beef tacos! They're quick and easy to make, so they're great for a weeknight dinner. Even better, the kids can pick and choose what toppings they want, so it's a picky-eater haven. That's always a saving grace around here!
Spiceology handles the seasoning for you, and they do a fantastic job as usual. I've been using Spiceology for years (remember my Spiceology Greek Freak Ground Beef Empanadas? If you don't, you should definitely try them!)
Spiceology has got this seasoning thing down to an art, and it will take your tacos to a new level. Juicy ground beef, green chilies, and tons of cheese help make an awesome taco. Stir up some Pressure Cooker Mexican Rice on the side, and you're on your way to an amazing meal. Oh, and don't forget a Classic Margarita, which goes great with any Mexican food.
Click here to save this pin for later!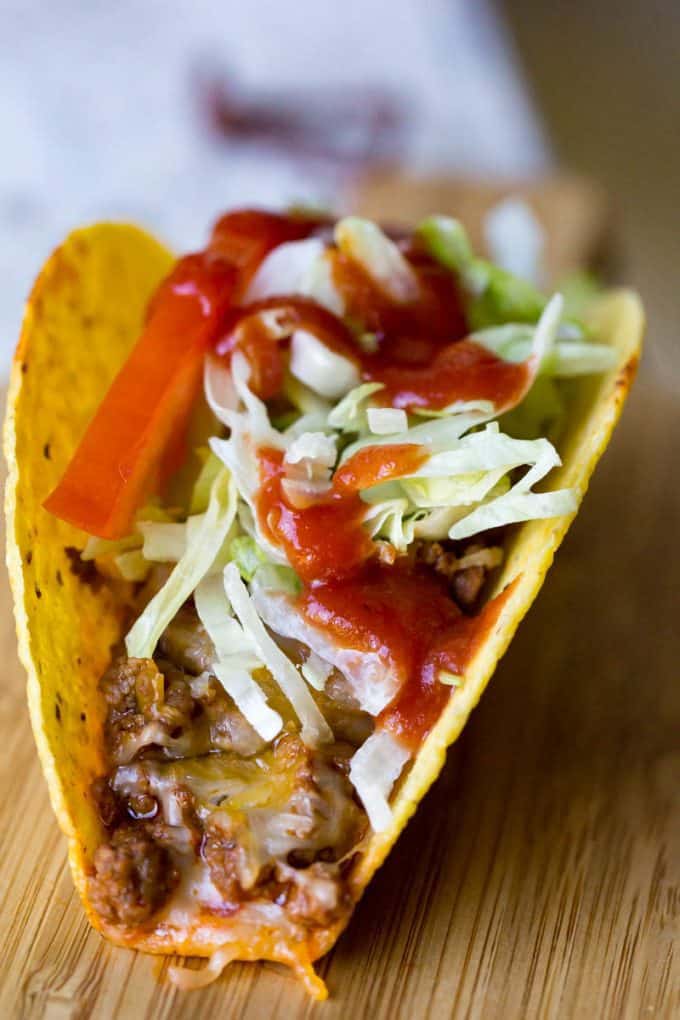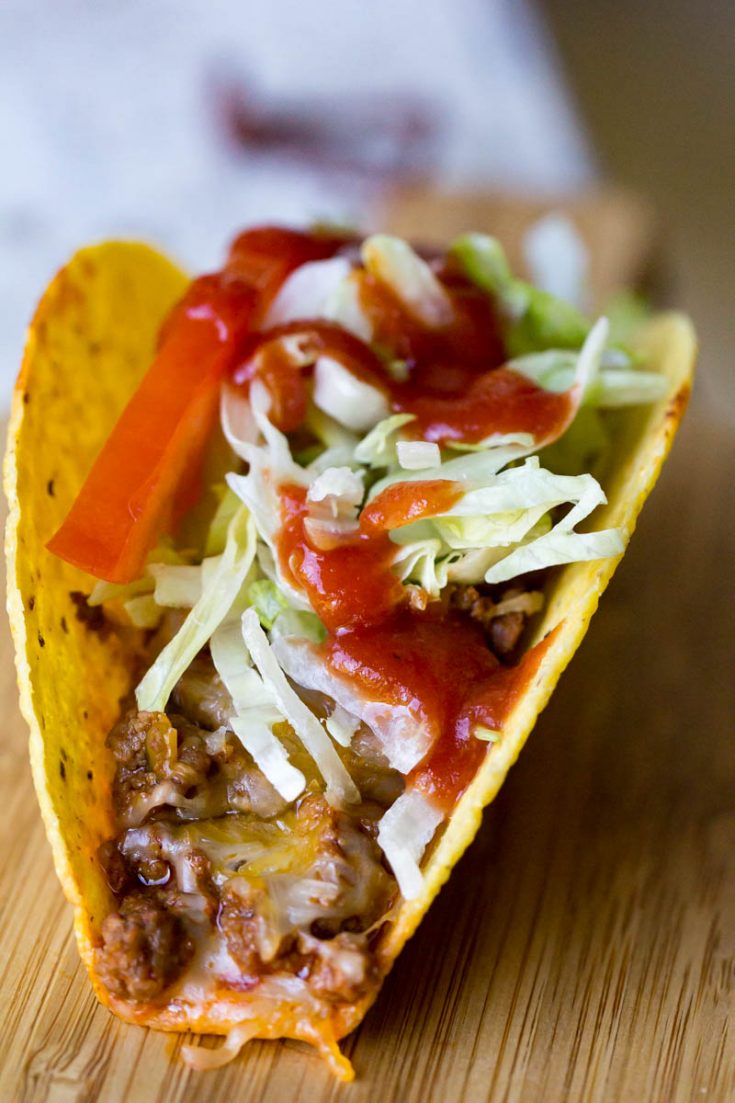 Homemade Ground Beef Tacos
Tacos are a classic, but they probably haven't been around as long as you think. The theory is they were invented in the late 18th century, which is really not that long ago if you think about it.
Tacos might have been created by or for Mexican miners, but we're not really sure. Originally they were referred to as tacos de mineros, which sure makes it seem like they were associated with the silver mines of the time.
After their invention, tacos were quickly adopted as fantastic street food. Easy to hold in one hand and to eat while you walk, filled with protein and flavor, tacos really fit the bill for good traveling food. They fill you up and taste great.
Whether you're exploring the streets and shops of Mexico City, or settling down at home for a family dinner, tacos are a delicious, easy way to grab a quick bite. One of these days we'll get down south, but until then I'm going to keep making these homemade tacos.
Now, these are probably NOT what you would find from a Mexican vendor. My homemade Ground Beef Tacos are definitely Americanized, but they are one of my favorites and definitely beat the typical packet-seasoning tacos that you probably grew up eating.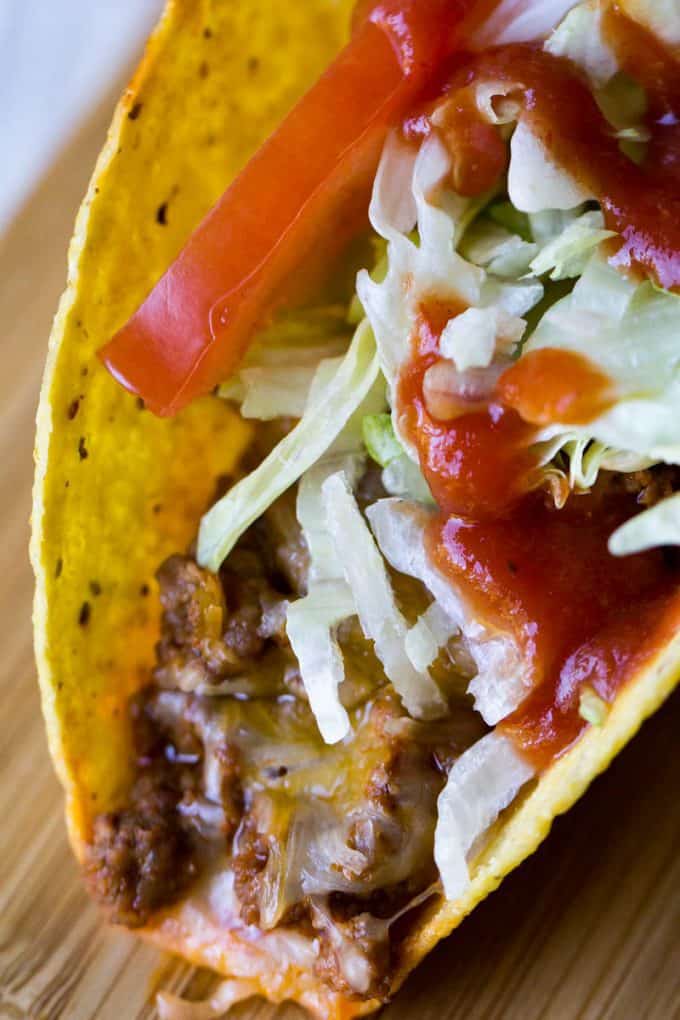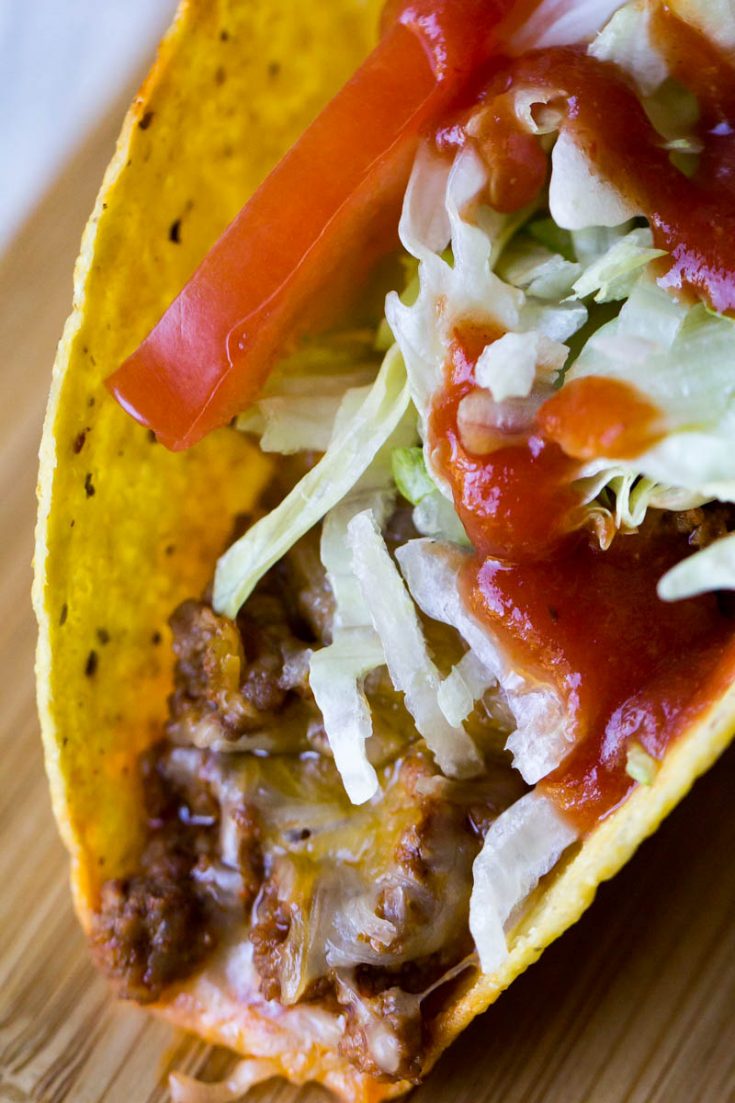 Air Fryer Taco Shells
My air fryer is one of my favorite appliances. It gets a ton of use around here!
Using an air fryer for tacos is a match made in heaven. Putting tacos in the air fryer at the end crisps up the taco shells and melts the cheese beautifully. If you've ever had a soggy taco, you know how important it is to keep it nice and crunchy. The air fryer is great for that! You can definitely use an oven if you don't have an air fryer though.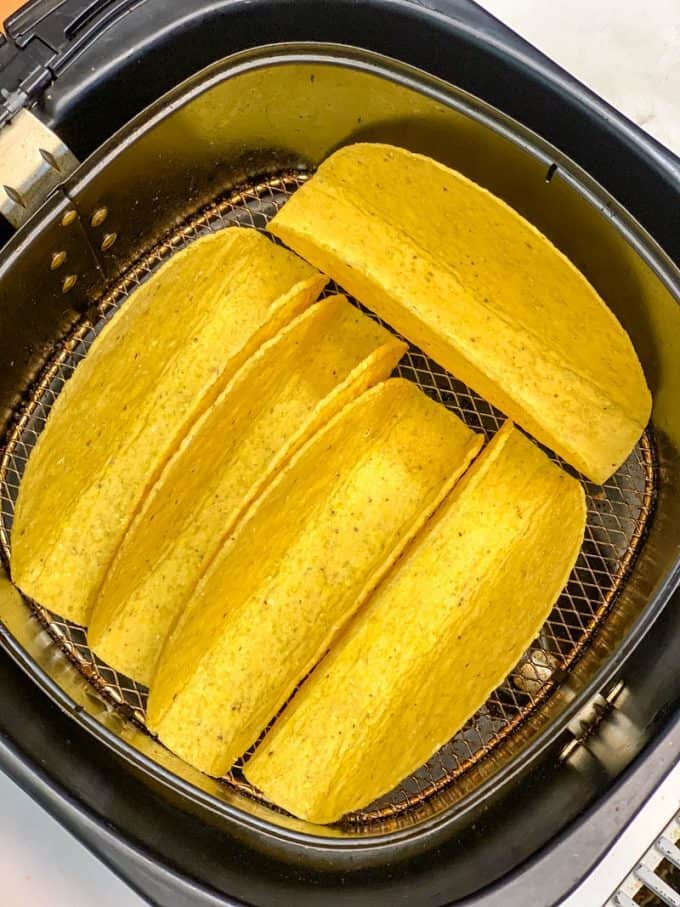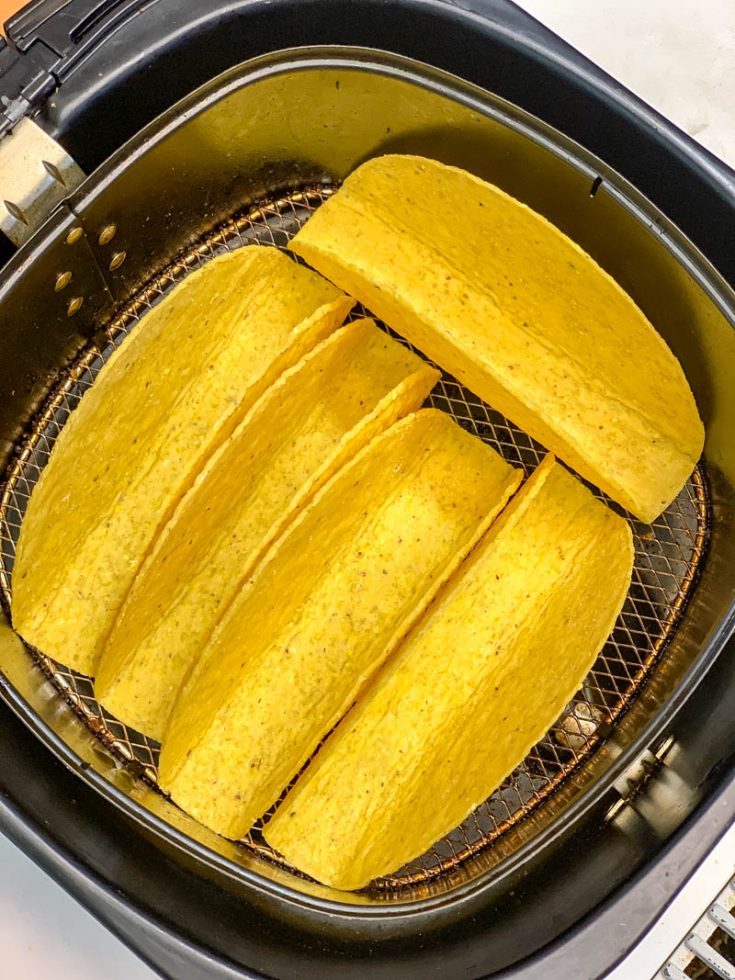 I put the shells in the air fryer with cheese on the bottom, then meat, then more cheese. It is so, so good. You can use the same technique for crisping up nachos, too.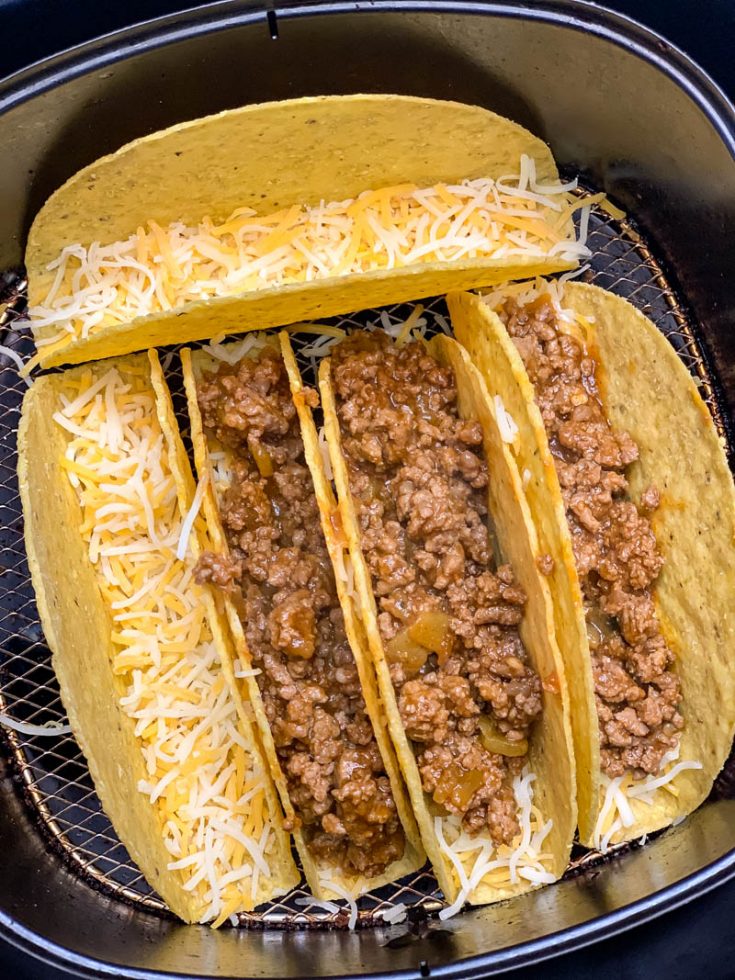 This also makes the tacos less messy for smaller hands too, as the cheese kind of keeps everything together. If you don't have an air fryer, you can do the same thing in your oven.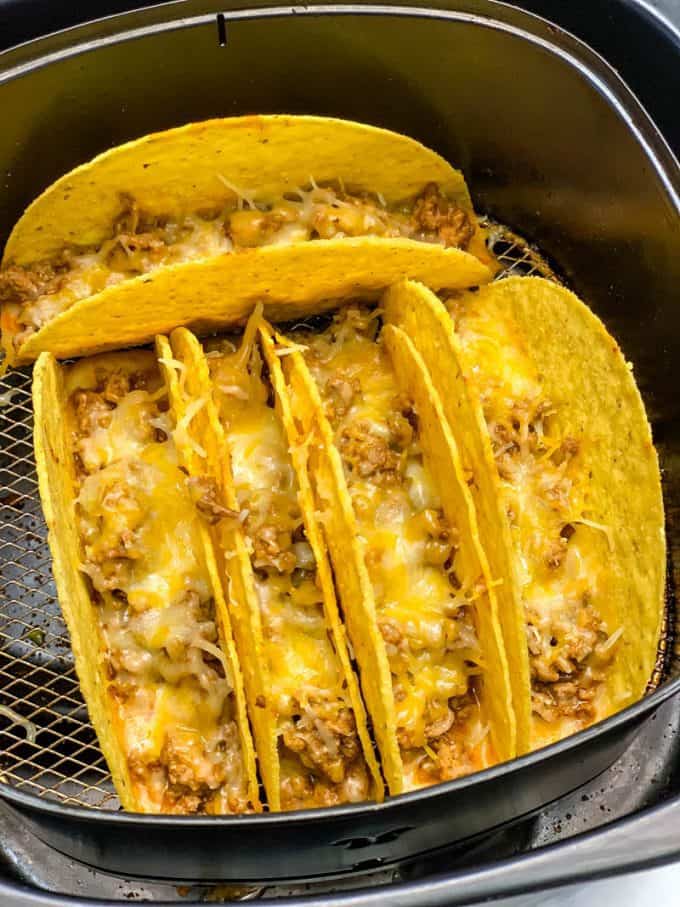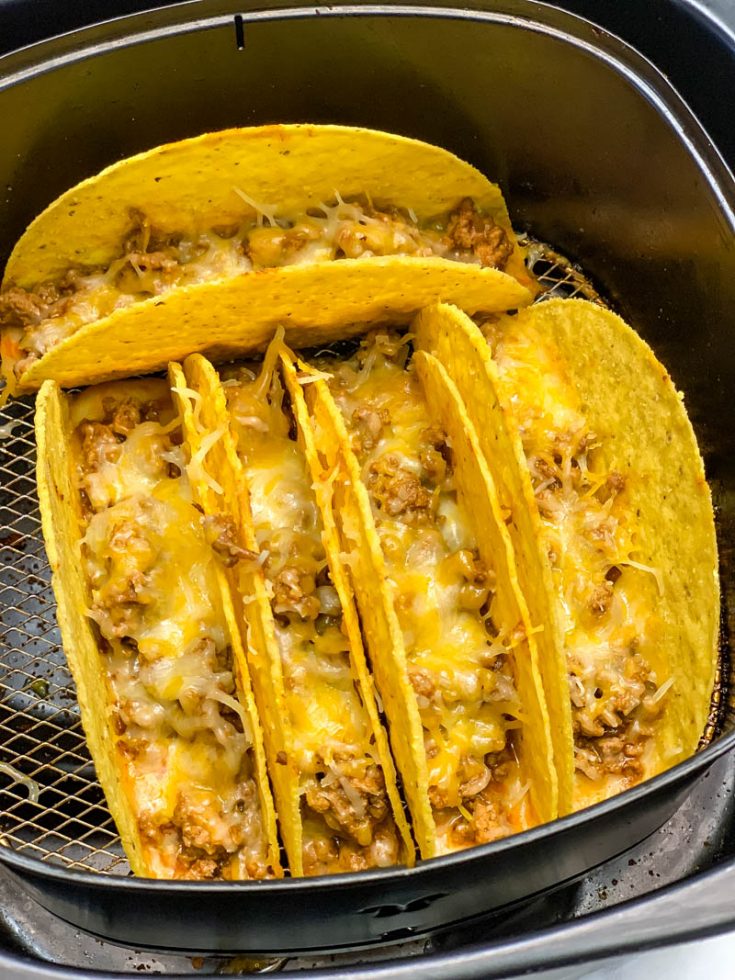 Taco Toppings
What goes on a taco? Oh, don't worry I have plenty of ideas! After you've built your basic taco structure of shell, beef, seasoning, sauce, and cheese, there are plenty of veggies you can add to make your taco a true masterpiece. Check out some (or all!) of these ideas.
Fresh diced tomatoes
Black olives
Shredded lettuce
Fresh spinach
Cooked or fresh onions, diced or in slices
Black beans
Refried beans
Corn
Lime juice
Salsa
Guacamole
Sliced avocados
Cilantro
Jalapeños
Banana peppers
Sour cream
As you may have guessed, sometimes my tacos end up a little on the overflow-y side… Hey, that's what forks are for, right?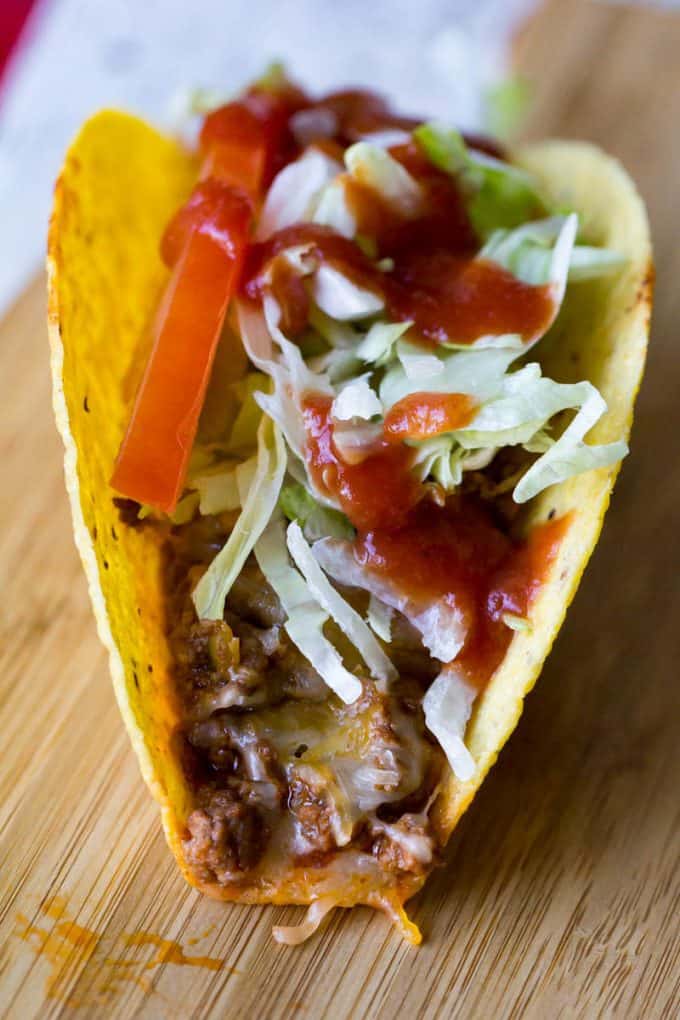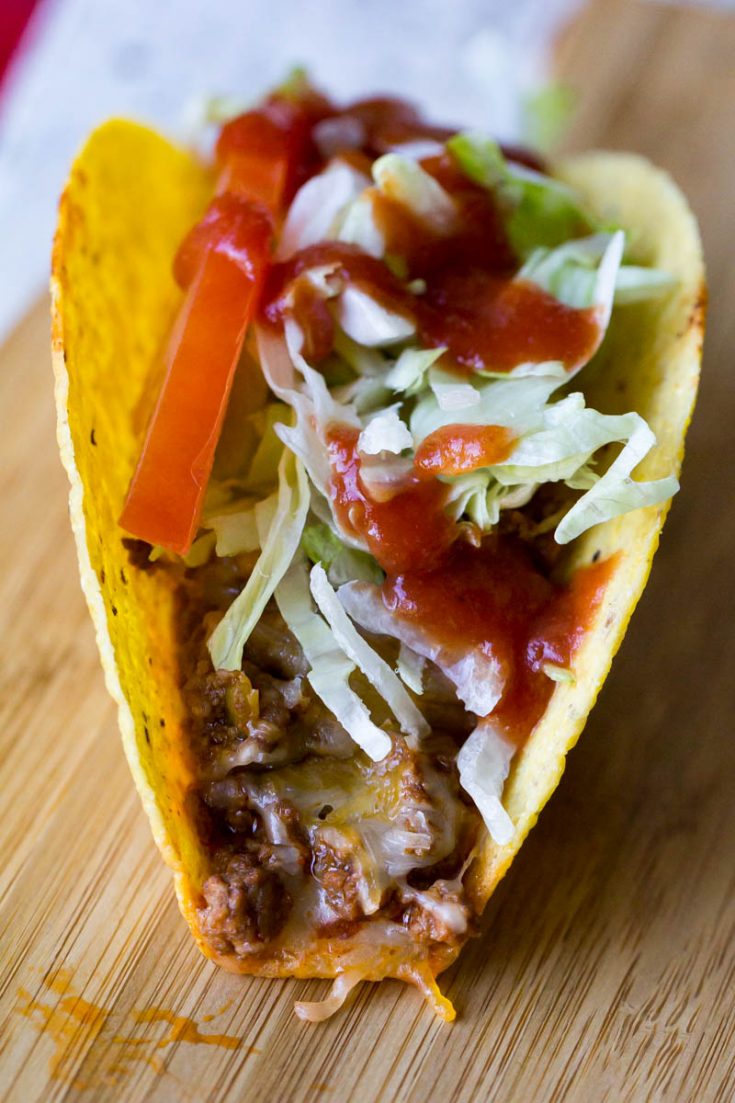 How to store taco meat
Taco meat is quick and easy to prepare, so while you're at it, make up a big batch and freeze the leftover seasoned beef for a quick and easy meal you can just pop out of the freezer for another day.
You can keep your cooked taco meat in the refrigerator for 3-4 days, or freeze in airtight containers or freezer bags for 2-3 months for best quality.
When ready to use, take out of the freezer and place in the refrigerator overnight to thaw. Heat in the microwave or stove top for a quick easy meal.
Mexican-Inspired Comfort Food
I love love love these beef tacos, but pretty much all Mexican food is amazing. If you loved these tacos, you're going to definitely want to come back and try some of these Mexican recipes.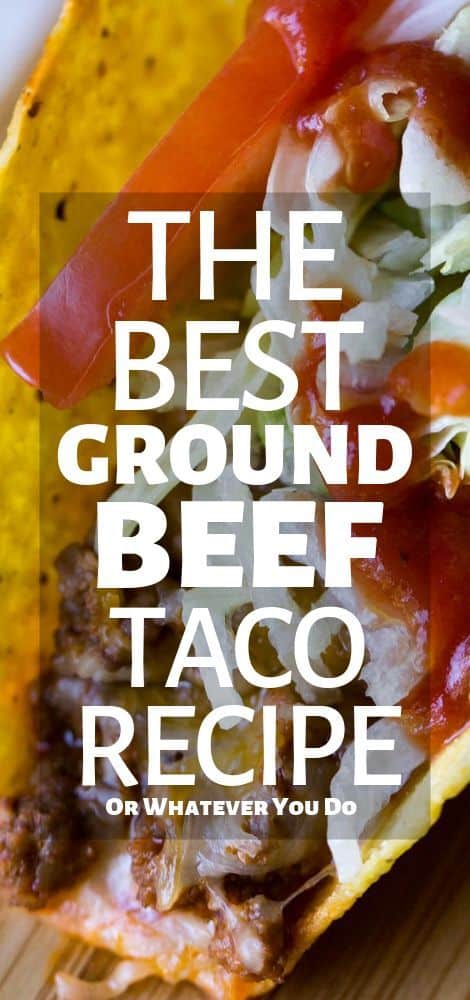 Yield: 8 servings
The BEST Ground Beef Tacos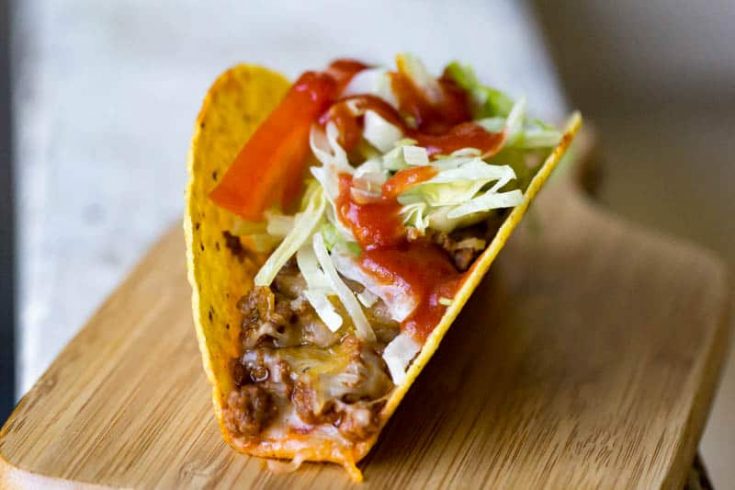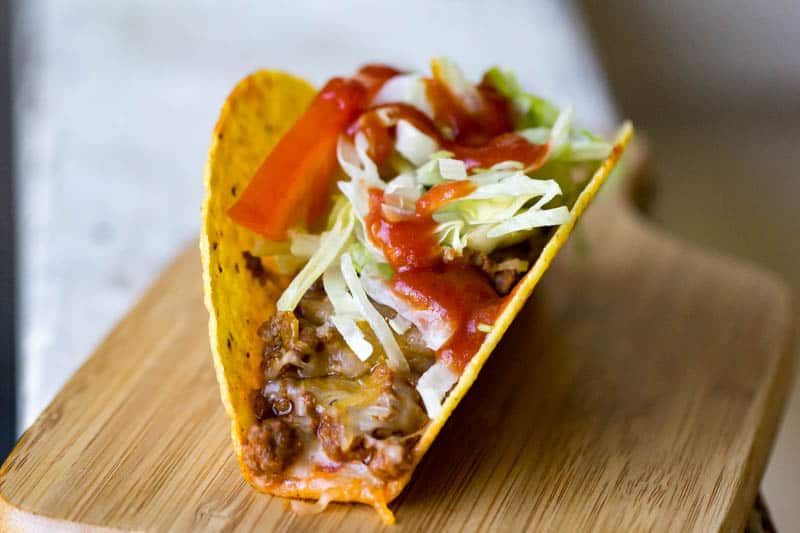 Easy cheesy homemade ground beef tacos aren't your average Tuesday-night taco. All the flavor, all the cheese, all the yes.
Ingredients
2 pounds lean ground beef (I like 85/15, or 90/10 for this)
2 tablespoons Spiceology Taco Seasoning
1 tablespoon Spiceology Chili Lime
7.5 ounces El Pato Jalapeno Salsa
4 ounce can mild green chiles
10 ounce can Rotel (or equivalent generic brand. I used the Cilantro Lime flavor.)
1/2 cup water
Shredded Mexican-blend Cheese
12 hard taco shells
Instructions
Preheat oven to 325°
Brown the ground beef in a large skillet. Drain excess fat, and all the taco seasoning, chili lime seasoning, el pato, green chiles, water, and rotel.
Cook for 15-20 minutes, or until the mixture has thickened slightly.
Place the shells down in an oven-safe dish, add cheese in the bottom, then some cooked taco meat, and then more cheese. Bake at 325° for 10 minutes.
Top with your favorite taco toppings and serve warm!
Recommended Products
As an Amazon Associate and member of other affiliate programs, I earn from qualifying purchases.
Nutrition Information:
Yield:
12
Serving Size:
1
Amount Per Serving:
Calories:

397
Total Fat:

20g
Saturated Fat:

8g
Trans Fat:

0g
Unsaturated Fat:

9g
Cholesterol:

106mg
Sodium:

347mg
Carbohydrates:

18g
Fiber:

2g
Sugar:

2g
Protein:

36g
Nutrition data provided here is only an estimate. If you are tracking these things for medical purposes please consult an outside, trusted source. Thanks!