Blackstone Griddle Quesadillas are an easy way to get dinner on the table in a snap, with restaurant-quality results right in your own backyard.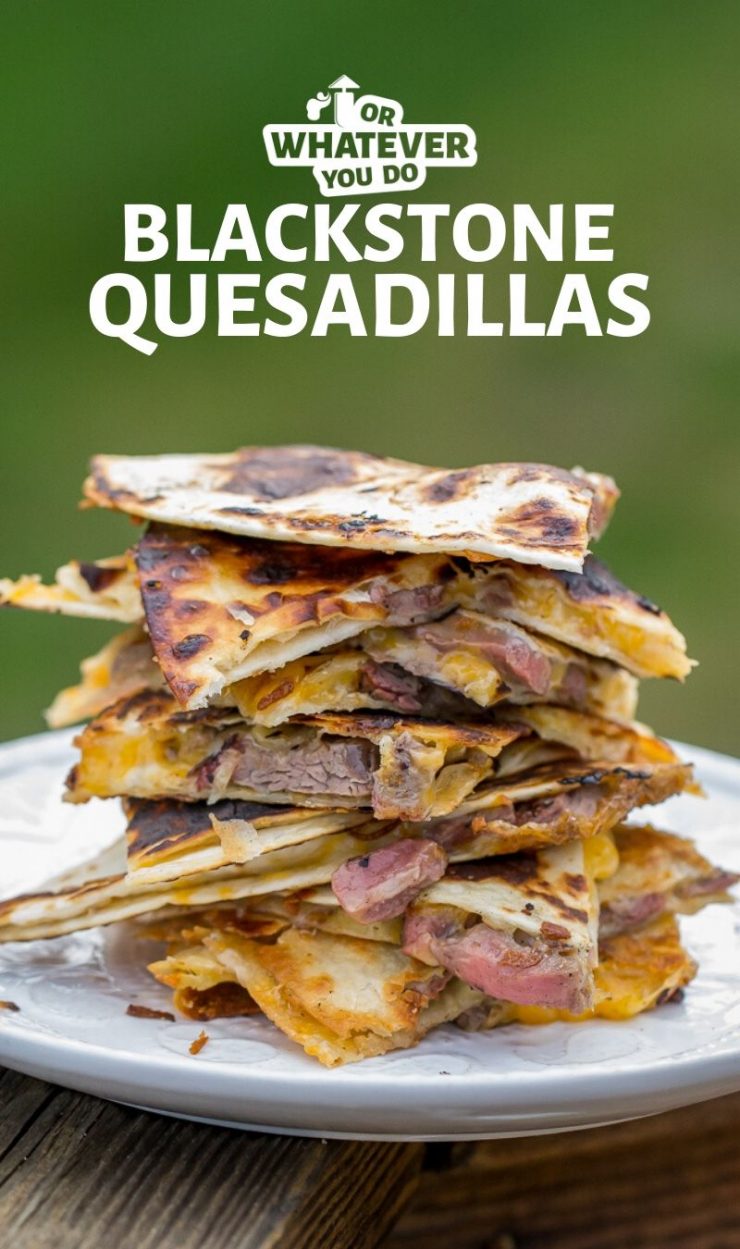 Blackstone Griddle Quesadilla
Blackstone Griddle Quesadillas bring that true street food flavor, right at home. Nothing like a nice hot flat-top griddle for turning in the perfect quesadilla!
Slice up some wedges and put out a few delicious dips, and you are all set. It can be a snack or a meal depending on how big your tortillas are and how many you eat.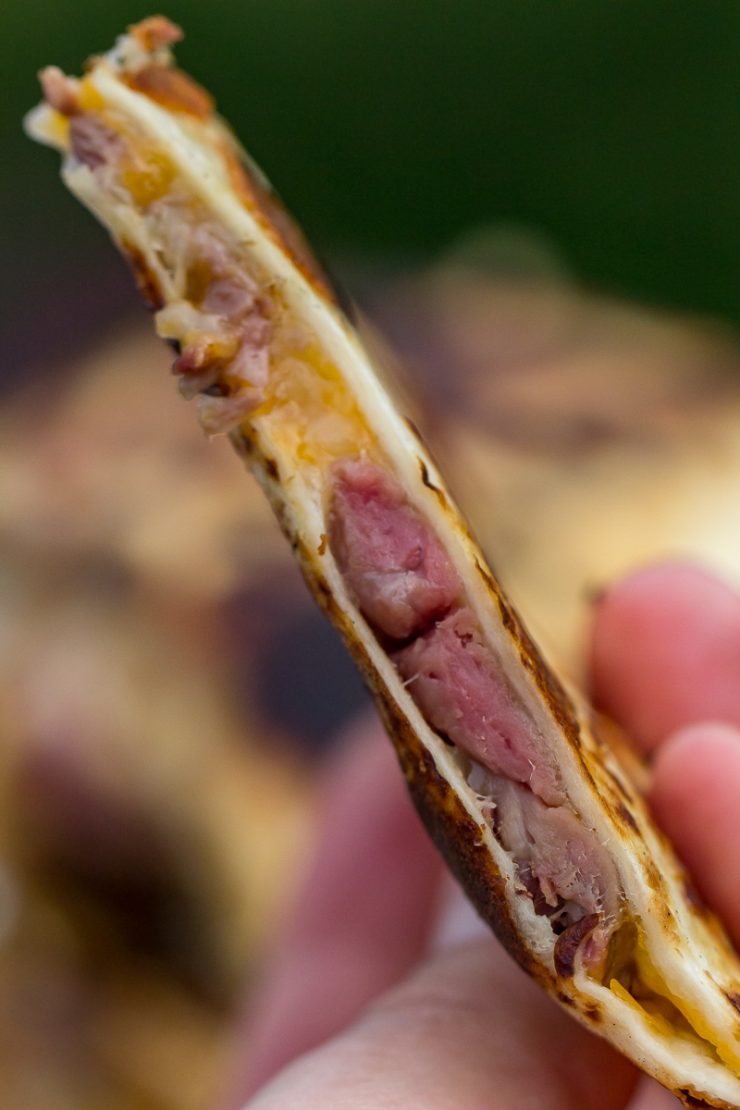 Easy Flat Top Quesadillas
A Blackstone is a griddle-style propane grill with a flat top grill. The griddle surface is cold rolled steel which is similar to cast iron, and your treat it the same way and season it the same way too. It is not like a non-stick, where you have to worry about what utensils are used on it. Get all the metal spatulas out and go to town.
You can do all sorts of dishes on your Blackstone. But, of course, if you don't actually have one then other flat tops will do too. Preferably with a seasoned surface of cast iron or cold-rolled steel. If you want the true street food flavor, then that is a must.
We have a Sidekick flat top for our Camp Chef Woodwind that we use and love too.
A quesadilla has to be one of the most effective snacks or appetizers that are known to mankind. You can throw it together in minutes, but it will please and curb a voracious appetite for hours. The word "no" is also a rarity when offering quesadillas, even from my picky crew.
Do you know how many quesadillas a teenage boy can eat? Multiply it by 2, no matter what you thought.
That can be really handy in certain circumstances. Any snack that can so easily turn away the hunger snaps deserves a special place of consideration.
More Blackstone Recipes here!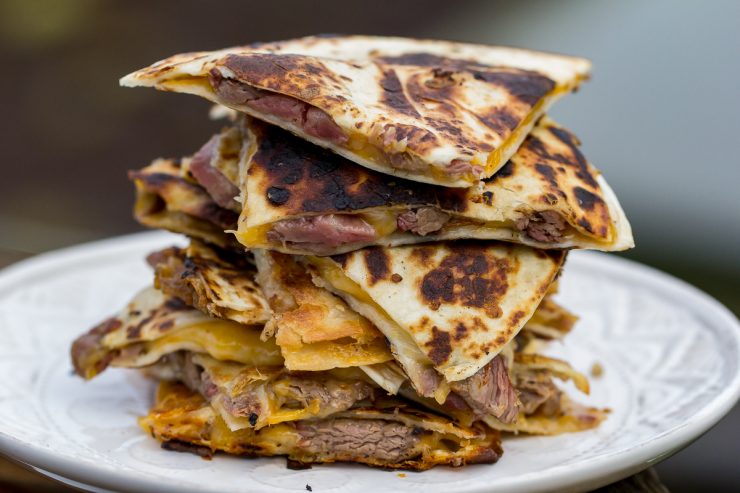 What's the best cheese for quesadillas?
You can use any cheese for quesadillas, so the best cheese for yours is really the one sitting in your fridge right now. You can find Mexican blend shredded cheese in the market too.
If you are planning to shred your own cheese, I recommend shredding on the fine side rather than the thick. This will help your cheese melt quickly and evenly, and it also seems to fall out less when you turn them before they are completely melted.
Follow me on Instagram!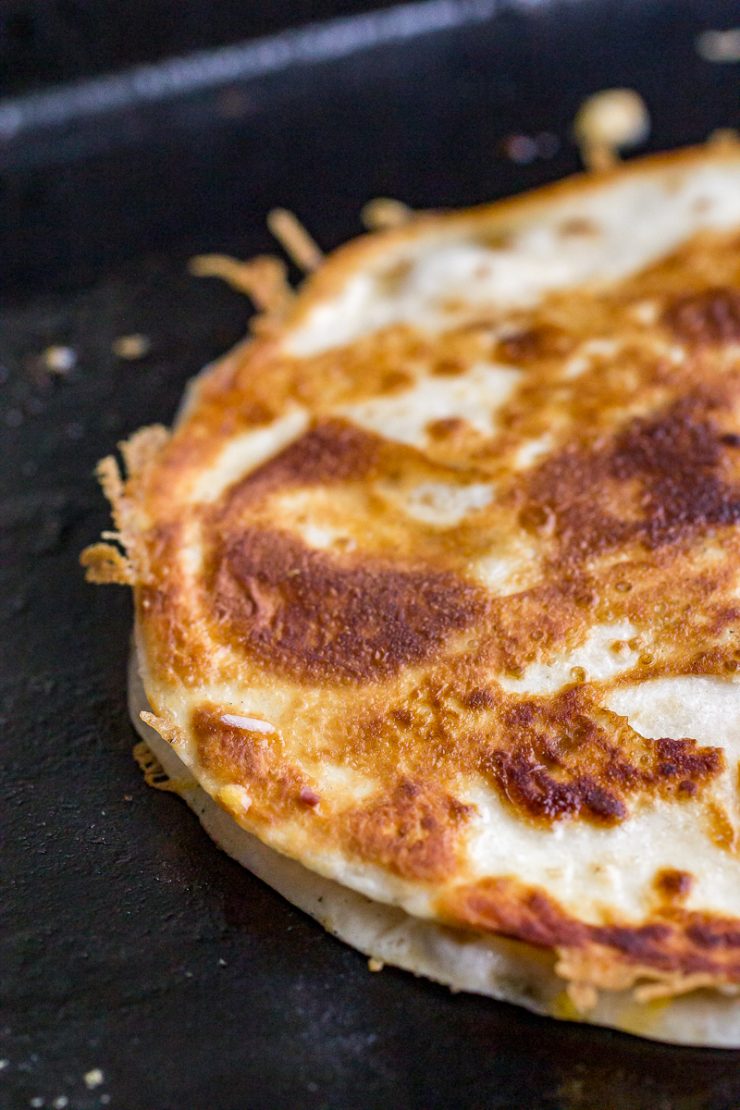 How to season the beef
The chili lime seasoning from Spiceology gives you all the heat and just the right amount of sour and salt to bring the beef up front and center. If you are using leftover beef, like from a pot roast, then the spice will take it into a new direction that doesn't feel like leftovers at all.
We did ours with some leftover tenderloin and it was incredible. The great thing about using beef leftovers is it makes even a small piece go so far. Chopping it up and sprinkling it in with the cheese gave every bite a bit of beef.
If you don't have Spiceology Chili Lime handy, then you can also sprinkle with a touch of chili powder to taste, and squeeze a lime over it. Put just a pinch of zest on it and you are all set.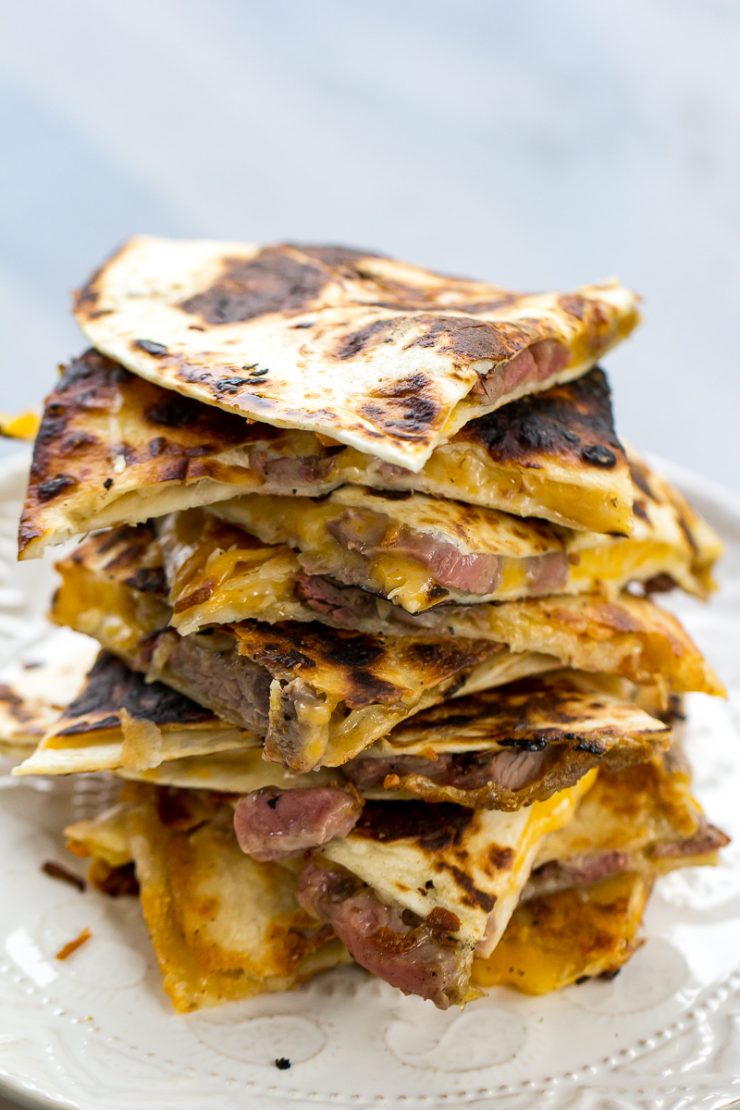 Tips for making the perfect Blackstone Griddle Quesadilla
The perfect quesadilla is ninety percent prep and ten percent execution. Here are a few suggestions to keep in mind:
Make sure all your extras to put on the cheese are balanced out and even. The idea is to get a bit of each filling in every bite. So if you only have a few jalapenos you want to toss in or a bit of beef, then make sure you chop them finely enough for good coverage.
Get the griddle surface nice and hot. The hotter it is, the less likely your tortilla will stick to the surface.
Speaking of sticking to the surface, a bit of oil on the griddle first will make it crisp up nicely and brown up the tortillas too.
How to RE-SEASON your Blackstone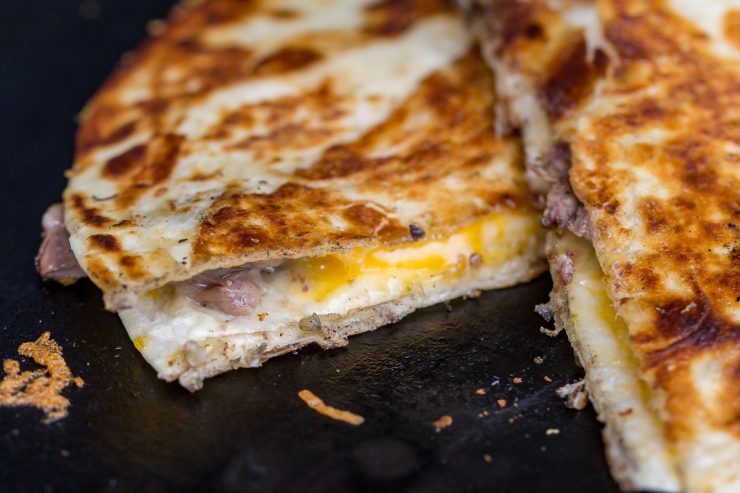 More Blackstone recipes to enjoy!
When the weather is cooperating, it is time to seize every possible opportunity to enjoy some grilling. The Blackstone makes clean up so easy it makes cooking on it a real pleasure too. I actually use mine year-round.
But it sure is better when you can enjoy the results outside too!
Don't limit yourself on what meals to do, either. You can do a breakfast or brunch with my stuffed hash browns or a bacon cheese omelet.
And if you feel like doing other Mex or Tex-Mex dishes to go with your grilled quesadillas, then I recommend steak tacos.
Of course, just because it is a grill doesn't mean you have to do meat dishes either. Vegetable yakisoba is simple and combines noodles and veggies, delicious and filling!
Enjoy, and let me know if you have any questions or comments!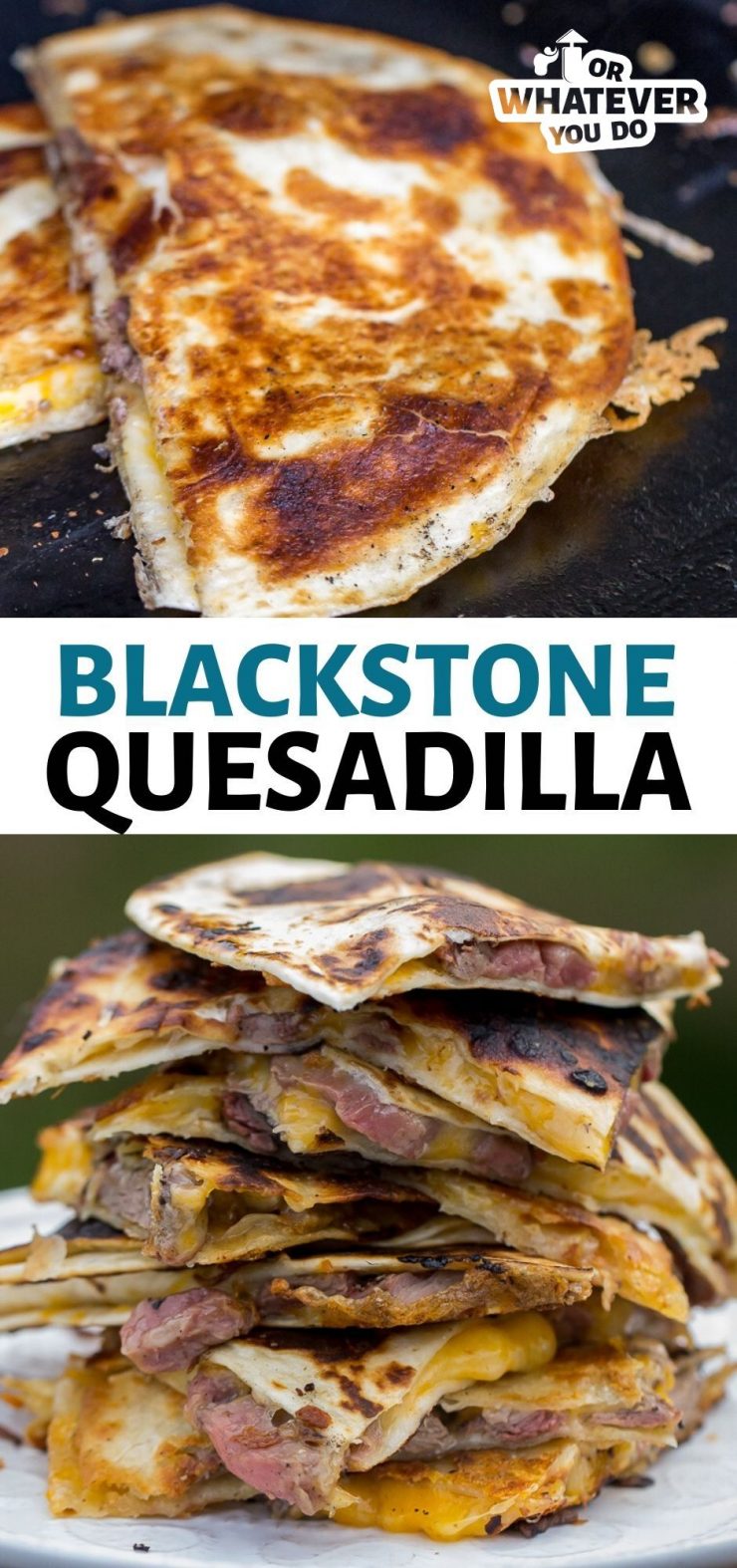 Yield: 6 servings
Blackstone Steak Quesadilla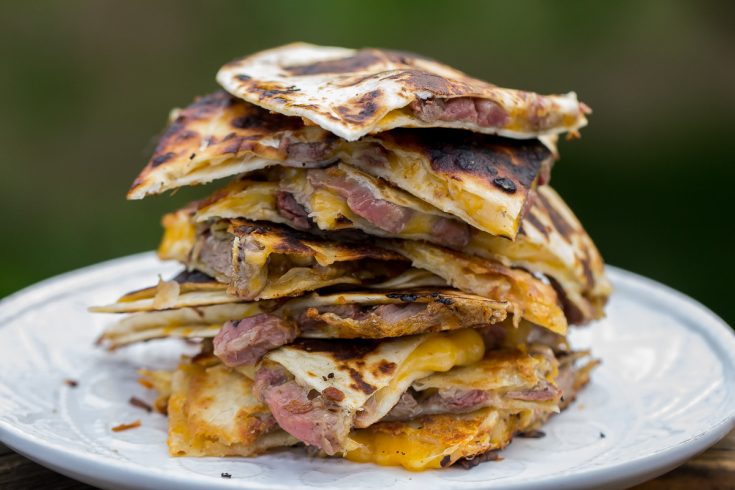 Quesadillas are best cooked on a flat top griddle! My Blackstone Steak Quesadillas use leftover steak and turns it into something amazing. Easy, filling, and kid-approved dinner idea!
Ingredients
12 flour tortillas
3 cups cooked steak (approximately. You can use more or less if you'd like!)
1 tablespoon chili lime seasoning (or your favorite
3 cups shredded Mexican-blend cheese
oil for greasing the griddle
Instructions
Fire up the griddle over medium to medium-high heat.
Lay down a little oil and then place the leftover steak onto the griddle and sprinkle with the chili lime seasoning.
Cook for 1-2 minutes, just long enough to heat it up.
Place a little more oil down, and put a tortilla on top followed by cheese, meat, more cheese, and another tortilla.
Cover the quesadilla with a melting lid, and cook for 2-3 minutes.
Flip, and cook on the other side for an additional 2-3 minutes, and then repeat until all of the quesadillas are cooked.
Recommended Products
As an Amazon Associate and member of other affiliate programs, I earn from qualifying purchases.
Nutrition Information:
Yield:
6
Serving Size:
1
Amount Per Serving:
Calories:

861
Total Fat:

46g
Saturated Fat:

20g
Trans Fat:

0g
Unsaturated Fat:

21g
Cholesterol:

164mg
Sodium:

791mg
Carbohydrates:

57g
Fiber:

4g
Sugar:

1g
Protein:

52g
Nutrition data provided here is only an estimate.