Blackstone Steak Tacos are also known as "street tacos" since they follow the simple recipe for success peddled daily on cooking carts everywhere in Mexico, Central, and South America. The ingredients are simple, and each ingredient works perfectly with the other.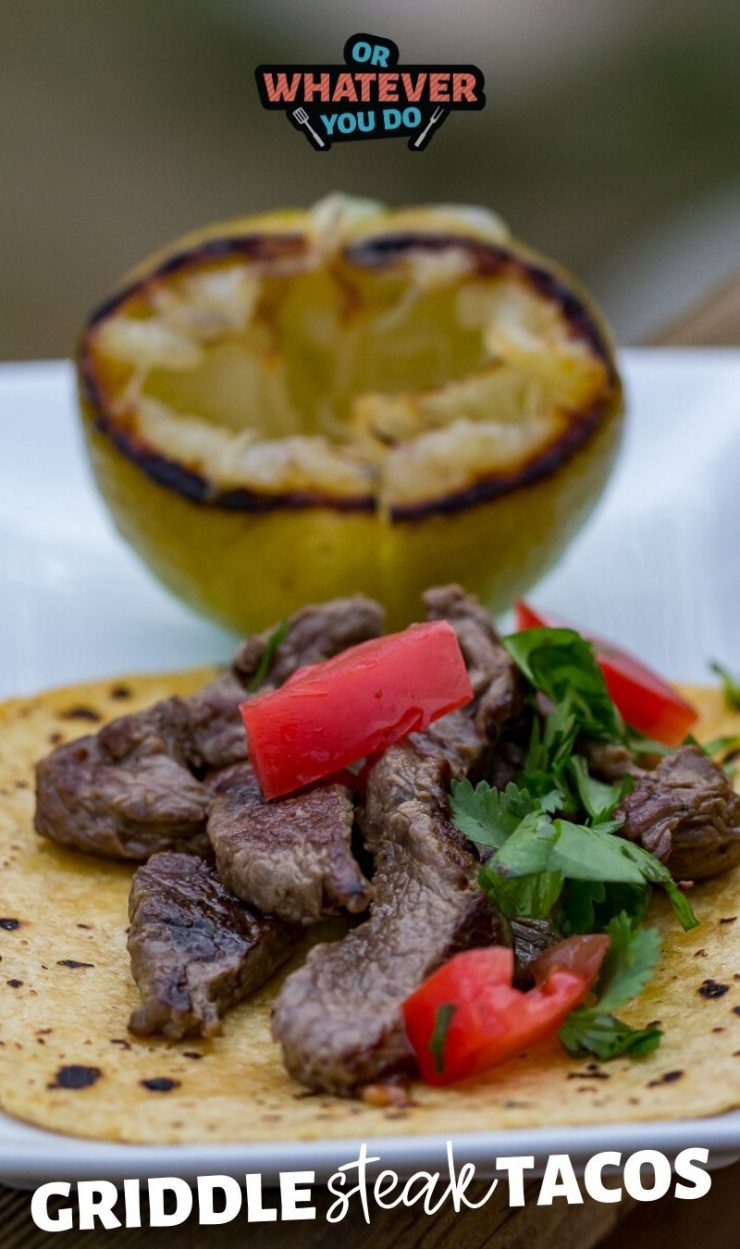 Blackstone Steak Tacos with Flank Steak
Steak. Salt. Lime. Tortilla. A bit of cilantro. Perfect.
Almost zen-like in its focus and perfectly balanced, it is the simplicity of the ingredients that make these tacos so amazing!
Steak cooked on a flat-top griddle cooks so quickly. The little chips of beef sizzle and sweat on the griddle. A few flips with a spatula to let the Maillard effect work its wonders, and then a quick heat of the tortillas and you are done!
Right before serving, squeeze some lime on the meat and sprinkle with just a pinch of salt and they are ready to serve. Garnish the tacos with a couple of sprigs of fresh cilantro and some diced raw onion, if that's your thing.. It all takes less than ten minutes from your Blackstone griddle to eating.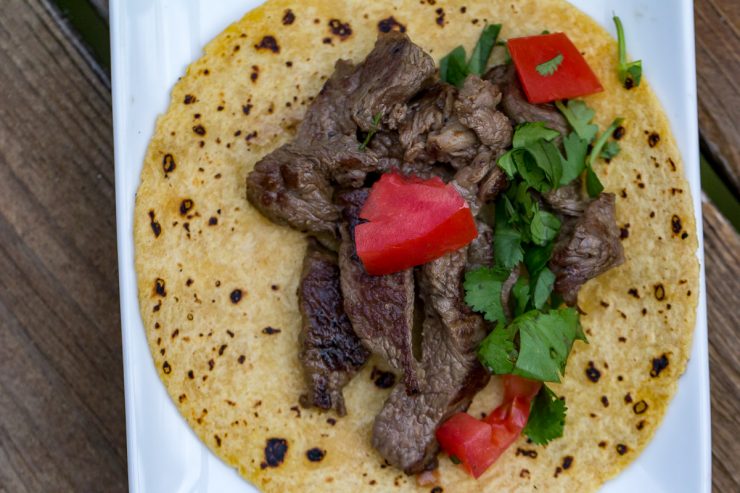 Flour or corn tortillas for street tacos?
Everyone has their own preference when it comes to which type of tortilla he or she prefers. Even in Mexico, regional preferences exist. In this case, I suggest using soft taco shells, either corn or flour according to your preference. We like the little street taco size tortillas usually, but if you like to load up your tacos with the American-style lettuce, cheese, tomato, and taco sauce you will want to go bigger.
If you want to use hard shell tacos, you can do that too. In Mexico, hard taco shells are referred to as "Dorado" which means "golden". Hard taco shells are just corn tortillas that have been fried or baked into a crispy shell.
Make sure you heat them up in the oven before you serve them!
More Blackstone Recipes here!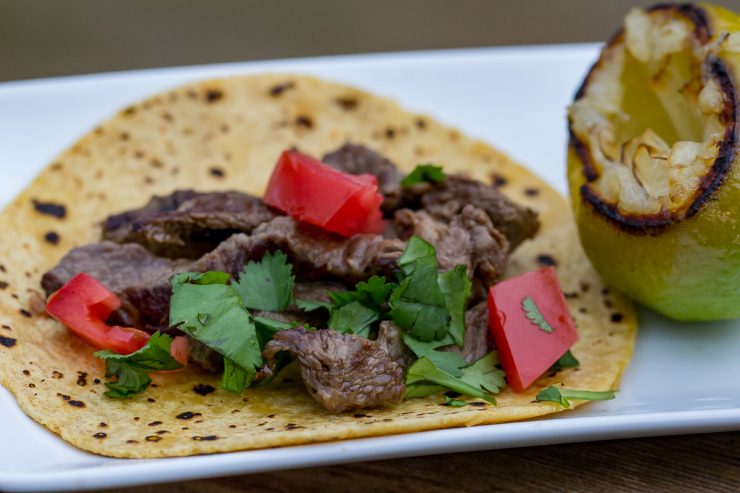 Any other garnishes to recommend?
Two things you will find commonly served with street style steak tacos are grilled green onions and sliced fresh radishes. If you don't have green onions handy then regular sliced and grilled onions work too.
Other popular garnishes for street tacos are spicy pickled jalapenos, onions, and carrots.
More great BEEF recipes here!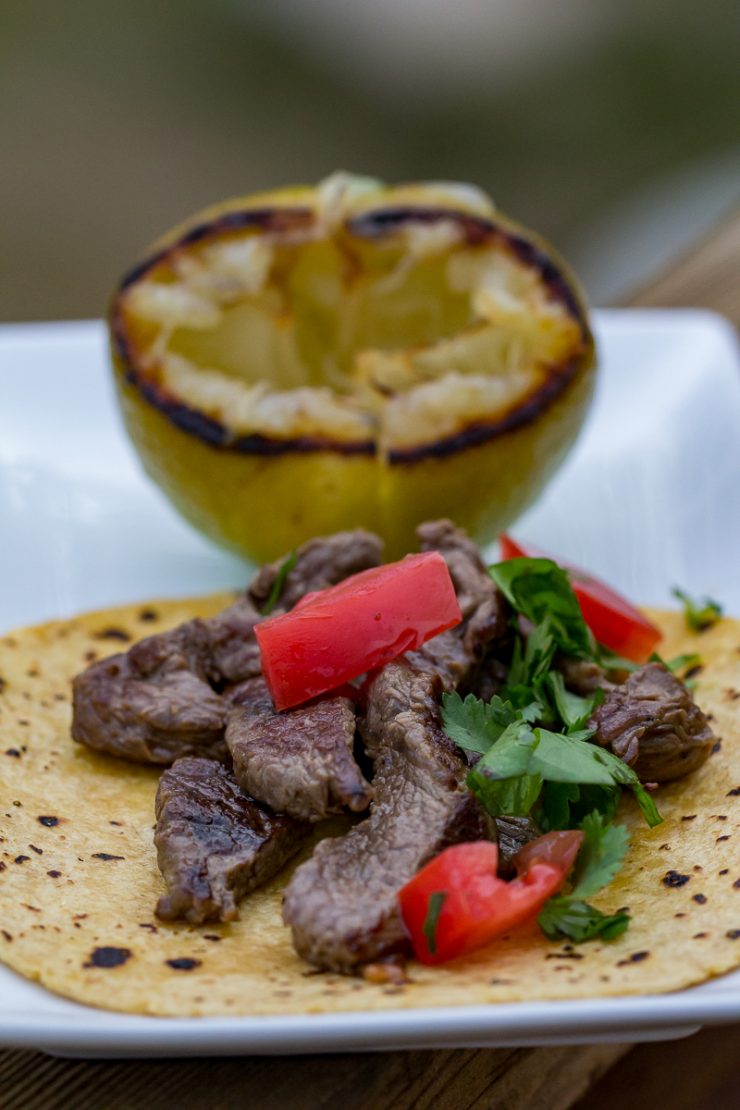 Red or green salsa?
Of course, you can't forget the salsa! There are so many great variations of salsa and just like corn or flour tortillas, everyone has a preference. So why not have both handy? You can't eat just one taco, so why not use a variety of salsas?
I have some recipes for both green and red salsa to check out.
Traeger smoked salsa verde pays nice compliment to the griddle steak. There is a bit of heat and some sour from limes. Then the smoky notes come in… So perfect with the steak!
I also have an easy and quick blender red salsa for those who prefer the red style salsas. Don't over blend the ingredients if you like it a bit chunky. Save the extra for some nachos.
Make this Smoked Salsa Verde too!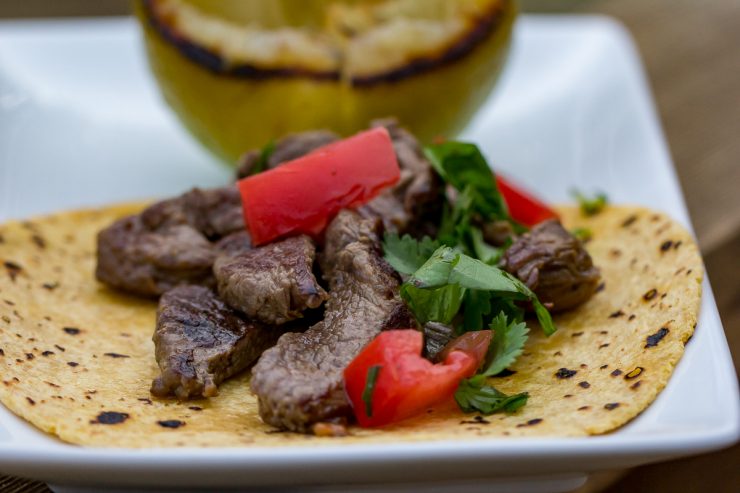 What kind of steak should I use?
In this case, you don't have to use expensive cuts like t-bones or ribeye. I recommend using a flank steak or flat iron for the best results.
Slice your steak across the grain into evenly-sized strips, and then cut into bite-sized pieces.
The steak is going to cook really quickly, so it is a good idea to have all of the garnish prepared before-hand so when the steak is done you can eat right away.
How to RE-SEASON your Blackstone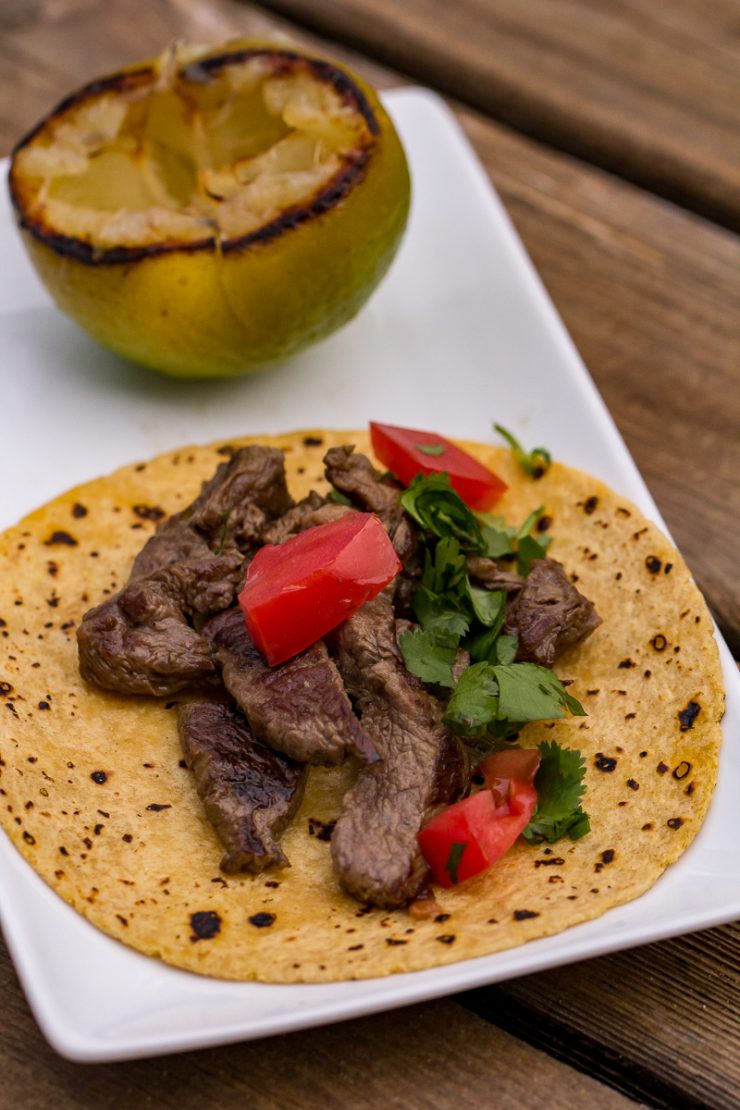 What sides go well with steak tacos?
When it comes to street tacos like these, you can easily make them an entire meal or use them as an appetizer. If you want some suggested side dishes, then I want to recommend some that are a natural fit.
Pickled red onions – These are commonly served at the salsa bar in Mexican restaurants. They are great on the side or on top of your tacos.
Spicy One-Pot Mexican Rice – This recipe has a bit more pep in terms of the heat than you find in most Spanish rice recipes. And that is what makes it so perfect for a side with steak tacos.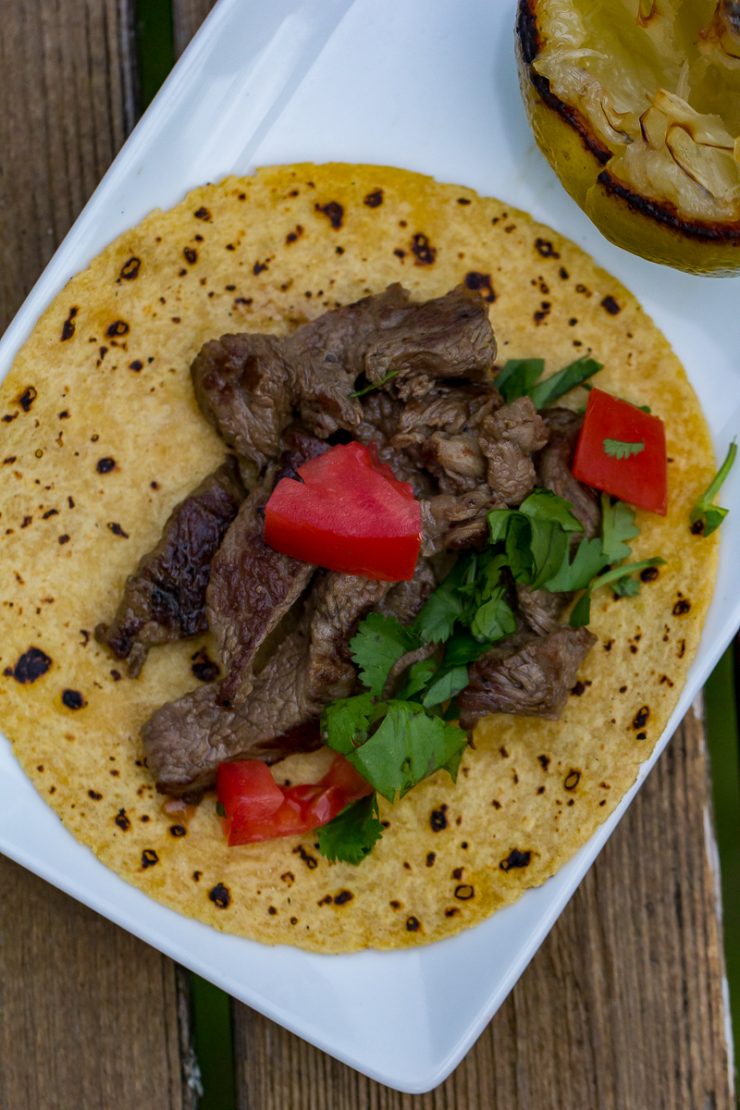 More taco and tostada recipes
I also have a few other taco recipes you might want to check out too: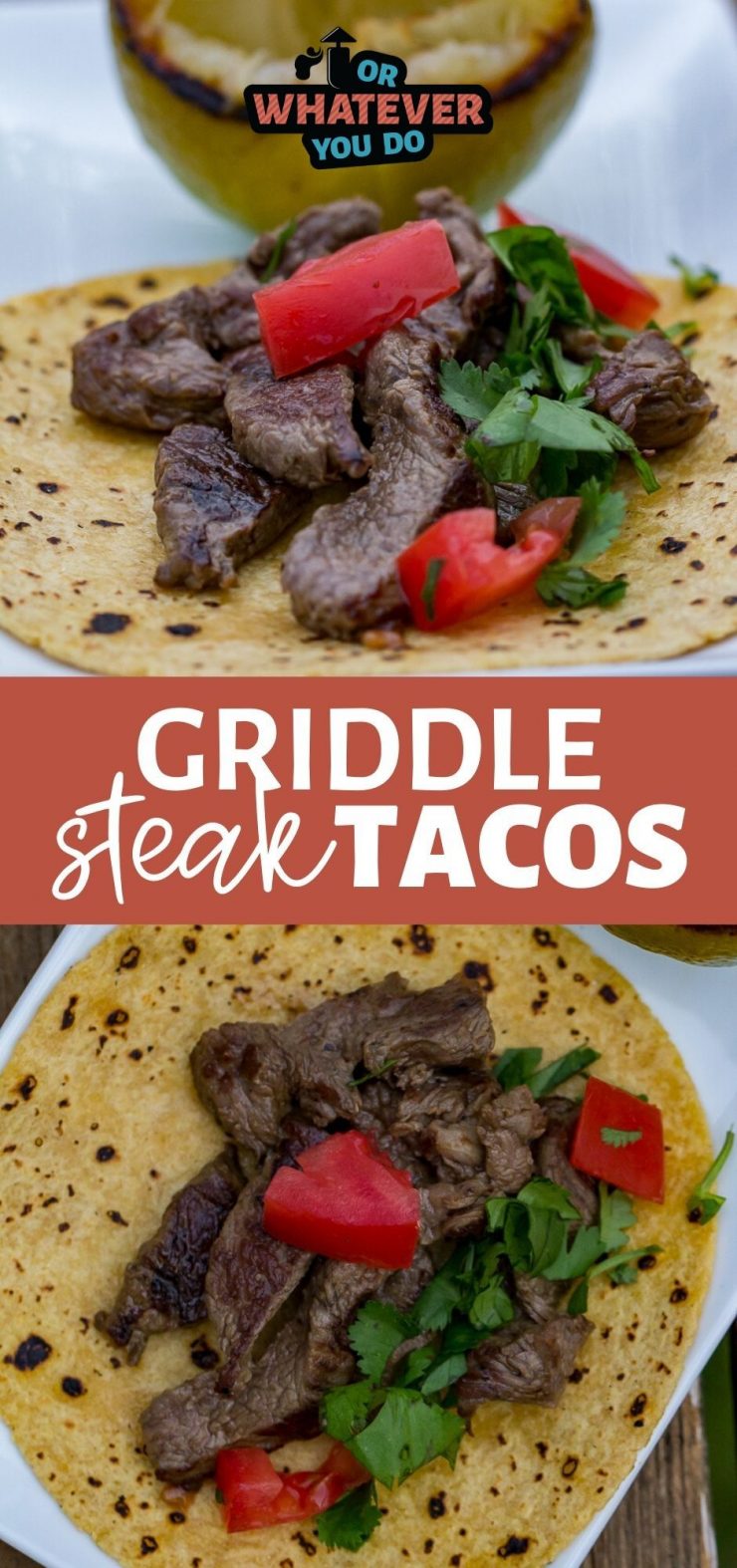 Yield: 6 servings
Blackstone Steak Tacos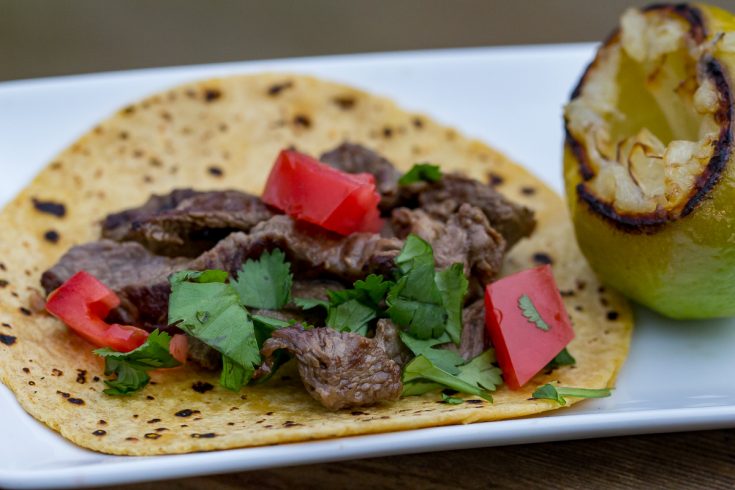 These Blackstone Steak Tacos are a quick, easy, and delicious way to do street tacos at home!
Ingredients
2 pounds flank steak
1 lime
1 teaspoon cumin
1 teaspoon salt
1 teaspoon pepper
1/2 teaspoon cayenne pepper
2 tablespoons oil
Instructions
Mix your dry ingredients in a small bowl and set aside.
Cut your flank steak into half-inch strips. Make sure to cut against the grain.
Put the meat into a bowl and pour the dry ingredients onto the strips of steak and mix it up until all the meat gets coated with it.
Cover your meat with plastic wrap and put it into your refrigerator for 1 hour.
Preheat your flat top on high heat.
Cut your lime in half and place both limes face down onto the flat top.
As soon as you reach temperature, pour your oil onto the flat top, quickly followed by your steak.
Spread the meat out evenly onto the cooking area and let it cook for two minutes, and then flip the meat.
Take the lime haves off the grill and squeeze the juice from one of the halves onto the meat while it is still cooking.
Let the meat finish cooking for another 2-3 minutes and then remove it from the cooking surface.
Layout some of your tortillas onto the flat top to heat up.
Flip them after about twenty seconds and then pull them after
Another twenty seconds. Don't let them stay much longer than that or they will burn.
Layer some strips of meat into your tortillas, along with whatever your favorite taco toppings are and eat.
Recommended Products
As an Amazon Associate and member of other affiliate programs, I earn from qualifying purchases.
Nutrition Information:
Yield:
6
Serving Size:
1
Amount Per Serving:
Calories:

338
Total Fat:

17g
Saturated Fat:

5g
Trans Fat:

0g
Unsaturated Fat:

10g
Cholesterol:

119mg
Sodium:

438mg
Carbohydrates:

2g
Fiber:

0g
Sugar:

0g
Protein:

42g
Nutrition data provided here is only an estimate.