Does anyone have a craving for some quick, delicious fish tacos? My Marinated Fish Tacos will be the answer! Using a quick guacamole marinade to bring a ton of flavor to some fresh white fish, this dish will be a hit at the next family meal!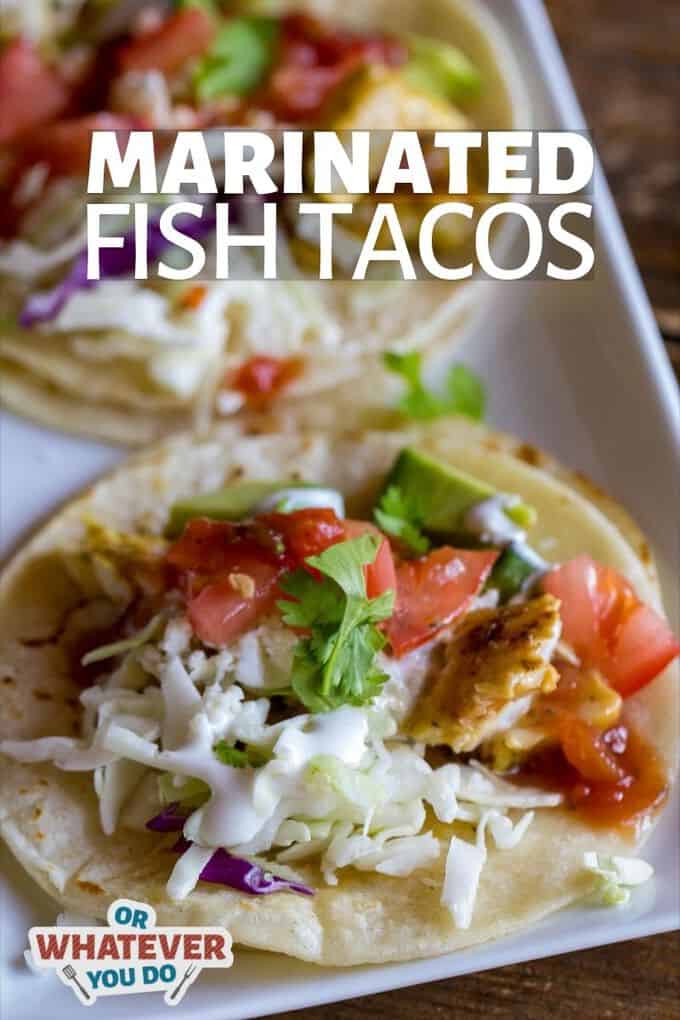 Marinated Fish Tacos
Fish tacos are a great way to change up your typical taco night, and I love that they don't always have to be breaded and fried. Fried fish is amazing, but part of the appeal of fish for me is that it is so light, and a heavy batter or breading can counteract that in some cases.
Bold flavors like guacamole salsa, cilantro, and chili powder are the star of this dish.
The marinade for this recipe is super simple to make. We use Herdez guacamole salsa (but any brand you can find with guacamole in it should be a good bet), onion and chili powder, lemon, salt, and olive oil.
It's so good it may just become the new house-favorite for taco night! It's not too spicy for the little ones, but it has a TON of flavor so it's not boring either.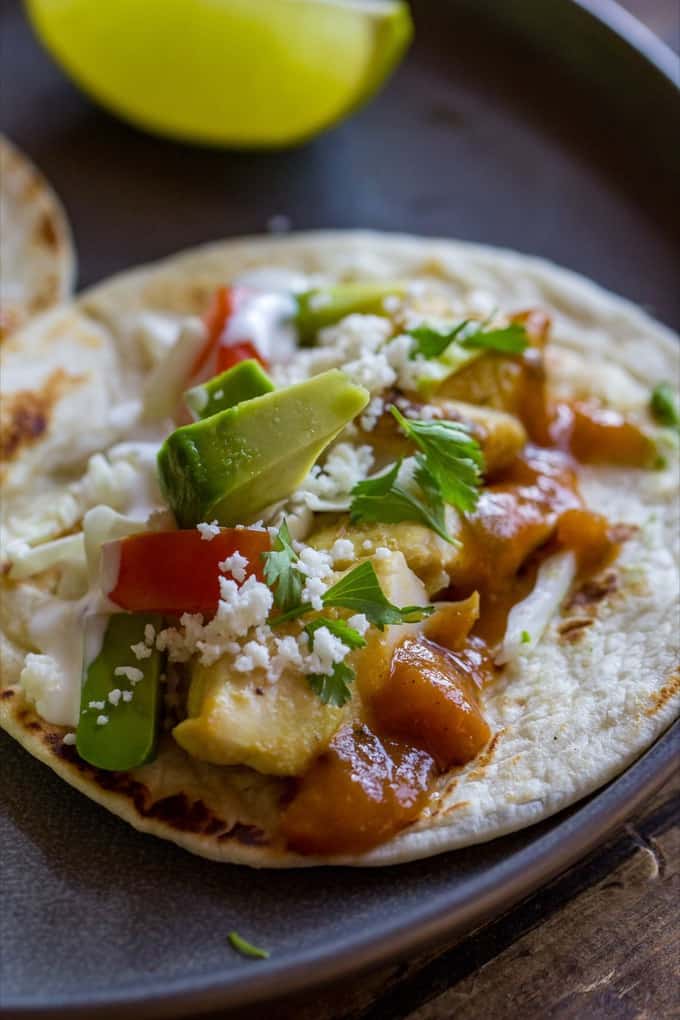 Can I Use A Different Type Of Fish?
We used Rockfish for these tacos, Ling Cod is also a great option, but really almost any whitefish that is mild flavored will do.
Things like halibut or cod are commonly found in your local grocery store and would be perfect for fish tacos.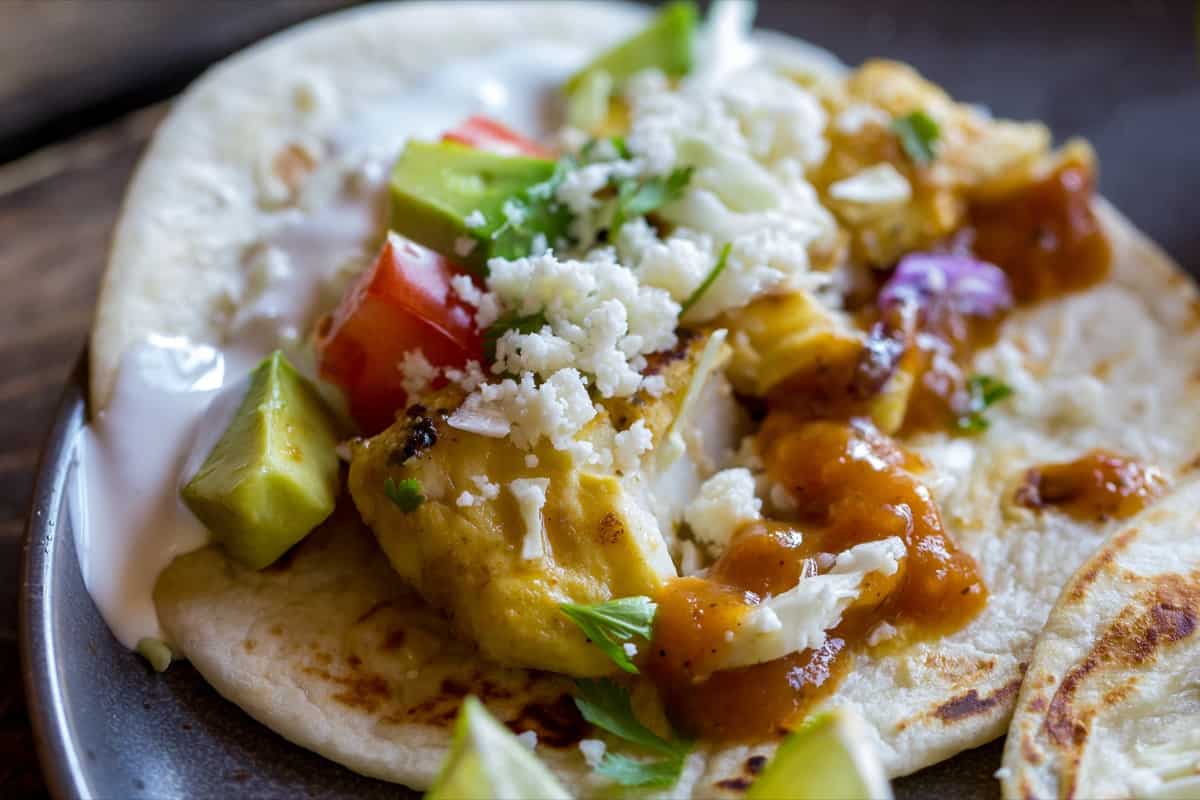 What Kind Of Tortillas Should I Use?
A good tortilla can break or make a dish, so what kind would go best with this fish?
Really, with fish tacos whether you choose flour or corn, it doesn't matter. Both work here. My general rule is that I use flour if I'm going to load something up with additional toppings, or if I want to eat it burrito-style, and I use corn if I'm eating it with just some hot sauce and maybe a squeeze or lime.
We always tend to put both options out on taco night so people can pick their pleasure.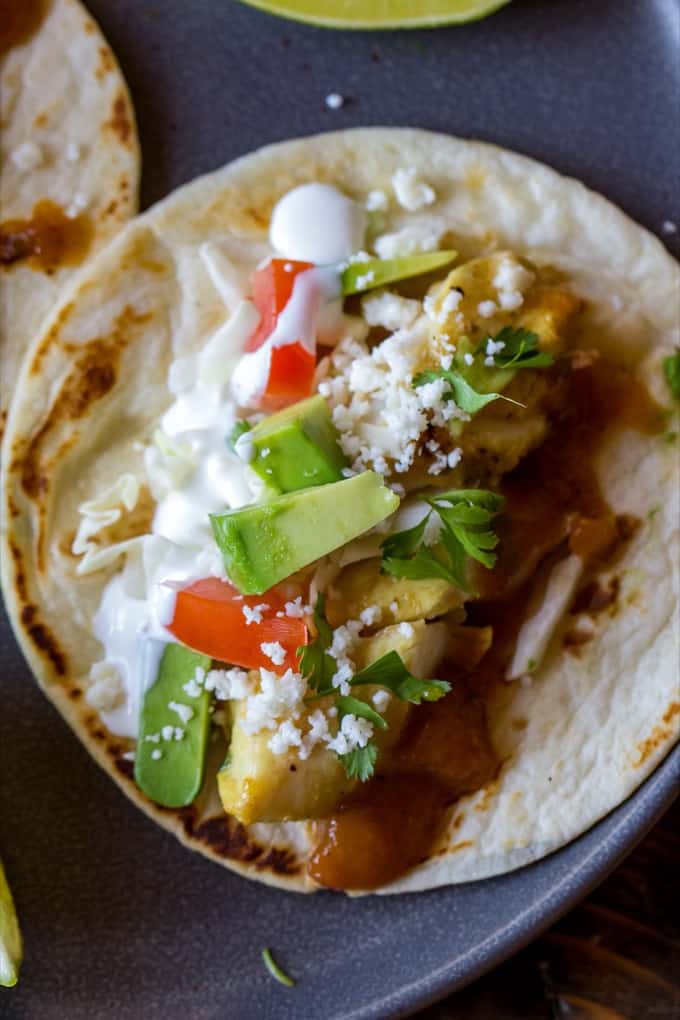 How Do I Stop Fish From Sticking When I Cook It?
This is an issue I think we've all run into before. You're cooking this AMAZING fish, everything is going well, you've got everything ready and just need the fish – but wait. It WON'T come out of the pan or off of the grill.
Just like that, your efforts are ruined by some un-loyal cookware.
I've got some tips for cooking fish to avoid this disaster!
Use a good pan – This should go without saying, but it doesn't. Use a pan you would use to cook something like scrambled eggs. Fish is delicate and you don't want to be fighting with it or it'll just fall apart, so break out the good stuff for this dish.

Pre-heat your pan

– Make sure that the awesome pan you are using has been preheated over the stove for a bit with the oil in it. Your fish should sizzle as soon as it hits the pan.

Make sure your cooking surface is well-oiled

– When it comes to fish, oil is your friend. If you don't use enough oil, there's no way your fish won't stick. There should be enough to make a thin layer on the bottom of the pan.

Don't touch it –

Over-flipping is one of the biggest mistakes that people make when cooking fish. You only want to flip it once, so make sure it is cooked properly on that first side before flipping it to the 2nd. If you DID flip too early, toss a cover on the pan during the last half of cooking and it'll help finish it off without needing to be flipped again.
Stick to these tips and you should have a full fillet on your plate every time! Even if you end up getting this fish stuck, it needs to be cut up into pieces anyway, so it'll all be okay in the end!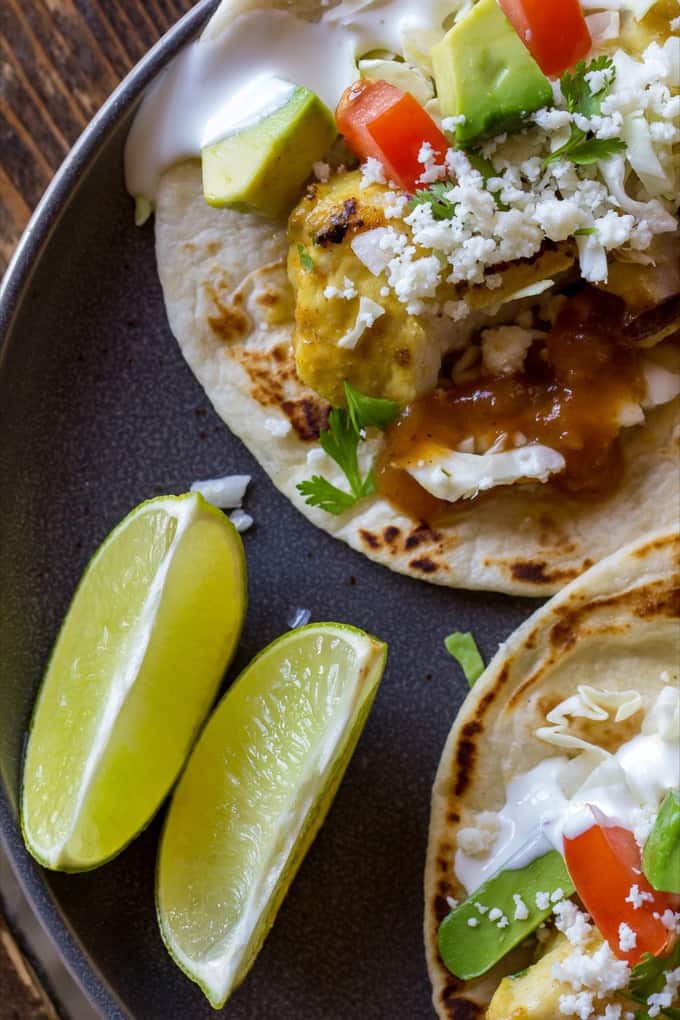 What Should I Serve With Easy Fish Tacos?
There are SO many sides that would go well with these tacos! Some of my favorites are:
You could cook whatever you wanted to with these fish tacos, that's what I love about them!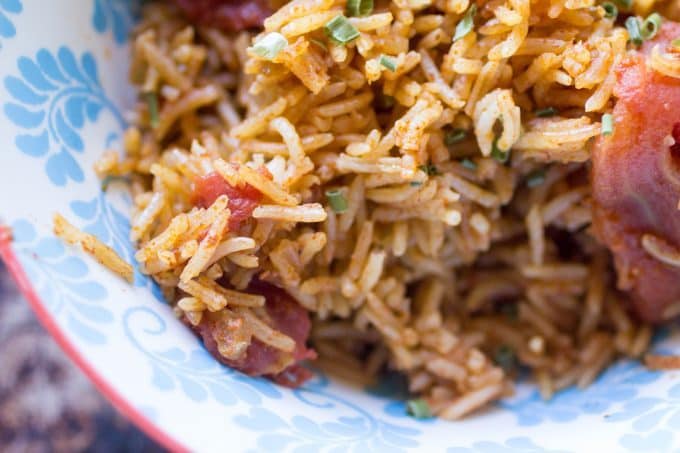 What toppings go well with fish tacos?
I'm a sucker for a good taco bar, and a good taco bar always has copious amounts and varieties of goodies to make your tacos your own.
With fish tacos, I suggest:
avocado
tomato
cilantro
fresh cotija
creme fraiche or sour cream
hot sauces
sliced or pickled jalapenos
shredded cabbage
pineapple salsa
You can serve marinated fish taco with whatever you like, though, these flavors are super easy to mix-and-match with tons of stuff.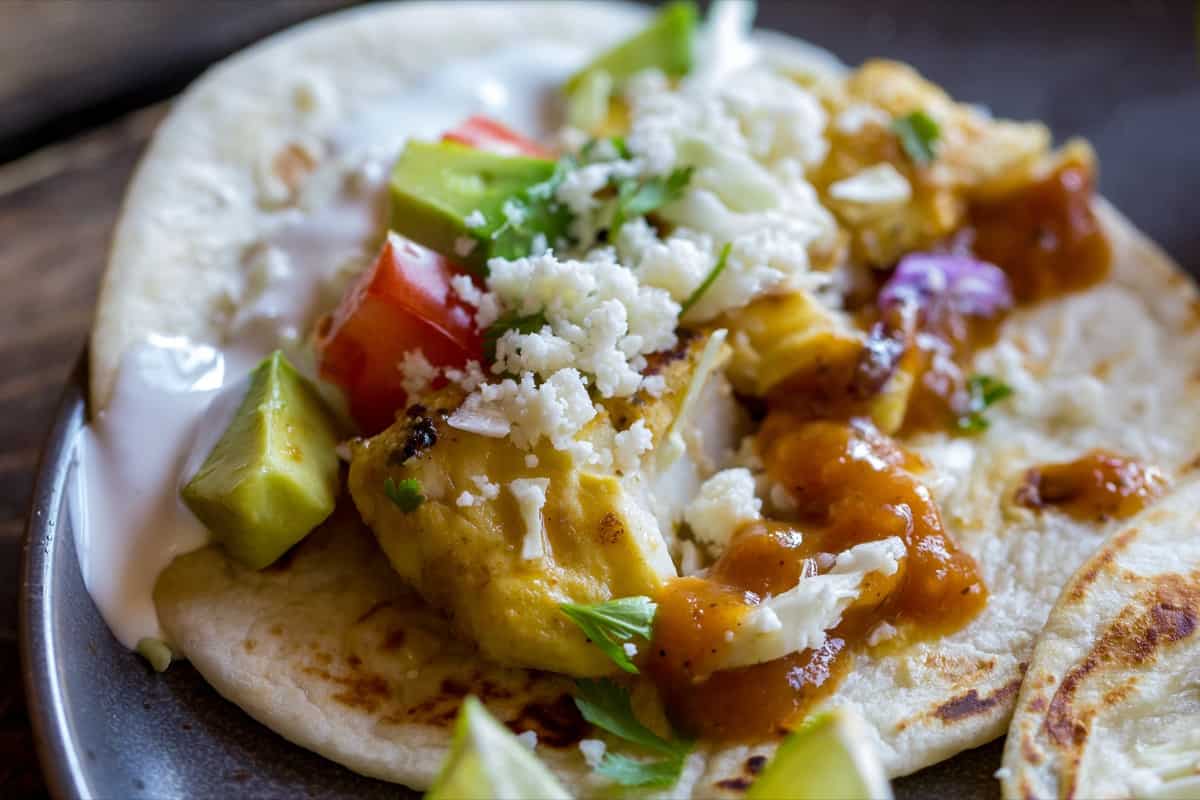 More amazing recipes featuring fish
If you like this recipe, you should try out my Traeger Blackened Fish Tacos, Traeger Rockfish Recipe, and Crispy Panko Fish Sandwich. They all make use of white fish as well, and I'd recommend to anyone looking to incorporate more fish into their diets.
If you want something a little more saucy, whip up with Walleye with Lemon Cream Sauce. You can use any whitefish in place of the walleye if you aren't fortunate enough to have some in your freezer.
You guys know I have ALL THE SALMON here too, so if you are looking for awesome salmon recipes you're in the right spot.
Pin for later!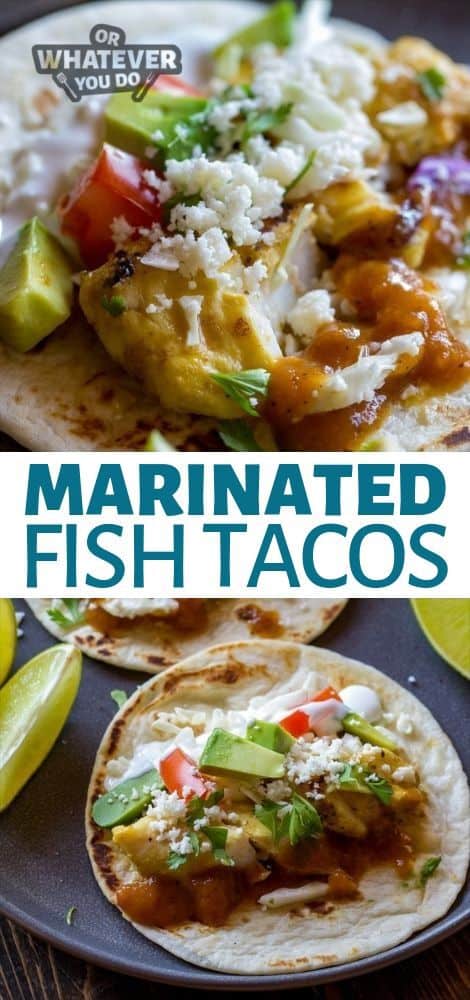 Yield: 8 servings
Marinated Fish Tacos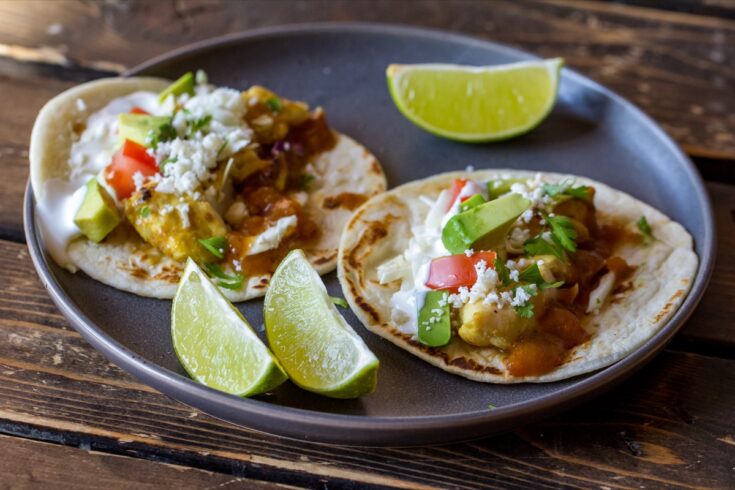 Delicious fish tacos are marinated in a flavorful guacamole salsa with lemon juice and Mexican spices, and then given a quick saute before being served with all the taco fixings.
Total Time
2 hours
17 minutes
Ingredients
2 pounds White fish
1 15.7 ounce bottle Herdez Guacamole salsa
1 tablespoon chipotle chili powder
1 teaspoon salt
1 teaspoon onion powder
1 teaspoon fresh lime zest
3 tablespoons lime juice
1/8 cup chopped cilantro
2 tablespoons olive oil
Instructions
Combine the guacamole salsa, chili powder, salt, onion powder, lime zest, lemon juice, cilantro, and olive oil in a bowl or plastic baggie.
Place the fish inside and let marinate for 1-2 hours.
Preheat your grill to 425° with a cast iron pan inside.
Place the fish into the pan, and cook for 5 minutes.
Flip the fish and cook for another 5 minutes.
Remove from the grill, carefully, and let cool for 4-5 minutes before serving with tortillas and taco fixings.
Nutrition Information:
Yield:
6
Serving Size:
1
Amount Per Serving:
Calories:

427
Total Fat:

27g
Saturated Fat:

4g
Trans Fat:

0g
Unsaturated Fat:

20g
Cholesterol:

116mg
Sodium:

869mg
Carbohydrates:

9g
Fiber:

6g
Sugar:

1g
Protein:

39g
Nutrition data provided here is only an estimate. If you are tracking these things for medical purposes please consult an outside, trusted source. Thanks!