These Pulled Pork Enchiladas are made with smoked pork butt, and then cooked off on the Traeger to add a smoky twist to your typical enchilada.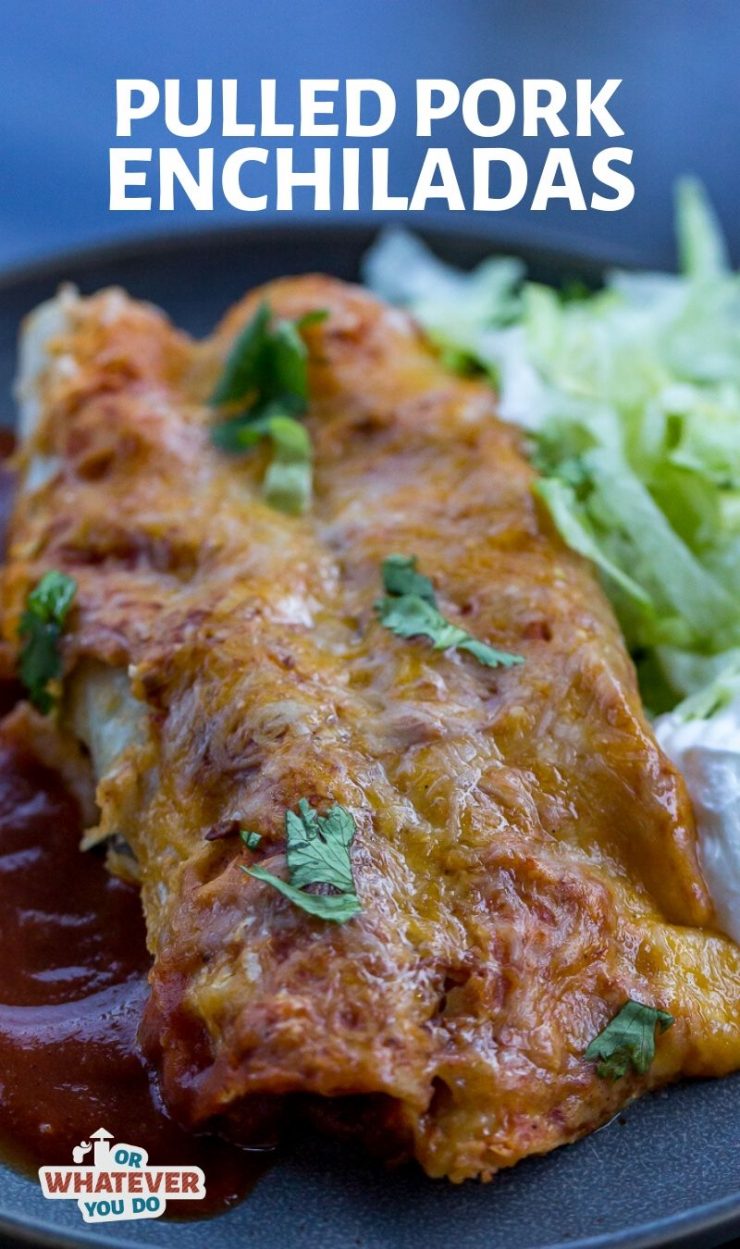 Traeger Smoked Pulled Pork Enchiladas
The key to pulled pork enchiladas is definitely the pulled pork, so make sure you have a good one! I have two ways to cook pork with a pellet grill on OWYD. Both are low and slow, but one takes a little longer and the other uses an Instant Pot to help reduce the cooking time.
Make sure to check them out so you can put a nice smoke on the pork. The smoked pork flavor really makes the dish.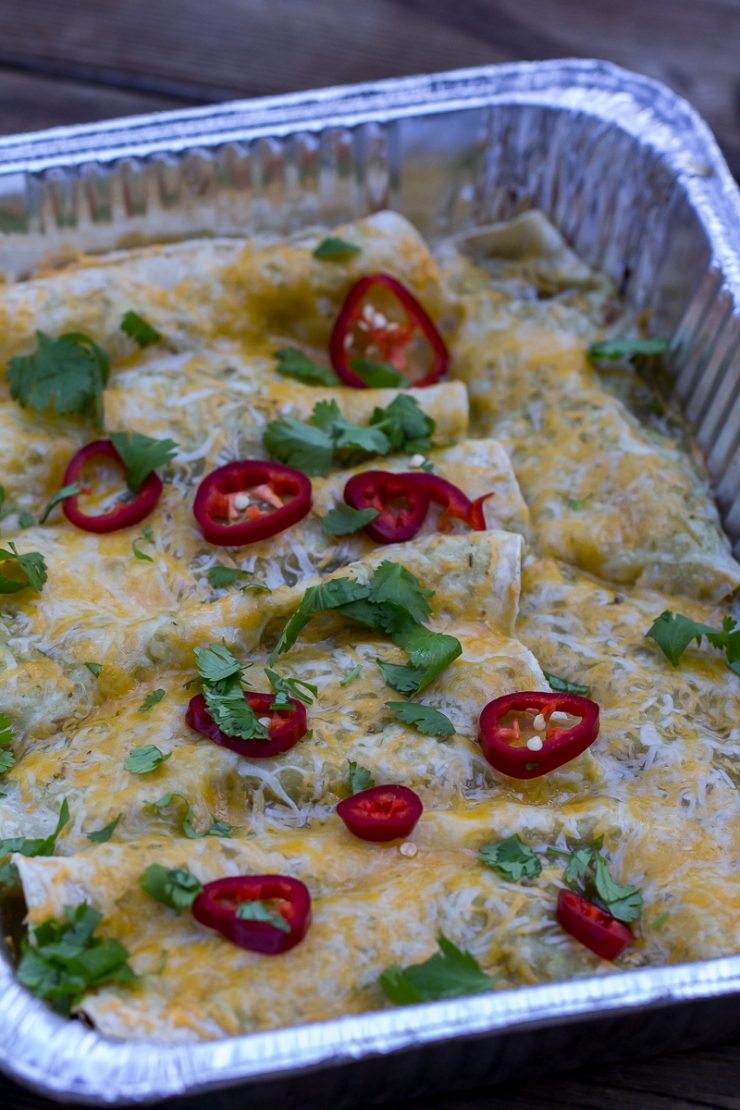 Delicious smoked pulled pork enchiladas
I think enchiladas are best with corn tortillas, personally. I know some folks prefer using flour tortillas, but corn adds a nice sweetness to the dish. The secret to making great enchiladas is to not overstuff the tortilla and to keep the end of the rolled side down.
Make sure to line them up in your baking pan so that they are tightly packed like too. This helps then stay together, but it also helps to allow all of them to cook evenly. In a sense, a baking pan full of enchiladas is sort of like a casserole that is built horizontally rather than vertically.
More Easy Traeger Recipes here!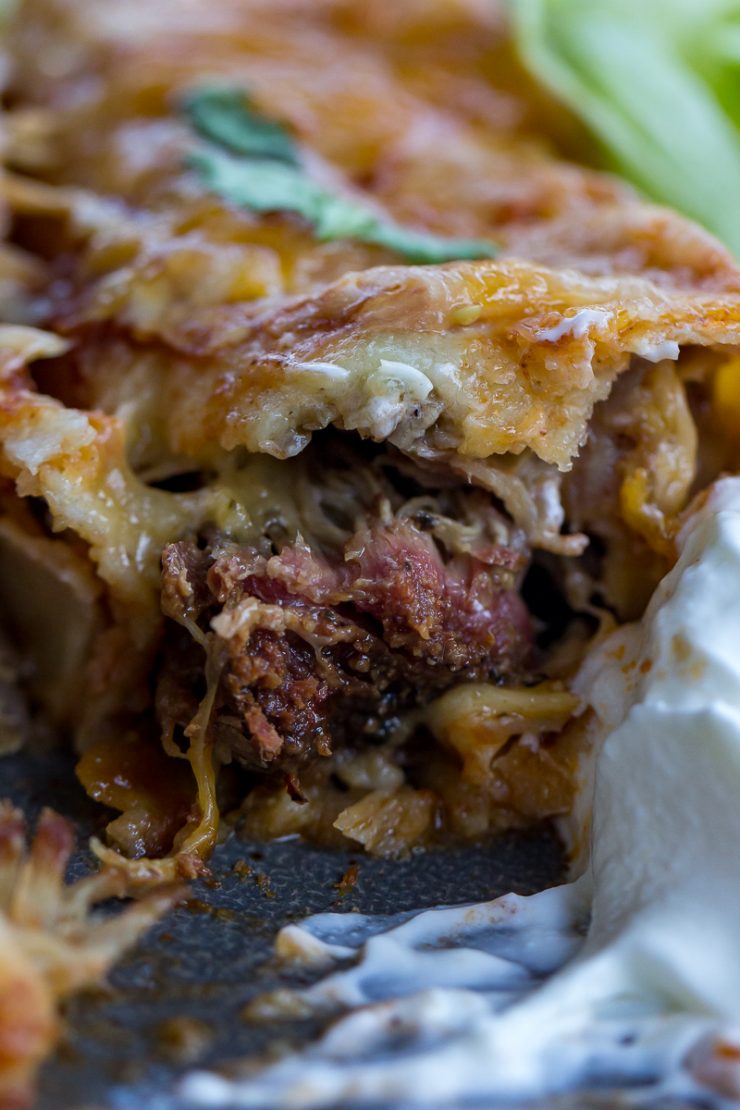 What is enchilada sauce exactly?
Enchilada sauce is essentially a seasoned tomato and chili pepper-based broth, that is thickened a bit with flour. It can be used for much more than enchiladas too. Try pouring it over a burrito to serve it "wet".
There are a variety of different styles of enchilada sauces. Some are spicier than others and some are green rather than red in color.
Follow me on Instagram!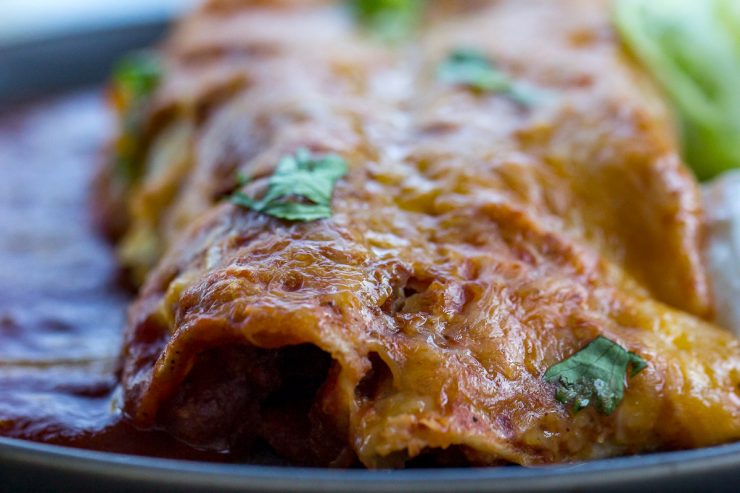 I really like to use my homemade enchilada sauce recipe whenever I can, but you are also welcome to use canned enchilada sauce as well. My favorite brand is the El Pato brand for enchilada sauce if you can find it. (NOT sponsored, just love them!)
Rosarita, the company best known for refried beans, makes a good enchilada sauce also.
If you like things a bit spicier, then you are always welcome to kick the heat up a notch. Hot sauce is your friend.
Get all of my easy dessert recipes here!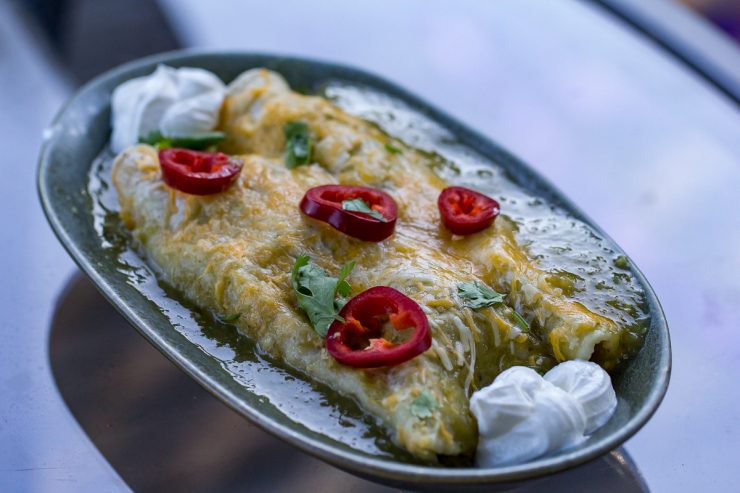 Chile lime seasoning from Spiceology
Chili lime seasoning from Spiceology provides a nice zing of sour and heat. The lime zest and chili work really well with pork. If you don't have any handy, then I recommend ordering it online.
The thing I really like about their spice blends is that they always taste fresh, like the flavor is not processed out. If you don't have time to dry your own herbs and create your own herb blends, then this is the closest thing to it.
Buy your Butcher Box here!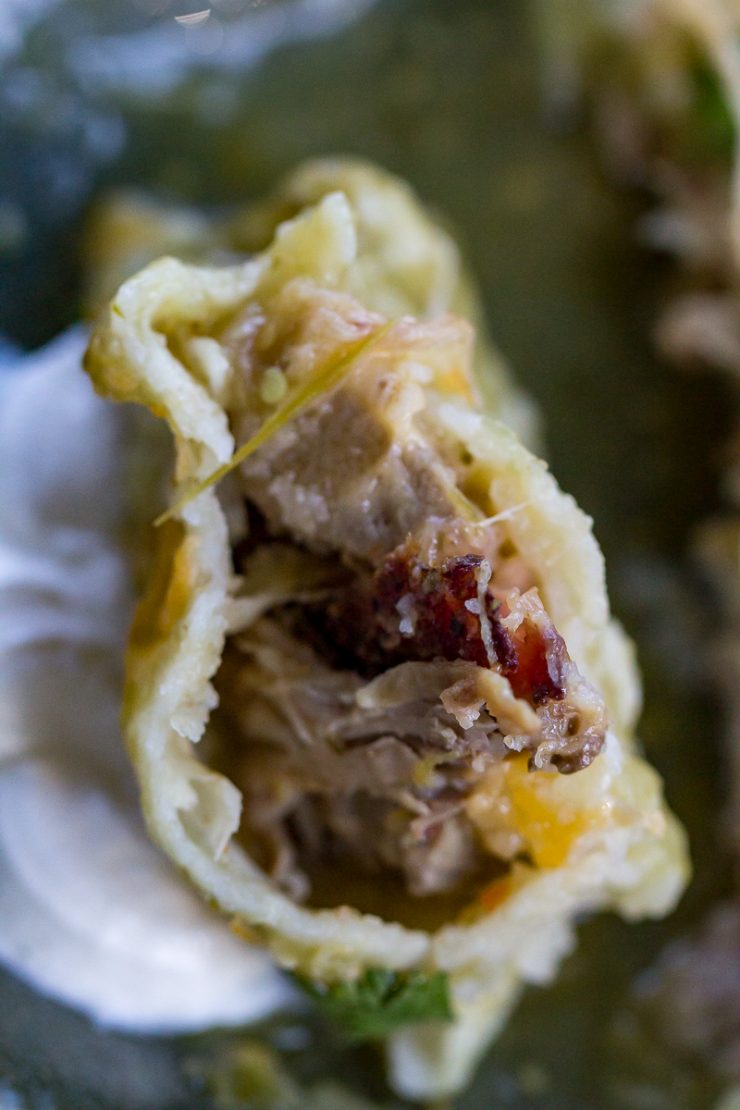 The ideal cheese for enchiladas
I always use shredded Mexican cheese blend for enchiladas. It has all the types of cheese to make an enchilada perfect. Most Mexican cheese blends contain a blend of cheddar, Monterey jack, and queso quesadilla.
If you can find a blend that uses a pepper jack for the Monterey jack then you can't go wrong. If you can't find Mexican cheese easily, then shredding some cheddar with mozzarella and Monterey jack will do the trick.
If you have to shred your own, then shred it on the finest setting. This will give you the best melt and also makes it mix more easily into the pulled pork.
Current BBQ Deals
The latest deals and favorites from Or Whatever You Do!
Photo Credit: The Spice guy
Some of our most heavily utilized rubs and spices in the kitchen. Get some! Highly recommend the Midnight Toker and Roasted Garlic Blend!
Photo Credit: ThermoWorks
I use my Thermoworks favorites EVERY time I grill or griddle. Get one, and up your bbq game! This page links you to all of my "must haves". Use the code OWYD at checkout for 10% off!
Photo Credit: Grill Masters Club
The Grill Masters' Club is a monthly subscription box FULL of grilling favorites. Last month I got a killer hot sauce, bbq sauce, and rub. I have been a member of this club for several months now and have found some real winners! I can't wait for you guys to check it out.
Photo Credit: ButcherBox
We have been monthly ButcherBox subscribers for a couple of years now, and LOVE it! Hit the easy button for your beef, pork, chicken, fish, and seafood!
Photo Credit: spiceology.com
We LOVE Spiceology and use a ton of their products! This gift pack is a great way to sample some of their most popular blends.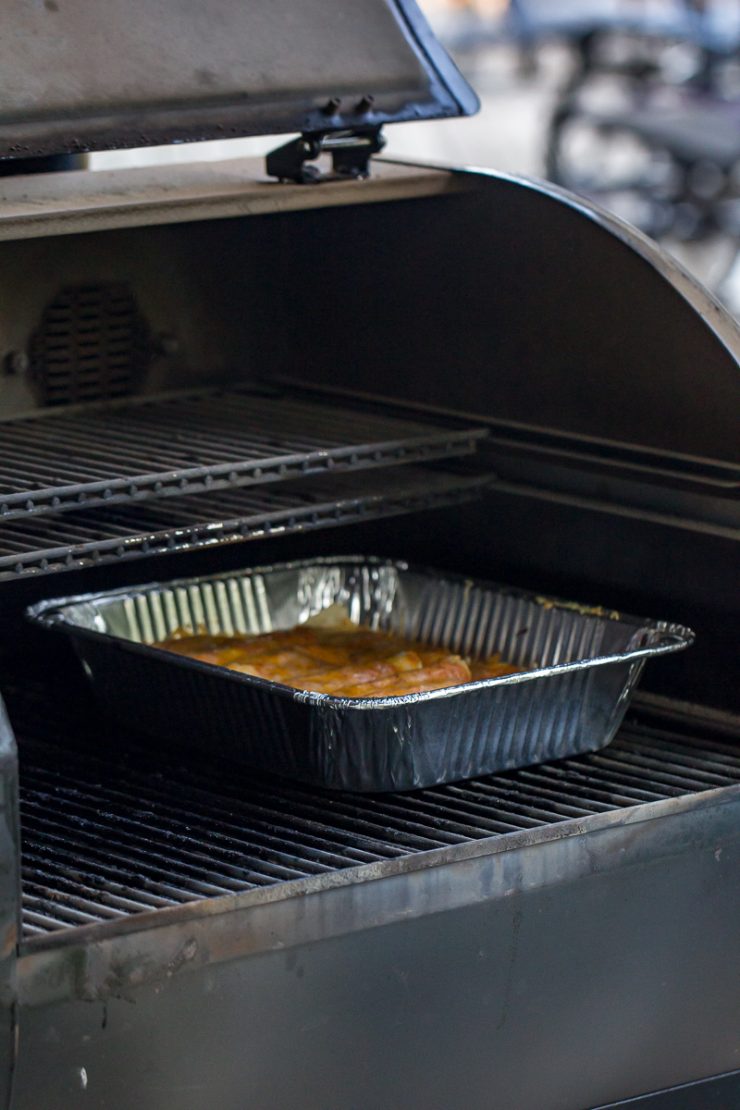 More Mexican-style recipes
If you have to cook the pork low and slow first, then you may have time to put some other Mexican-themed dishes out for a big family-style meal. I have some ideas that might work nicely.
Spanish rice is one of my favorite side dishes to serve with tacos, burritos, or enchiladas. It is easy to make and will go great next to a few enchiladas. Why do you think they always have it on the plate next to the enchiladas when you order them in the restaurant?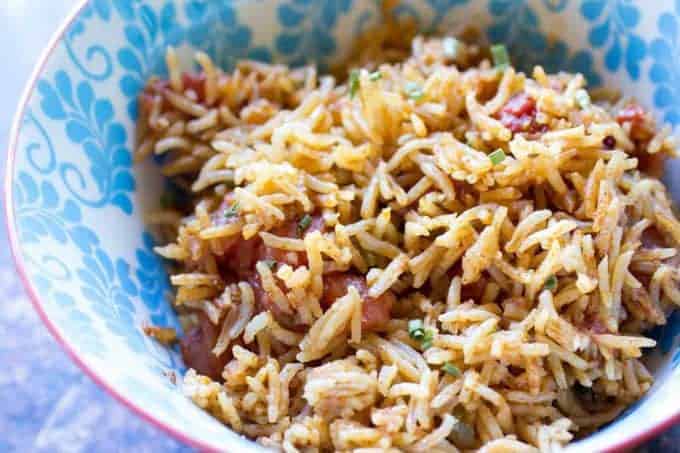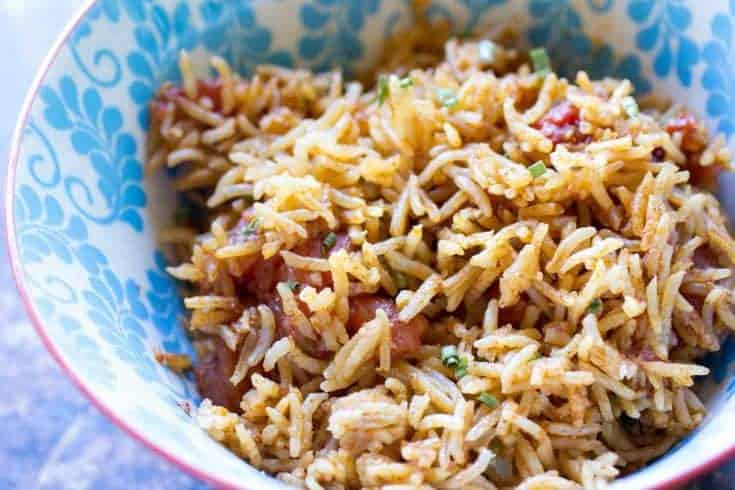 A couple of steak tacos will go great too. You can easily and quickly cook the steak on the grill when you are heating it up for the pork to cook. That pork is going to take some time so those tacos will come in handy as an early appetizer.
If you want to make the enchiladas extra cheesy, then use this homemade queso recipe. Pour it on first, then put the enchilada sauce over it.
More recipes to love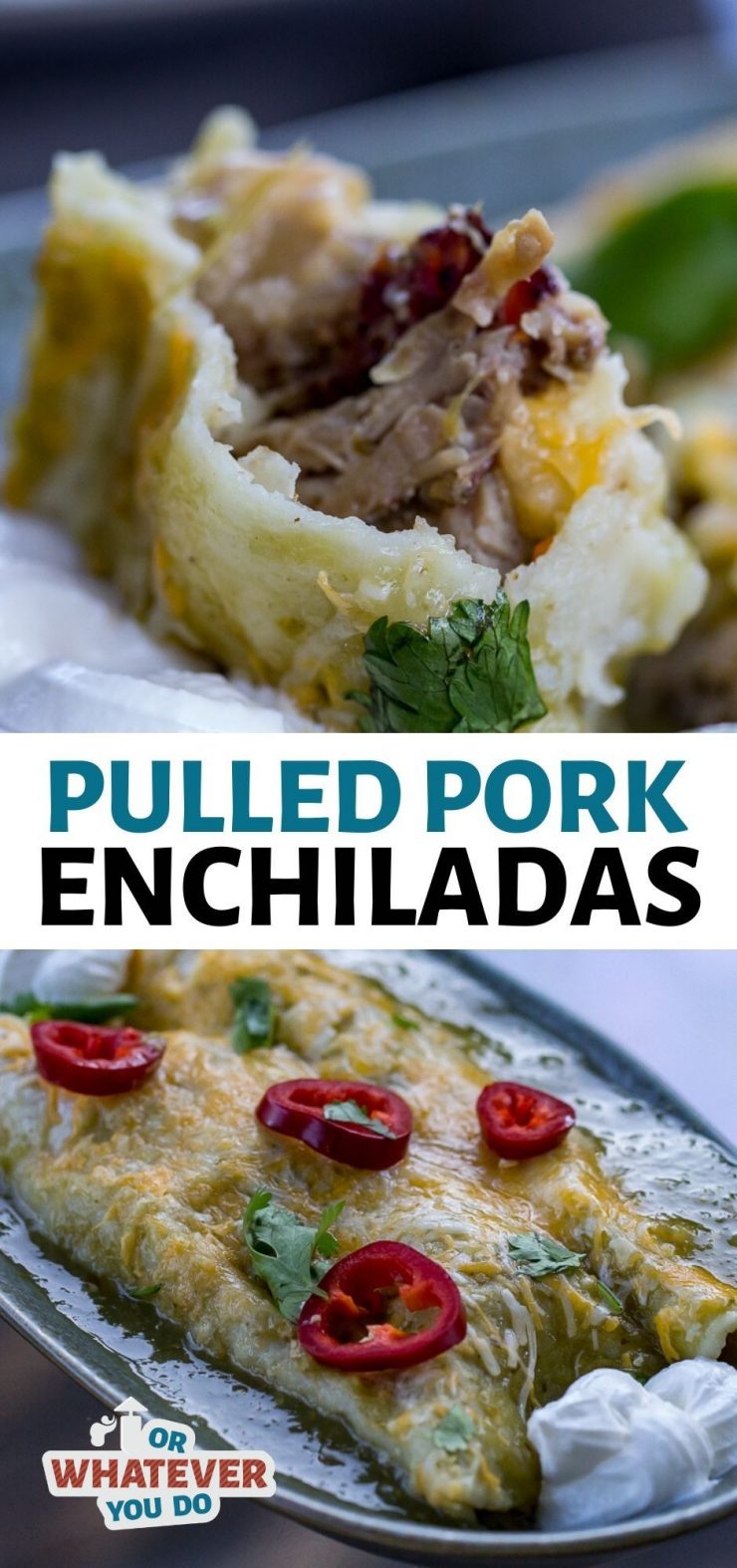 Yield: 12 servings
Smoked Pulled Pork Enchiladas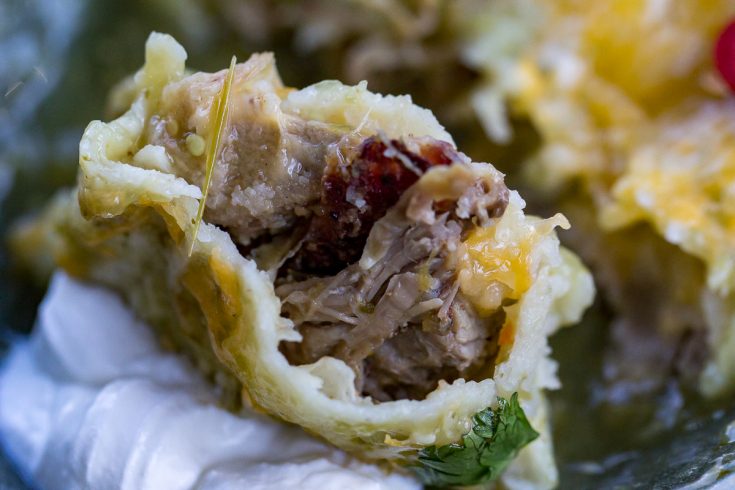 These smoked pulled pork enchiladas use pellet grill pulled pork that gets wrapped in tortillas and stuffed with cheese before being smothered with enchilada sauce and more cheese before getting a final smoke.
Total Time
1 hour
5 minutes
Ingredients
2 tablespoons chili lime seasoning blend (or your favorite Mexican seasoning blend)
4 cups smoked shredded pulled pork
4 cups shredded Mexican-blend cheese
12-15 tortillas (corn or flour, equally fine)
28-ounce can of enchilada sauce (red or green is fine)
Instructions
Preheat your smoker to 325°.
Spray your baking pan with cooking spray, liberally. Pour in enough enchilada sauce to thinly cover the bottom.
Mix in the chili-lime seasoning and 2 cups of cheese with the cooked shredded pork until it is evenly distributed.
Dip the shells in the sauce on both sides, and then stuff with approximately 1/3 cup of the filling.
Roll the tortilla around the filling and place seam-side down in the pan.
Repeat until all of the tortilla and the filling are used. You may need a couple more tortillas (or less) depending on their size and how stuffed you make them.
Pour the remaining enchilada sauce over the rolled-up enchiladas, and top with the remaining cheese.
Bake for 30-40 minutes, or until they are melted, bubbly, and heated throughout.
Remove and serve with your desired fixings!
Recommended Products
As an Amazon Associate and member of other affiliate programs, I earn from qualifying purchases.
Nutrition Information:
Yield:
8
Serving Size:
1
Amount Per Serving:
Calories:

755
Total Fat:

28g
Saturated Fat:

13g
Trans Fat:

0g
Unsaturated Fat:

13g
Cholesterol:

98mg
Sodium:

2381mg
Carbohydrates:

85g
Fiber:

6g
Sugar:

26g
Protein:

40g
Nutrition data provided here is only an estimate.