Sunshine, hot days, margaritas, and my Traeger Grilled Carne Asada are all you need for a perfect summer night! Skip the taco mix with ground beef and try something new! This is amazing to make for your next cookout. Super quick, easy to cook, and SO delicious! There's nothing like fresh food, great spices, and wood-fired flavor!

Traeger Grilled Carne Asada
If you're planning a party and hate the rush and chaos that comes with getting the food ready, this easy grilled carne asada recipe is perfect for you! The steak marinates overnight to make sure all of that flavor gets packed in there, and you can prep your favorite toppings beforehand too.
Even if you aren't cooking for a party, it's a great way to take a break from the ground beef tacos you usually make during the week. They're not any more effort than the weeknight classic, but it changes things up enough to make it seem new and different.
If you need a good side to have with these tacos, try my Grilled Mexican Street Corn or my Pressure Cooker Mexican Rice!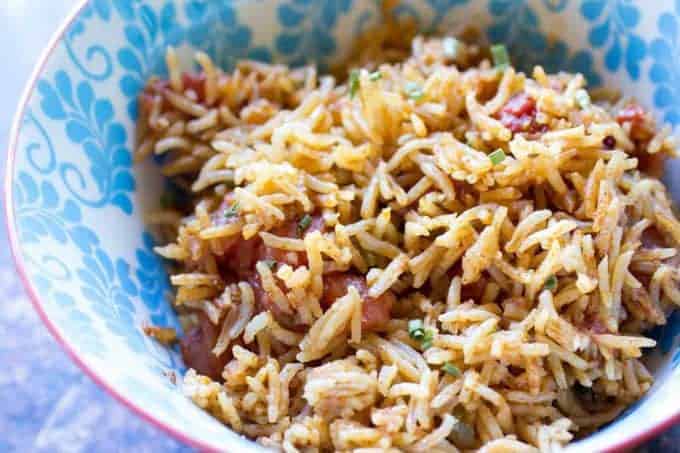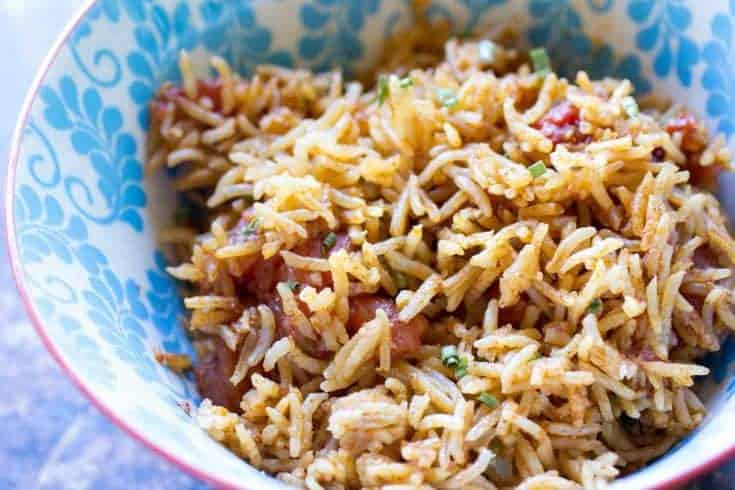 Oh, and we can't forget toppings! My Pickled Red Onions, Blender Salsa, and Guacamole will make sure you get the perfect bite EVERY time.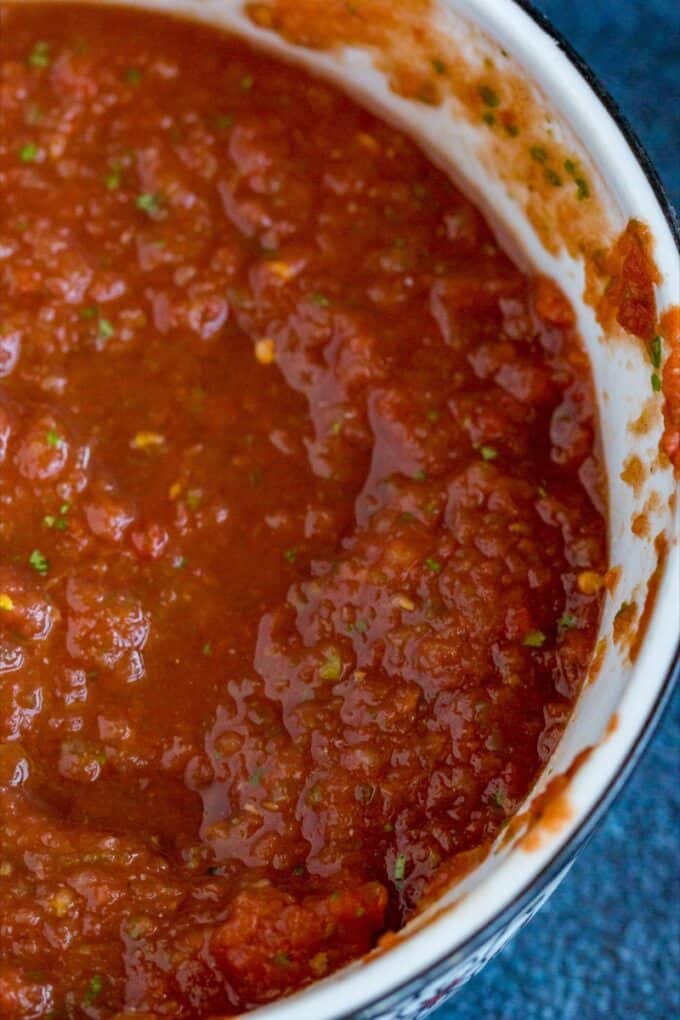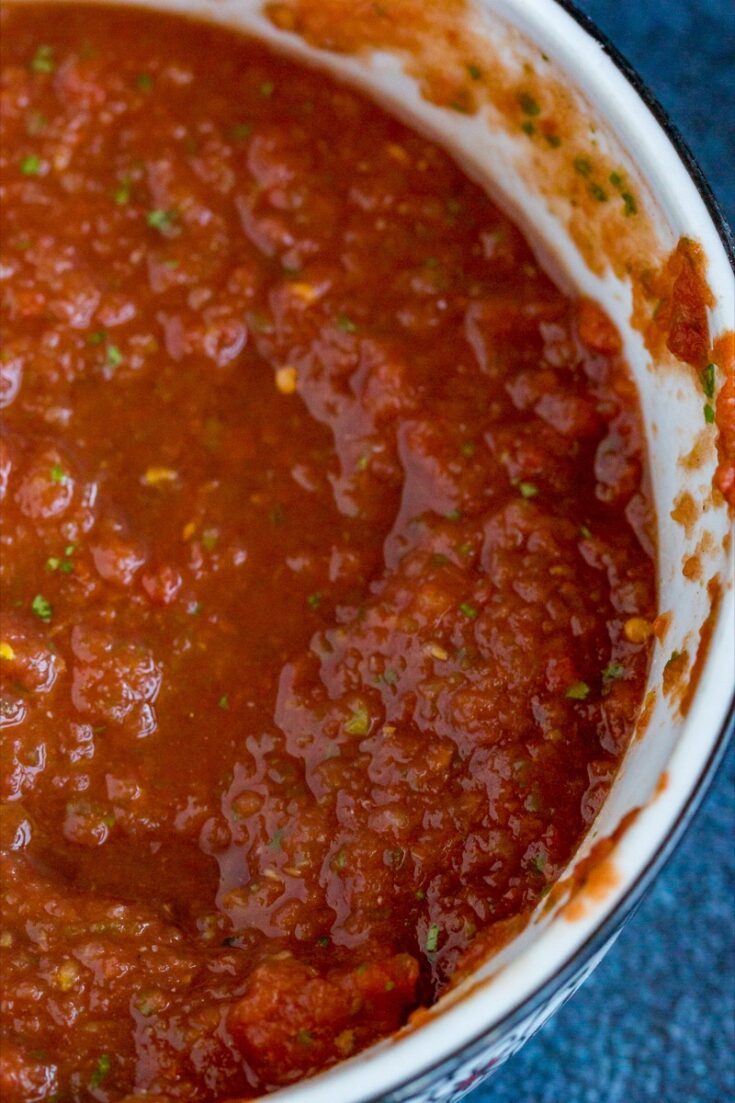 Carne Asada Grocery List
There's a fair amount of ingredients here, but I bet you have a lot of them in your fridge or pantry already so don't let that scare you off. Just bookmark this page and take a quick frigeventory, and off you go.
Flank Steak or Skirt Steak
Cilantro
Margarita Mix (the good stuff)
Tequila
Orange Juice
Soy Sauce
Garlic
Tortillas
Sour Cream
Salsa and/or hot sauce
Lettuce
Avocado
Limes
Get all my Easy Traeger Recipes here!

Should I Use Skirt Steak Or Flank Steak For Carne Asada?
Traditionally, flank and skirt steak are both used for carne asada, so just buy whatever looks best to you or that your grocer has available.
Both cuts are pretty interchangeable, it just depends on if you care about tenderness and what you want to spend, what's available, and what looks best, but choosing the cheaper option isn't going to ruin the dish.
If you like flank steak, try this Reverse Seared Flank Steak next time. It is amazing!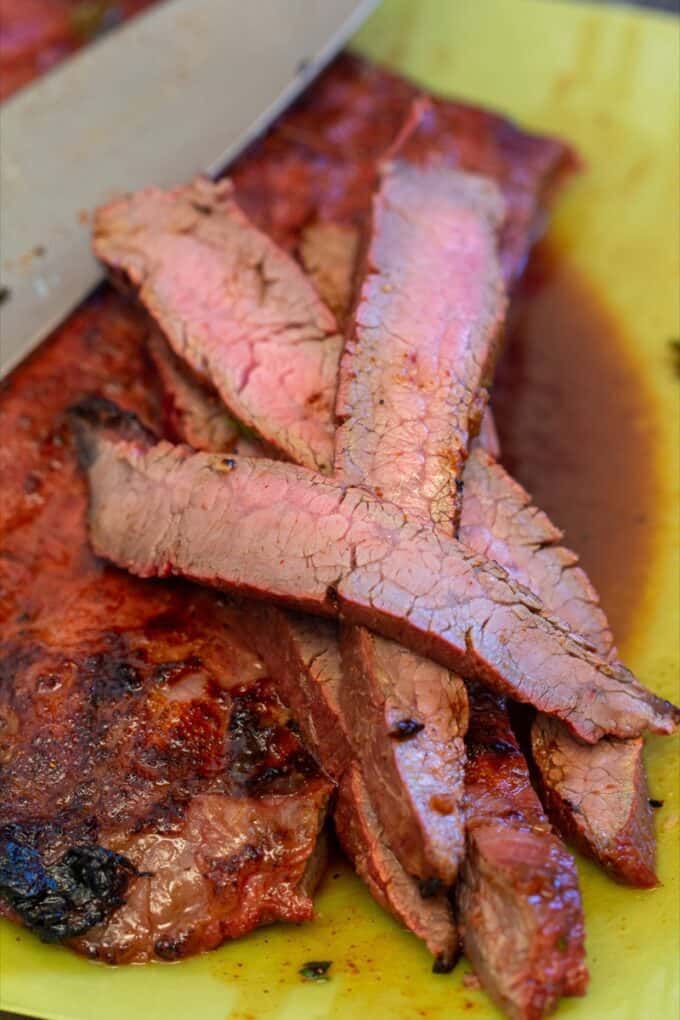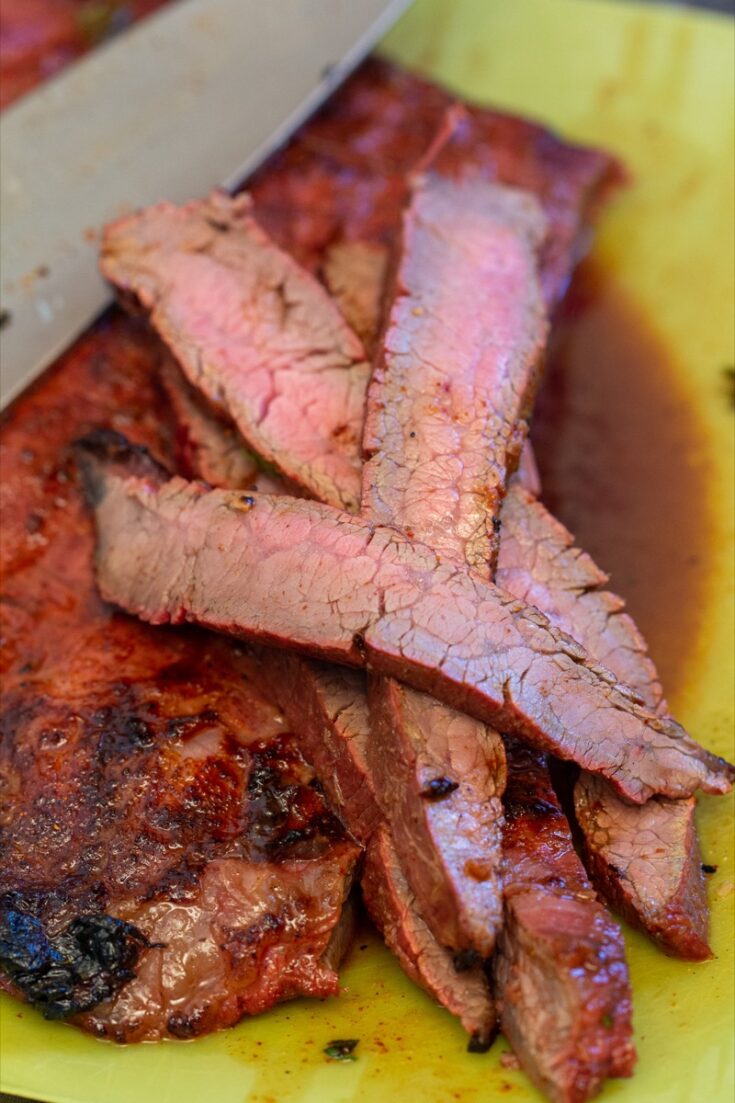 What's in Carne Asada Marinade?
The marinade for the steak is seriously out of this world and SO simple to make.
Just some margarita mix, orange juice, soy sauce, tequila, cilantro, and garlic! Yes really – that's all it takes to make this AMAZING marinade (that would totally work for chicken too).
If you want to add some spice to the dish, this is where you'd want to add it in. You can either splash some of your favorite hot sauce in or add some sliced jalapenos.
If you're wondering about what margarita mix to use, you don't want to use something that's super cheap and complete sugar. You'll want to get something that's higher quality so you're actually getting some flavor in the marinade. REAL LIME JUICE is key.
Whatever tequila you have on hand will work. You aren't using a lot, so if you only have Patron in the cabinet, toss it in. If you have some rail ish, you can toss that in too.
More Traeger Beef Recipes here!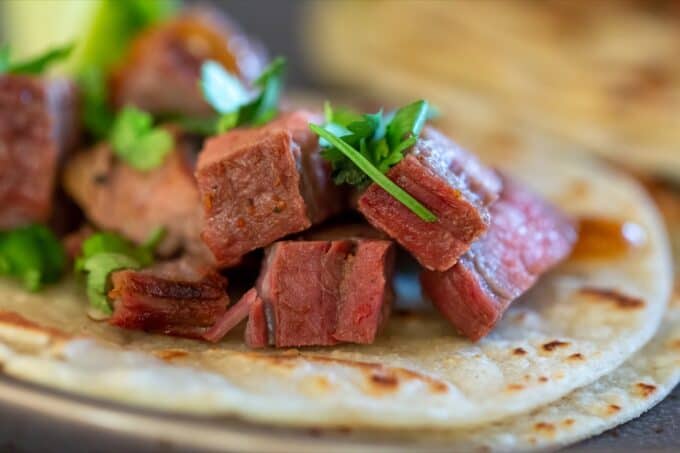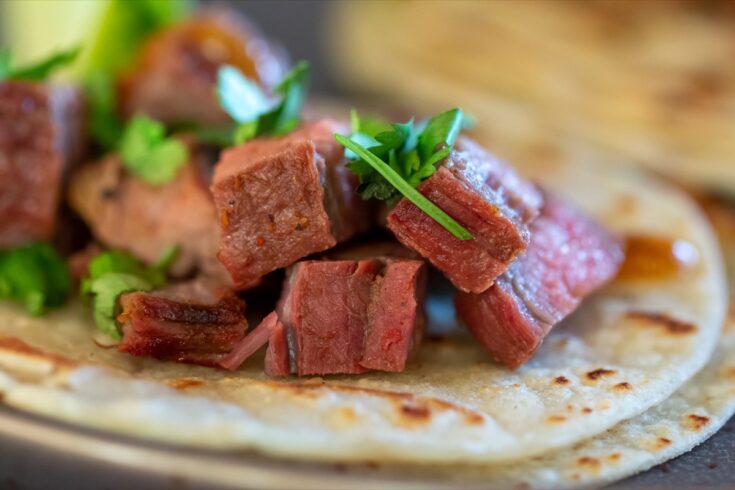 Do I Have To Use Alcohol In The Marinade?
Traditional carne asada marinades don't use tequila or any alcohol, so if you don't have tequila you don't have to use it.
That being said, the end result will not have a strong tequila flavor, at all. The alcohol helps tenderize the meat.
You can also substitute the tequila with some beer like Corona or Modelo, or use your favorite non-alcoholic beer.
Speaking of drinks. I've got tons of easy cocktail recipes here…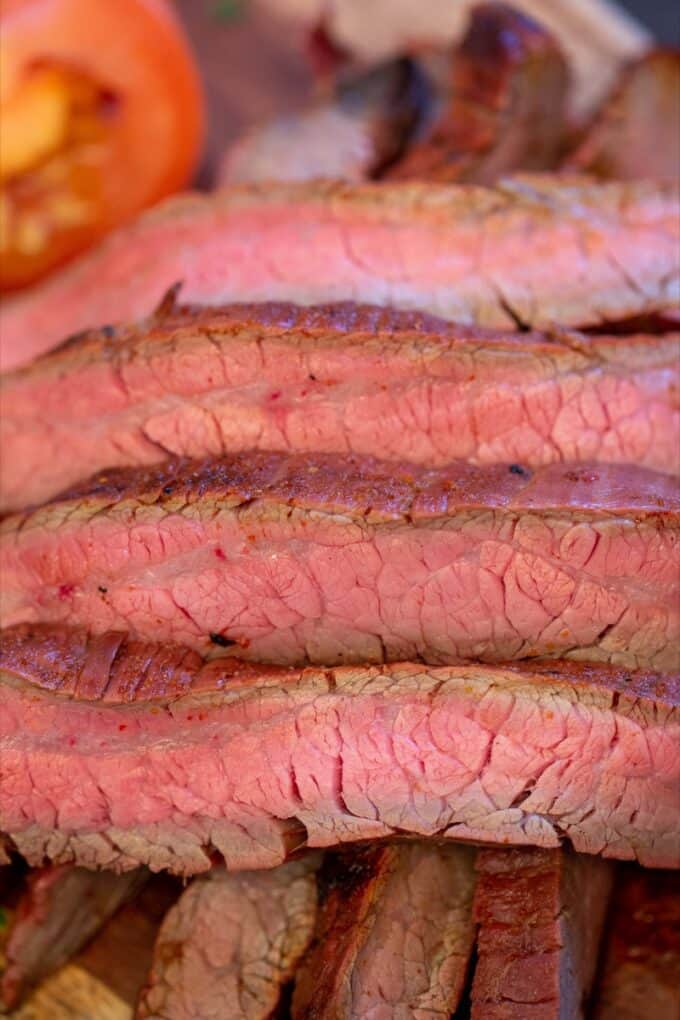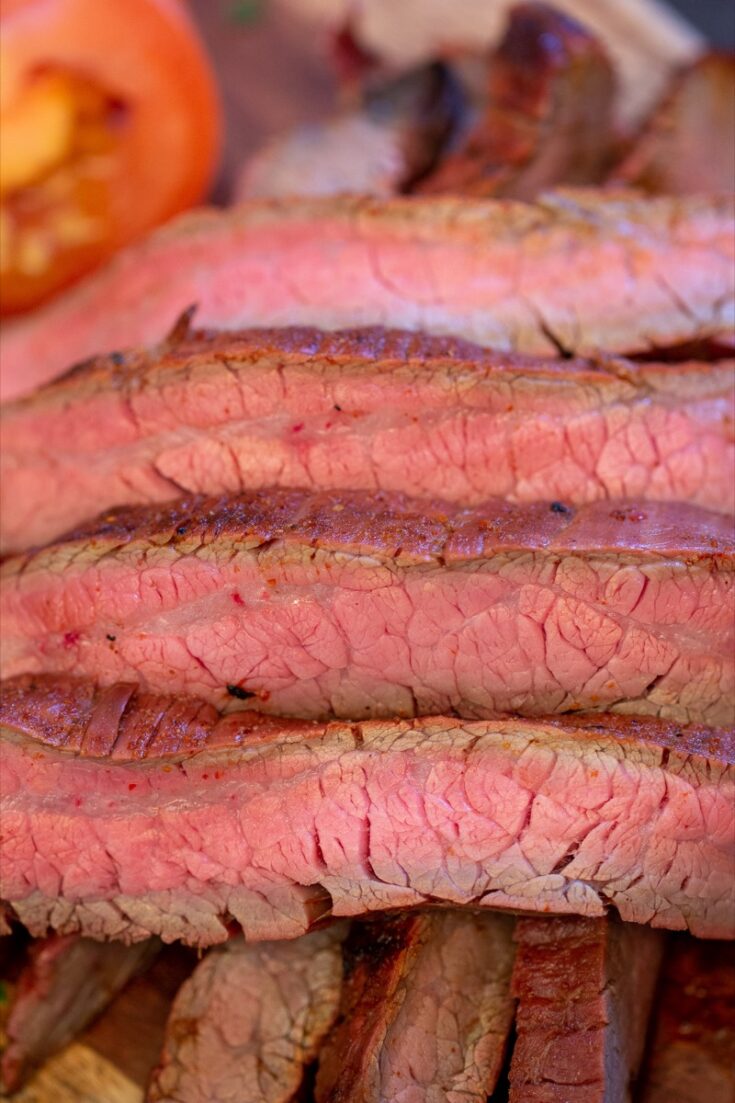 What If I Don't Have Spiceology Rub?
If you don't have any Spiceology Chili Margarita Rub on hand, you can substitute your favorite taco seasoning.
You can also do a little DIY spice rub by mixing together the following spices:
Chili powder/chipotle powder/paprika
Lime zest
Cumin
Cayenne pepper
Garlic powder
Onion powder
Coriander
Salt
Mix it together and rub ALL over the meat! BOOM, a delicious and homemade chili-lime spice that you can use on whatever you want!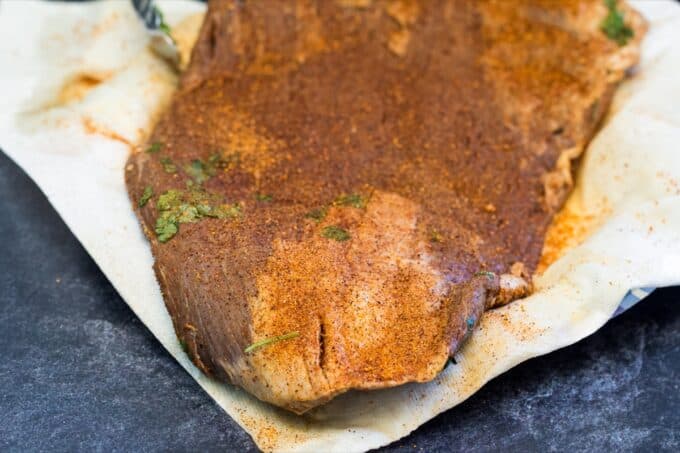 How to make Traeger Carne Asada
Making Carne Asada is easy, but it does require some planning due to the marinating time required. I recommend throwing the meat in the marinade the evening before you want to cook it.
Once you pull it out of the marinade, pat it dry with paper towels and give it a liberal coating of the chili margarita seasoning, and let it sit on the cupboard while your grill pre-heats.
Turn your grill on and preheat to 450° following factory instructions. Place the dried and rubbed flank or skirt steak onto your hot grill, and cook for 6 minutes per side.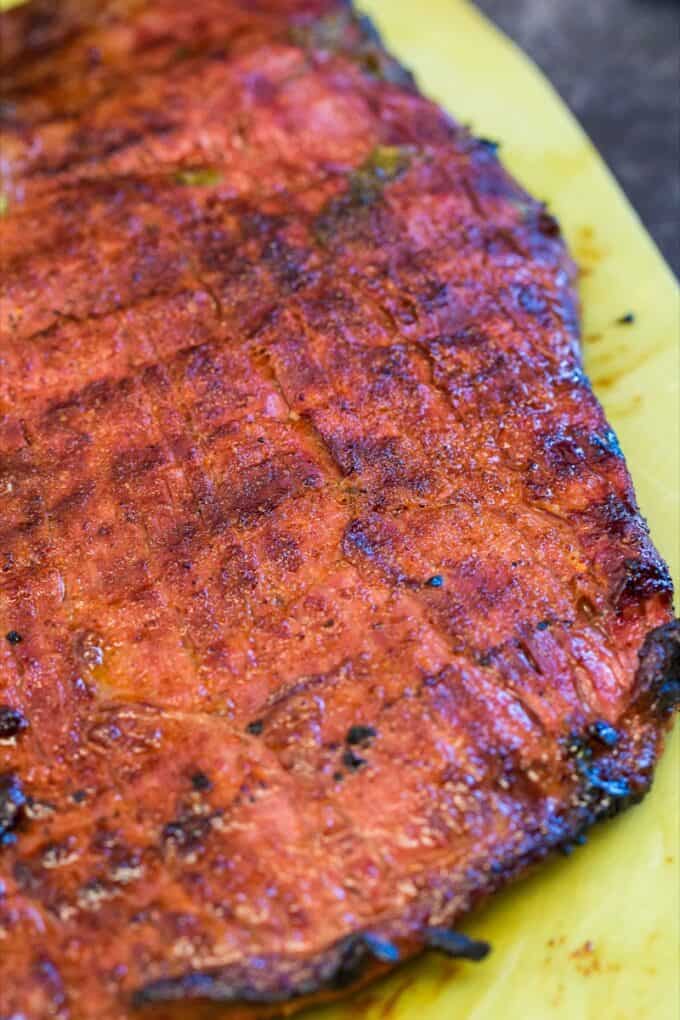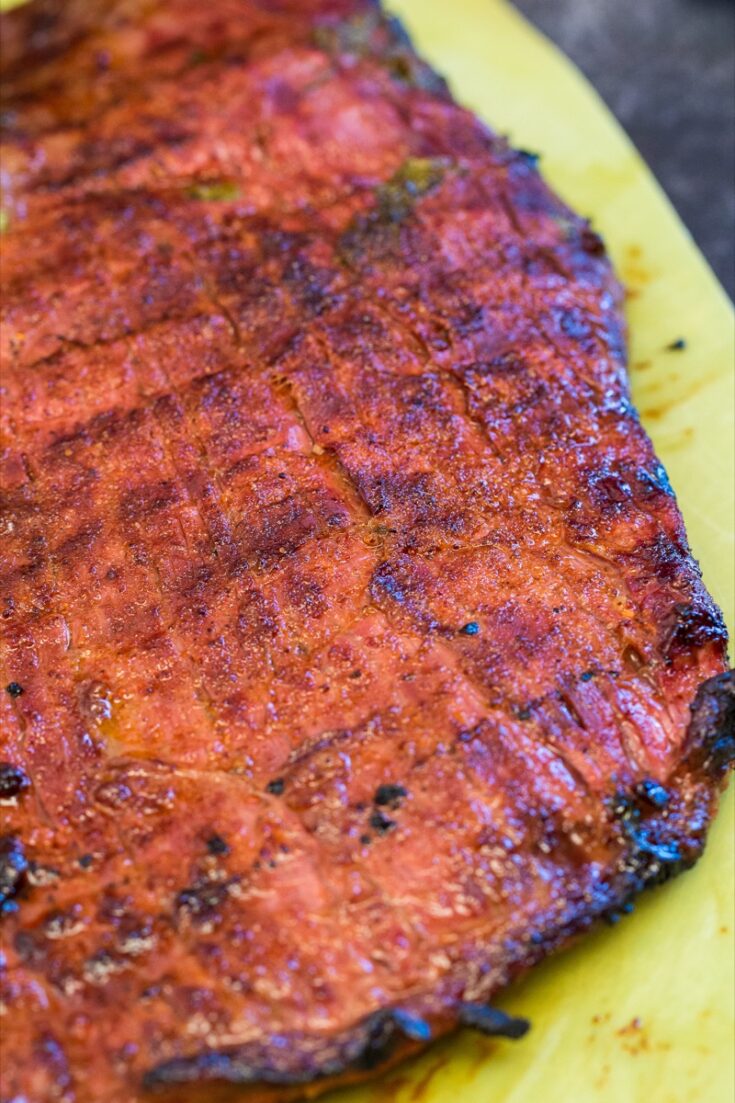 You want to not cook this past medium for the best results. These cuts don't hold up well to a fast cook beyond medium. If you want to cook those completely, they need low and slow until they are fall-apart tender, and then it isn't really carne asada.
I know I always say not to cook to time, but in this case with a standard thickness flank or skirt steak, 6 minutes a side should be about perfect.
If you have a leave-in thermometer like the ThermoWorks Smoke, I highly recommend probing this and pulling it at about 125° though for the most reliable results.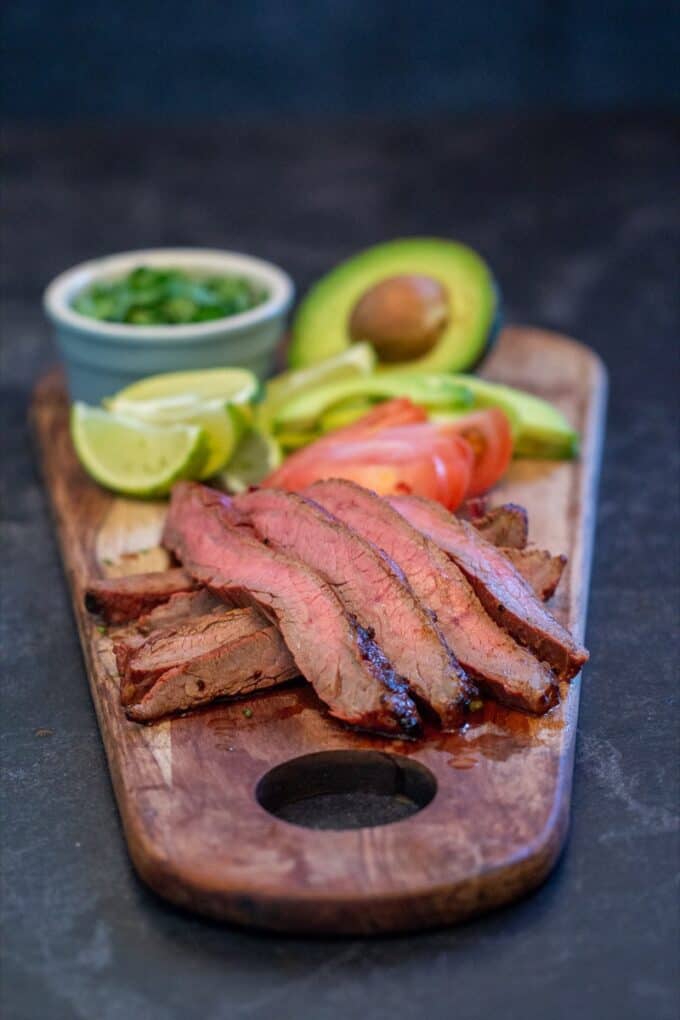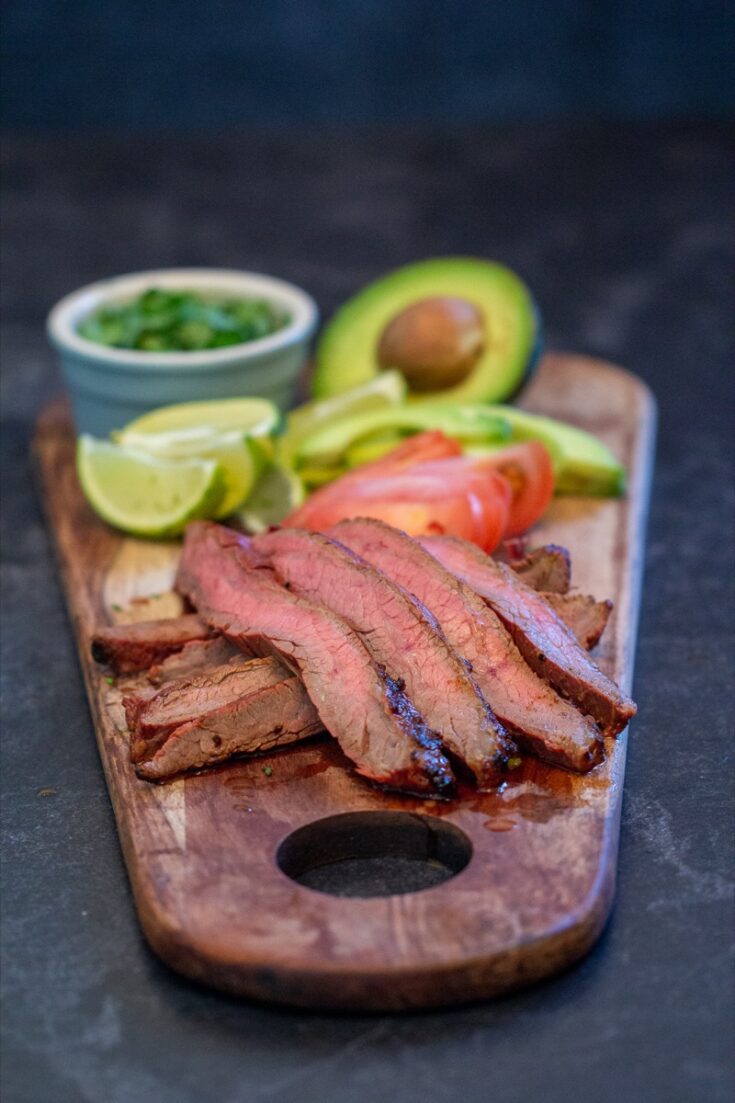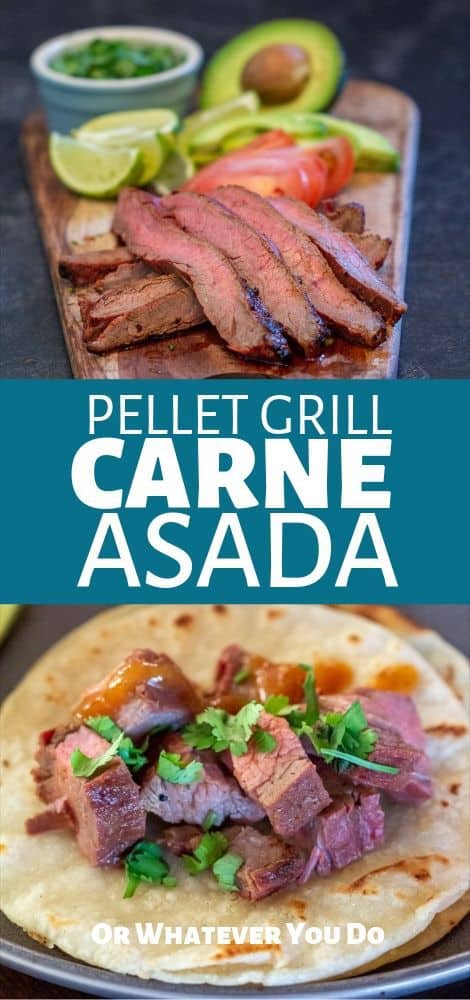 Yield: 8 servings
Traeger Carne Asada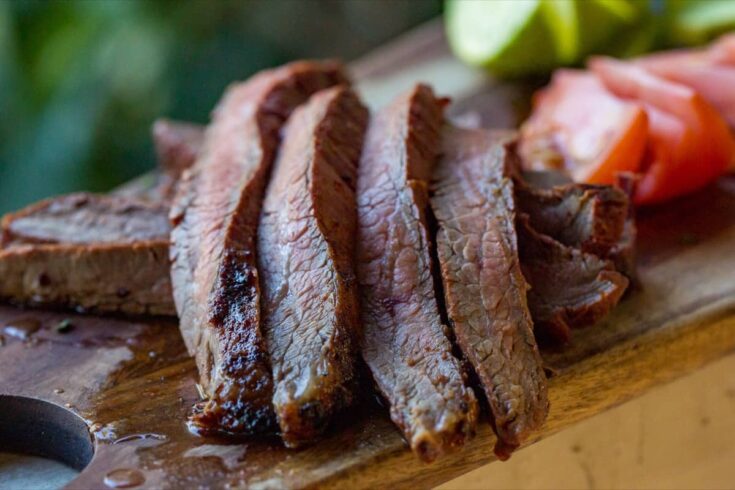 Tender steak is marinated and quickly grilled to a perfect medium-rare, and then served with warm tortillas and all of the fixings.
Ingredients
Marinade Recipe
1 cup margarita mix
1/2 cup soy sauce
1/2 cup orange juice
2 ounces tequila
1 tablespoon garlic
1/4 cup chopped cilantro
Steak
3-pound flank steak
4 tablespoons chili margarita seasoning rub
Instructions
Combine all the marinade ingredients together in a large container or plastic baggie, and place the steak inside. Refrigerate overnight.
Preheat your pellet grill to 425°-450°. While the grill is heating, remove the meat from the marinade and pat it dry with paper towels. Once it is dry, rub it liberally with chili margarita seasoning rub.
When the grill is heated, place the steak on it and cook for about 6 minutes per side.
Remove from the grill and let rest for 10-15 minutes. Slice across the grain, and serve with tortillas and taco fixings.
Recommended Products
As an Amazon Associate and member of other affiliate programs, I earn from qualifying purchases.
Nutrition Information:
Yield:
12
Serving Size:
1
Amount Per Serving:
Calories:

337
Total Fat:

10g
Saturated Fat:

4g
Trans Fat:

0g
Unsaturated Fat:

4g
Cholesterol:

91mg
Sodium:

735mg
Carbohydrates:

23g
Fiber:

0g
Sugar:

21g
Protein:

33g
Nutrition data provided here is only an estimate. If you are tracking these things for medical purposes please consult an outside, trusted source. Thanks!