Our Traeger Reverse Seared Hanger Steak with Bourbon Pan Sauce is the perfect impressive dish to make for your next dinner party or family gathering.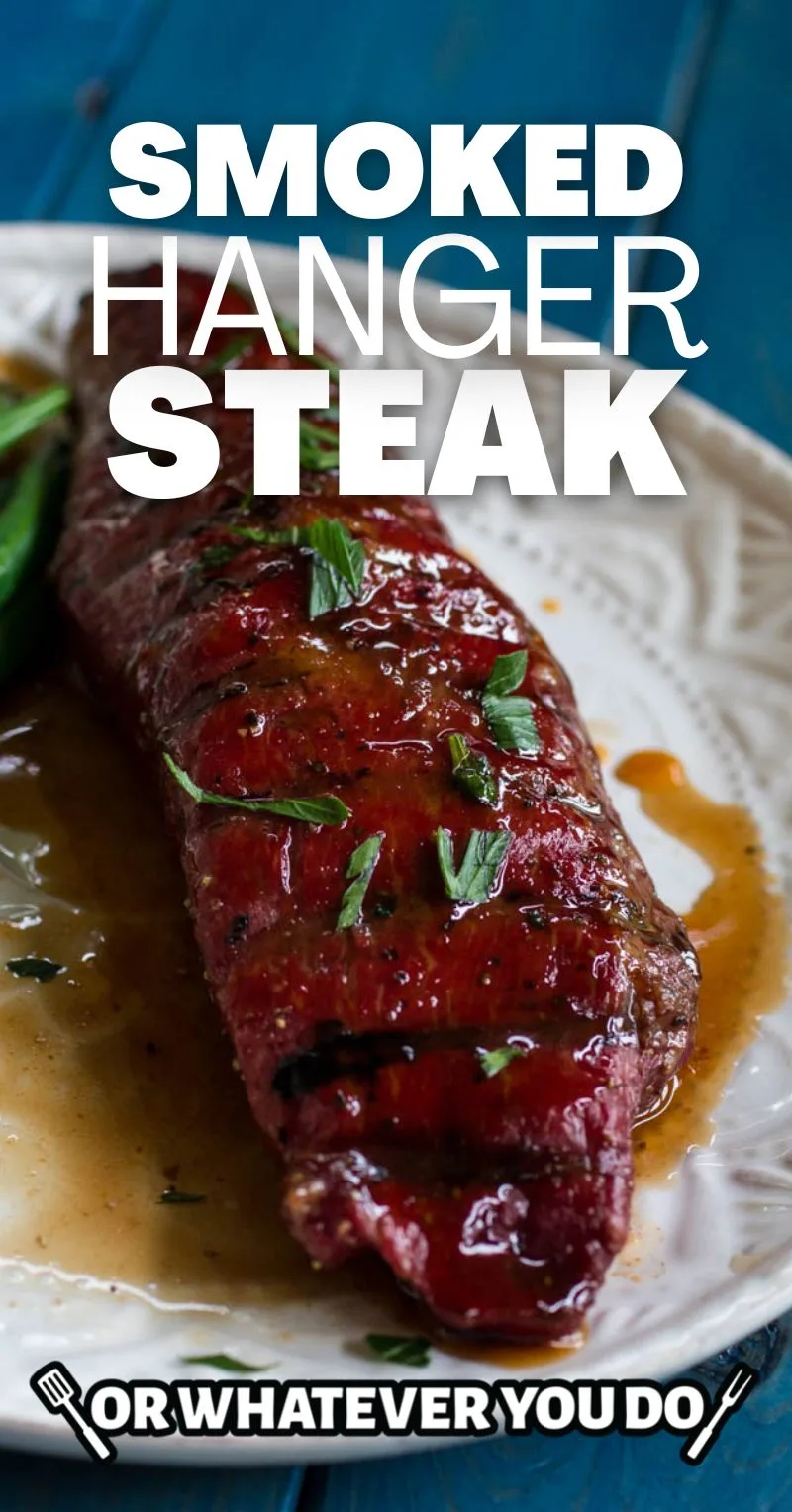 Reverse Seared Hanger Steaks
Sometimes my husband goes into the kitchen (or out to the grill, in this case) and crazy things happen. Crazy, amazing things. That's what I'd call this.
Magic.
I love any and all kinds of grilled steak, but these were something on a whole different level.
Get our 75 ESSENTIAL Traeger Recipes here!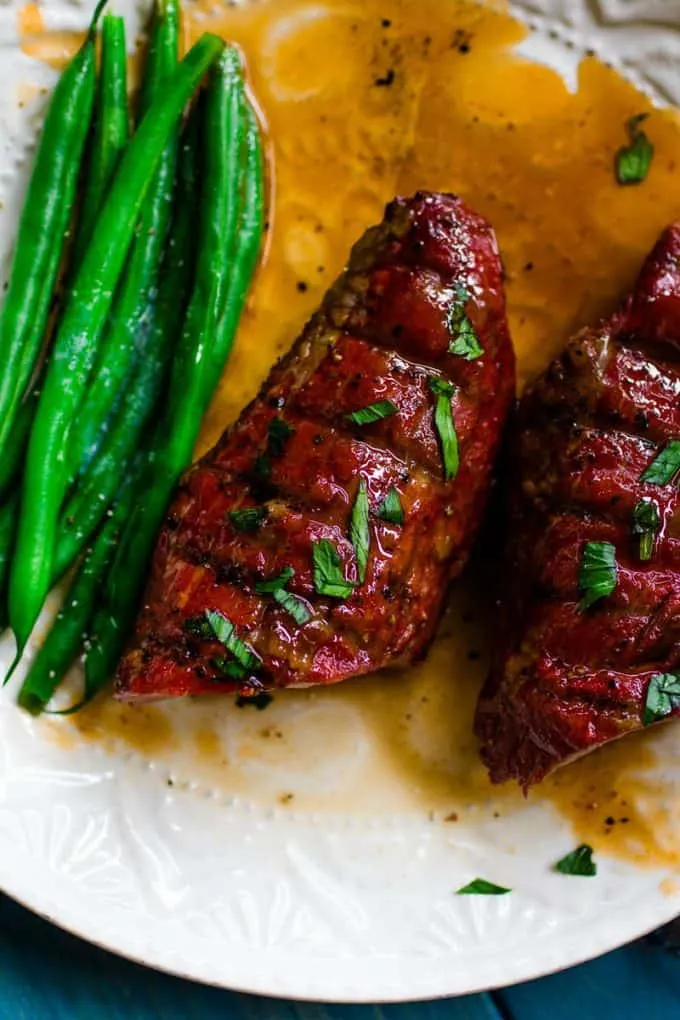 What is a hanger steak?
Hanger steak is part of the diaphragm of the cow. It doesn't actually DO anything though besides "hang", so the piece is SUPER tender and flavorful. There is also only ONE per cow, unlike most other cuts.
I compare it to a filet mignon in tenderness and flavor, personally. This is one of my favorite cuts of meat!
Steaks
Nothing is like a REALLY great steak at a cookout. Here are a few of our all-time favorite steaks!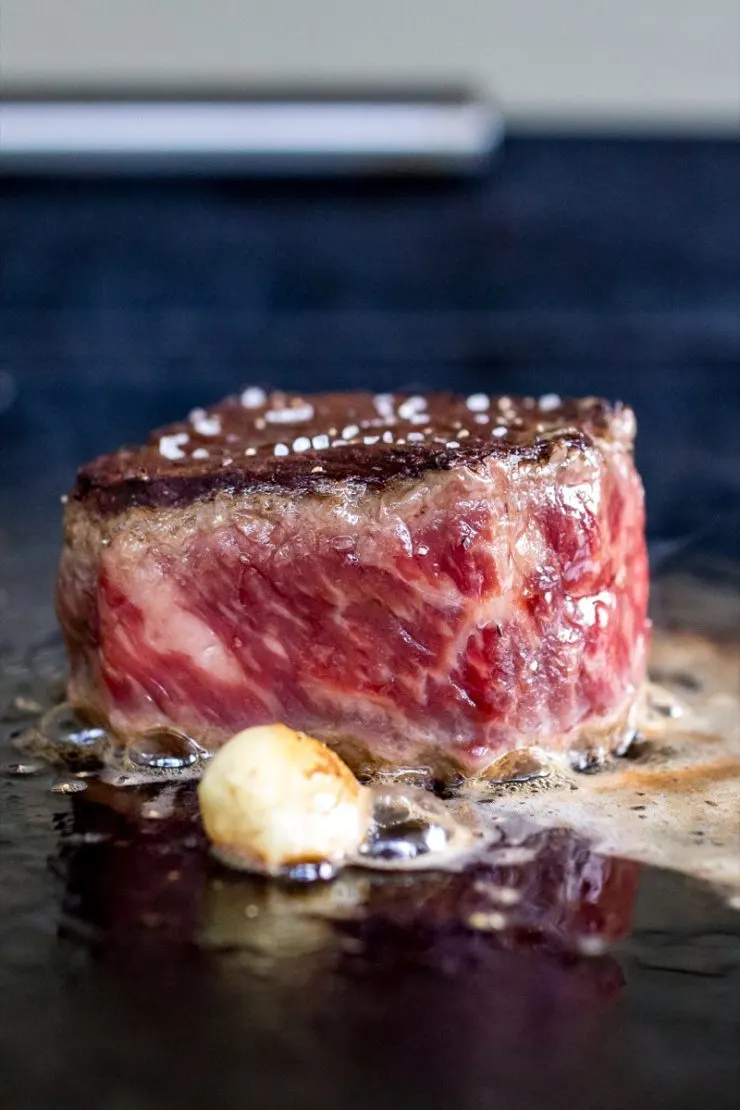 The ultimate steak for the beef fanatic in your life. This American Wagyu filet is hands down the BEST steak I've ever had.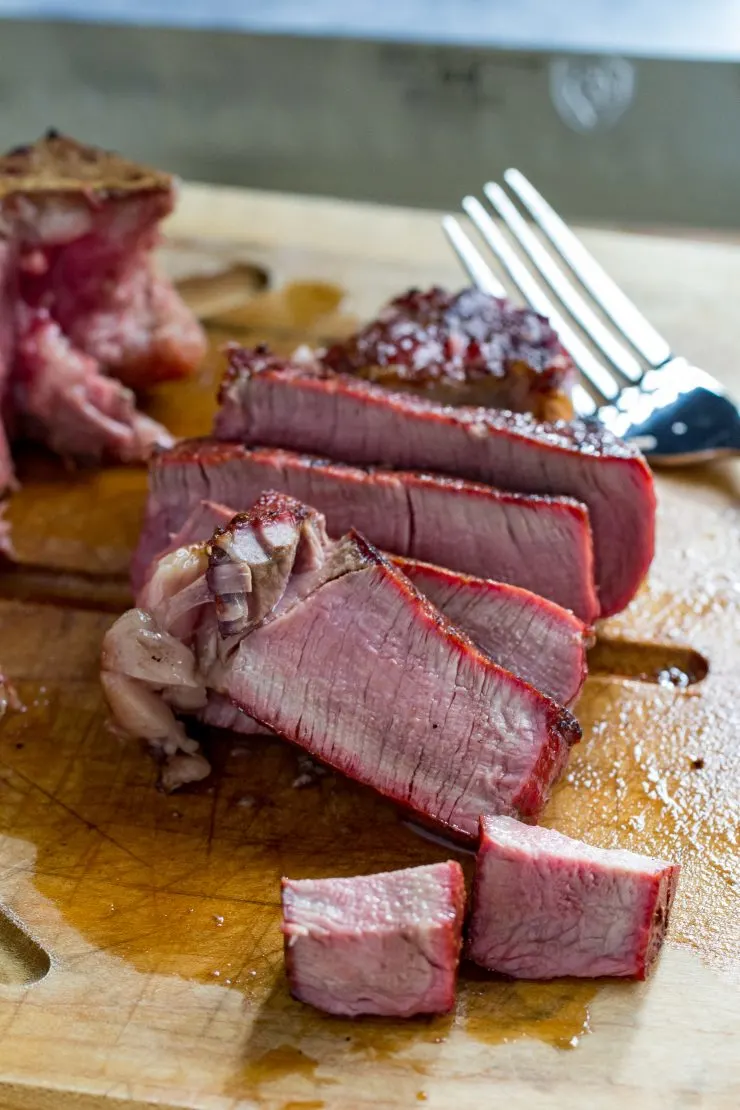 The t-bone is the best of several steak worlds, in my book, and the reverse sear is the perfect way to cook them!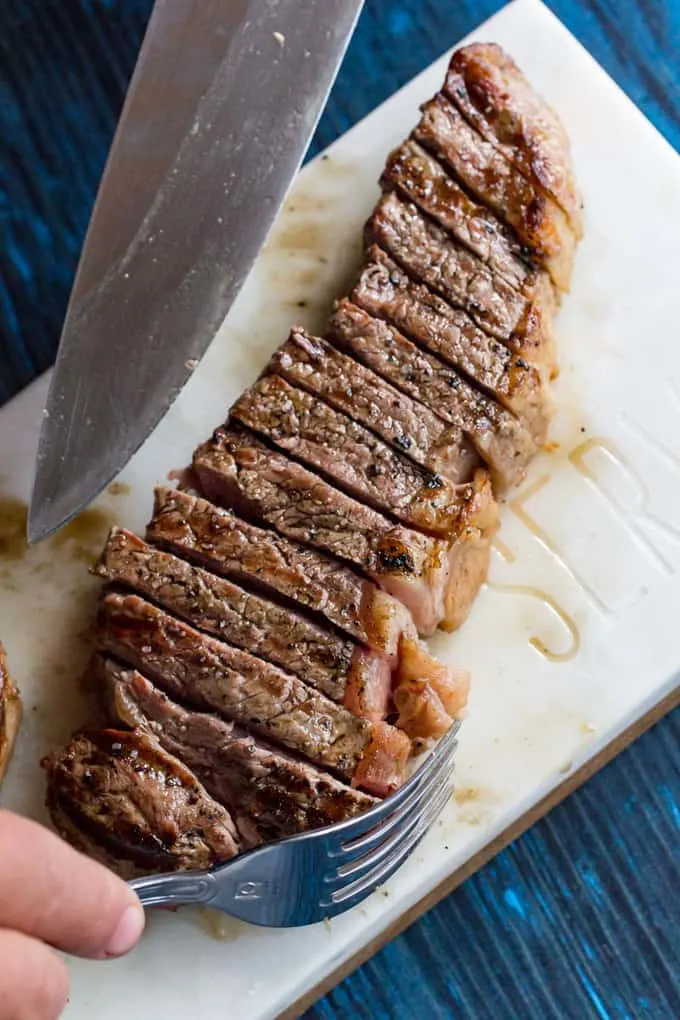 New York Strips are an affordable and delicious option for a delicious steak dinner! Cook it on whatever kind of grill you've got.
Join our Easy Traeger Recipes Facebook Group!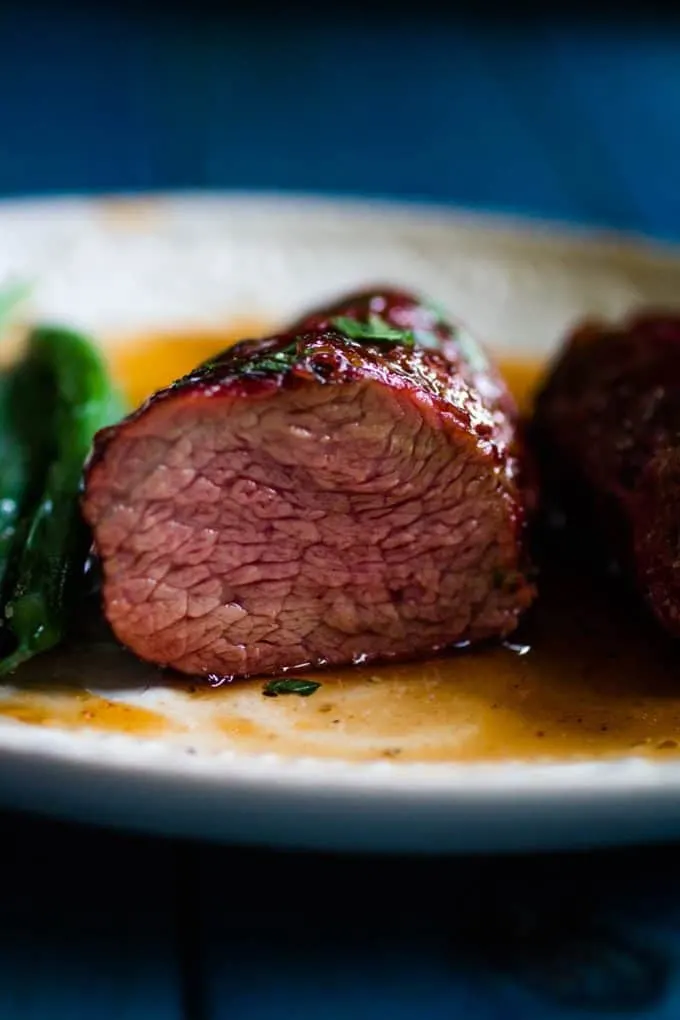 How do you reverse sear?
A "reverse sear" is a cooking method where you low-and-slow a cut of meat for a long-ish period of time, followed by a shorter blast of heat at the end for those grill marks and all the magic that happens with meat + high heat.
It is a great way to get a piece of steak that doesn't have that gross gray band of overcooked meat allllll around the outside. This provides a much more evenly cooked steak, without losing any of the flavors of that beautiful Maillard reaction.
Personally, I love the Blackstone Grill for reverse searing!
Get my easy Side Dish recipes!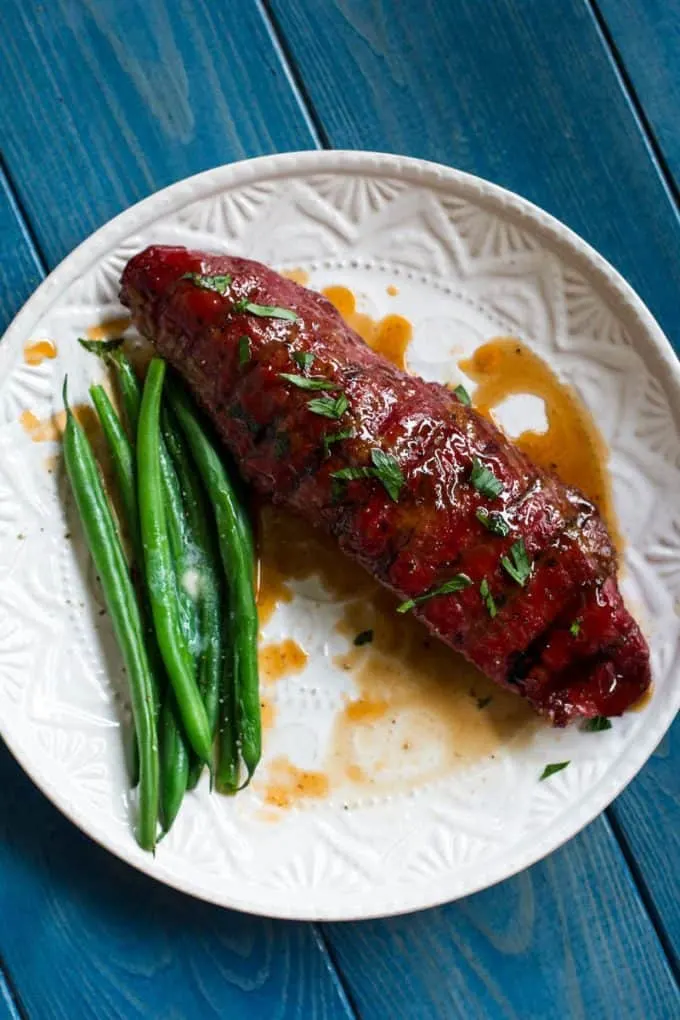 What Should I Serve with this Smoked Hanger Steak Recipe?
I have all of the options for you! Here are some favorites of mine.
Want to make it a surf & turf?
ME TOO. If you are in the mood for some seafood with your steak, definitely check out my Traeger Grilled Lobster Tail!!
Are Hanger Steaks and Flank Steak the Same Thing?
Nope! Different cuts of meat entirely. The hanger steak is part of the diaphragm of the cow. The skirt steak is also a part of that, which looks similar to the flank steak but is only adjacent, and comes from a totally different part of the cow. This IS one of the most tender and flavorful cuts of meat on the whole cow though, without the price that the tenderloin typically commands.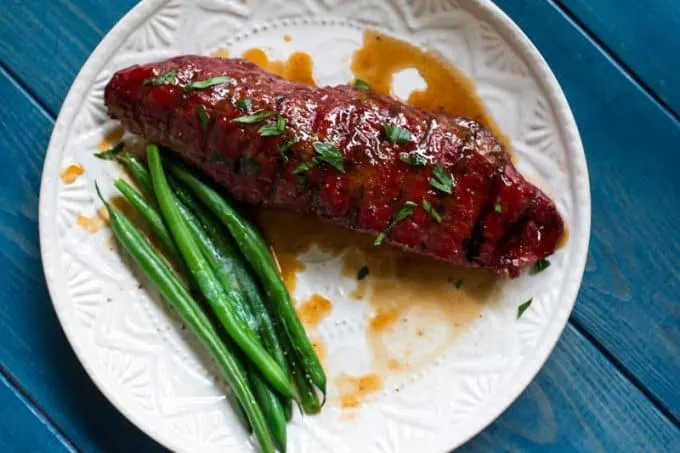 Tips for making a delicious hanger steak
Hanger steaks are the perfect cut to reverse sear. The low-and-slow initial cook keeps the steak from overcooking and developing the tell-tale gray of overcooked meat.
The best way to cook a hanger steak is on a wood-pellet grill like a Trager so you can get a touch of smoke on this rich cut of beef.
More recipes to enjoy!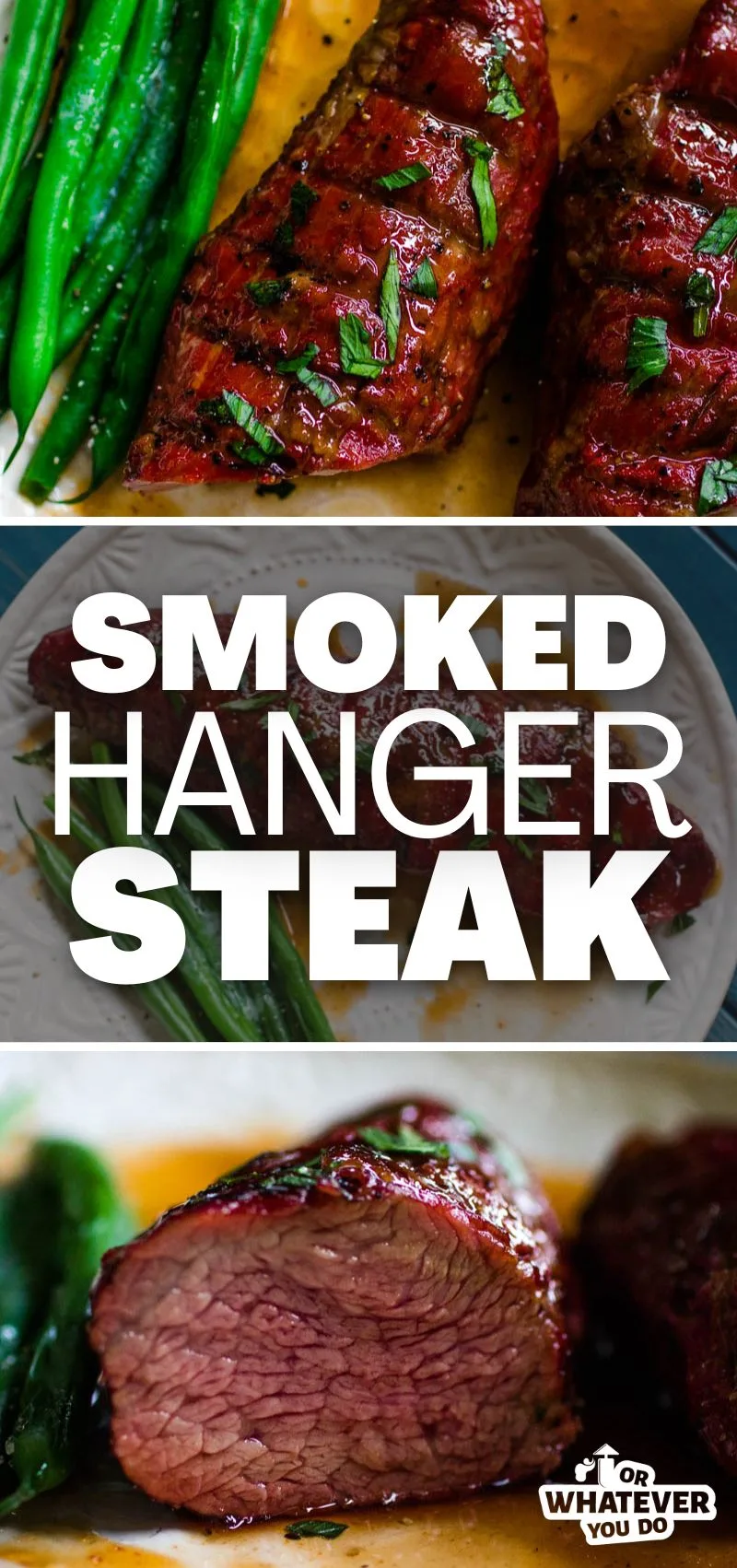 Yield: 2 servings
Traeger Grilled Hanger Steak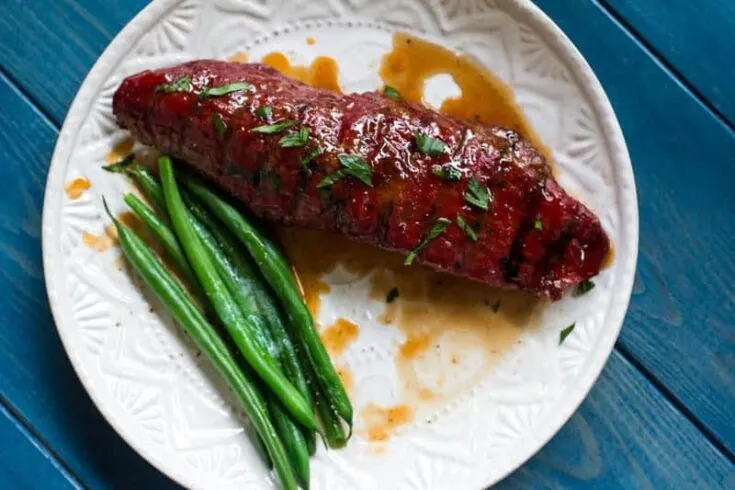 This Traeger grilled hanger steak is not only one of my favorite cuts of beef, but also one of my favorite ways to cook steak, period. This cut is much more economical than tenderloin, but nearly matches it in flavor and tenderness.
Ingredients
Steak
1 hanger steak
salt & pepper
Bourbon Sauce
1/8 cup bourbon whiskey
1/8 cup honey
1/2 teaspoon garlic
1/4 teaspoon salt
1 teaspoon sriracha
Instructions
Preheat your wood-pellet grill to 225°.
Season the steak liberally with salt and pepper.
Place the steaks on the preheated grill, close the lid, and let cook until the steak is 10 degrees under your desired finished temp. See notes below for chart on when to pull it off.
In a large cast-iron skillet placed on the stovetop, heat the pan over high heat.
Place a teaspoon of butter in the pan and immediately place the steak in.
Sear on both sides for 1-2 minutes.
Remove from the stove, reduce the temperature of the stove to medium, and add in the bourbon sauce ingredients. Whisk and cook for 2-3 minutes and pour over the steak.
Notes
PULL OFF THE GRILL AT THE FOLLOWING TEMPS DURING THE LOW-AND-SLOW PORTION OF THE COOK:
Rare - 115° (Finished temp 125°)
Medium Rare - 125° (Finished temp 135°)
Medium - 135° (Finished temp 145°)
Recommended Products
As an Amazon Associate and member of other affiliate programs, I earn from qualifying purchases.
Nutrition Information:
Yield:
6
Serving Size:
1
Amount Per Serving:
Calories:

133
Total Fat:

7g
Saturated Fat:

3g
Trans Fat:

0g
Unsaturated Fat:

3g
Cholesterol:

36mg
Sodium:

180mg
Carbohydrates:

6g
Fiber:

0g
Sugar:

6g
Protein:

10g
Nutrition data provided here is only an estimate. If you are tracking these things for medical purposes please consult an outside, trusted source. Thanks!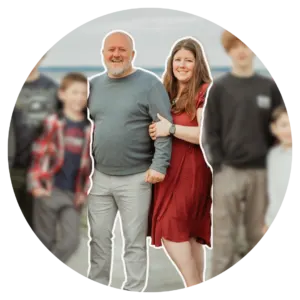 Nicole Johnson, a self-taught expert in grilling and outdoor cooking, launched Or Whatever You Do in 2010. Her blog, renowned for its comprehensive and creative outdoor cooking recipes, has garnered a vast audience of millions. Nicole's hands-on experience and passion for grilling shine through her work. Her husband, Jeremiah Johnson, also plays a pivotal role in recipe development, adding his culinary flair to the mix. Together, they form a dynamic duo, offering a rich and varied outdoor cooking experience to their followers.