A one-pot creamy noodles recipe that is so creamy and easy to make, you are going to freak out. No heavy cream needed, this is a simple creamy noodle recipe that you will make over and over again. The sauce is silky smooth, and is my favorite one-pot creamy noodles recipe, ever.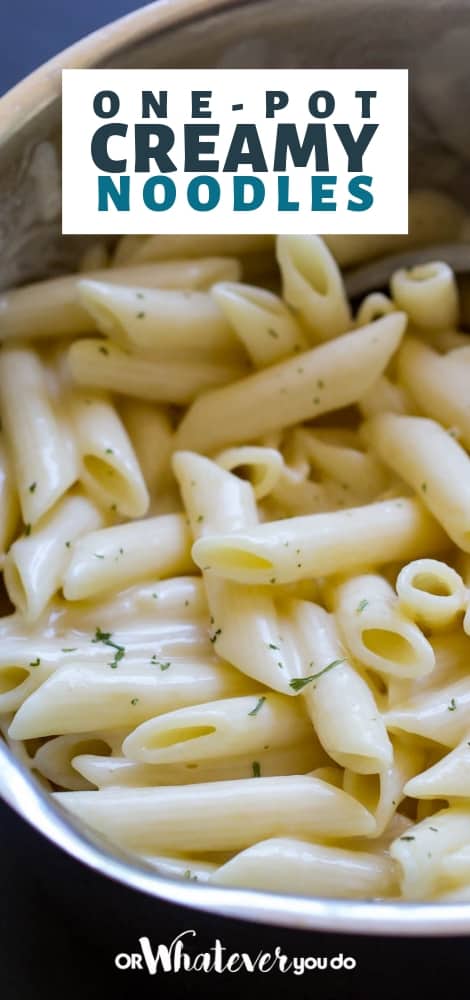 One-Pot Creamy Noodles
One pot recipes are a favorite of ours because they are so simple to make but also the cleanup is quick. So the kids REALLY like this since GLORY HALLELUJAH I finally have children that are old enough and responsible enough to clean a kitchen without being heavily supervised.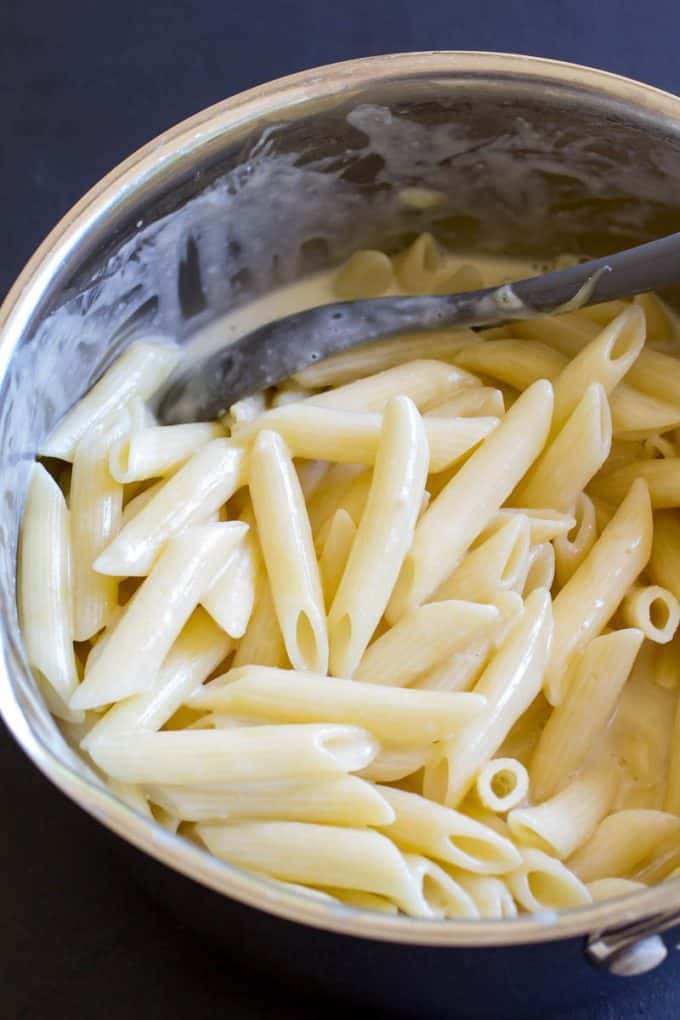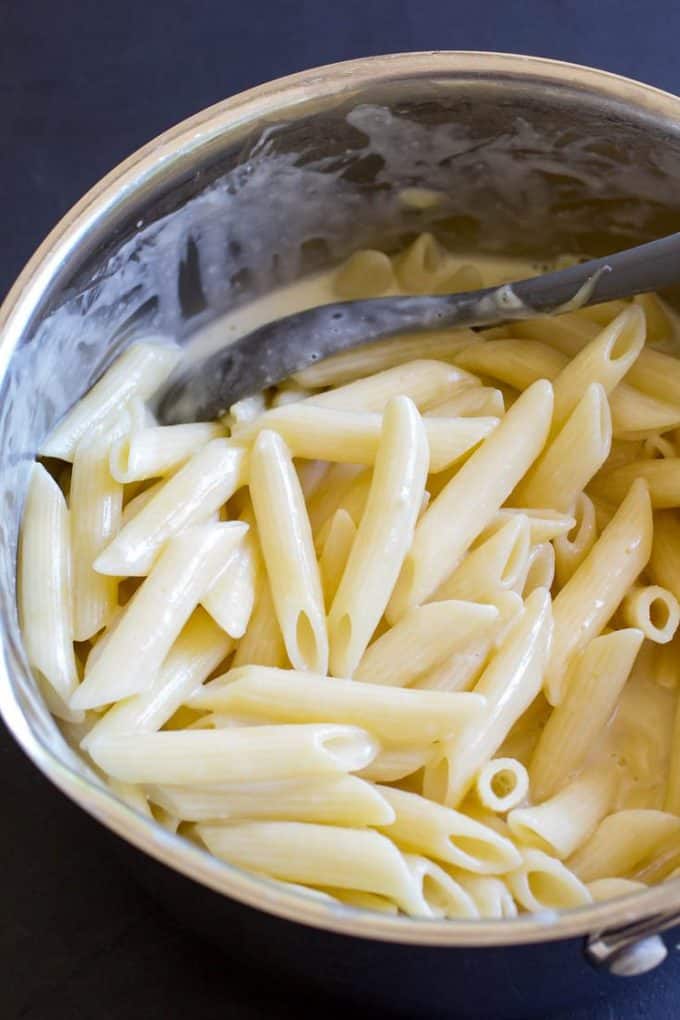 This is the day I've been looking forward to since I started having alllll of these babies, back in 2004. By my calculations, I'm going to have a good 10-15 years relatively free of such annoyances as DISHES, or carrying in groceries, or picking things up off the floor, or going to fetch whatever is WAYYYYYYY over there.
It is like the "pre-functional-adults-having-grandbabies" rewarding part of parenting that I didn't really realize existed until I also realized that HOLY CRAP one consequence of having all the kids is also having ALL THE DISHES and whoops. You forgot that you HATE dishes.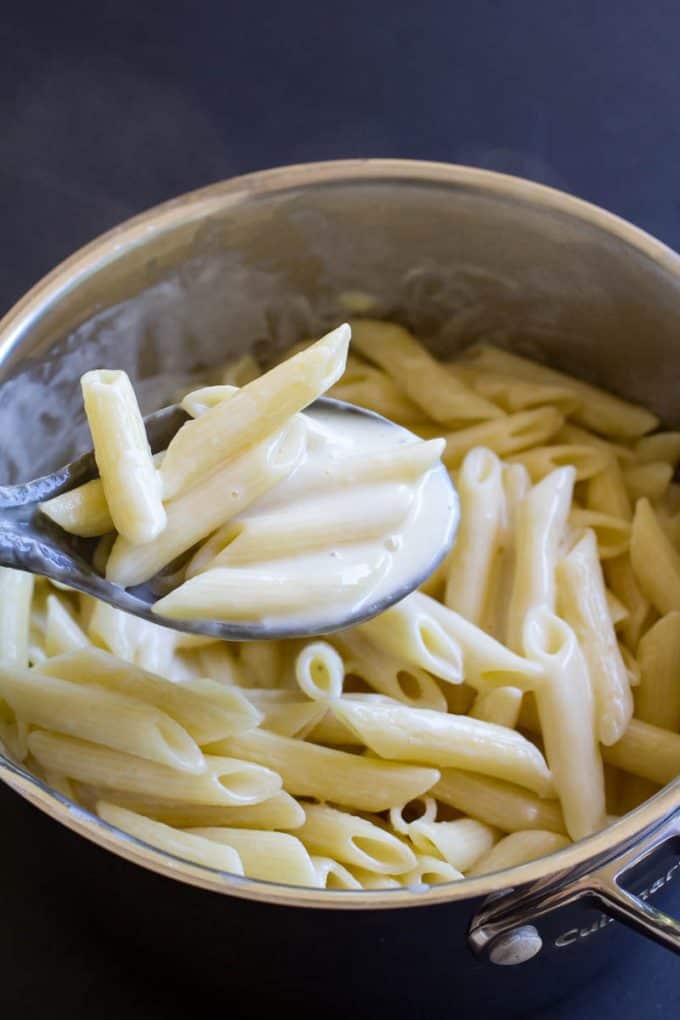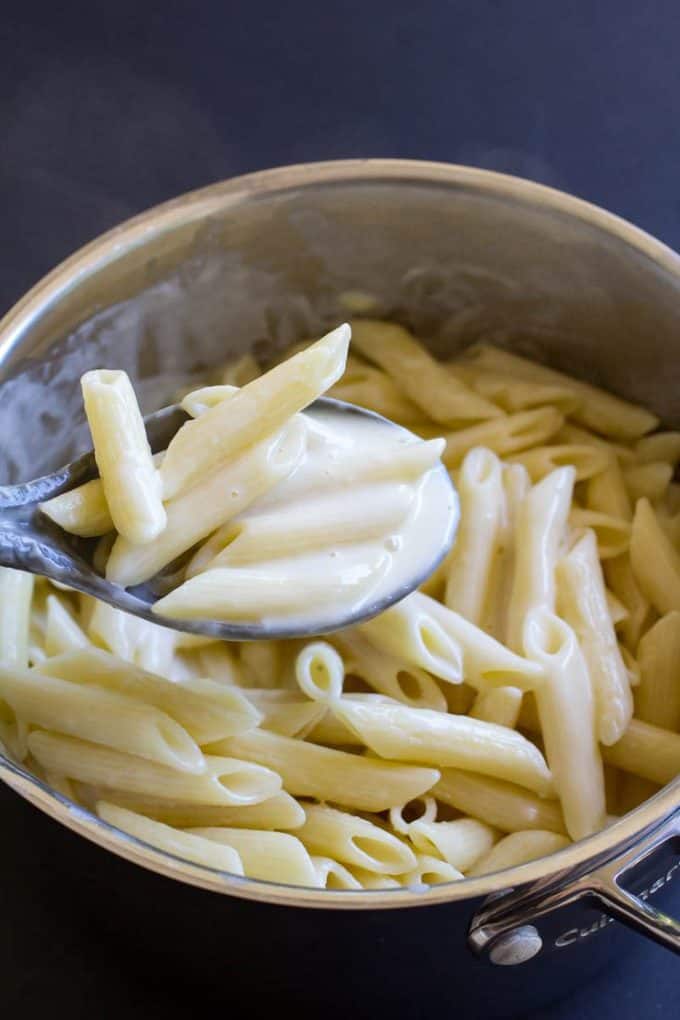 I love those homemade recipes without multiple pans and a heavy amount of cleanup. With this creamy noodles recipe, I serve it up quite a bit as a side to a nice Grilled Prime Rib, Thick Bone-In Pork Chop, or even my Grilled Shrimp Scampi.
I also have used this recipe as a main dish too. To great applause.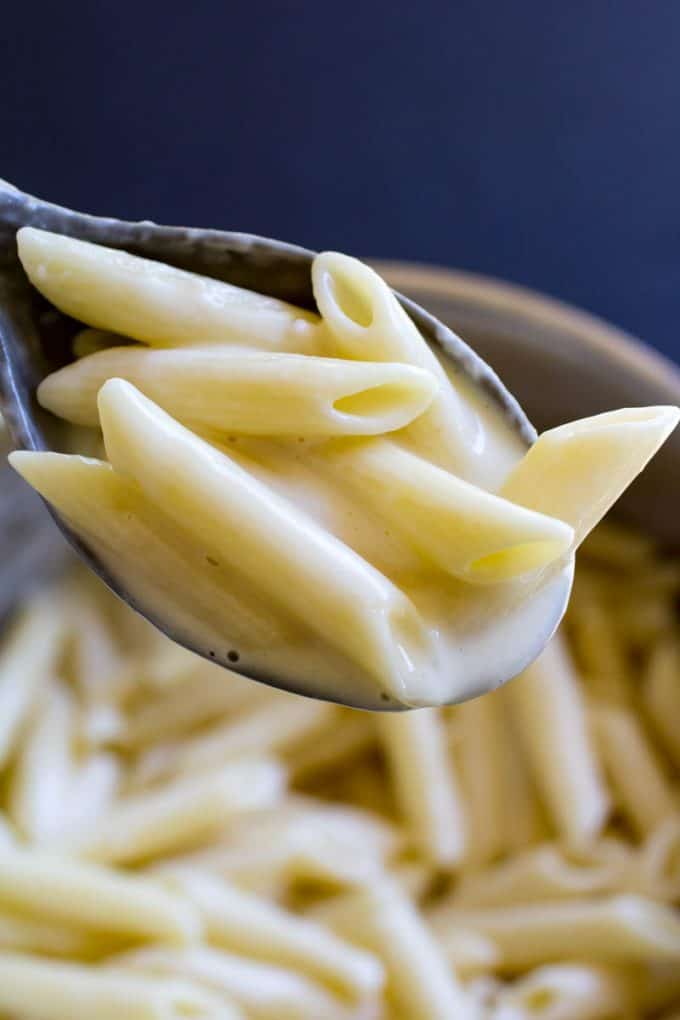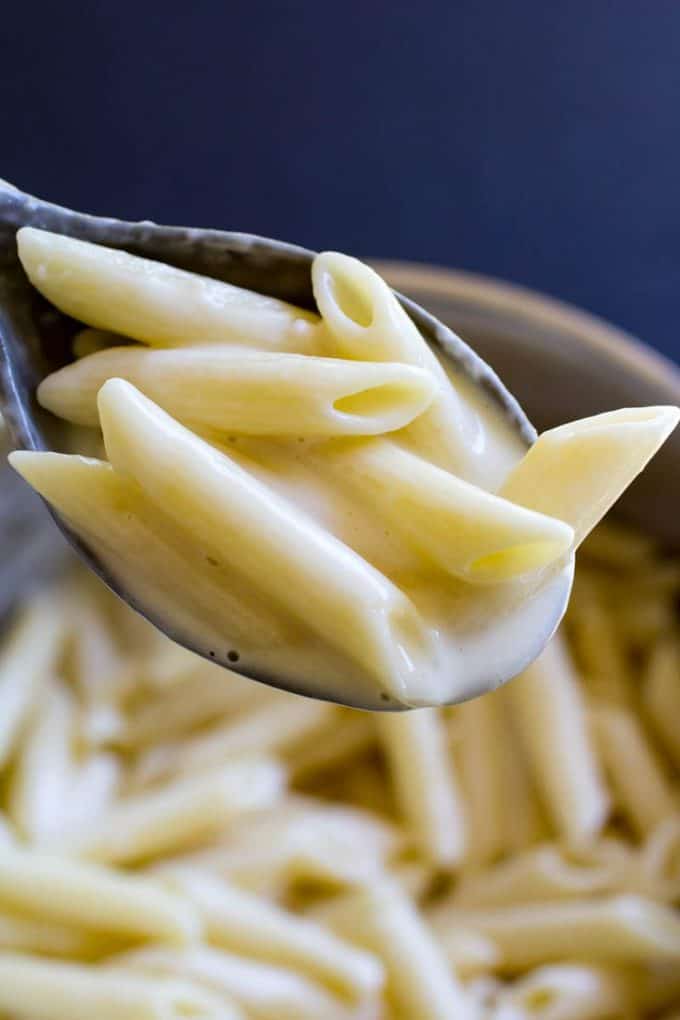 Tips for One Pot Creamy Noodles
When I first saw the trend of one-pot pasta recipes I was a little skeptical. I mean, I have a massive love for pasta and while the appeal of how simple a one-pot method would be was major, I am also pretty picky about my pasta and in particular, overcooked pasta. That means in most cases baked pasta dishes and these one-pot recipes are NOT my thing. I need some BITE left in those noodles.
I have been making this creamy noodles recipe forever, and the biggest tip I have for you is to make sure you are using high-quality noodles. It really makes a big difference.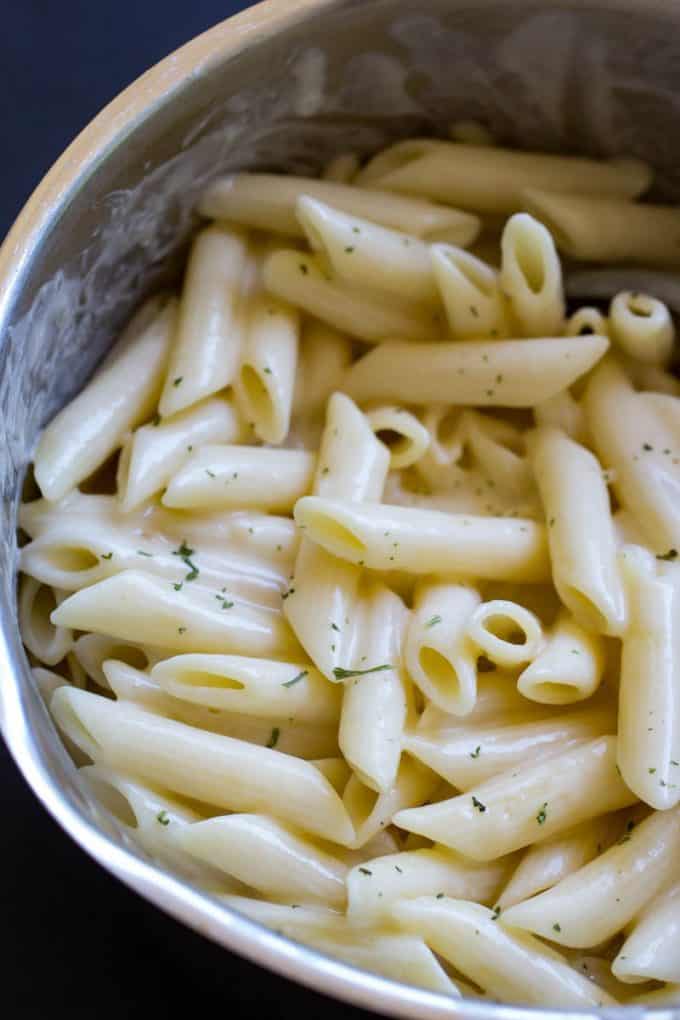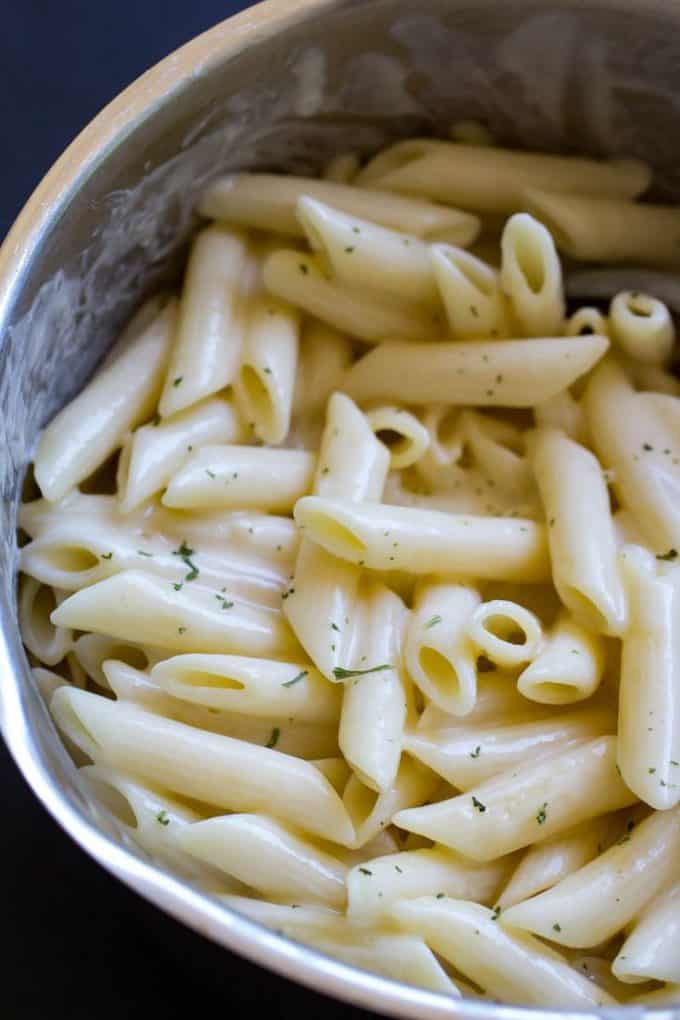 This sauce is my favorite because it is SO smooth and coats evenly. The mustard powder gives a unique flavor to the pasta that I feel sets this recipe apart from other methods out there.
When you cook your pasta in one-pot it can be a little different, so follow these tips for making one pot pasta recipes, and have success every single time.
Liquid | Ensure that you have enough fluid in your pan. As the pasta cooks, it will absorb the liquid, and you don't want to not to have enough liquid or your pasta will burn.
Stir Often | One pot pasta recipes do need to be stirred often as they can stick pretty easily. Make sure to stir your pasta frequently!
Big Enough Pot | Because you are adding more ingredients into your pot, you want to make sure it is large enough to hold the ingredients. For this recipe, there are no meat or veggies going in, but if you were to make a one-pot pasta that had meat and vegetables you need to account for that. Ask me how I know. 😀
Slow Stir | Make sure when you are pouring in any milk based items that you slowly mix them in at the end, and on a lower heat setting. If the temperature is too hot, it can curdle the milk. Slowly incorporating it at a lower temperature is best.
You are also welcome to play around with which shape pasta you enjoy the most. Maybe you like the look of bowtie pasta, or love the way that rotini grabs alll of that delicious sauce. As long as you are aware of the different cook times, go crazy!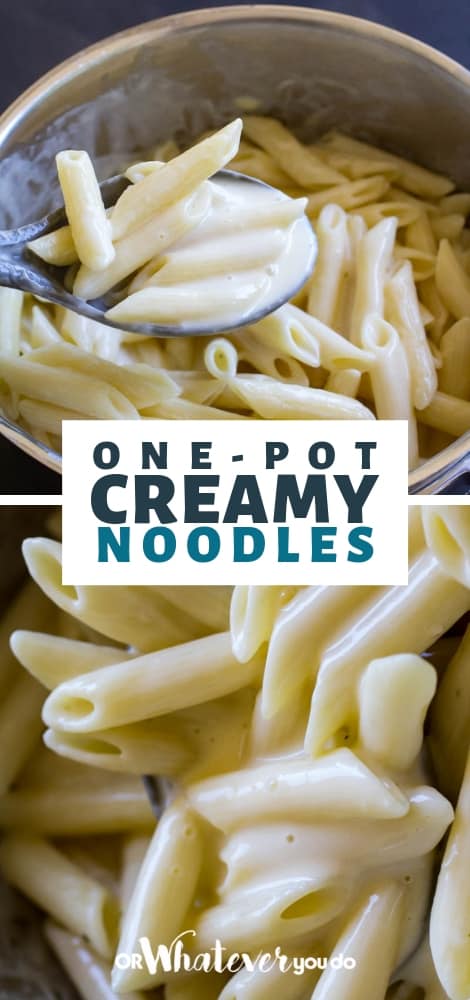 Yield: 6 servings
One-Pot Creamy Noodles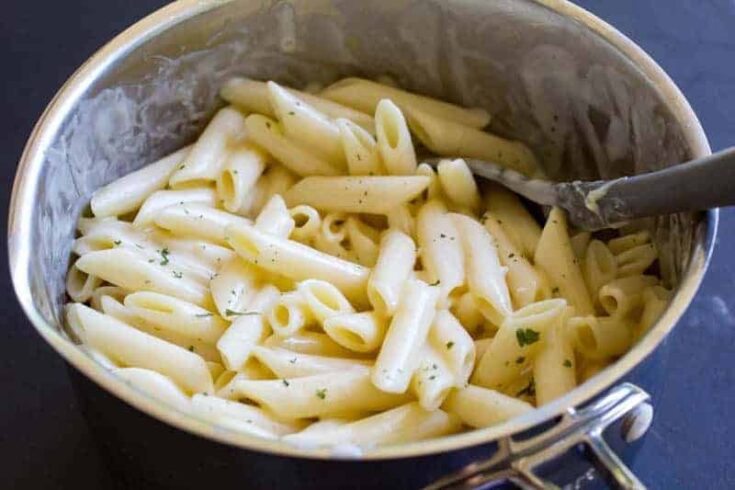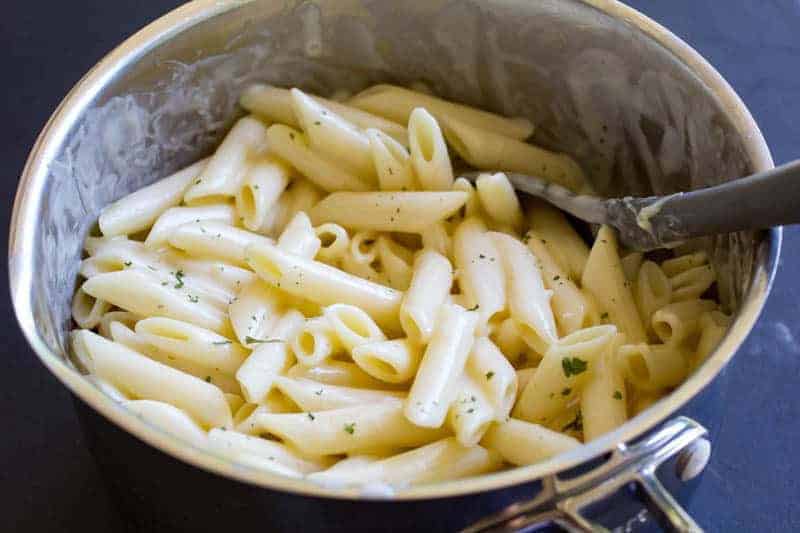 This easy one-pot dish is super creamy and also SUPER easy! You're going to make this over and over!
Ingredients
1 pound penne noodles
6 cups water
1/2 teaspoon salt
4 tablespoons salted butter
1/4 teaspoon mustard powder
1/2 - 1 cup whole milk or half and half
1 pinch cayenne (optional)
1/2 teaspoon chopped fresh herbs (thyme, basil, parsley, oregano are all good choices! pick your favorite!
1 cup shredded cheese, parmesan or mozzarella work really well
Instructions
Place the penne, water, salt, butter, and mustard powder. Bring to a simmer over medium heat, stirring frequently. Let simmer until the pasta is tender. Reduce the heat to low.
Stir in the milk, cayenne, herbs, and cheese. Stir until the cheese is melted and combined.
Serve hot!
Nutrition Information:
Yield:
12
Serving Size:
1
Amount Per Serving:
Calories:

298
Total Fat:

17g
Saturated Fat:

10g
Trans Fat:

1g
Unsaturated Fat:

5g
Cholesterol:

46mg
Sodium:

426mg
Carbohydrates:

25g
Fiber:

1g
Sugar:

2g
Protein:

11g