Just when you thought that prime rib couldn't get better, we went and picked up an American Wagyu Black-grade Prime Rib Roast from Snake River Farms and then roasted it on our Traeger after being coated in seasoned butter. Then, the whole thing gets basted every 7-10 minutes with butter until it is cooked perfectly and is the prettiest color you've ever seen on a rib roast. This is the year of the Butter-Basted Smoked Prime Rib.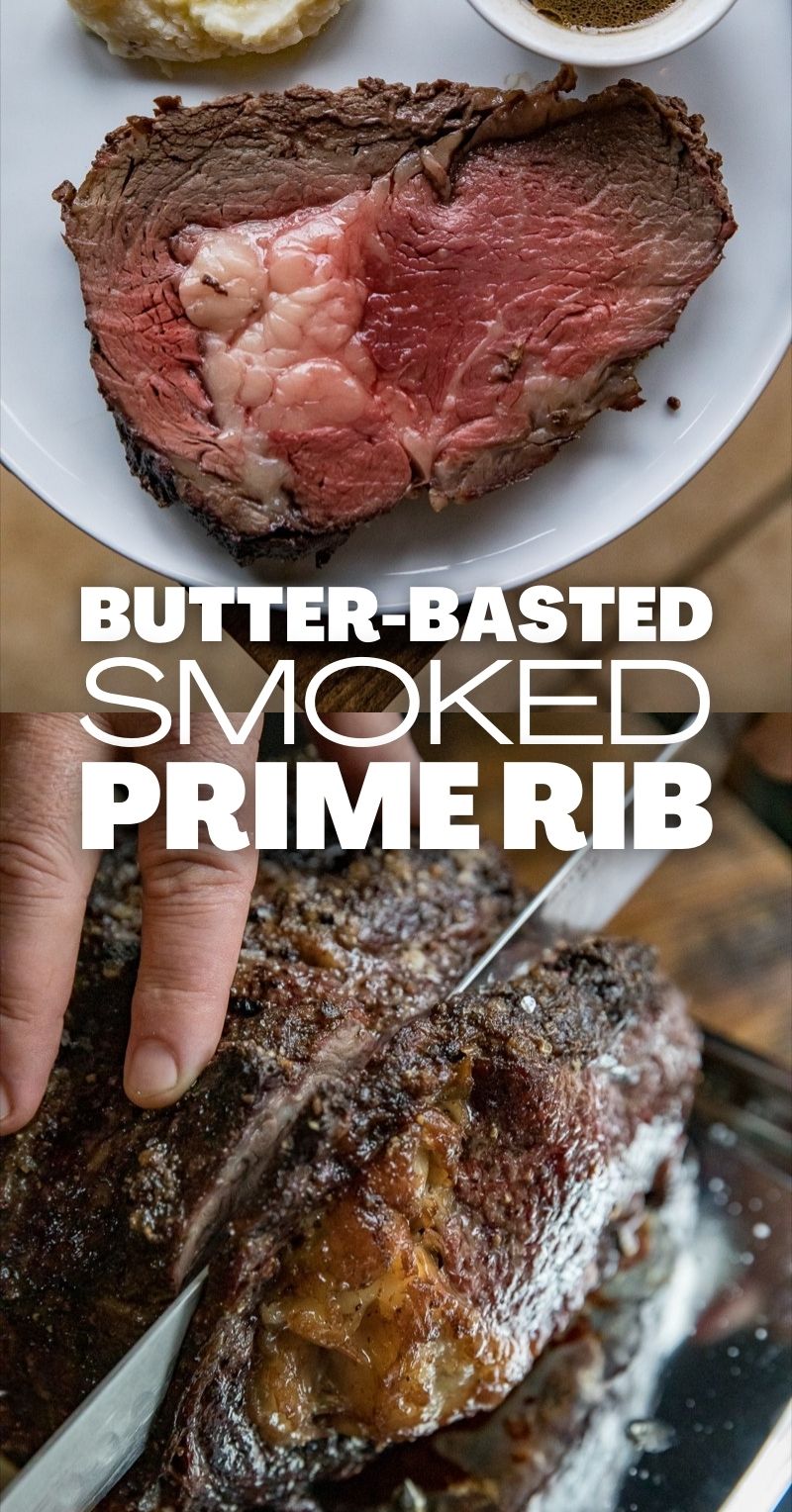 Butter-Basted Smoked Prime Rib Roast
Nothing says special occasion like a standing rib roast. These are not only one of the most tender and flavorful cuts of beef, they are also one of the easiest to prepare. We love to do our smoked prime rib in the pellet grill since wood-fire goes so well with big beefy roasts, but this recipe would also work in the oven if you haven't jumped on the pellet grill wagon yet.
Technically, this is probably a "grilled" prime rib. For this roast we ran at 350° from start to finish. That isn't classically considered "smoking". Then again, some people say that pellet grills aren't really "smoking" either, sooooo take all of these definitions with a grain of salt.
There was plenty of wood-fired flavor in this roast even with the relatively high cook temp, but if you want to really smoke it up you can also start this at 200-225° for the first hour or so before turning it up. Follow the rest of the instructions as written.
Check out all of my Traeger Recipes!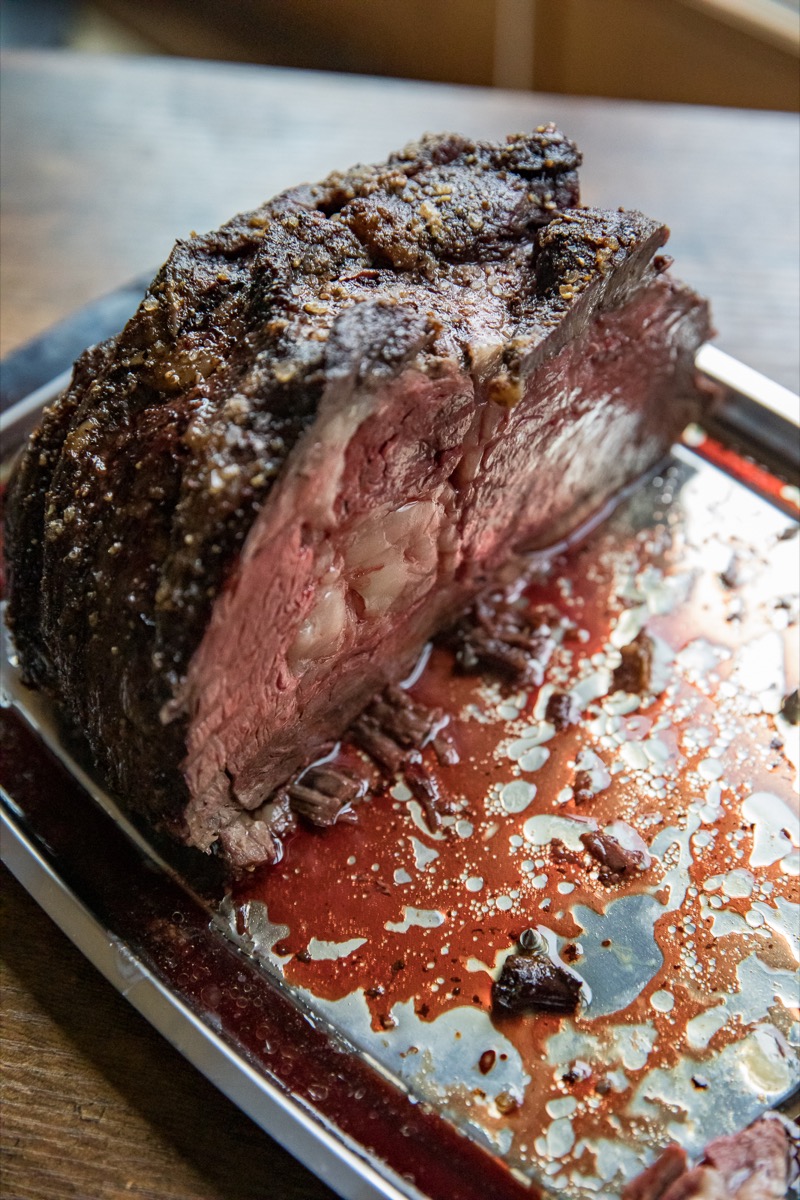 Where's the best place to get a rib roast?
Usually we buy our prime rib at Costco or the local grocery store, but once in a while we like to splurge and go a little beyond "prime" grade meat and dip our toes into the Wagyu world. Or at least Wagyu-world adjacent.
I'm a big fan of Snake River Farms meats. This Manhattan Filet was the best steak I've ever had, and we've also done an American Wagyu brisket from them as well that was incredible, so when I was thinking about something special to make for the family (and for you all, too, at least in spirit) finally trying a rib roast from Snake River was top of the list.
More great BEEF recipes here!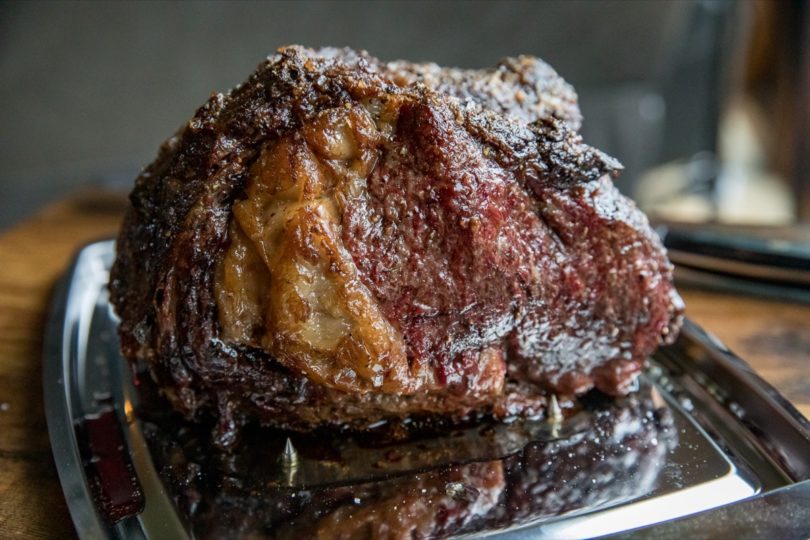 Make your life easier with these tools
My list of recommended ingredients and tools are mostly optional, but really make your life easier when you're cooking a rib roast (and a lot of other things).
Digital Wireless Thermometer
Roasts are incredibly easy to make, but if you overcook them it is a lot of money down the drain. Well, not down the drain exactly, but definitely into a soup pot which is GREAT, but not exactly made for the prime rib price per pound.
A good wireless thermometer is going to save your dinner, especially if you are the type of person who forgets what you walked into a room for, like me. The ThermoWorks Smoke has been our go-to. It is durable, high-quality, and super reliable. Not only do we use it for prime rib, but also for basically any cut of meat that takes longer than 15-20 minutes to cook. It is also my peace of mind during overnight cooks. You can set a high and low alarm so if the fire flames up or goes out, you'll know right away.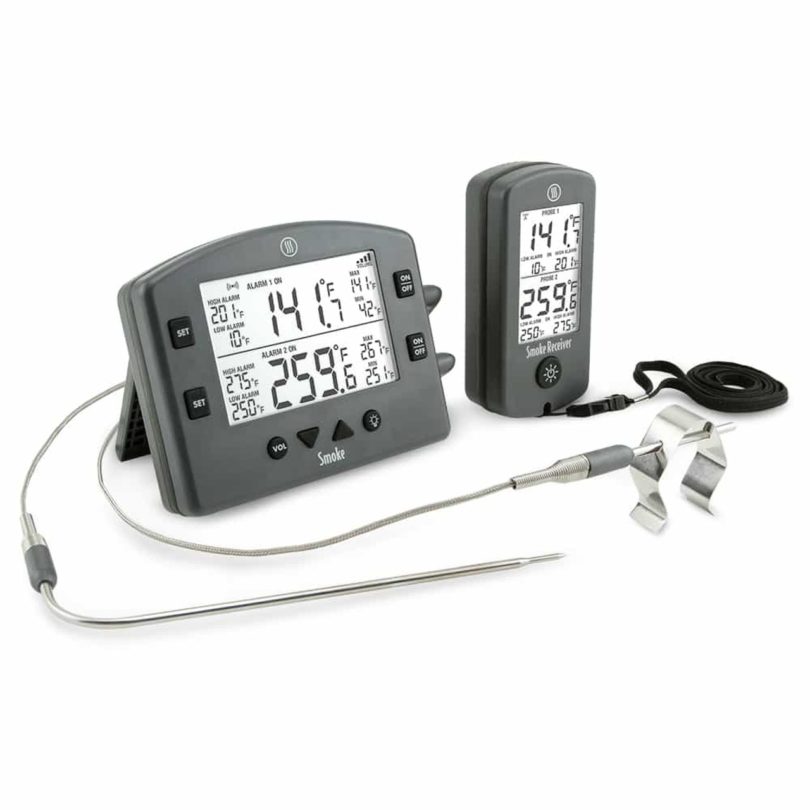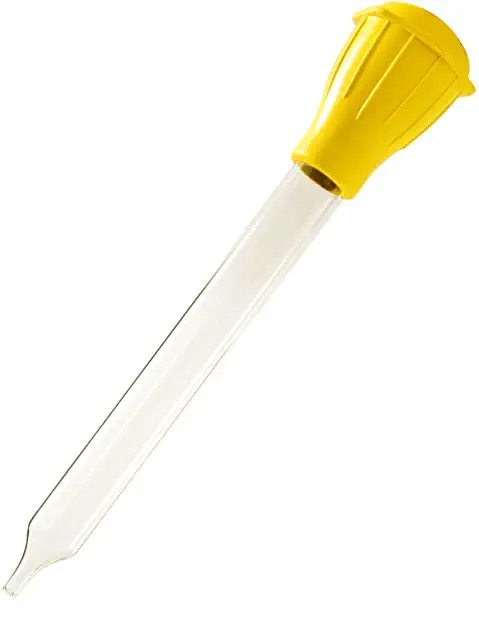 Good baster
I've had approximately 15 plastic basters in my life, and every time they last 1-2 cooks before the plastic cracks and they lose suction. Recently I picked up a glass baster and it has made a world of difference! It takes a little more care in the utensil drawer, but it managed to last even in my house where the teenagers pretty much exclusively do dishes at this point.
Stay-put cutting board
A cutting board with some texture on it to keep your meat in place while slicing is surprisingly amazing. You can use this for turkey, chickens, and whatever else you need to stay stable while slicing.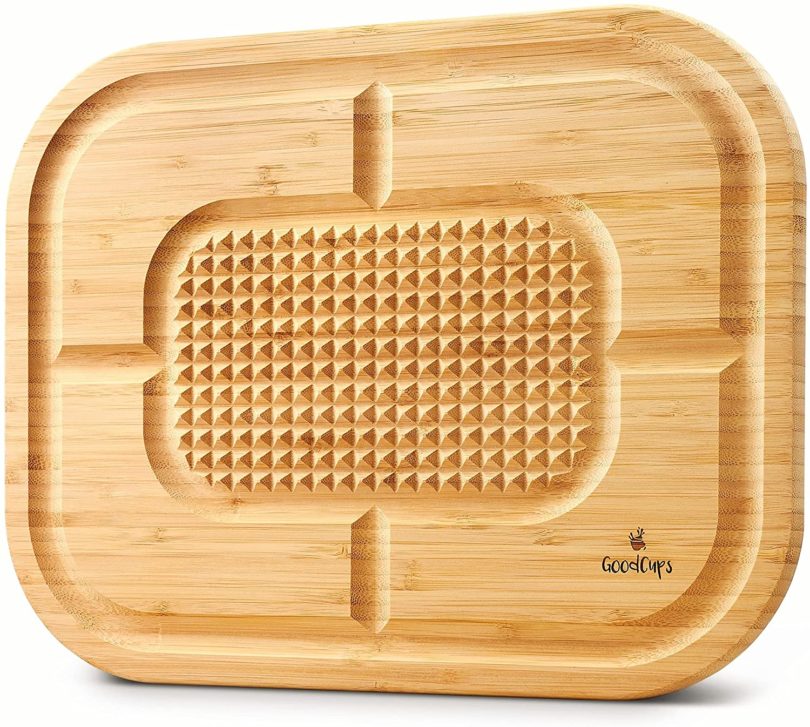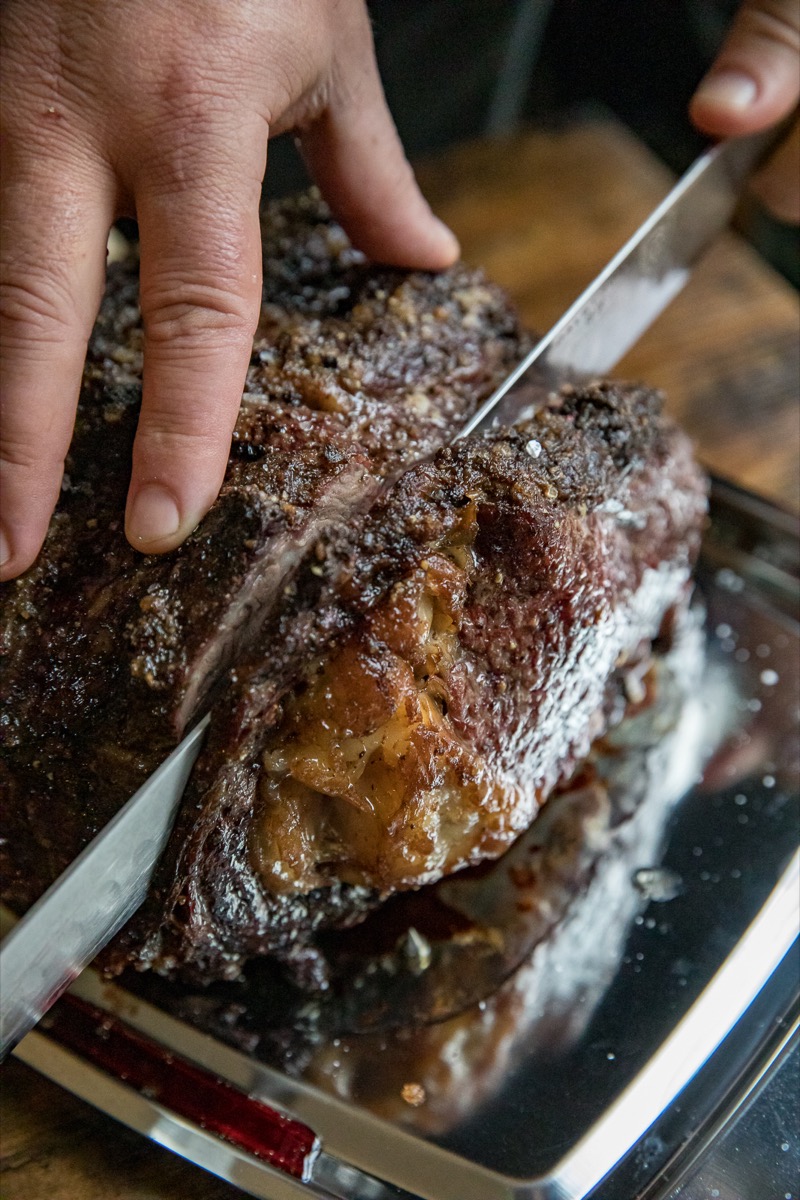 Sharp high-quality knife
There's nothing worse than having a big chunk of meat and then winding up having to hack it apart with a dull knife. Invest in at least one high-quality knife, and get it sharpened professionally as needed.
We love Dalstrong knives around here! The slicer in the photos in the post is fantastic. We use it for brisket and roasts mostly. If you want something a little more versatile, the BBQ Pitmaster Knife is my favorite for many different things. If it is out of stock on the Dalstrong site, they have them available on Amazon too.
See our Leftover Roast Beef recipes here!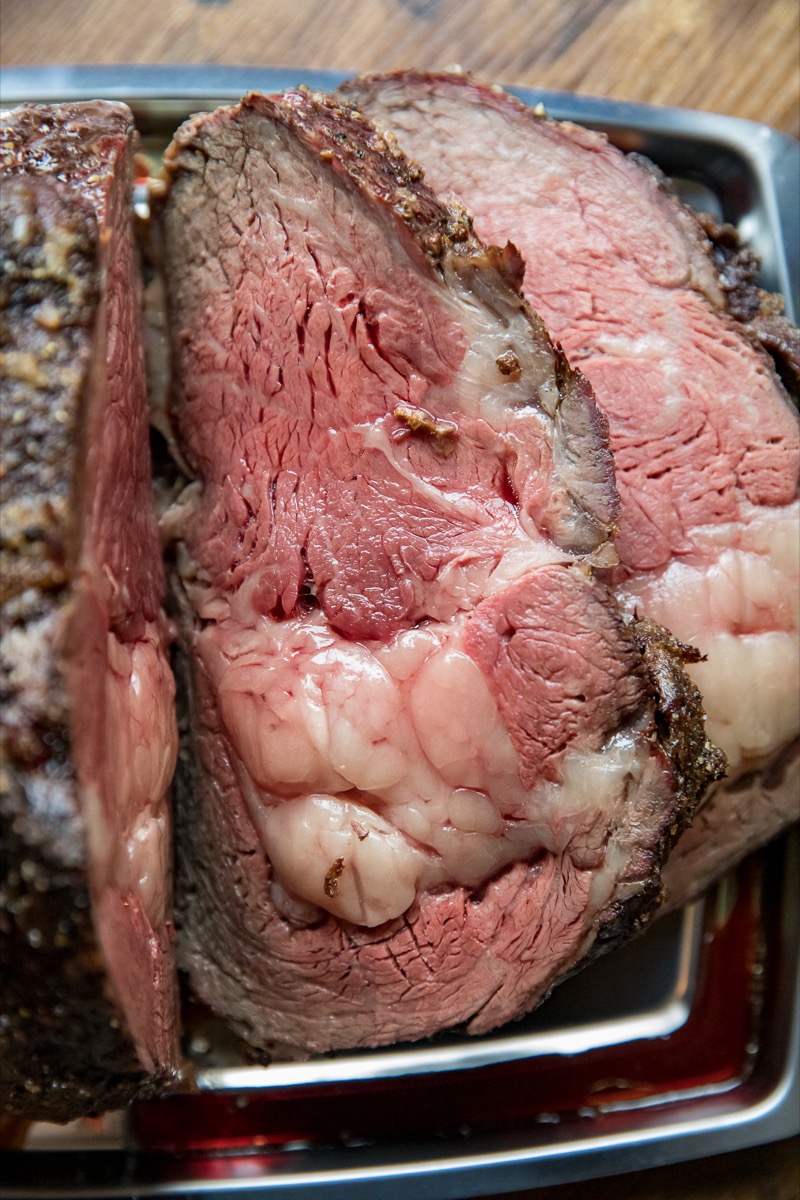 Butter-Basted Prime Rib shopping list
Wondering if you have to hit the store? Here's the list of items you'll need to make this recipe. For specific amounts, please refer to the printable recipe card at the bottom of the post.
Prime Rib Roast
Butter
Smoked Salt
Granulated Garlic
Cracked Peppercorn Trio
Follow me on Instagram!
How to make Smoked Prime Rib
This is just the overview so you can see what you're actually getting into here. When you are cooking, you'll want to use the full recipe at the bottom of the page.
Preheat the pellet grill
We are going to cook this roast at 350°F the whole way through.
Mix it up
Take your softened butter and stir in the seasonings until they are incorporated throughout the butter. Rub the butter over all sides of the roast, and place into a grill-safe roasting pan. Sprinkle the top of the roast with kosher salt.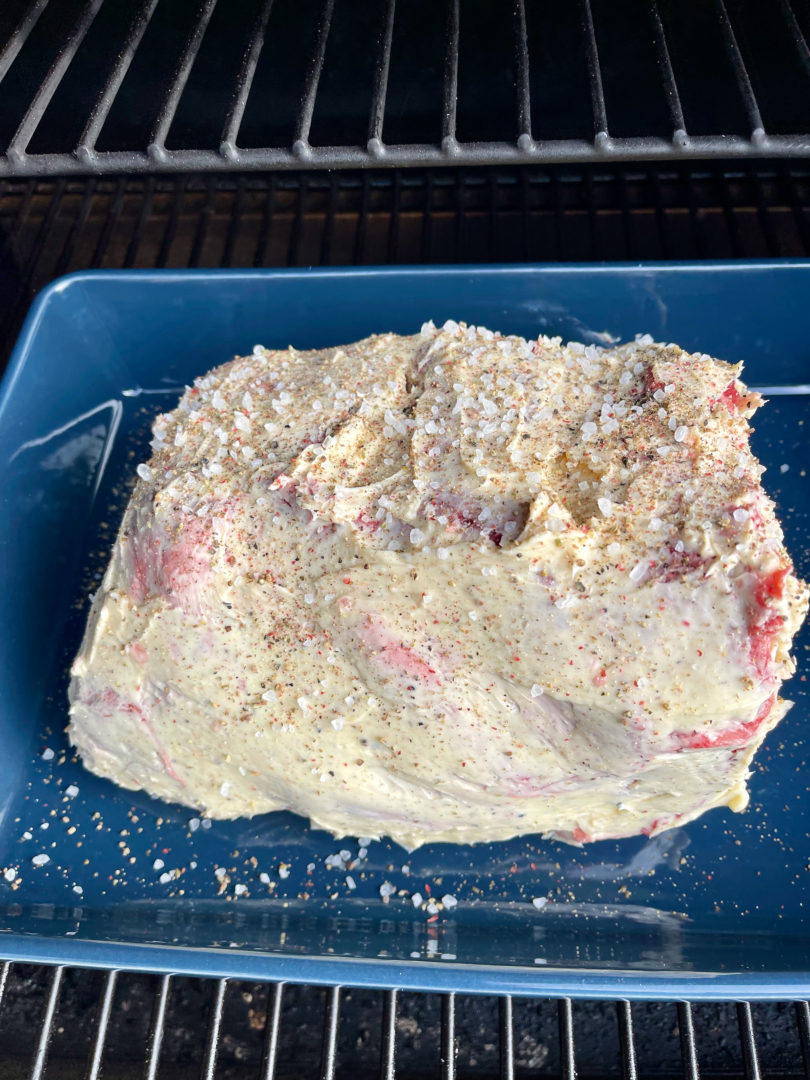 Grill
Place the roasting pan into your pellet grill and let cook for 30 minutes. Baste the roast with the melted butter. Continue to let the prime rib cook on the grill, basting every 15-20 minutes, until the roast reaches about 3-5° UNDER your desired internal temp. Check out the chart below for my recommendations.
| | | |
| --- | --- | --- |
| STEAK TEMPERATURES | PULL | FINAL |
| RARE | 115° | 120° |
| MID-RARE | 125° | 130° |
| MEDIUM | 130° | 135° |
| MEDIUM-WELL | 135° | 140° |
| WELL | 140° | 145° |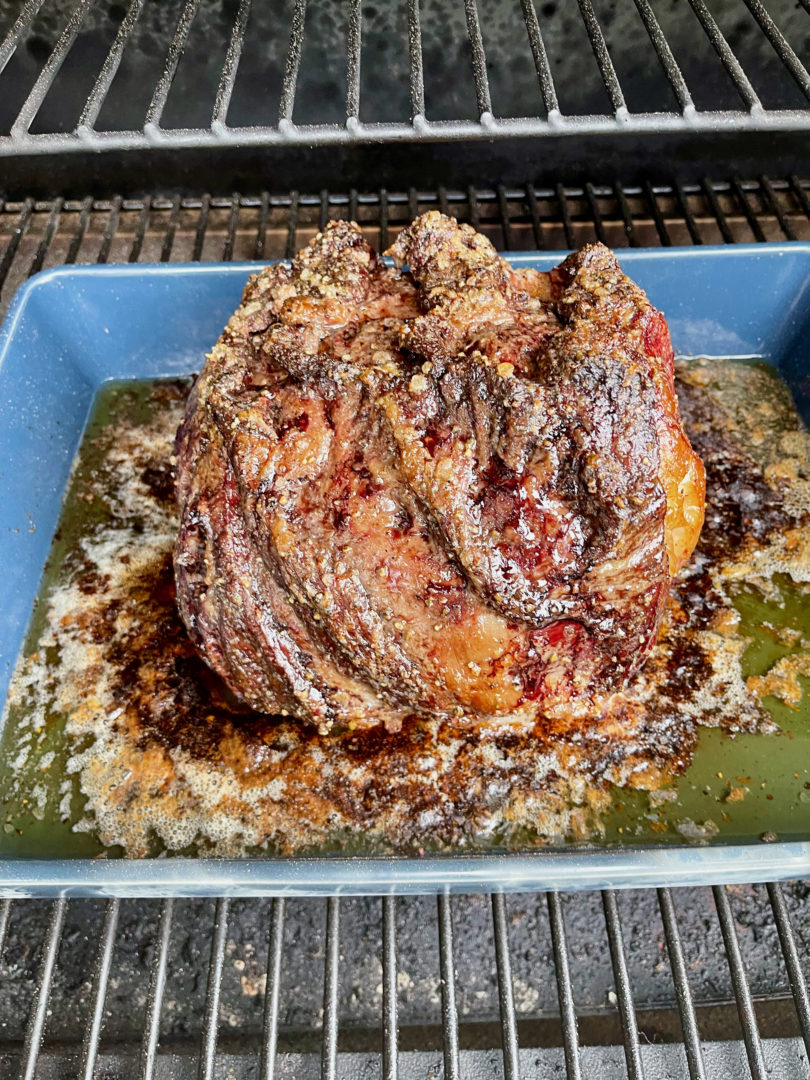 Rest
Large roasts need at least 15 minutes to rest and let the juices redistribute through the meat before slicing. The final temp also continues to rise for a bit even after it is pulled off of the grill.

You can use any pan juices as the base for an au jus, if you like au jus with you rib roast. Just strain it through a fine mesh strainer and simmer with beef stock and red wine.
Slice and enjoy
This is the easy part. 😉 Serve with your favorite steakhouse style sides and save the leftovers, if there are any! We have lots of ideas for how to use those for you, below.
Join our Easy Traeger Recipes Facebook Group!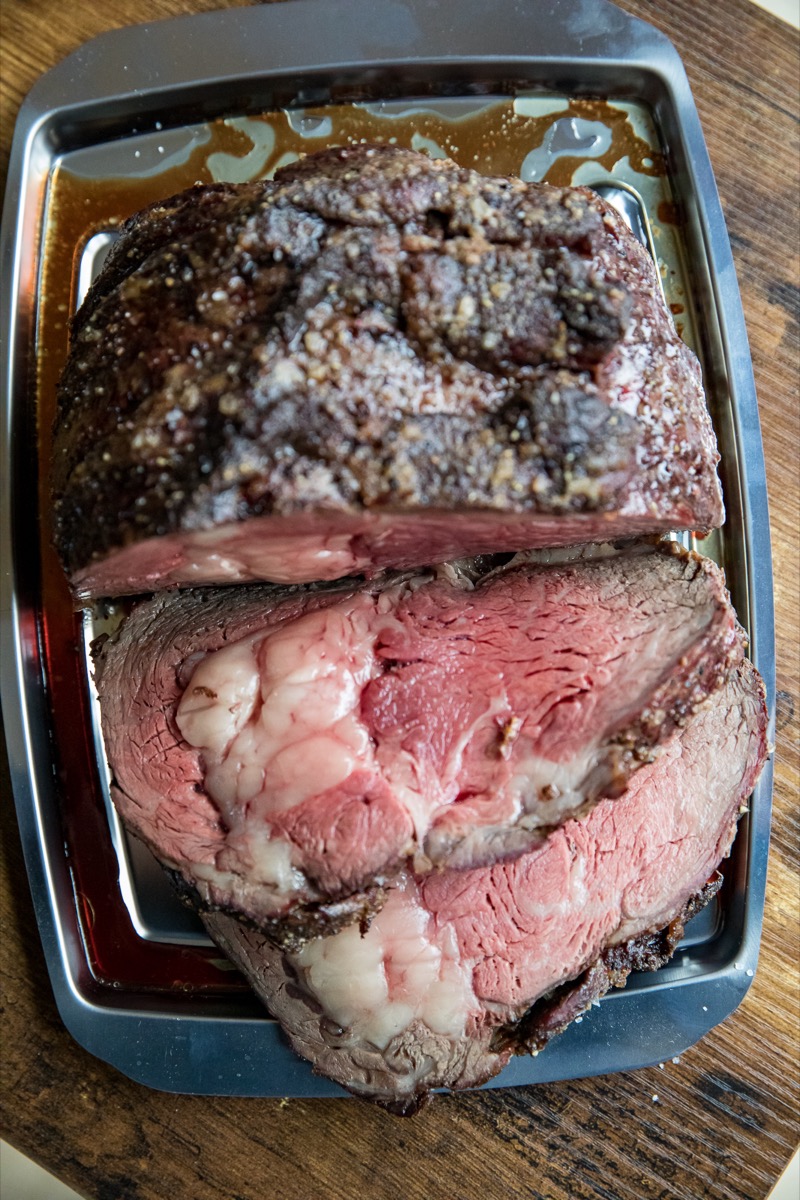 What are the best sides to serve with prime rib?
When we do prime rib, I like to do a steakhouse-like experience. That means fresh bread on the table with a high quality butter (try Irish butter, it'll change your life), and all the steakhouse sides. Check out the list below for my all-time favorites!
Get my easy Side Dish recipes!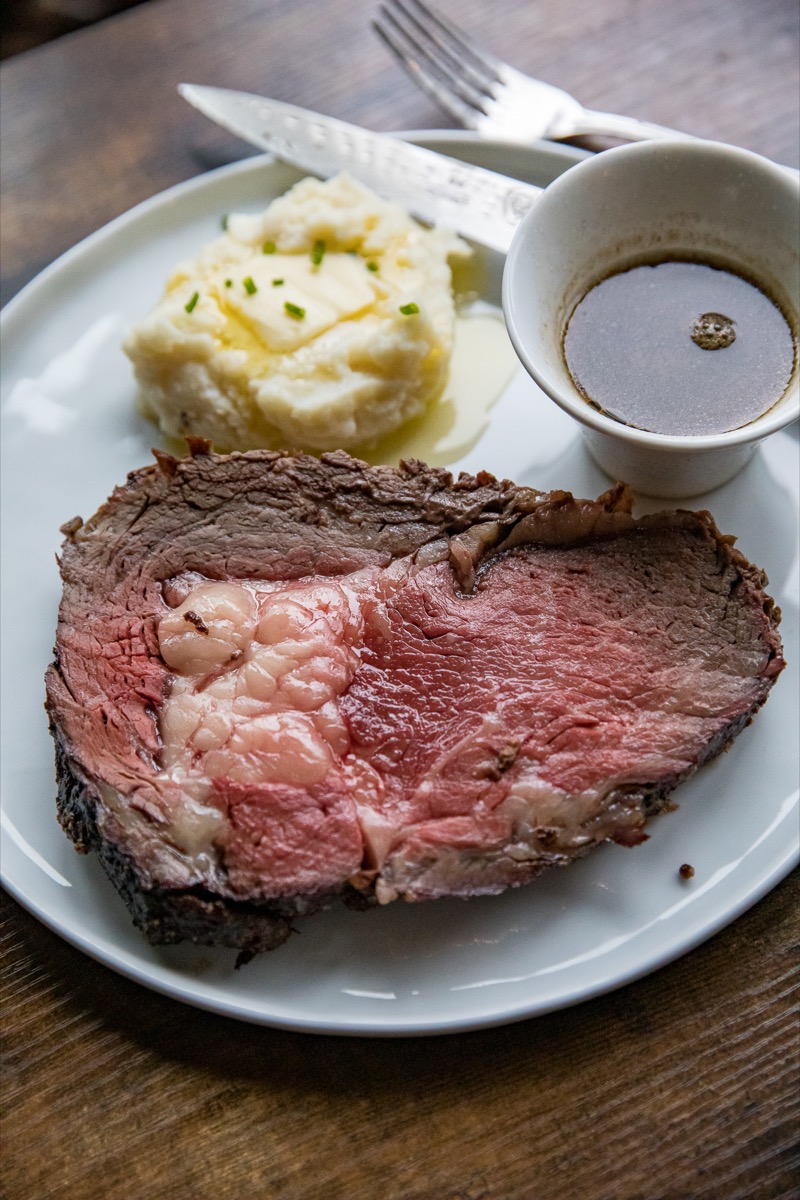 What can you do with prime rib leftovers?
You can make so many things with leftover roast beef! One of my favorite, and also one that's been super popular every year after Christmas, is our Beef Barley Soup with Prime Rib. It is easy to make, hearty, filling, and delicious.
Another great option is the Prime Rib Pinwheel Sandwich. It has a tangy horseradish sauce baked right in, and uses Crescent Roll dough.
Know what else is great? Beef Stew. Potatoes, carrots, gravy, corn, beans, and whatever else you care to throw in there. Bonus points if you put it inside of a bread bowl too.
Want something a little lighter? Try my beef and bleu cheese wrap with some leftovers shaved super thin.
Love Philly Cheesesteaks? You'll never have a better one than this if you use some of this leftover American Wagyu Prime Rib!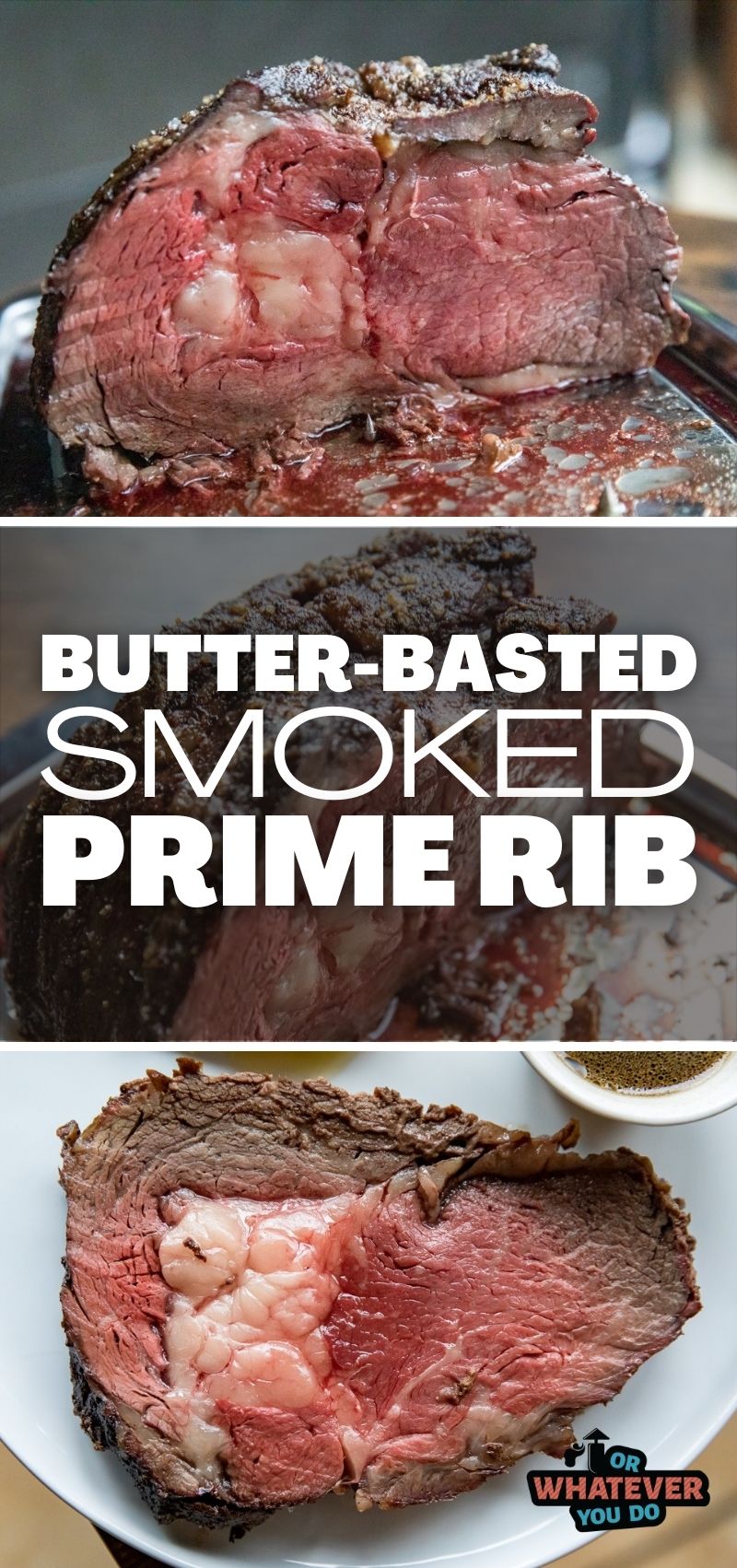 Yield: 8 servings
Butter-Basted Smoked Prime Rib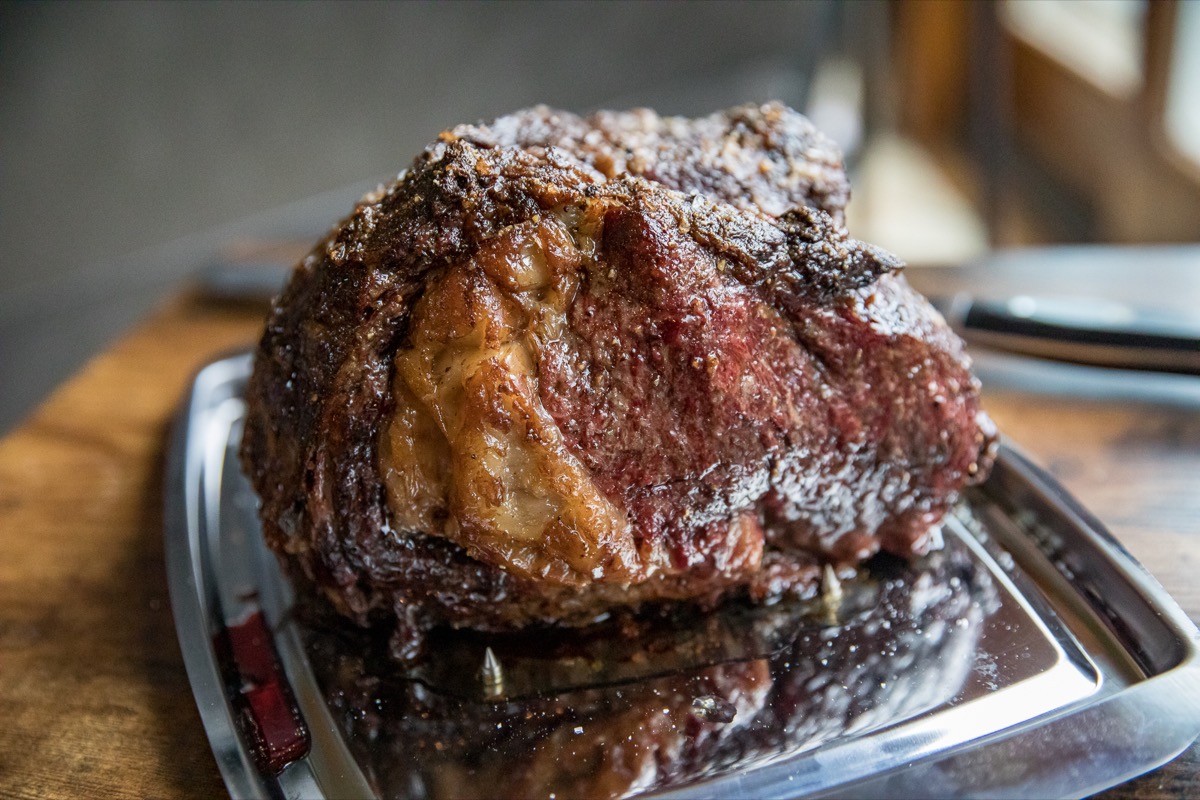 Make an already special meal even more spectacular by using high-quality beef and doing our butter-baste method for the perfect crust!
Total Time
2 hours
10 minutes
Ingredients
6 pound American Wagyu Prime Rib Roast *see note
1 cup salted butter, softened
1 teaspoon smoked salt
1 teaspoon ground black peppercorn trio
1/2 teaspoon garlic powder
1 teaspoon kosher salt
Instructions
Preheat your pellet grill to 350°.
Mix together the softened butter and the salt, pepper, and garlic powder. Spread all over all sides of the prime rib and place the roast into a grill-safe roasting pan. Sprinkle the top with the kosher salt, and a little extra ground pepper if desired.
Cook the prime rib for 30 minutes and then baste with the butter that has since melted off the roast.
Continue cooking and basting every 15-20 minutes until the roast reaches 3-5° UNDER your desired final internal temperature. For us, that's about 125° internal.
Pull from the grill and rest for 15-20 minutes. If desired, prepare the au jus by straining the liquid from the bottom of the grill pan and then mixing it in with some beef stock. Simmer while the roast is resting and serve along with some prepared horseradish.
Slice and serve!
Notes
* A normal rib roast will work here too. We love the SRF American Wagyu, but this method works really well no matter what grade of beef you have!
** If you want to maximize the smoke flavor, you can start the rib roast at 200-225°F and run it for an hour at that temp before turning it up.
Recommended Products
As an Amazon Associate and member of other affiliate programs, I earn from qualifying purchases.
Nutrition Information:
Yield:
8
Serving Size:
1
Amount Per Serving:
Calories:

891
Total Fat:

68g
Saturated Fat:

34g
Trans Fat:

3g
Unsaturated Fat:

28g
Cholesterol:

271mg
Sodium:

671mg
Carbohydrates:

0g
Fiber:

0g
Sugar:

0g
Protein:

71g
Nutrition data provided here is only an estimate.