If you want the best steak of your life, the Snake River Farms American Gold Grade Wagyu Manhattan NY Filet would be an easy choice for a splurge.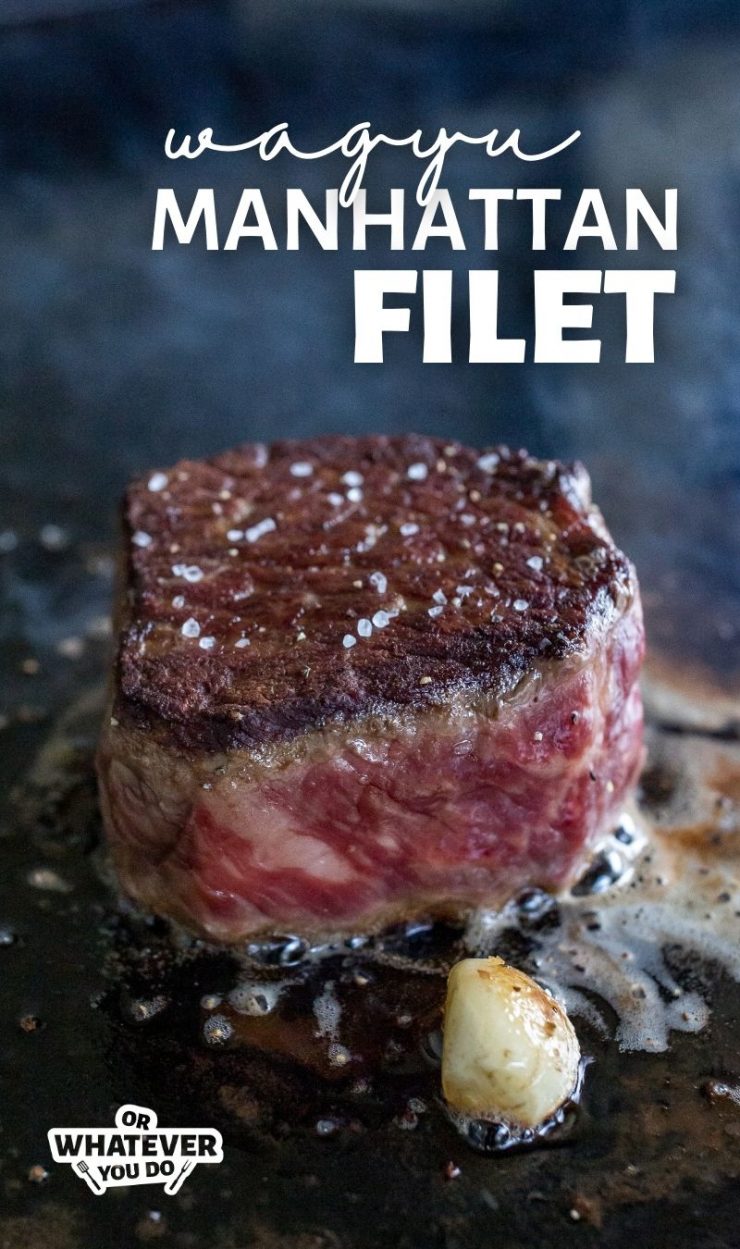 American Wagyu Manhattan Filet
Perfectly marbled, simply seasoned, and seared on the Blackstone Griddle, this steak is perfect for a special occasion or gift for the steak lover in your life.
Spoiler alert.
This steak is going to wreck you for all other steaks.
I've always been a fan of a good steak. It is one of the best centerpieces for a meal, and when done correctly they are so tender, delicious, and the perfect meal.
I thought I had eaten good steak before, but it turns out I was mistaken.
OWYD is a member of the Snake River Farms affiliate program. If you buy using a link here, OWYD receives a small commission. Your price is not impacted at all. Thanks for supporting OWYD by eating amazing steak!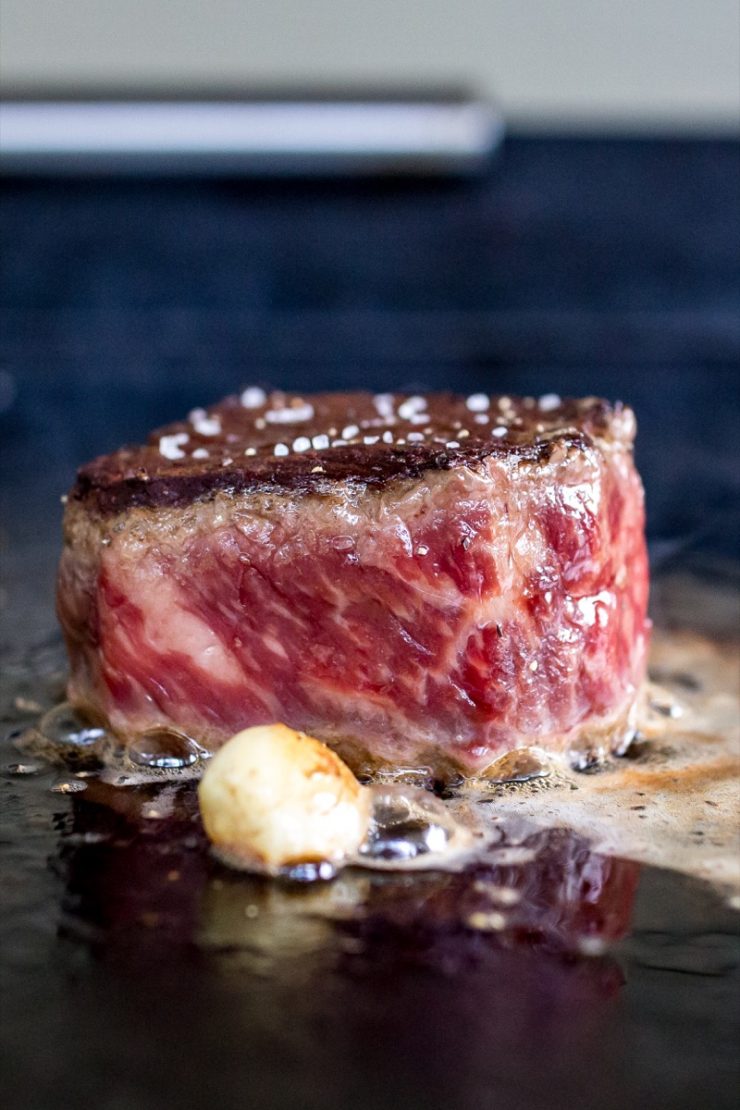 What is American Wagyu?
Snake River Farms gives a great explanation of this on their site, but basically – American Wagyu takes purebred Japanese Wagyu beef and crossbreeds it with American beef cattle to make American Wagyu.
American Wagyu is known for the intense buttery marbling of Japanese Wagyu, but with the bolder beefier flavor of American beef.
More great BEEF recipes here!
What is the Manhattan Filet?
The Manhattan Filet is a thick-cut steak from the same piece that the New York comes from. This cut is just typically thicker and is taken from the most tender part of the New York.
I'd never had one before, and I was a big fan. I appreciate steak that doesn't have a ton of gristle to work around, and that you can really just eat the WHOLE THING. This one definitely fits that bill.
Buy your own Manhattan Filet here.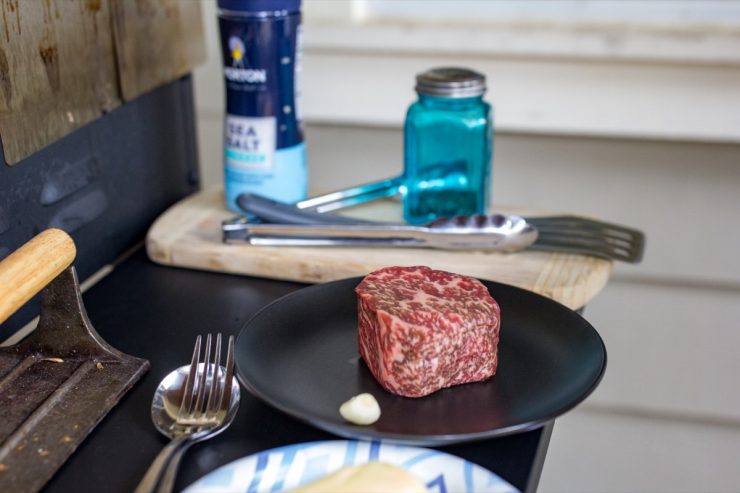 What's the best way to cook a Wagyu Manhattan NY Filet?
In my opinion, this cut is best cooked on a gas griddle or in a cast-iron skillet. You all know I'm a big fan of the reverse-sear, but in this case, I really wanted to develop as much of a crust as possible on this steak without cooking it a degree over medium-rare.
If you don't have a Blackstone or other comparable gas griddle, this could also be accomplished in a cast-iron pan on your stovetop too.
Follow me on Instagram!
Where should you get an American Wagyu steak?
We ordered ours from Snake River Farms.
Snake River Farms fancies themselves as the "Pioneers of American Wagyu Beef", and I have to agree.
They not only developed and cross-bred the Wagyu cattle with the American Beef back in the beginning days of the company, but they also control the entire supply chain. From the barn to the doorstep, Snake River Farms is on it.
You can order your Manhattan Filet here.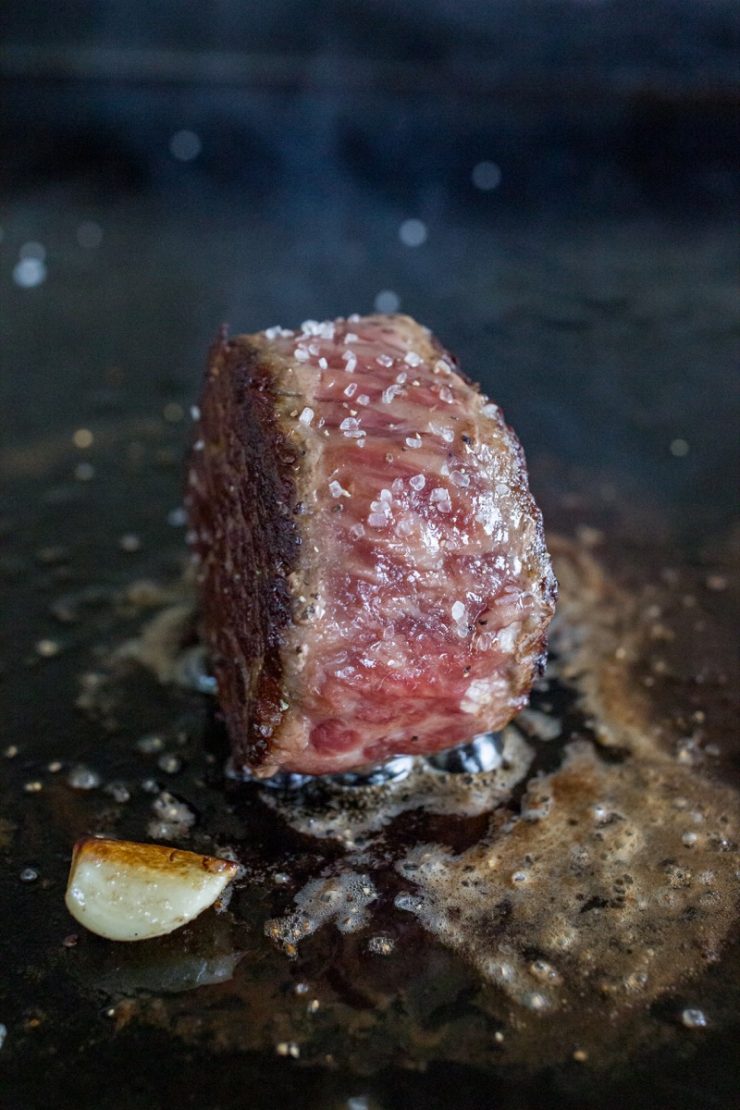 How can you tell when your steak is done?
The only reliable way to tell when a steak is cooked to the correct temperature is to use a fast and accurate thermometer.
At our house, we love the ThermoWorks Mk4. We've had this one for a few years now and it is super reliable, easy to use, and gets pulled out at almost every cook.
You can order your own Mk4 here.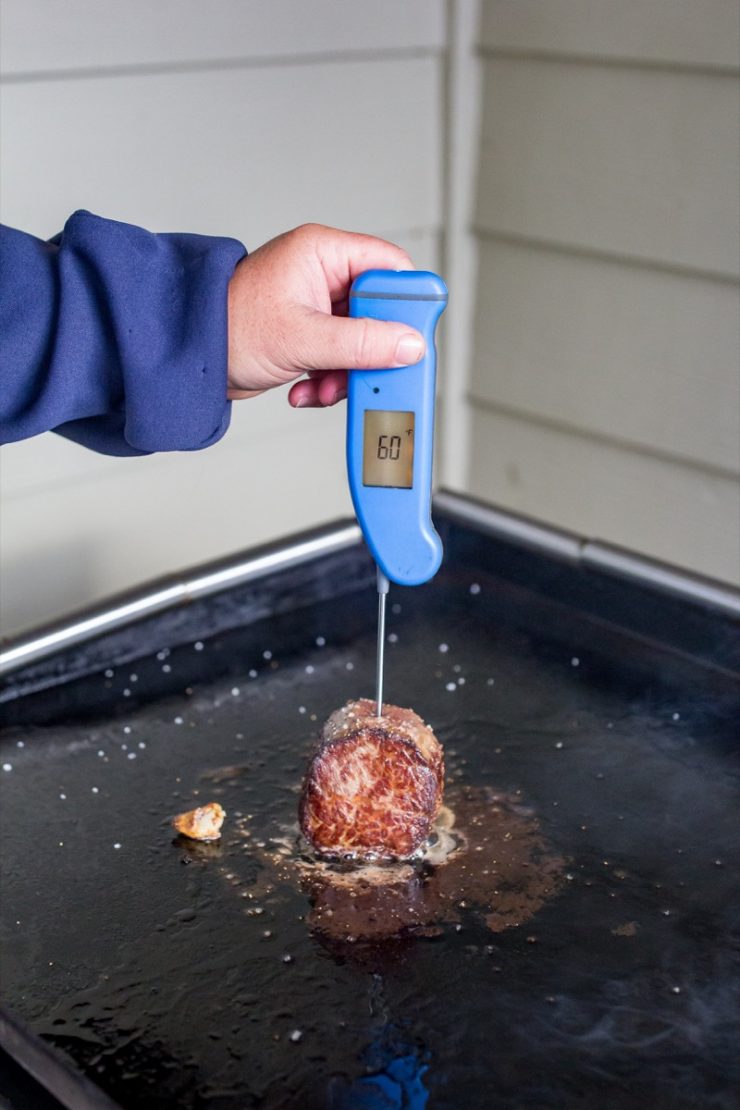 | | | |
| --- | --- | --- |
| STEAK TEMPERATURES | PULL | FINAL |
| RARE | 115° | 120° |
| MID-RARE | 125° | 130° |
| MEDIUM | 130° | 135° |
| MEDIUM-WELL | 135° | 140° |
| WELL | 140° | 145° |
What can you serve along with this Blackstone Manhattan Filet?
I'm very particular when it comes to my sides, and when you are whipping up a steak this fancy – you should be too.
Thankfully, that doesn't mean that it has to be overly complex or difficult.
Personally, I'd love a Smoked & Loaded Baked Potato with a steak like this if I was eating it for dinner. That baked potato along with a freshly tossed salad with my homemade Caesar dressing? Shoooooooot. Who needs a steakhouse. Not this girl!
Another great option would be our Smoked Potato Stacks with Parmesan Cream Sauce.
Some grilled asparagus would also go very well with a steak, as would a homemade grilled cheddar bay biscuits.
You could also get REAL fancy and make a grilled lobster tail too.
We made this one around lunchtime so actually ate it with toast and sunny-side-up eggs, and I wouldn't turn down that breakfast, ever. It was amazing.
More great steak recipes to love!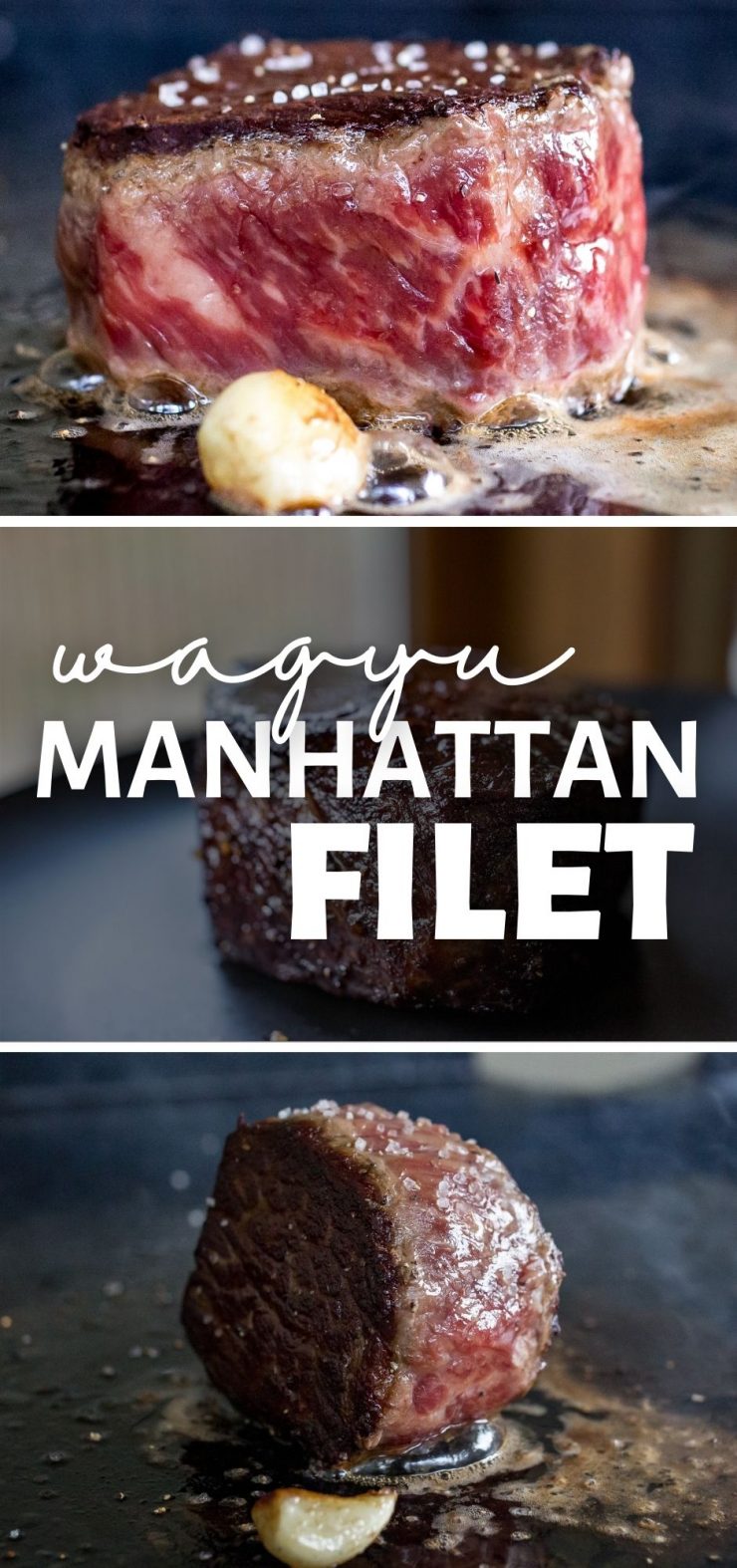 Buy your own Manhattan Filet here.
Yield: 1 steak
Snake River Farms American Wagyu Manhattan Filet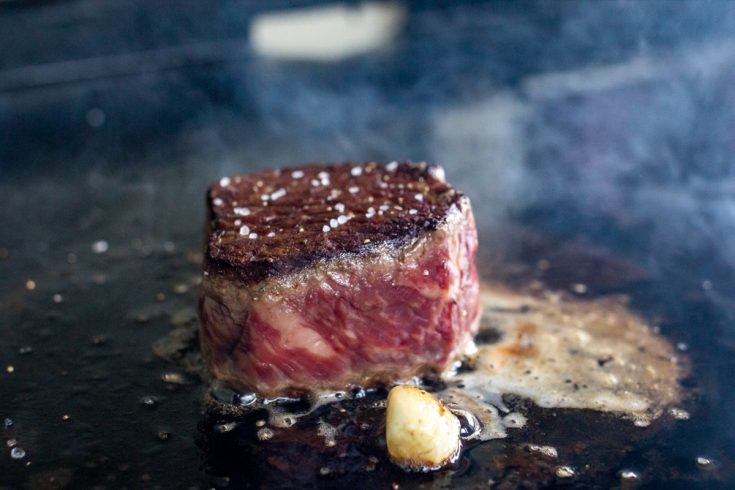 These delicious Manhattan Filets are from American Wagyu cattle and is the most tender, delicious steak I've ever had!
Additional Time
10 minutes
Ingredients
1 6-ounce Manhattan Filet
salt
pepper
butter
garlic clove
Instructions
Preheat your Blackstone over low heat. If using a cast-iron pan on the stovetop, you'll want to increase the heat to medium.
Let the steak rest for 10-15 minutes before cooking.
Place a teaspoon of butter onto the griddle and then put the steak on top. Don't touch it for several minutes, 4-5 is typical, or however long it takes for a crust to develop. Let the garlic cook next to the steak, and rub it over the steak periodically.
Sprinkle salt on the steak periodically as you are cooking it.
Lift the steak from the griddle, put down some more butter, and then flip it onto the uncooked side. Let that side develop a crust too.
Continue to put down additional butter, as needed, and cook each side of the steak until a dark brown crust has developed. Continue cooking until the internal temperature reaches your desired level of doneness. We cook ours to about 120° before the rest.
Remove from the griddle and let rest for 10 minutes, tented in foil, before cutting.
Recommended Products
As an Amazon Associate and member of other affiliate programs, I earn from qualifying purchases.
Nutrition Information:
Yield:
1
Serving Size:
1
Amount Per Serving:
Calories:

704
Total Fat:

26g
Saturated Fat:

13g
Trans Fat:

0g
Unsaturated Fat:

10g
Cholesterol:

113mg
Sodium:

724mg
Carbohydrates:

12g
Fiber:

1g
Sugar:

7g
Protein:

23g
Nutrition data provided here is only an estimate.