Smoked scalloped potatoes are a breeze thanks to my Traeger grill. You can make these Traeger scalloped potatoes at home for dinner tonight! They are easy, delicious, and all of that savory, cheesy goodness will have everyone begging for seconds. My smoked scalloped potatoes recipe will be your new favorite comfort food, give them a try!

Smoked Scalloped Potatoes
When you need a filling, hearty, comforting side to serve next to almost any main dish, I present to you one of the most classic pans of comfort food you'll ever meet, in your whole life.
Scalloped Potatoes have always been a favorite in my own personal "last meal" list, but when you cook them over live fire on a pellet grill, something amazing happens.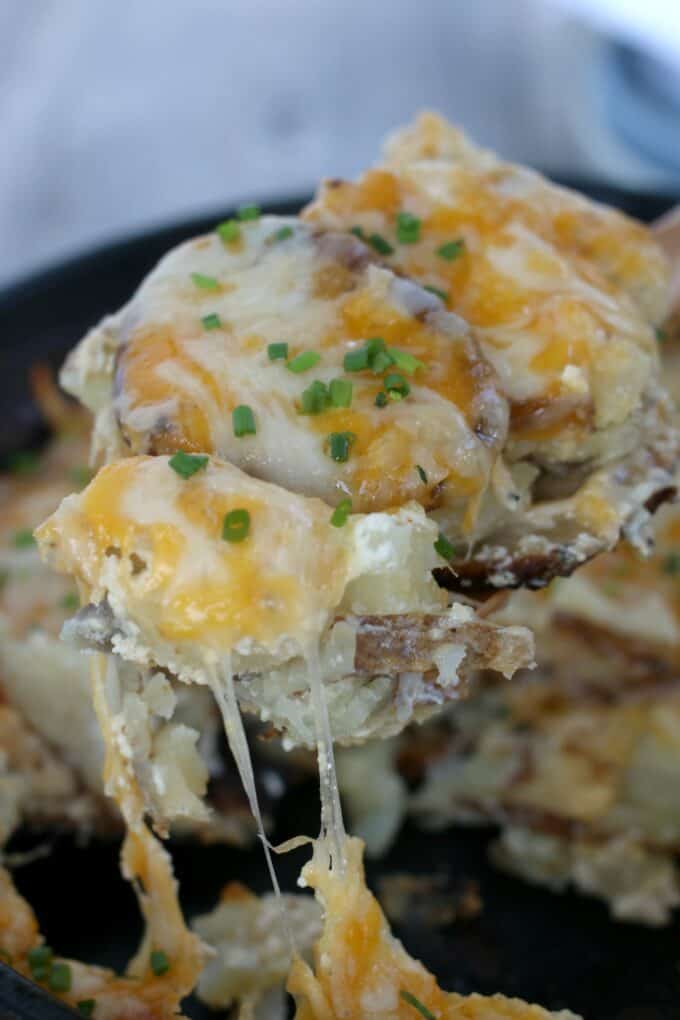 What you'll need to make smoked scalloped potatoes
The ingredients list is as unfussy as you would expect. The ingredients are simple but the way they come together is pure magic, I promise. You can adjust the seasonings to your liking if there are choices that you aren't particularly fond of, these scalloped potatoes are a forgiving recipe.
If there's one thing I wouldn't change it's the Russet potatoes. Stick with that type of potato if at all possible. They have a great texture and they will hold up well, we're looking for a finished product that still looks like a sliced potato. With some of the softer potatoes, you will end up with a mushy mess if they cook too long!
Russet Potatoes
Onion, chopped
Parmesan Cheese
Sharp Cheddar Cheese
Mozzarella Cheese
butter
flour
garlic
half-and-half
seasoned salt
Salt and Pepper
chives
See all of my Easy Traeger Recipes here!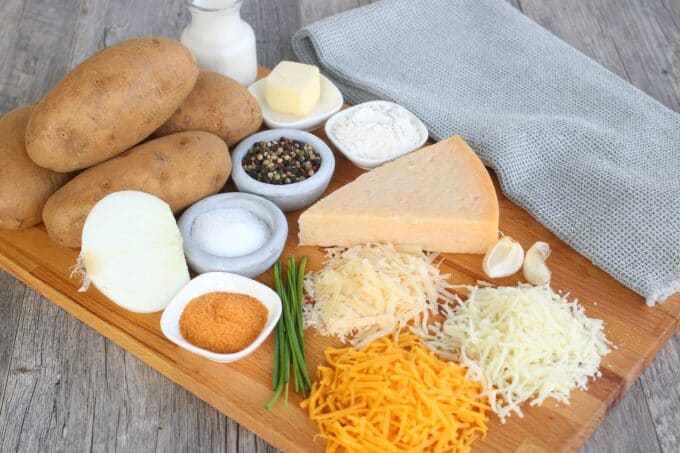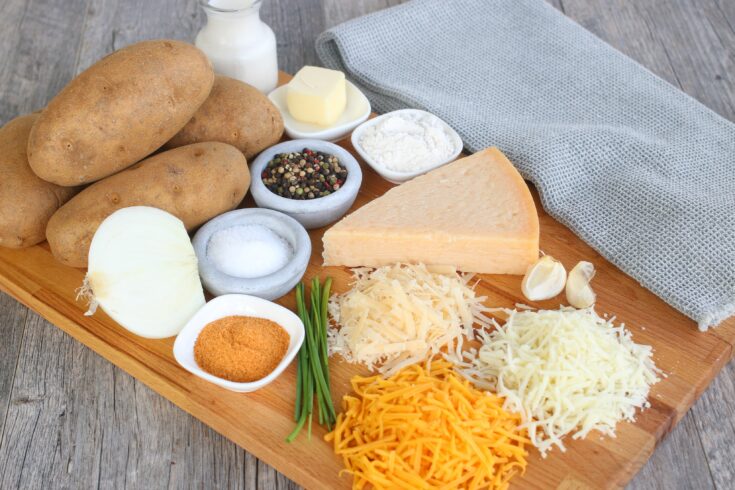 What kind of pellets should I use for smoking these scalloped potatoes?
Cherry would be my first choice. You could use any kind of pellets that you like, but I think cherry gives these scalloped potatoes a mild smoked flavor that everyone just loves. It's not too overwhelming and adds the extra kick that really puts these smoked scalloped potatoes over the top.
Other fruit woods would give a similar effect, so don't feel like you have to skip out on this recipe if you don't have cherry wood pellets on hand!
I'm of the semi-unpopular opinion that the type of pellet doesn't really make that big of a difference if you aren't doing a low-and-slow smoke, which on this we are definitely not.
More popular side dishes, this way!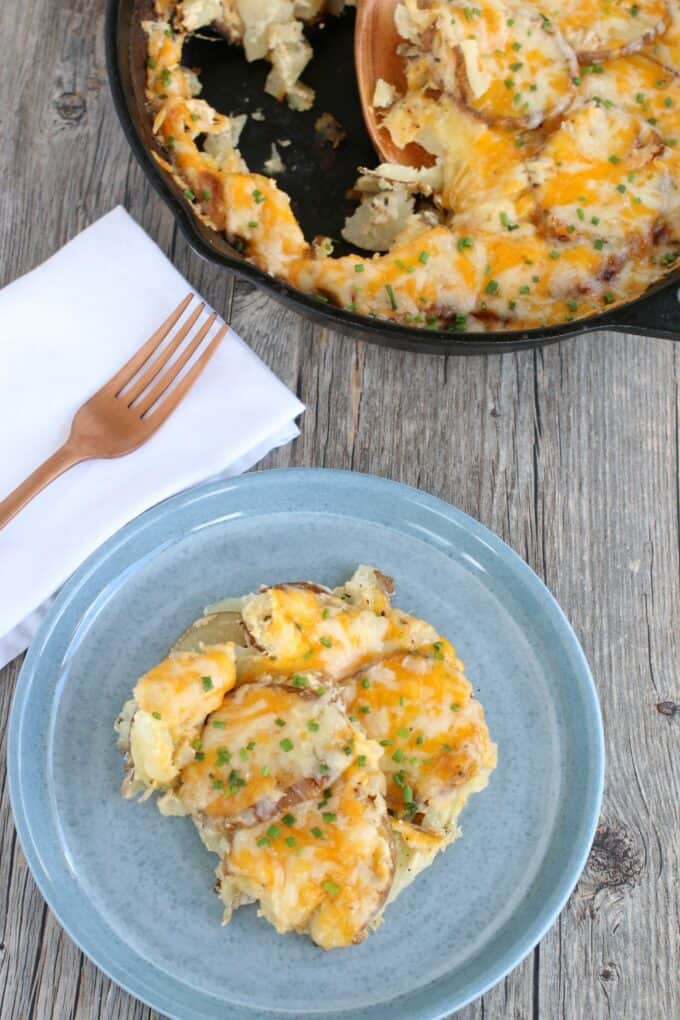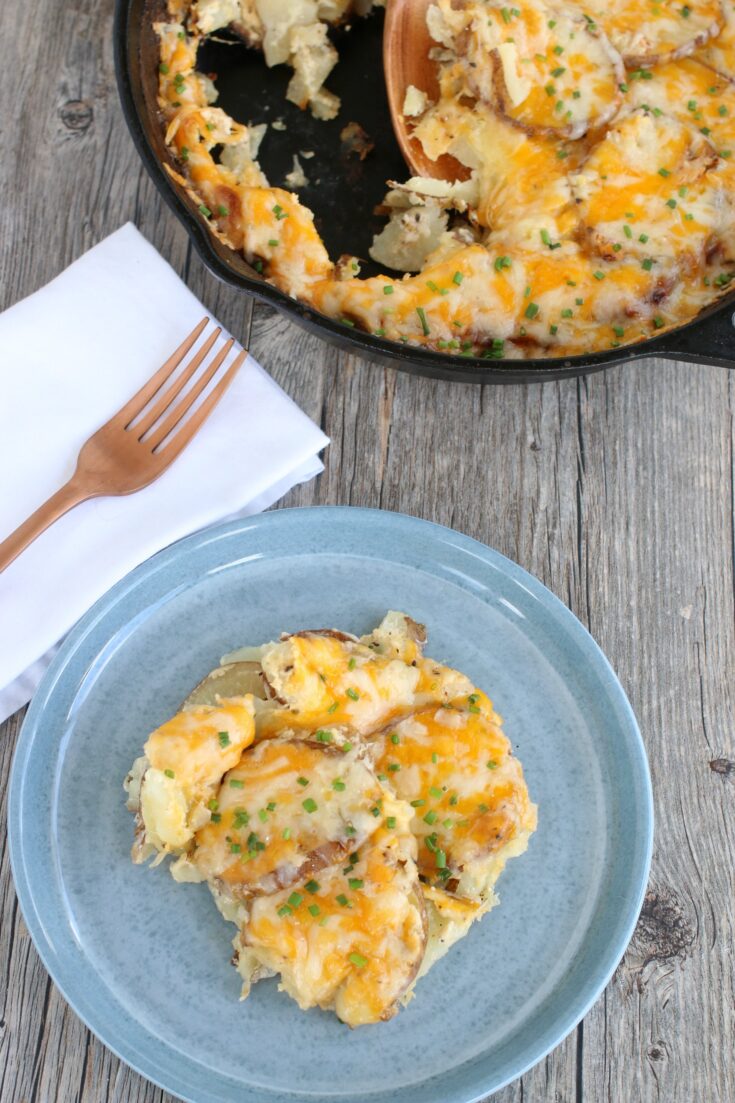 Can I use a different kind of pan?
If the reason you don't want to use cast iron is that you don't have a cast-iron pan, I can't recommend you get one enough! They're so versatile and easy to use, I promise they're not as difficult to use and maintain as you might think.
If you just prefer to use something else or you need something for quick and easy cleanup, you can use disposable aluminum pans. In that case, make sure to keep an eye on the cooking process. They're thinner and the heat will distribute differently and your cooking times might be impacted by these differences.
Check out our OWYD shop!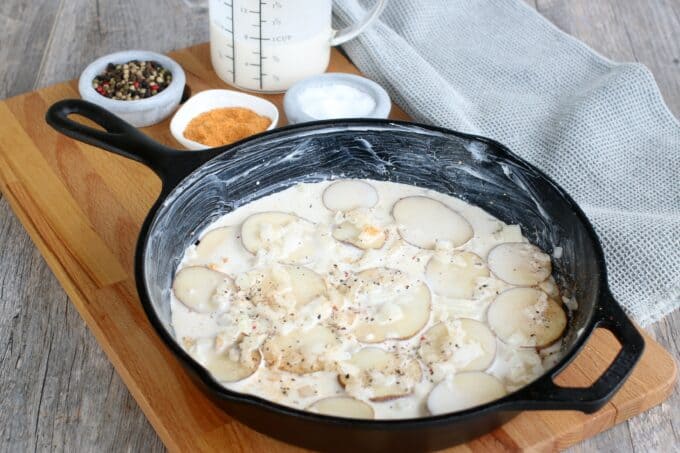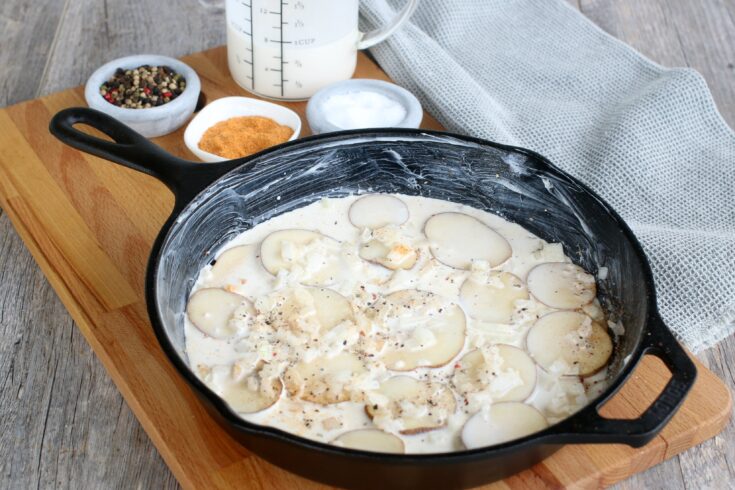 How to make Traeger scalloped potatoes
Making scalloped potatoes on your pellet grill is super easy. The great thing about a pellet grill is that you can basically use it just like an oven. If you run it at higher temperatures, you won't catch too much smoke flavor but JUST enough to know it was cooked over a live fire.
Preheat your grill
Prep your pan
Mix up the sauce
Prep your potatoes
Layer it all
Grill it!
Top with more cheese
Grill some more
Try not to burn your face off sneaking bites of it before dinner is ready
See? So easy!
Have a Cocktail with dinner!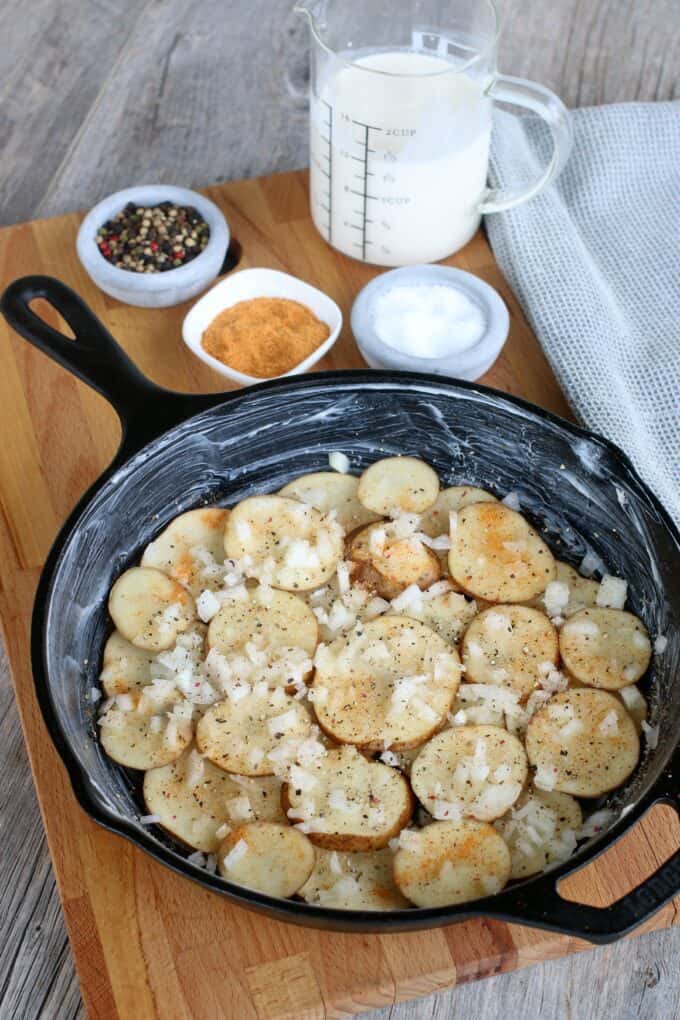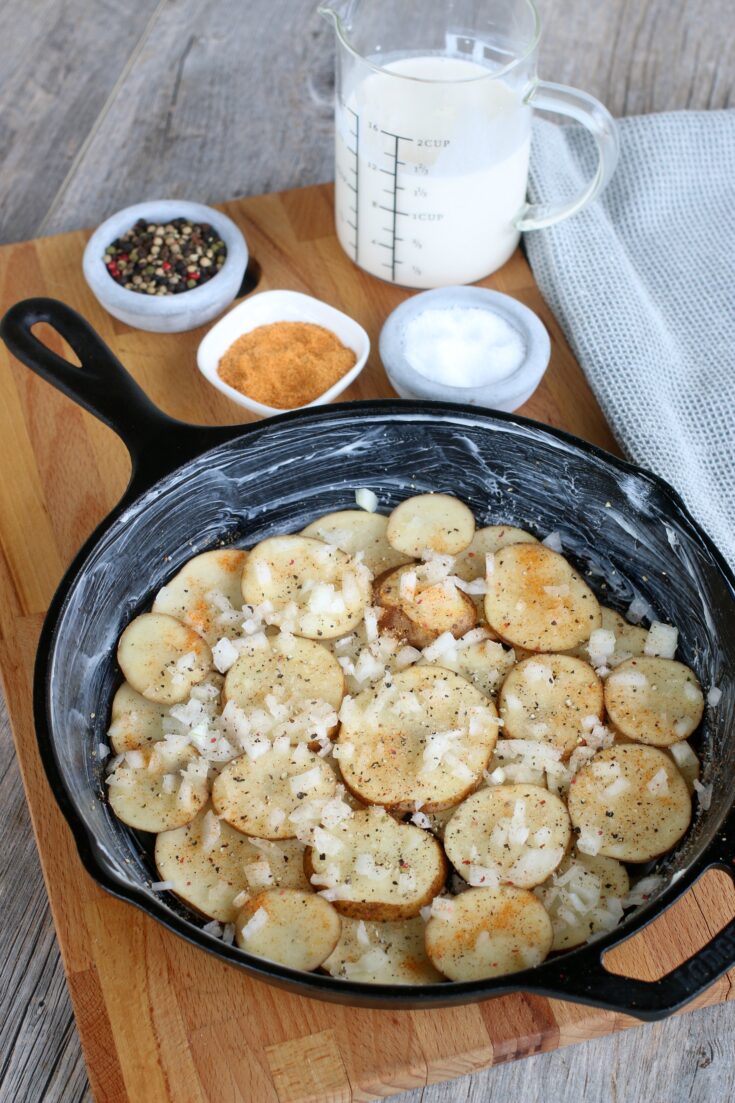 Where should I serve these Traeger scalloped potatoes?
These smoked scalloped potatoes have become a fast favorite in our comfort food category. Sure, they're great for any picnic or BBQ, the flavor is incredible and they are so indulgent people will rave about them for days, but the true magic of these delicious potatoes is in their dense, cheesy nature.
Scalloped potatoes just scream comfort food to me and I love making them for those times when I really want to indulge in something satisfying! I don't think you'll get any complaints if you make these for dinner on a regular Tuesday night, or every night for that matter!
If you are serving a crowd you can double this recipe. Just make sure you have another pan on hand to accommodate the extras!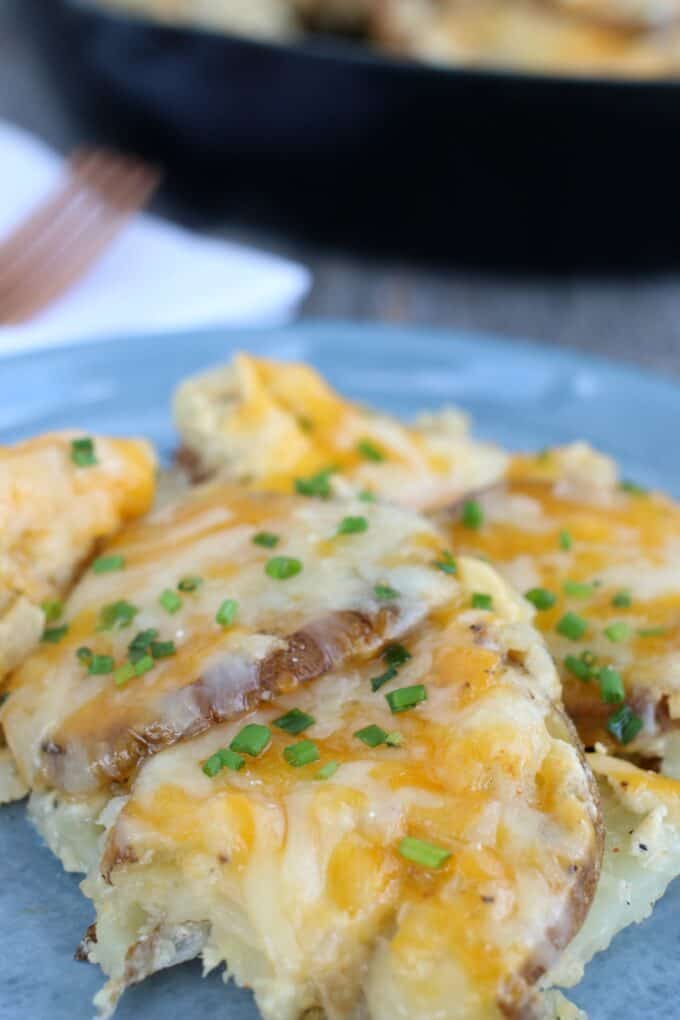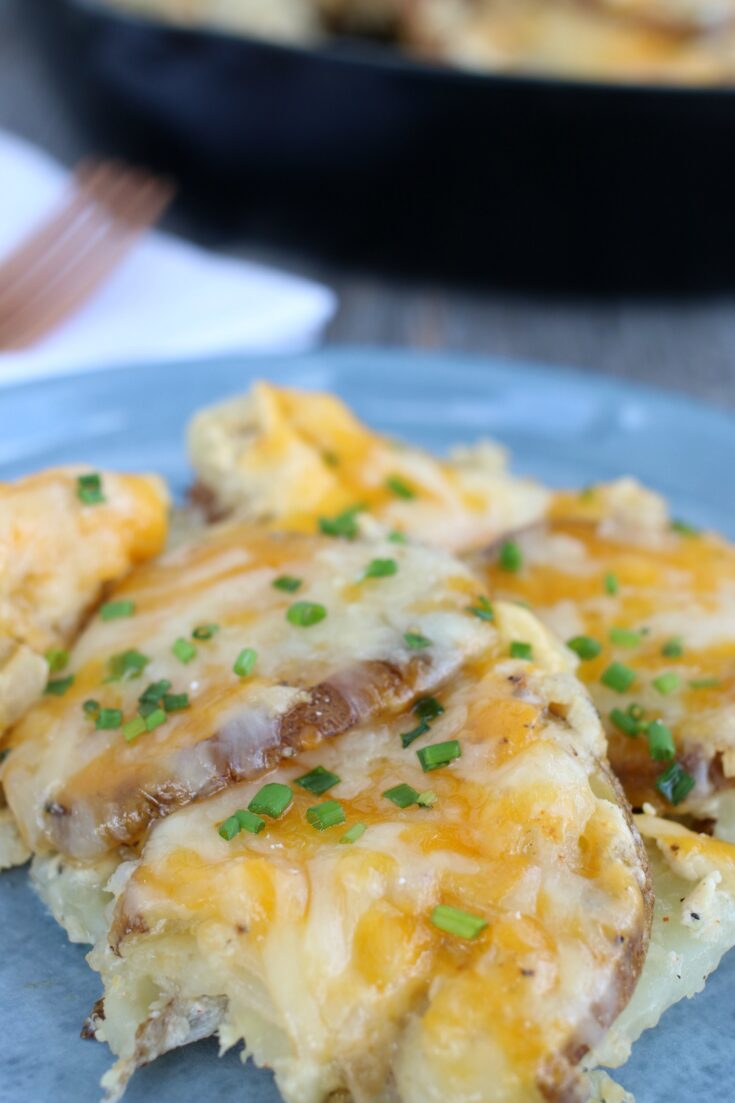 Do I have to use a Traeger grill to make these scalloped potatoes?
Nope!
I love using my Traeger grill to make these smoked scalloped potatoes but you can use your choice of grill or smoker to cook this recipe.
I will say, the great thing about Traeger grills is that they are so convenient. Making anything smoked or grilled used to mean a whole extra mess in the cooking process. With Traeger products, I get the great smoked flavor I want with the added convenience and ease of use that I need in this crazy busy life.
It also keeps you from heating up your house if it happens to be warm where you are at.
You can even make these potatoes in the oven, if you don't have a Traeger and you feel like firing it up!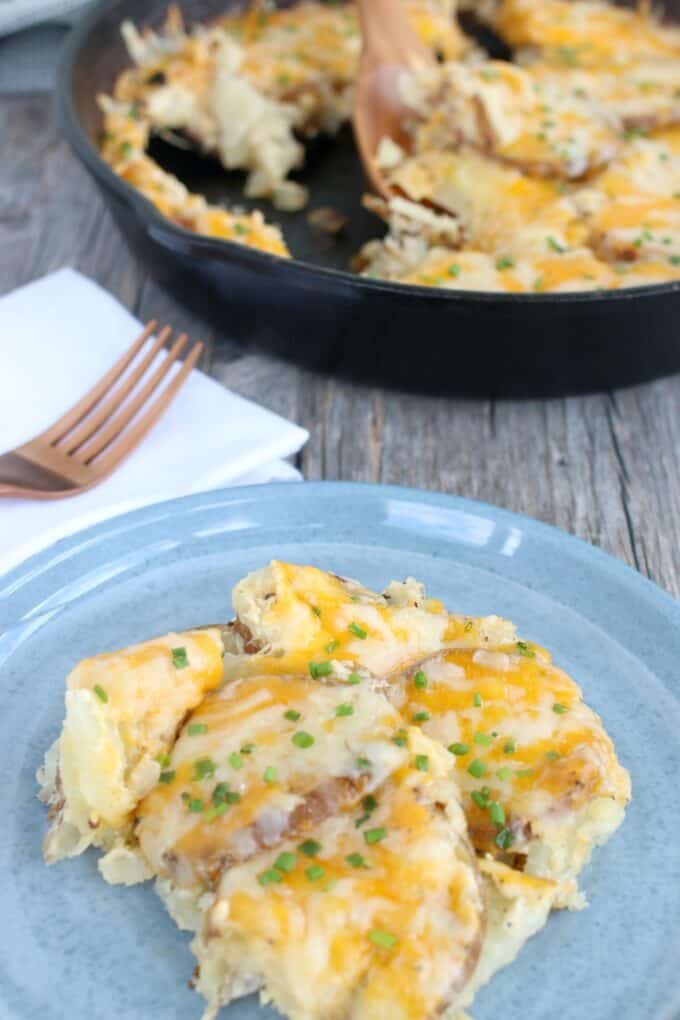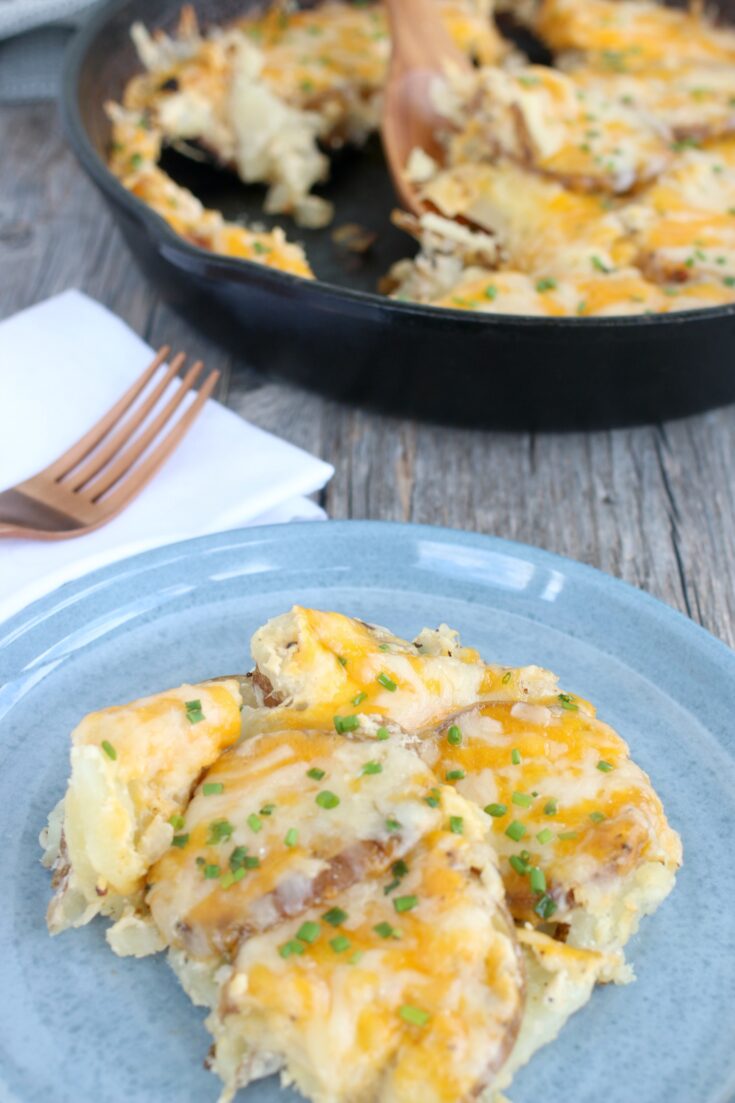 What should I serve with these easy Grilled Scalloped Potatoes?

Anything you want. Personally, I could make these into a full meal, but in the interest of living past 40, I suggest having these on the side.
Possibly on the side of something like….
This is such a treat, and you don't have to reserve it for a traditional holiday meal. Smoked ham is available nearly year-round, and you can do this double-smoked ham whenever the craving hits you.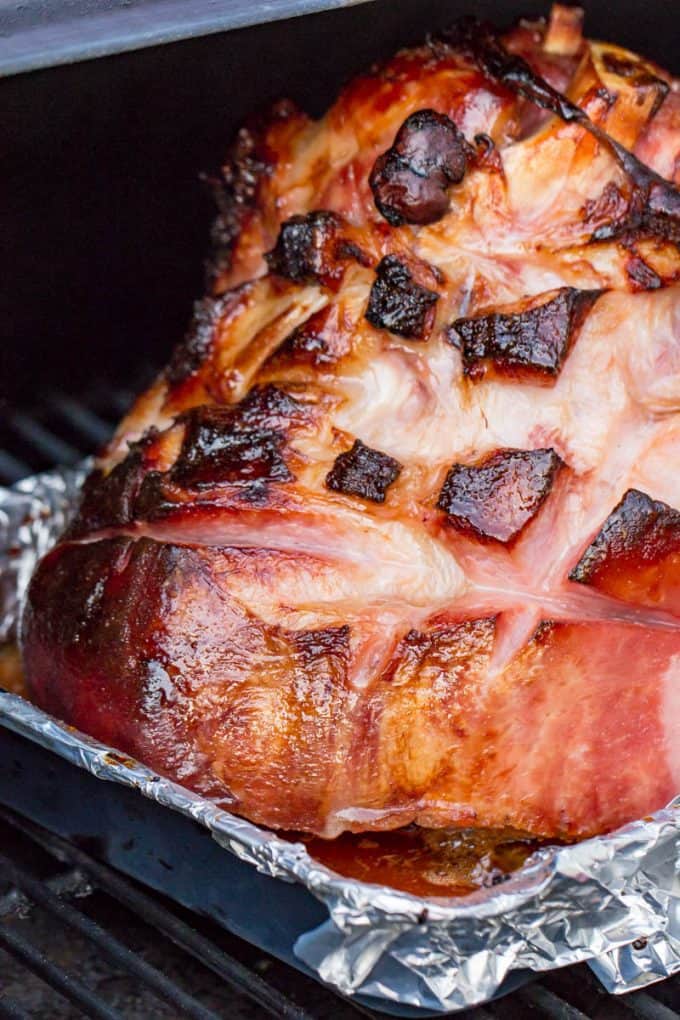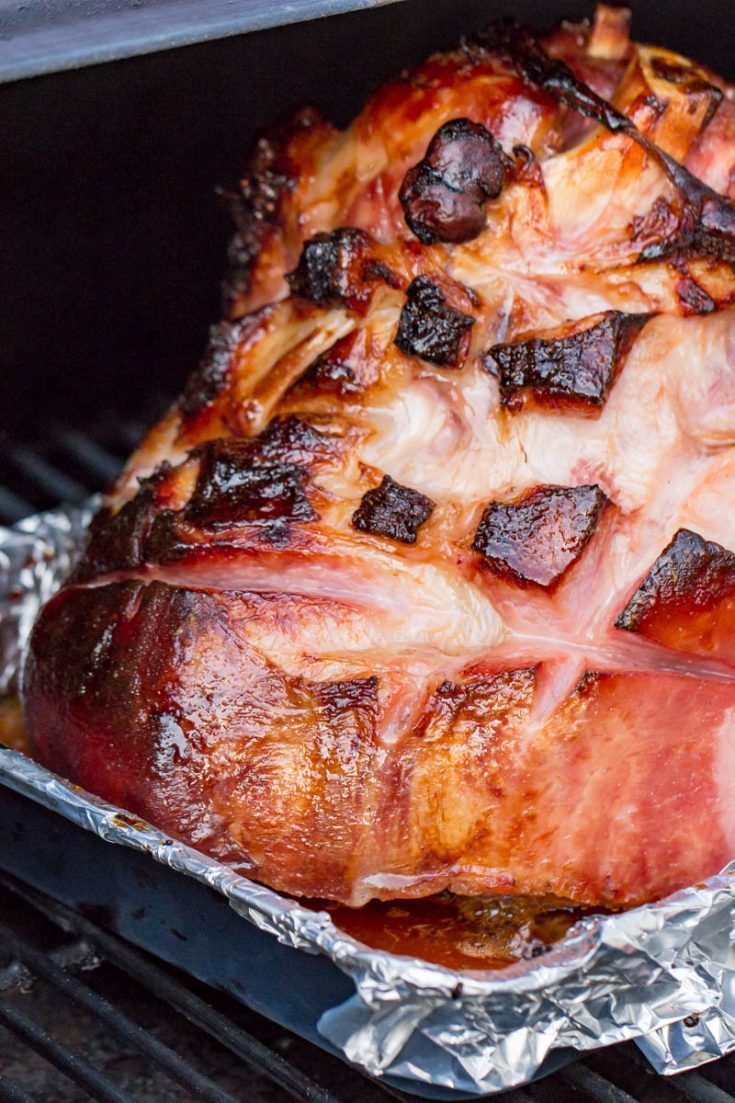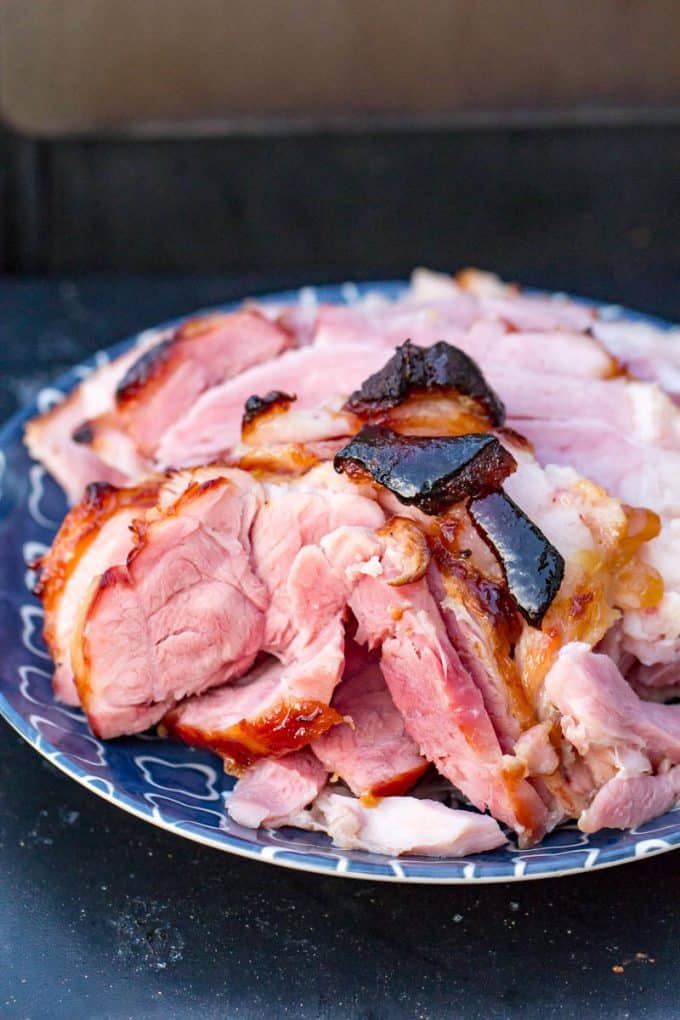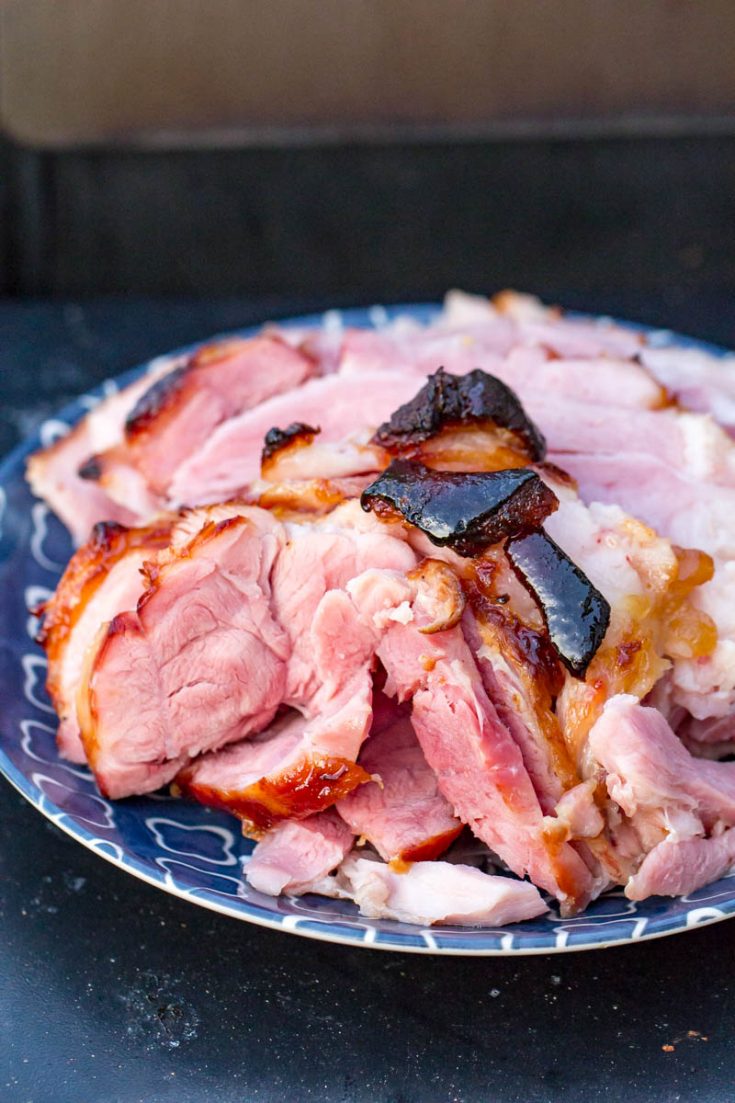 Seafood is the perfect accompaniment to hearty, creamy, potatoes. It is one of my favorite ways to eat them, in fact. Grilled King Crab legs, Snow Crab Legs, Lobster Tails, or Shrimp Scampi. Any of them would be perfect. Heck, make them ALL and have a seafood feast!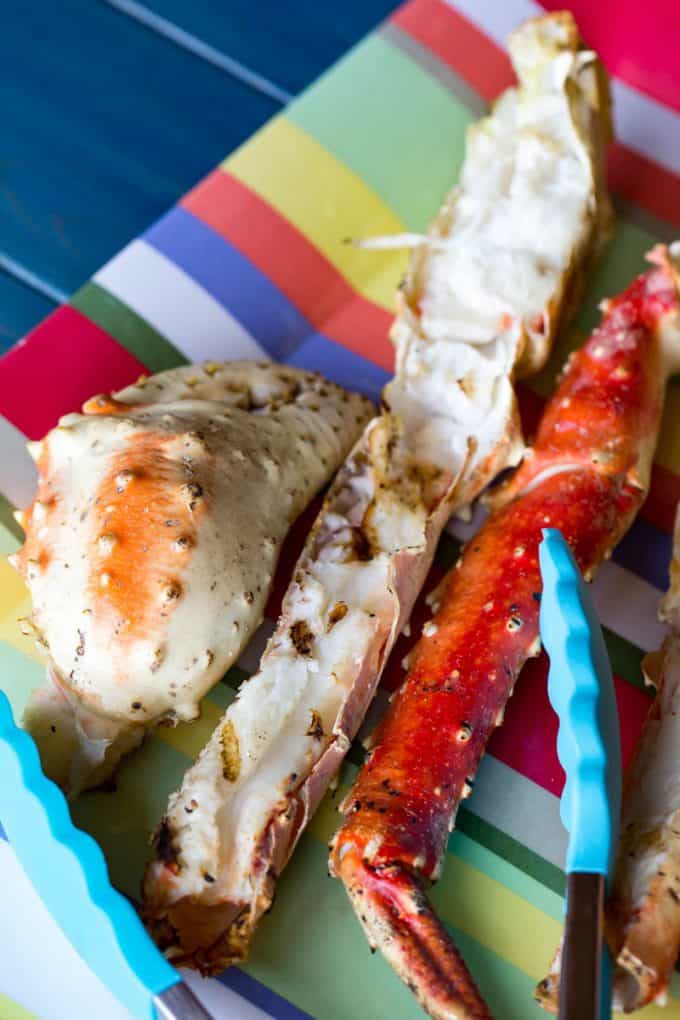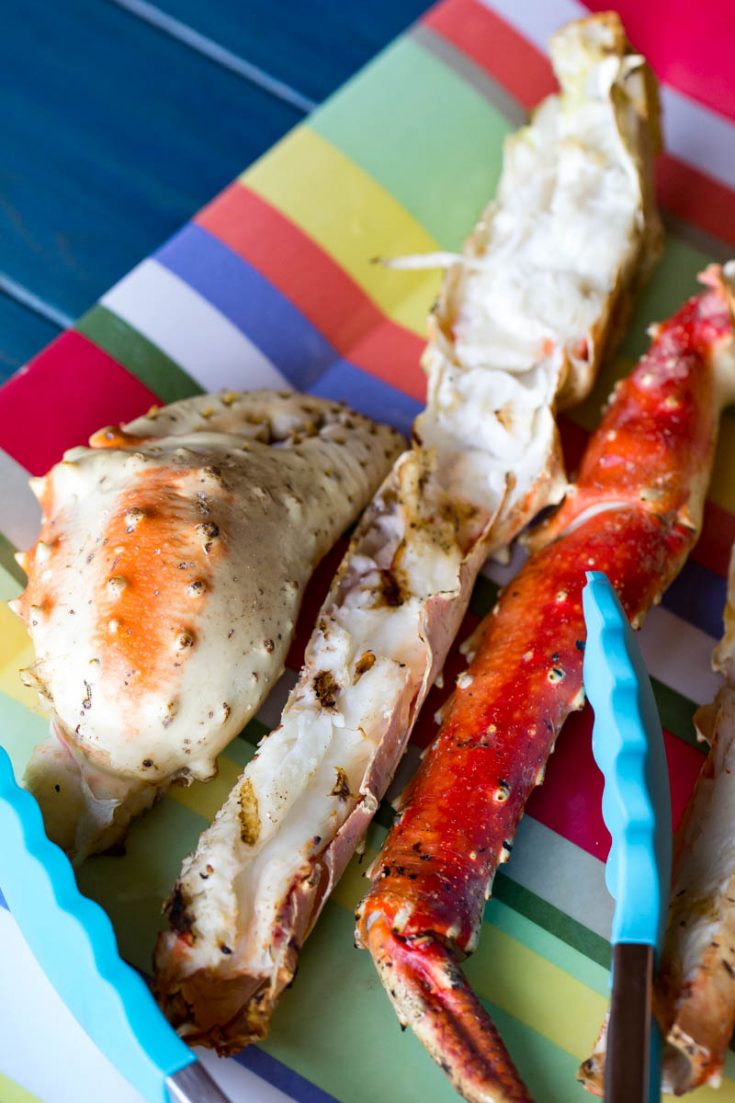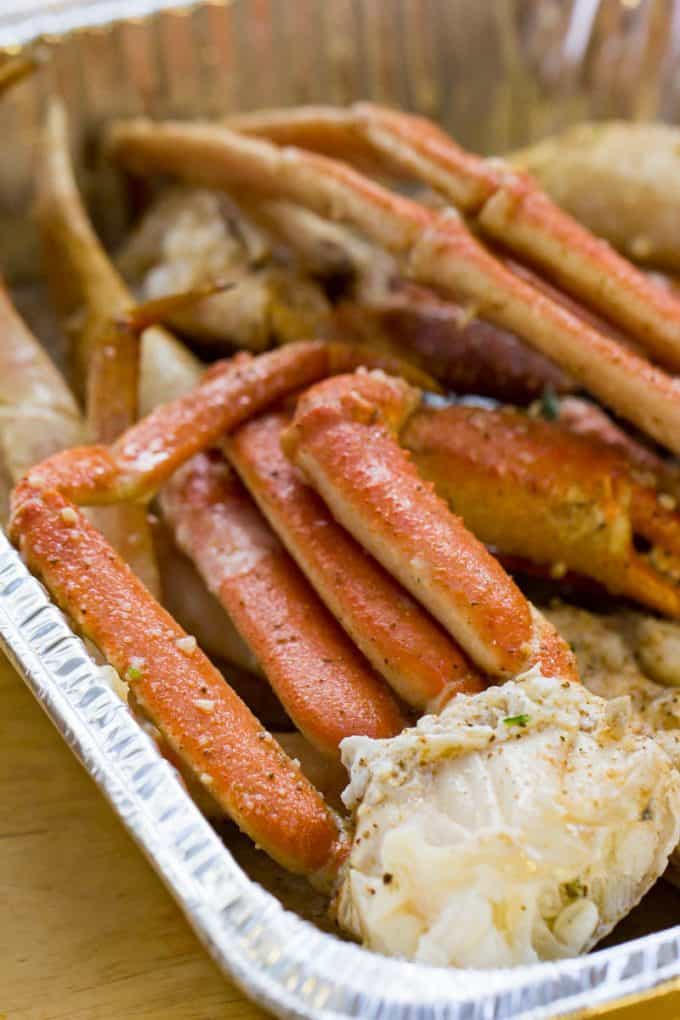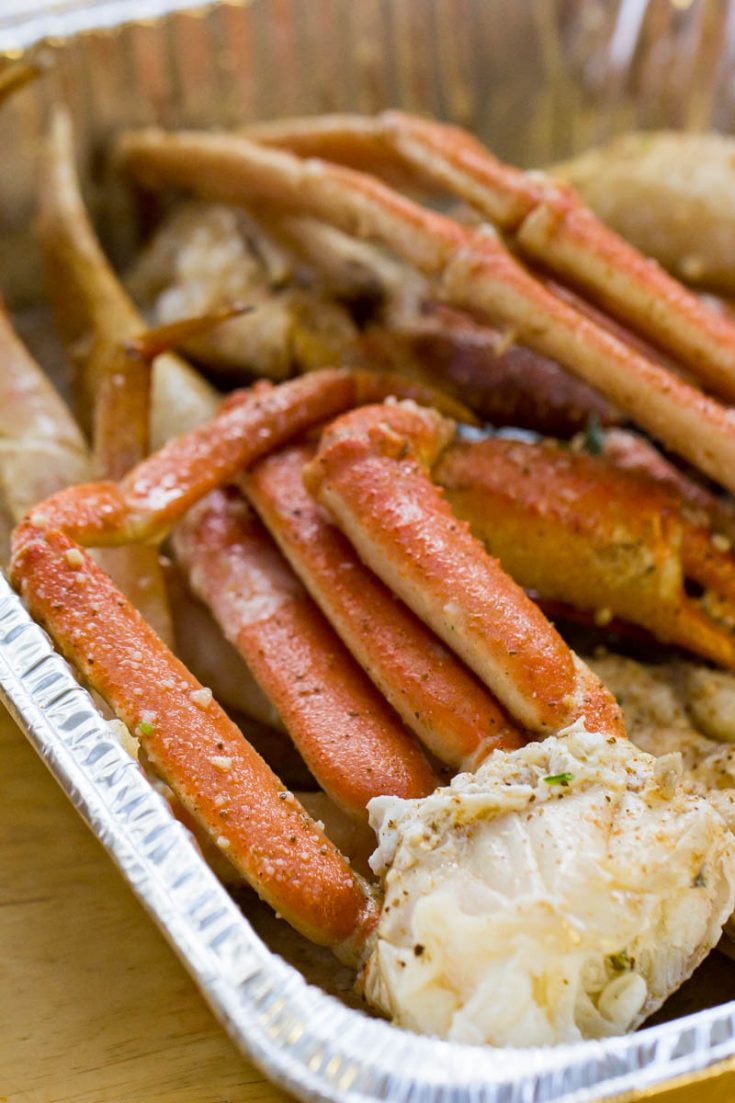 Whatever you serve with them, whoever is eating is going to be super excited.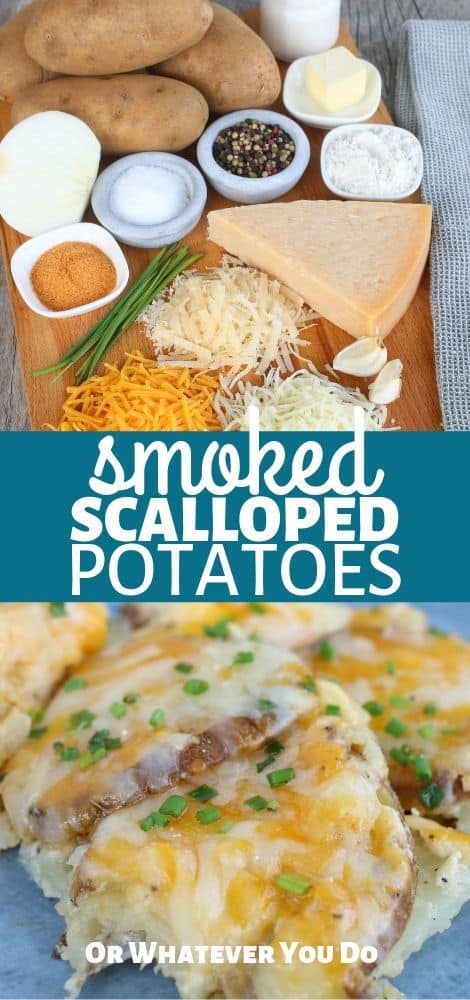 Yield: 8 servings
Smoked Scalloped Potatoes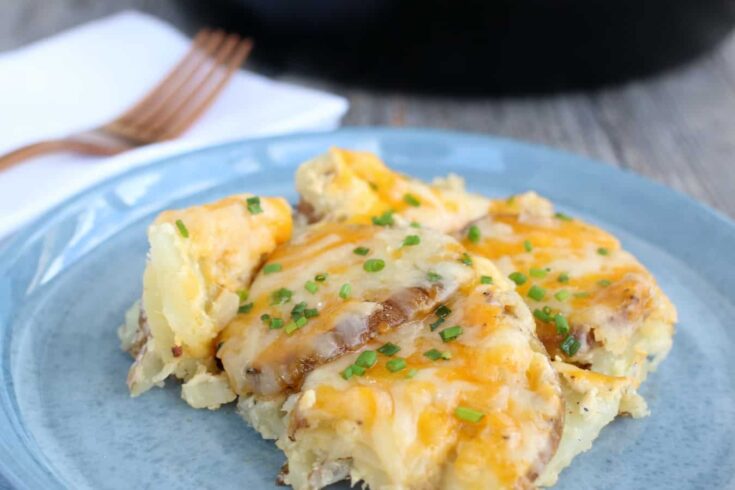 These delicious homemade scalloped potatoes are cooked right on your pellet grill! There's nothing like wood-fired flavor to add that missing piece to your next bbq.
Total Time
1 hour
15 minutes
Ingredients
4 large Russet Potatoes, sliced ¼ inch thick
1 small onion, chopped
⅓ cup grated Parmesan Cheese
½ cup Sharp Cheddar Cheese, shredded
½ cup Mozzarella Cheese, shredded
2 tablespoons butter, softened
2 tablespoons flour, all-purpose
2 cloves garlic, minced
1 ½ cups half-and-half
2 teaspoons seasoned salt
1/2 teaspoon salt
1/2 teaspoon black pepper
1 tablespoon chives, minced for garnish, optional
Instructions
Pre-heat your pellet grill to 375°, according to factory instructions.
Coat a 10" cast-iron skillet liberally with butter.
In a medium bowl, combine half-and-half, flour, and garlic. Set aside.
Wash the potatoes well, and then thinly slice 1/8 inch thick slices.
Add a layer of potatoes and onions into the skillet, and sprinkle with half the seasonings. Pour ½ of the sauce mixture over the layer of potatoes, and repeat with a layer of potatoes and onions. Sprinkle with the other half of the seasonings, and pour the rest of the sauce over the potatoes.
Bake on your pellet grill, uncovered, for 45-50 minutes. Move the pan to the other side of the grill and turn it halfway through the cooking time to ensure even cooking.
Combine the parmesan, mozzarella, and cheddar cheeses in a small bowl and sprinkle over the top of the potatoes and cook for 10-15 minutes, or until potatoes are fork-tender and the cheese is bubbly and melted.
Remove from grill and sprinkle with chives if desired.
Serve immediately with your favorite main dish, and store the leftovers in the refrigerator.
Recommended Products
As an Amazon Associate and member of other affiliate programs, I earn from qualifying purchases.
Nutrition Information:
Yield:
8
Serving Size:
1
Amount Per Serving:
Calories:

335
Total Fat:

15g
Saturated Fat:

9g
Trans Fat:

1g
Unsaturated Fat:

5g
Cholesterol:

47mg
Sodium:

794mg
Carbohydrates:

38g
Fiber:

4g
Sugar:

4g
Protein:

12g
Nutrition data provided here is only an estimate. If you are tracking these things for medical purposes please consult an outside, trusted source. Thanks!