Our simple Traeger Grilled New York Strip steak is easy and done in a flash. This tender cut of steak is best when served medium rare, simply seasoned, with lots of delicious sides.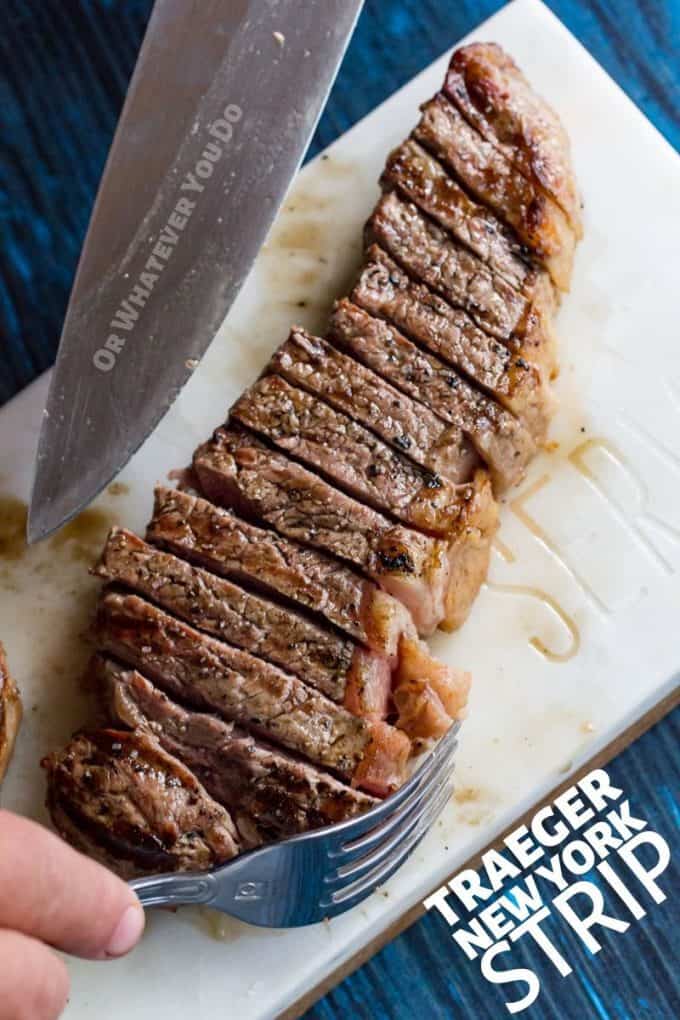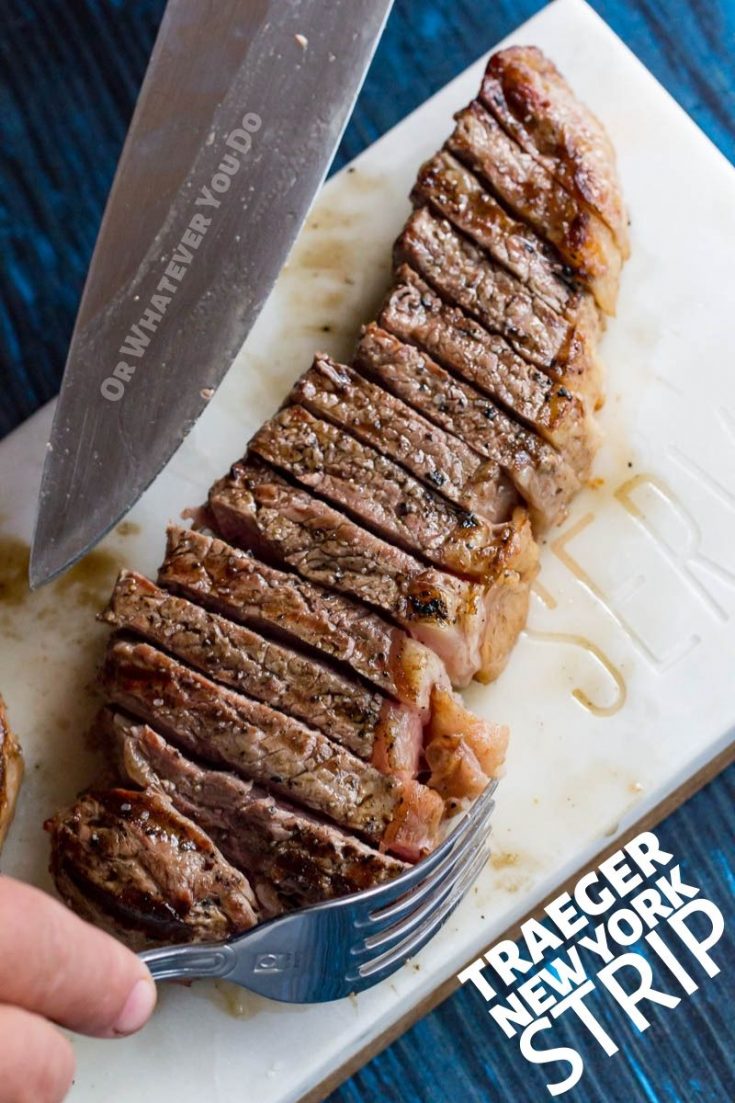 Traeger Grilled New York Strip Steak
New York Strip Steak comes about as close to the tenderloin as you can get in terms of tenderness. It is cheaper and less marbled than ribeye but has as much flavor without as much fat.
Grilling the New York Strip Steak cooks fast on your Traeger or the grill of your choice. I enjoy the versatility of the cut, because you can serve it as an appetizer in wide slices or serve whole steaks as an entree.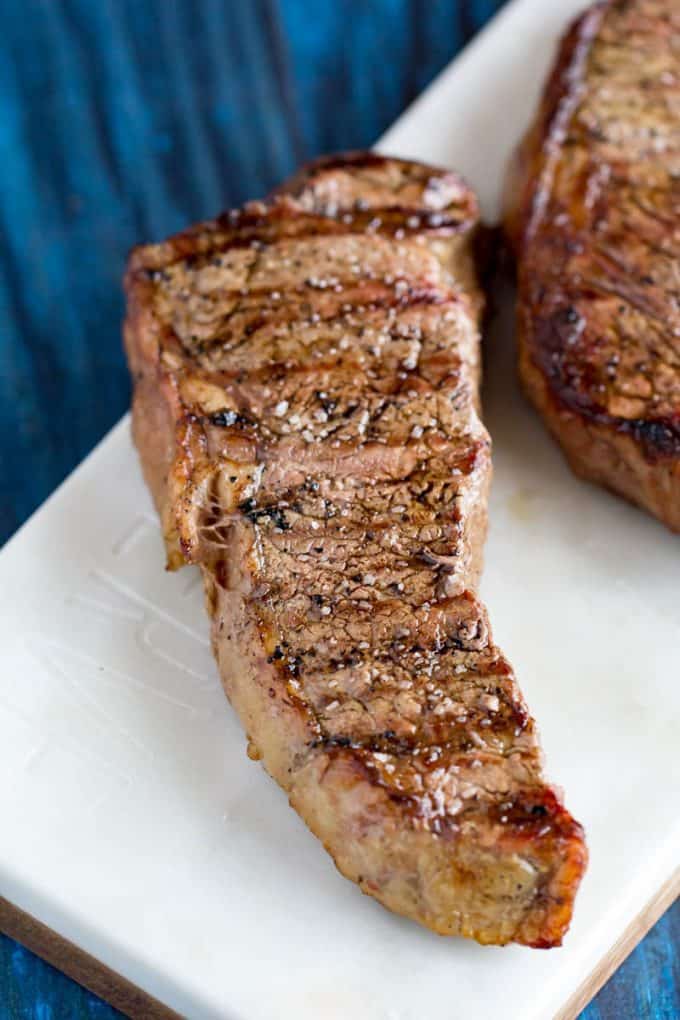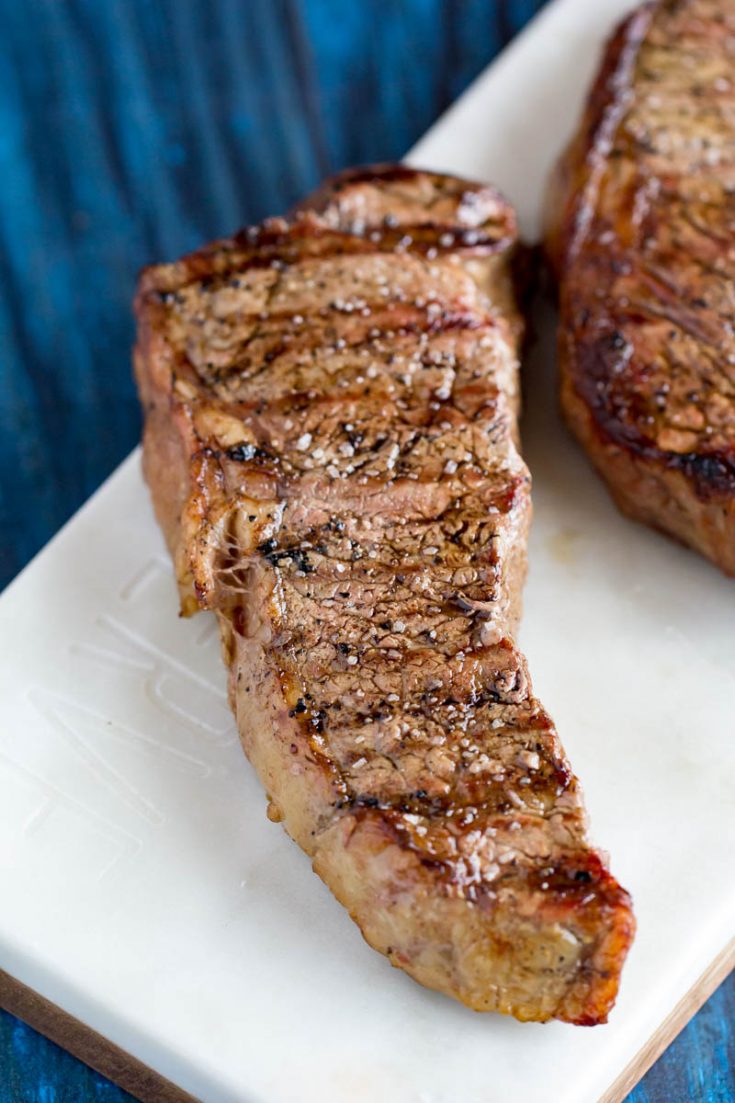 What is a New York Strip?
New York Strip steak comes from a little used muscle of the cow called the longissimus. (Don't worry, there is not going to be a test later).
The important thing to remember about this cut is that it comes from a muscle, similar to tenderloin (what filet mignon comes from), that stays tender because it doesn't get used too much by the cow.
See all of my Easy Traeger Recipes here!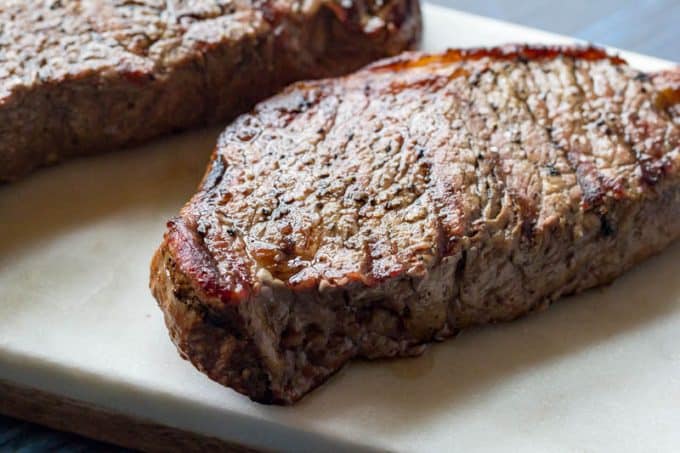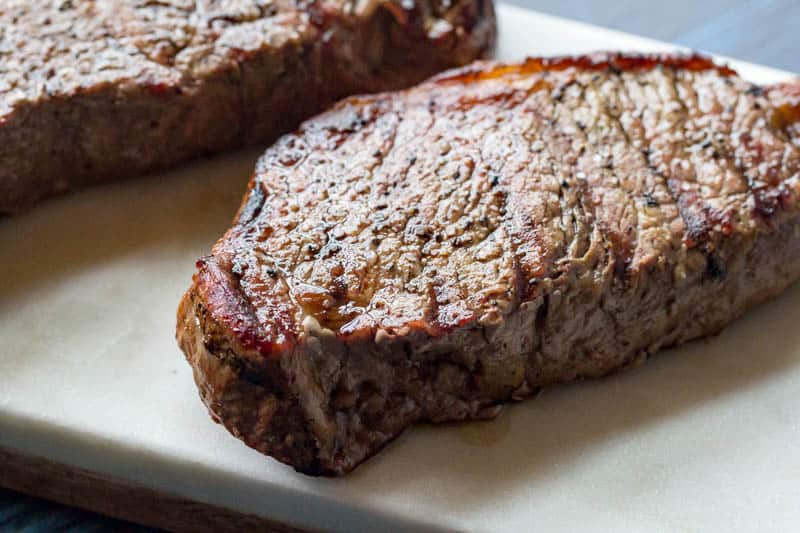 Do New York Strips have any other name?
Most people I know and most places I see it sold call it New York Strip steak. However, it does go by other names too even though it is exactly the same cut of beef.
The New York Strip steak also might be found as Boneless Club Steak, Hotel-Style Steak, Ambassador steak, Kansas City Steak, or Top Loin, and even Veiny Steak. Just to make it even more confusing, in New Zealand and Australia, it is known as Porterhouse and Sirloin or striploin steak.
The "New York" comes from Delmonico's, a famous New York Steakhouse that became famous for its strip steaks.
Also, a T-bone steak is a steak with the New York Strip on one side of the bone and the tenderloin on the other side of the bone, which explains the tenderness. It also explains the sticker shock most people experience when they see the price of a T-bone.
All of the Traeger Beef recipes you can handle. All of them.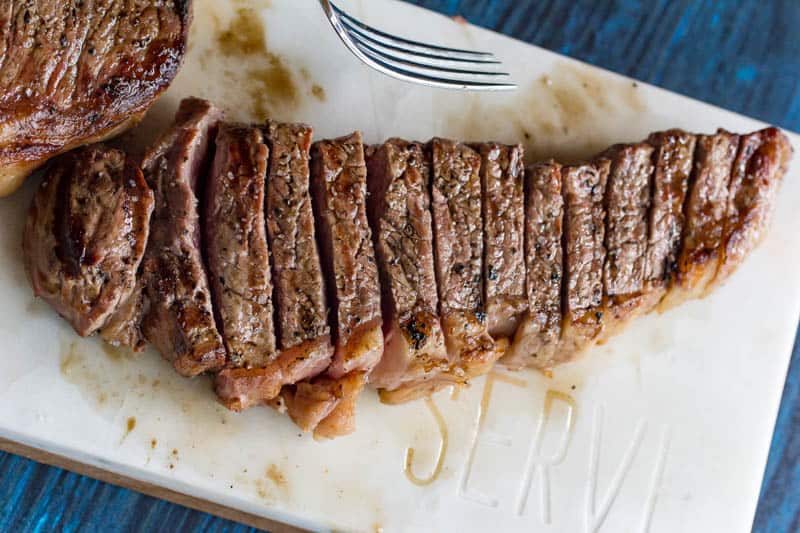 What temperature for New York Strips?
Of course, whether you like your steaks rare, medium, well, or anywhere in-between is a matter of taste. Just keep in mind that the New York strip steak does not have as much fat as cuts like ribeye do, so it is much easier to overcook it and turn it into a dry piece of chewy leather.
Even those folks that like their steak really well done do not want their steaks to be tough to eat.
Since New York Strip steak is a strip too, you will find that it cooks very quickly unlike that big thick sirloin, porterhouse, or other filet.
On the Traeger grill or other pellet grill, you want to get the heat up to about 425 degrees fahrenheit.
There are two schools of thought on the right way to cook the steak. Both sides agree on one thing.
Season the meat first with some salt and pepper!
The seasoning helps form that tasty exterior crust due to the "maillard" effect.
However, some say heat the meat first to cook it to mostly done, then finish with a high hot sear to seal in the juices. Others say sear it first, then take it off the hottest part of the grill's heat and let it cook the rest of the way.
I have cooked many steaks using both methods, and I have to say I am a much bigger fan of the reverse sear method.
With a steak as lean and as thin as this cut is, then you are only going to be cooking it between 7 and 10 minutes per side to get it to medium, which is light pink on the inside.
Enjoy this steak with a cool homemade frozen mudslide recipe!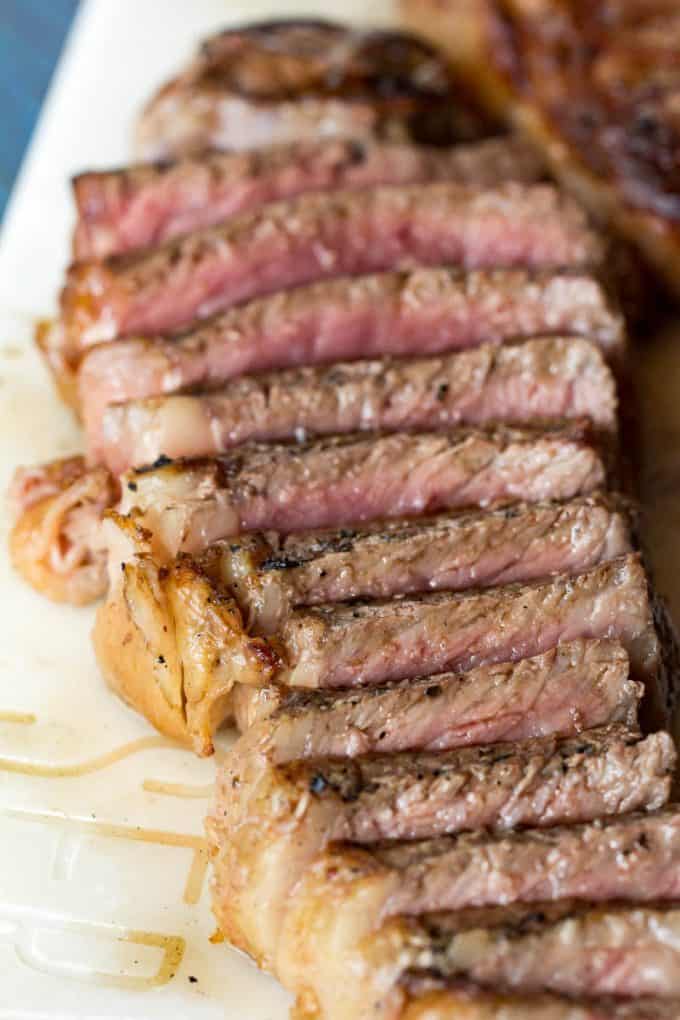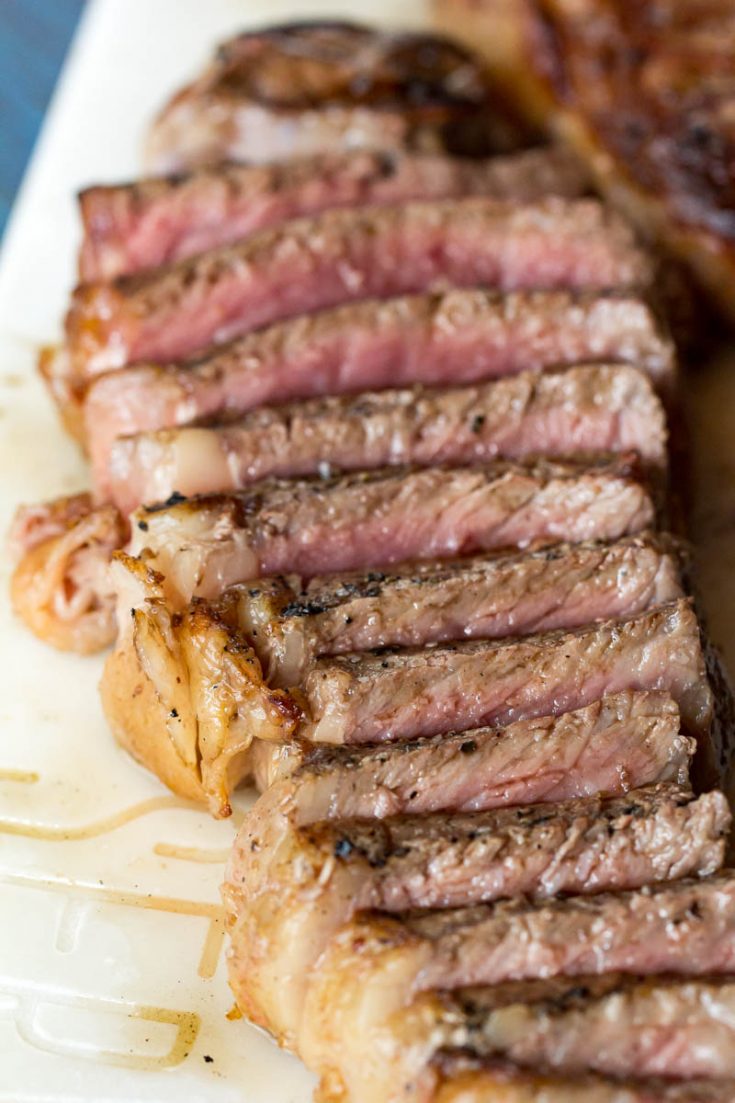 Should you serve steak pre-sliced?
Just like any and every cut of meat that comes off a hot grill, make sure to let the meat sit and "rest". This allows the moisture in the meat to reabsorb into the full cut of meat and helps keep it juicy and flavorful.
If you cut it too soon, you will know it because all the juices will run out onto the cutting board. Some people think that water is blood because it has a reddish tint to it, but it's not! Blood coagulates and does not just sit in a piece of meat waiting to spill out. Not trying to gross anyone out, but just trying to point out the difference, which is very important.
Restaurants typically serve a New York Strip cut into a bunch of slices. They slice against the grain of the meat which helps the bite of meat be easier to chew rather than stringy.
If you are serving as an appetizer, then cutting it into strips which folks can pick up easily with a toothpick makes perfect sense. When it comes to serving individual steaks as an main course though, I'd leave the slicing up to the eater.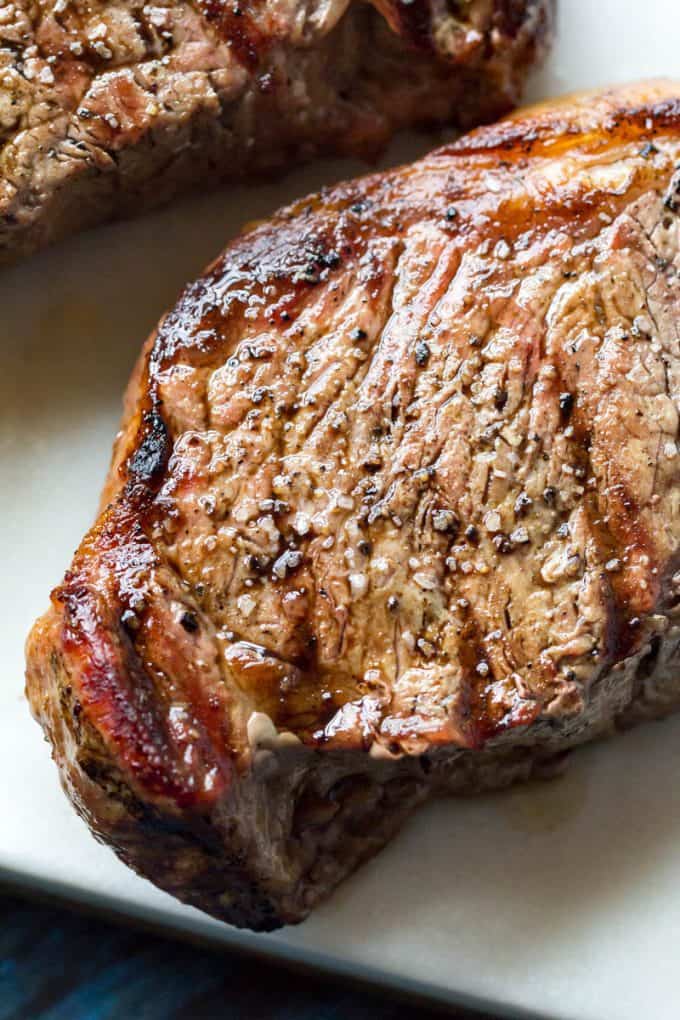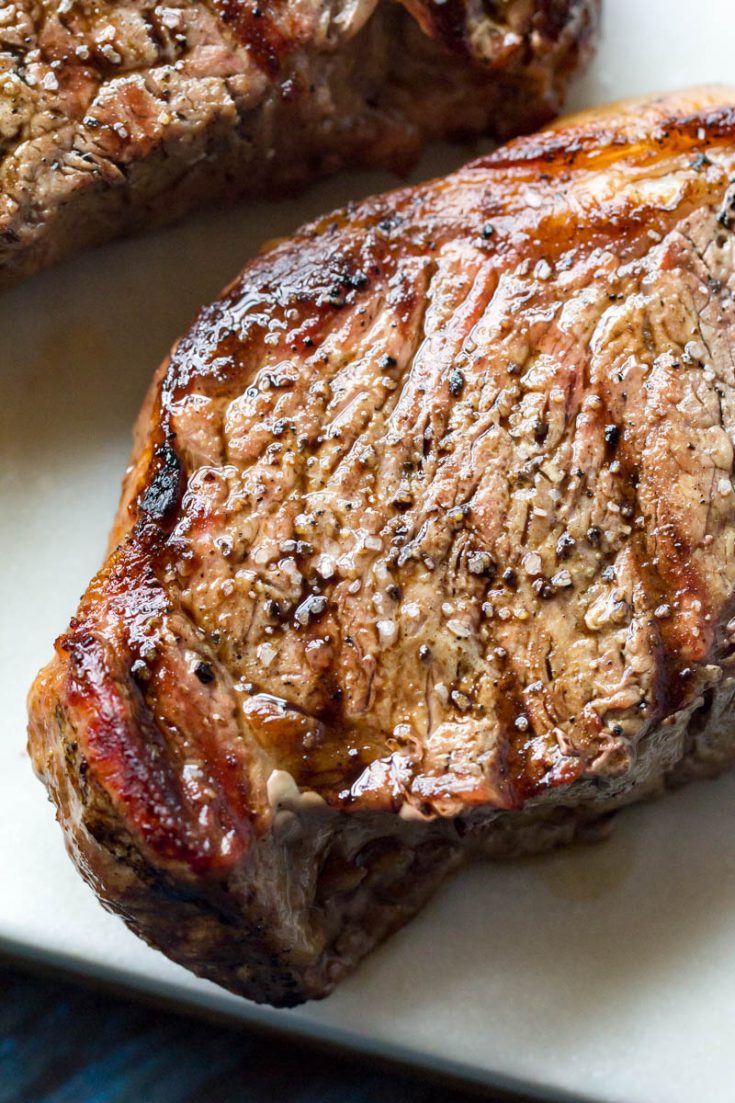 What to serve with Traeger grilled New York strip steak?
This steak is wonderful with a Caesar salad, but any salad works. You can also serve with something like grilled asparagus or zucchini. Here are some other suggestions for sides that you might want to give a try as well.
These recipes work well with steaks especially!
Grilled Lobster Tails – Surf and turf, all day long. Wood fired lobster tails are perfect with any kind of steak!
Traeger Bacon wrapped shrimp – Another surf and turf option. These are typically appetizers but would be wonderful served as a skewer alongside the tender steak.
Greek pasta salad – This one is made with noodle and tons of vegetables. I'd love a pile of thing alongside a steak.
Chanterelle mushroom soup – Great first course, and mushrooms always work with steak.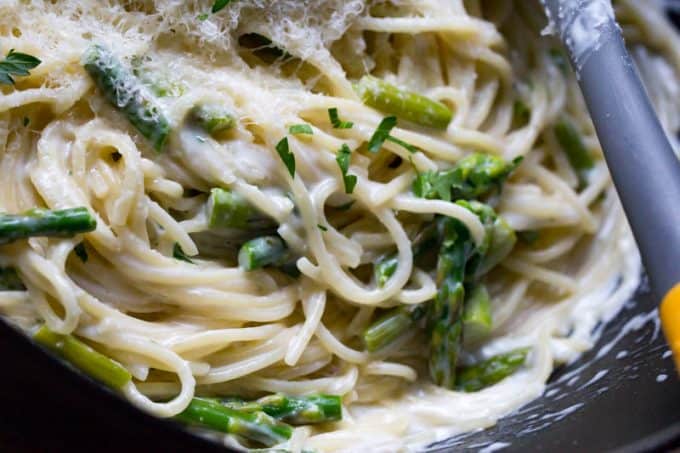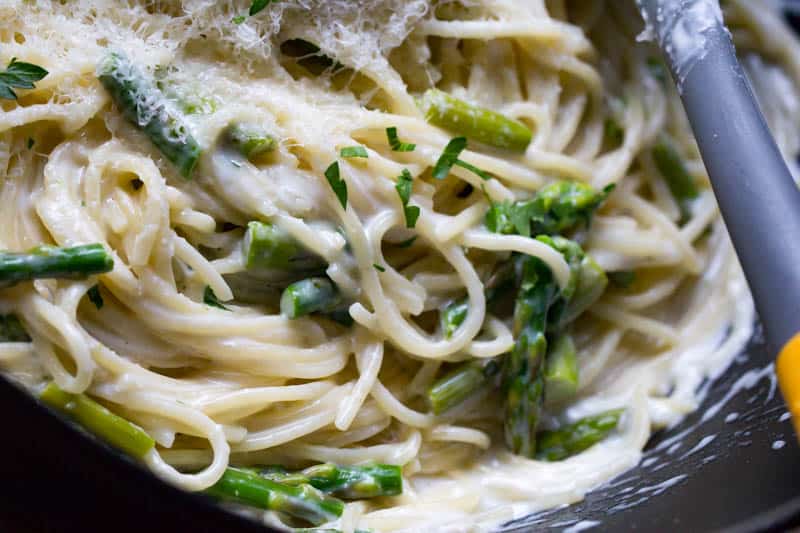 Featured Reader Reviews!
Dan Schwandt says, "Made this tonight. Amazing. Used cherry pellets. My wife and I have been tenderloin fans, but I think this is our new favorite. Amazing! Thanks!"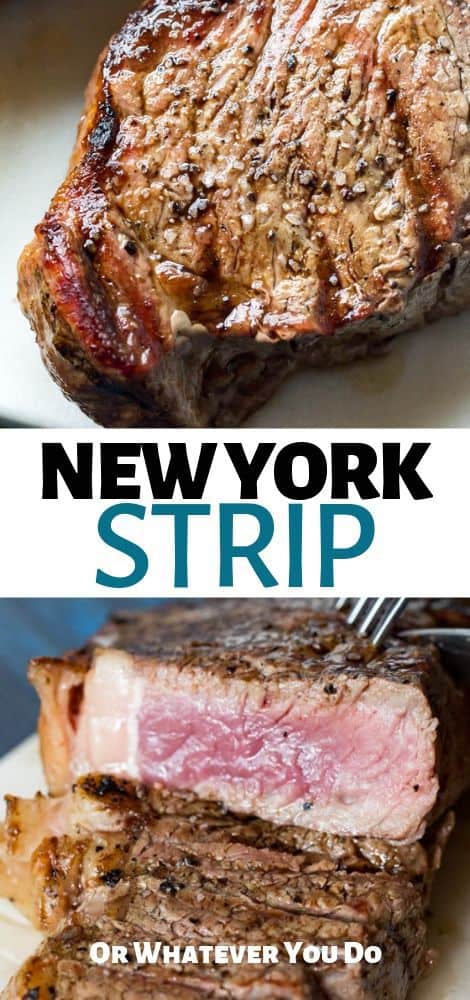 Yield: 6 servings
Traeger Grilled New York Strip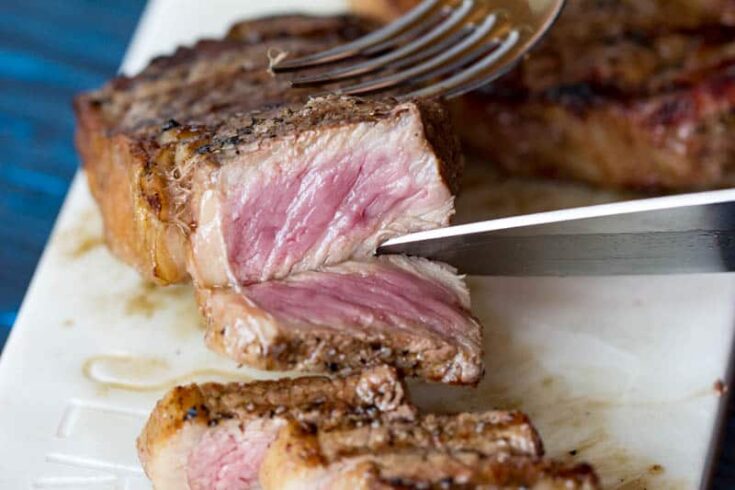 This flavorful and tender New York Strip is cooked on the grill after being seasoned simply with salt and pepper.
Ingredients
3 New York Strips
salt and pepper
Instructions
Remove your steak from the fridge at least 30 minutes prior to cooking.
Preheat your grill to 450°, or as close to it as you can get your pellet grill, following factory instructions.
Season the steak immediately before it goes on the grill.
Place on the grill and let cook for approximately 5-7 minutes per side.
Remove when the internal temperature reaches 125-128° for medium-rare. The temperature will rise several degrees during the rest period, so make sure you pull before the desired temp is reached.
Let the steak rest for 10 minutes before serving.
Notes
Steak Temp Cheat Sheet
Rare | 120°-125°F
Medium Rare | 130°-135°F
Medium | 140°-145°F
Recommended Products
As an Amazon Associate and member of other affiliate programs, I earn from qualifying purchases.
Nutrition Information:
Yield:
6
Serving Size:
1
Amount Per Serving:
Calories:

198
Total Fat:

14g
Saturated Fat:

6g
Trans Fat:

0g
Unsaturated Fat:

7g
Cholesterol:

50mg
Sodium:

115mg
Carbohydrates:

0g
Fiber:

0g
Sugar:

0g
Protein:

17g
Nutrition data provided here is only an estimate. If you are tracking these things for medical purposes please consult an outside, trusted source. Thanks!