These Traeger Grape Jelly Meatballs are a snap to throw together and will be the hit of your appetizer table! We take a Midwest holiday favorite and move it from the slow cooker to the pellet grill for that extra wood-fired flavor kick.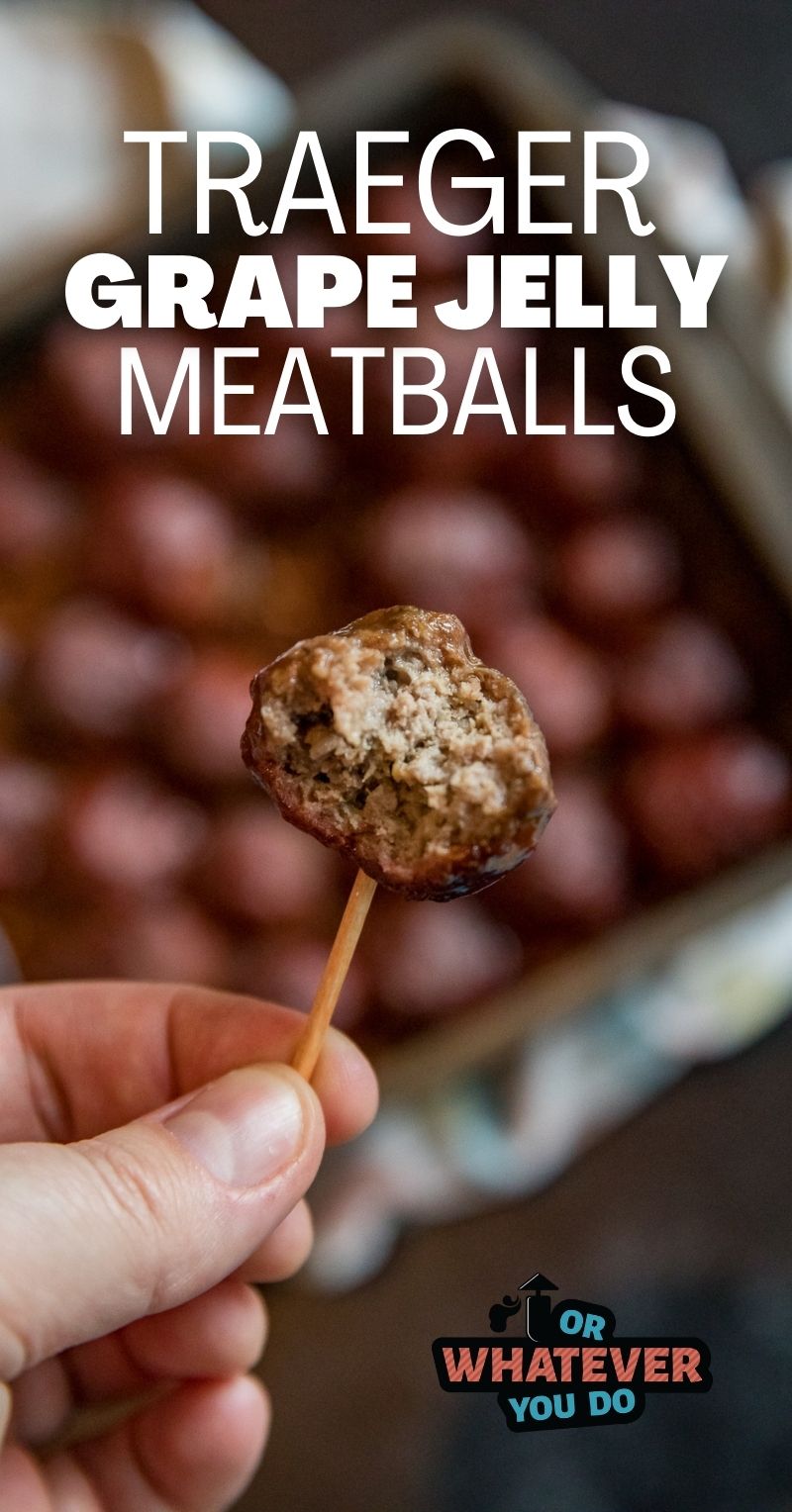 Traeger Grape Jelly Meatball Recipe
I grew up eating these meatballs, or meatballs very much like these ones, at almost every holiday potluck, baby shower, and graduation party I ever went to.
I never knew what went into them, and when I found out I couldn't believe it.
Who would've thought something so delicious would be so easy??
Most of the recipes I see floating around for this involve frozen meatballs, and that would definitely make these much easier, so if "easy and delicious" is the goal, feel free to grab your favorite pre-made meatball. I won't judge.
BUT – definitely come on back and try this homemade version sometime too. Life is too short for less-than-fabulous meatballs!
Get all of my Easy Traeger Recipes here!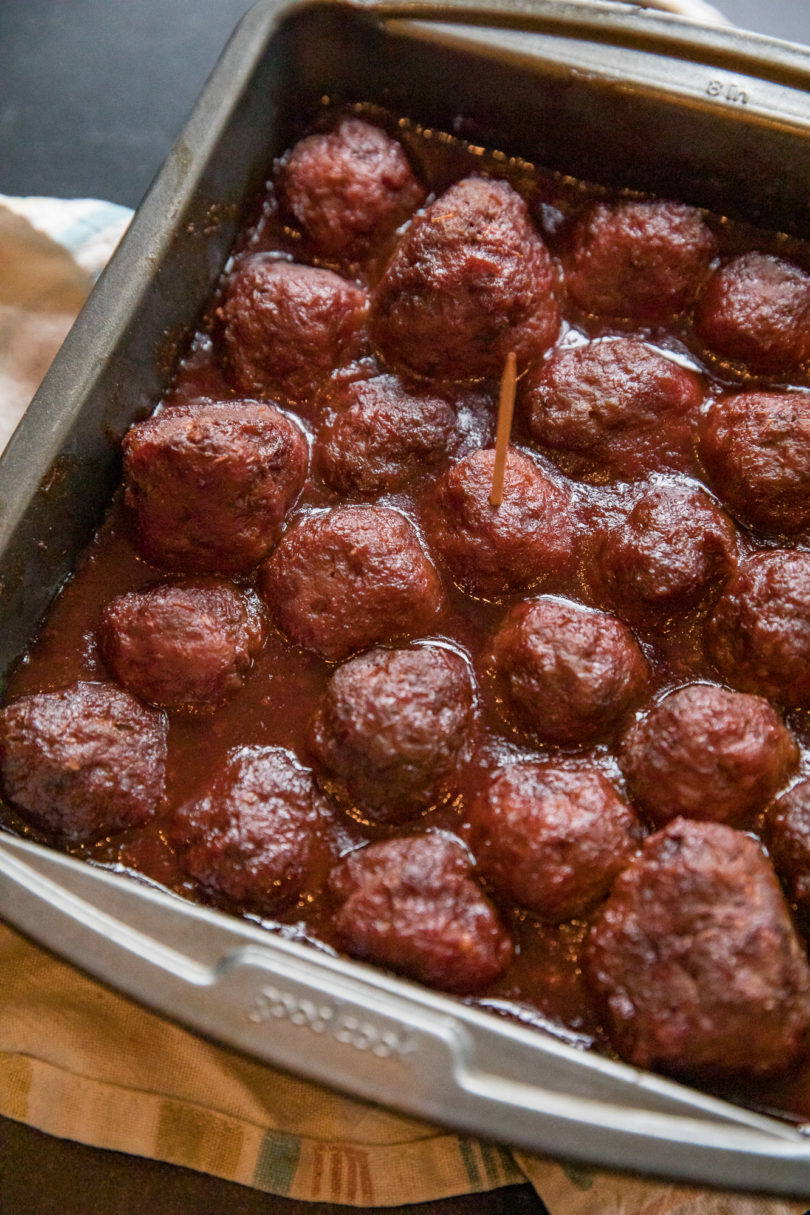 Smoked Grape Jelly Meatballs shopping list
Wondering if you have to hit the store? Here's the list of items you'll need to make this recipe. For specific amounts, please refer to the printable recipe card at the bottom of the post.
ground beef
ground pork
egg
milk
bread crumbs
bbq rub (like our Everything Rub)
salt & pepper
grape jelly
Heinz Chili Sauce
More Traeger Beef Recipes here!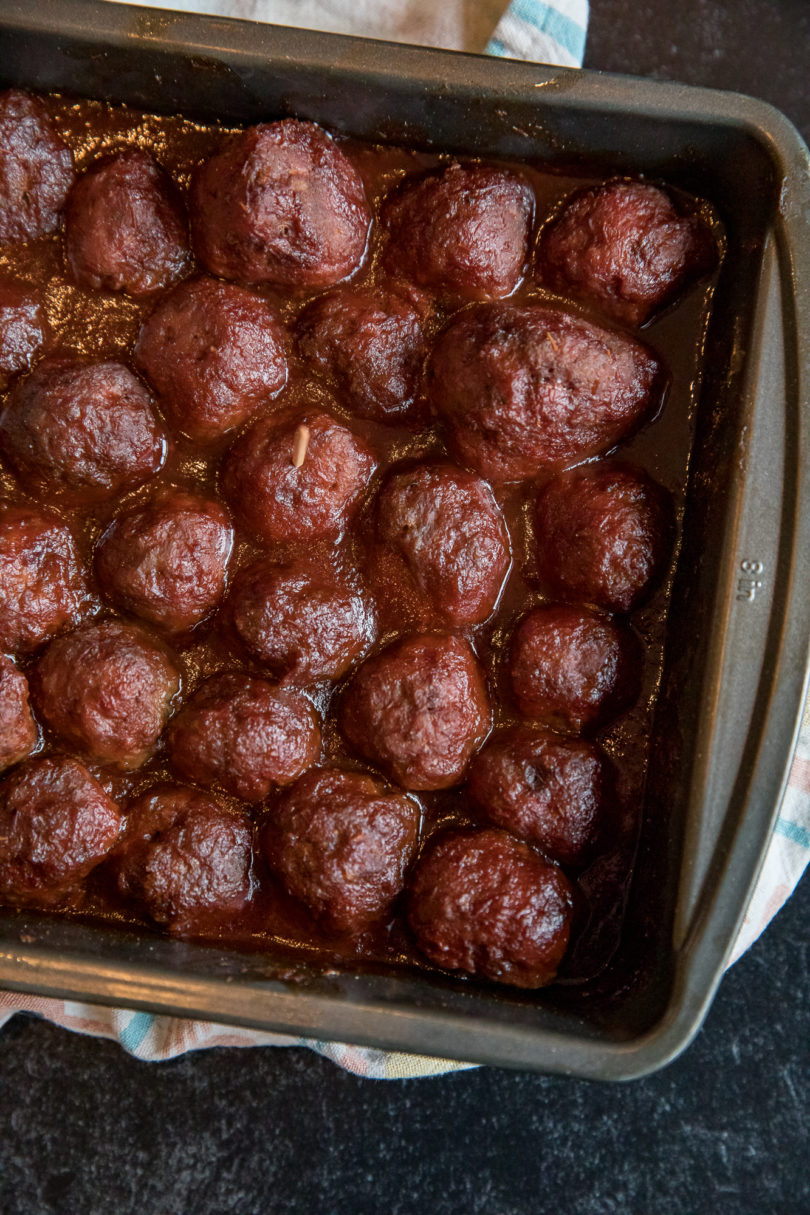 How to make Traeger Meatballs with Grape Jelly and Chili Sauce
This is just the overview so you can see what you're actually getting into here. When you are cooking, you'll want to use the full recipe at the bottom of the page.
Preheat your pellet grill
We're going to smoke the meatballs at 220°, so set it there for now.
Mix and roll
Mix together the meat with the rest of the meatball ingredients. Roll into small meatballs that are about 1 inch thick.
Smoke
Place the meatballs on the grates and smoke for one hour.
Sauce
Take the meatballs off the grates and place them all into a grill-safe high-sided pan that's been liberally sprayed with cooking spray. You want them pretty close together so they can get properly sauced. Mix together the chili sauce and the grape jelly and pour over the meatballs.
Back on the grill
Place the pan back on the grill and increase the temperature to 300°. Continue to cook for at least an additional 15-20 minutes, a little longer is fine too. You just want the sauce to get bubbly and thicken up a touch. Shake the pan gently midway through cooking to make sure the sauce is fully coating them.
Enjoy
Remove from the grill, stick toothpicks in each one and serve hot! These can easily be kept warm in a crock pot.
Get more awesome Appetizer Recipes!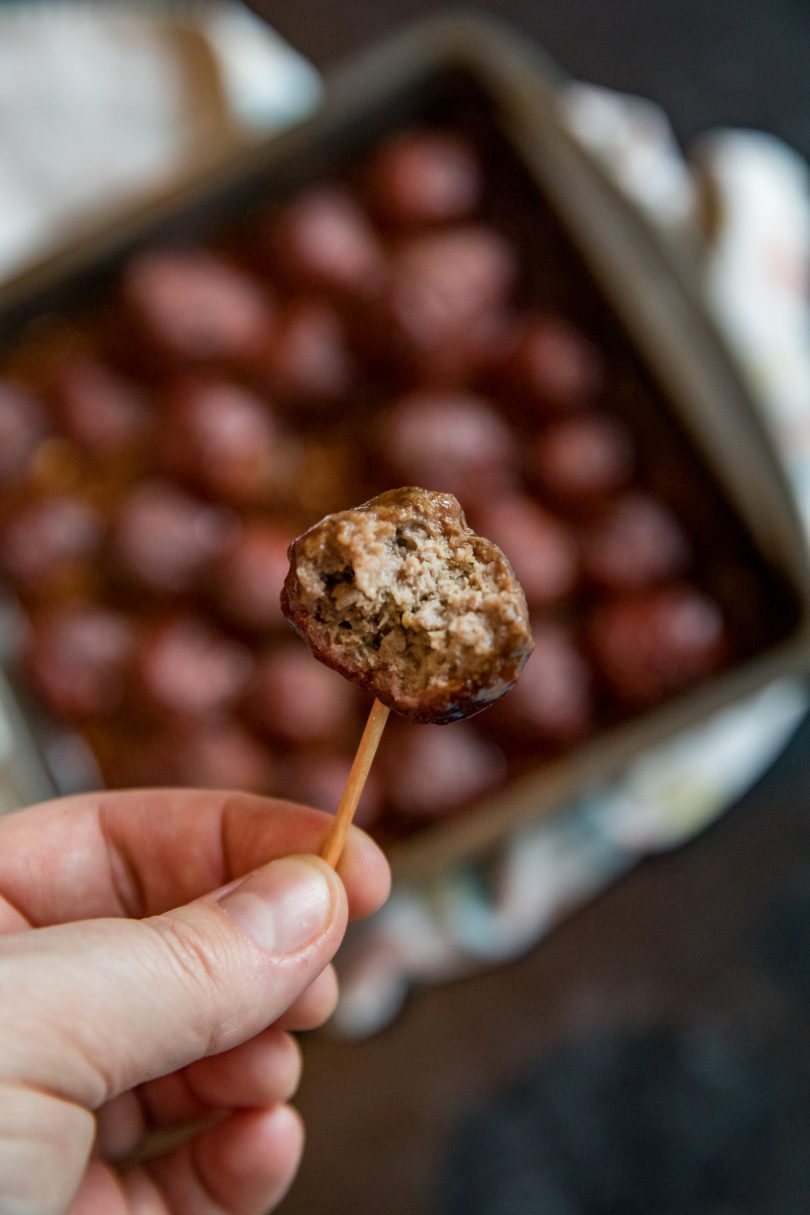 More great Traeger appetizers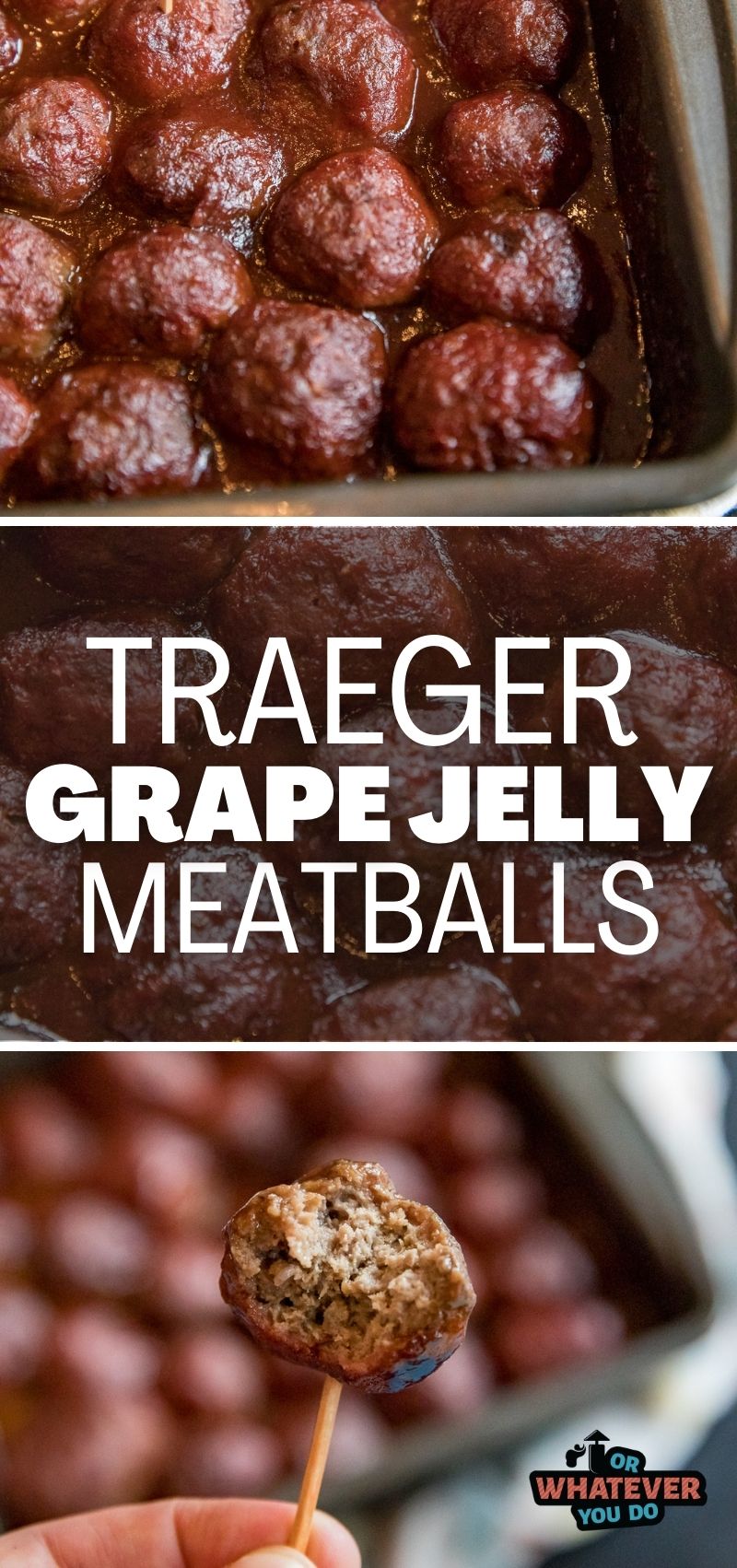 Yield: 20 servings
Traeger Smoked Grape Jelly Meatballs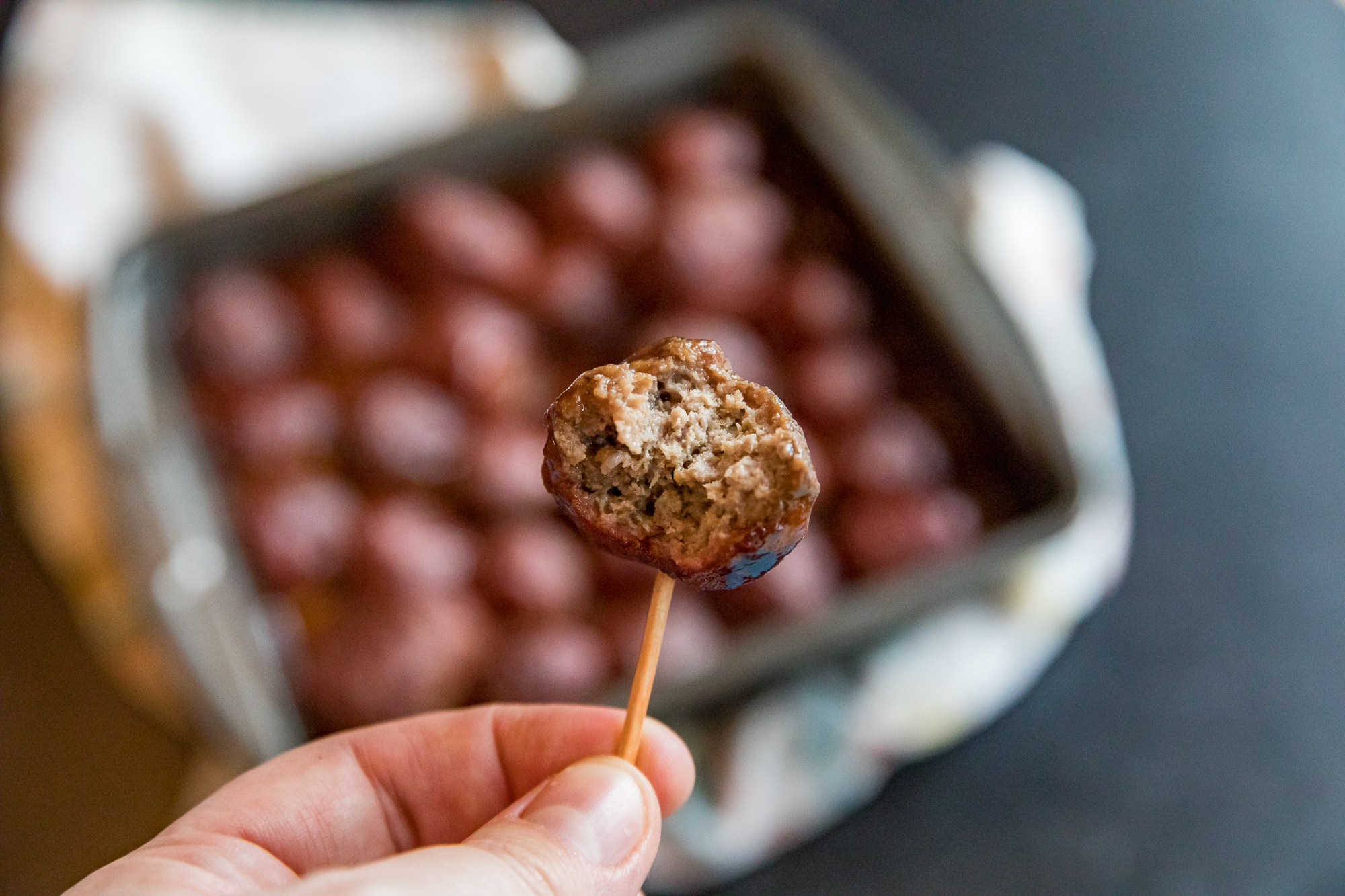 Tender meatballs are packed with flavor, smoked, and then smothered in grape jelly and chili sauce for the strangest thing you'll ever LOVE. This is the definition of "the sum is greater than the parts". Suspend your disbelief and give it a try!
Total Time
2 hours
15 minutes
Ingredients
1 pound ground beef
1 pound ground pork
1 egg, beaten
1/8 cup whole milk
3/4 cup plain bread crumbs
1 tablespoon OWYD Everything Rub (or your favorite bbq rub)
1/2 teaspoon salt
1/4 teaspoon pepper
12 ounces Heinz Chili Sauce
1/2 cup grape jelly
Instructions
Preheat the Traeger to 220°.
Mix together the ground beef, ground pork, egg, whole milk, bread crumbs, bbq rub, and salt and pepper. Roll them into small meatballs and place onto the grill. Let smoke for 30-60 minutes.
Remove from the grill and place into a grill-safe pan that's been sprayed with cooking spray. Mix together the chili sauce and jelly and pour over the meatballs. Toss to coat.
Turn the grill up to 300°. Place the pan onto the grill and cook for at least another 15-20 minutes, or until the sauce is bubbly and slightly thickened, and has a chance to "set" on the meatballs. Gently shake the pan mid way through when you check them to give them another coat.
Remove from the grill and serve warm!
Recommended Products
As an Amazon Associate and member of other affiliate programs, I earn from qualifying purchases.
Nutrition Information:
Yield:
20
Serving Size:
1
Amount Per Serving:
Calories:

185
Total Fat:

10g
Saturated Fat:

4g
Trans Fat:

0g
Unsaturated Fat:

5g
Cholesterol:

55mg
Sodium:

196mg
Carbohydrates:

8g
Fiber:

0g
Sugar:

3g
Protein:

14g
Nutrition data provided here is only an estimate.