These easy fried wontons are made with ground chicken and a mixture of seasonings and then quickly fried and served with a soy-vinegar sauce. Make it spicy with some sriracha, or skip it for the tender-mouthed among you.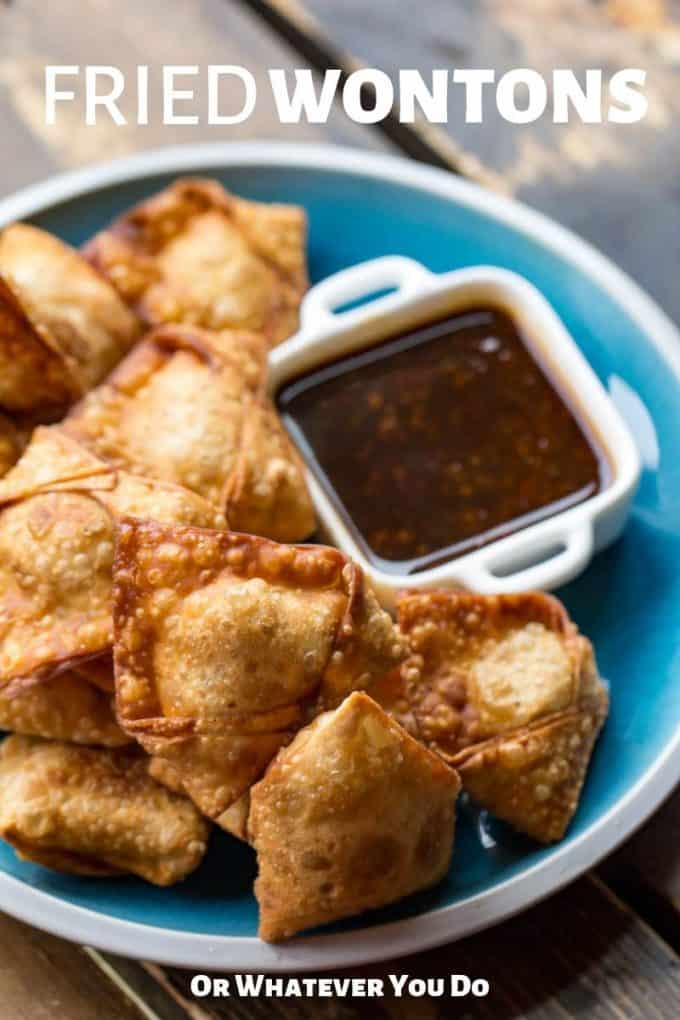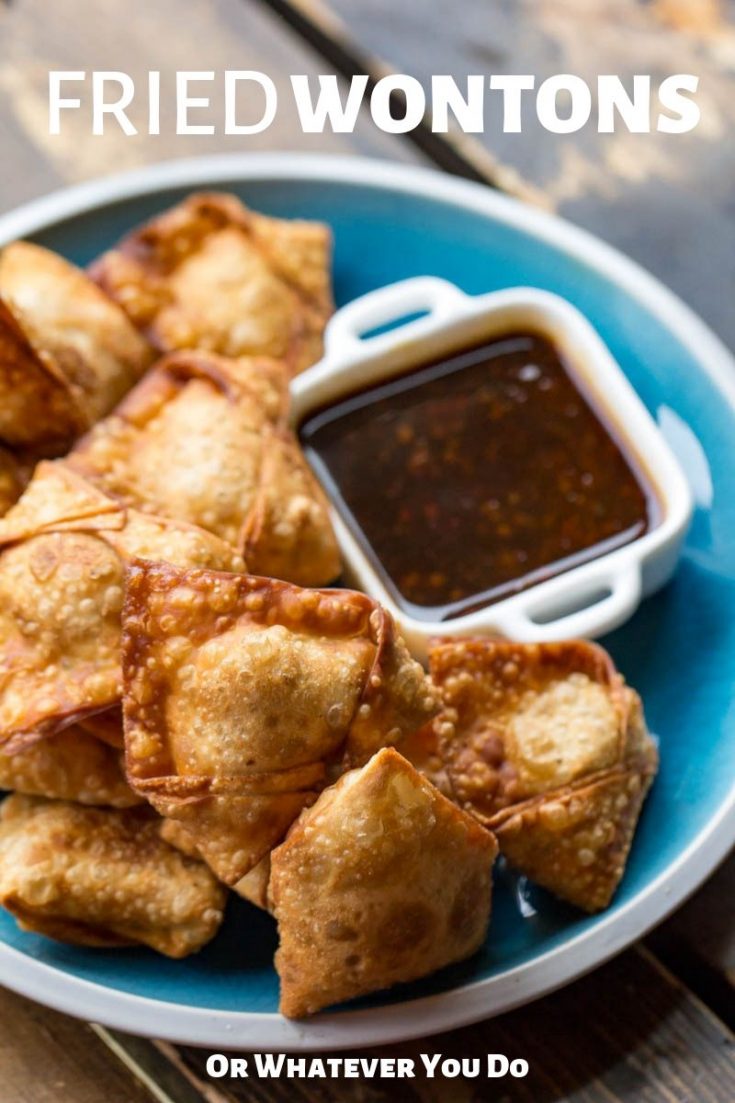 Fried Wontons with Chicken
A wonton is a dumpling with a meat or vegetable filling inside. My easy-fried wonton recipe has a mixture of ground chicken and seasonings inside. We love making these alongside our many stir-fry recipes, and serving with my favorite homemade pot sticker sauce!
Pictured here what you see are deep-fried wontons, but there is more than one way to cook these awesome little nuggets. One of my new favorites is on our Blackstone griddle. Pan-fried dumplings make great appetizers.
More Blackstone Recipes here!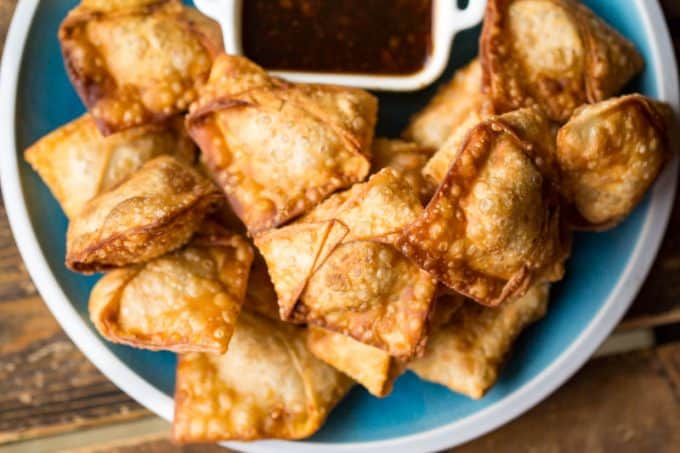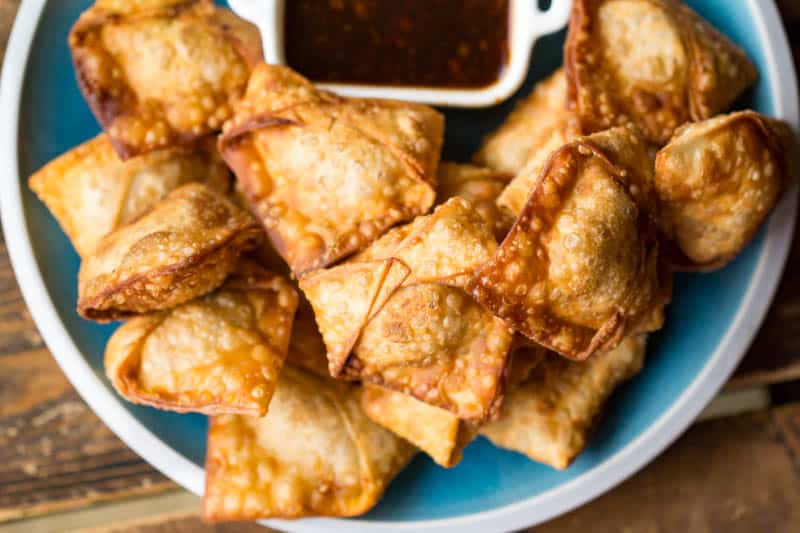 Fried Wontons shopping list
Wondering if you have to hit the store? Here's the list of items you'll need to make this recipe. For specific amounts, please refer to the printable recipe card at the bottom of the post.
wonton wrappers
ground chicken
garlic
ginger
soy sauce
togarashi
Get more recipes for your cookout here!
How to make Homemade Fried Wontons
This is just the overview so you can see what you're actually getting into here. When you are cooking, you'll want to use the full recipe at the bottom of the page.
Mix
Mix together the chicken, garlic, ginger, soy sauce, and togarashi together until the ingredients are well-incorporated.
Stuff
Take about a teaspoon of the chicken mixture and place it into the center of the wonton wrapper. Dampen the edges of the wrapper with water and fold to seal in a triangle shape, then fold the corners in.
Fry
If deep frying, preheat about 1 1/2 inches of oil in a skillet on the stovetop to 350°. Fry in small batches until golden brown. The internal temperature of the meat should be at least 165°.
Enjoy
Repeat the frying process until they are all cooked, and serve with dipping sauce.
Follow me on Instagram!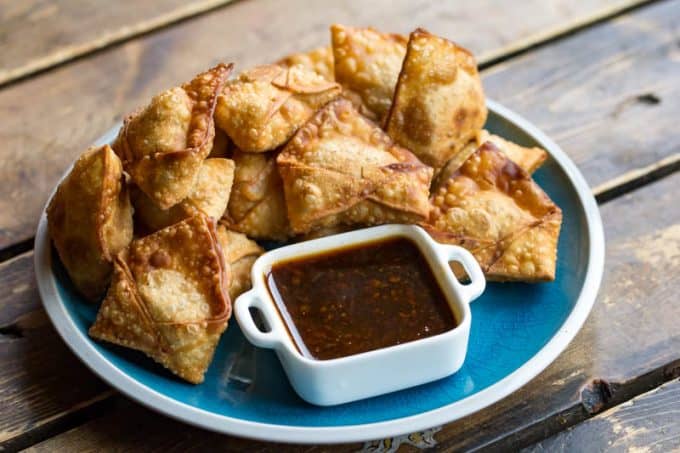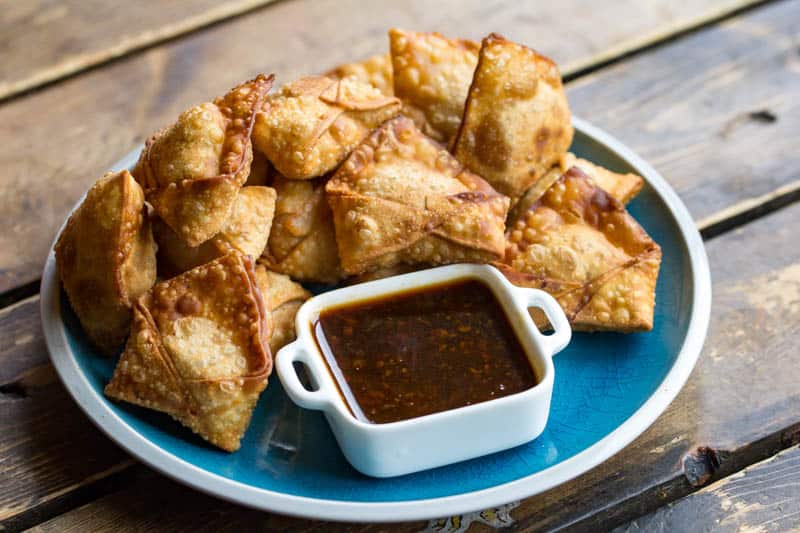 Fried Wontons FAQ
Answers to some commonly asked questions about my fried wonton recipe!
Where can you buy wonton wrappers?
Wonton wrappers can be bought at most major grocery stores, typically in the refrigerated section. Even my tiny rural store carries these, so you shouldn't have any trouble tracking some down.

I would not personally recommend making these wrappers yourself. It can be done, but it really time-consuming and turns this quick appetizer into more a labor of love.
How do you fold wontons?
There's really no "wrong" way to fold these. As long as the wrappers are sealed you'll end up with something delicious.
To fold them like you see pictured here, just match corner to corner creating a triangle. Make sure to wet the edges lightly so the filling doesn't come out when they are frying.
How do you fry wontons?
When you deep fry your chicken wontons, make sure that the oil is heated to 350° degrees. If your oil is too hot it will cook the wontons too quickly and the filling won't get a chance to cook.
If you don't have an oil thermometer, you can test it by cooking a tester. You want the wonton to take about 4-5 minutes total to cook.
What's the best pan to use for frying wontons?
A wok will always be ideal for this sort of thing, but if you don't have one you can use any skillet. I prefer non-stick.
Be careful when you slide the wontons into the oil to prevent any splattering. You want a high temp oil like canola or avocado oil for best results.
Tips for frying the best wontons ever
Be patient! | You'll be flipping the wontons halfway through the fry to get the other side, so don't feel like you have to flip them more than that. Let them cook in peace, why don'tcha??

Never walk away from your stove when frying | For real. Not even for a minute. These cook quickly and anytime you've got frying going on you need to be all hands on deck.

Have your draining area ready | You'll want a plate lined with paper plates to place the cooked wontons on to cool before you shovel them into your mouth. Have it ready before you need it!
Check out our Blackstone Yakisoba recipe too!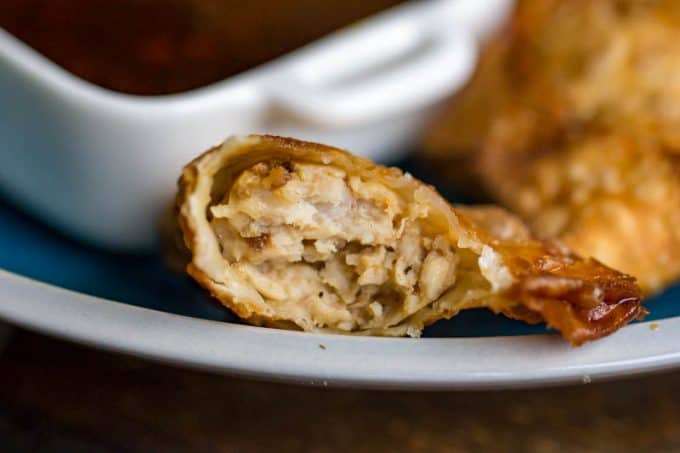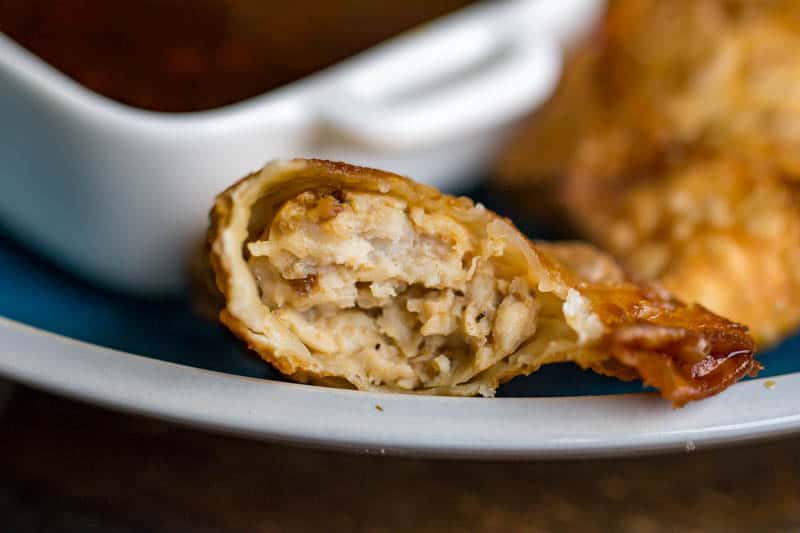 More Asian-inspired recipes!
If you use up all the wonton wrappers and still want egg rolls, my Egg Rolls In A Bowl recipe is perfect. What better way to get those veggies in for the picky eaters. Simply place this delicious side in your bowl of choice and ta-da, a delicious complement to these Fried Chicken Wontons.
Looking for a main entree still? Traeger Grilled Salmon is a delicious grilled salmon recipe that I can't get enough of. Change it up and make a Togarashi Pork Tenderloin if you want something other than fish.
More recipes to love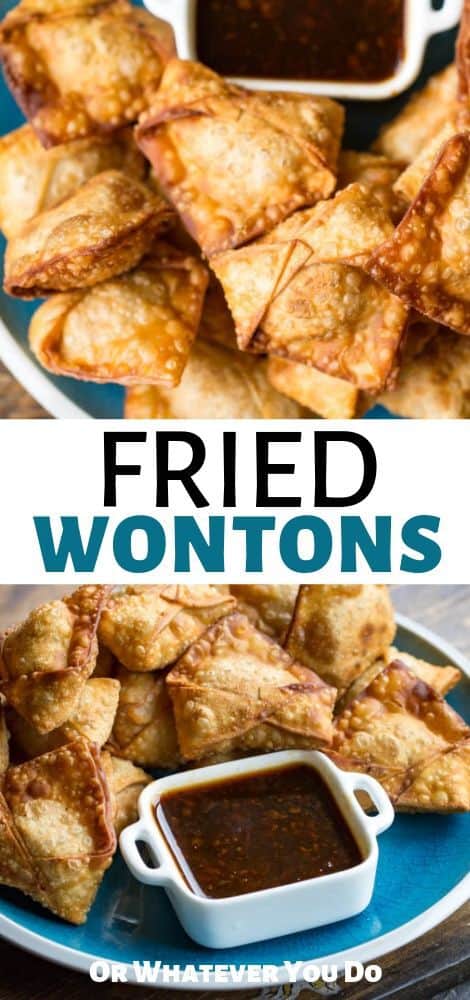 Yield: 6 servings
Fried Wontons with Chicken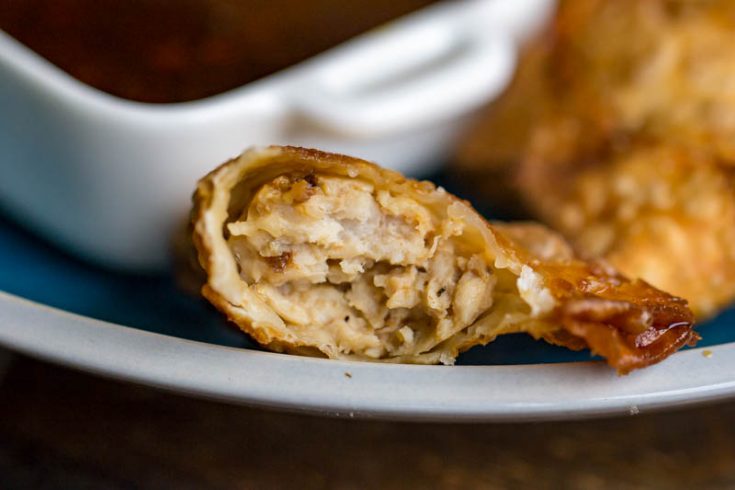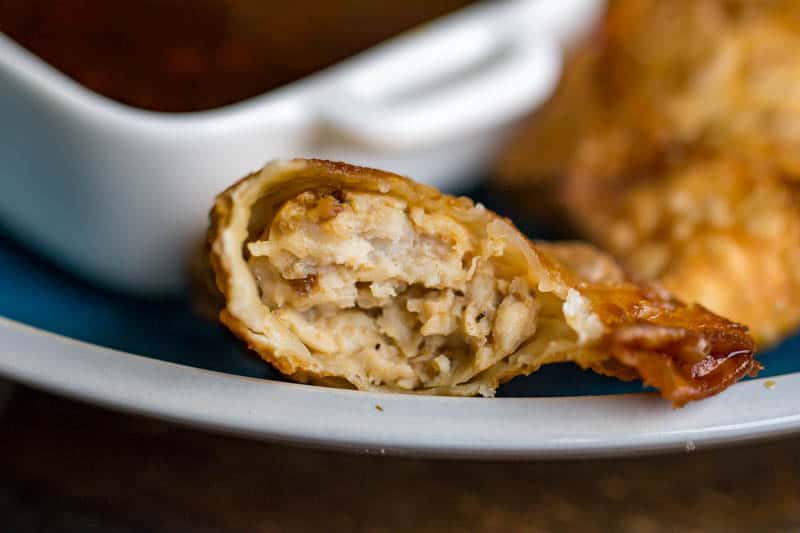 These simple fried wontons are made with ground chicken, ginger, garlic, soy, and togarashi. Quickly fried and served with a vinegar and soy sauce.
Ingredients
24 wonton wrappers
1/2 pound ground chicken
1 teaspoon minced garlic
1/2 teaspoon minced ginger
1 tablespoon soy sauce
2 teaspoons togarashi
oil for frying
Instructions
Combine the chicken, garlic, ginger, soy sauce, and togarashi in a small bowl, and mix to combine.
Stuff about a tablespoon into each wrapper, brush the edges with water, and then fold into a triangle. Fold the edges in toward the middle, and set aside.
Preheat 1 - 1 1/2 inches of oil in a skillet over medium to medium-high heat.
Fry the wontons in batches, flipping once until both sides are golden brown. They should fry for 3-4 minutes. If they are getting done sooner than that, turn your oil down a bit. You need to give them enough time to fully cook the filling.
Remove to a separate plate and serve with vinegar soy dipping sauce.
Nutrition Information:
Yield:
6
Serving Size:
1
Amount Per Serving:
Calories:

187
Total Fat:

7g
Saturated Fat:

1g
Trans Fat:

0g
Unsaturated Fat:

5g
Cholesterol:

43mg
Sodium:

357mg
Carbohydrates:

19g
Fiber:

1g
Sugar:

0g
Protein:

12g