This epic Reverse-Seared T-Bone Steak is a 2-inch thick steak that is slowly smoked to a cool 115° before being thrown on our Blackstone griddle that is blazing hot and searing both sides to form the perfect steak crust and a medium-rare 125° center. After the rest, it'll be as close to perfect as it can get!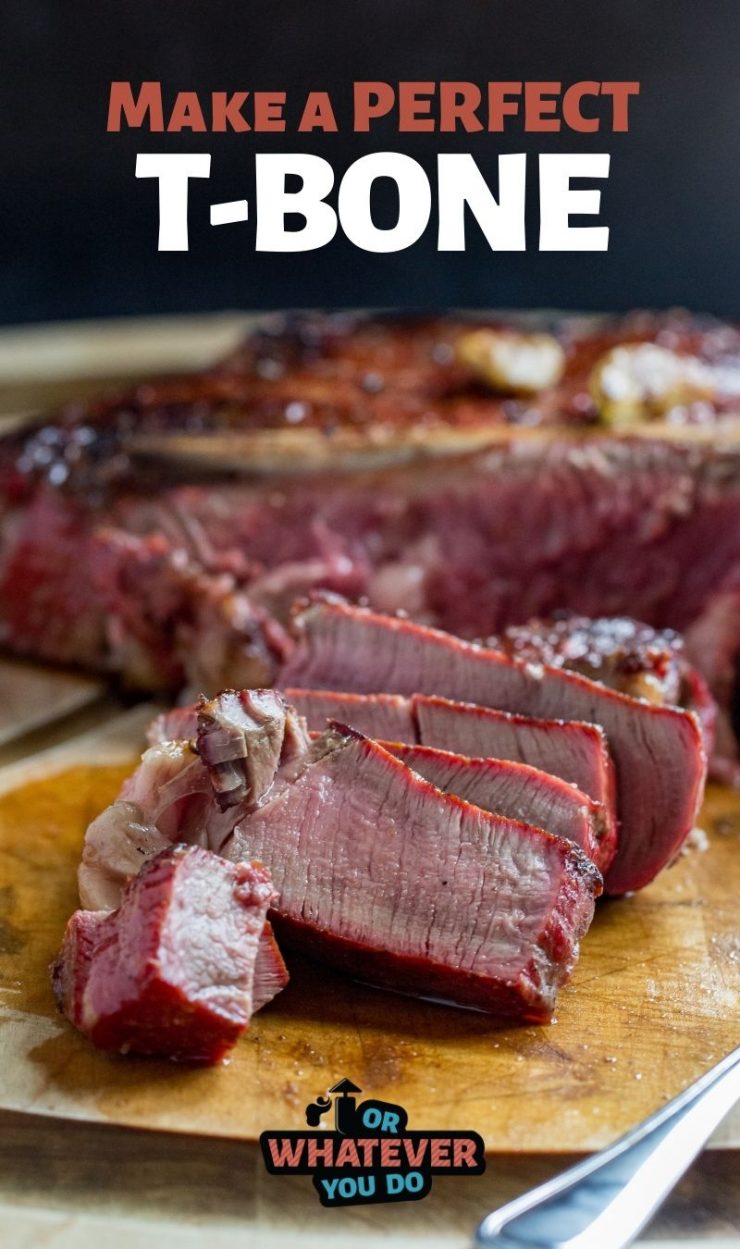 Traeger Reverse-Seared T-Bone Steak
I love a good steak. Whether it is a New York Strip, Ribeye, Filet Mignon, Picanha, Prime Rib Roast, Flank Steak, Flat Iron, Tenderloin, Tri-Tip, Hanger Steak, Tomahawk, Sirloin Cap, or whatever other steak cuts you can find, there's a delicious way to eat it and I'm HERE for it.
The T-Bone has been on my list for a while now of steaks I wanted to feature on the site, and for good reason. It has two of the best cust together as one in the New York Strip and Filet Mignon.
More Easy Traeger Recipes here!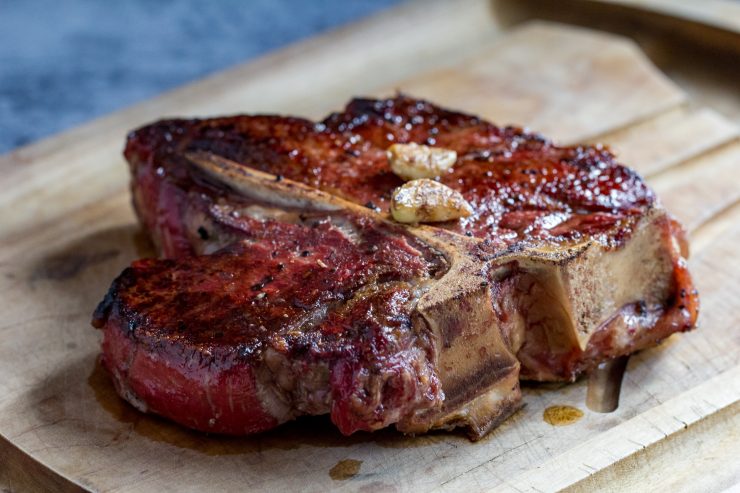 Is a T bone a good steak?
Yes! According to my extensive Googling, it is consistently in the top 5 most popular steaks in America, in fact.
The t-bone is a New York Strip and tenderloin, all in one.
It is tender, full of bold beef flavor, and relatively easy to cook as well.
It is NOT a good steak if you like your steak above medium, as by the time the meat near the bone is the correct temperature the outside edges will be tough and very overcooked.
Then again – if you like your steak cooked above medium you should probably just order a hamburger anyway. 😉
Kidding!
Mostly.
More Traeger Beef Recipes here!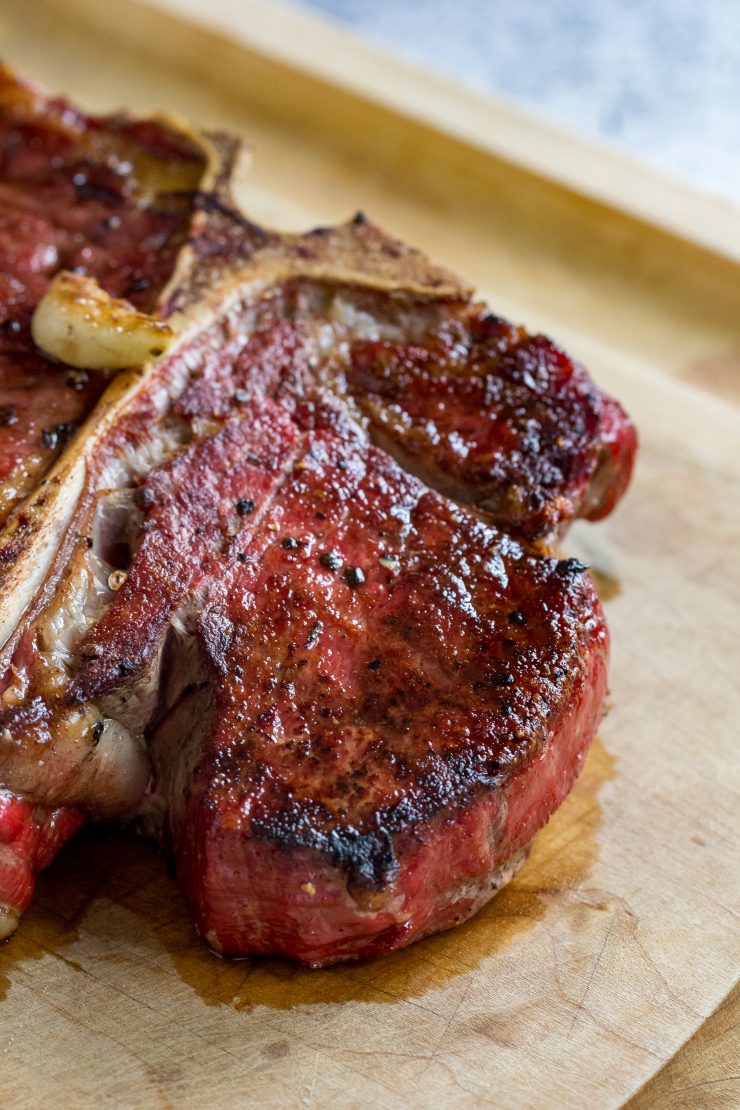 T-bone versus Ribeye Steak
This is a tough match-up and comparatively, I'd likely pick a ribeye every time. I don't really like dealing with bones, however, so your mileage may vary as far as your preference goes. Try them both, if you haven't as of yet, and let me know what you think!
How do you grill a perfect T bone steak?
Grilling is an ideal method for cooking a T-bone. In this post, we're grilling using the "reverse sear" method. That means that you cook it low and slow and with lots of smoke and follow it up by a hot sear at the end in a skillet or on a griddle.
You can also grill this using more traditional methods of direct high heat until the outside is seared and the internal temperature reaches your ideal level of doneness.
I prefer a reverse sear, personally, but it takes longer so I understand if hunger wins – ultimately.
Follow me on Instagram!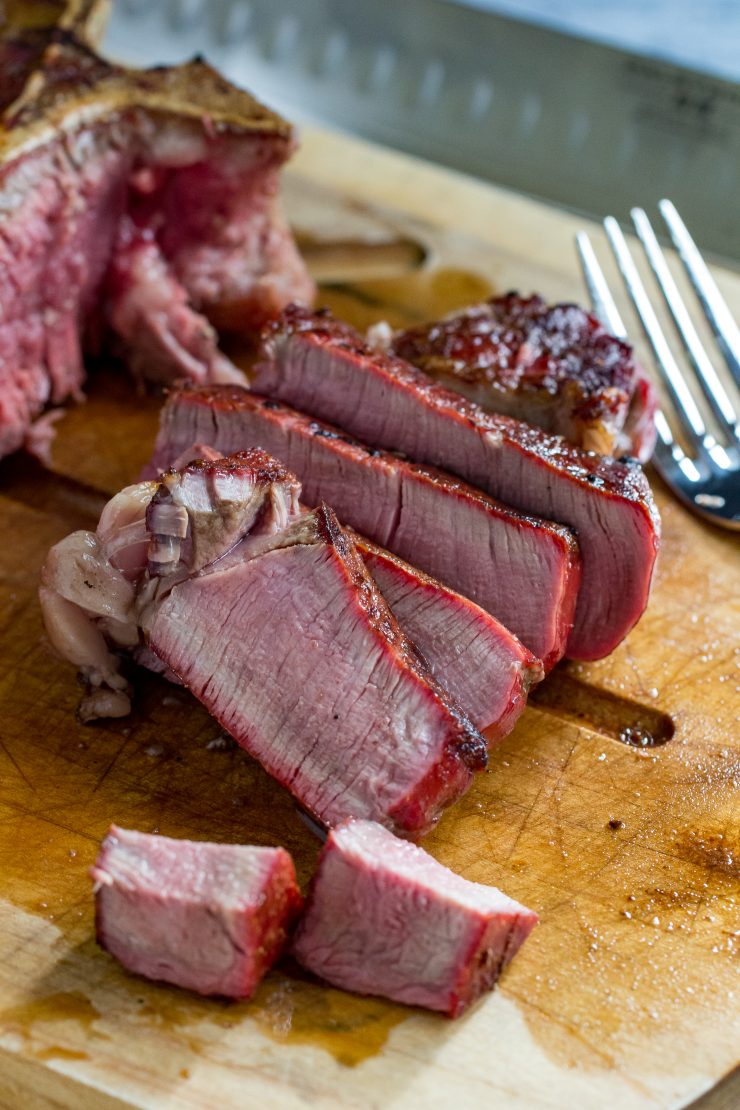 How long should you cook a T-bone?
If you follow the Letterkenny method of steak cooking, it should be cooked 4 minutes total at 400 degrees, flipping every minute for good grill marks.
I'd eat a steak cooked this way all day long, for sure, but in the OWYD house we don't grill to a TIME we grill to a TEMP. Especially if you aren't a well-seasoned and experienced steak-master, you need a good quick-read thermometer to be able to accurately assess when the steak is done.
If you need a good thermometer, I highly recommend the Mk4 by ThermoPro!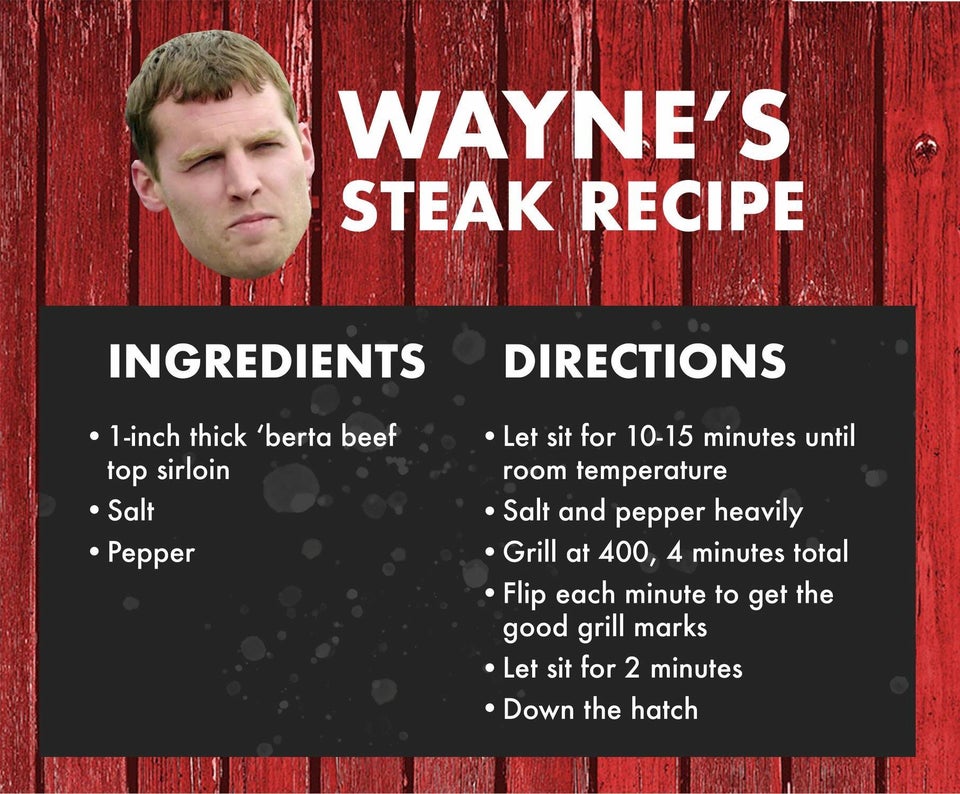 Want the actual temps? Here's a handy chart!
| | | |
| --- | --- | --- |
| STEAK TEMPERATURES | PULL | FINAL |
| RARE | 115° | 120° |
| MID-RARE | 125° | 130° |
| MEDIUM | 130° | 135° |
| MEDIUM-WELL | 135° | 140° |
| WELL | 140° | 145° |
Get my easy Side Dish recipes!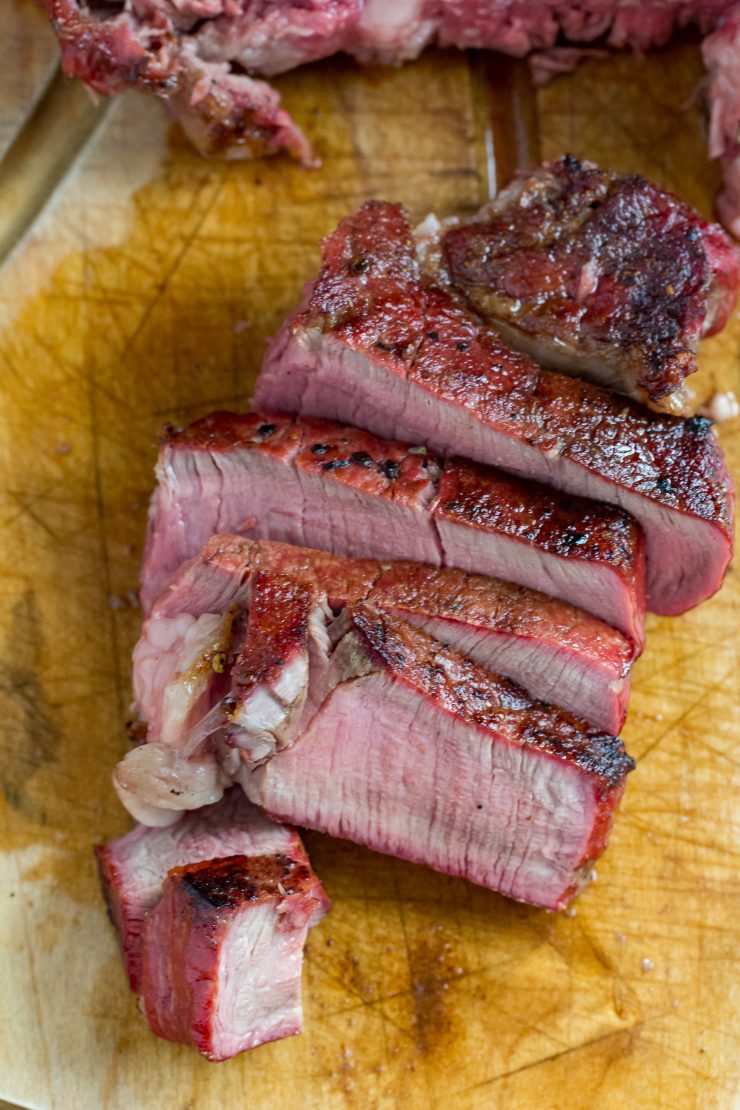 Should you marinate a T-bone?
"Should" is a strong word here. You CAN marinate a T-bone. If you do, I recommend our steak marinade recipe found here in my Flat Iron steak post.
That being said, the T-bone is so flavorful you really don't need to.
Make my Traeger Cheddar Bay Biscuits with this!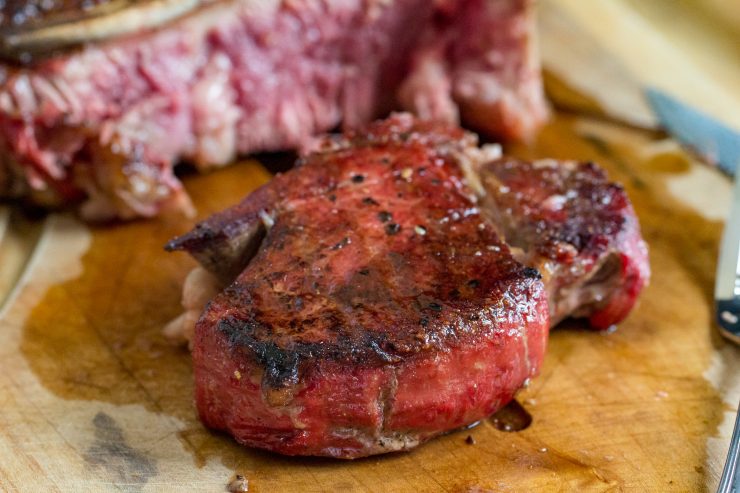 What other ways can you cook a T-bone?
Sure! You can reverse sear in an oven and on the stovetop if you don't have a grill or if it is buried in snow or something.
You can also cook over direct heat in a cast-iron skillet as well.
Check out our OWYD shop!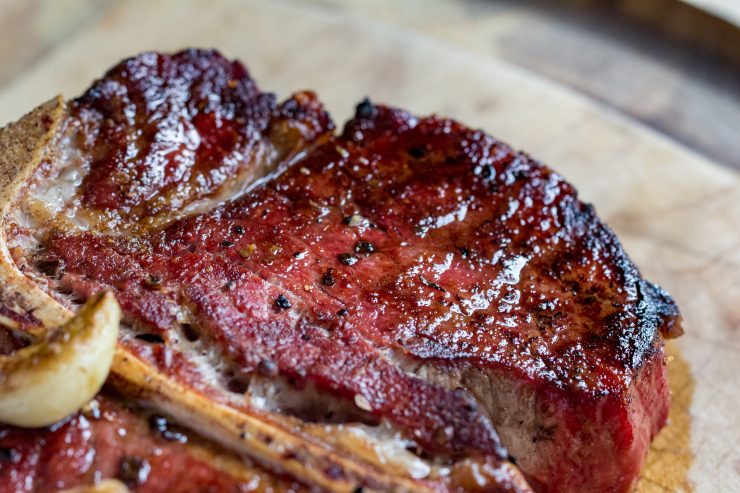 What should you serve with a Grilled T-bone steak?
Go the steakhouse route and serve this amazing T-bone with a Smoked Baked Potato, Smashed Potatoes, or Loaded Mashed Potatoes for a start. These Smoked Potato Stacks with Parmesan Cream Sauce would also be incredible!
If you need more carbs in your life I can also highly recommend my homemade mac and cheese and/or some of these homemade milk rolls too.
Need some vegetables in the midst of all of this meat and carbs?
Try my homemade Caesar dressing on a crisp Caesar salad, or if you are more in the mood for a vinaigrette, try my Greek salad.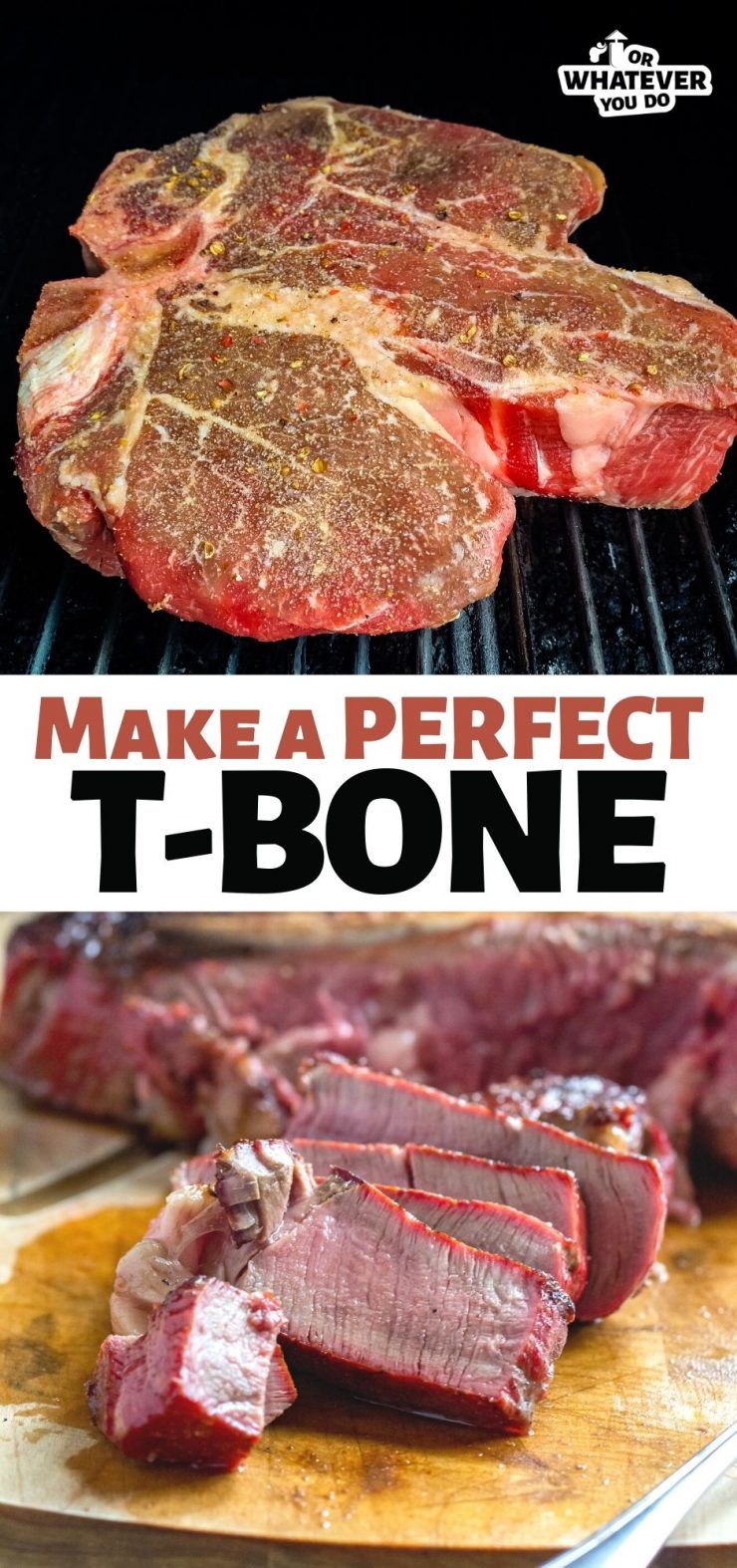 Yield: 6 servings
Reverse Seared T-Bone Steak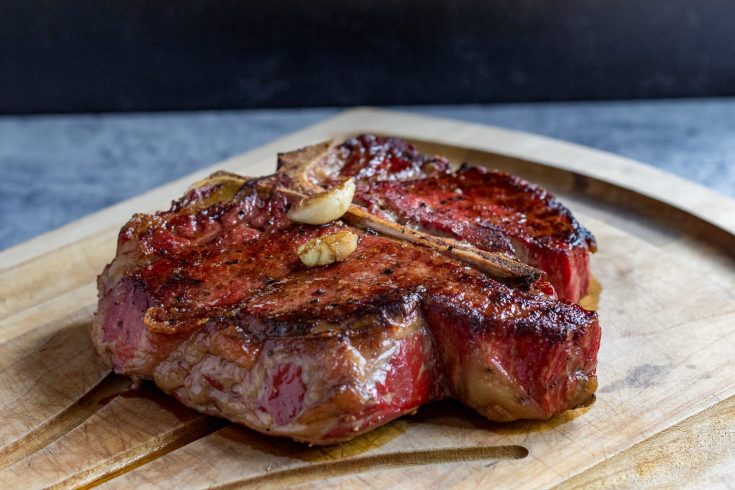 A giant 2-inch-thick T-bone steak is smoked and then seared for one of the best steaks you've ever had.
Total Time
2 hours
10 minutes
Ingredients
2 pound t-bone steak
salt & pepper
Instructions
Preheat your pellet grill or smoker to 200°. Place the steak on and let it cook until they reach 115° internal temperature.
Remove from the grill and liberally salt and pepper the steaks. Preheat a gas griddle or cast iron pan over medium-high heat, and lay down a bit of oil in the pan or on the griddle.
Place the steak on and sear for 1-2 minutes on each side.
Let rest, covered, for 5 minutes before cutting.
Recommended Products
As an Amazon Associate and member of other affiliate programs, I earn from qualifying purchases.
Nutrition Information:
Yield:
4
Serving Size:
1
Amount Per Serving:
Calories:

656
Total Fat:

46g
Saturated Fat:

19g
Trans Fat:

3g
Unsaturated Fat:

23g
Cholesterol:

188mg
Sodium:

214mg
Carbohydrates:

0g
Fiber:

0g
Sugar:

0g
Protein:

56g
Nutrition data provided here is only an estimate.