Our easy Blackstone Grill Steak is cooked on a flat top griddle and powered with propane. You're going to love the easy sear, crunchy crust, and delicious meals that can be cooked on the versatile Blackstone griddle.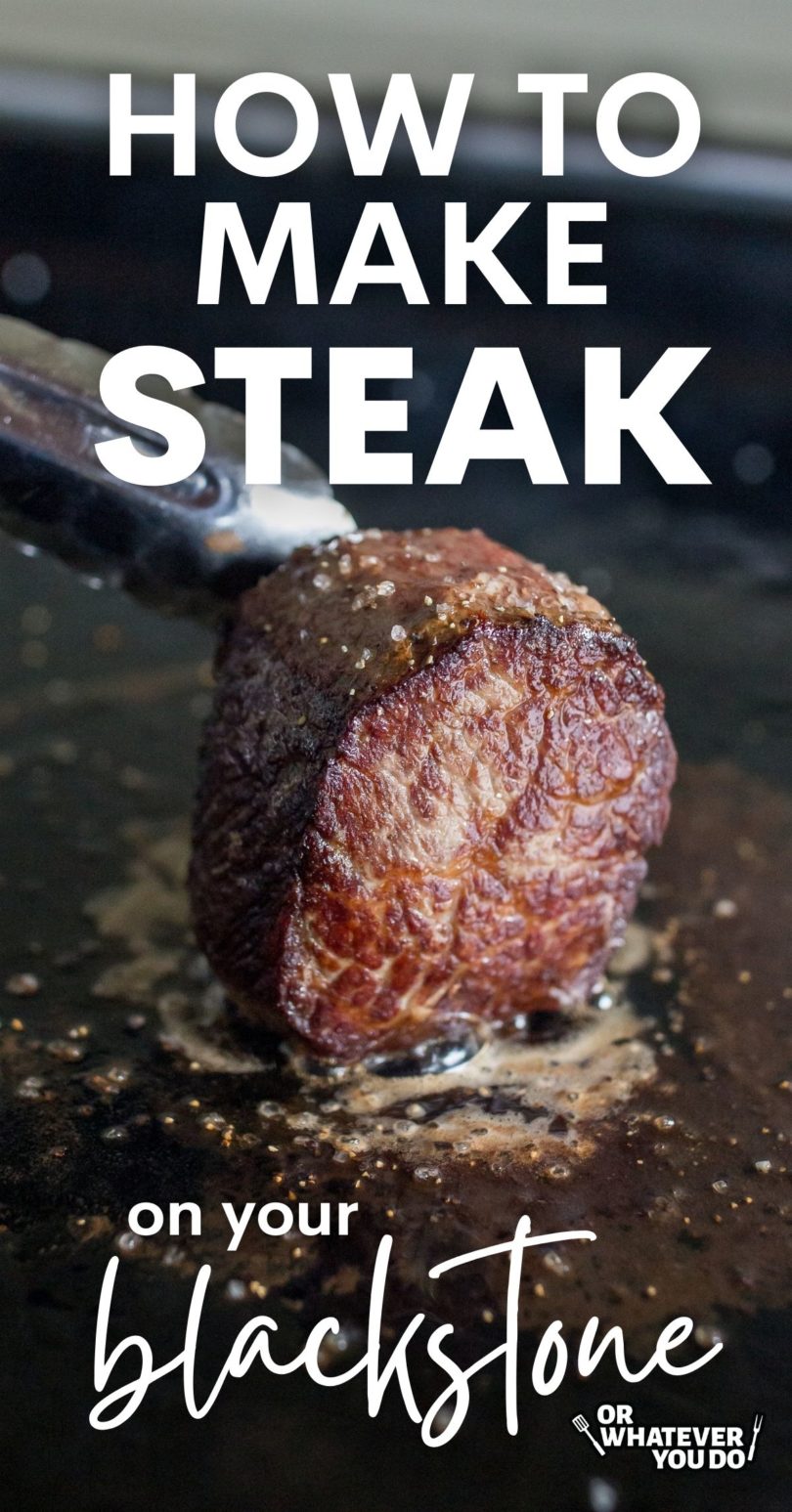 How to cook steak on a Blackstone Grill
The Blackstone Griddle is a great way to perfectly cook a steak. It has plenty of room for all of the side dishes, and the ability of these grills to maintain temperature makes the perfect surface for searing.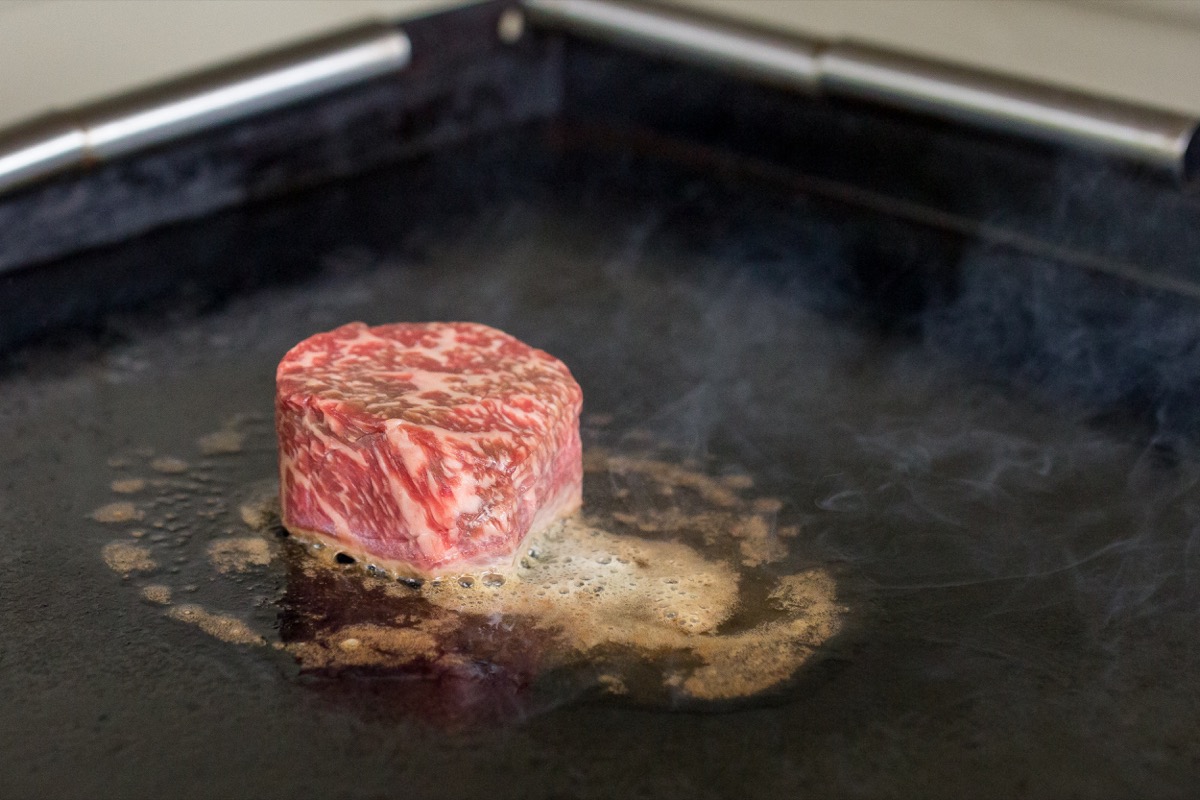 The advantages of a griddle for cooking steak
This flat-top grill steak recipe takes advantage of the fire from the propane and the flat top of the grill to sear your steak perfectly. You lock in the moisture and prevent the meat from drying out too.
You also have more surface area to work with when cooking without having to be concerned about keeping an even temperature. The flat top surface of the griddle disperses heat very evenly.
More Blackstone Recipes here!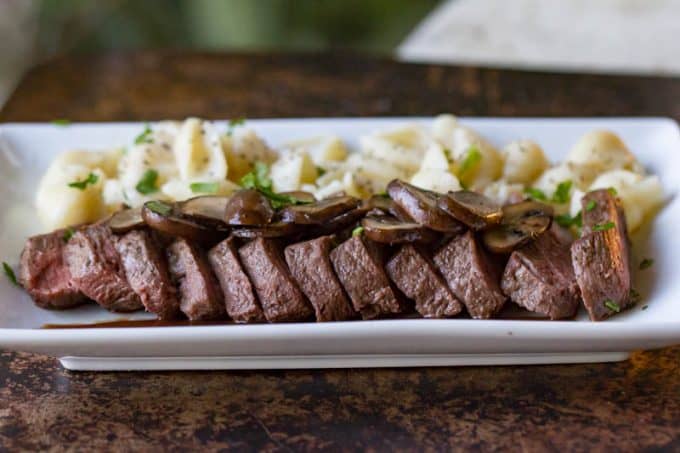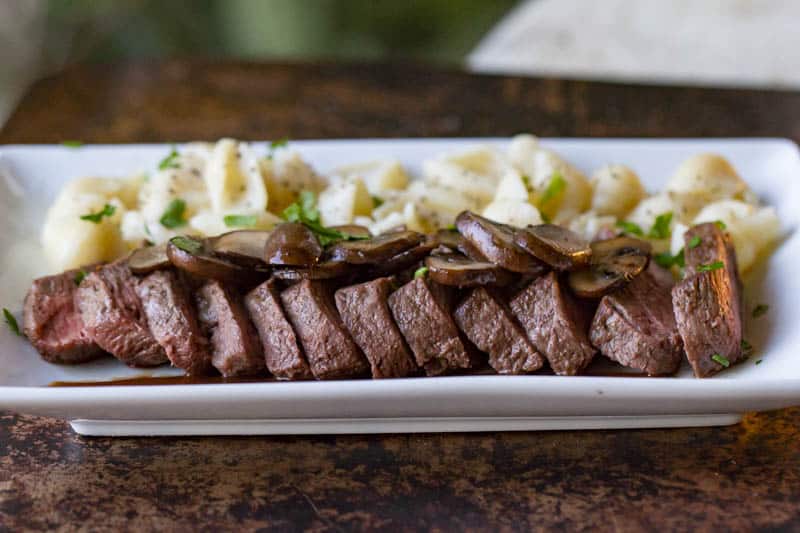 How to grill steak on a flat top?
With a Blackstone flat top grill, cooking a steak is simple. For the most part and for most steaks, you just get the grill to a nice high temp, between 450 and 500 degrees, and when you throw the seasoned steaks on and let them sear and develop that nice signature crust that everyone loves.
With steak, like most other meats, you should never cook according to the clock. Always cook according to the internal temperature of your meat.
Remember to let your steaks rest after they come off the grill for about 5 minutes to let the moisture redisburse. The meat is still going to keep cooking for this time as well so take that into account for cooking times.
| | | |
| --- | --- | --- |
| STEAK TEMPERATURES | PULL | FINAL |
| RARE | 115° | 120° |
| MID-RARE | 125° | 130° |
| MEDIUM | 130° | 135° |
| MEDIUM-WELL | 135° | 140° |
| WELL | 140° | 145° |
More great BEEF recipes here!
How to tell when a steak is done
With a meat thermometer, you can actually train yourself to know when a steak is done just by touch. You can actually feel how cooked a typical steak of about ¾ inch thick is by pressing down on it. The more firm it is and the less moisture comes out when you press, the more well done it is.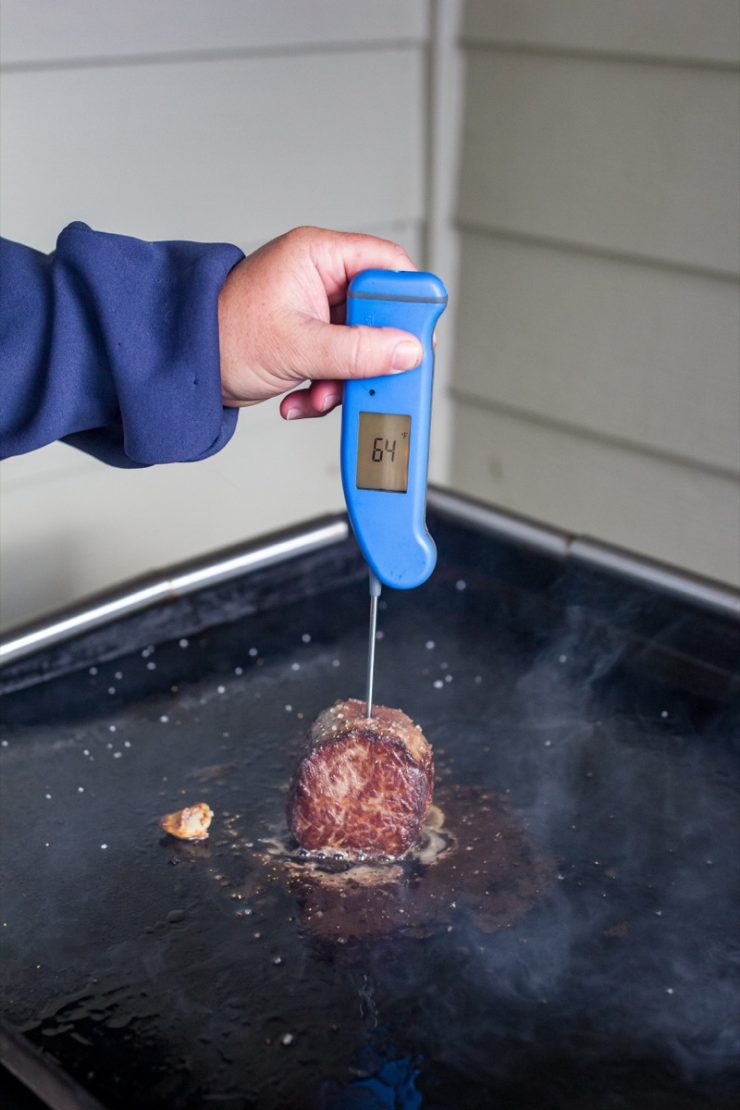 You can get my favorite thermometer below, if you are in the market!


With a little practice, in no time you will just be able to press your tongs on the meat and tell how done it is. Never flip your steaks with a fork because stabbing the meat with the tongs will cause all that internal moisture and flavorful juices to evaporate out.
Have a Cocktail with dinner!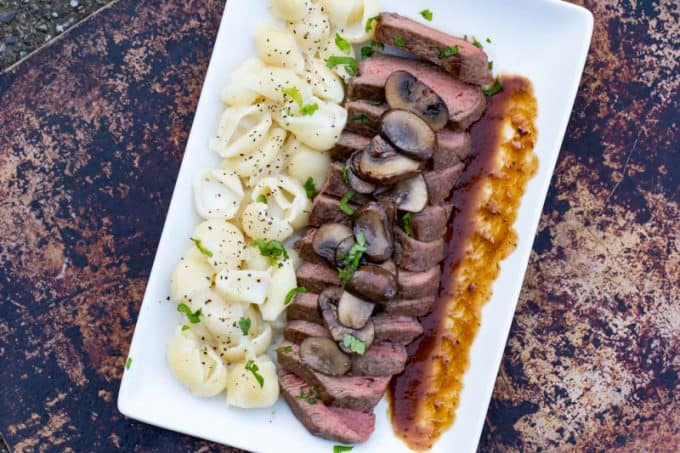 What cuts of steak are best for grilling?
Any cut works for flat top griddle steaks, but I prefer some over others. I like the medium to thicker cuts, especially for a few reasons.
First, the thicker steak cuts, like Cowboy Ribeyes 1-2 inches thick, and have a lot of marbled fat. The flat-top griddle helps evenly cook the steak and melt the fat conveniently into the cut of meat. At the same time, the temp can be controlled easily so it doesn't overcook.
You HAVE to check out this Blackstone Manhattan NY Filet that we got from Snake River Farms too. It was epic, and worth EVERY SINGLE PENNY. (This is the steak featured heavily in this post.)
Next, a cut like a New York Strip, T-bone, or grilled flank steak, while it is typically thinner, also has good marbling. They will cook faster but still benefit from greater control over the temperature.
A thicker cut like Filet Mignon, or Chateaubriand still works on the flat top griddle grill, but those steaks do benefit from a slightly longer lower cook temp after the initial sear where you can enclose the surface easily.
Get your Blackstone Griddle here!
Steaks
Nothing is like a REALLY great steak at a cookout. Here are a few of our all-time favorite steaks!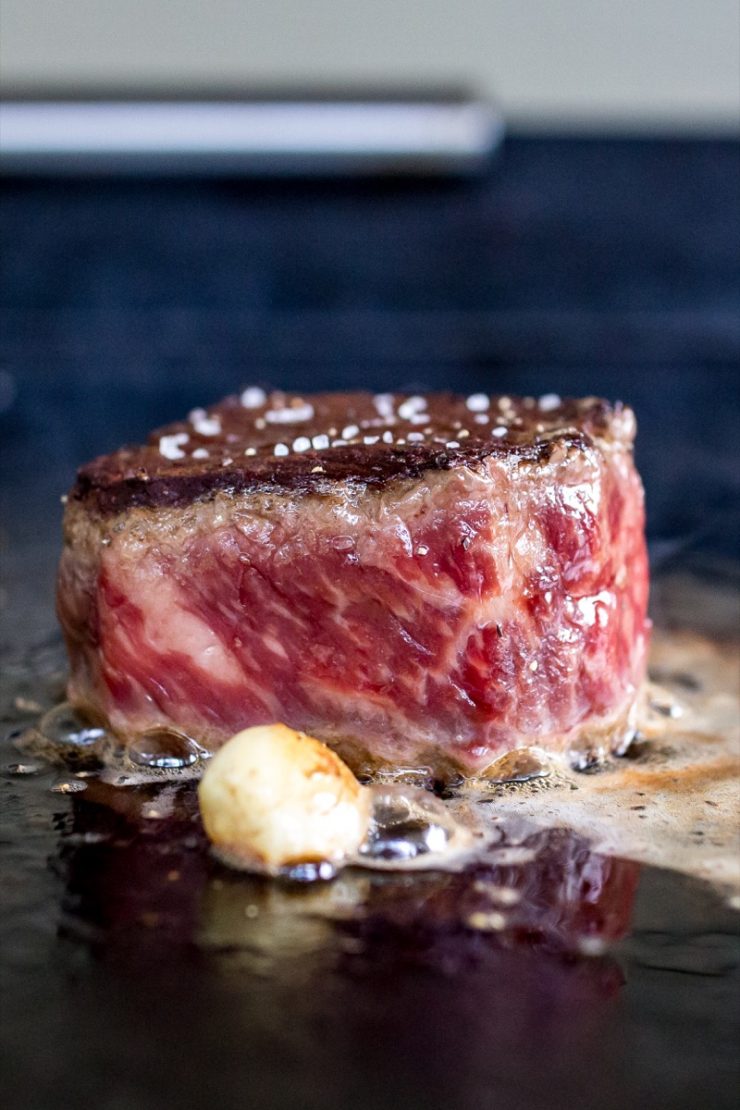 The ultimate steak for the beef fanatic in your life. This American Wagyu filet is hands down the BEST steak I've ever had.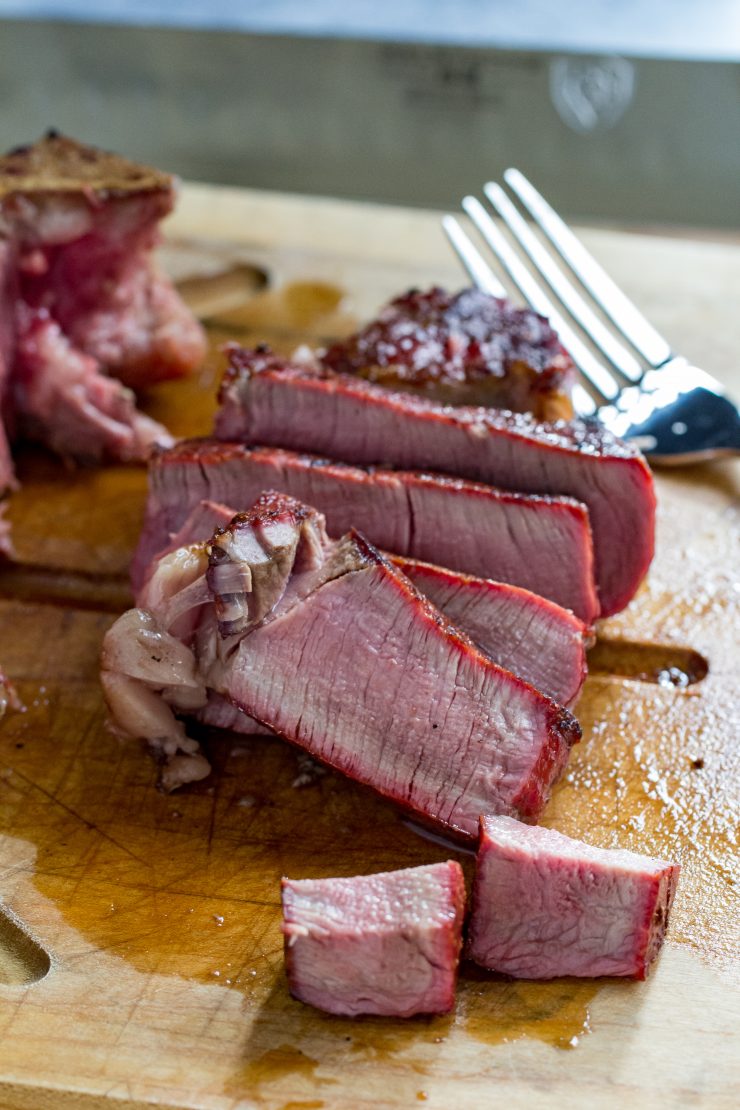 The t-bone is the best of several steak worlds, in my book, and the reverse sear is the perfect way to cook them!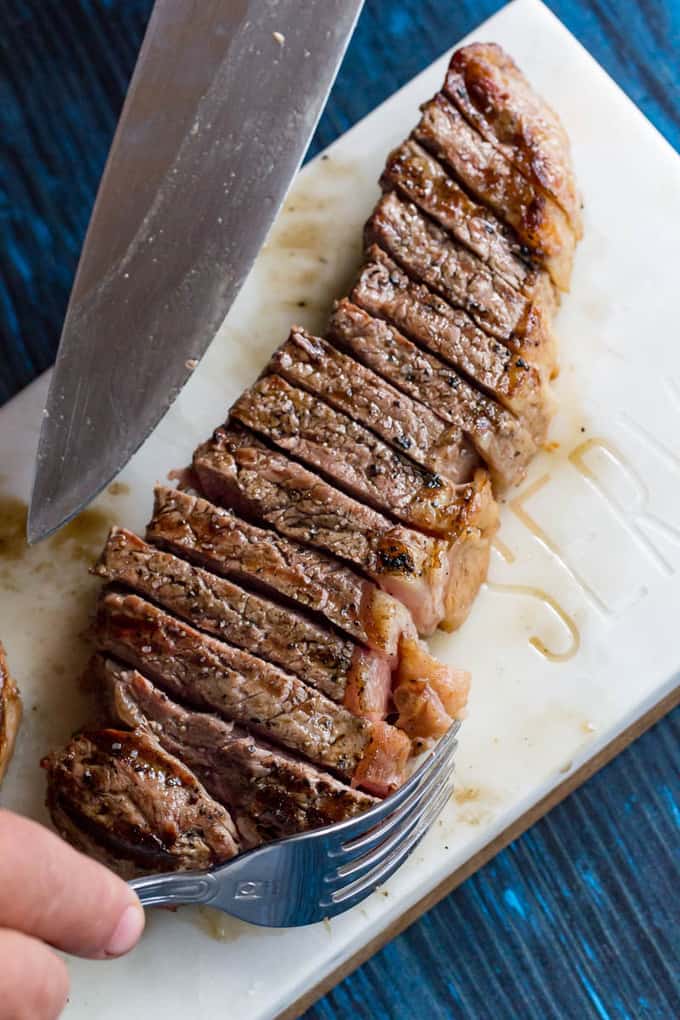 New York Strips are an affordable and delicious option for a delicious steak dinner! Cook it on whatever kind of grill you've got.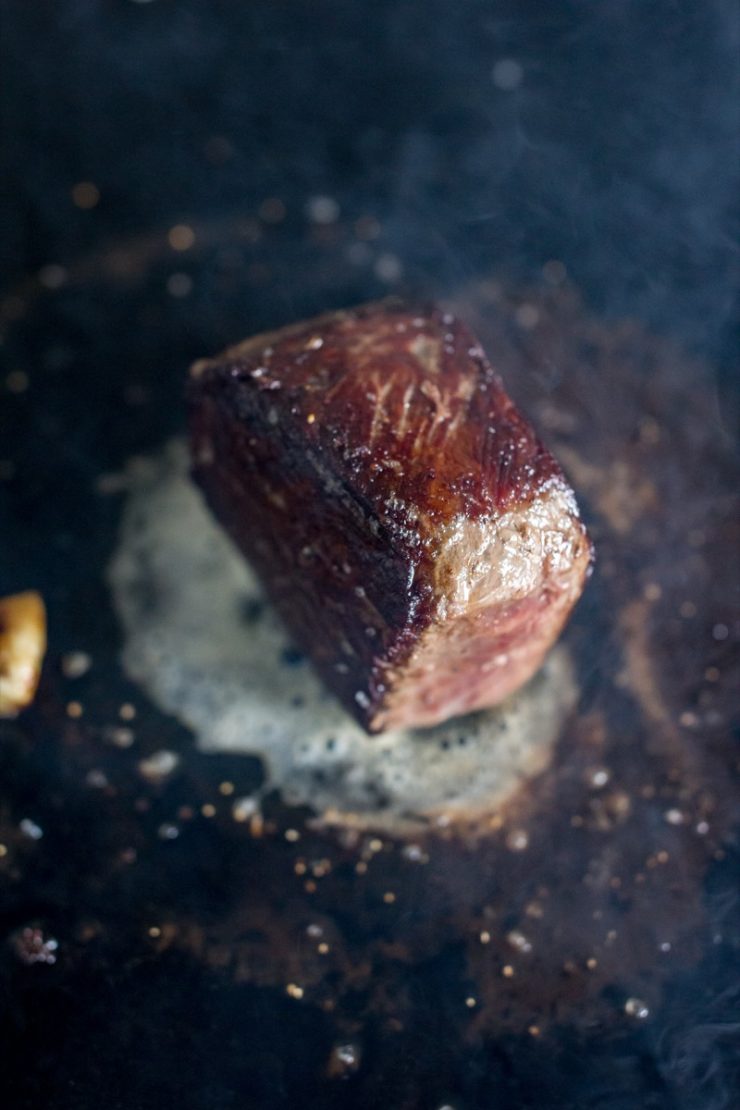 What cuts of steak would you NOT cook on a griddle?
There isn't any cut that I would never cook on a flat top grill, but I definitely prefer to cook the thickest cuts with the reverse sear method on my pellet grill so I can take advantage of a lower temperature and the lid to allow the thickest cuts to get to the right internal temp without drying out the exterior.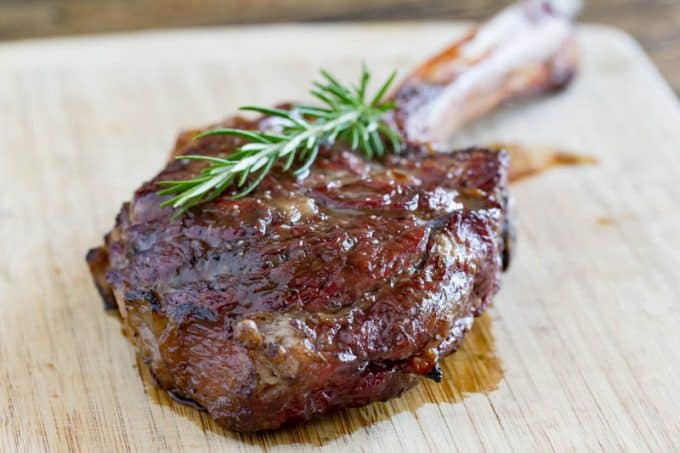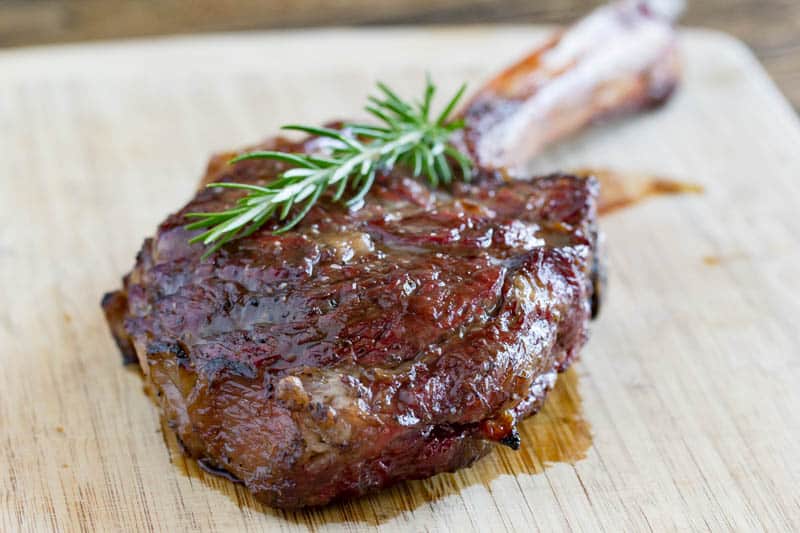 Using a Blackstone griddle for reverse searing
Blackstone Griddles are perfect to use for a reverse seared steak. I have lots of great recipes for cooking steak with this method.
More Easy Traeger Recipes here!
What toppings can I put on a steak?
Steak goes great with a variety of toppings from crab meat, to peppercorn sauce, to steak sauce, grilled onions, grilled mushrooms, and more.
I have a few recipes to check out if you happen to be looking for ideas on what to put on top of your flat top grill steaks.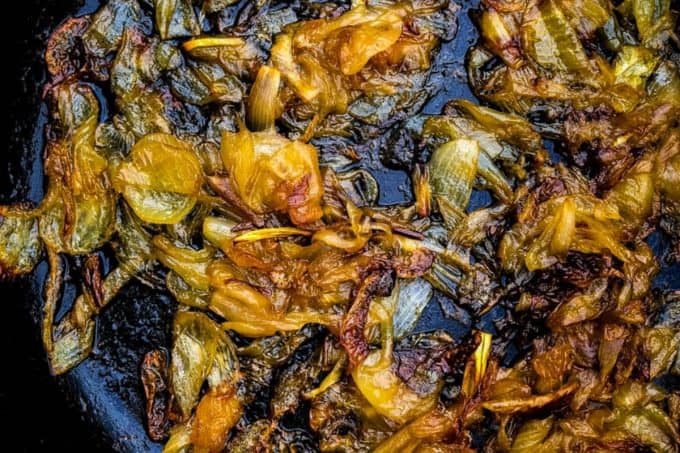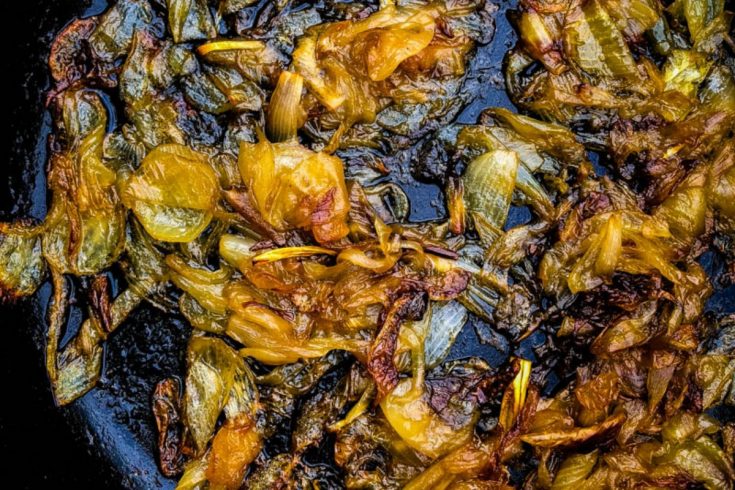 Should I ever cook a steak well done?
I am not going to tell you that you can't cook a steak well done if that is the only way you like your steak. Unfortunately, most steaks cooked well done usually cross over into tough and leathery when they are cooked that much.
So, many cooks and chefs, pros and amateur hobbyists alike, will tell you never to cook a steak to that temp. It is just taking too much of a chance to ruin a perfectly good cut of steak.
However, if the steak has enough marbled fat to help carry the day in terms of preserving some measure of juiciness, you can do well done and have it still edible. Just look for the cuts that have a lot of fat marbled in them like ribeyes.
And break out the ketchup because that's the classic sauce for a well-done steak. 😉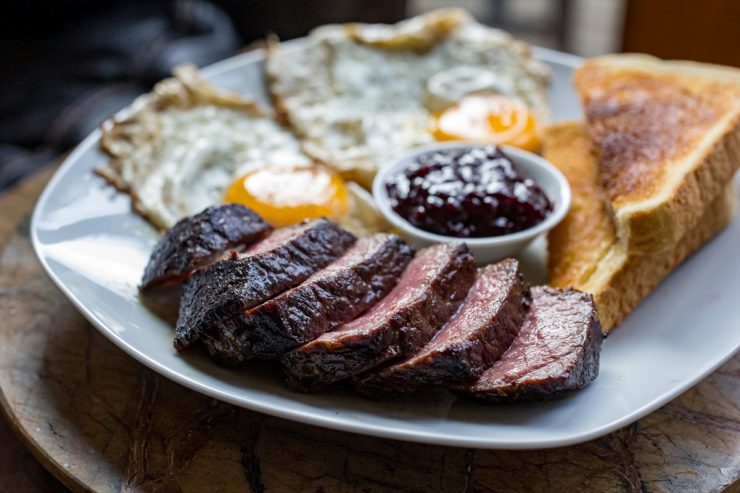 What side dishes should I serve with steak?
Anything you want, but these are my favorites.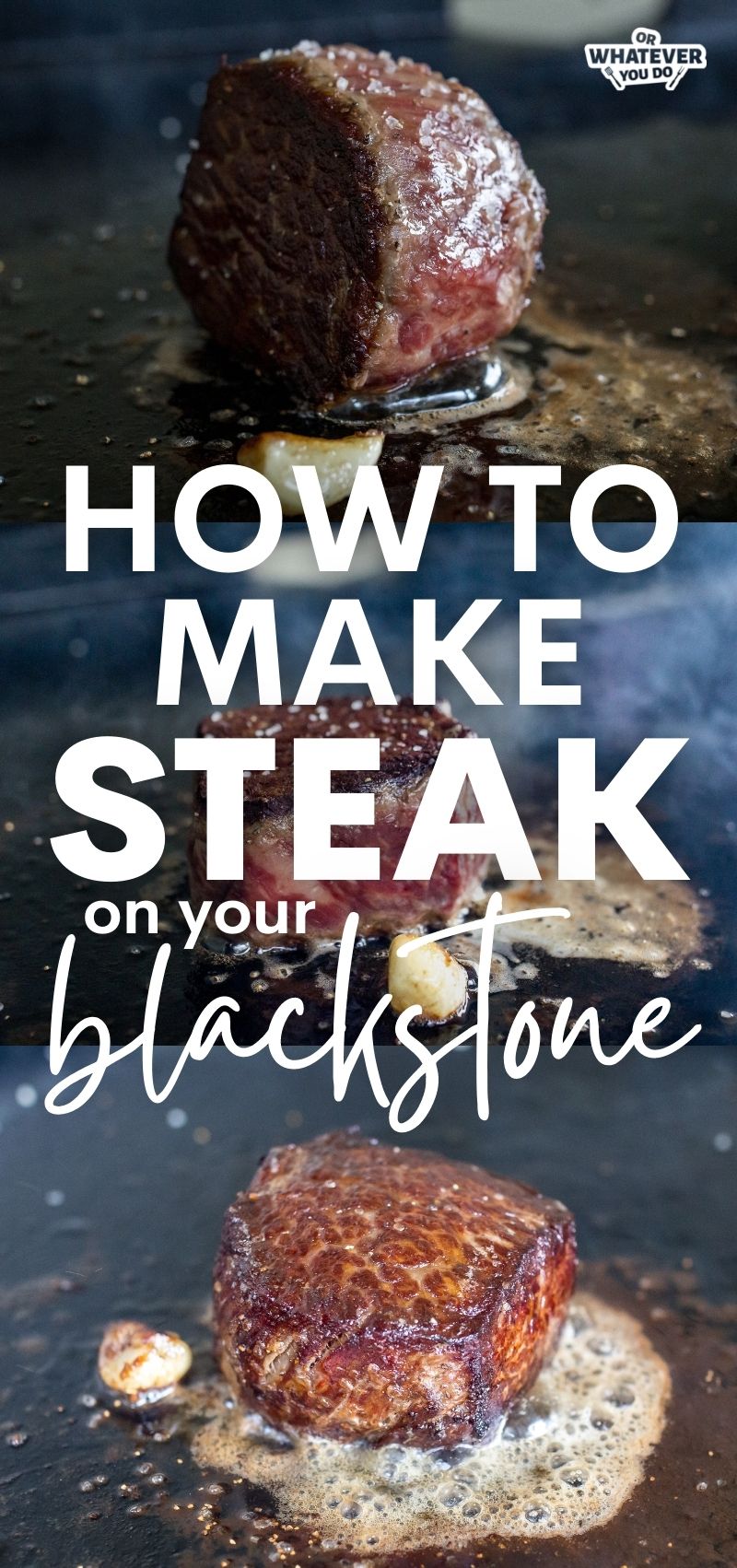 Some of our content is only for OWYD+ members. Membership is FREE! Find out more here, or sign up below!
Yield: 1 serving
Blackstone Griddle Steak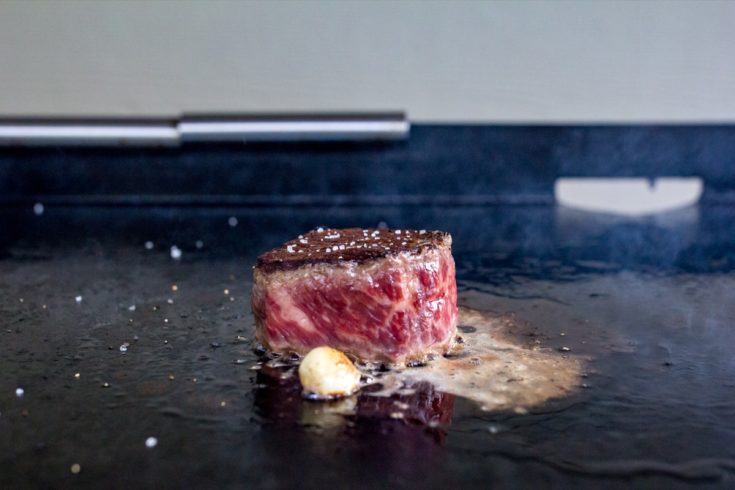 Blackstone Griddle Steak is a super simple main course that is done is less than 15 minutes, and anyone can master.
Instructions
Direct Sear Method
Preheat your Blackstone to medium-high heat. Season your steak with salt and pepper, and place on the grill.
Don't touch it for several minutes so that it will develop a crust.
Flip once, and let cook until a crust develops on the other side, and the steak has reached the desired temperature.
If your steak is particularly thick, like the one pictured here, you'll want to sear the sides as well. If it is extra thick and also attached to the bone, like a tomahawk or cowboy ribeye, you'll want to reduce the heat to medium-low and cook the steak with a dome or cover over it to ensure even cooking.
Reverse Sear Method
Season your meat and place it on a smoker at 180°-200°. Let the steak reverse sear for about an hour, or until the internal temperature reaches about 120°.
Remove from the pellet grill or smoker, and place onto a preheated flat top griddle at medium-high to high heat. Let sear for 2-3 minutes per side to develop a crust.
Recommended Products
As an Amazon Associate and member of other affiliate programs, I earn from qualifying purchases.
Nutrition Information:
Yield:
1
Serving Size:
1
Amount Per Serving:
Calories:

600
Total Fat:

0g
Saturated Fat:

0g
Trans Fat:

0g
Unsaturated Fat:

0g
Cholesterol:

0mg
Sodium:

582mg
Carbohydrates:

1g
Fiber:

1g
Sugar:

0g
Protein:

0g
Nutrition data provided here is only an estimate.