This bowl of tonkotsu ramen is all of the things you love about soup and ramen, and all at home. Silky tonkotsu broth and all of your favorite ramen toppings come together in one delicious bowl.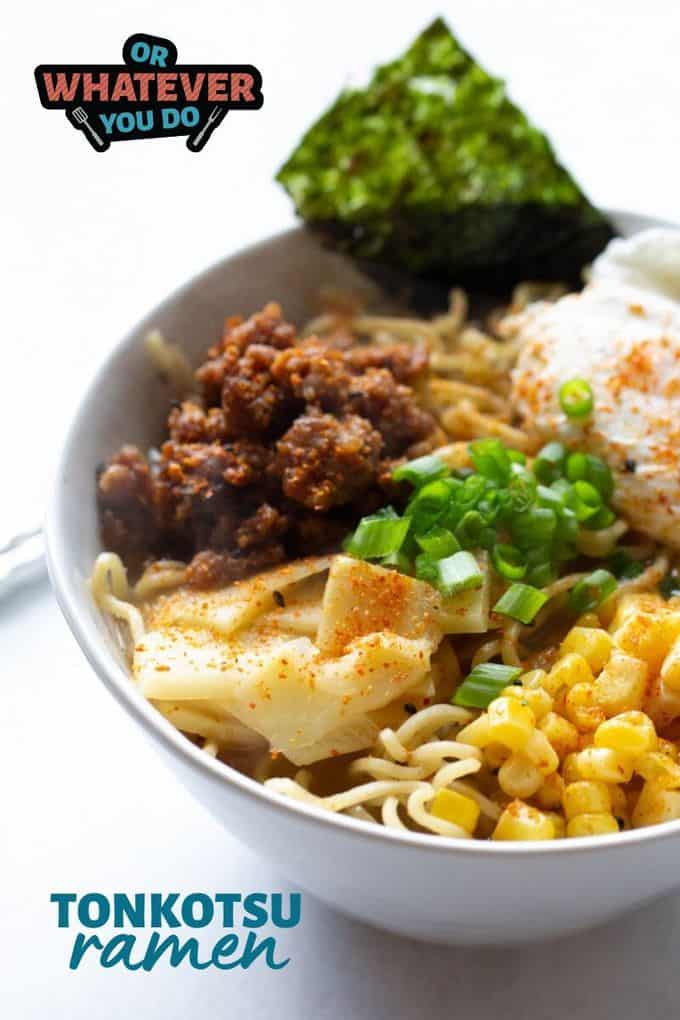 Tonkotsu Ramen Recipe
My ramen obsession hasn't abated, you guys, and I'm not even sorry. Ramen is life and life is about eating good ramen and that's just where I'm at right now.
What isn't to like about it though, really?
If there ever was a soup you could truly make a meal out of, ramen is it.
It is so versatile, first of all, so you can really customize it to your own tastes. Don't like onions? Don't add them. Do you need ALL the protein? Give yourself an extra helping of chasu pork or spicy ground pork.
Like it spicy? Try my Spicy Tonkotsu Miso Ramen Recipe!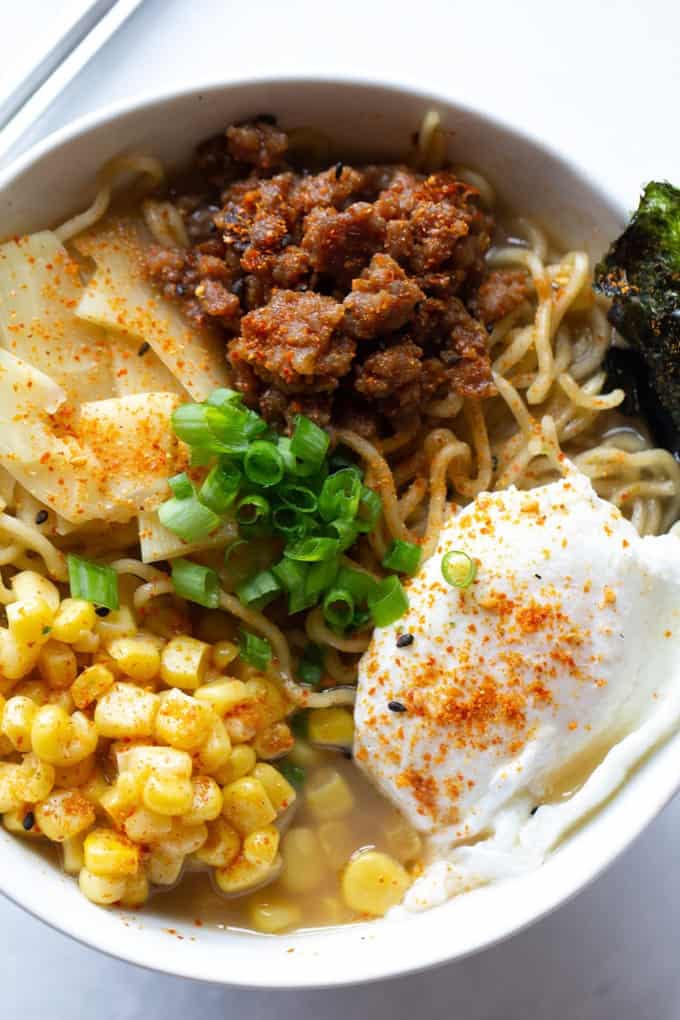 What is tonkotsu ramen made of?
Tonkotsu ramen is made from a rich pork bone broth, combined with flavorings like tahini, soy sauce, togarashi, miso paste, salt, fried garlic, spicy chili oil, etc. Those are combined with the rich pork broth, ramen noodles, and a whole variety of toppings to make the bowl of broth into a full meal.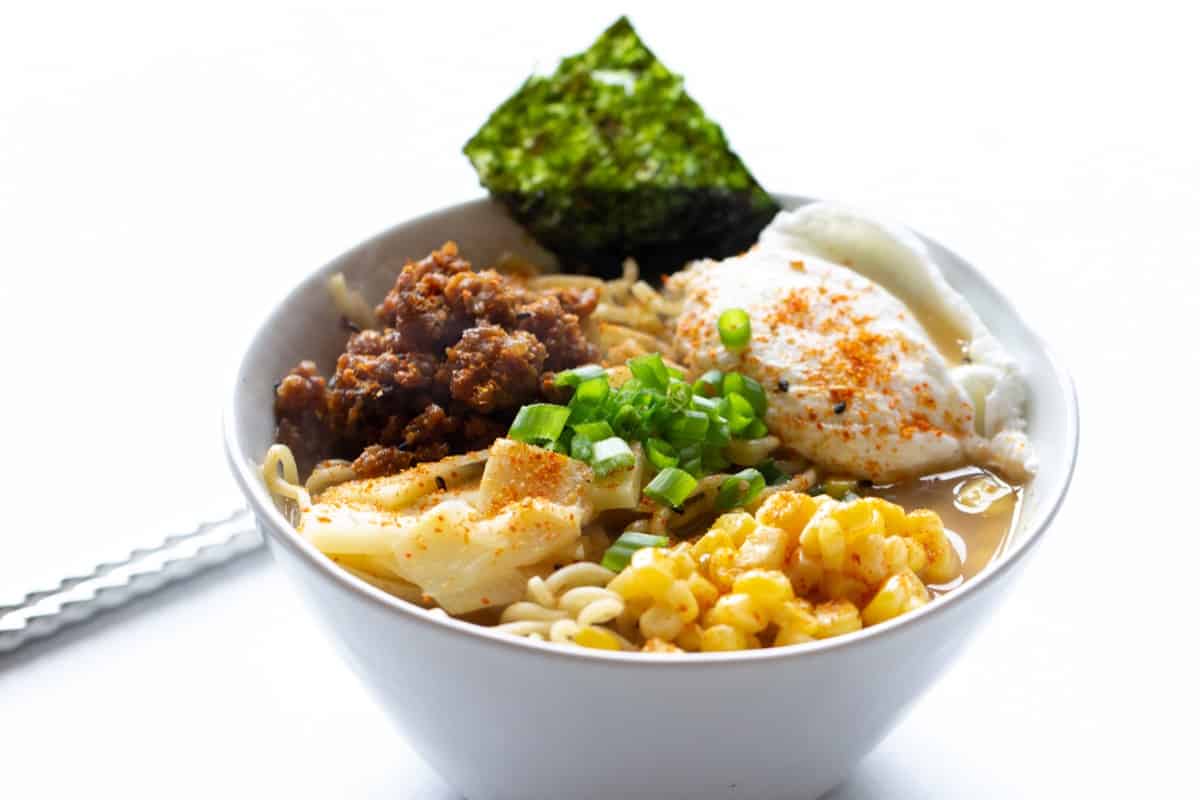 What kind of broth does Tonkotsu Ramen use?
Tonkotsu ramen uses tonkotsu ramen broth, which is made with pork bones, garlic, ginger, and shiitake mushrooms that have been cooked until the broth is creamy and opaque.
Tonkotsu broth is also silky, and has pretty significant fat content. It leaves a certain mouthfeel that can't really be duplicated in other ways.
It also has enough collagen from the bones that if you chill it, it essentially becomes pork jello.
I have two different tonkotsu broth recipes on the site. One is a traditional tonkotsu broth that is cooked for at least 12 hours on the stovetop. It is everything you want a tonkotsu broth to be, and more. You'll want to check out the post for the full scoop, but I'm adding the recipe below for your convenience.
Click here for the full Tonkotsu Ramen recipe below!
Yield: 10 servings
Tonkotsu Ramen Broth Recipe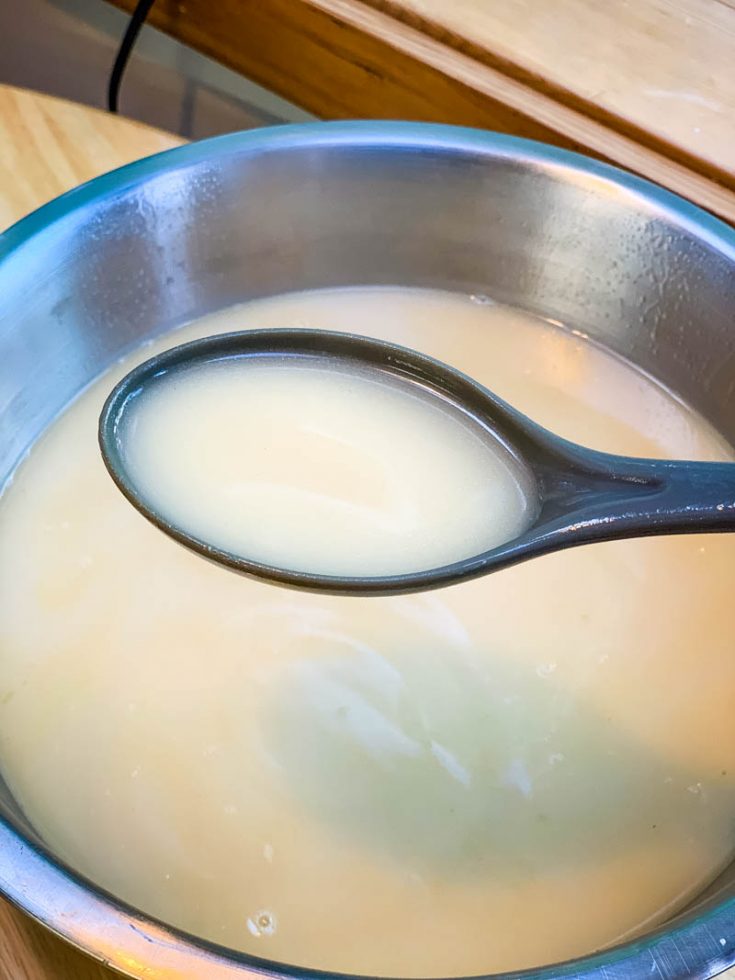 This homemade pork ramen is not difficult to make, but it is a bit time-consuming! Fair warning! The end result is WELL worth it. I'm already planning my next bowl.
Ingredients
3 pounds pork neck bones
1 chicken carcass
1 large onion
2 inches ginger, peeled
2 whole shallots
8 whole cloves garlic
3 whole leeks, washed thoroughly and diced
2 bunches green onions, white part only (save the greens for the soup!)
6 dried shiitake mushrooms, rinsed and diced
Instructions
Place the pork bones into a large stock pot, and cover with water. Bring the water to a boil and cook for 10 minutes.
Skim all of the gunk off of the top of the water. Dump the whole pot out, saving the bones, and fill with fresh water. This is cleaning the bones and will make a better stock.
Place the rest of the ingredients into the post, cover, and let simmer for 8-10 hours, replacing the lost water as necessary to keep the ingredients covered with water. By the end of the cook time many of the chicken bones should be totally broken down, and the pork neck bones should be easily pierced with a knife.
Let cool for a while, and then remove all of the solids you can with tongs and a slotted spoon. Next, strain the broth with cheesecloth or a large clean kitchen towel. I have found the easiest way to do this is to place the cheesecloth in several layers over a large bowl that will fit all of the broth, pour the broth in, and then gather the edges of the cloth together to pull all of the solids out of the broth. You can do this however is easiest for you though!
This will make enough broth for many bowls of ramen. Freeze the extra to make it easier next time!
Recommended Products
As an Amazon Associate and member of other affiliate programs, I earn from qualifying purchases.
Nutrition Information:
Yield:
6
Amount Per Serving:
Calories:

327
Total Fat:

14g
Saturated Fat:

4g
Trans Fat:

0g
Unsaturated Fat:

7g
Cholesterol:

118mg
Sodium:

164mg
Carbohydrates:

10g
Fiber:

2g
Sugar:

2g
Protein:

40g
I also have a smoked tonkotsu ramen broth that is pretty amazing also. It is made in the pressure cooker and features bones that have been smoked on the pellet grill prior to going into the broth.
If you are a fan of a little smoke, this is a really interesting and complex broth to try. You can really see the difference in the broth coloring in the photo below.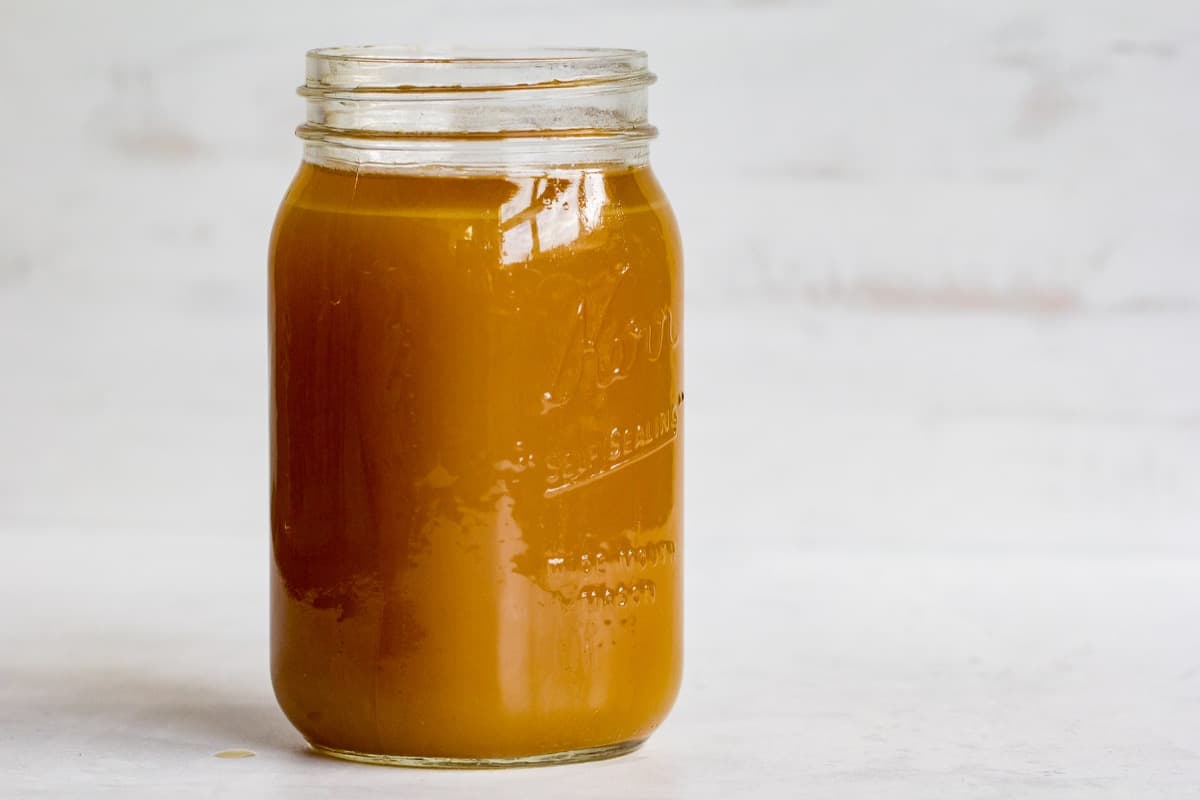 Chashu Pork Belly is a must for a proper bowl of Tonkotsu Ramen!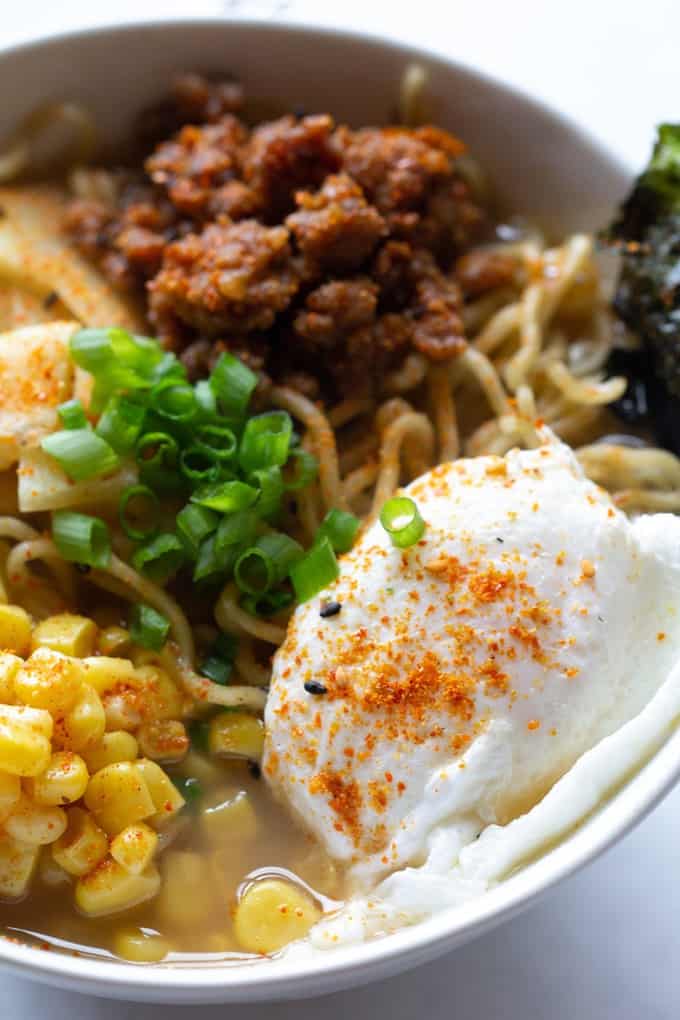 What noodles are best for ramen?
Sooooo I am really partial to my homemade ramen noodles. You really cannot beat fresh pasta, and it is relatively easy to make.
It is a little time-consuming though, so if you don't want to leap into fresh ramen noodles, it doesn't mean you can't enjoy homemade ramen.
If you are looking for a good pre-made ramen noodle, I would recommend the yaki-soba type that are found in the refrigerated section of your local grocery store. They aren't an exact dupe but are fairly close.
If you can't find those, these (amazon affiliate link) dried ramen noodles are available via Amazon and are highly reviewed.
What kind of toppings are best for ramen?
Ramen topping preferences are as unique as the people who are eating the ramen, but some of my favorites are:
corn
bamboo shoots
chopped green onions
nori
softboiled eggs
marinated eggs
spicy ground pork
Pin for later!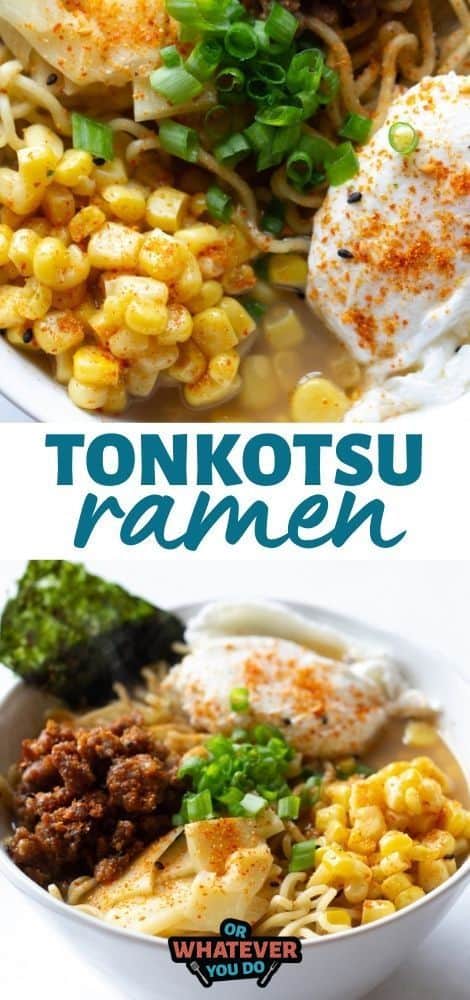 Yield: 2 servings
Tonkotsu Ramen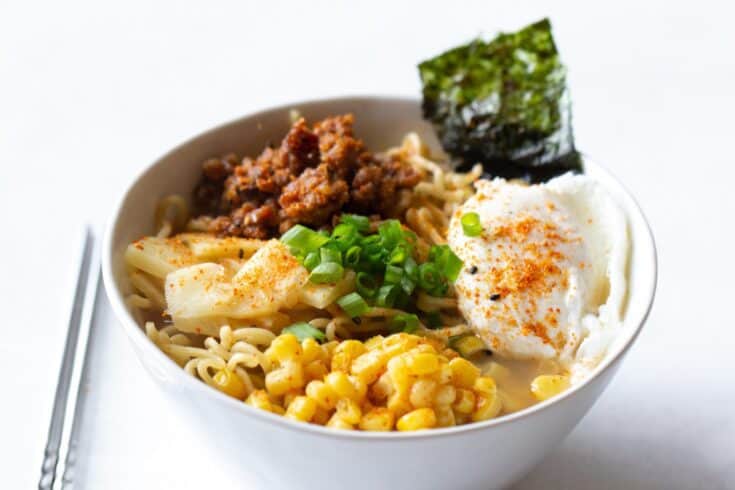 This homemade tonkotsu pork ramen is going to amaze you when it comes out of your very own kitchen. Rich, delicious, and endlessly customizable.
Total Time
1 hour
30 minutes
Ingredients
Pork
1/2 pound ground pork
1 tablespoon sesame oil
1/2 teaspoon garlic
1/2 teaspoon minced ginger
1/2 teaspoon salt
1/4 teaspoon white pepper
1 tablespoon sriracha (optional, if you want it spicy)
Ramen Broth
4 cups tonkotsu ramen broth
1/8 cup soy sauce
2 tablespoons mirin
1 tablespoon miso paste (optional)
1 teaspoon chili garlic paste (optional)
Add-ins
2 handfuls ramen noodles
1 soft-boiled egg
green onions
corn
bamboo shoots
mushrooms
Instructions
Place the pork, sesame oil, garlic, ginger, salt and pepper, and sriracha (if using) into a non-stick pan over medium heat, and cook until no more pink remains, breaking it up into small pieces as it cooks. Set aside.
Place the tonkotsu broth, soy sauce, mirin, and the optional miso paste and chili garlic paste (if using) into a medium stock pot. Heat until boiling.
Place your pre-cooked ramen noodles and soft boiled egg into bowls, and carefully pour the boiling ramen broth over the top.
Top with any additional add-ins you'd like, and serve hot.
Recommended Products
As an Amazon Associate and member of other affiliate programs, I earn from qualifying purchases.
Nutrition Information:
Yield:
4
Serving Size:
1
Amount Per Serving:
Calories:

655
Total Fat:

31g
Saturated Fat:

10g
Trans Fat:

0g
Unsaturated Fat:

18g
Cholesterol:

186mg
Sodium:

2071mg
Carbohydrates:

55g
Fiber:

4g
Sugar:

9g
Protein:

37g
Nutrition data provided here is only an estimate. If you are tracking these things for medical purposes please consult an outside, trusted source. Thanks!