Bright, bold, and packed full of vibrant flavors is what you will find in this Traeger Korean Grilled Chicken Legs recipe. You have a Korean BBQ seasoned grilled chicken leg, that offers that crispy, spiced-up-flavor for finger-licking good taste. Crazy simple to make and only basic ingredients are needed to create grilled chicken legs.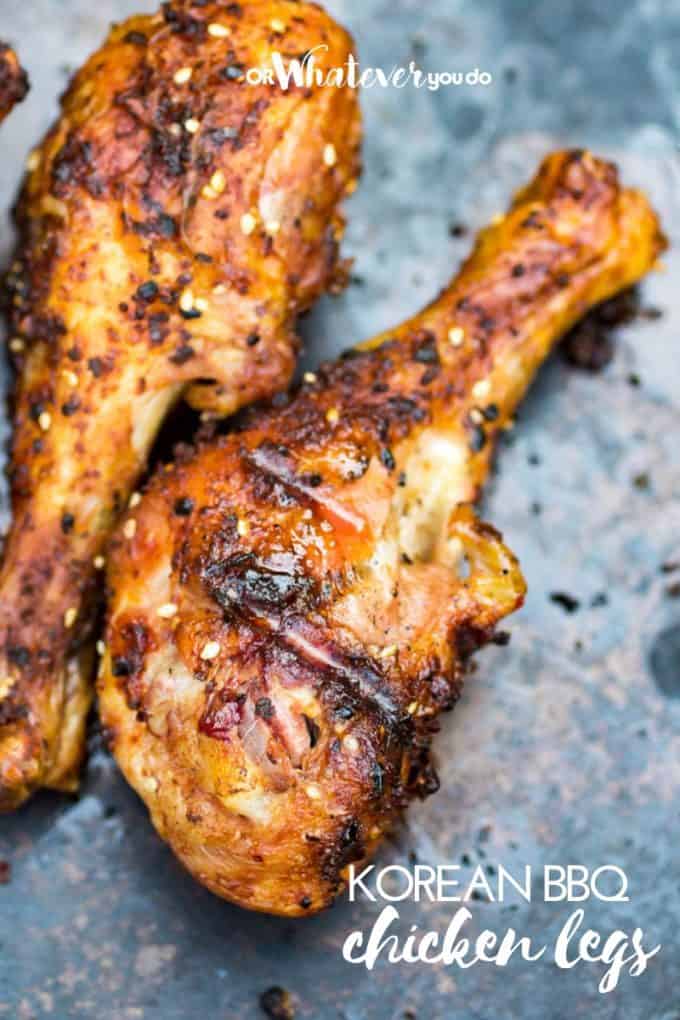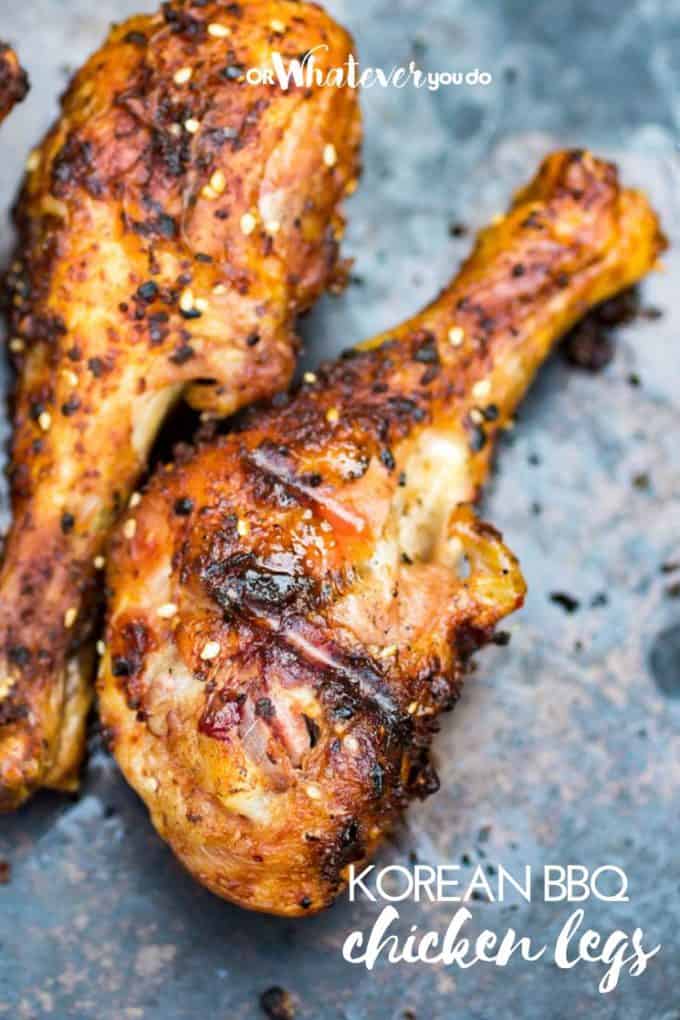 Traeger Korean Grilled Chicken Legs
School is finally back in session, and we are adjusting to school routines and saying goodbye to our summertime schedules. I think we are finally getting fully back into the swing of getting up early, hectic mornings, and time to relax in the evenings.
I whipped up these Traeger chicken legs and a few sides and the whole family devoured this meal.
Need more Traeger Chicken Recipes? I've got them here!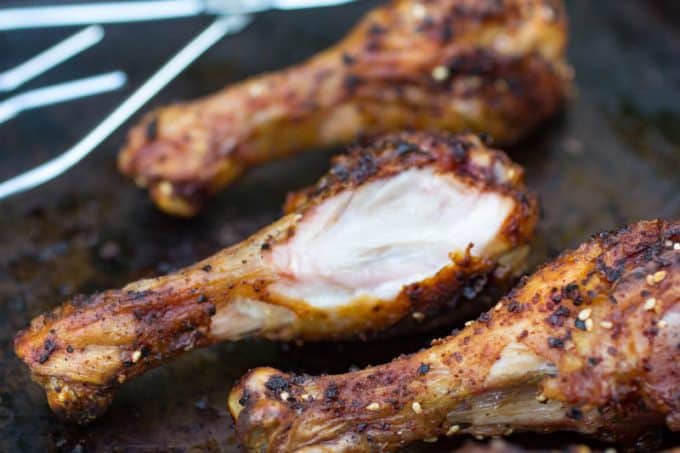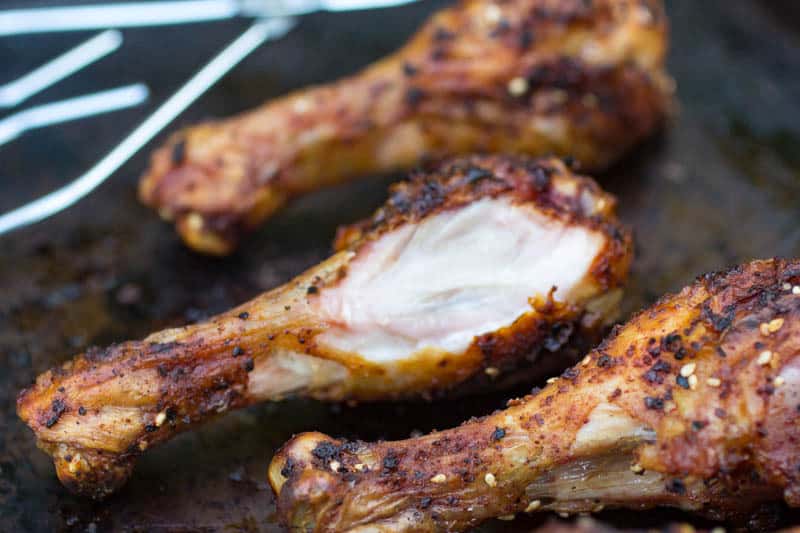 Why use chicken legs?
Have you ever noticed how much lower in price chicken legs are at the store than other cuts of chicken? They are a great protein option if you are looking to stay within a budget or to save a few pennies for a rainy day.
You can buy a large pack for a few dollars instead of buying boneless and paying like triple the price. Plus, when you cook chicken legs the bone helps add flavor and aids in keeping the chicken nice and moist. I love cooing up these easy chicken legs for family gatherings. They feed a crowd at a really affordable price.
When I see our stores offer the buy one get one free package of chicken legs, I always buy a few. Then I save them back in the freezer to use later on. It is a really great way to maximize your savings. You won't even know they were frozen, just thaw in the fridge and cook how you would like!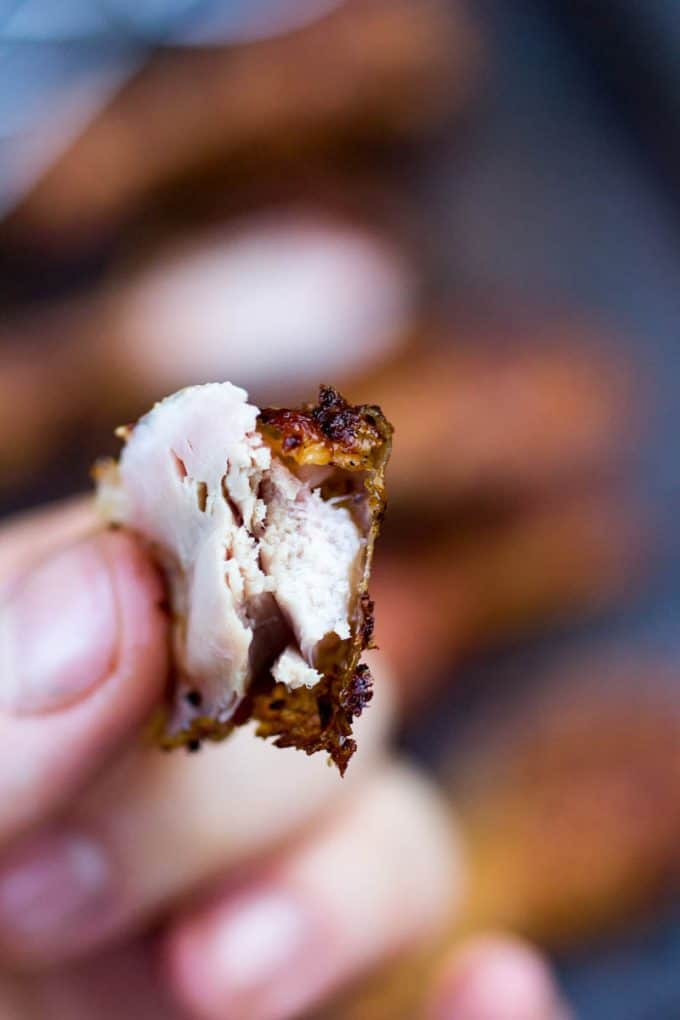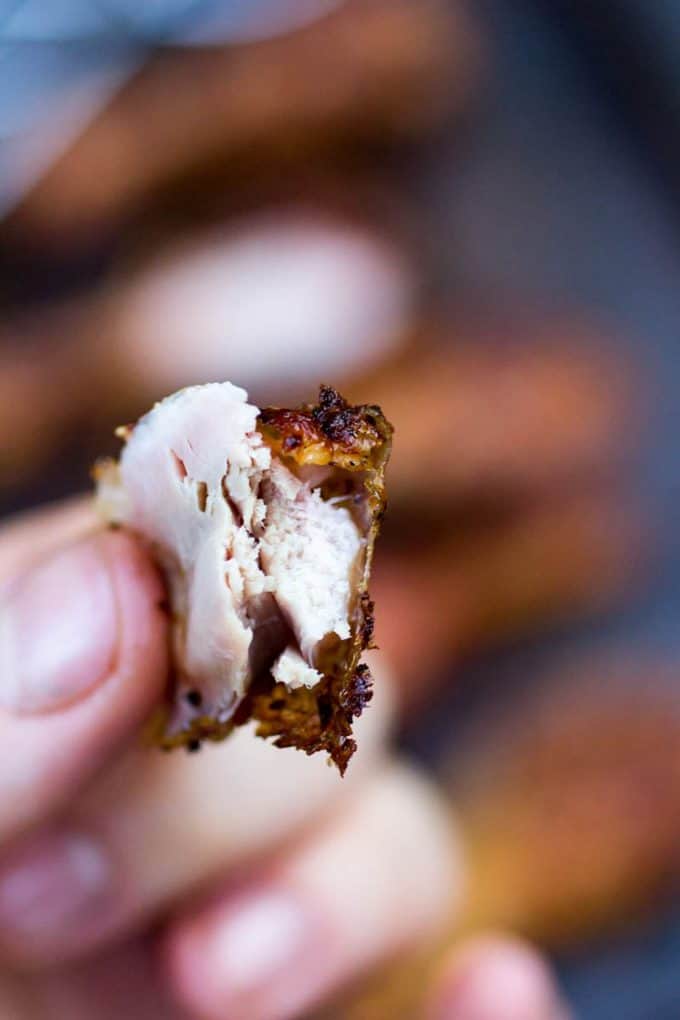 Hungry for more chicken legs? Check these out!
Buffalo Chicken Legs coming soon!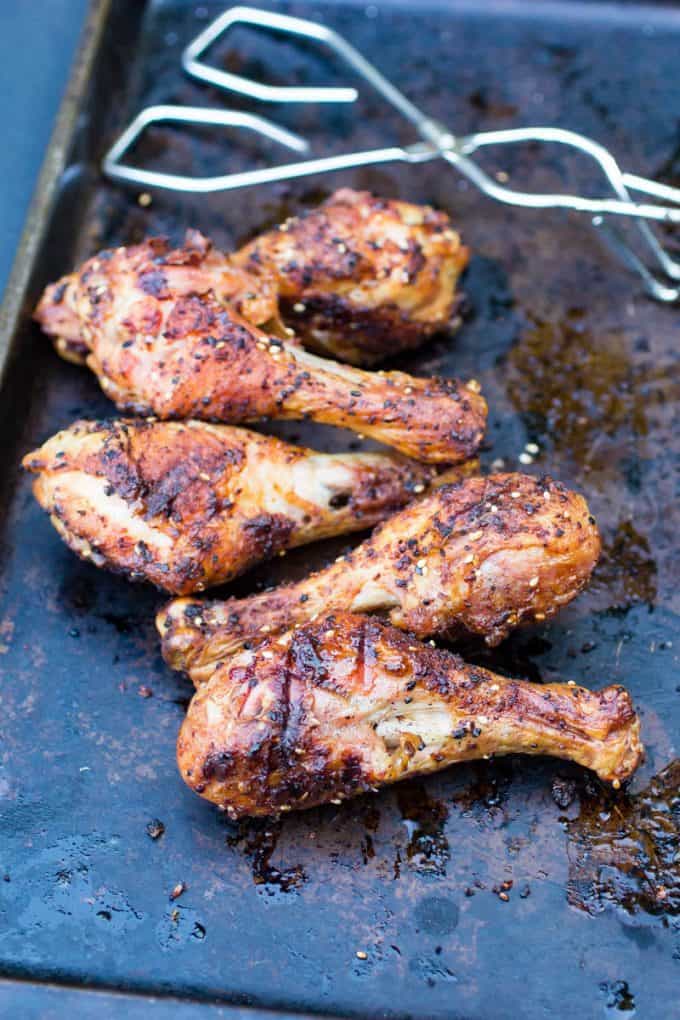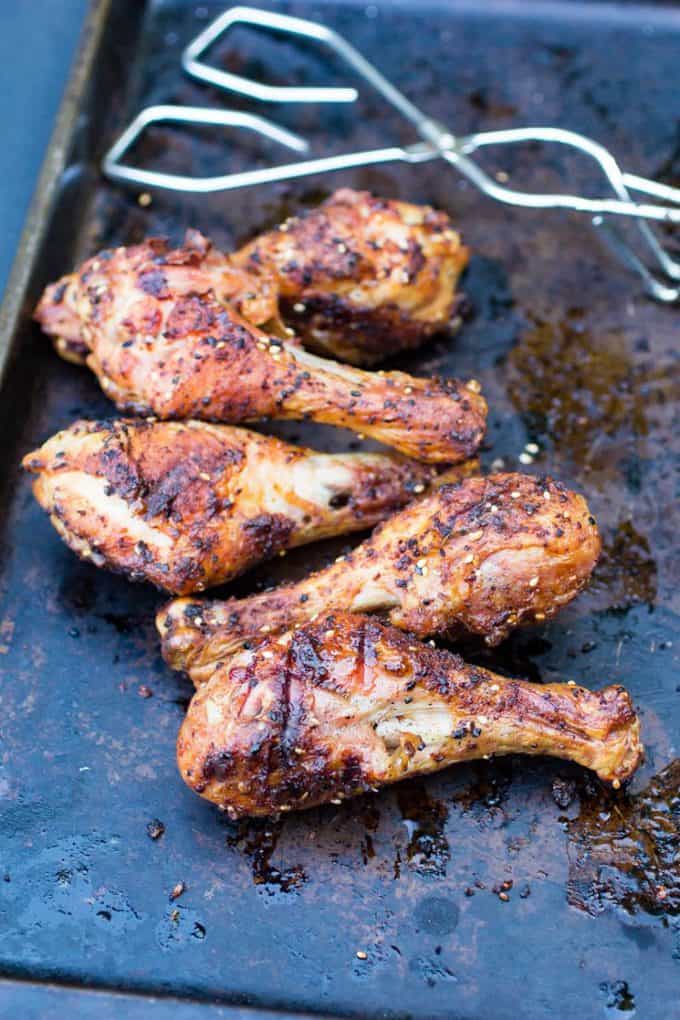 How to Make Perfect Traeger Korean Grilled Chicken Legs
The Korean BBQ Seasoning is one I picked up from Spiceology, it is a beautiful mix of seasonings that really amp up the flavor of your dish. Chili flakes, rice concentrate, salt, white and black sesame seeds, maple sugar, smoked paprika, cayenne and more.
You get that mix of salty and spicy all together that makes it a spot on blend for rubbing down your chicken legs for grilling. You get that crispy crust on the outside, with juicy and moist chicken on the inside.
In our home, we love things to be nicely seasoned, so I really lather on copious amounts of the Korean seasoning to get a really bold flavor factor. If you want to tame it down a bit, use a little bit less when you are coating your drumsticks. Keep reading to find out where to buy this stuff!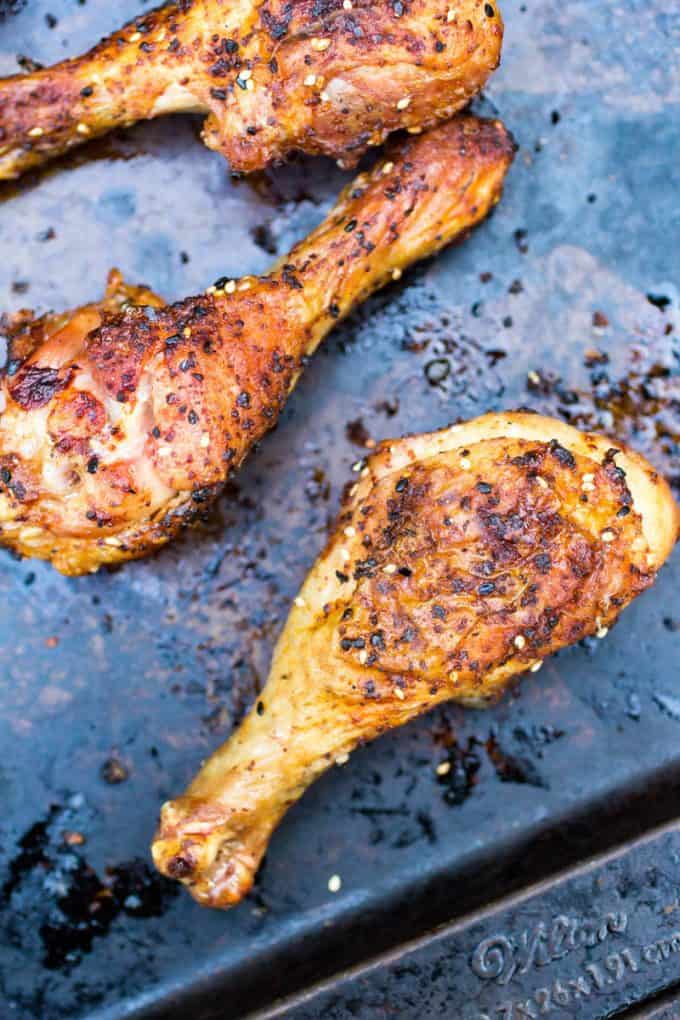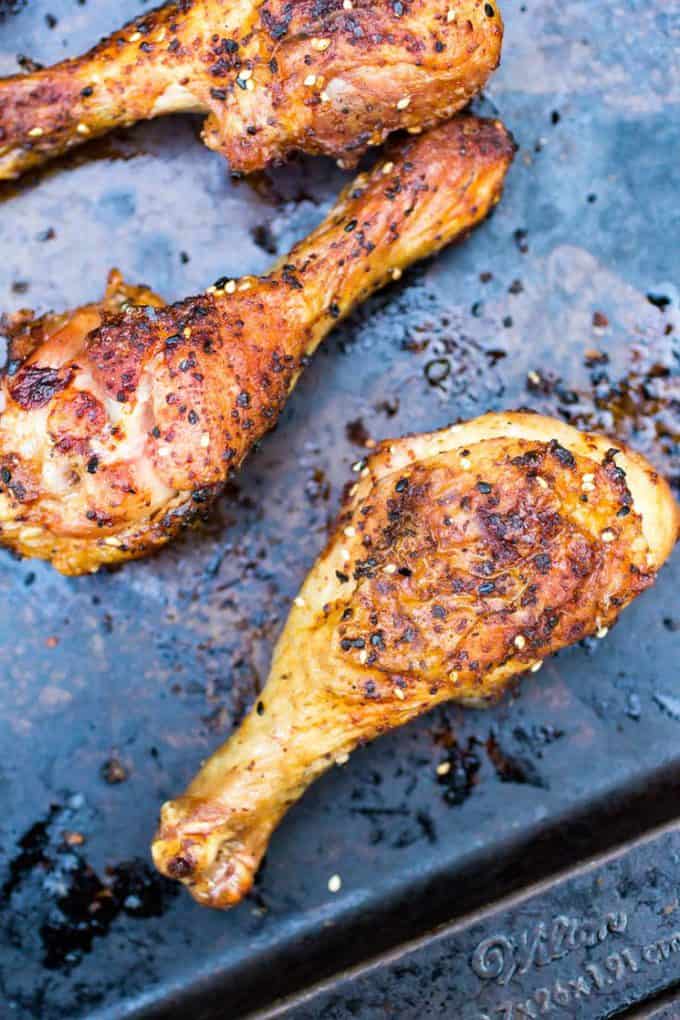 ---
---
How Long Should You Grill Chicken Legs
For this recipe, I cook the chicken legs for 20-30 minutes at 350 degrees. Then I crank up the heat to 450 degrees and let it cook for another 10-15 minutes, for that perfectly crispy crust on the outside.
What internal temperature for chicken legs?
You want the internal temperature to reach 165 degrees close to the bone. I recommend always using a meat thermometer to ensure your chicken and other proteins get cooked to the proper temperature to reduce getting sick.
The beauty of using the Traeger grill is that I can set the temperature I want to cook at. With other types of grills, you have to guess at what the temperature is. That is why having a meat thermometer handy will help you ensure that even if you are cooking on charcoal, you can ensure you are fully cooking your meat.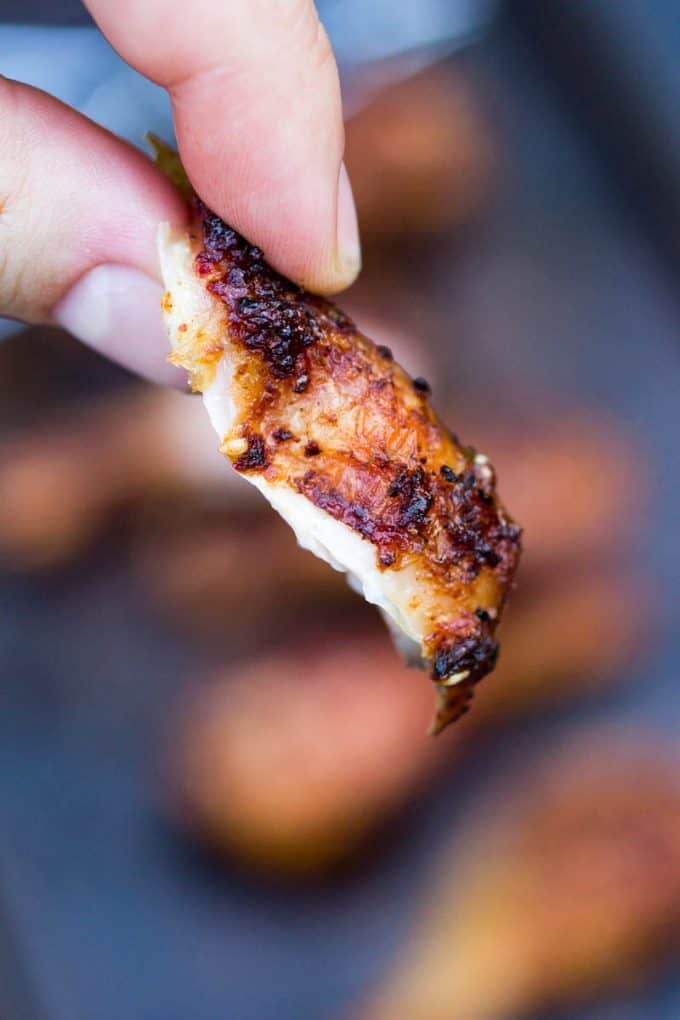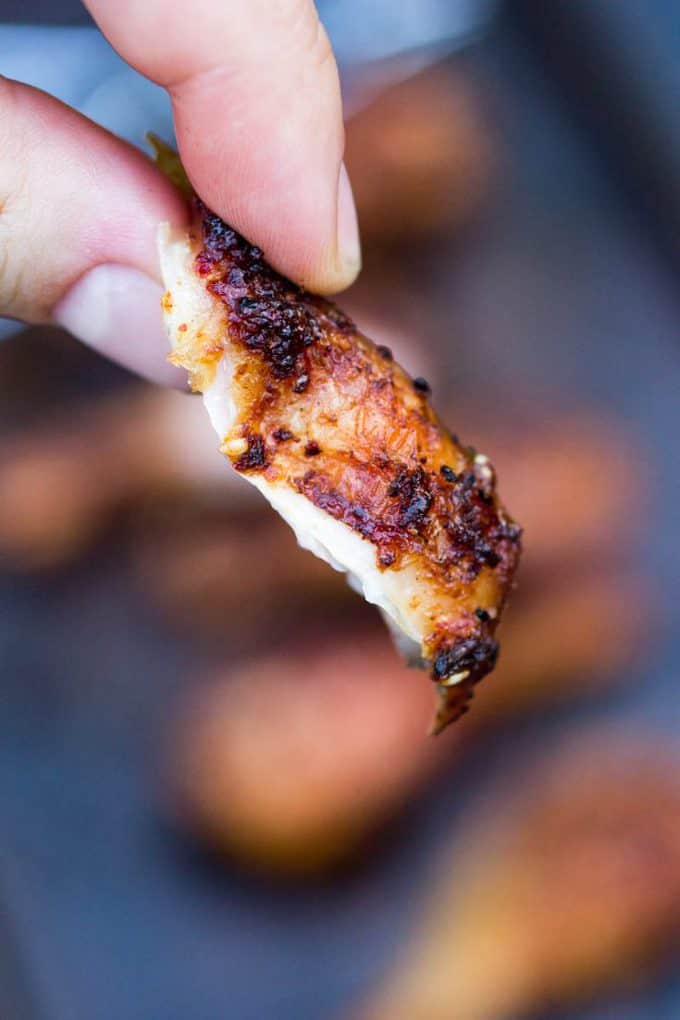 Where Do You Get Korean BBQ Seasoning?
The seasoning comes from Spiceology, and is flavored with Chili Flake, Salt, Organic Rice Concentrate, White & Black Sesame Seeds, Soy Sauce, Maple Sugar, Orange Peel, and a bunch of other stuff that is magic and amazing. I don't know of another good rub that is comparable, and at their prices just ORDER SOME because you'll definitely use that whole thing.
What Side Dishes Should I Pair With Grilled Chicken Legs?
Grilled chicken legs are such a low-maintenance dish. You do just a little by adding seasoning, and you create a masterpiece dinner. Pretty much any sides will do, but if you are on the hunt for the perfect side dishes, let me help.
You can really pair these savory chicken drumsticks with just about any side dish your family or guests enjoy. The chicken legs will be the highlight of the evening, that is for sure. Don't forget to whip up a tasty dessert to serve after, to finish the night up!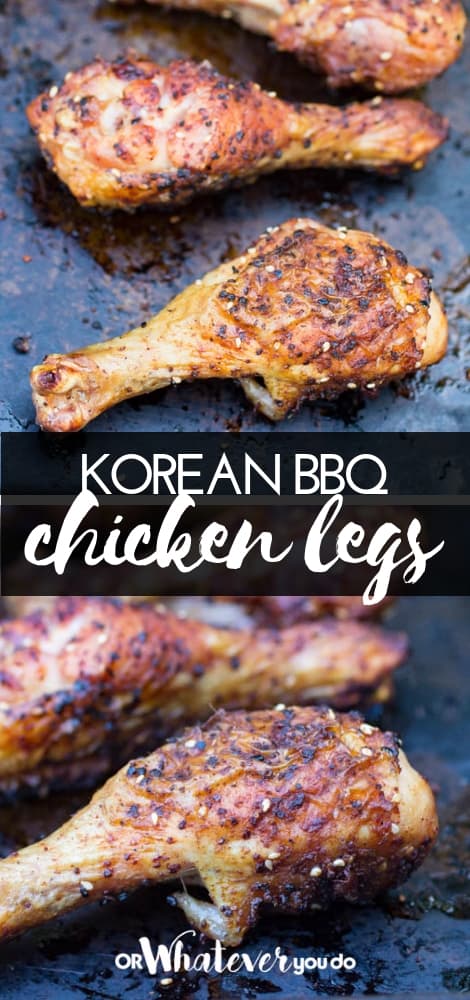 No matter what you make with it, your whole family is going to love these flavorful (and economical) wings!
Yield: 8 servings
Grilled Korean BBQ Seasoned Chicken Legs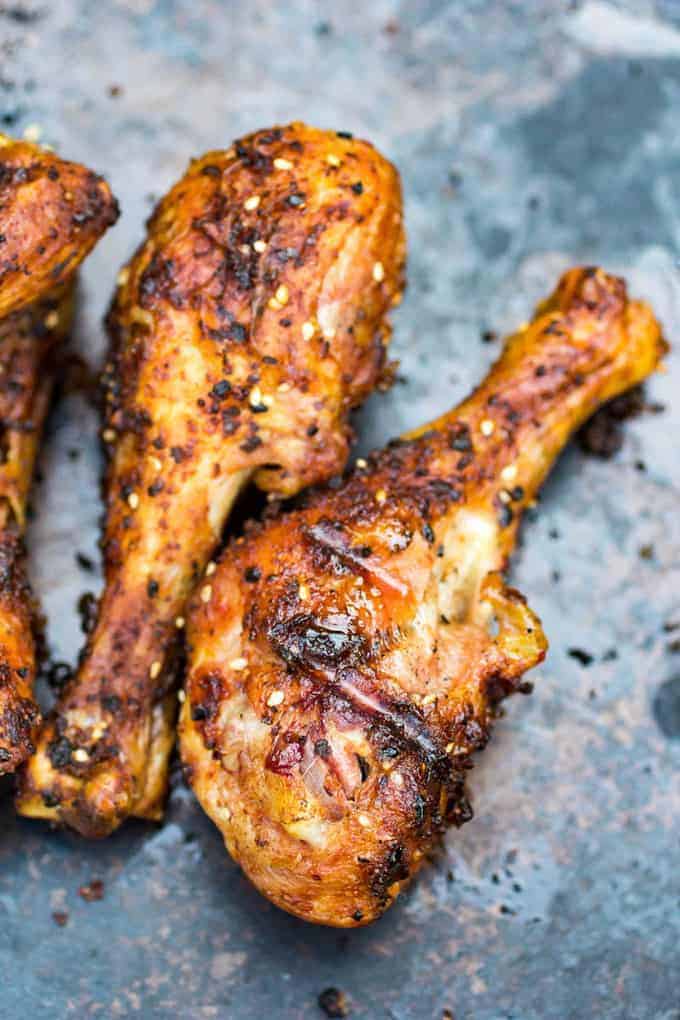 These delicious chicken legs are rubbed with oil and Korean BBQ Seasoning blend, and then cooked on the Traeger Wood-Pellet Grill!
Ingredients
8-12 chicken legs
1/3 cup oil
4-5 tablespoons Spiceology Korean BBQ seasoning
1/2 teaspoon kosher salt
Instructions
Toss chicken legs in oil, and then sprinkle generously on all sides with the seasoning mix and salt.
Preheat your Traeger to 350°, and place your legs on the grill.
Grill for 20 minutes, turning once halfway.
Turn up the heat to 425°, and grill for 10-15 additional minutes.
Remove from grill and serve while hot.
Recommended Products
As an Amazon Associate and member of other affiliate programs, I earn from qualifying purchases.
Nutrition Information:
Yield:
8
Serving Size:
1
Amount Per Serving:
Calories:

807
Total Fat:

45g
Saturated Fat:

10g
Trans Fat:

0g
Unsaturated Fat:

30g
Cholesterol:

494mg
Sodium:

604mg
Carbohydrates:

0g
Fiber:

0g
Sugar:

0g
Protein:

94g
Nutrition data provided here is only an estimate. If you are tracking these things for medical purposes please consult an outside, trusted source. Thanks!