Traeger Jerk Chicken Thighs gives a whole new meaning to "firing up the grill". The heat comes from habanero and scotch bonnet chili peppers. You can't get around the fire of those peppers.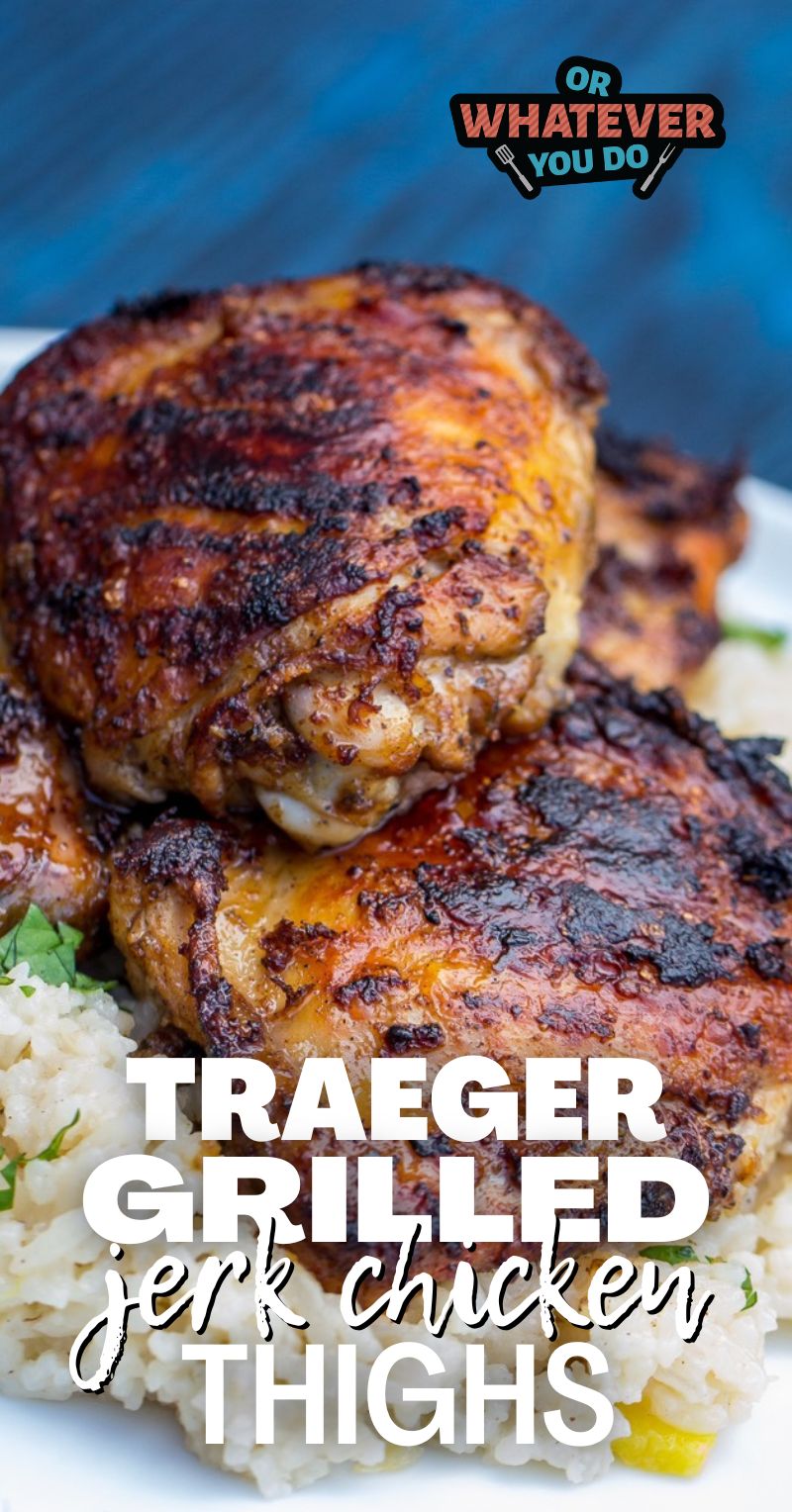 Traeger Jerk Chicken Thighs Recipe
Jerk sauce is spicy but quite different than buffalo sauce, which is also spicy. Jerk sauce involves a lot more complex flavors and takes the heat up a few degrees.
Great jerk seasoning should bring the heat. Even if it takes a moment to get used to, it is worth it.
I love spicy foods, and I was actually surprised by this a lot. It wasn't as intense as it could've been, I think due to the peppers that we happened to end up with, but still, be cautious and try this yourself before feeding it to any small or sensitive people. It has the potential to make you sweat.
Also, just a word of caution from experience. Make sure to wash your hands after you handle those peppers or wear protective gloves. If you rub your eyes (or touch any other places that you don't want to feel the burn) then you will learn quickly and the hard way what getting pepper sprayed feels like.
I always keep a box of gloves around the house. I mean, 7 kids, there are things you deal with on the regular that you don't want your hands touching. Pretty cheap and easy way to keep things clean whether you are chopping hot peppers or cleaning up kid gunk.
More awesome Pellet Grill Chicken Recipes here!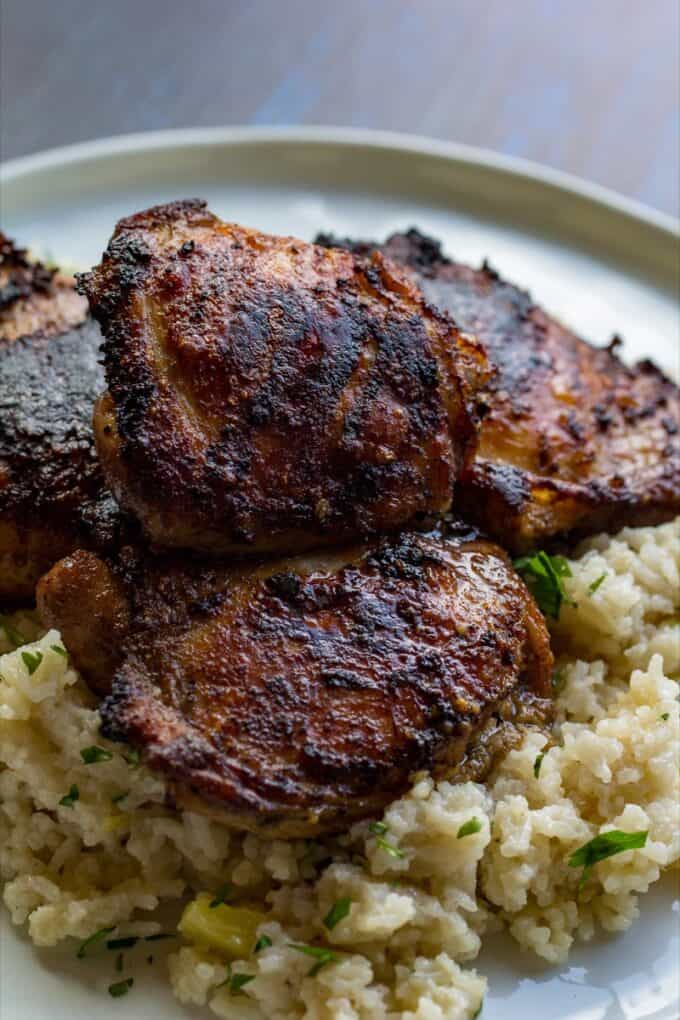 Smoked Jerk Chicken Thighs
Using pellet grills for smoking jerk chicken thighs is the best way to go. The goal is to recreate the classic jerk chicken that originated in Jamaica.
In Jamaica, jerk chicken stands are on the roadside. The chefs typically use a steel drum that has been cut in half and turned into a big barrel-style smoker grill. The preferred meat is chicken thighs because dark meat has more fat to keep the meat moist while it smokes.
Jerk chicken refers to a process of dry and wet rubbing the seasonings into the meat. The most prominent spices include the nutmeg and allspice and of course the scorching Scotch Bonnet or habanero chilis.
"Jerk" also refers to poking the meat to allow the spices to seep in and the fat to render out as it cooks. The term is related to "jerky" but of course, you are not trying to cook the chicken so long that it turns into chicken jerky!
The dry spices are rubbed into the meat, then the chicken is soaked in a salsa made from the peppers. I like to let the meat marinate overnight so the flavors really penetrate the meat.
The dry rub marries the heat better that way too. Don't get me wrong. I love the spicy bite of smoked jerk chicken hot off the grill. But, I don't want to just taste fire. I want all those other flavors to come through as well.
My Instant Pot Honey Garlic Chicken Thighs are a perfect way to use up that chicken!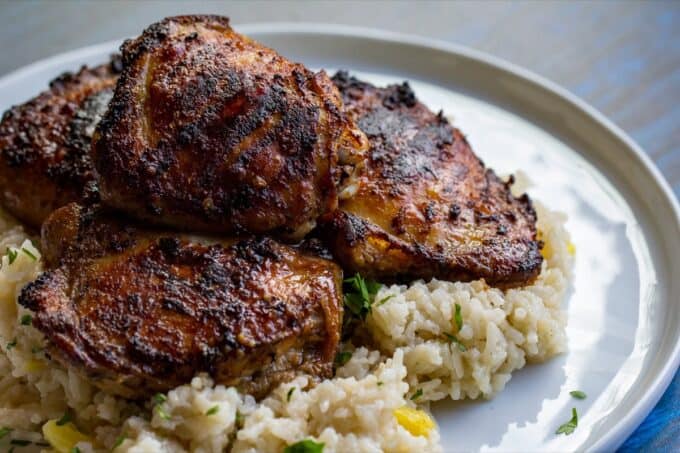 Jerk Chicken Thighs Shopping List
Don't let the ingredient list fool ya. Most of these items are likely in your pantry already, so I'm going to break them up for convenience.
Grocery Store Items:
chicken thighs
scotch bonnet/habanero peppers
fresh lime juice
green onion
fresh thyme
Pantry Items:
garlic
olive oil
soy sauce
salt & black pepper
allspice
cinnamon
nutmeg
onion
brown sugar
What is Allspice?
Allspice comes from the pimenta dioica, which is a type of myrtle. A lot of people confuse allspice and juniper berries. They are similar looking, but the allspice has a sort of cinnamon, nutmeg, cloves, and pepper sort of quality to it.
(Now you know how it got the name "allspice")
Allspice gives the pellet grill jerk chicken that exotic and complex flavor that rescues you from the fires of the peppers. It is the spice that makes you not only dare to take another bite but entices you to keep going until the heat no longer matters.
Both allspice and juniper come from evergreen-type trees, and you can actually substitute allspice for juniper berries in some recipes. However, juniper berries have more of a piney flavor; whereas, allspice has more complexity.
For great jerk chicken, always go with allspice.
Follow me on Instagram!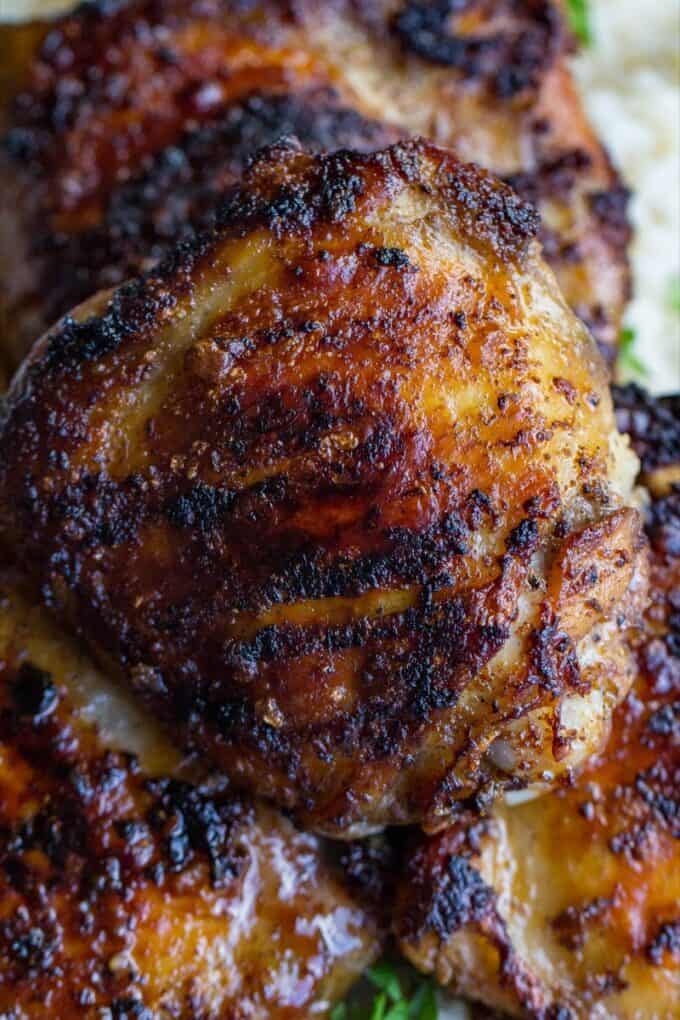 How to make jerk chicken
Jerk chicken is pretty easy to make, it just takes a little time. Here are the steps to making the perfect jerk chicken, every time.
Mix up the marinade & blend
Marinate chicken OVERNIGHT. A couple of hours won't do here. Go to full distance.
Grill the chicken over a live wood fire or coals.
Use a meat thermometer and remove the chicken at 165°.
Optional* Fry the chicken skin-side down after smoking to crisp up the skin.
Try our Crispy Smoked Chicken Thighs too!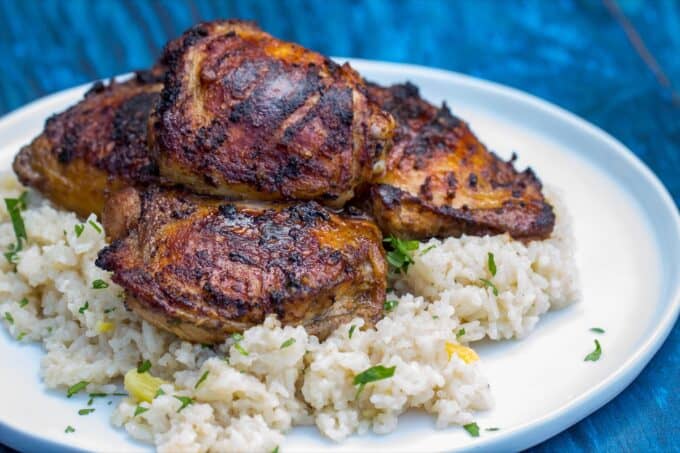 Should you smoke or grill chicken thighs?
Quite simply, do both. I love my pellet grills because you get the wood-fired flavor while still being able to grill like you would on a gas or charcoal grill.
Getting some grill marks on the skin adds another seasoning to the mix too. The high heat at the end also helps burn off some of the capsaicin oils in the chili peppers. That makes it so you don't need to have a fire hydrant handy when you eat.
However, a nice frosty beverage close by won't hurt.
See all of my chicken recipes!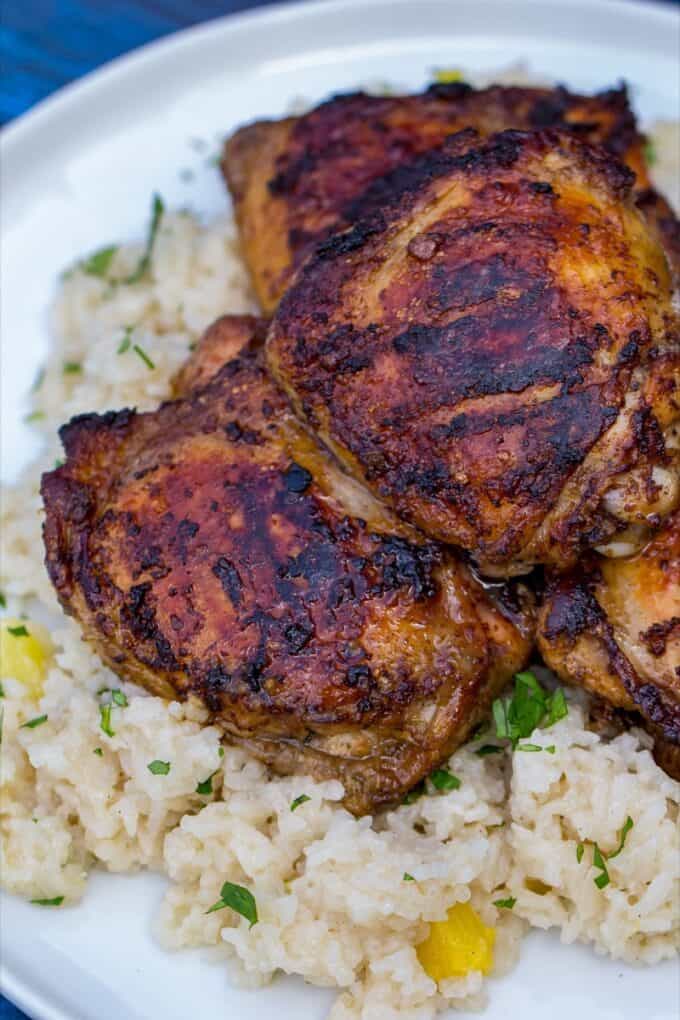 What kind of grill is best for jerk chicken?
We have a Traeger and Camp Chef pellet grill at the house. For this particular recipe I fired up the Traeger, but any kind of pellet grill will do!
You could also cook this on a gas or charcoal grill if you'd like, or even cook it in the oven if you don't have a grill or the weather isn't cooperating with you.
Also, who has tips for me on cleaning a Traeger because mine has definitely looked better! 😉
Join our Easy Traeger Recipes Facebook Group!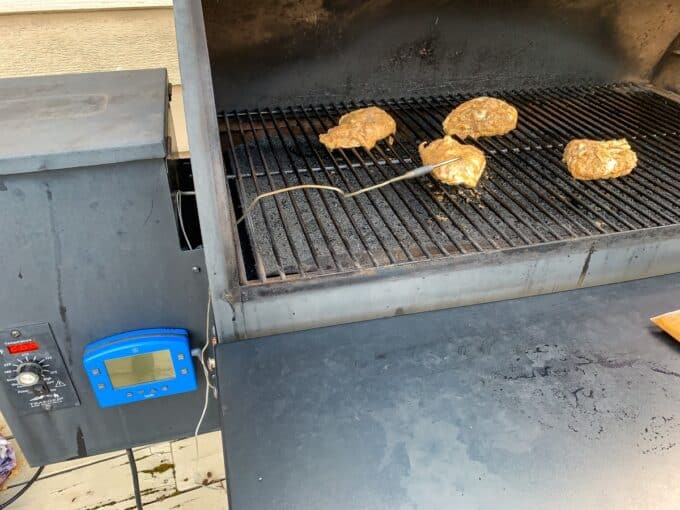 How can you tell when chicken thighs are fully cooked?
You can't tell by time or by feel like you can with steak, so make sure to use an accurate thermometer for the best results.
I highly recommend a high-quality wireless thermometer when you are doing any kind of serious grilling. The Thermoworks Smoke is my favorite, after trying a few popular options on the market.
It is easy to set up, magnets right to the side of your grill (don't put it on the hot parts), and the received stays right with you and will alarm you when your food gets to the point you need it to be.
Don't forget to check out our Pellet Grill Hub!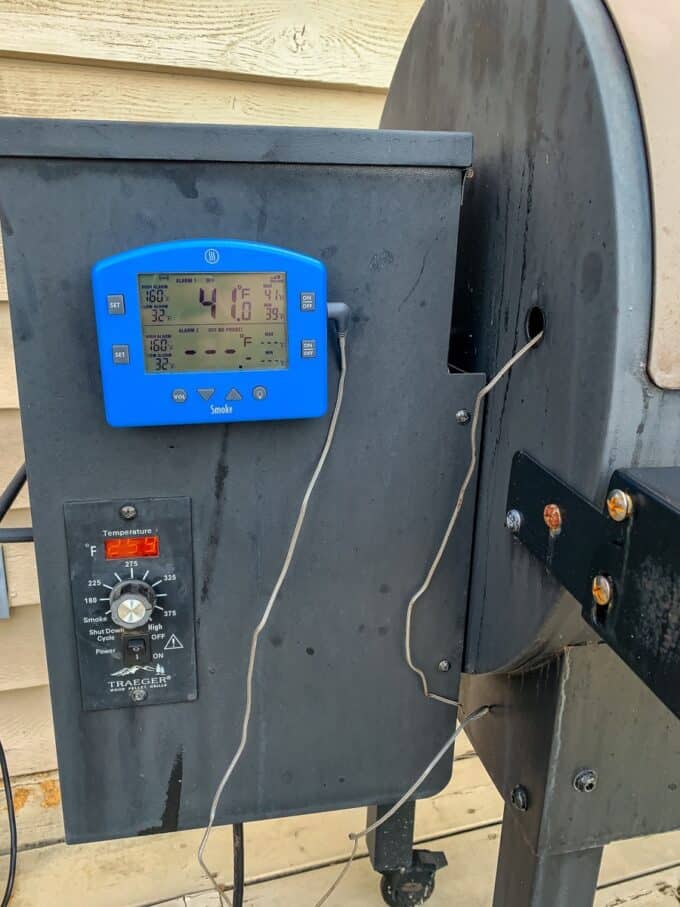 What can you serve with grilled jerk chicken?
Just because grilled jerk chicken brings the heat to such a high degree, I recommend serving it with dishes that help cool things down a bit. That way you can keep enjoying the chicken.
Every time the spice feels like it is going to set off a four-alarm, then you can just come to the rescue with something that cools things down quickly.
I have a few suggestions that do the trick.
My favorite coleslaw recipe
The classic coleslaw makes a perfect side for spicy jerk chicken thighs. The vinegar cools by helping break down the hot oils in the peppers.
Instant pot stick of butter rice
Take bites of the rice first. The reason? If you eat the jerk chicken first, then the butter in the rice will help keep the fire on your palate. However, if you eat a few bites of rice first, then it will help create a barrier to the heat.
Tropical mimosa
A nice cool beverage can help and this one keeps things tropical.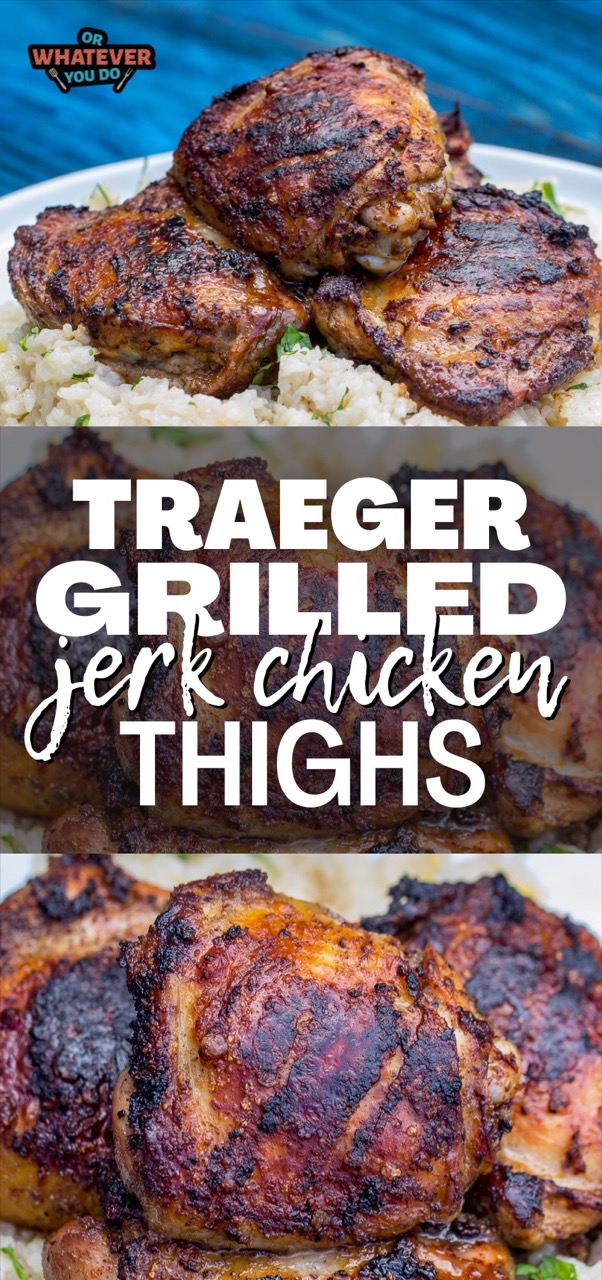 Yield: 6 servings
Traeger Jerk Chicken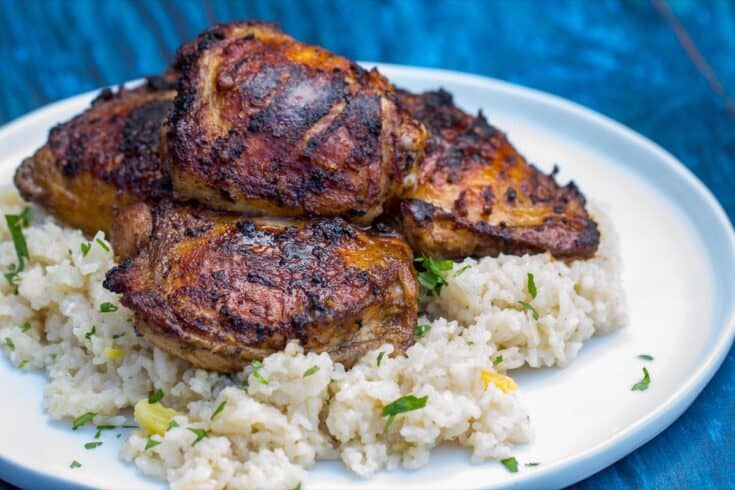 These flavorful and tender chicken thighs is marinated overnight in homemade jerk marinade, and then grilled on the pellet grill. Packed with flavor, worth the effort, and alll kinds of awesome.
Total Time
1 hour
20 minutes
Ingredients
6 chicken thighs, skin on
1/2 cup oil for frying
Jerk chicken marinade
4 cloves garlic
3 tablespoons olive oil
2 tablespoons soy sauce
4 teaspoon salt
1 1/2 teaspoon black pepper
1 teaspoon ground all spice
1/2 teaspoon cinnamon
1/2 teaspoon ground nutmeg
4-5 scotch bonnet/habanero peppers
1/4 cup fresh lime juice
1 tablespoon brown sugar
1 small onion
1 tablespoon chopped green onion
2 teaspoon fresh thyme leaves
Instructions
Combine all of the marinade ingredients together in a blender, and blend to combine. Pour over the chicken thighs in a large gallon-sized baggie, and refrigerate overnight.
Preheat your grill to 375° (give or take 25°) and place the chicken on the grates, skin side down. Let the chicken grill for about 20-25 minutes, and then carefully flip and continue grilling until the internal temperature reaches 165°
Remove from the grill, and take inside.
Preheat a non-stick skillet with oil over medium to medium-high heat. When the oil is shimmering, CAREFULLY put a few of the chicken thighs in, skin-side down.
Let the skin crisp up for 2-3 minutes, and remove to a plate.
Repeat until all of the thighs get their skin crisped. Serve with rice and vegetables.
Recommended Products
As an Amazon Associate and member of other affiliate programs, I earn from qualifying purchases.
Nutrition Information:
Yield:
6
Serving Size:
1
Amount Per Serving:
Calories:

549
Total Fat:

44g
Saturated Fat:

8g
Trans Fat:

0g
Unsaturated Fat:

35g
Cholesterol:

166mg
Sodium:

1934mg
Carbohydrates:

11g
Fiber:

2g
Sugar:

5g
Protein:

32g
Nutrition data provided here is only an estimate. If you are tracking these things for medical purposes please consult an outside, trusted source. Thanks!