Smoked Buttermilk Fried Chicken sounds like the title to an epic Southern Gothic novel. In fact, it also tastes like an enduring saga. It starts in the sour curdle of buttermilk, then braves the smoke and flames to make it through ok. Finally, it ends in the happy crunch of perfectly fried chicken.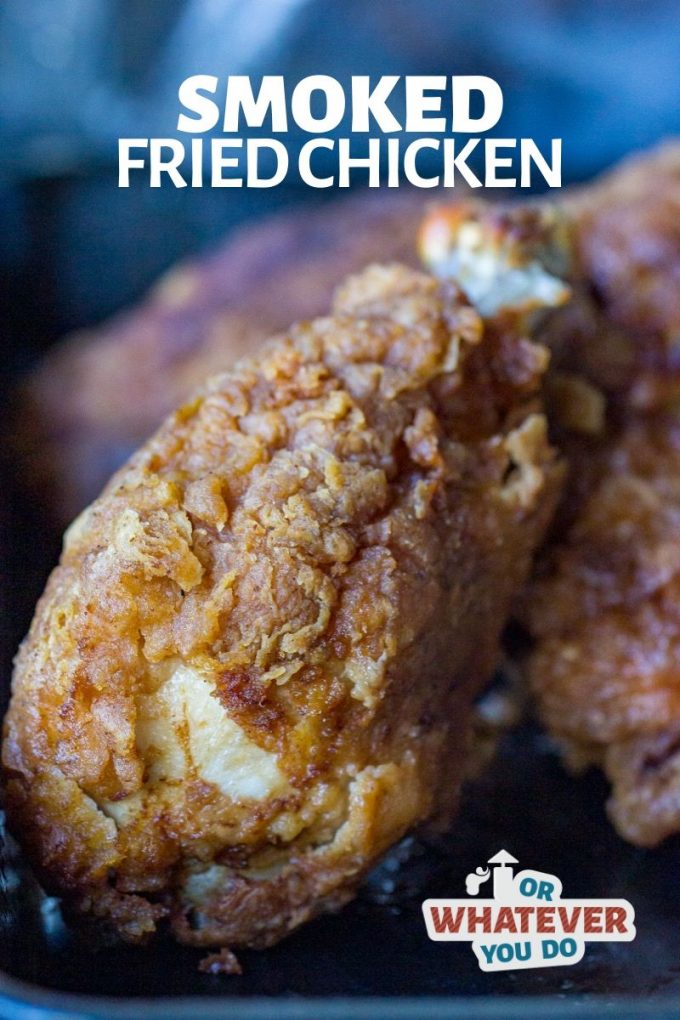 Smoked Buttermilk Fried Chicken
Just like great book can be read again and again, smoked buttermilk fried chicken never gets old.
This is a bit different than my smoked grilled chicken wings, but check that one out as well!.
More Easy Traeger Recipes here!
A Tale Of Smoked Buttermilk Fried Chicken
In the beginning, there was a chicken. Not an egg. That would be a different recipe. In this recipe you start with buttermilk. Submerge your chicken quarters, wings, and legs in buttermilk and let it set overnight in the fridge.
The buttermilk helps do amazing things to chicken meat. A high degree of acidity in buttermilk helps tenderize the meat. Tenderizing also helps add moisture as well. So buttermilk works like a brine solution.
Put the chicken on the pellet grill. You are going for low and slow. The final battering and frying occurs after you smoke the chicken on the grill for a couple hours at about 225 degrees f. Don't worry about it finishing on the grill.
Bread the smoked chicken, then fry it in your cast iron fry pan. The chicken finishes cooking completely during the frying.
So, this recipe does have a certain journey to take. You have to plan for the space in the fridge to buttermilk soak the chicken. Time to cook and pellets for your smoker have to be handy and available. You need to make sure you have the frying oil hot.
But it is well worth the effort!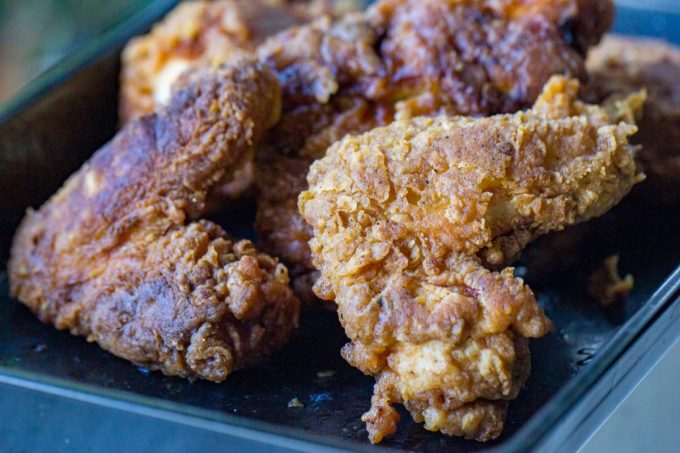 Pellet Grill Smoked Fried Chicken
Think about it. Fried chicken tastes great. But smoked fried chicken is like setting a cut diamond in a gold ring. Smoked with fried is a marriage made in heaven.
The recipe does take a bit more effort and foresight, but make double batches to make it worthwhile. Make it for company and special occasions. Give yourself the opportunity to have leftovers.
You will never regret making the effort because it is that good.
More Chicken Recipes to enjoy!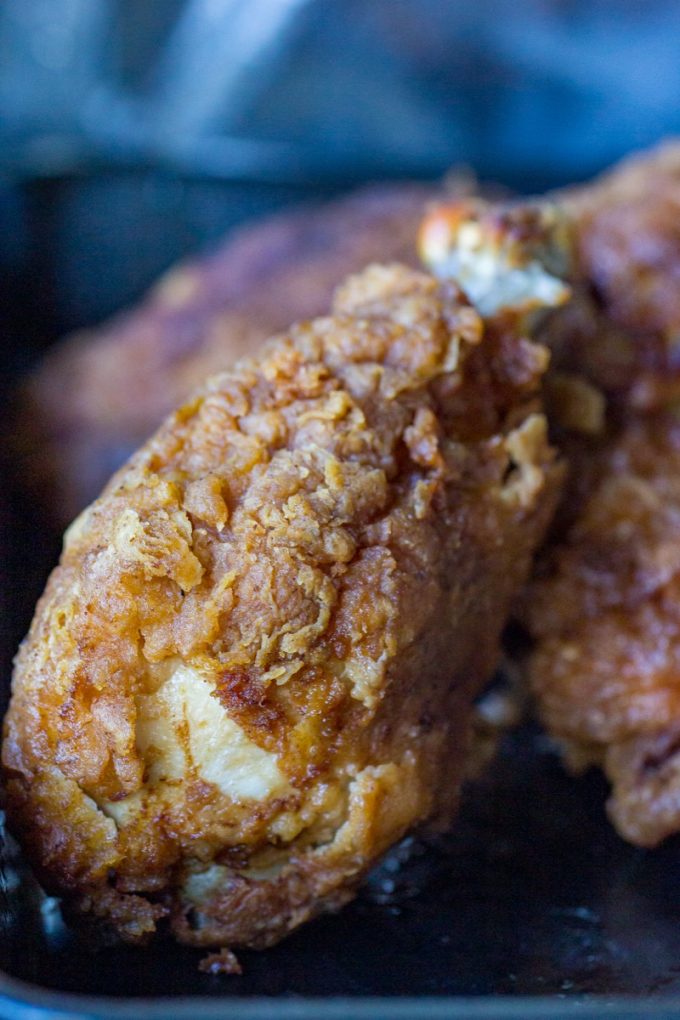 Tips for frying chicken
When you get to the frying portion of this recipe, keep in mind a few of these tips for getting the fry just right. Meaning you want nice crispy crust on the outside, but tender and juicy fully cooked chicken on the inside.
Of course, this is a bit different than regular fried chicken. With buttermilk smoked chicken, your chicken is almost cooked already. Therefore, you can use a slightly higher temperature to brown up the batter coating.
Ordinarily, you fry chicken at about 335°. However, with smoked chicken, you can fry at 350° since you don't need as much time in the oil. The meat is already mostly cooked. Getting the batter nice and brown without overcooking the meat is the goal.
If you are able, then let the meat brine in the buttermilk brine for two whole days. It is worth the wait.
Make sure to use the right oil for the job. Oils with higher burn points like peanut, avocado, and canola oil work best.
Try our Crispy Smoked Chicken Thighs too!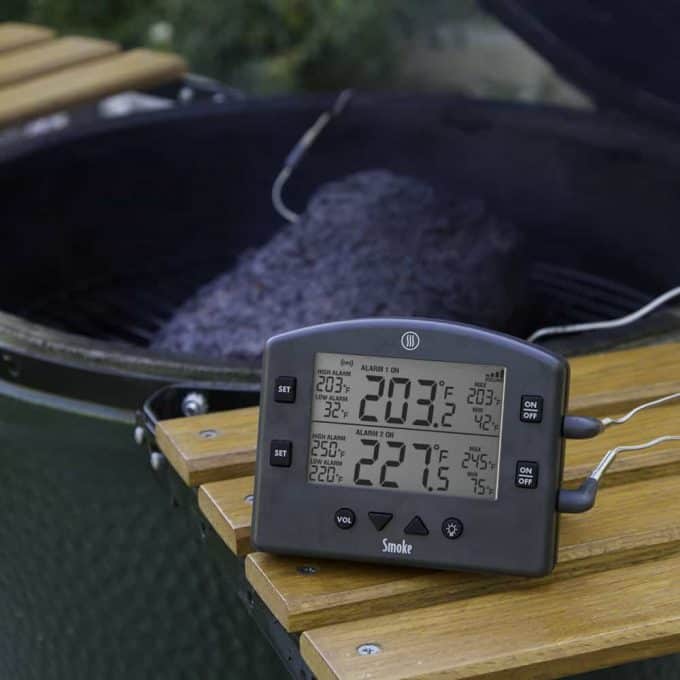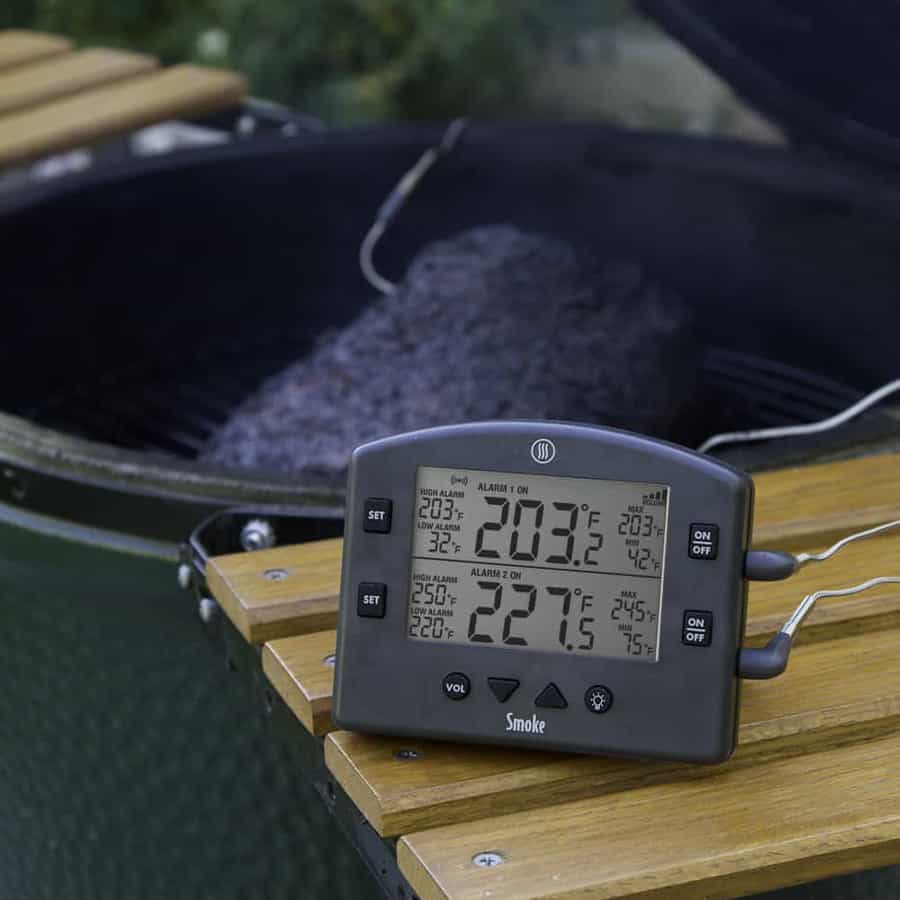 For all of your wireless grilling needs, the Smoke is the most reliable wireless thermometer I've ever used.
When you pull pieces out of the oil, don't set them on a plate or paper towel. Set them on a wire rack above a baking sheet. That way the steam escapes without getting the crunchy batter exterior soggy. It also permits all the excess oil to drip off quickly and easily.
You get a nice piece of fried chicken all around!
Keep the pieces of fried smoked chicken in the oven at 225 degrees f. It will keep the chicken warm enough while you cook the rest. The exterior will stay crispy too.
Double dredge your chicken and use highly seasoned flour. If you want a bit of kick, then add some cayenne powder into the flour along with salt and pepper. The double dredge technique gives you extra crispy chicken.
Put the smoked chicken into flour, then through the egg wash, back into the seasoned flour. Then do it all over again.
You can also add a touch of flavor to the hot oil. Add some garlic and slices of raw ginger to the oil. Let it cook just for a minute and take it out as it starts to get crispy and brown up. Take it out before it gets burned. Then add your chicken.
Eat this fried chicken with my COLESLAW!
What sides go best with fried chicken?
You put the effort into making phenomenal buttermilk batter fried smoked chicken. So, naturally, you are going to need some perfect sides to accompany it!
Here are a few of my favorites that go great with smoked fried chicken: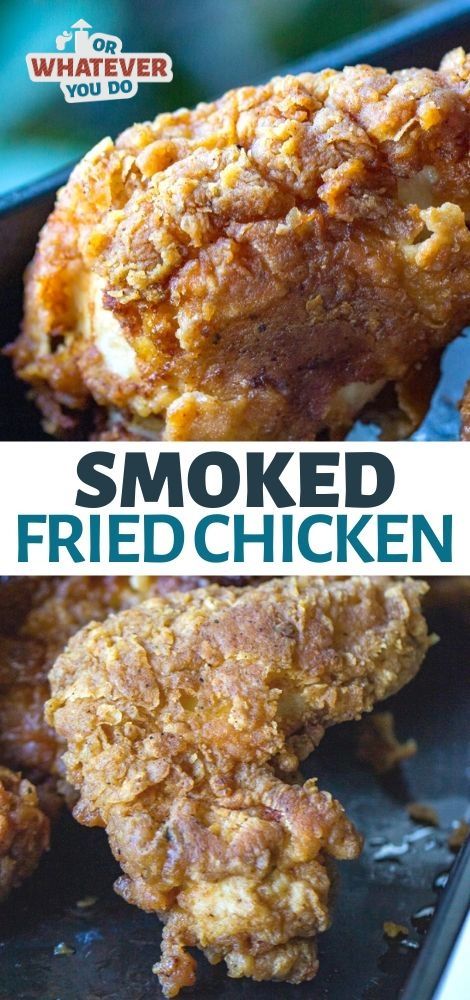 Yield: 8 servings
Smoked Buttermilk Fried Chicken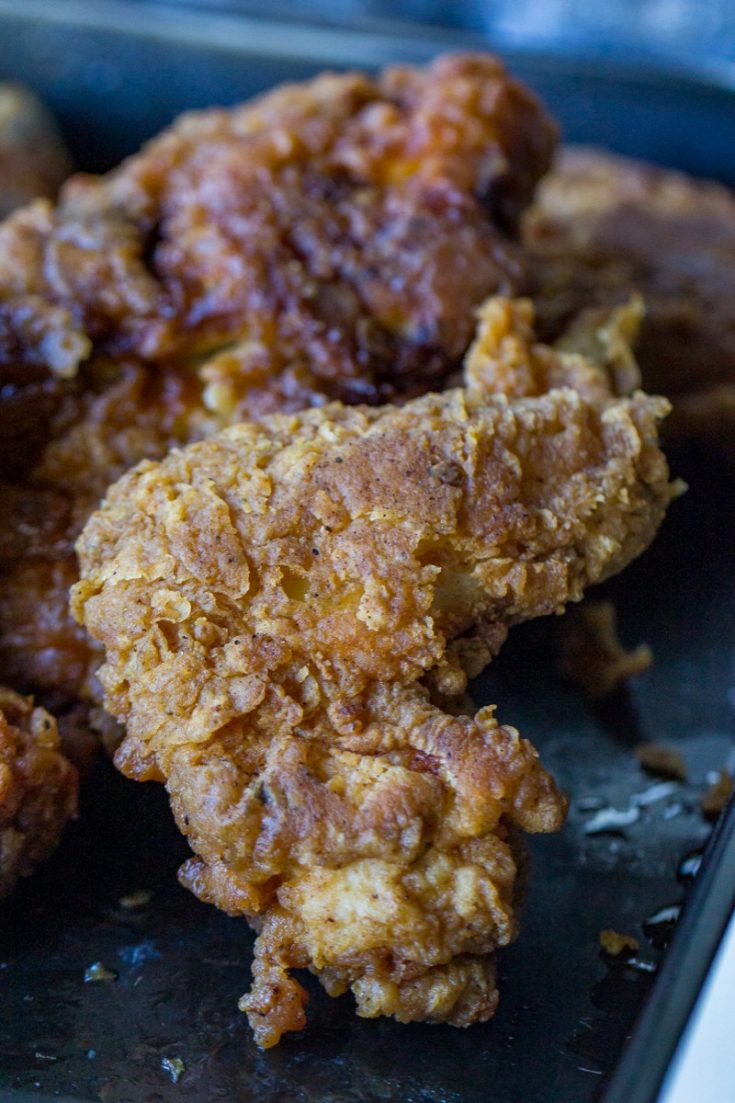 This is not your average fried chicken, as before the breading and frying process we are going to infuse the meat with smoke on our pellet grill! Smoked Buttermilk Fried Chicken is going to be one of your favorite things after you taste this crunch crust covering the most delicious smoked chicken you've ever had.
Cook Time
2 hours
45 minutes
Ingredients
Buttermilk Brine
4 pounds chicken pieces
2 cups buttermilk
1/4 cup hot sauce
1/2 teaspoon salt
1/2 teaspoon granulated garlic
1/2 coarse ground pepper
Breading
2 cups ap flour
1 teaspoon salt
1/2 teaspoon black pepper
1 teaspoon baking powder
1 teaspoon baking soda
1/2 teaspoon granulated garlic
1 teaspoon onion powder
1/2 teaspoon cayenne pepper
1 teaspoon mustard powder
1/2 teaspoon ground thyme
1 teaspoon paprika
Egg Wash
4 eggs
1/4 cup whole milk
Frying oil
4-6 cups peanut oil
1 stick butter
Instructions
Combine the buttermilk brine ingredients together and place the chicken inside. Refrigerate overnight.
Turn your smoker onto "smoke" setting, or 180°. Remove the chicken from the brine, pat off excess with paper towels, and place on the smoker for 2 hours.
Remove from the smoker and place in the fridge to cool completely.
Right before you are ready to fry, combine the breading ingredients and set aside. Mix together the eggs and whole milk until fully combined.
In a large cast-iron skillet, preheat your oil and butter to 350°. Make sure you temp using a thermometer for the best results.
Dredge the chicken in the flour/breading mixture, and place in a single layer on a clean pan or racks.
When the oil is heated, fry 2-3 pieces of chicken at a time for about 12-15 minutes, or until the chicken is golden brown on both sides.
Temp the chicken to ensure that it is at least 165° at the thickest point, and near the bone. Any pieces that are not full cooked can be finished in the oven at 350° on racks.
Recommended Products
As an Amazon Associate and member of other affiliate programs, I earn from qualifying purchases.
Nutrition Information:
Yield:
12
Serving Size:
1
Amount Per Serving:
Calories:

418
Total Fat:

16g
Saturated Fat:

5g
Trans Fat:

0g
Unsaturated Fat:

10g
Cholesterol:

241mg
Sodium:

776mg
Carbohydrates:

19g
Fiber:

1g
Sugar:

2g
Protein:

46g
Nutrition data provided here is only an estimate. If you are tracking these things for medical purposes please consult an outside, trusted source. Thanks!