The only thing better on a pellet grill than a whole chicken is a whole Traeger Smoked Spatchcock Chicken. This easy dinner is hearty, flavorful, and delicious and can be used for dinner or lunch all week long.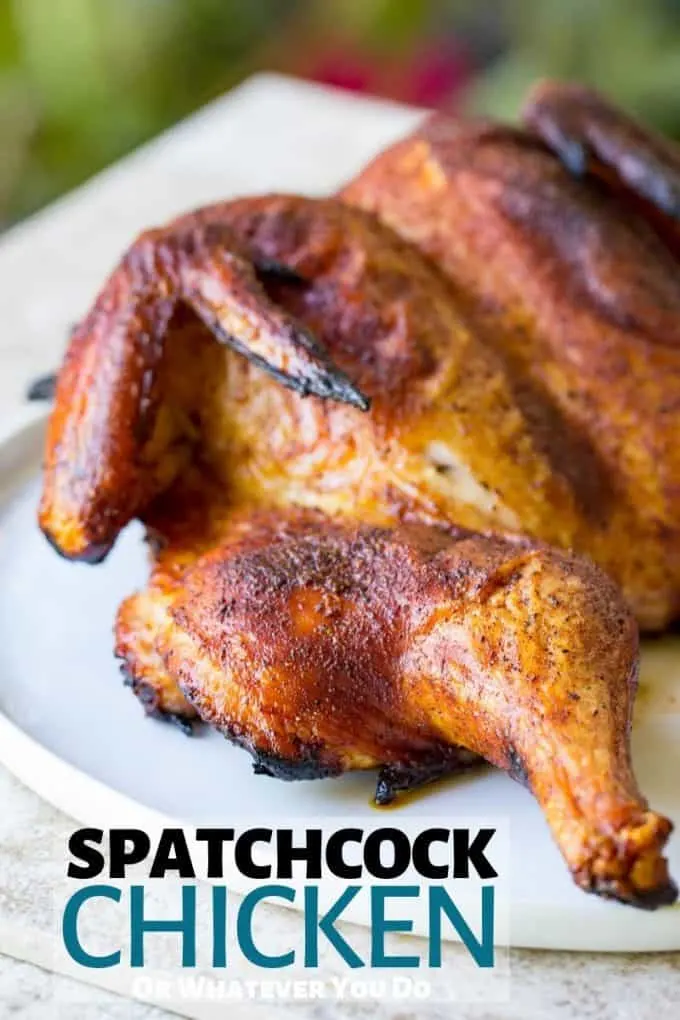 Spatchcock Chicken
Have you been looking for a new method to grill your chicken? Try my recipe for this Traeger Spatchcock Chicken! This method will cut your cooking/baking/grilling time and allow you more time to enjoy your meal and guests!
The skin becomes golden brown and crispy, while the meat is evenly cooked and remains tender and juicy throughout the bird.
Get yourself a good pair of kitchen scissors and a nice plump bird and you're ready to impress.
Try our Greek Chicken Marinade too!
What is Spatchcock chicken?
You will be surprised to learn that Spatchcock is simply a word to describe a method of "butterflying" your chicken so that it will lay flat on the grill, allowing all of the meat to be closer to your source of heat which means even cooking.
No more overdone legs and wings while assuring the breast meat is done!
Get all of my Traeger Chicken Recipes here!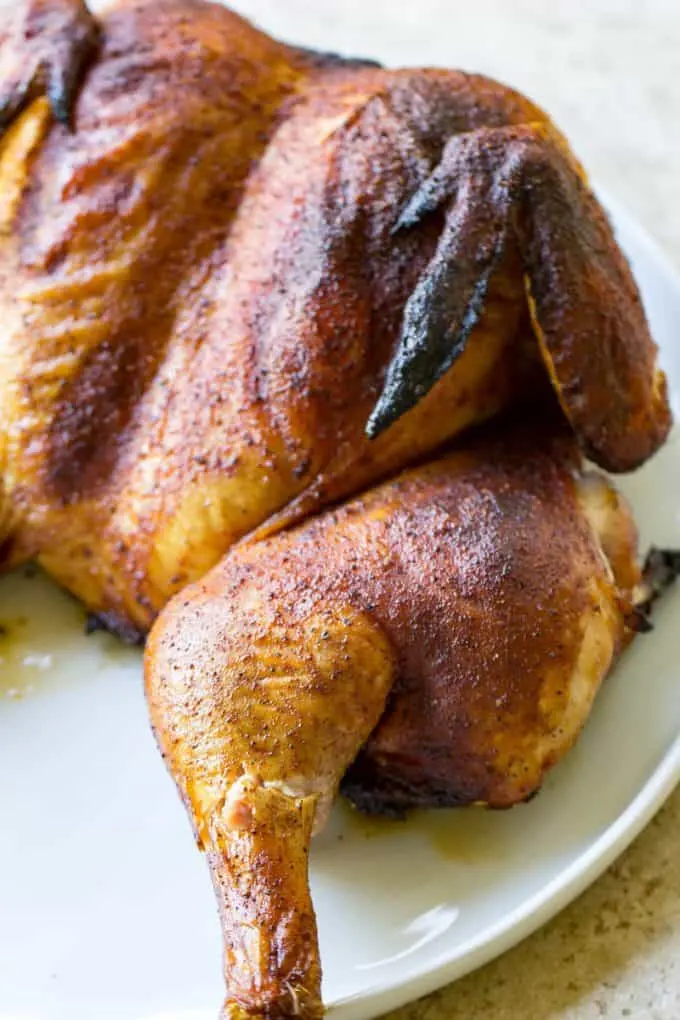 How do I Spatchcock a chicken?
This method is actually very basic and straightforward. All you need is a really good pair of kitchen scissors.
You will want to lay your chicken on a flat surface with the breast down and legs facing you. You will basically be removing the backbone, and in order to do this, you will be cutting through rib bones (this is the reason for your good pair of kitchen scissors).
After the backbone is removed, flip the bird over and press down until it lays flat. All done!
You can also use this method on smoked spatchcock turkey.
When seasoning your chicken, don't forget to season the underside, and don't be shy with your spices. You have a lot of meat to get flavor into!
My Easy Pellet Grill Recipes here!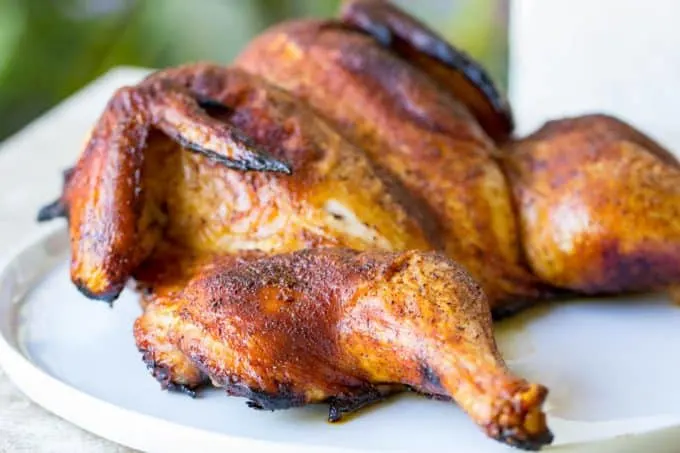 How long does it take to cook a chicken using this method?
We never use "time" for cooking meats, it's all about temperature when it comes to whether or not your meat is done.
If you don't already have a good meat thermometer, I highly suggest you invest in one.
Chicken should be cooked to an internal temperature of 165 degrees, roasting, grilling or frying.
The nice thing about using this Spatchcock method is that it cuts your cooking time down versus roasting or grilling a whole chicken.
If you want a ballpark estimate for "time", it really depends on the size of the chicken.
For a 4 ½ pound chicken allow approximately 1 hour 15 minutes if roasting, and 35-45 minutes for grilling.
Keep checking your meat thermometer, and when the chicken is 165 degrees it's done.
40+ Ways To Use Smoked Chicken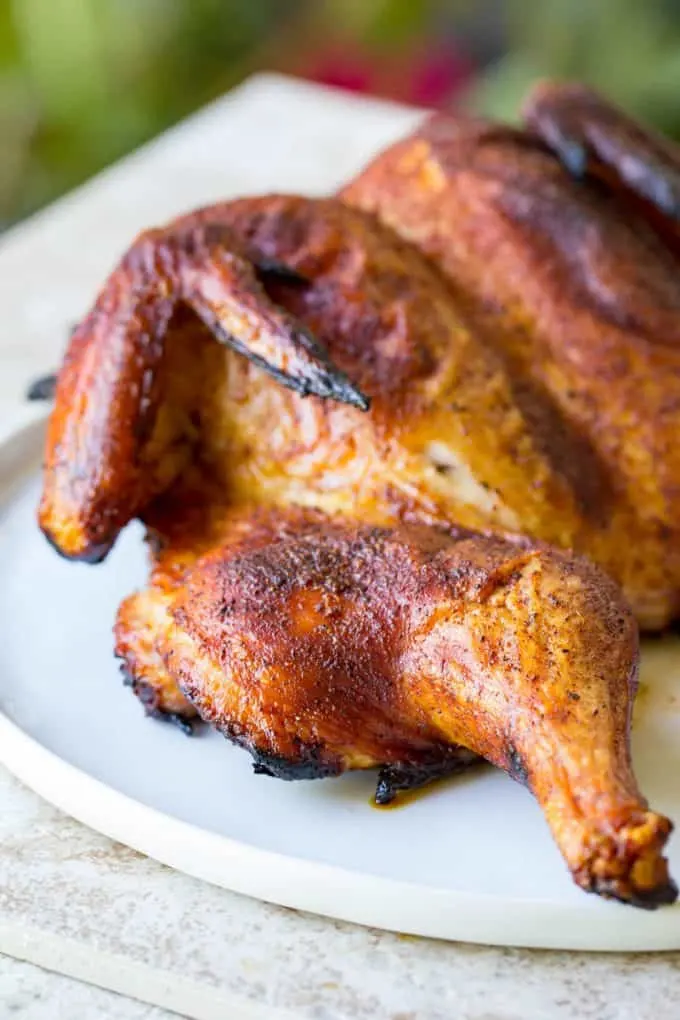 Do you have to "flip" this chicken while grilling?
Many opinions on this subject, so do your research but it all comes down to preference and experience.
I personally do not flip while grilling this chicken. The skin gets golden brown, as with roasting. No need to disturb while cooking other than checking the internal temperature.
Join our Easy Traeger Recipes Facebook Group!
What should I serve with this Spatchcock Chicken?
Almost anything will pair well with chicken. Plan your sides around the type of seasoning you've used to season the meat.
If you're using a traditional chicken seasoning with poultry seasoning, mashed potatoes and a vegetable will be the perfect comfort foods to add to your table.
You can season your chicken with almost any spices and herbs which allows for a wide variety of choices when it comes to sides.
Here are a few other suggestions:
As you can see the possibilities are endless!
How can I use the leftover chicken?
If you're lucky enough to have any leftover, there are many ways to use this leftover chicken!
Grab a picnic basket! Pack up your cold chicken, some fruit and bread and head to the park.
Cut up your leftover chicken and add it to or make a nice soup for dinner the next night.
You will definitely want to make this Spatchcock Chicken again and again. It is easy, delicious, versatile, and economical. Buying a whole chicken is a choice your wallet won't regret.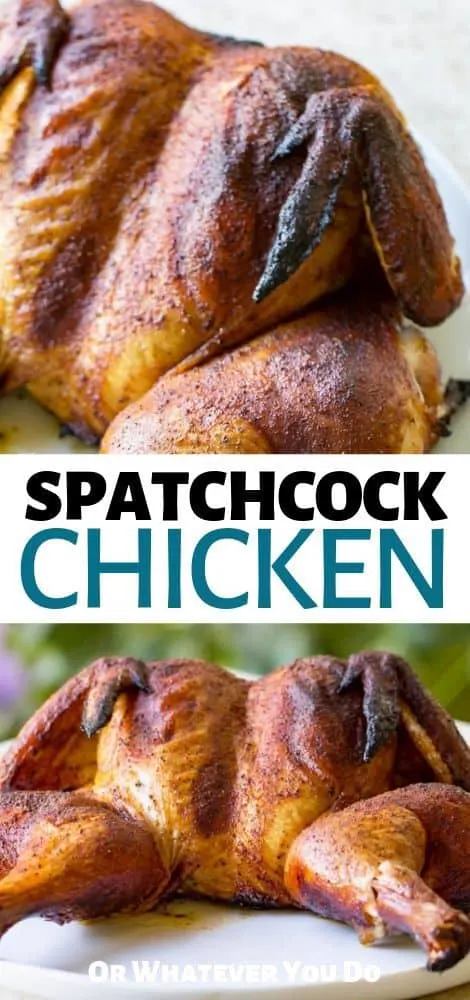 Featured Reviews!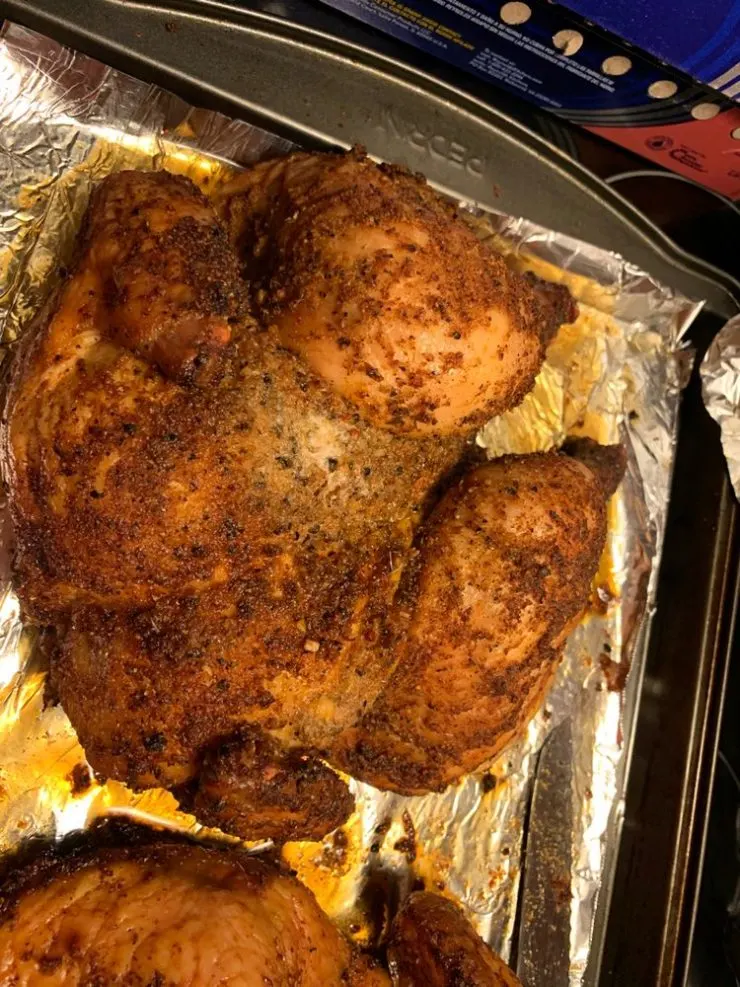 "Very easy and tastes great!"

~ Lynn
Yield: 1 chicken
Traeger Smoked Spatchcock Chicken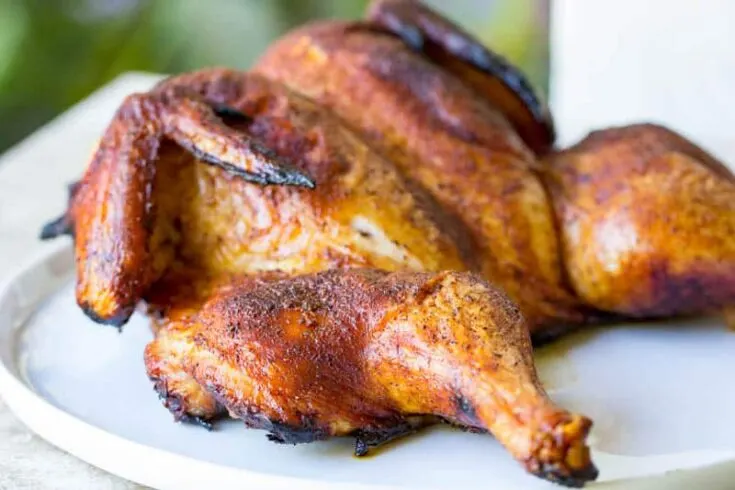 Spatchcock Chicken is the best turkey! Get used to evenly cooked, moist, juicy, and delicious meat – both white AND dark.
Cook Time
1 hour
15 minutes
Total Time
1 hour
45 minutes
Ingredients
1 whole chicken
1/2 cup of oil or melted butter
1/4 cup Traeger Chicken Rub
1 teaspoon onion powder
1 teaspoon garlic powder
1 tablespoon rubbed sage
Instructions
Preheat your Traeger to high, following factory directions.
Place the bird breast-side down with the legs pointing towards you, and cut up either side of the backbone through the ribs to remove the spine.
Flip the chicken over, combine the oil and seasonings, and rub all over the chicken on both sides. Place skin-side up onto your pre-heated pellet grill. You can also place it in a pan if you want to catch the drippings!
Grill on high heat for 30 minutes, and then turn the temp down to 325 for the remaining time.
Check your chicken at around the 45-minute mark because it may be done already depending on the size of your bird! You want it to be at 165° no matter where you test it.
Remove from the grill, let rest for 15-20 minutes, and then cut into pieces and serve.
Recommended Products
As an Amazon Associate and member of other affiliate programs, I earn from qualifying purchases.
Nutrition Information:
Yield:
8
Serving Size:
1
Amount Per Serving:
Calories:

328
Total Fat:

26g
Saturated Fat:

5g
Trans Fat:

0g
Unsaturated Fat:

19g
Cholesterol:

74mg
Sodium:

76mg
Carbohydrates:

1g
Fiber:

0g
Sugar:

0g
Protein:

22g
Nutrition data provided here is only an estimate. If you are tracking these things for medical purposes please consult an outside, trusted source. Thanks!