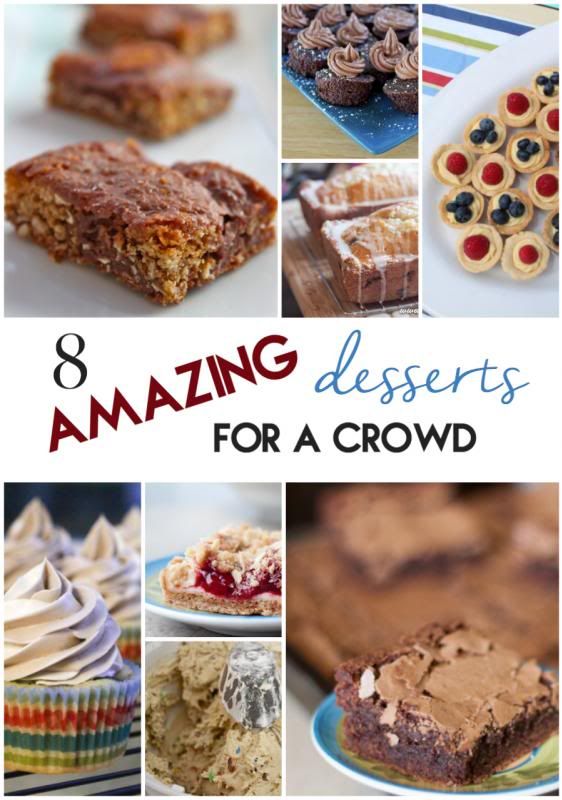 Happy Saturday everyone! In case you are going to a fabulous Memorial Day BBQ or Potluck this weekend, I wanted to give you this roundup of 8 amazing desserts that are great for a crowd! Click on the photos above to be taken to the recipes.
Our weather is not supposed to cooperate this weekend, so I'm planning on using the weekend to catch up on some projects around the house that I've been putting off for a long time. Too long. Like the eight thousand loads of clean laundry that are currently waiting for me to fold them down in my laundry room. I've been hiding from those all week!
Rarely do I find a blog I love so much that I just cannot go another week without singing its praises. I mean, I love blogs, and have loads that I read on the regular, but rarely do they make me smile, laugh, almost cry, and feel like I have a tribe. People who GET me. That's never happened, actually. Ever. So without further ado I present you with…

Did you guys see this post yet from Rita at Fighting Off Frumpy? It is everywhere right now, and it pretty much explains my entire life. Here's a little excerpt so you can see how amazing she actually is.
#6: You must be prepared for messes. 

Sometimes I go slightly insane at the condition of my house. But unless you can afford to hire a full-time housekeeper, messes are just something you'll have to deal with. And I'm not talking about just clutter from toys. No matter how often you yell and threaten tell them, boys are just not that conscientious about tracking in mud, or grass clippings, or getting toothpaste all over the place, or spilling milk and then maaaaybe half-assed wiping it up with, say, the corner of the tablecloth. (And the boys' toilet? See #3.) Boys will also wipe boogers on walls and carpets and slop food all over the place like pigs at a trough. This isn't due to lack of coaching; trust me, I feel like I spend 75% of my waking moments preaching about keeping things neat and tidy. (I spend the other 25% cleaning up the messes that result when my preaching goes in one ear and out the other.) All of this intensifies with multiple boys and/or a visit from multiple friends. Which brings us to the next prerequisite …
See? Amazing. I thought it was just me, and just my boys, and just my life, but if the responses I'm seeing on that blog and on her facebook are any indication…its pretty much all of us blessed with multiple boys. God clearly made me as I am just for this very reason.
That's all I have for you this happy Memorial Day weekend! Have a great one, and remember our service members, and the reasons we are celebrate.
---
Thank You for looking! I LOVE comments. Please let me know what you think!
Trust me on Sulia!

Click through my amazon banner below to help support my site! I receive a small portion of the sales price, and you receive awesome product backed by Amazon!

If you are a Pinterest fanatic like I am, you could also drop by and follow me there, and pinning my images is always appreciated!
Find me on Instagram!
Thanks for dropping by! Hope to see you again soon!
~Nicole~