Traeger Barbecue Chicken Lollipops are not necessarily candy, but they sure are pretty darn sweet eats. A chicken leg smoked on a Traeger grill works on its own merits. Add some barbecue sauce and now we are talking about the neighbors finding excuses to drop by unexpectedly.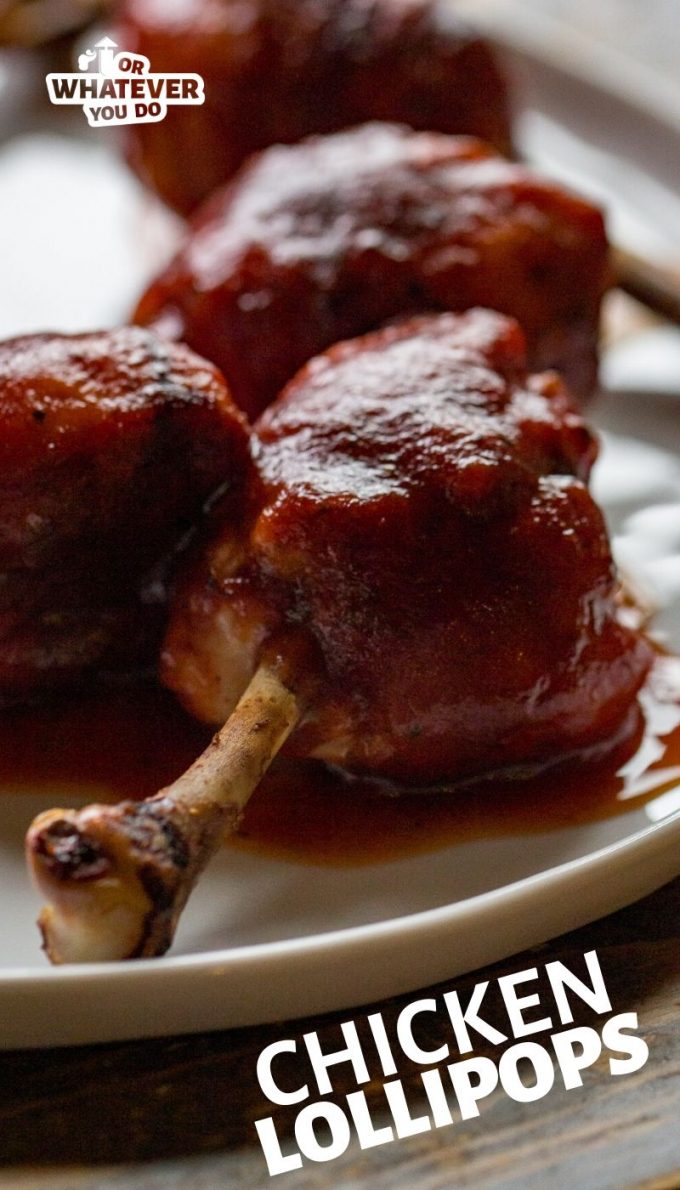 Traeger Smoked Chicken Lollipops
Dressing up the leg with a quick bit of prep to strip out the lower end to the bone is easy. When you finish, sure enough, that does look like a chicken lollipop.
Just make sure you don't lick it. People will think you are just plain weird.
I love cooking chicken on the Traeger in case you missed it. Chicken is one of the meats that all of my kids like, and in almost any form. Traeger pellet grill chicken
Smoking Traeger Barbecue Chicken Lollipops
When I say smoking, then I am not just referring to the process of cooking the chicken. You can rest assured that I also mean how smoking good these drumsticks taste!
The chicken gets grilled and smoked on the Traeger and cooks fairly fast. The grill should be around 325f to 350f. You want plenty of smoke as well. Chicken drumsticks are meaty, but not in the low and slow cooking sense of meaty.
They cook fairly fast. When they are close to done, then pull them and douse and or swab them liberally with barbecue sauce. Put them back on to finish with a nice glaze of sauce shining on them.
(If you don't have a Traeger, then don't sweat it, you can use your grill no problem.)
More Easy Traeger Recipes here!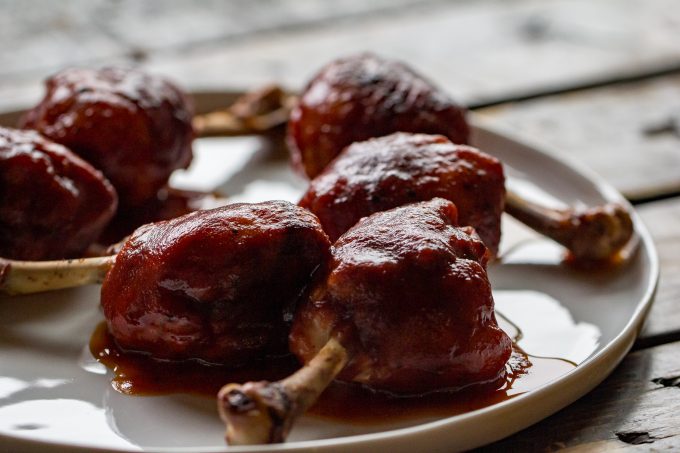 What About The Barbecue Sauce?
I know there are about a million barbecue sauces to choose from. For that reason, why not take the guesswork out of the equation and try doing homemade?
I have an easy barbecue sauce recipe and you can riff on it easily to make it just the way you like.
You want it to be more spicy? Go for it. More tangy? A touch more vinegar and you are there. Homemade barbecue sauce makes you feel like a real smokemaster.
Serve this with my famous homemade coleslaw recipe!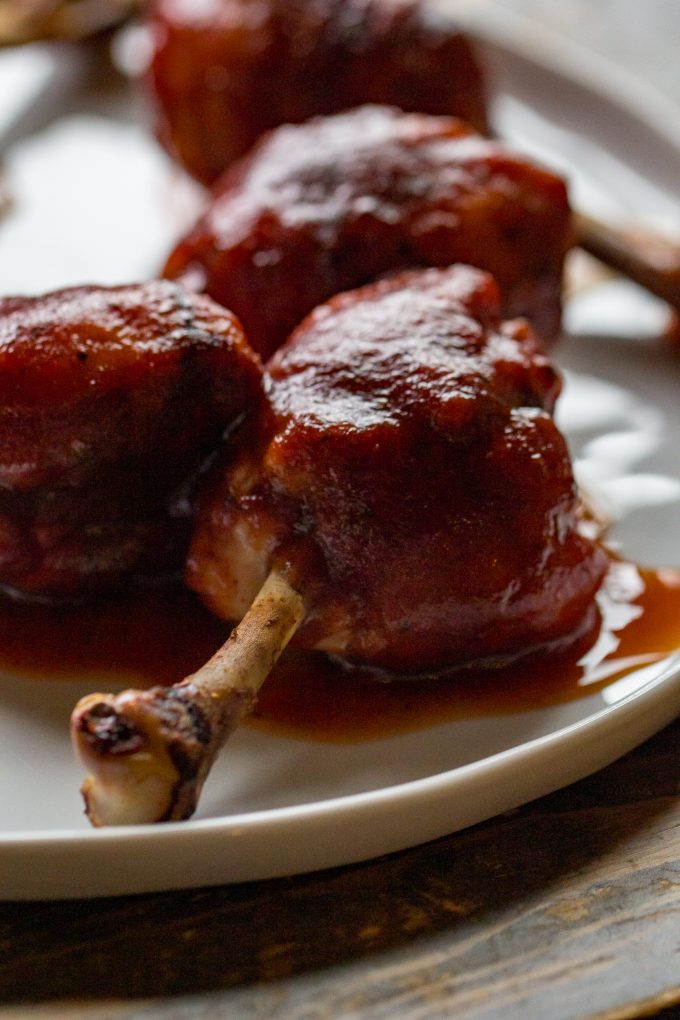 How Do I Make The Lollipops?
Trimming down the chicken legs is fairly easy once you get the hang of it. I recommend setting the point of a good sharp knife down on the chopping block. Set the leg underneath it, then pull the knife down slowly but with enough pressure to cut to the bone. Start rolling the leg through the edge of the blade while maintaining your pressure on the knife.
Once your cut has gone around the circumference of the bone, then lift and set aside the knife. You can easily pull the skin and tendons away from the bone like pulling off a sleeve at that point.
Be careful and don't cut yourself. Take your time and keep a steady hand. The grill still needs to get to the right temperature so you don't have to rush.
If you like these, you'll love our Honey Balsamic Traeger Grilled Chicken Legs!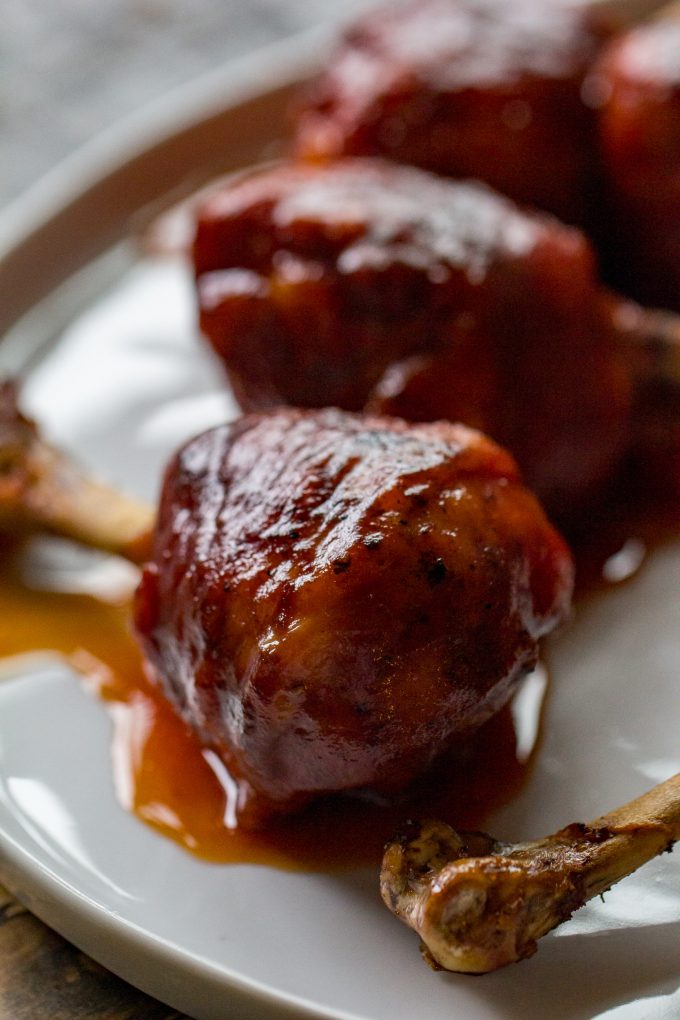 Do I Have To Use Chicken For Chicken Lollipops?
Well, if you want them to be chicken, then of course. But no one is going to stop you from using turkey legs either. You just have to be prepared in that case for a much longer cooking time. Traeger Grilled Turkey is a magical thing, so Traeger Smoked Turkey Legs would be just as incredible.
If you do decide to use turkey legs, then cook the turkey at a lower heat of around 275° first until they are close to done. Then finish them at higher heat and with the barbecue sauce.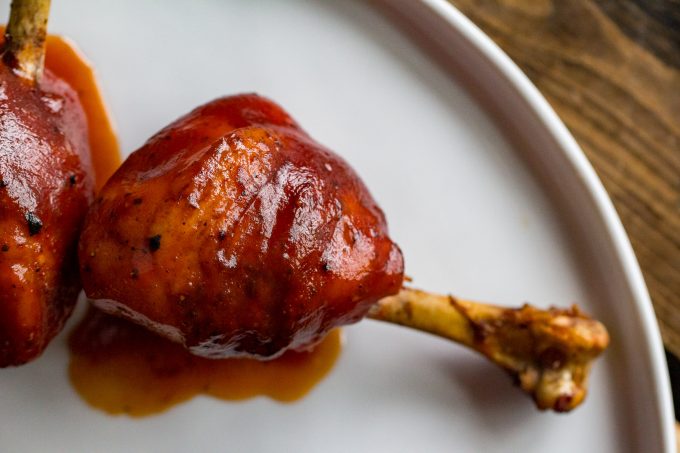 What Is Frenching Anyway?
You had to go there. Get your mind out of the gutter…this is a family friendly blog. (Most of the time, but not necessarily when it is time for a great adult beverage like a Moscow Mule or a Tropical Rum Punch or something like that 😉
In cooking terms, "Frenching" a bone generally refers to stripping the fat, meat, and gristle from the end of a lamb or beef bone. It is not necessarily limited to French cuisine though.
Frenching the end of the drumstick won't necessarily make it taste any better or worse, but it will give you a legitimate reason to call it a chicken lollipop.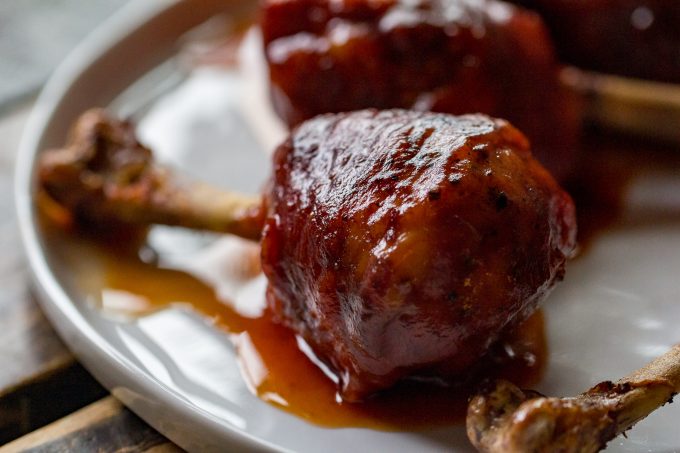 Any Other Smoked Chicken Dishes To Recommend?
I think it is pretty obvious I love to smoke chicken on the Traeger. Here are some of the other directions chicken can go on the smoker: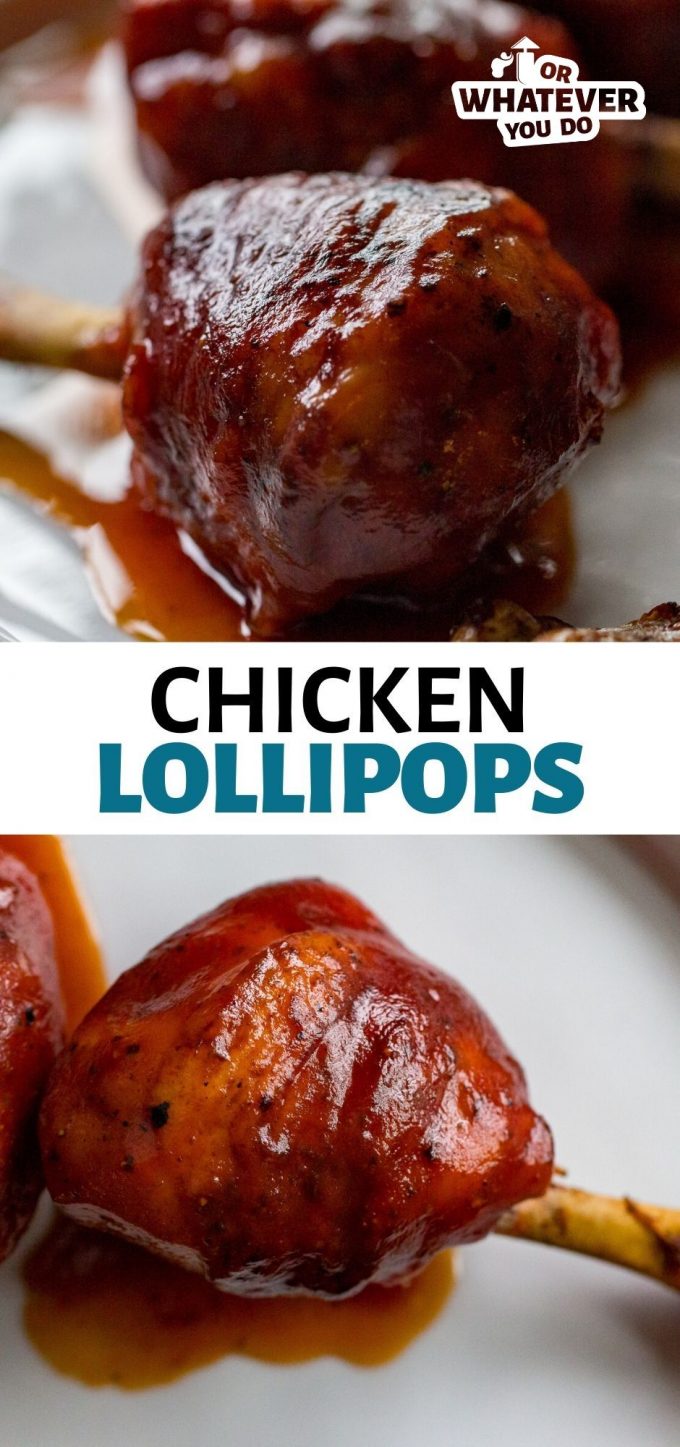 Yield: 8 servings
Traeger Smoked Barbecue Chicken Lollipop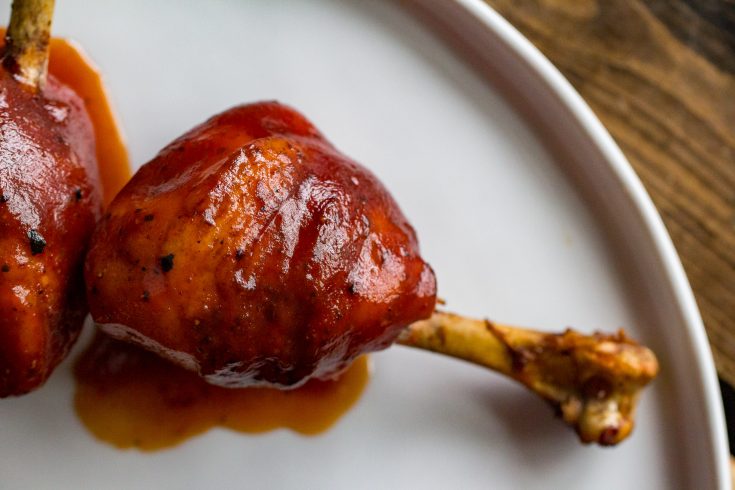 Barbecued Chicken Lollipops are lollipopped, cooked on the pellet grill, and slathered in barbecue sauce. Easy to eat, and a backyard cookout staple.
Ingredients
16 chicken legs, cut into lollipops
1 cup barbecue rub
2 cups barbecue sauce
Instructions
Preheat your grill to 200° (or the smoke setting, if you have it.)
Prep the chicken legs by slicing off the narrow part of the bone near removing the tendons and the skin from the bottom of the leg.
Season liberally with bbq rub, and place onto the pre-heated grill.
Grill for 20 minutes at the lower temperature, turn the legs over, and then crank the heat up to 400°.
Cook until the internal temperature of the meat reaches 165°. Slather on some bbq sauce during the last 5 minutes of cooking.
Remove from the grill and serve hot!
Recommended Products
As an Amazon Associate and member of other affiliate programs, I earn from qualifying purchases.
Nutrition Information:
Yield:
8
Serving Size:
1
Amount Per Serving:
Calories:

565
Total Fat:

24g
Saturated Fat:

7g
Trans Fat:

0g
Unsaturated Fat:

14g
Cholesterol:

333mg
Sodium:

719mg
Carbohydrates:

18g
Fiber:

1g
Sugar:

15g
Protein:

64g
Nutrition data provided here is only an estimate.