These tender, juicy smoked chicken thighs are slow smoked on over live wood fire on your pellet grill before being finished off in a pan with hot oil to crisp up that delicious chicken thigh skin. You're going to love this easy, economical meal that is knock-your-socks-off delicious.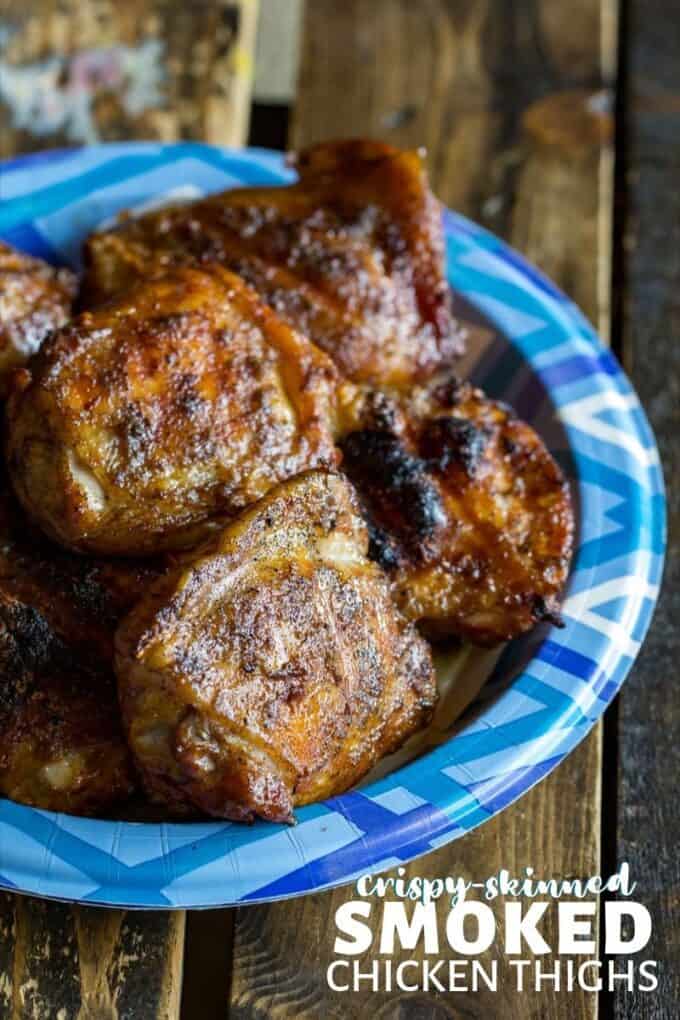 Smoked Chicken Thighs
I love almost everything about chicken thighs. Dark meat chicken is so much better than white meat.
There. I said it. Yes, I am a dark meat fan and I don't care who knows it.
There is definitely a place for a good chicken or turkey breast in my life. Thanksgiving is my favorite meal and I'll go to great lengths for it, but if I HAVE to pick one I'm going for the dark meat every time.
Chicken thighs cooked on your pellet grill or smoker just take things to a whole different place than you are likely used to if you didn't grow up around a bbq pit or in the South.
I'm from Minnesota, and I think I was in my 30's before I had ever eaten pulled pork off of a smoker instead of out of a crockpot.
I think that may be changing a bit with the booming popularity of the pellet grill, but I haven't been back there for a hot minute so I can't be sure.
I know in the Pacific Northwest where I've lived for the last 13 years, there are almost as many Traegers and Camp Chefs and Blackstones in my neighborhood as there are chickens, and that's saying a lot because EVERYONE has chickens here. (Even me)
So, if you are still on the propane grill or charcoal grill train, I'd like to take this opportunity to step into the smoke and add to your collection. You won't be sorry.
More Easy Traeger Chicken Recipes here!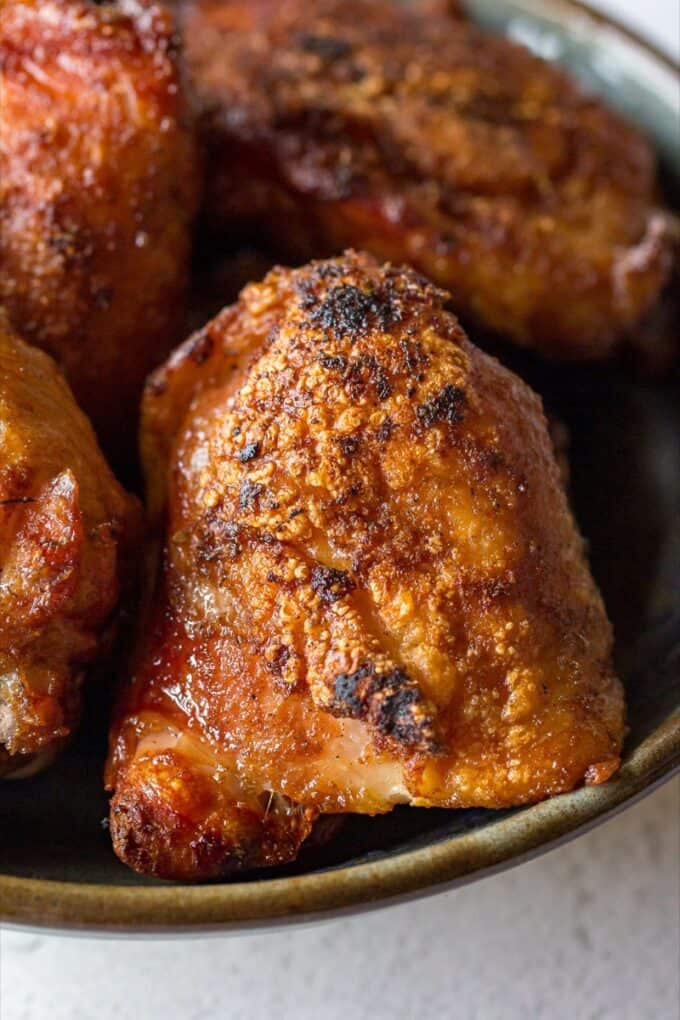 How to smoke chicken thighs on a pellet grill
There are so many opinions out there on the right way to do this, so your mileage may vary, but this is my favorite way to do it, and it doesnt' involve a bunch of skin peeling and scraping like some other methods do that I've seen floating around online.
For this recipe, you just season the chicken thighs well with your favorite dry rub (I'm partial to this one), stick them on your pellet grill (I use a Traeger and a Camp Chef pretty much interchangably), and let the smoke do its work for at least 30 minutes, at most an hour and a half, with the thighs skin-side up.
Once the chicken has been sufficiently smoked, crank the heat up to 325-350°, flip those suckers over so they are skin-side down, and probe them with a wireless thermometer (see the recipe card for my recommendation here), and let them cook until they reach 165° internally.
Next, and the secret to these amazing thighs, is the crispy skin.
It is almost impossible to get crispy poultry skin on the pellet grill, especially with legs and thighs. They are either rubbery or the meat is overcooked. Not these, because they are pulled from the grill at 165° and then hit a searing hot cast iron pan with pre-heated oil inside to make that skin crispy and delicious.
Get all of my Easy Traeger Recipes here!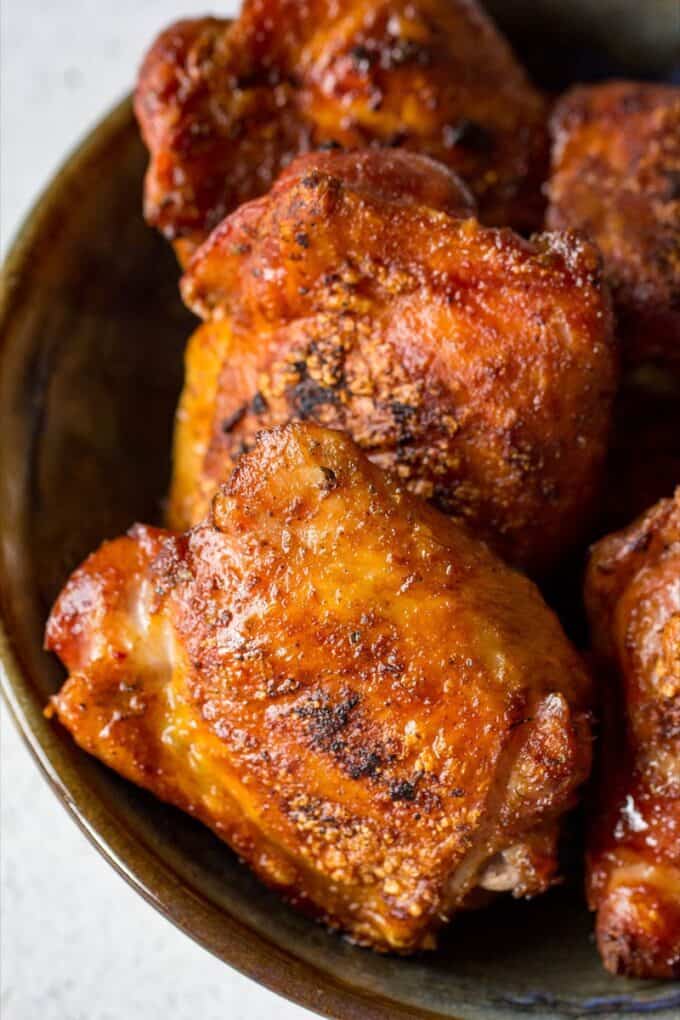 What should I serve with crispy smoked chicken thighs?
These easy Traeger Chicken Thighs are pretty classic barbecue, so I typically recommend classic barbecue sides. Some great options include: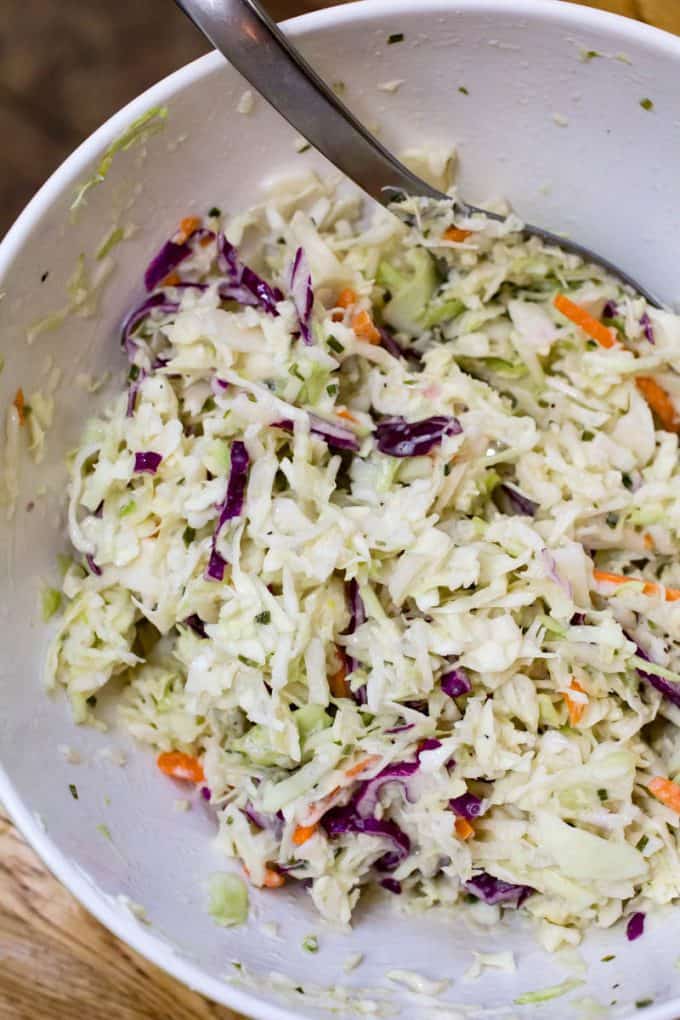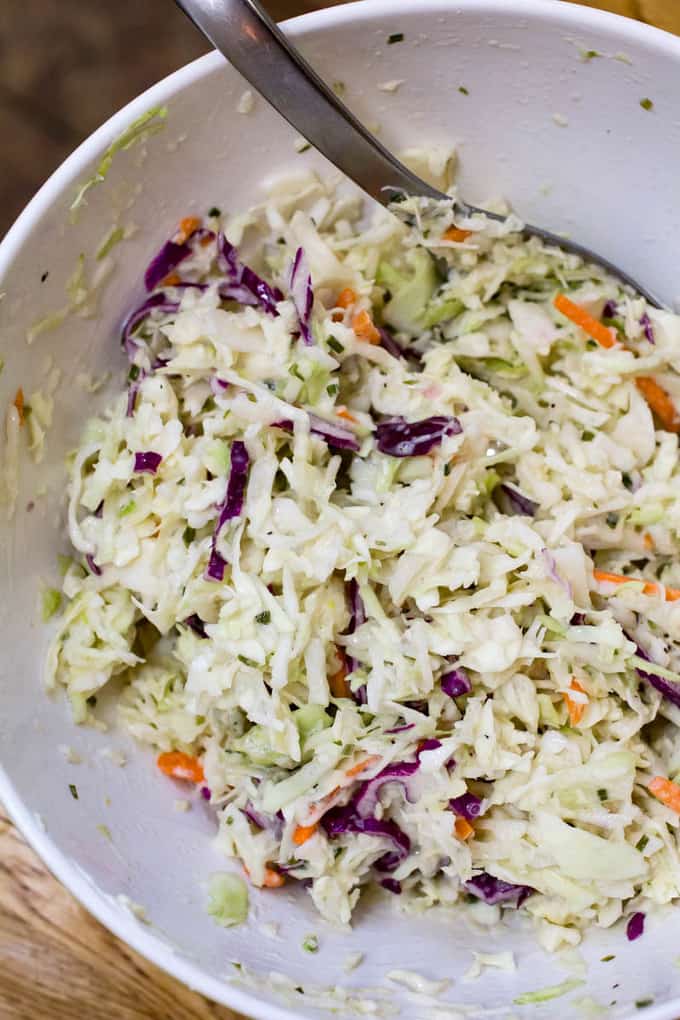 Do you remove chicken skin before smoking?
Chicken skin is a tricky thing, especially on a smoker. If you aren't going to fry the chicken post-smoke, I DO recommend removing the skin.
There is literally nothing worse than rubbery, floppy chicken skin on chicken. I can't stand it, and immediately pull it off anything I'm eating. If skin isn't crispy I don't want it, please, thank you, and everything in-between.
That being said, it is REALLY hard to get crispy skin on chicken without oil and a searing-hot fry pan, so have some grace with your family grill-master. Not everyone can fire up a fry pan after the food is done for this last step.
I DO recommed removing that chicken skin if you aren't going to treat it properly though.
See all of my chicken recipes!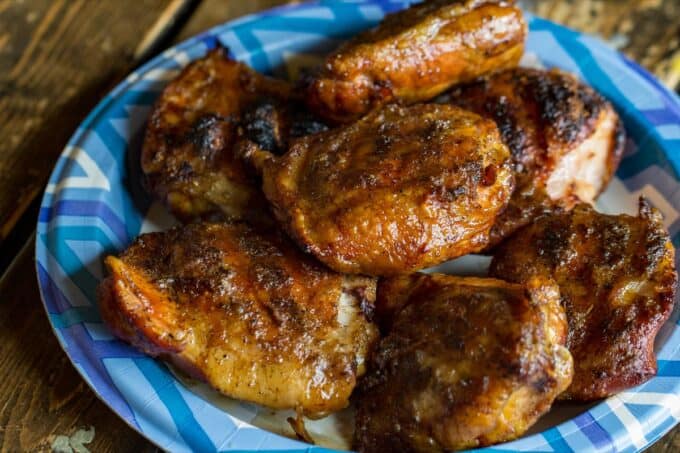 Should you wrap chicken in foil to smoke?
Nope! I don't wrap anything in foil when I smoke it because I actually enjoy the flavor of the wood-fire. Wrapping things before smoking kind of defeats the purpose of smoking as a whole, so don't do that.
Some people wrap things like brisket in butcher paper at a certain point, and I'm on board with these shenanigans, but in general just let the grill do its thing.
If you need to wrap in foil you might as well cook that ish in the oven because the smoke isn't doing a thing for you in that case.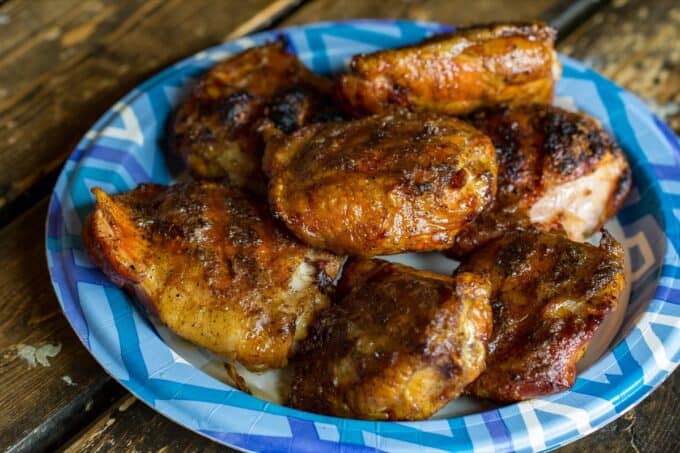 How long does it take to smoke chicken?
Stop asking this. Pleaseeeeeee stop.
Never cook to time. ALWAYS cook to temp.
That is the 1st commandment of proper BBQ. If you need a stop-watch you AREN'T DOING IT RIGHT. Period. I'm throwing down the gauntlet here because it is SO important.
BBQ isn't a science it is an art, and a part of that art is interpreting what is what and when is when and things need as much time as they need to reach the ideal temperatures, and there's nothing you can do beyond praying to make that work out the way you'd like it to.
So get yourself a good, reliable wireless thermometer, and Hakuna Matata a little and don't have set "dinner time" when you are dealing with pellet grilling. Pull the meat when it says it is time to pull it, and not before.
Join our Easy Traeger Recipes Facebook Group!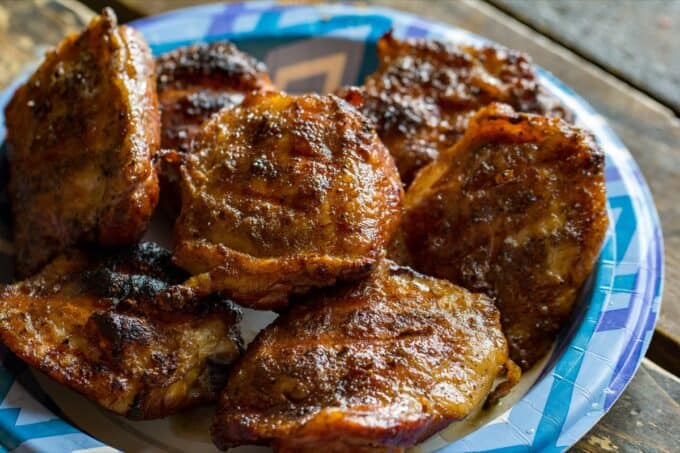 How do you get crispy chicken skin on a pellet grill?
Oh this one is simple you guys.
You DON'T.
I know people wanna argue.
BRINE YOUR CHICKEN.
Toss in baking powder!
Baking soda in the dry rub!
All the things, but NO. You will not get traditional crispy chicken skin without a fry pan and oil, period. No arguments necessary.
If you want to get both crispy chicken skin AND chicken that isn't overcooked, you need to break out that cast iron, some oil and do a quick pan-fry on the skin-side before serving that.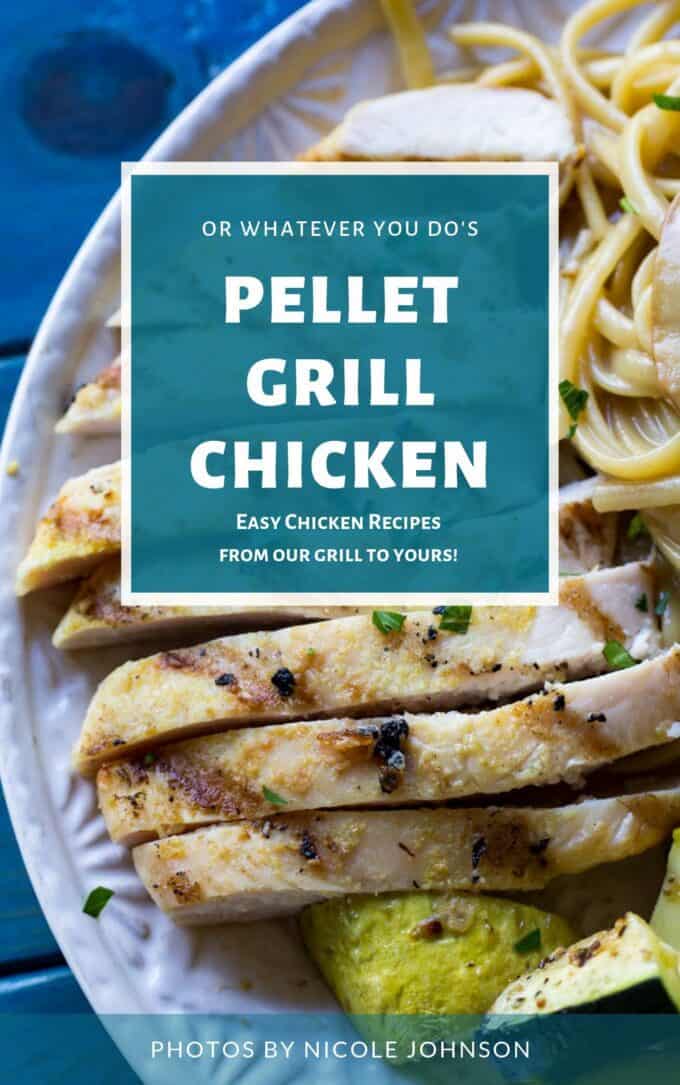 Pellet Grill Chicken Recipes
21 tried-and-true pellet grill recipes featuring chicken! From whole chickens and chicken legs to a white wine chicken and mushrooms to serve over a big plate of pasta, you're going to find it all here.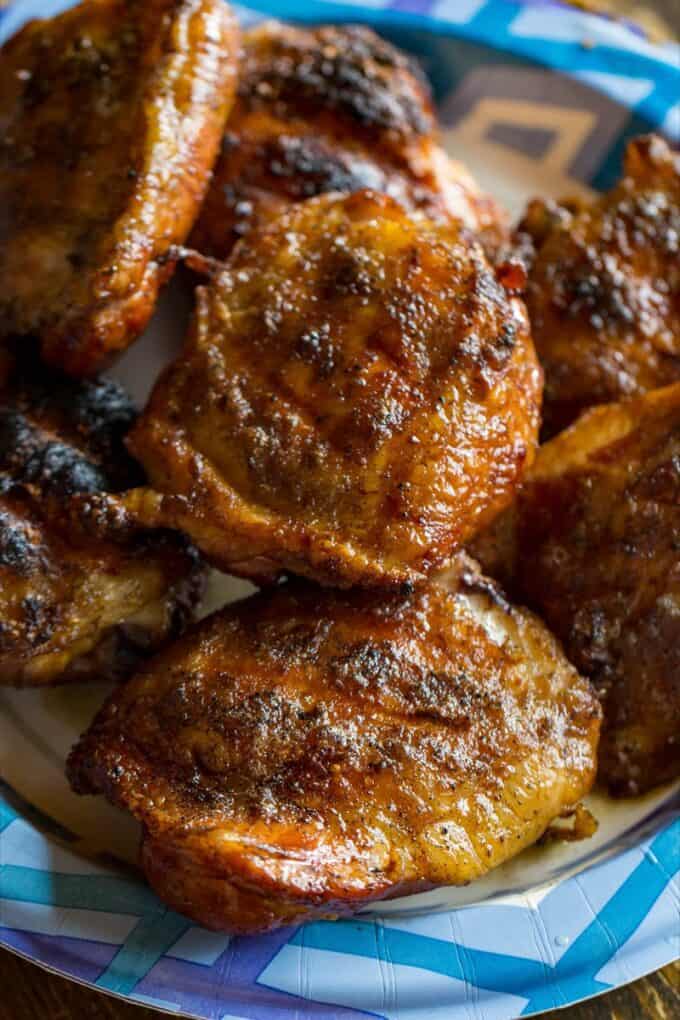 What temperature should chicken be smoked at?
This is pretty subjective. Smoking is an art, really. You'll get the most smoke flavor on chicken between 180-200°, in my experience, so that's where I like to start when I am smoking chicken.
What you turn it to after the smoke it really up to you. Experiment with what works best for you, or follow my recipes. It'll work out.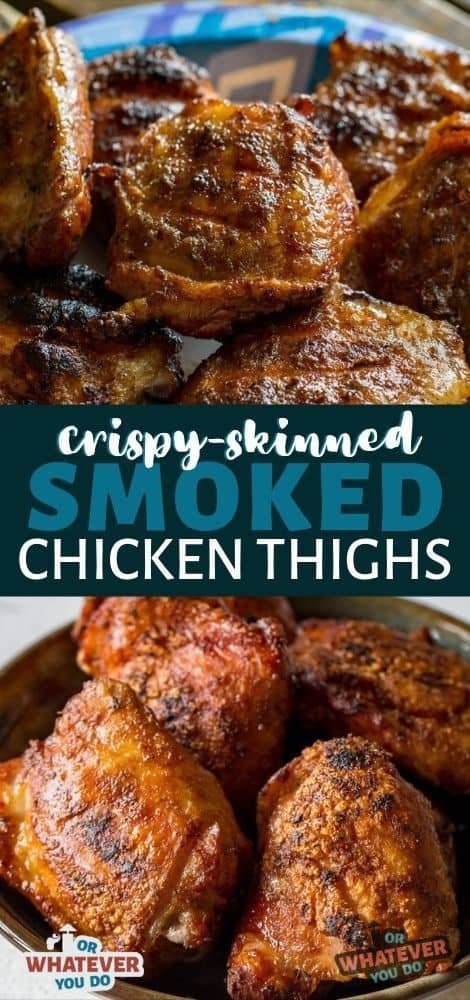 Yield: 8 servings
Smoked Chicken Thighs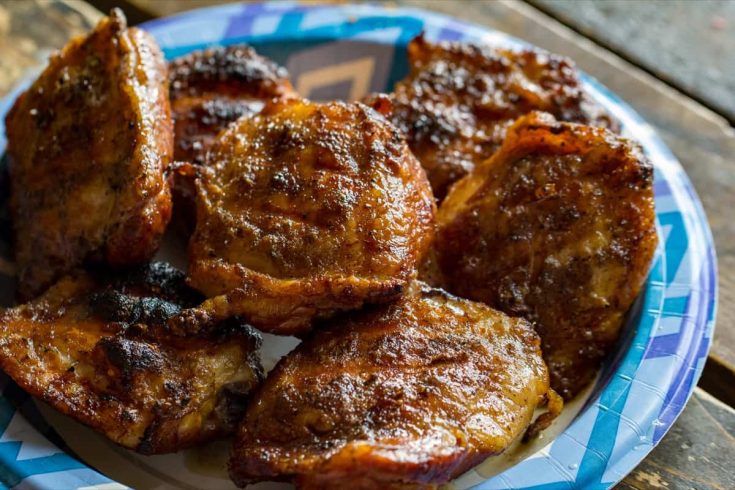 Easy smoked chicken thighs on the pellet grill are not only simple and fast, but SO delicious too. You can't miss these!
Total Time
2 hours
10 minutes
Ingredients
8 chicken thighs
1/2 cup bbq rub
1/2 cup canola oil
Instructions
Preheat your pellet grill to 180-200°, on the smoke setting, if you have one.
Liberally rub the chicken thighs with the homemade rub or your favorite dry rub.
Place the chicken on the grill, skin-side up, and smoked for 30-120 minutes. The longer you smoke, the more intense the flavor will be, so adjust accordingly.
After the smoke time, crank up the grill to 325° and place a temperature probe so you can track the temperature.
Let the chicken cook until the internal temperature reaches 165°. Remove from the grill.
Place a cast-iron pan on the stovetop with about 1/4 inch of oil in the bottom.
Place the chicken thighs skin-side down in the pan and cook for 3-4 minutes until the skin is crispy.
Recommended Products
As an Amazon Associate and member of other affiliate programs, I earn from qualifying purchases.
Nutrition Information:
Yield:
8
Serving Size:
1
Amount Per Serving:
Calories:

425
Total Fat:

32g
Saturated Fat:

7g
Trans Fat:

0g
Unsaturated Fat:

25g
Cholesterol:

172mg
Sodium:

330mg
Carbohydrates:

3g
Fiber:

0g
Sugar:

2g
Protein:

33g
Nutrition data provided here is only an estimate. If you are tracking these things for medical purposes please consult an outside, trusted source. Thanks!