Traeger Grilled Vegetables take a grocery store veggie tray and turn it into something incredible. If you need something to do with party leftovers, or you want to just give this super simple side a try just because, this is a definite winner.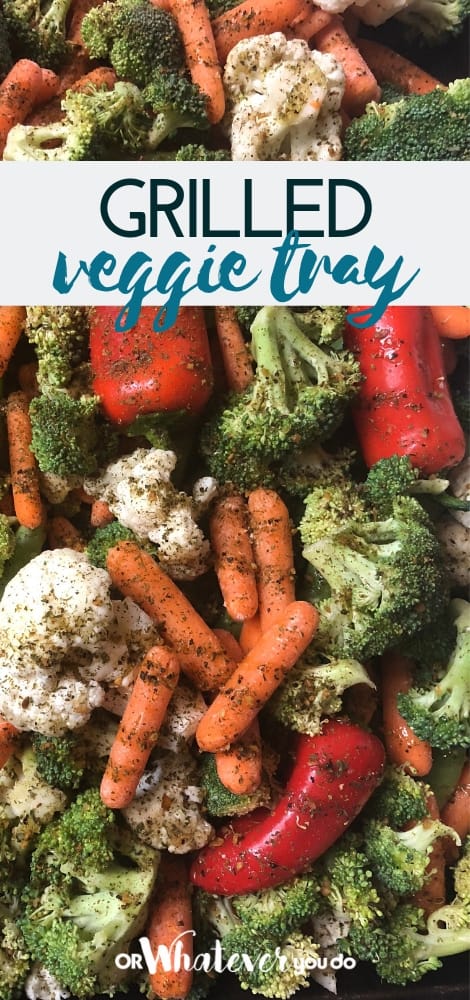 Traeger Grilled Vegetables
Farm fresh vegetables always taste better grilled. Take your boring fresh veggies, and give them a flavor boost by grilling them. I have a simple and tasty side dish that will pair well with any main course.
These "Veggie Tray" leftovers are drizzled with olive oil and then sheet pan grilled on the Traeger for about 20 minutes covered with Traeger Vegetable seasoning.
Traeger grilled vegetables are so simple to make on your pellet grill, and will really bring out more flavor in your vegetables. 20 minutes is all it takes to give your vegetables a robust flavor boost.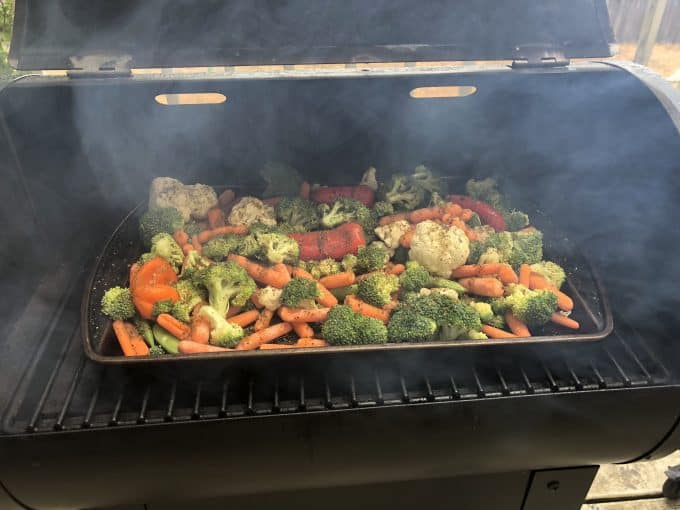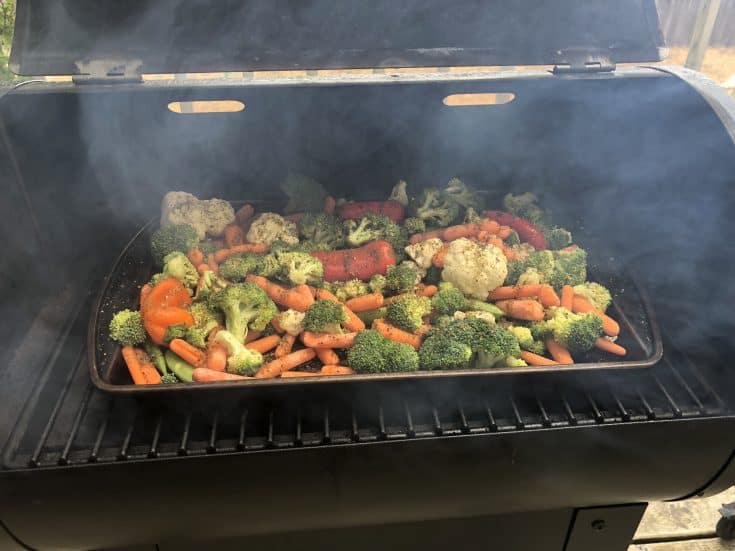 A few weeks ago we had a massive birthday party that was to celebrate all 4 of my summer babies. It was massive, and there was sooooo much food. One of the items on our bbq buffet table with a giant Costco-sized veggie tray.
Carrots, broccoli, cauliflower, peppers, snap peas, you name it I had it!
We went through the evening having a blast and enjoying good food and company, and I thought for sure most of the food would be eaten up.
Well, it looks like my crowds favor pulled pork and pasta salad over vegetables, much like I do, and when I went to put up the veggie tray I noticed that it had barely been touched. Now I was sitting on a large number of vegetables that my family isn't really a fan of. I can barely get some of these kids to eat cooked vegetables with butter, so raw vegetables are not really a thing around here.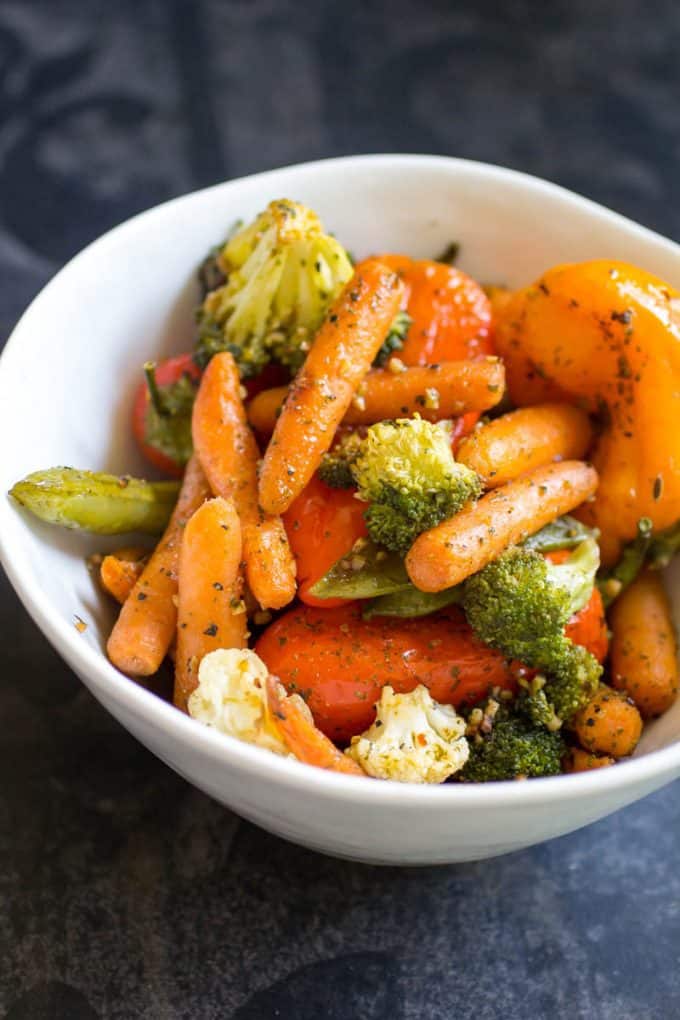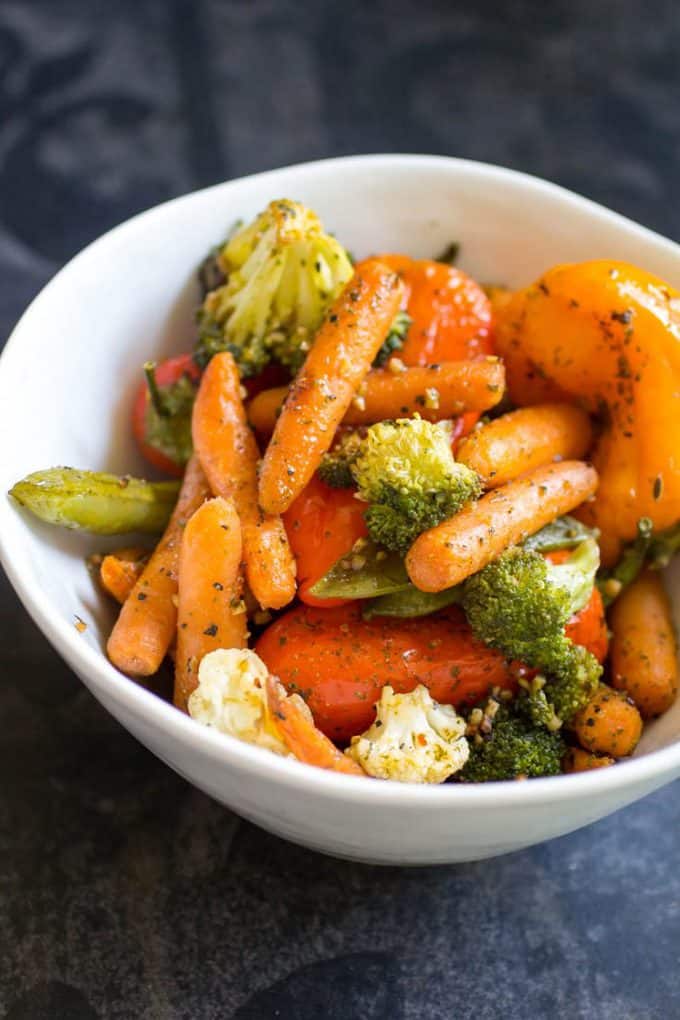 I didn't want to throw out a ton of veggies, so I got creative and did a nice Traeger grilled vegetable with a light seasoning to help bring out flavors in the vegetables.
This turned out to be the perfect option for my family, as we all gobbled it right up. I will agree with my family, I prefer cooked vegetables over fresh. I like the tenderness and the seasoning flavors added to help elevate the flavors. Grilled vegetables pair well with pretty much any main dish, so I was able to make grilled veggies a few nights throughout the week to get our surplus used up. I also made a vegetable bisque that was outstanding as well.
Best Vegetables for Grilling
What I love about grilling vegetables is most veggies work. Plus, this is a great way to raid your fridge, grab vegetables that are expiring soon, and create a side dish that will add some nutrients into your diet. Just play around with flavor combinations, use what you have and be amazed at how tasty your vegetables become with a little olive oil and seasoning.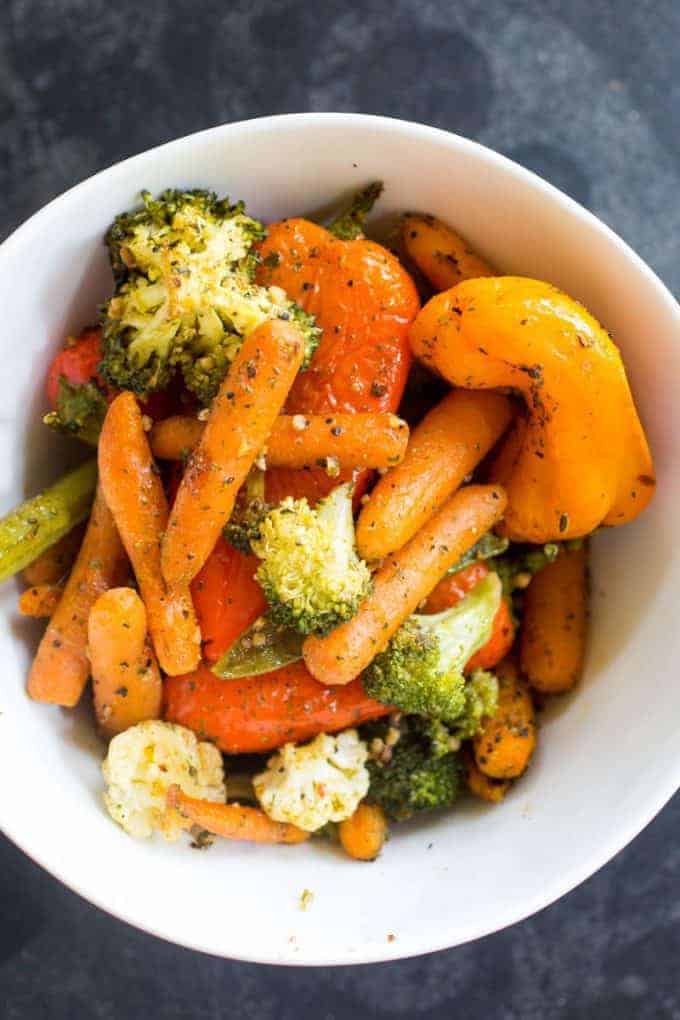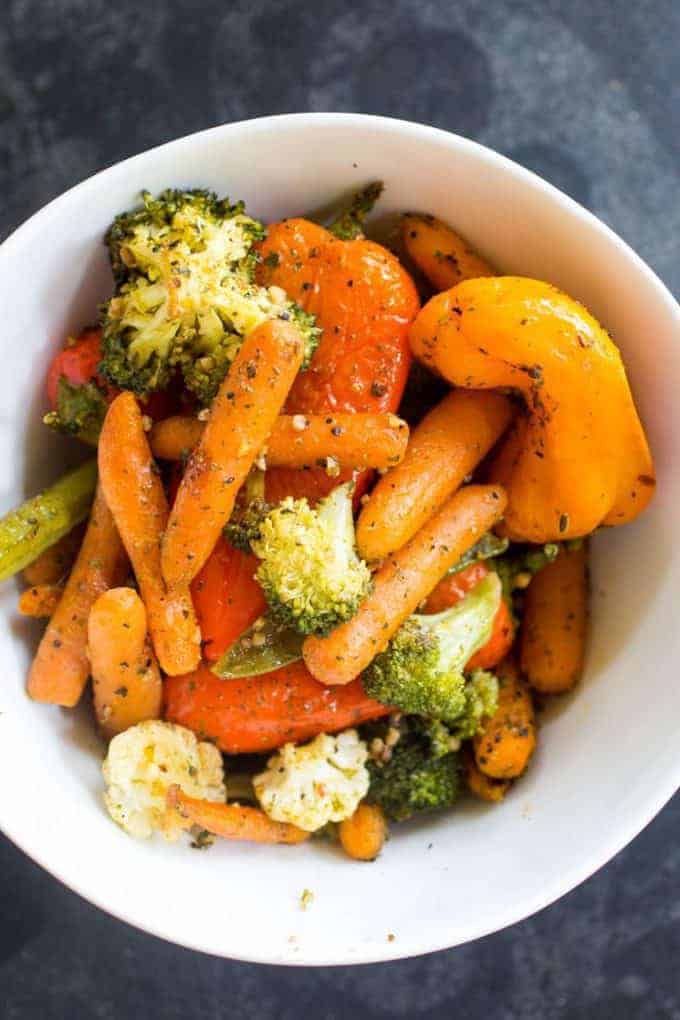 Here are a few of our family's favorite vegetables we enjoy grilling.
Carrots
Snap Peas
Cauliflower
Broccoli
Zucchini
Corn
Mushrooms
Onions
Squash
Potatoes
Tomatoes
Eggplant
What I generally do for grilled vegetables is buy what is in season and on sale. Then you get really fresh and vegetables at their prime so it helps bring out natural flavors. For summer we reach for items like snap peas, broccoli, zucchini, onions, etc. When fall hits I might reach more for other squashes even acorn squash to fit the flavors of the season. Just be open and versatile, and create a side everyone can enjoy.
Sheet Pan Grilled Vegetables
You don't need anything fancy to make these savory grilled vegetables. Just grab a sheet pan and use that to spread out your vegetables in a single layer. Drizzle with oil and sprinkle on your seasoning, and cook away. I find the Traeger offers a nice woody flavor to the vegetables as well, to help elevate the taste.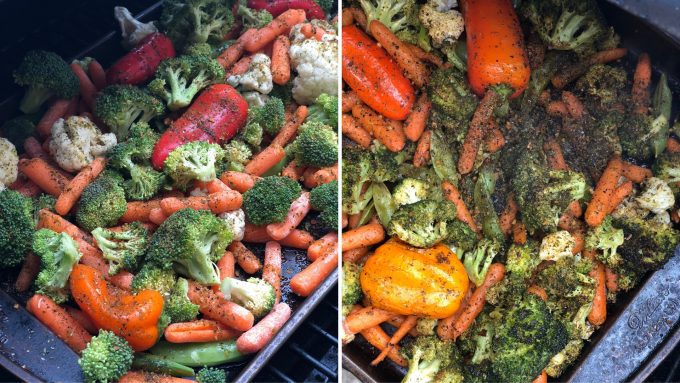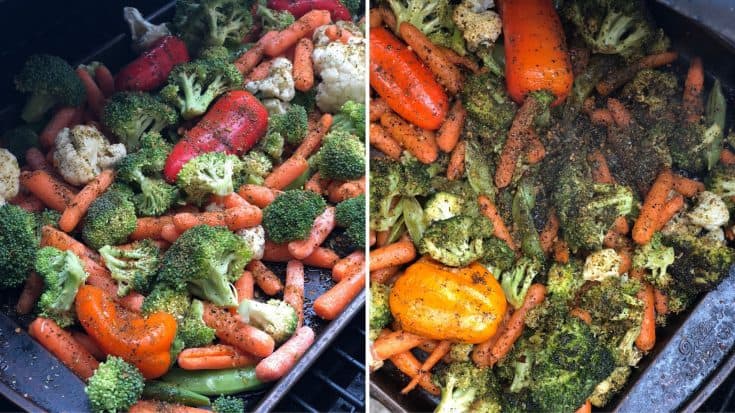 What is a Traeger?
If you have not used a Traeger grill, it is an electric grill that heats using wood pellets. SUPER user-friendly. I always hated using gas because it made me a little nervous. Flame and gas and potential explosions and YIKES. I left most of that to my husband and was never super impressed with the end results that a gas grill provides.
With the Traeger, all I have to do is dump the wood pellets into the hopper and turn a knob and the grill does the rest. It is more like a wood-fired oven than a barbecue grill. It doesn't get much above 400 degrees, so if you are looking for a really hot sear you are going to have a hard time finding it here, but don't let that stop you. I've not met a dish that wasn't made better on a Traeger than on a gas or charcoal grill.
When you are able to really control what temperature you want your grill set at, you have that even and correct temperature every time and your end results will be soooo much better.
You can make anything from traditional barbecue like smoked pulled pork to things like enchiladas and traditional bbq. The Traeger is so versatile, once you try one you will have a hard time resisting the urge to want to cook on it all the time. Here are a few of my favorites.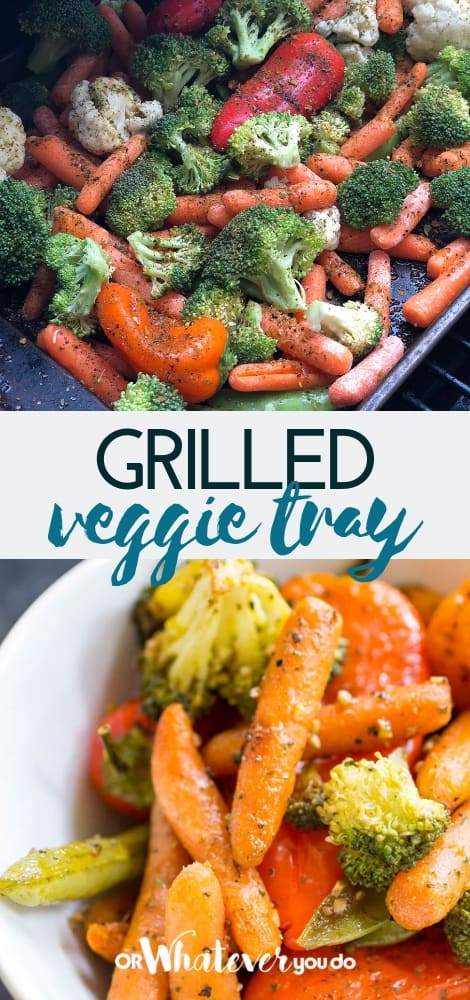 My Favorite Traeger Recipes
This post is NOT sponsored or endorsed by Traeger. We just love this thing and cook on it all the time. Since I post what I cook, this is what you get! 😀
Yield: 8 servings
Traeger Grilled Vegetables | BBQ Wood-Fired Veggie Tray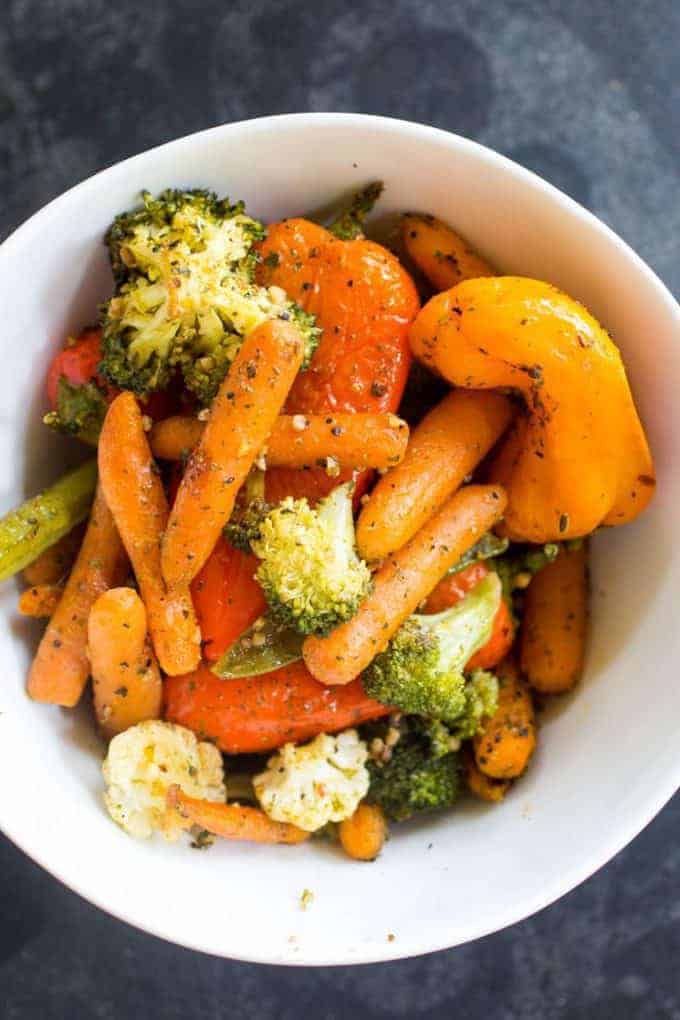 Easy grilled vegetables that are wood-fired and covered in delicious Traeger vegetable seasoning!
Ingredients
1 veggie tray
1/4 cup vegetable oil
1 - 2 tablespoons Traeger Veggie Seasoning
Instructions
Preheat your grill to 375°.
Toss veggies in oil, place on a large sheet pan, sprinkle with Traeger Seasoning, and place on the grill.
Grill for 10-15 minutes, remove, and serve!
Recommended Products
As an Amazon Associate and member of other affiliate programs, I earn from qualifying purchases.
Nutrition Information:
Yield:
12
Serving Size:
1
Amount Per Serving:
Calories:

44
Total Fat:

5g
Saturated Fat:

0g
Trans Fat:

0g
Unsaturated Fat:

4g
Cholesterol:

0mg
Sodium:

36mg
Carbohydrates:

1g
Fiber:

0g
Sugar:

0g
Protein:

0g
Nutrition data provided here is only an estimate. If you are tracking these things for medical purposes please consult an outside, trusted source. Thanks!