Skip the store-bought pasta salads and whip up this homemade Greek pasta salad in no time flat. Colorful, vibrant, packed full of rich flavors, and a homemade Greek dressing that will blow you away.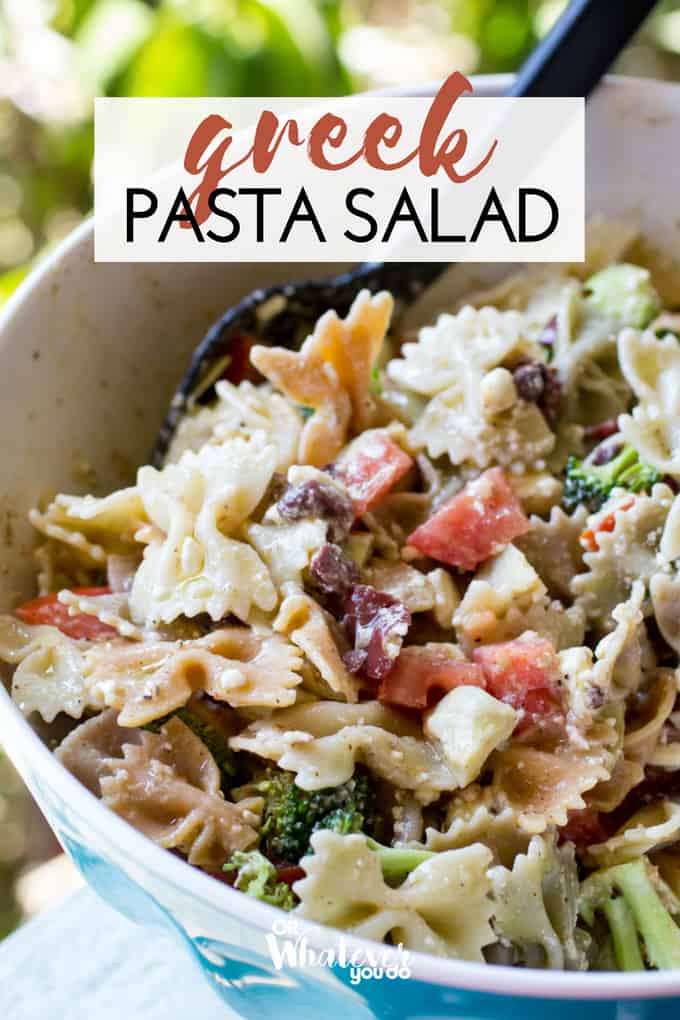 Greek Pasta Salad
You will never look the same way at another store-bought pasta salad again. This recipe requires minimal prep, and the flavors are crowd-worthy.
So, make a list and head to the store today to whip up this tasty pasta salad. Crisp veggies, al dente pasta, feta cheese, olives, artichokes, sundried tomatoes, and of course the perfect homemade dressing to finish the salad off.
While my kids are growing up, we seem to be forever trying to teach them that you need to eat the colors of the rainbow. Before I became a parent I never thought too much about that.
Lately, I have found that when food is colorful, not only is it tasty to eat but you will find kids gravitating to it more, too. It draws them in because it is pretty.
This Greek Pasta Salad recipe is delicious, but also packed full of vegetables! When you drizzle the Greek dressing over the pasta and veggies, it truly takes this salad to another level.
Kids and adults go crazy for it. I have made this recipe so many times just this year, I'm a little bit obsessed. It is the perfect Greek Pasta Salad in my eyes!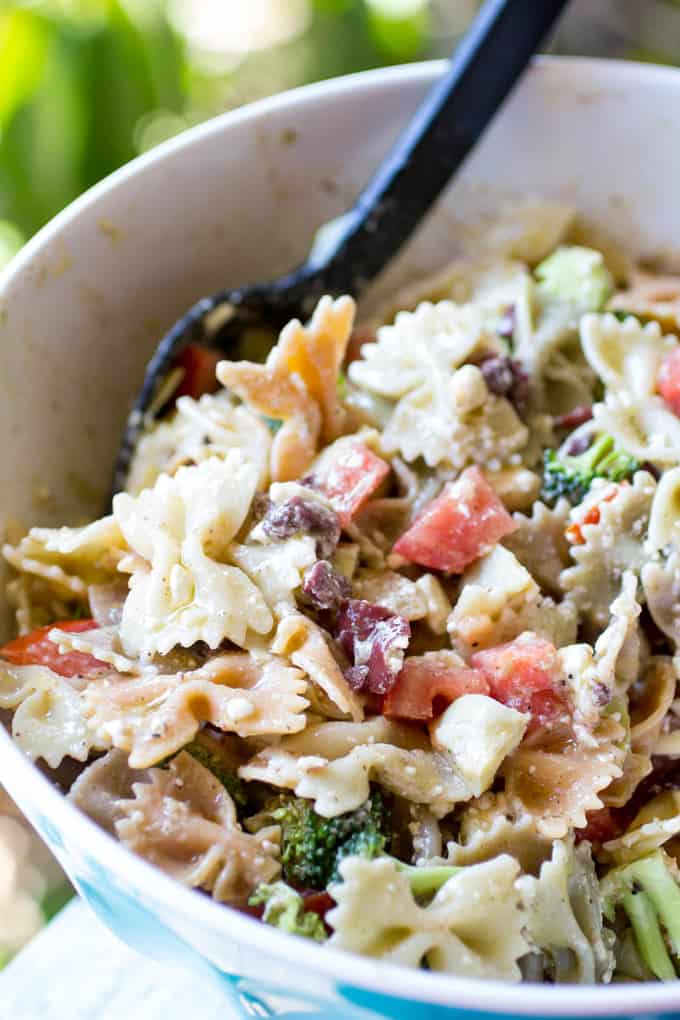 What Are The Best Vegetables for Pasta Salad?
If you are a gardener you might head out to your garden and pick some fresh tomatoes and broccoli for this salad. We did that a while back with some produce that we got from the farmers' market, and it really added a bright, fresh element to the dish.
There is something about a perfectly ripe tomato that is really hard to resist (and also really hard to find).
You could add any number of different vegetables to this, depending on what you have on hand and what's in season. For this batch I used:
Fresh grape tomatoes
Broccoli
Marinated artichoke hearts
Kalamata olives
Sundried tomatoes
Red bell pepper
Get more recipes for your cookout here!
Are Artichokes Actually Healthy?
I don't think that artichokes get the recognition that they deserve. The artichoke is one nutritional veggie that is great to toss into dishes besides cheesy artichoke and spinach dip!
Artichokes are a great source of folate, fiber, vitamins K and C, and antioxidants. That is why I love sneaking them into meals for flavor, but also so kids will eat and gain all the nutrients from those hearts.
Check out our OWYD shop!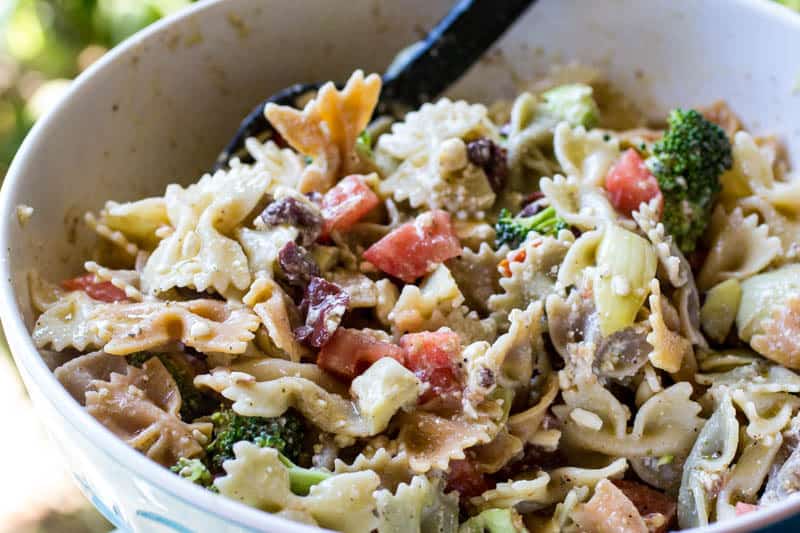 Why Should I Use Feta Cheese?
One thing about a Greek salad is that there's no better cheese than feta to pair with the rest of the flavors. I love the crumbles that are mixed throughout, so when you take a bite of the pasta salad you get a tasty nibble of that rich and creamy cheese. Now, if you are not a fan of feta you can opt to remove it and replace with parmesan or skip the cheese altogether.
Have a Cocktail with dinner!
What Type of Pasta Can You Use For Pasta Salad?
There is no right or wrong answer to this. I love the tri-colored pasta as it adds color and dimension to the salad. I love a good presentation when serving guests, and I just love the look of the tri-colored bowtie pasta. It also has some nooks and crannies that lock in the amazing dressing so each bite has flavor bursting from it. But you can use whatever style you want, like shells, rotini, etc. Just get creative or use what you have on hand.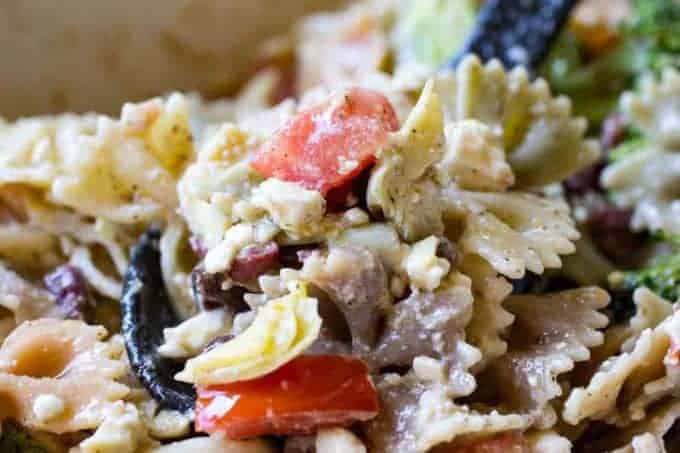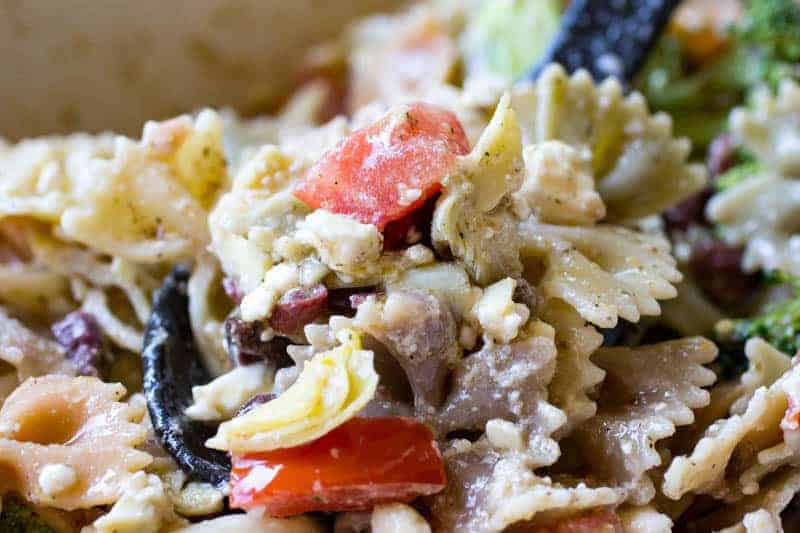 How Long Will Pasta Salad Keep?
The way to really look at pasta salad is by what ingredients go into the dish. This rule of thumb is good for any recipe you do. You look at your list of ingredients and the first ingredient that was to go bad first, you base off that day.
So, say an item generally goes bad 3 days after, you would want to discard any after 3 days. Generally, this pasta salad will last around 3-5 days. I find the prime day for this is day 1 and 2.
How Do I Make My Own Dressing?
I've heard some people say that they get intimidated to make their own homemade dressing. Don't do that.
Just try it out and see how you like it. I find making your own salad dressings allows you to control the flavors and ingredients you use, and you get more fresh flavor that really transforms the dish you are pairing it with.
This Greek Freak dressing I made is so simple to make. You could use a store-bought dressing for this pasta salad if you don't have the ingredients to make your own, but I'd love it if you tried this version! I really think you'll love it and this Greek pasta salad!
It is a great mix of ingredients to bring you a flavorful pasta dish to pair with dinner or take to your next potluck dinner.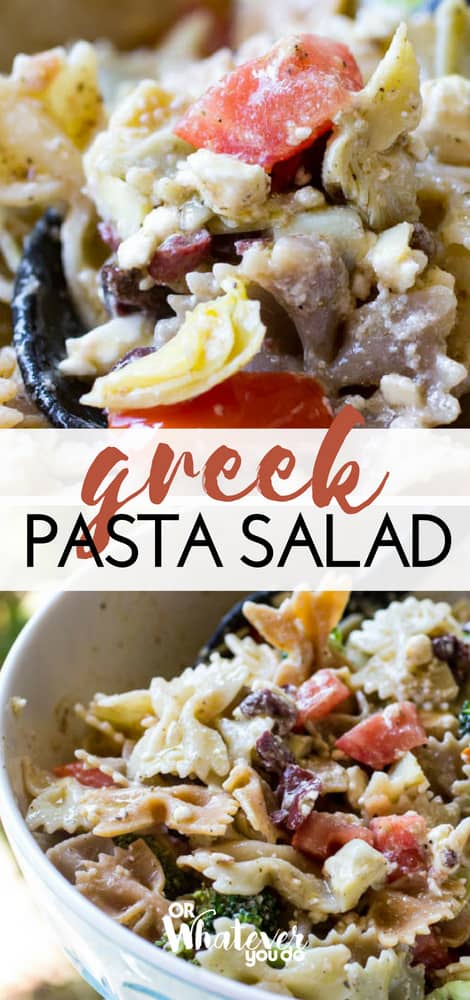 Yield: 8 servings
Greek Pasta Salad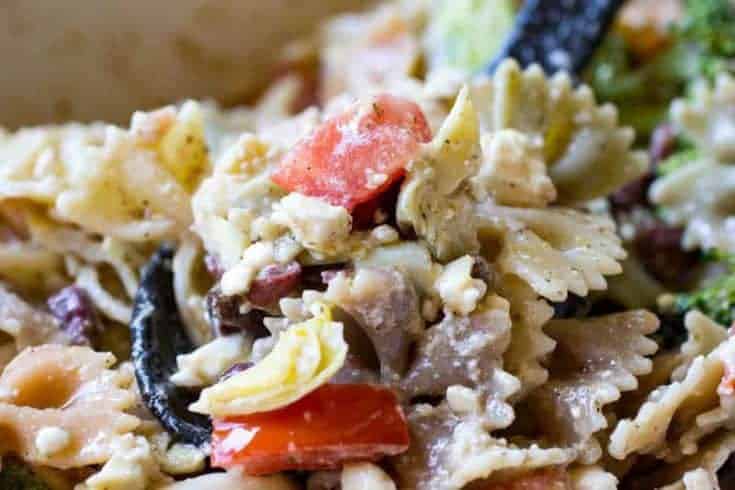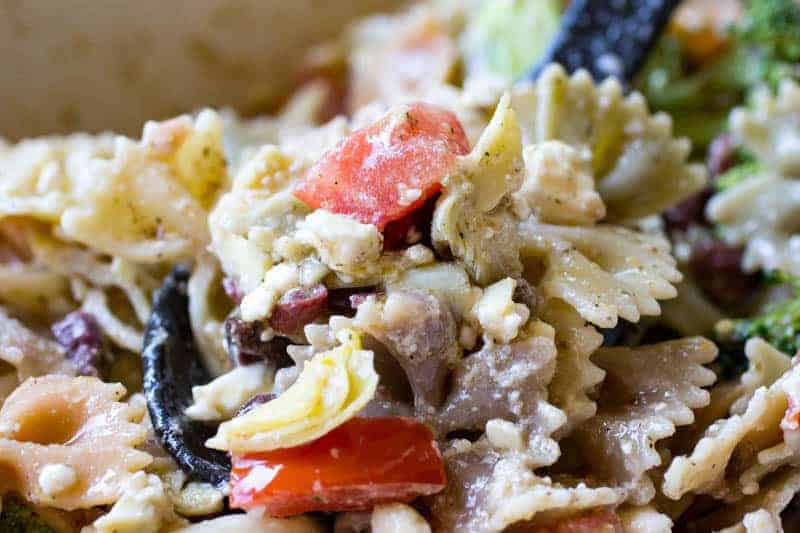 Skip the store-bought pasta salads and whip up this homemade Greek pasta salad in no time flat. Colorful, vibrant, packed full of rich flavors, and a homemade Greek dressing that will blow you away.
Total Time
4 hours
18 minutes
Ingredients
1 pound tri-colored bowtie pasta
1 1/2 cups chopped marinated artichoke hearts
1 1/2 cups chopped tomato
1/2 cup chopped sundried tomatoes
1/2 cup chopped kalamata olives
1 cup crumbled feta
2 cups Greek Freak dressing
1/2 cup diced red bell peppers
1 bag mini pepperoni or 4 cups diced chicken
Instructions
Boil the pasta until it is al dente in well-salted water, and then rinse in cold water.
Mix in the rest of the ingredients reserving 1/2 cup of the dressing separately, cover, and chill for at least 4 hours before serving.
Mix in the reserved dressing immediately before serving.
Recommended Products
As an Amazon Associate and member of other affiliate programs, I earn from qualifying purchases.
Nutrition Information:
Yield:
8
Serving Size:
1
Amount Per Serving:
Calories:

355
Total Fat:

18g
Saturated Fat:

6g
Trans Fat:

0g
Unsaturated Fat:

10g
Cholesterol:

80mg
Sodium:

532mg
Carbohydrates:

25g
Fiber:

3g
Sugar:

4g
Protein:

24g
Nutrition data provided here is only an estimate.