What is better than Prime Rib? A smoked and grilled Traeger Prime Rib, that's what. This boneless rib roast is seasoned with rosemary, salt, pepper, and garlic, and cooked in a pan with mirepoix and au jus. You'll never go back to the oven version once you try this Traeger recipe.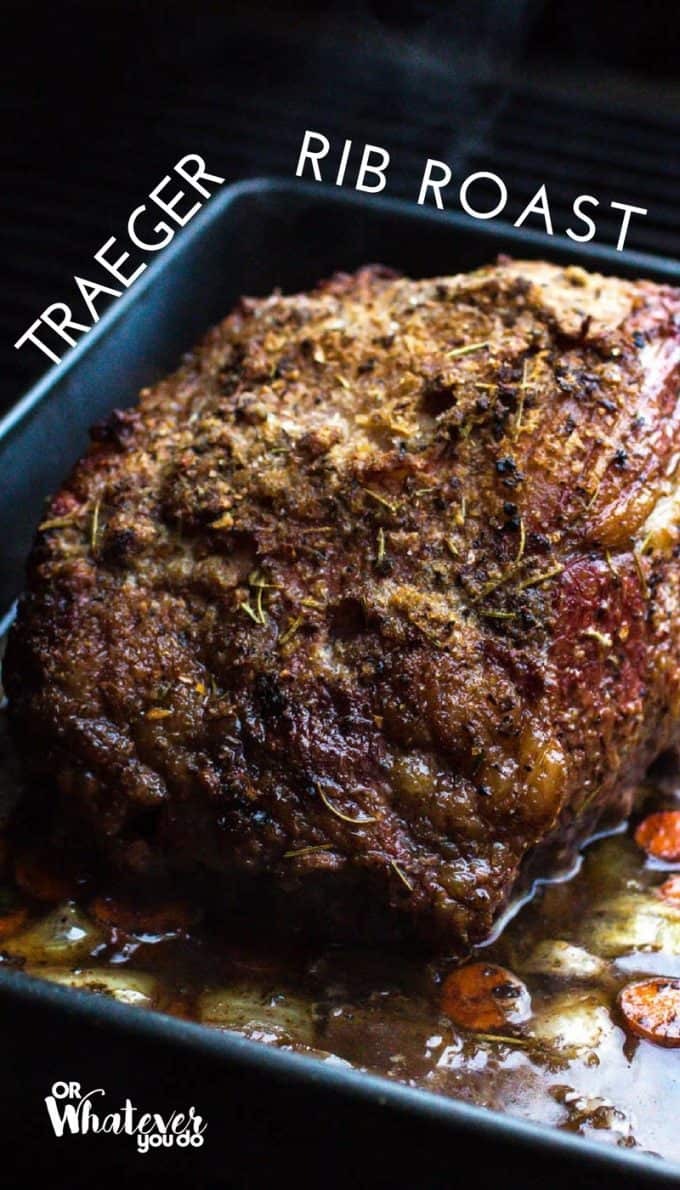 Traeger Prime Rib Roast
If you've ever been in the kitchen on a holiday and have lamented about not having double ovens, let me just stop you right there.
Spoiler alert:
You don't need double ovens if you get a Traeger.
I was slow to jump on this particular bandwagon, but I'm officially sold. You can do SO MUCH with these grills. It isn't just a smoker, either. It is a grill and can be used as an OVEN as well. We've made everything from bacon to turkey, and salsa verde to fajitas on that thing. Update, we even make our own Traeger beef jerky and it is the BEST JERKY I HAVE EVER HAD.
I love wood-fired anything, and pellet grilling is so much more convenient than charcoal or campfire cooking, and it tastes SO much better than cooking on a gas grill. I don't even like food cooked on gas grills anymore, I've been so spoiled by this ultimate grilling machine.
We have TWO now, and I wouldn't really raise a fuss if there was mention of a 3rd. (But don't tell Jeremiah!)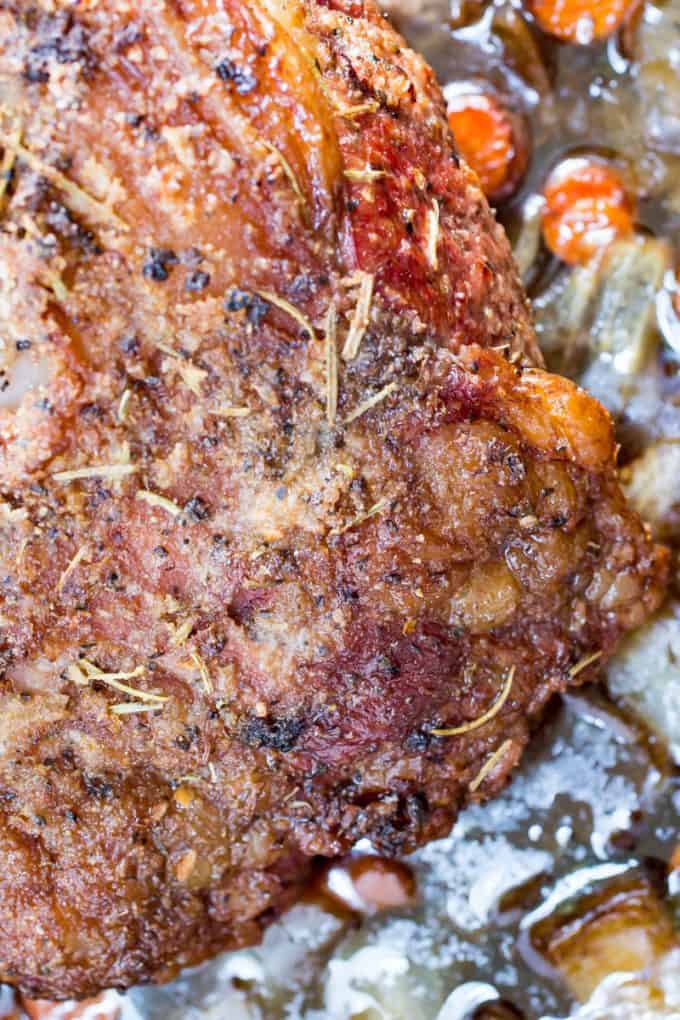 Why? Because I get alllll the good cookin' from my husband of things like this prime rib on a Traeger.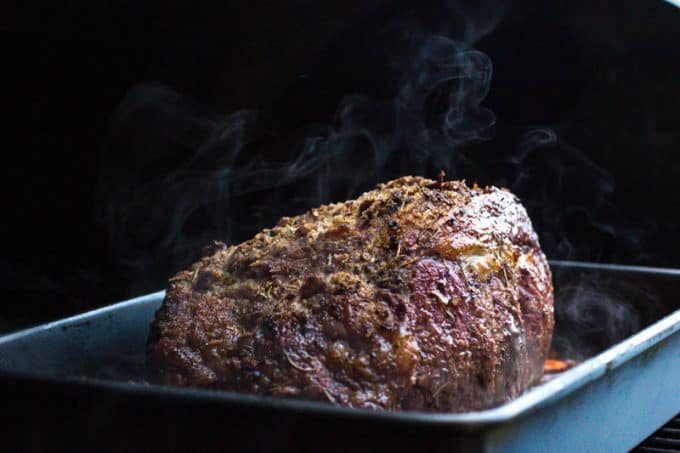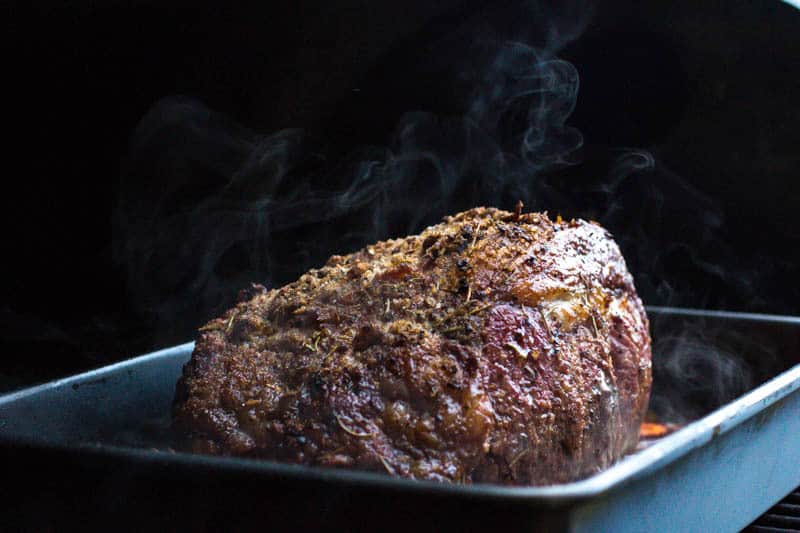 Can you smell that?? Because I still can.
This is also an easy recipe. Like, I would've been fully comfortable throwing this together and sticking it on the grill, and I'm not typically a griller.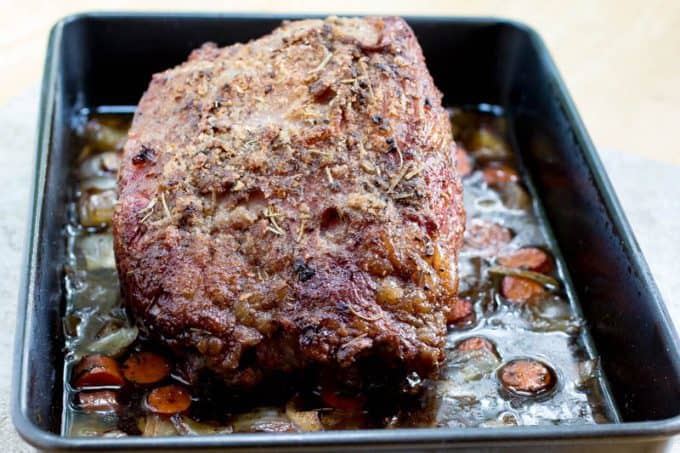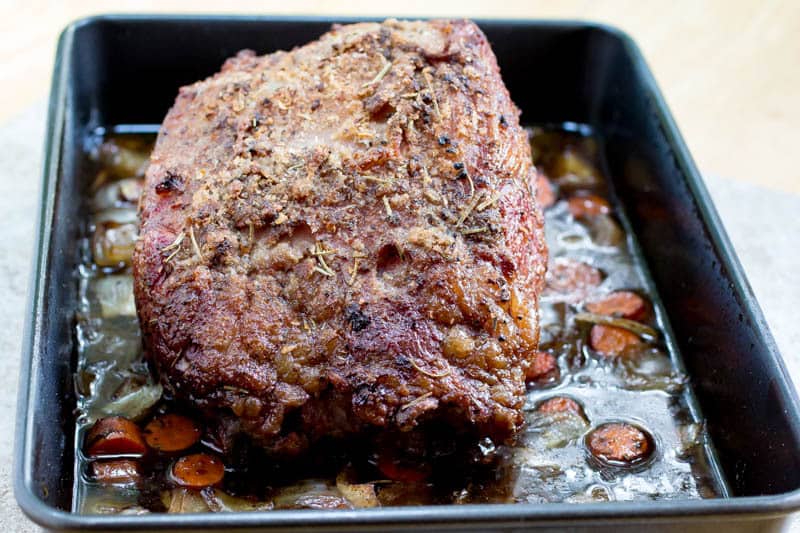 Thankfully though today I didn't have to. I love the weekends. Sleeping in and long lunches and time for shopping and relaxing and recharging. Ideally. Mine usually go something like, work – cleaning – laundry – dishes – fighting kids – endless to-do lists – emails – photographing *something* – lock myself in my room for an hour or two for some quiet.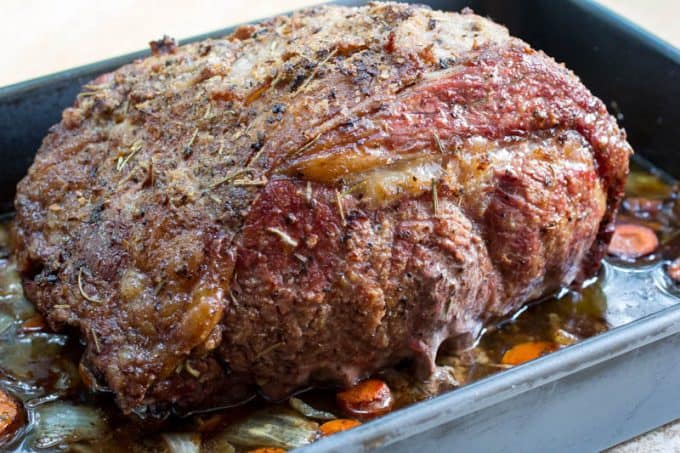 This weekend we had the added excitement of Christmas shopping and tree decorating. Yes – we're a little behind but honestly this year it is pretty fortunate that it is even up at all. I just was not in a very festive spirit this year, and when you are struggling to find time to cook something other than frozen pizza for dinner or get your laundry washed and dried, hanging lights and trimming trees can be the last thing on your mind.
I'm so glad we finally got it together though. There's nothing like walking out to a lit tree, and the smell of pine. Even if it comes from pine and fir scented ornaments on the very very fake tree. I mean come on. If I can't remember what I was walking into a room to get, how would I remember to water a tree?
Yield: 8 servings
Traeger Prime Rib Roast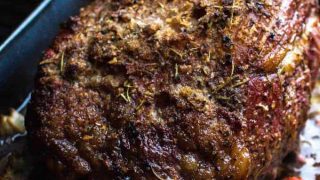 Prime Rib on the Traeger is another must try. Like most things cooked on the T, it takes it to the next level. If you've cooked a prime rib roast before, then this will be a breeze. 
Total Time
2 hours
10 minutes
Ingredients
5 pound boneless rib roast
4 tablespoon kosher salt
1 teaspoon coarse ground black pepper
1 1/2 teaspoon onion powder
1 teaspoon granulated garlic
1 teaspoon rosemary
1 cup chopped onion
1/2 cup chopped carrots
1/2 cup chopped celery
2 cup beef broth
Instructions
Combine salt, pepper, onion powder, garlic, and rosemary in a bowl and mix it all together with a spoon to create your "rub mix".
Coat your entire rib roast with the rub. Make sure to use it all. After the rib roast is coated, set it to the side.
Next combine the onions, carrots, and celery in the bottom of a 9" X 13" high sided cake pan.
Place the rib roast on top of the vegetables in the cake pan.
Place the pan with the roast in it onto the center of your Traeger grill that has been pre-heated to two-hundred and fifty degrees F°.
Cook at 250° for one hour.
After one hour, pour the two cups of beef broth into the bottom of the cake pan.
Turn your Traeger up to 350° and let it cook for approximately one hour or until the internal temperature reaches 125°.
Pull the roast off of the grill when it hits 125° and let it rest for fifteen minutes before slicing.
Pour the juices from the bottom of the pan through a strainer, skim the fat off of the top, and use the remaining juice for your au jus.
Nutrition Information:
Amount Per Serving:
Calories:

491
This post is not sponsored or endorsed by Traeger. We just love their grills and use them alllllll the time. We post what we cook, around here. Besides the frozen pizzas, that is. There ARE affiliate links in the post, however, and in most of my posts. If you click through and buy something using one of my affiliate links, I'll earn a few pennies to a few dollars, and it won't add anything to your purchase price at all.