Grilled Dinner Rolls are baked on the pellet grill, get just a touch of live wood-fire flavor, and have the BEST crust. Read on for tips on making the best dinner rolls, and how to ensure your bottoms don't burn.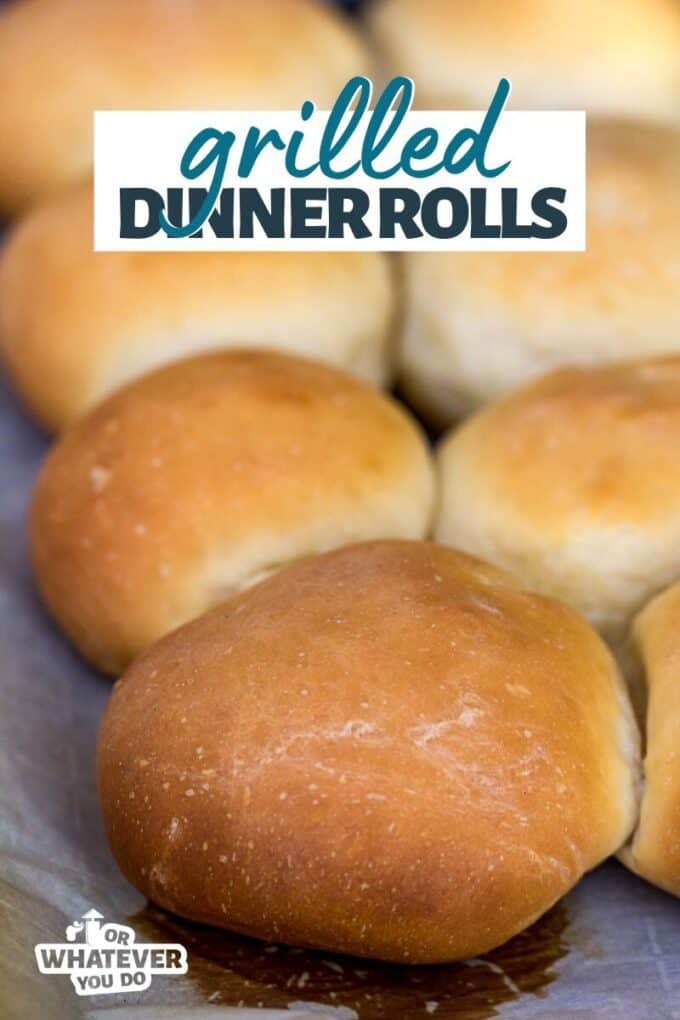 Pellet Grilled Dinner Rolls
Ever had grilled dinner rolls? Cooking the bread on a grill, you realize why civilizations were created by agriculture. To grow grain and bake bread this good makes you want to settle down and take stock of the good things in life.
Especially things that taste as good as homemade bread cooked on a pellet grill.
This recipe is a simple twist on my super fluffy and light milk bread dinner rolls. All you do differently is cook them on the grill.
More Easy Traeger Recipes here!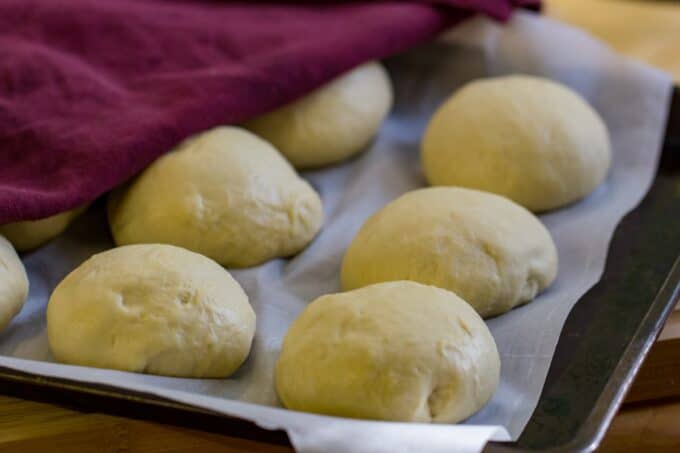 Homemade Milk Bread Grilled Dinner Rolls
Homemade bread is an absolute treat. There is no reason to believe making homemade dinner rolls should be difficult, or even time-consuming.
Perhaps in the old days when everything had to be done by hand, but these days you can mix and knead your bread dough with a stand mixer. What might have taken an hour before can now take minutes.
Stand mixers are great for kneading dough. If you want a nice fluffy bread with a great crust, then you need to get those long chains of glutens formed, and those are created by the kneading process.
If you want a good work out and have time to spare, then have at it. There is definitely a zen like quality to kneading bread dough. It takes a LONG time though to hand knead for as long as it is necessary to make truly fluffy, tender, delicious rolls. When you think you've kneaded enough, just double it and that might be okay. I'm talking, 20-30 minutes of hard kneading, minimum, which is why I prefer the stand mixer x1000.
My milk bread dinner rolls have it all. The bit of sugar gets the yeast going for those nice fluffy pockets of airy and light bread. The buttermilk adds a special taste, and a bit of tang that is sort of similar to sourdough except more delicate.
Follow me on Instagram!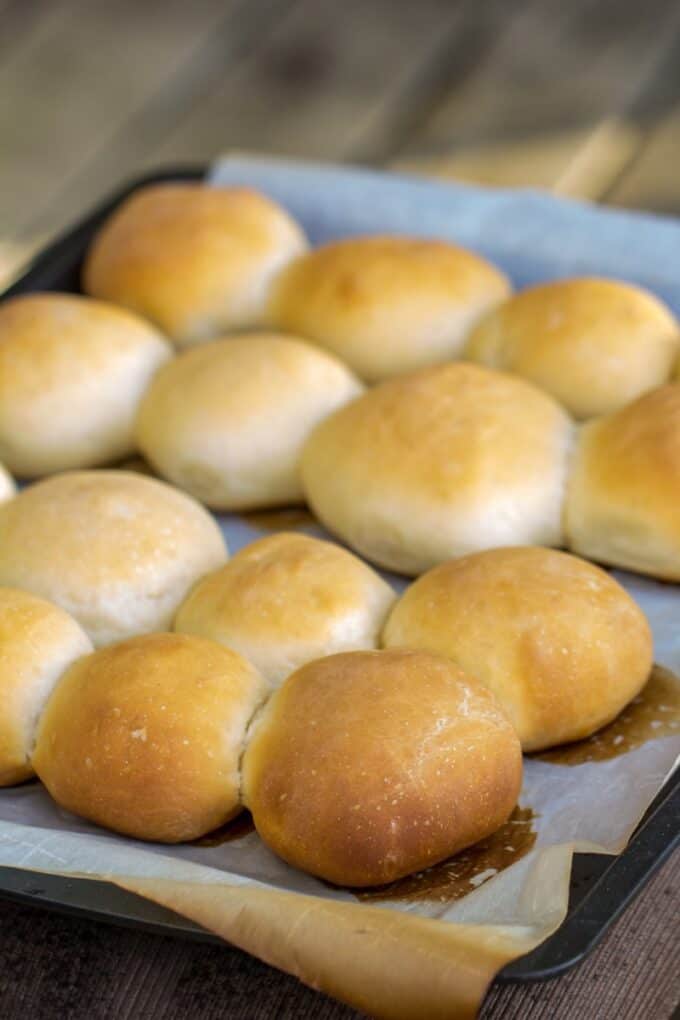 Grilled Dinner Roll Tips
Use a pellet grill
Personally, I prefer to make these on the pellet grill. The nice even heat and precise temperature controls make it basically like a big live-fire outdoor oven. That means you can leave your oven open for other dishes, or have fresh rolls in the summer without heating up your house, or just enjoy the outdoors while also making amazing bread. Pick your pleasure.
Use a thick-bottomed pan
Even on a pellet grill, it isn't unheard of for the bottoms of the rolls to cook faster than the tops. To counteract that, you want to make sure you are using a thick baking sheet, and watch them.
I made so many rolls, I didn't have enough of my thick pans and had to use some thinner cookie sheets. That caused some uneven browning to happen. I solved it by turning a couple of 9×13 cake pans upside down on the grill and then put the cookie sheets with the rolls on top. It gave the pans a little more distance from the hottest part of the grill and ensured my tops could finish before the bottoms burned.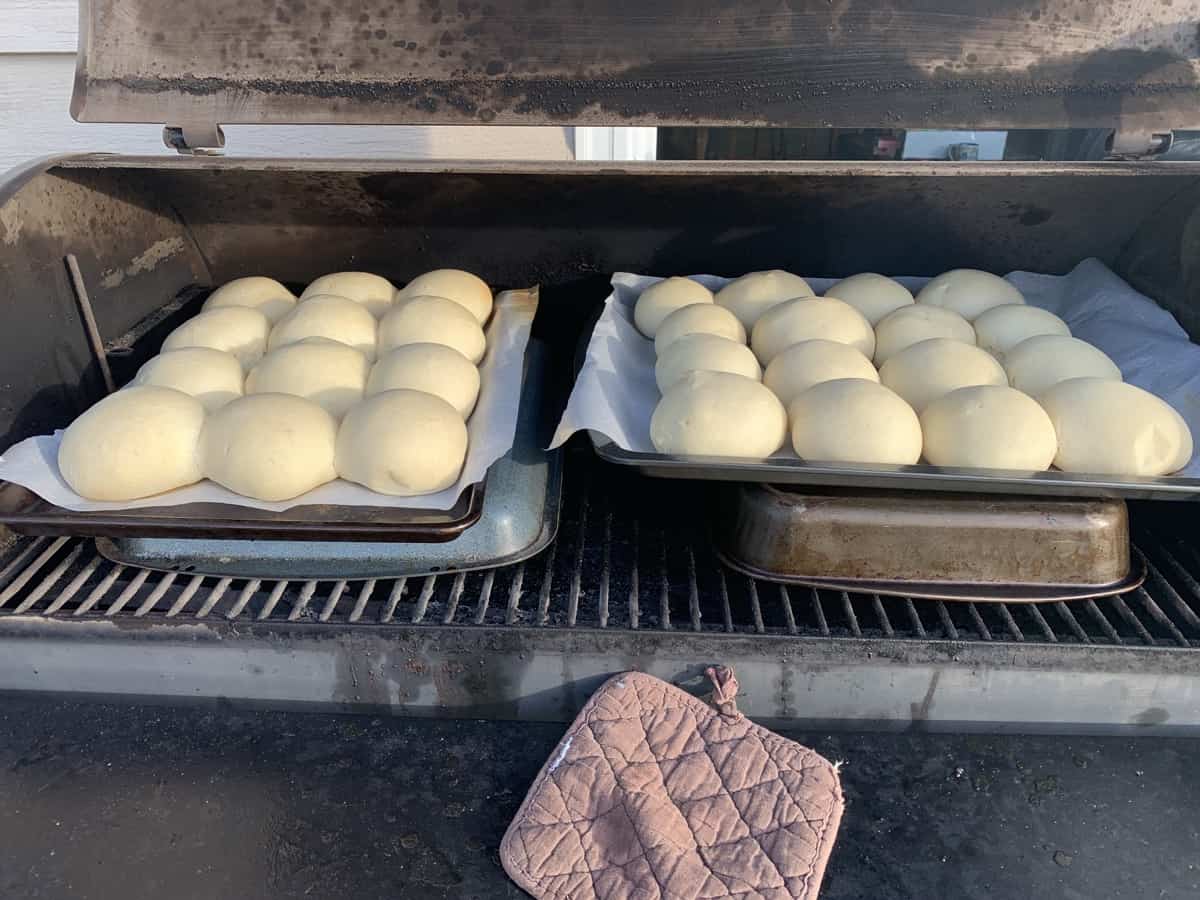 Notes if you use a gas or charcoal grill:
If you want to make these on a charcoal or gas grill, you need to make sure you can get a nice even heat in the grill. You don't want the rolls over direct flames. A nice glow of coals with even heat is best. You want it to be more like an oven and less like a bonfire to roast marshmallows on.
The pan trick above might help out in that circumstance too!
You may have to check them once or twice to make sure they are not cooking too quickly on the outside. I suggest starting with a few and making sure you have a good even temperature of about 375°.
Leave space between the rolls
Make sure to space the rolls so they have room to grow. Homemade rolls expand even after the 2nd rise, and the end result is much different if they wind up touching than if they are a bit more spaced out. One of my favorite things about making homemade bread is watching the bread rise and expand.
Brush with butter when they come out of the oven
Remember to brush some butter over the top when they are fresh out of the oven. You get a nice shiny top and add just a hint of buttery flavor.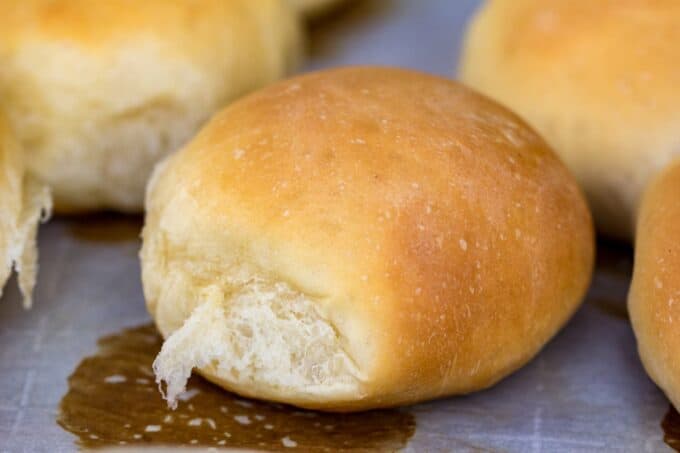 Storing Your Grilled Dinner Rolls
We hardly ever have "extra" rolls around here, no matter how many I make. If we don't eat them for dinner that night then the kids eat them with jam the next morning for breakfast, or with lunch meat for their lunch, or just plain as they run out the door for school. They NEVER last long.
If you do have to store them for a day or two, just toss them in a giant ziplock bag and make sure it gets sealed up well.
Get my easy Side Dish recipes!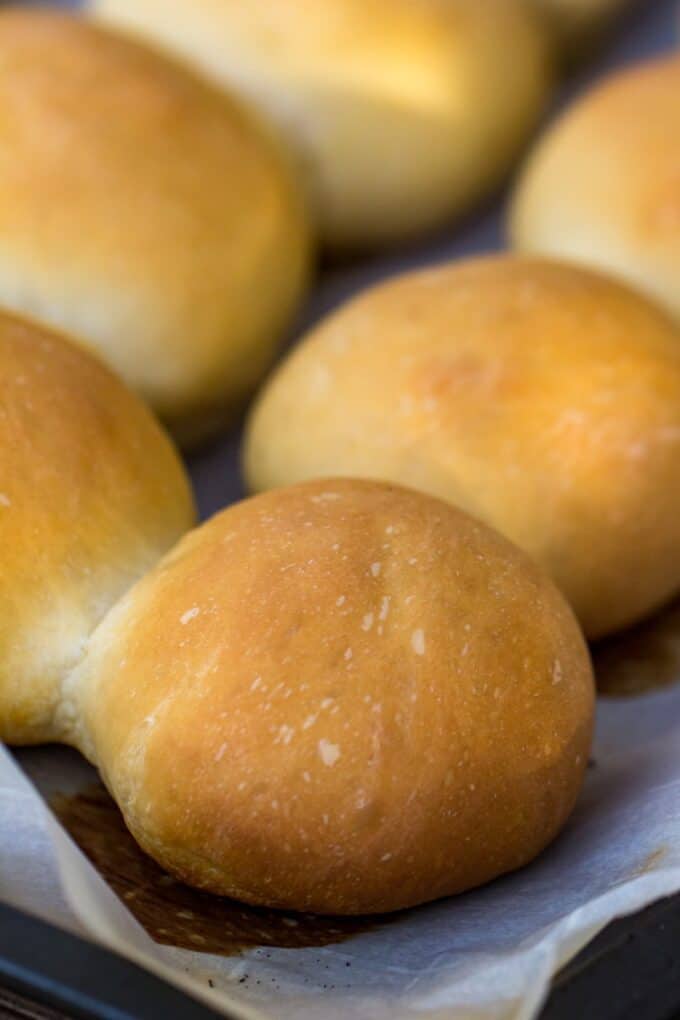 Is milk bread the same as Hokkaido Bread?
Milk bread is similar in flavor and texture to the traditional Hokkaido Bread, but it isn't exact. I don't use a roux in my rolls. which is a big part of what gives Hokkaido Bread its signature texture.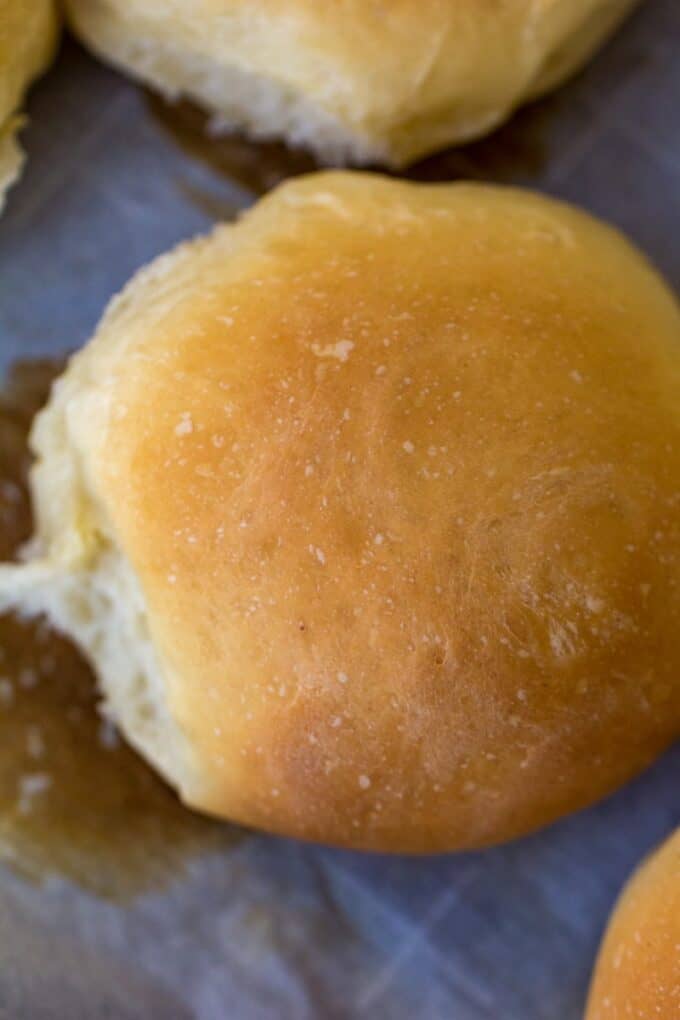 What Can I Serve My Grilled Dinner Rolls With?
When you realize how easy these fluffy pillow dinner rolls are to make, you might find yourself making excuses to serve them with everything! I especially like serving them with meals that have a bit of sauce or gravy. These dinner rolls exist to sop up the delicious sauce on the plate.
They will save you from the embarrassment of picking up the plate and licking it.
Here are some great recipes that I would suggest serving nice hot grilled dinner rolls with: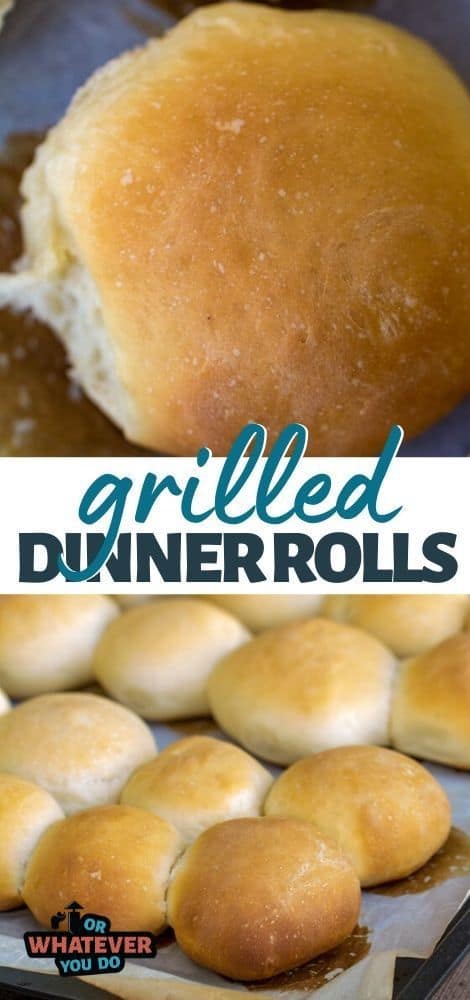 Yield: 24 servings
Traeger Grilled Milk Rolls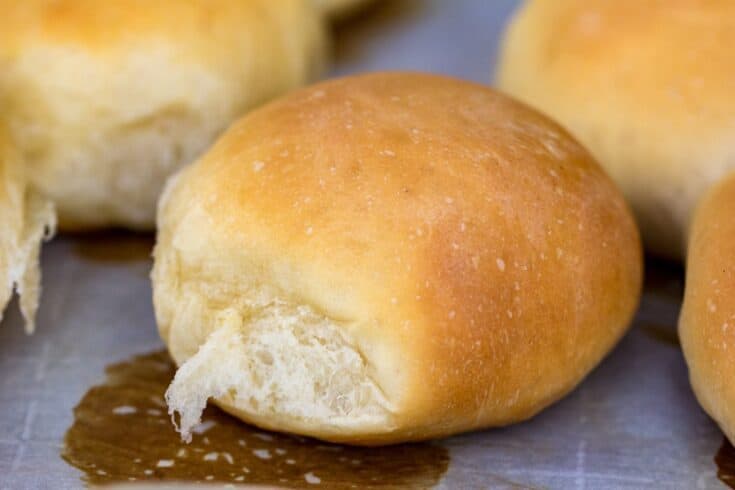 These tender, delicious, homemade milk rolls are made with milk instead of water to make them extra rich! Then they are cooked on the grill for one of the best rolls you will ever have. Ever.
Total Time
3 hours
5 minutes
Ingredients
4 cups milk
4 teaspoons yeast
1.5 tablespoon salt
3/4 cup sugar
1 1/4 cup oil (or melted butter)
1/2 cup buttermilk powder
10 cups ish flour, APPROXIMATE AMOUNT
Instructions
Heat milk until luke warm in short bursts in the microwave. Combine milk, yeast, salt, sugar, and oil in your mixer with the dough hook attached. Mix until the yeast is evenly distributed into the milk mixture.
Mix together the buttermilk powder and flour. Start adding this to the milk while the mixer is running, and keep adding until dough has formed and is cleaning the sides of your mixer. (See notes for hand-kneading advice.)
Knead on medium or high speed in your mixer for 5-10 additional minutes after the flour is incorporated. The dough should be soft, and very stretchy, and lose a lot of the stickiness.
Put into an oiled bowl and cover with a towel. Let rise in a warm, draft-free place until doubled, about 1-2 hours. For best flavor, let rise in the fridge overnight.
Punch down the dough, and form into individual rolls. Smooth the tops by folding the bottom onto itself and pinching to seal. Place onto a large baking sheet that's been lightly sprayed with cooking spray or lined with parchment paper. Let rise until doubled, about 1-2 hours (depending on if you let rise in the fridge overnight or not!)
Bake at 350 on a preheated pellet grill until golden brown. Baking time will vary depending on roll spacing, how many pans you are baking at a time, and specific ovens. Watch carefully!
Rub tops of rolls with butter when they come out of the oven.
Notes
If you are kneading by hand, the dough will be slightly sticky. Keep adding small amounts of flour and knead until you can't knead anymore. For real - like 30 minutes. The dough should be soft and stretchy.
Invert a 10x13 high-sided cake pan on the grill grates to create some additional separation between your rolls and the heat source to prevent over-browning/burning of the roll bottoms.
Recommended Products
As an Amazon Associate and member of other affiliate programs, I earn from qualifying purchases.
Nutrition Information:
Yield:
24
Serving Size:
1
Amount Per Serving:
Calories:

350
Total Fat:

13g
Saturated Fat:

1g
Trans Fat:

0g
Unsaturated Fat:

11g
Cholesterol:

5mg
Sodium:

432mg
Carbohydrates:

50g
Fiber:

2g
Sugar:

8g
Protein:

8g
Nutrition data provided here is only an estimate. If you are tracking these things for medical purposes please consult an outside, trusted source. Thanks!