Fresh Greek Salad is my new favorite salad. Full of all the fresh greens, vegetables, feta cheese, and my homemade Greek Freak dressing that you can possibly handle, you're going to have a new "go-to" salad to serve anytime the occasion calls for it.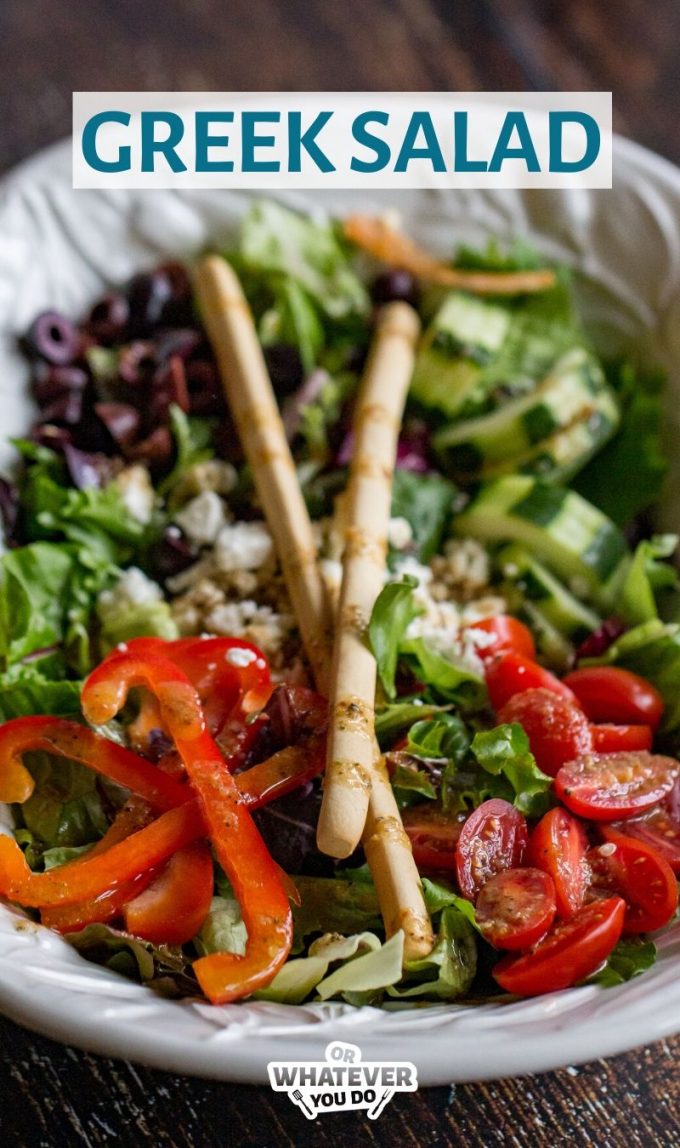 Greek Salad With Greek Freak Dressing
There are a few ingredients necessary in my book for a salad to qualify as a "Greek Salad". First, it better have great olives. Sure you can use any of those canned black olives if you want, but I seriously recommend finding a grocery store with an olive bar.
You get tons of choices of much better tasting olives. There, you can find my favorite which is the big Kalamata olives.
Next, it better have some Feta cheese. How can it be Greek without some Feta? Serious, was there ever a question?
What Are Kalamata Olives?
Kalamata olives are big and meaty. They are a dark eggplant purple color. Although they are a variety of olive and grown on multiple continents, the ones grown in a specific area of Greece qualify for a special designation.
If you are getting the kalamatas from the Peloponnese in Greece, then expect a much higher price than domestics.
The original kalamatas were grown in Laconia, which is where the Spartans were. I am pretty sure that meant preserving their honor and integrity was a serious point of pride. Don't mess with the Spartans or their kalamatas.
The olives come brined and prepared for eating in either a white wine and olive oil mix or just in olive oil. Sometimes additional herbs are preserved with them as well to add more flavors.
Get my easy Side Dish recipes!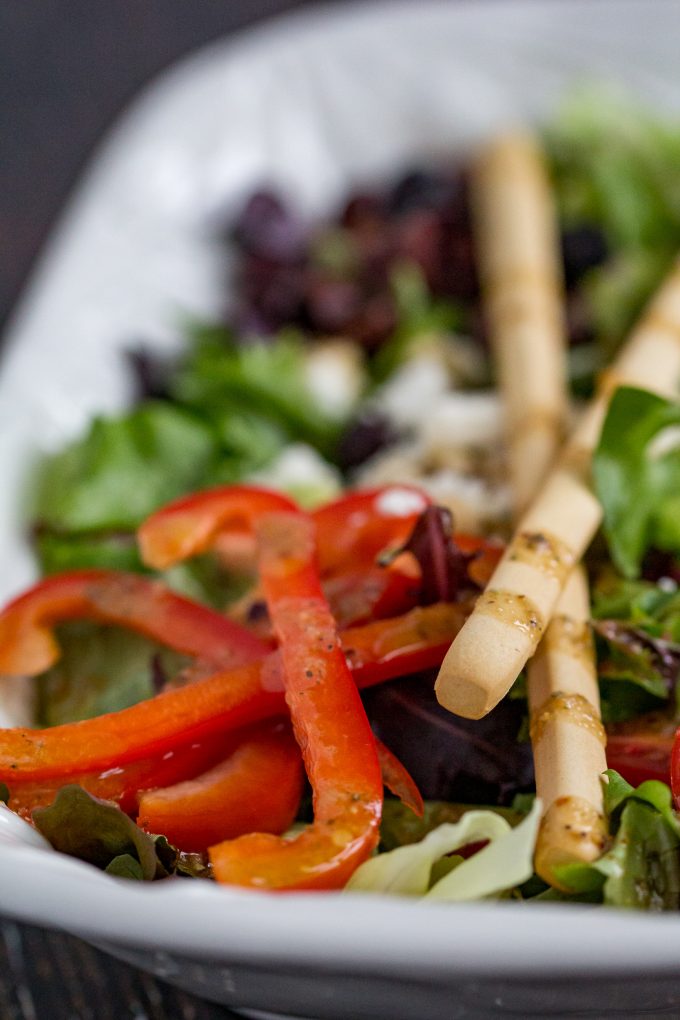 What makes Feta cheese special?
Feta cheese has to originate in Greece to be called Feta. Since 2002, it can only be real Feta cheese if it was made in Greece with the milk of Greek sheep.
Since very ancient times, Greeks take their sheep very seriously. Whenever it was time to make a big point with Saturn or Apollo or any of the others, then time to put a sheep on the grill.
But, toss the rams on the fire and save the ewes for milking and making that wonderful Feta cheese!
Good Feta is dry-aged cheese that crumbles very nicely. It is pretty salty, so don't feel like you need to add extra salt with Feta in the mix.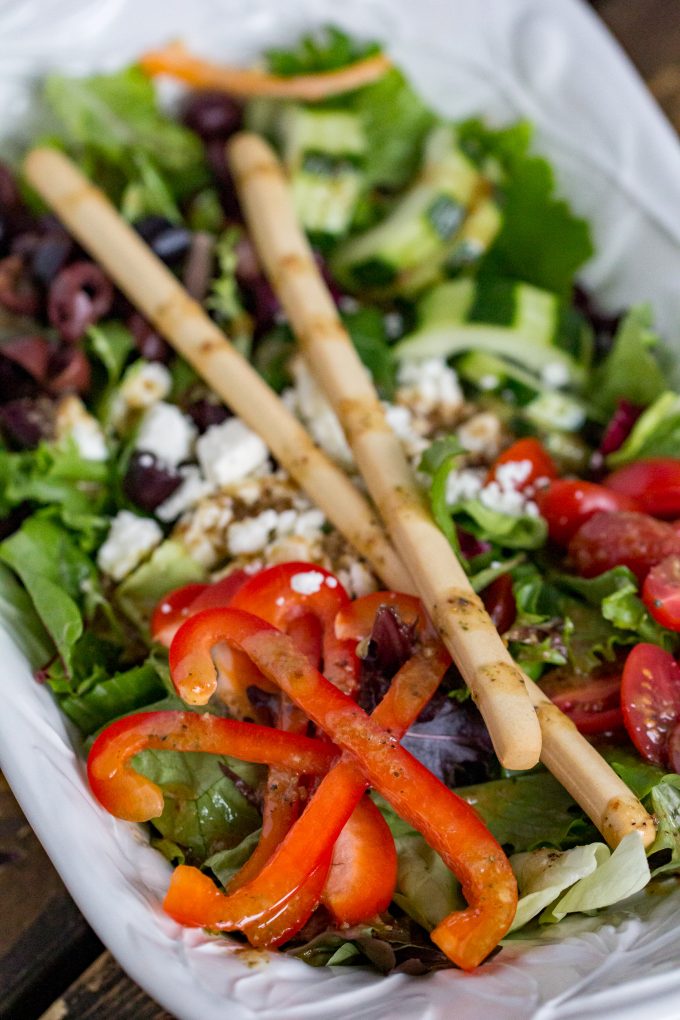 Are there any substitutions for Feta?
If you can't find any good Feta cheese in the dairy section or at the deli counter, then you may need another option instead. (But also, where do you live? Feta is errrrrywhere!)
You can use fresh ricotta, or goat cheese (chevre) or halloumi, or queso fresco from Mexico. These cheeses are a bit less salty than Feta. If you are trying to watch your sodium intake, then those are the way to go.
Can you still call it a Greek salad if you don't use Feta cheese?
I don't want to answer that, but I promise not to tell if you do. Just put on a bit of extra Greek Freak dressing to cover up the Feta being missing.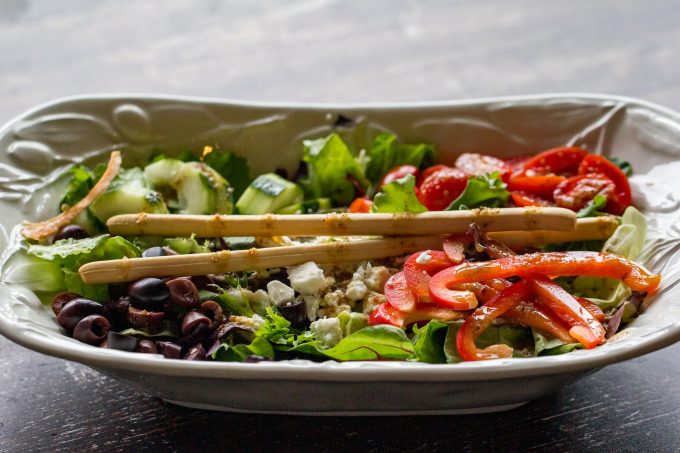 What Is Greek Freak?
Greek Freak from Spiceology is a Mediterranean themed spice blend. The seasoning includes garlic, herbs, a hint of red pepper, and dried onion powder in addition to a bunch of other things that I'm pretty sure are mostly magic. It tastes great on almost everything.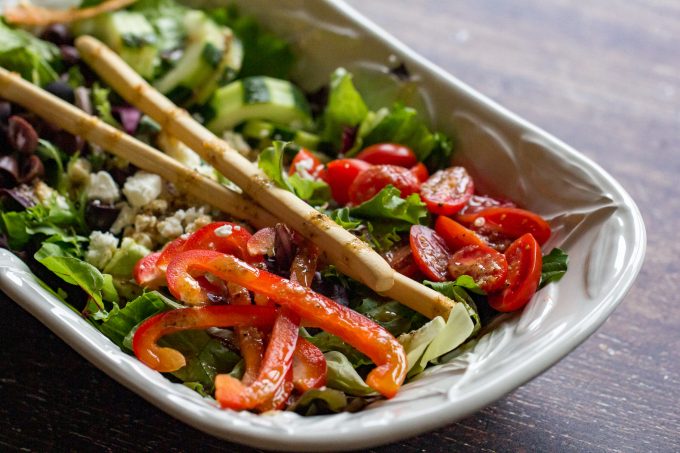 What else goes in the salad?
The leafy greens can be any mix of greens that you like. Romaine lettuce, spinach, arugula, and mustard greens all combine quite nicely. You can blend those in any ratio, or you can use the pre-mixed greens you find in the store. I particularly like the Spring Mix that you can get in the produce aisle.
I guess just like olives and Feta, having spinach in there only helps keep the Greek flare in full effect. Make sure you have some spinach in the greens. Popeye also approves. He isn't Greek, but he knows the benefits of eating spinach.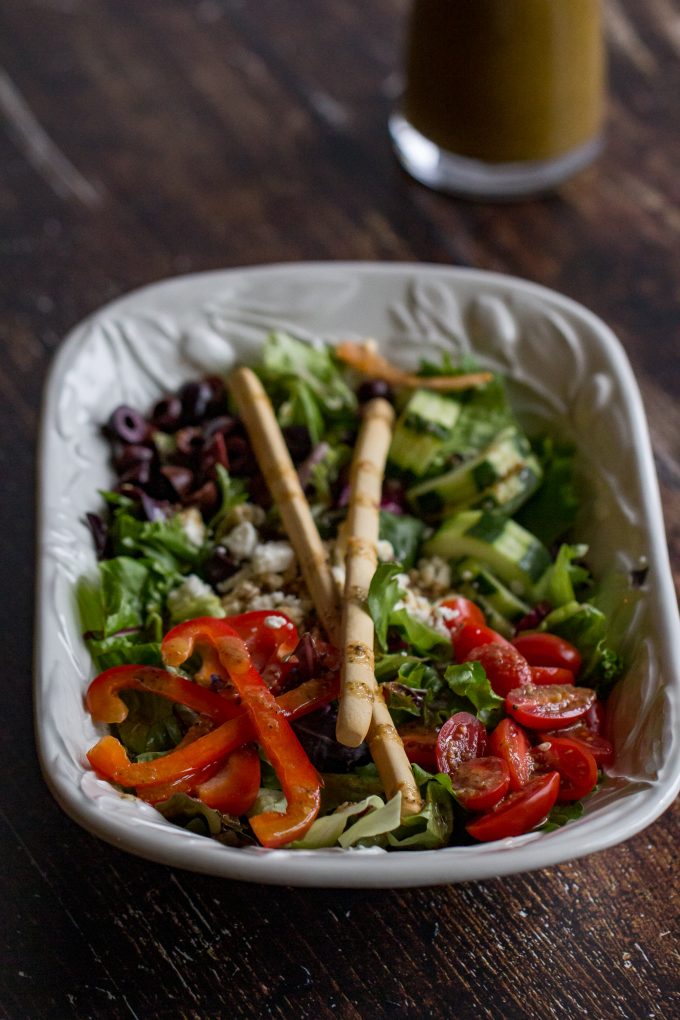 Do you have any other Greek-inspired recipes?
If you want to eat more Greek inspired cuisine (and you should), then check these recipes out:
Eat this with your salad
Salad is just the start of dinner, and I've got some great options to finish off this meal like a champ.
Appetizers
If you are partying it up, you'll need some killer appetizers to start it off right. Pick a couple of these delicious apps and mix up the cocktails! (I have some suggestions for those too further down the list.)
These homemade coconut shrimp are crunchy and delicious. Quickly fried and then dipped into a sweet chili sauce, you'll love these for dinner or as an appetizer.
Simple bacon wrapped scallops are grilled on the Traeger pellet grill until they are crisp, tender, and delicious.
Main Dish
Turn the salad into a meal with our grilled chicken breast, or make the salad the starter and let something else shine as the main dish.
This Traeger Grilled Chicken Wings recipe is going to have you buying wings in BULK.
My easy smoked brisket recipe is cooked on a Traeger wood-pellet grill, and is one of the best meals I've ever had. Simple seasonings and attention to detail make for a piece of meat you won't soon forget.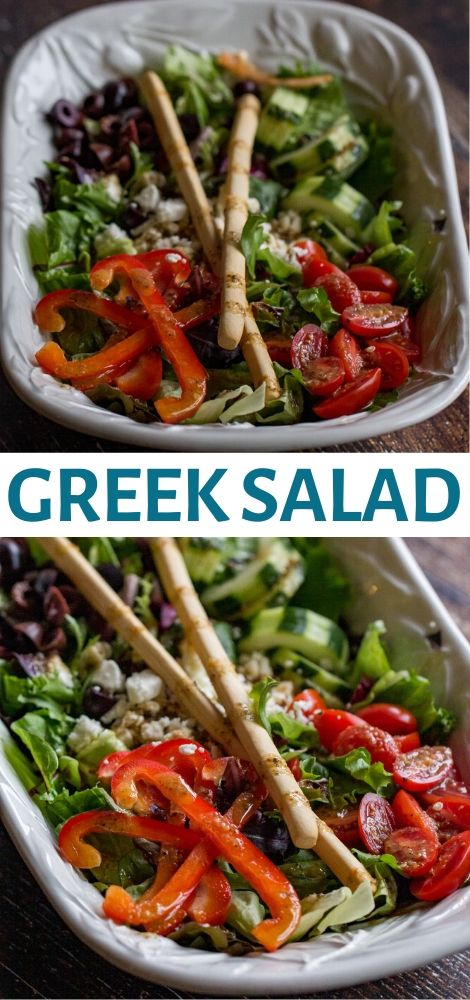 Yield: 8 servings
Greek Salad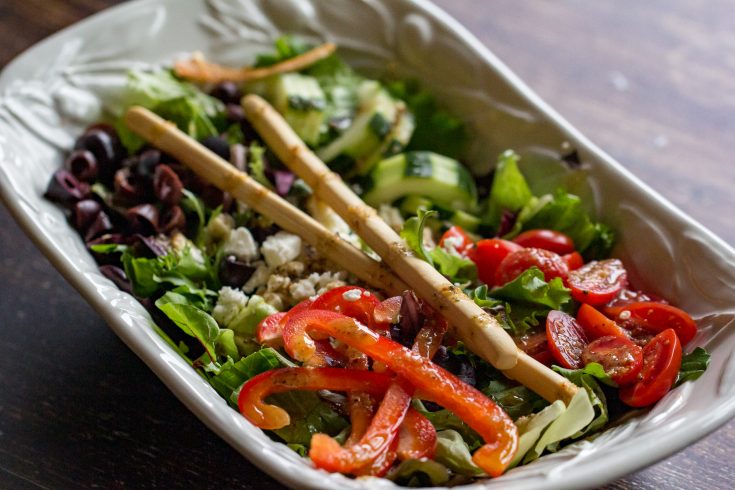 Big bold flavors are the star in this Greek Salad with leafy greens, olives, feta, cucumbers, tomatoes, and a homemade Greek vinaigrette. Perfect salad for potlucks, family gatherings, or your average weekday.
Ingredients
12 ounces leafy greens
1 English cucumber, sliced
1 cup cherry tomatoes, halved
3/4 cup crumbled feta cheese
1/2 red bell pepper, sliced
1/2 cup chopped kalamata olives
croutons or breadsticks
Instructions
Combine all ingredients immediately before serving in a large serving bowl. Keep chilled, and only ​add croutons and dress as much as you will eat within an hour or so.
Store leftovers in a sealed container, and dress right before serving.
Recommended Products
As an Amazon Associate and member of other affiliate programs, I earn from qualifying purchases.
Nutrition Information:
Yield:
8
Serving Size:
1
Amount Per Serving:
Calories:

82
Total Fat:

5g
Saturated Fat:

2g
Trans Fat:

0g
Unsaturated Fat:

3g
Cholesterol:

13mg
Sodium:

211mg
Carbohydrates:

6g
Fiber:

2g
Sugar:

2g
Protein:

3g
Nutrition data provided here is only an estimate.