This Traeger Tomahawk Ribeye is one of the shining stars of the steak world, but one that can be intimidating, especially for those new to bbq. Don't let it be. This cowboy steak is simple to make, and will be the star of your next cookout! Get yourself a bone-in ribeye today!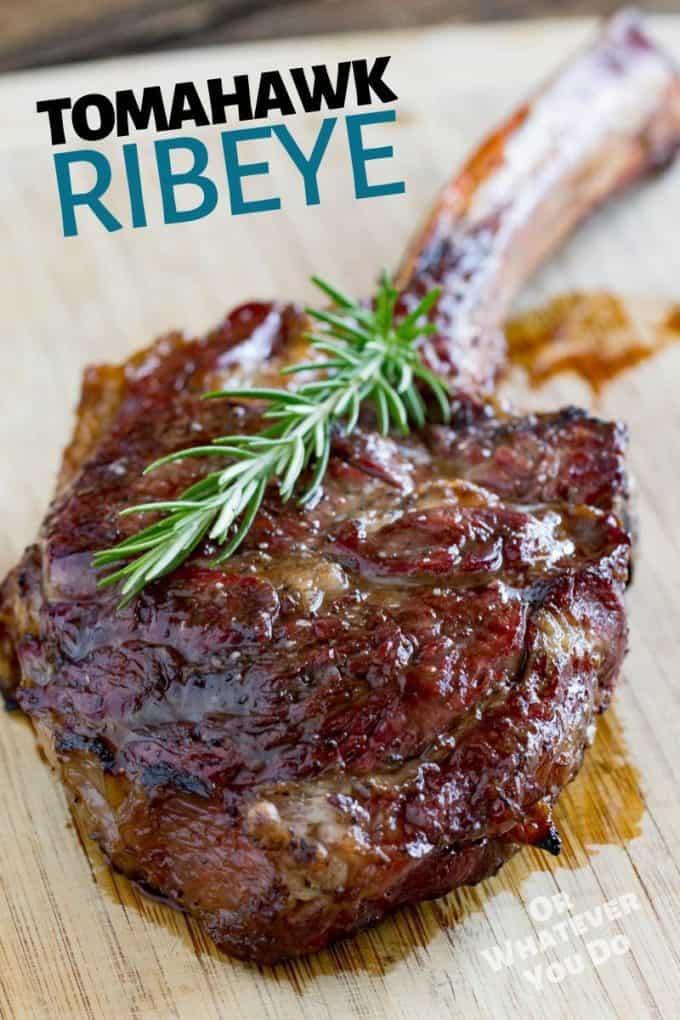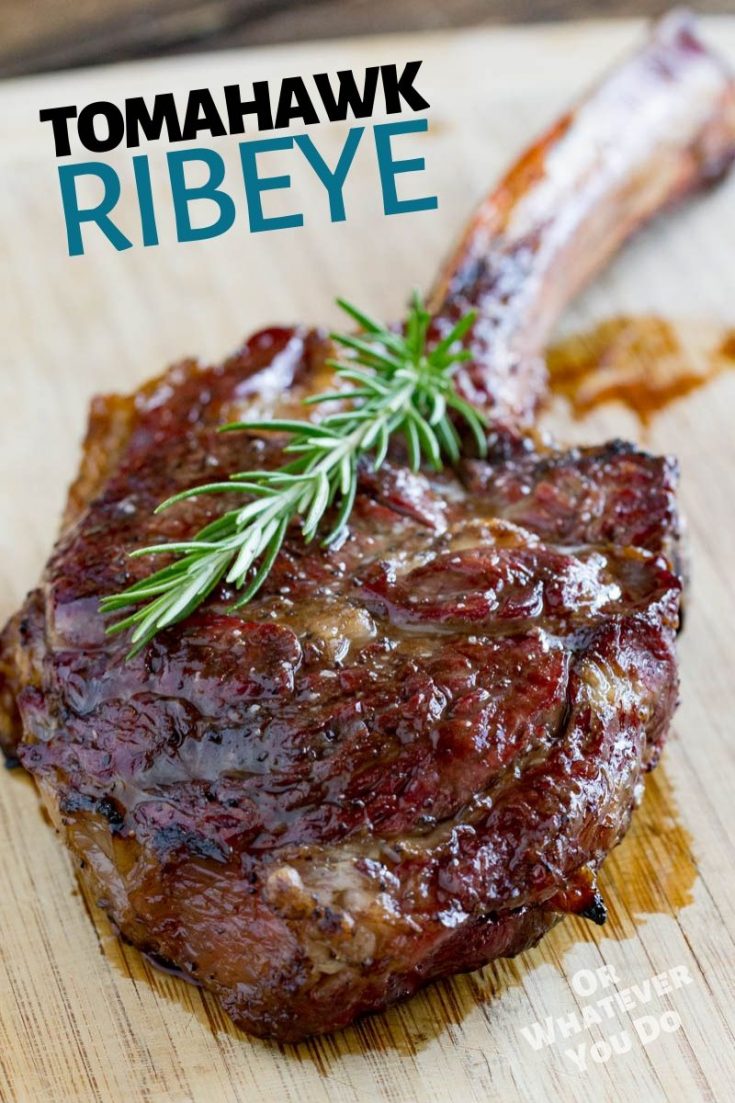 Tomahawk Ribeye
Are you looking for a steak that'll make people say, "WHOA"?
You totally found it.
The next time you are reaching for a delicious steak option, seek out this trendy cut and fire up the grill. You're about to wow people.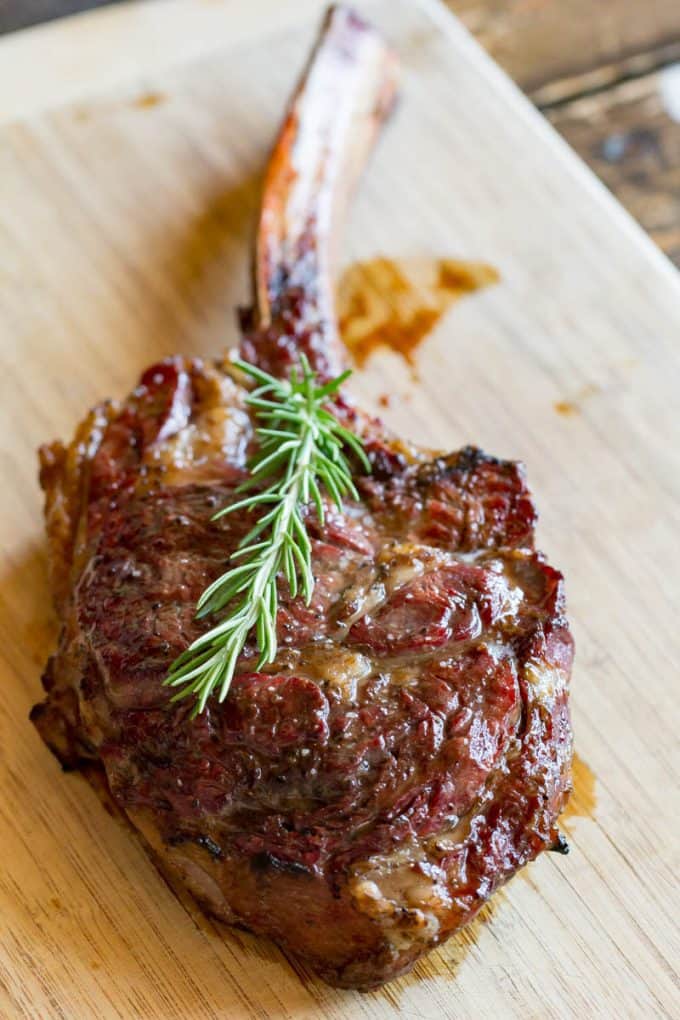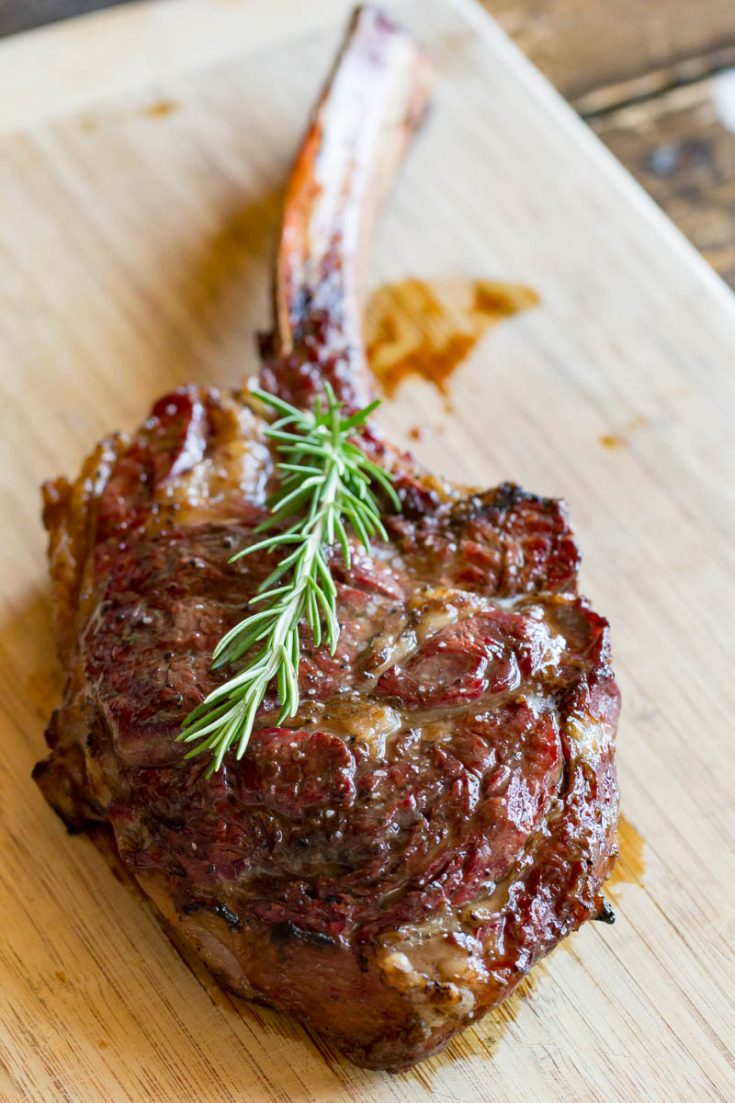 What is a tomahawk ribeye?
The Tomahawk ribeye, also known as a cowboy steak or bone-in ribeye, is a popular cut of steak that leaves a large, long, bone attached to the classic ribeye cut.
Cooking meat on the bone gives it more flavor, and you can't beat the presentation of this impressive steak.
Don't be intimidated by how large it is. I'm going to give you a foolproof way to make sure your steak is perfectly cooked, amazingly tender, and the perfect temperature.
More Easy Traeger Recipes here!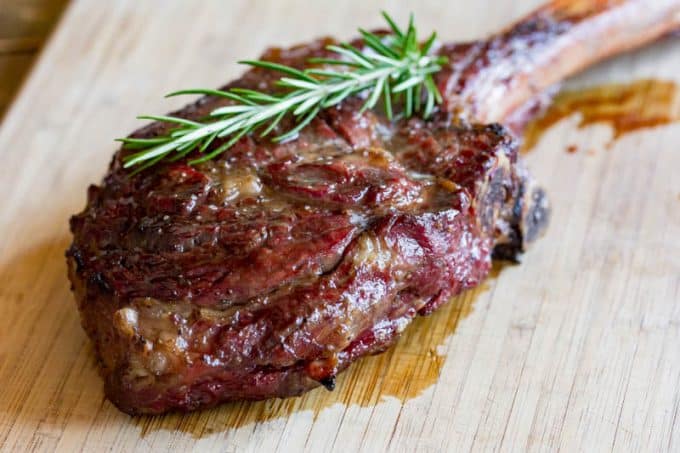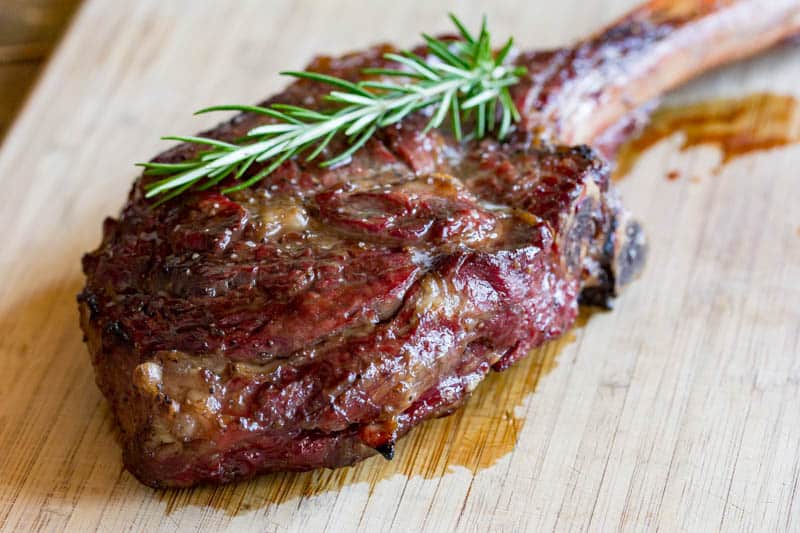 Why cook steak at home?
I love cooking steak at home because SO MANY restaurants do it wrong. Also, I hate ordering things out that I could make BETTER at home and without a ton of effort.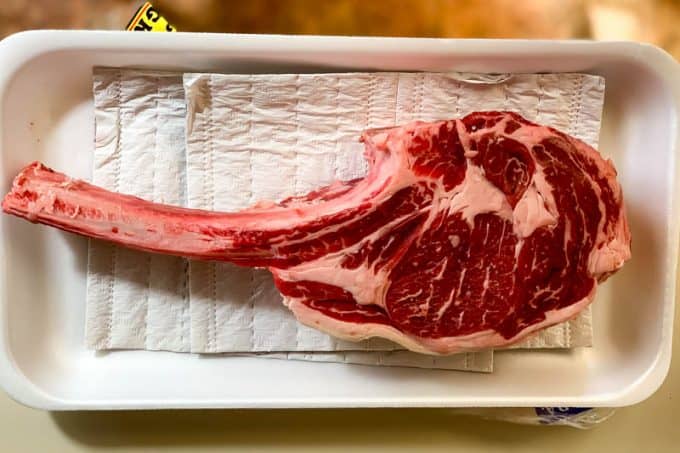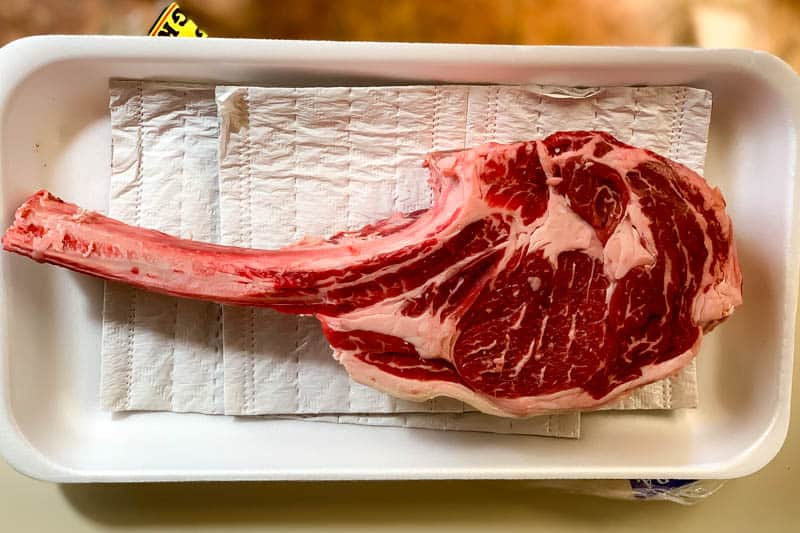 Homemade pasta? Yeah, I could probably match most restaurants when it comes to a great homemade noodle, but holy crap that is a lot of labor involved. Like, say goodbye to your afternoon. I don't feel bad at all about ordering that in a restaurant.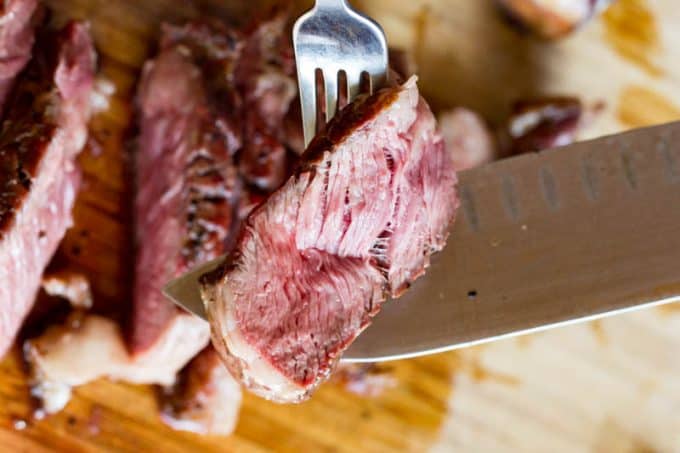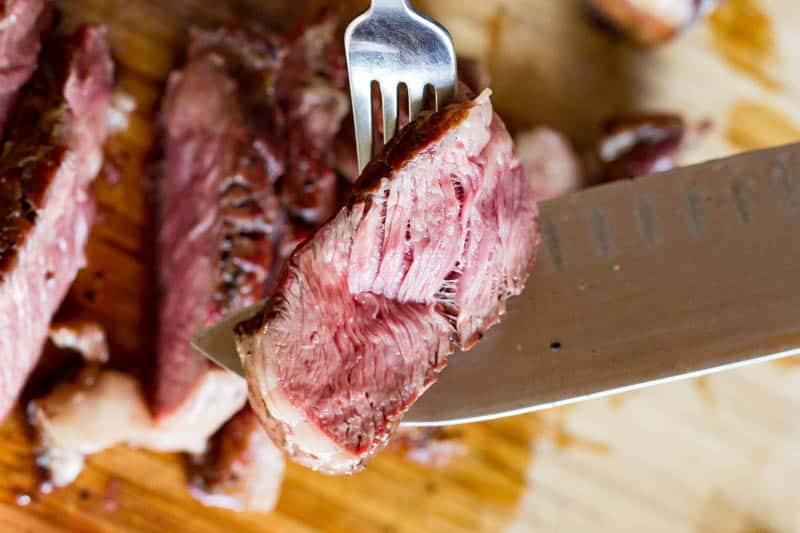 That's also one of the reasons I eat Ramen so much when I'm traveling or just going out to dinner. I can totally cook it at home. But it takes 4 days to get to the actual final result, and I have to seriously gear myself up.
There is also the COST factor.
Restaurant tomahawk ribeyes are even more marked up than your average steak, and unless you are eating at WAY fancier restaurants than I am (entirely possible), you aren't even getting a higher grade of meat.
More great BEEF recipes here!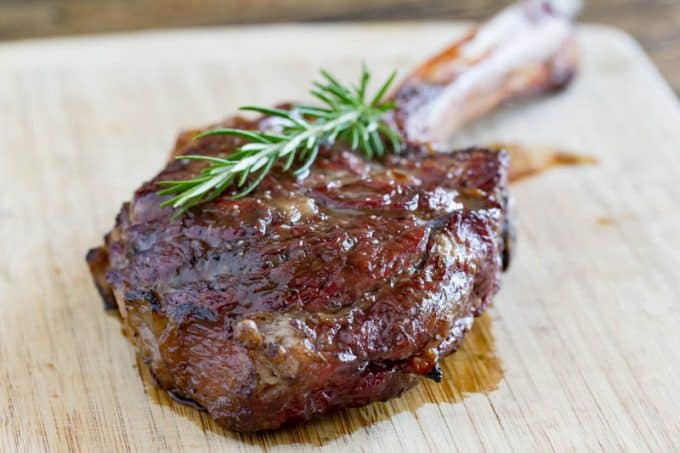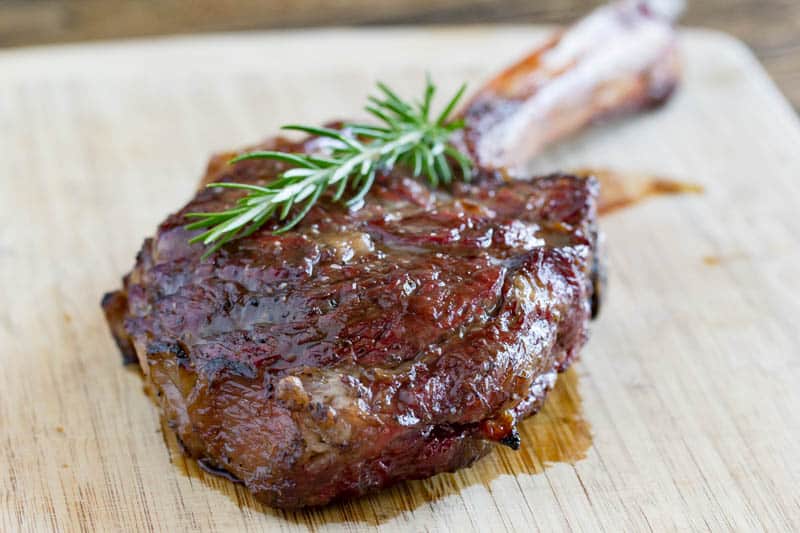 How much is the tomahawk ribeye at Outback?
Well, first of all, I couldn't even FIND a tomahawk steak on the menu at Outback. I did find a bone-in ribeye, but that's not necessarily the same thing. A Tomahawk ribeye needs to have at least 5 inches of bone still attached and are also typically thicker than bone-in ribeye.
If you want to classify it in that category, you can pick one up for around $35 at Outback. So get that bloomin' onion too while you're at it.
Not the most expensive steak you'll ever order, but it also won't be nearly as good as if you had cooked it at home.
Buy Pellets here!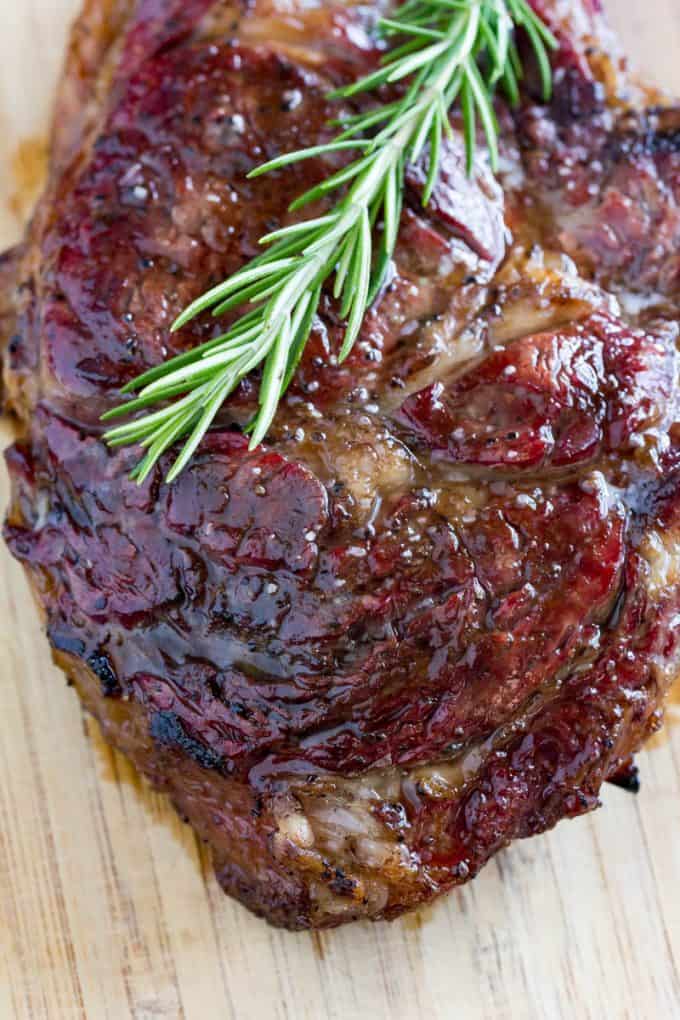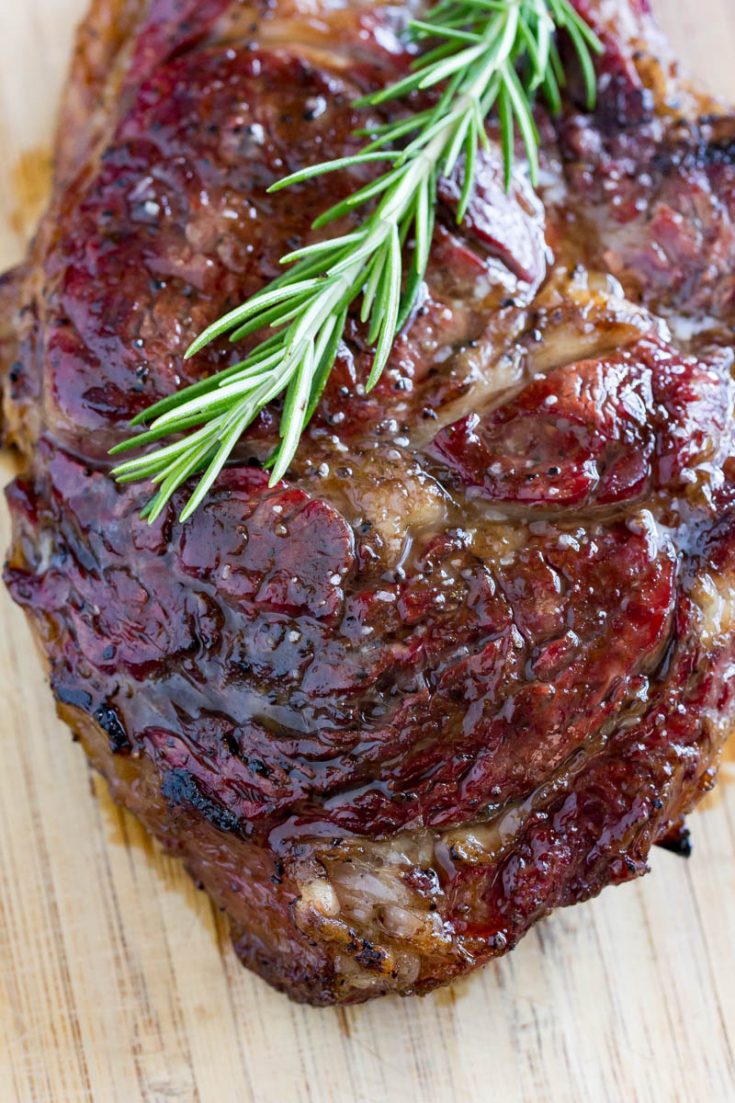 How much is a tomahawk steak at Ruth Chris?
If you are going fancy tonight and are considering grabbing up a tender tomahawk steak at Ruth Chris? Prepare your wallet cause one of these will set you back almost $120.
Yeah.
You read that right.
If you want the photo opp, why not do it in the comfort of your own home?
Follow me on Instagram!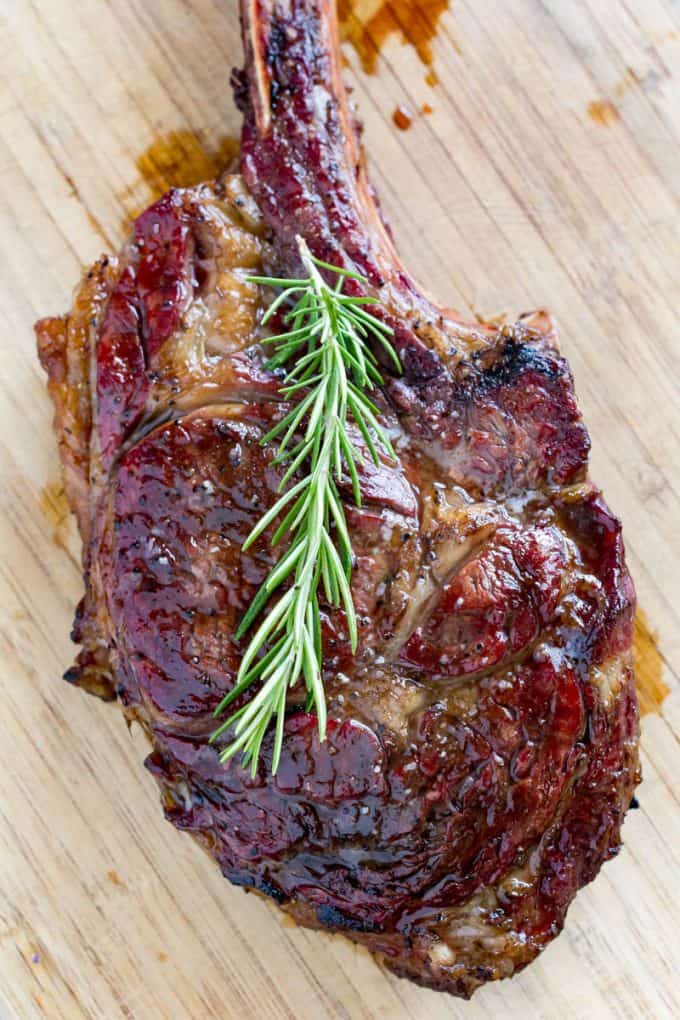 Where can I buy a tomahawk ribeye?
You should be able to find a good tomahawk at your local butcher shop. If you typically shop at regular grocery stores for your meat, try requesting these specifically if they don't have them out on the shelves.
I've also found tomahawk ribeyes at Costco and my local small grocer as well, so keep your eyes open!
Check out our OWYD shop!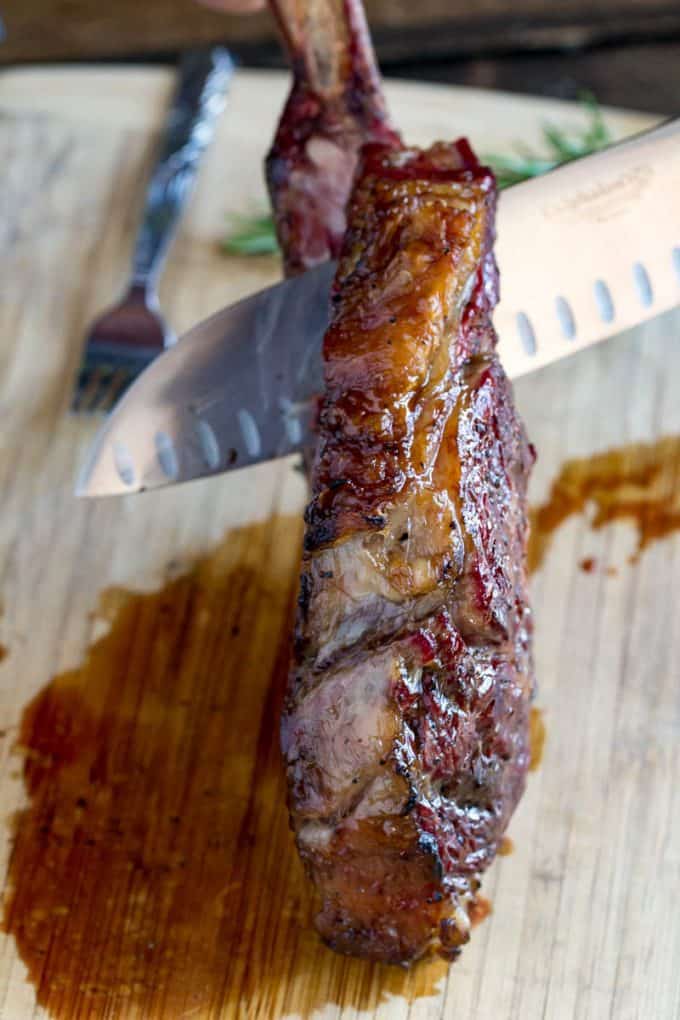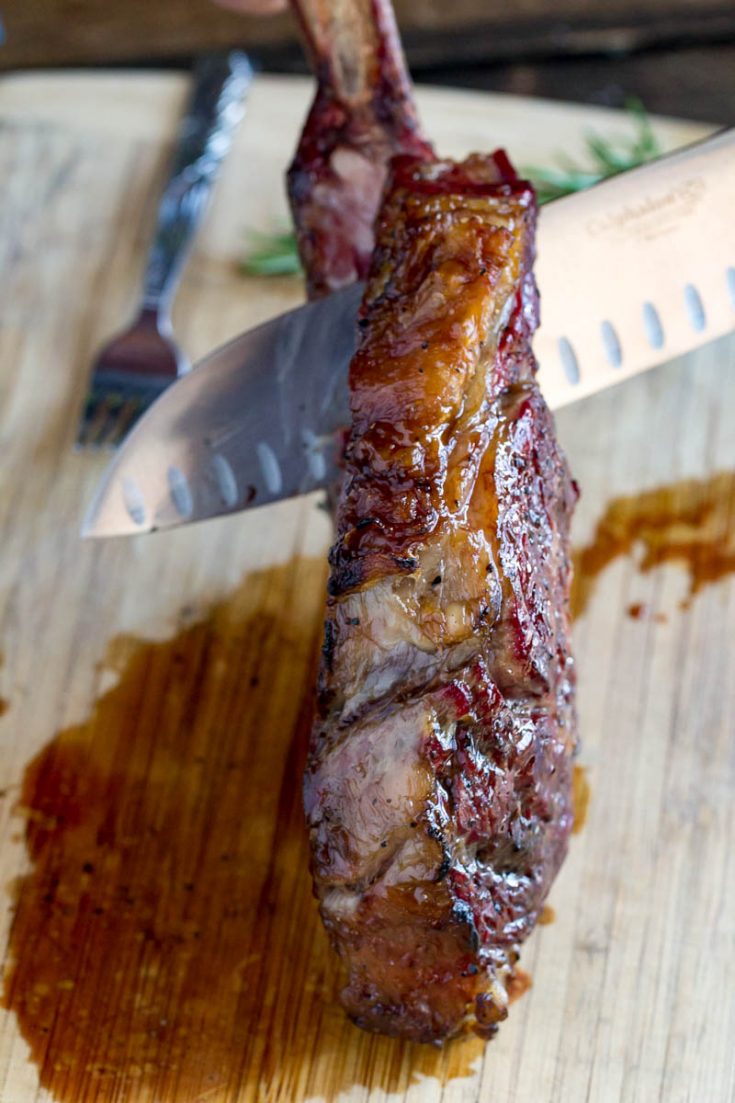 How to cook a Tomahawk Ribeye
The best way to cook any steak is always going to be over live fire, in my book. There is something about that smoke and fire that does amazing things to beef, in particular, so you'll never convince me that a griddle or pan-fried steak is as good as a steak cooked over live fire.
Join our Easy Traeger Recipes Facebook Group!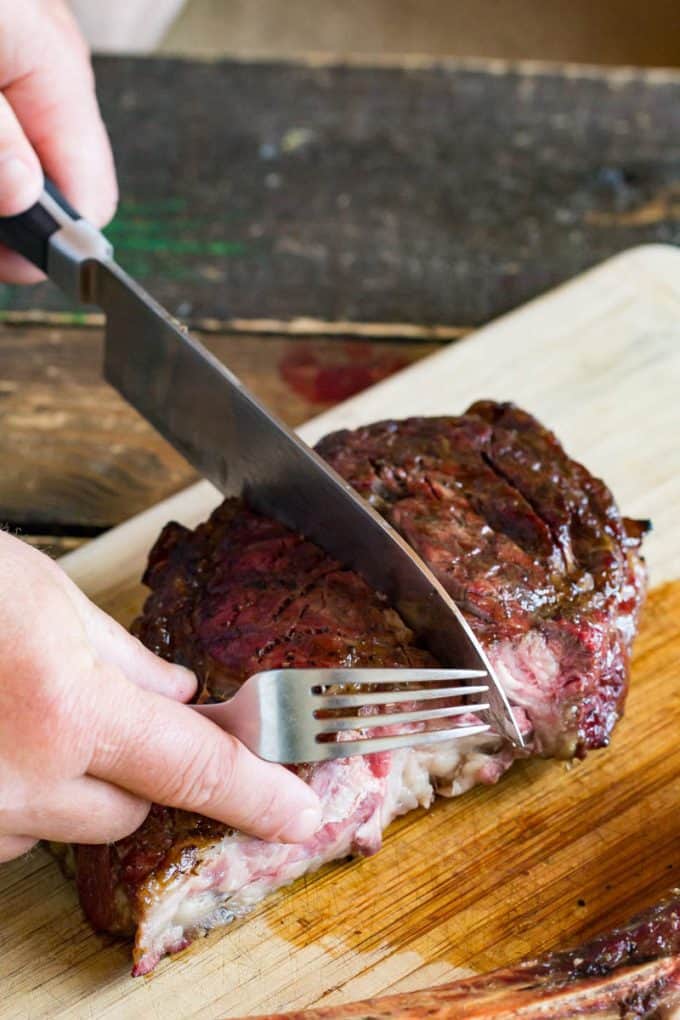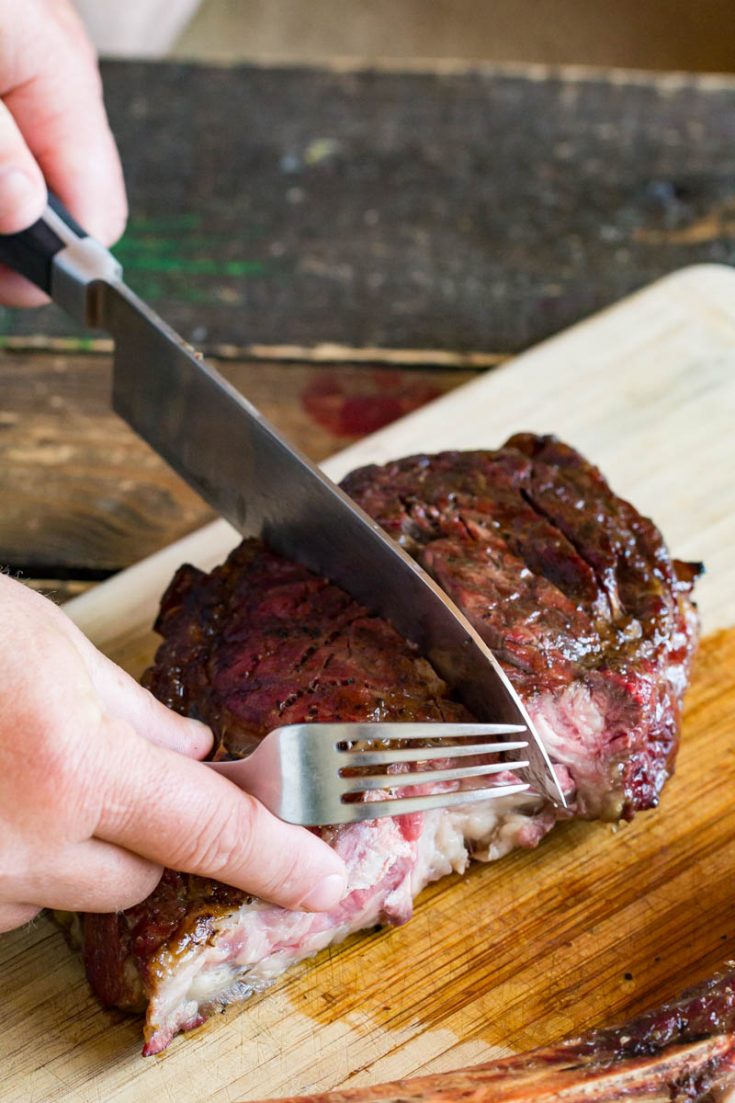 What other ways can you cook a tomahawk ribeye?
That being said, if you don't have live fire available, a cast-iron steak is better than no steak, so fire it up and get cooking no matter what method you choose.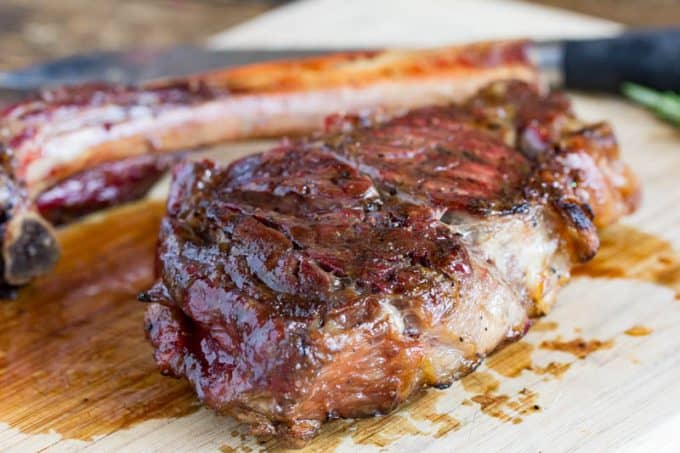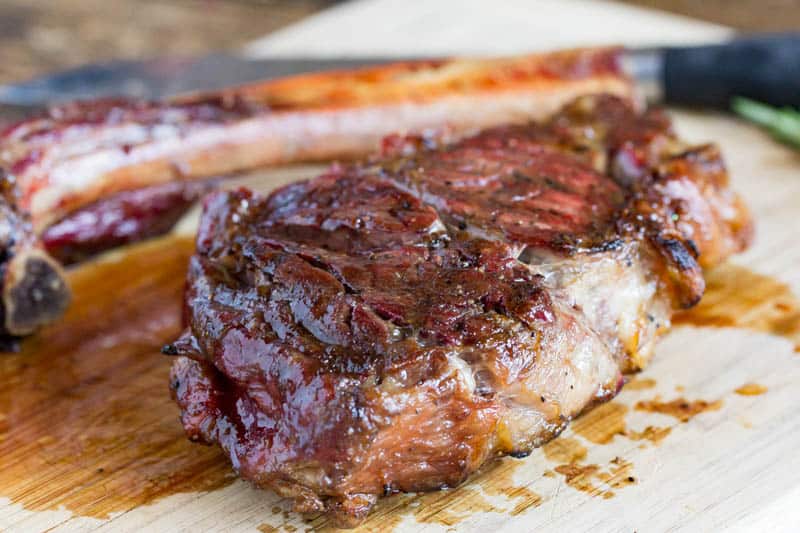 How to grill a tomahawk ribeye?
Grilling a tomahawk is simple. You just need to prepare because to do it properly, it takes a while. My favorite method for cooking at tomahawk is on the grill, using the reverse sear method.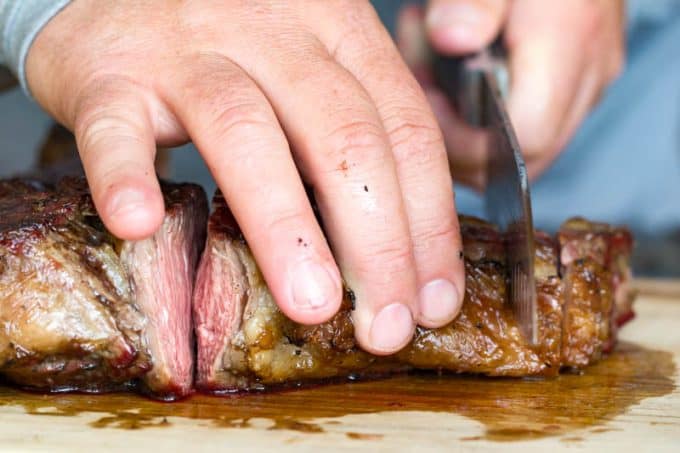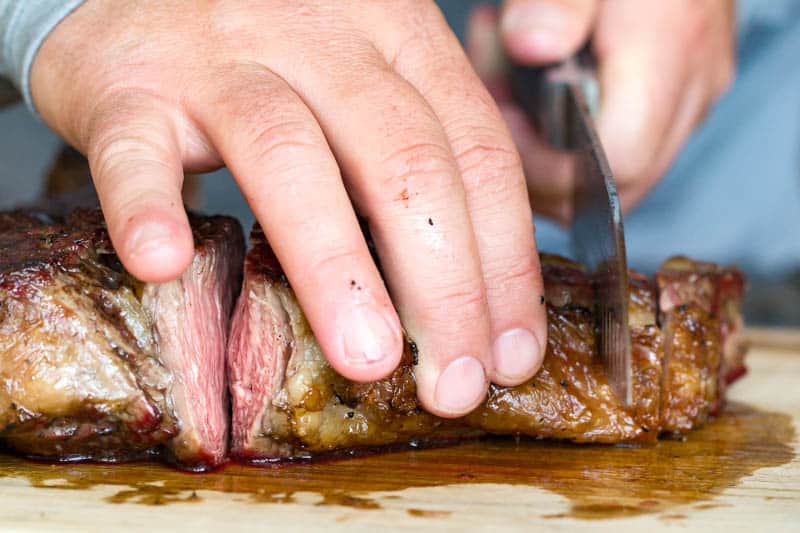 Reverse Seared Tomahawk Ribeye
Reverse searing is a method where you slow smoke the steak at a low temperature for a long time. Once it reaches the temperate you'd like (typically 125° for medium-rare, the only way you should be eating steak), you pull it off the grill and sear it on a very hot cast iron pan, Blackstone Griddle, or right back on your pellet grill.
It gets a quick sear to brown both sides and then rests before serving.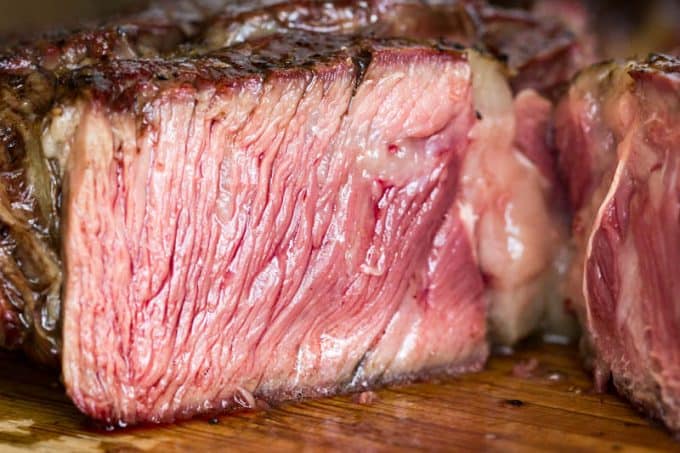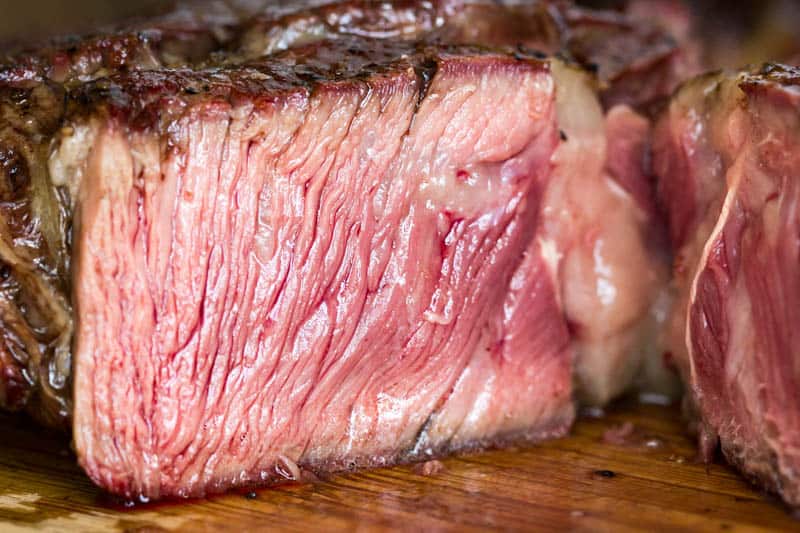 What's the difference between a tomahawk ribeye and a cowboy steak?
Nothing.
They are the same thing, just with different titles. You can call it anything you want, as long as it is also called delicious.
I'm not sure either of them is particularly p.c. if you are worried about that sort of thing, but use your own judgment there.
Current BBQ Deals
The latest deals and favorites from Or Whatever You Do!
Photo Credit: The Spice guy
Some of our most heavily utilized rubs and spices in the kitchen. Get some! Highly recommend the Midnight Toker and Roasted Garlic Blend!
Photo Credit: ThermoWorks
I use my Thermoworks favorites EVERY time I grill or griddle. Get one, and up your bbq game! This page links you to all of my "must haves". Use the code OWYD at checkout for 10% off!
Photo Credit: Grill Masters Club
The Grill Masters' Club is a monthly subscription box FULL of grilling favorites. Last month I got a killer hot sauce, bbq sauce, and rub. I have been a member of this club for several months now and have found some real winners! I can't wait for you guys to check it out.
Photo Credit: ButcherBox
We have been monthly ButcherBox subscribers for a couple of years now, and LOVE it! Hit the easy button for your beef, pork, chicken, fish, and seafood!
Photo Credit: spiceology.com
We LOVE Spiceology and use a ton of their products! This gift pack is a great way to sample some of their most popular blends.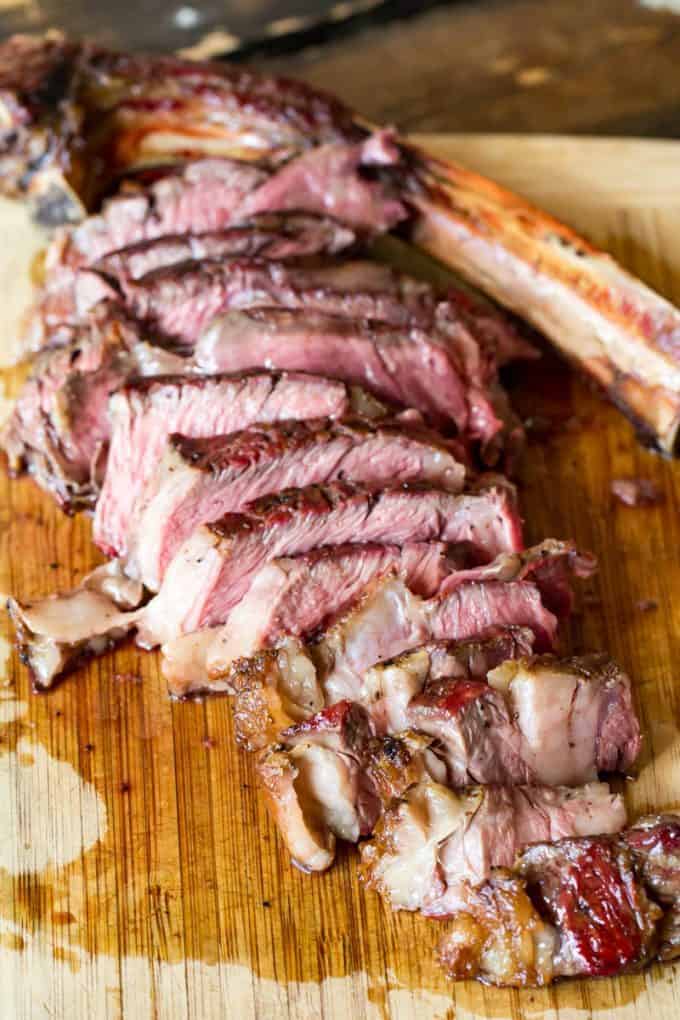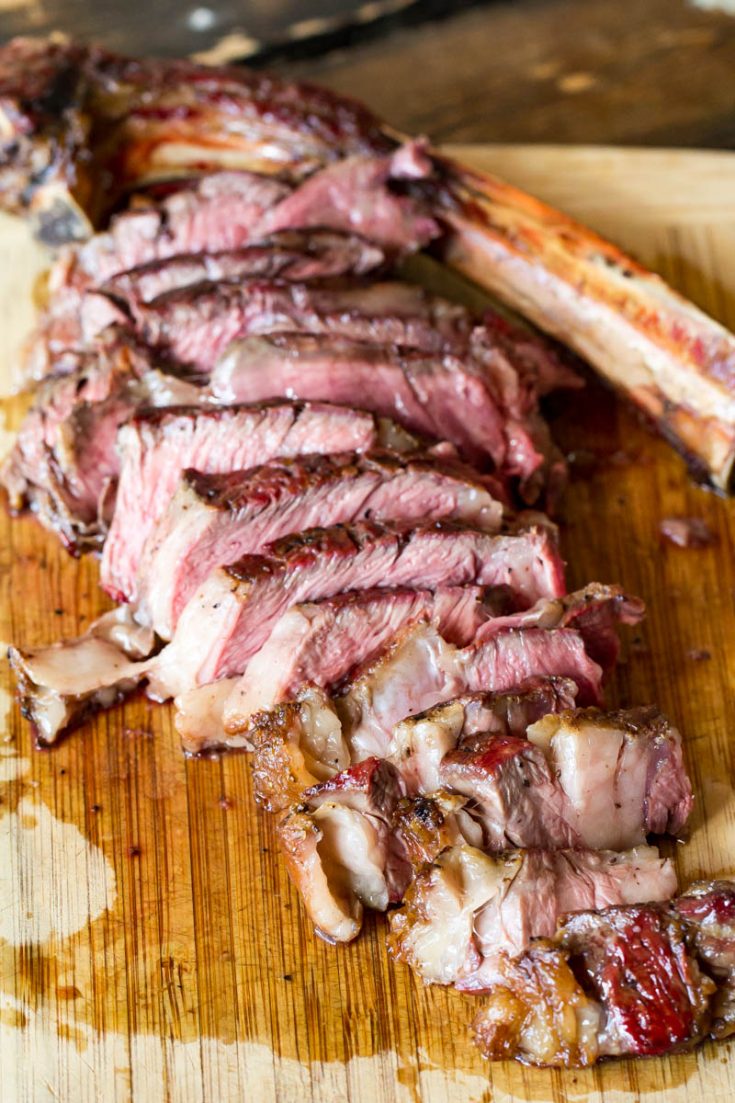 What should I serve with a tomahawk ribeye?
Steak and potatoes is a perfect match, so for starters, I'd suggest getting some baby potatoes and doing a batch of Smoked Smashed Potatoes. Another great option would be our Smoked Potato Stacks.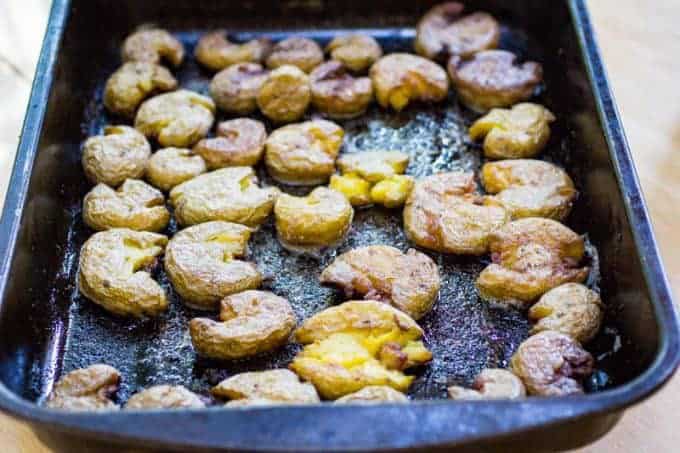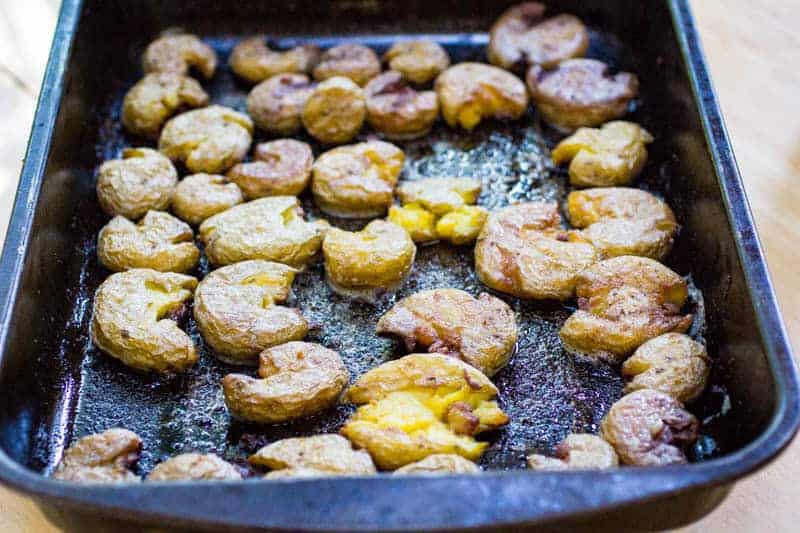 Next, you need a vegetable, so get going on these Perfect Grilled Asparagus. It is simple, delicious, and always a hit.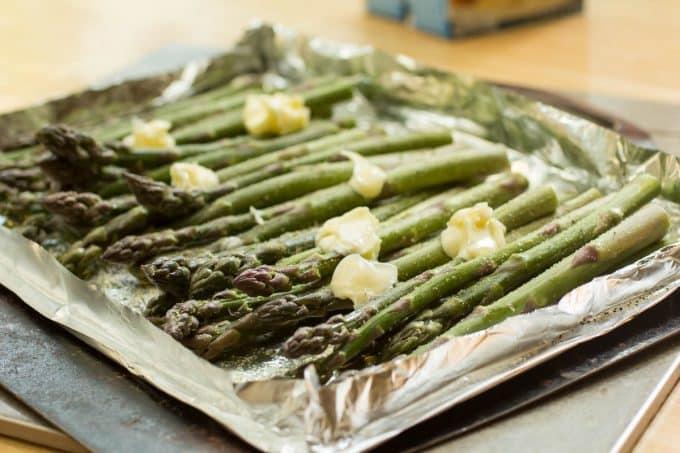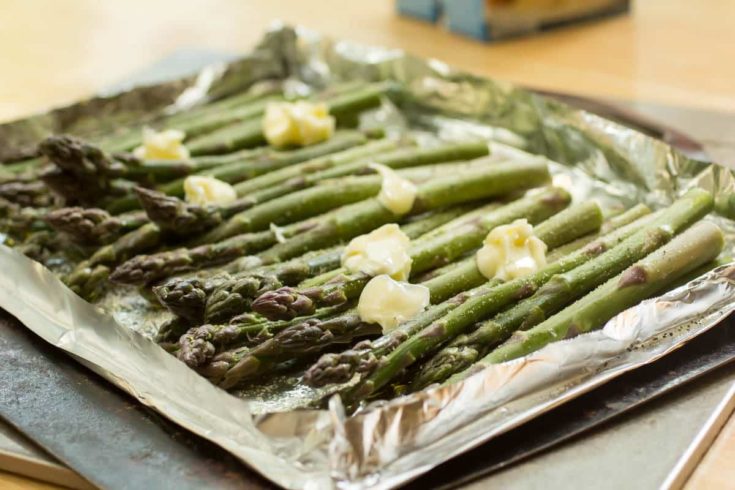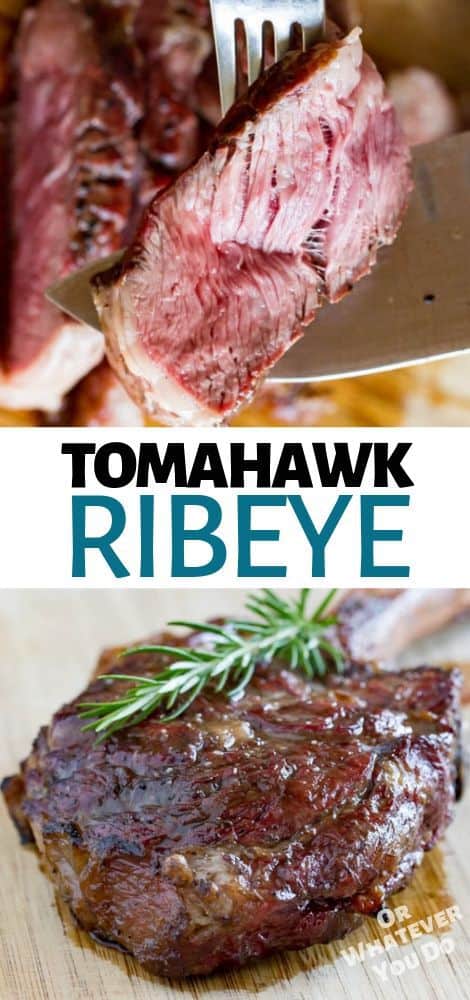 Yield: 1 steak
Grilled Reverse Seared Tomahawk Steak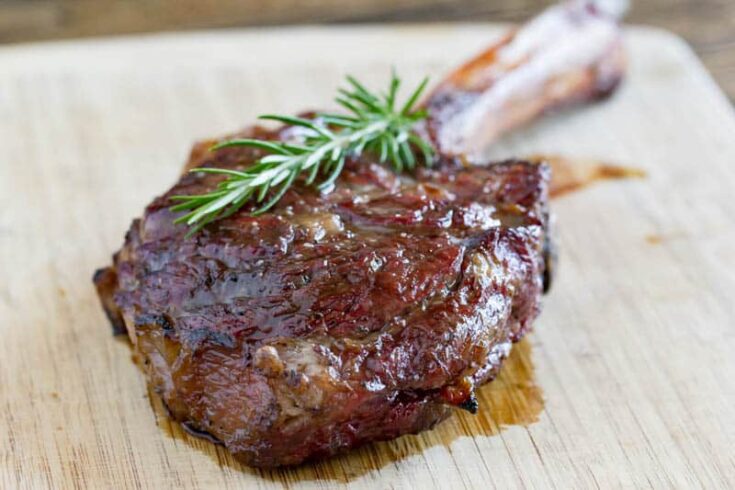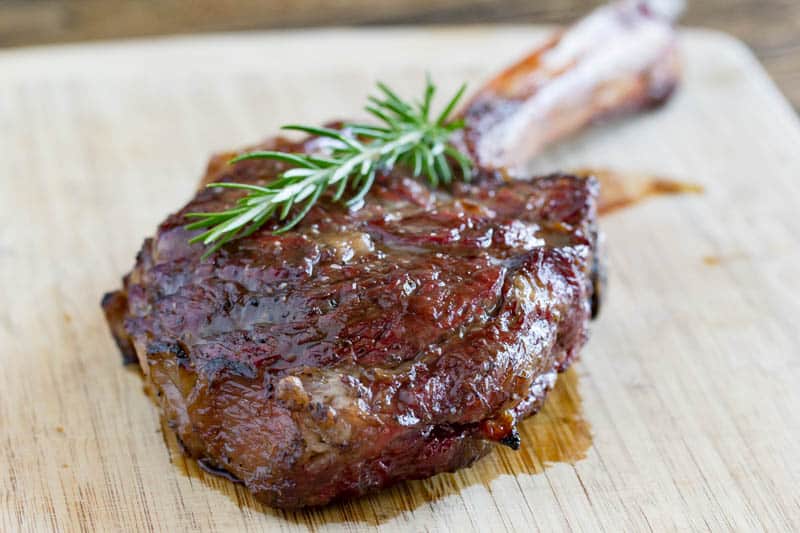 This meaty cowboy steak, also known as the tomahawk steak, is an easy and impressive dinner to serve your family.
Ingredients
Tomahawk steak
Salt & Pepper
Instructions
First start your grill and set it to 180 degrees Fahrenheit.
Season your steak and place it directly onto the grill in the middle of the rack.
Let it cook until the internal temperature reaches 100 degrees Fahrenheit. About 1 1/2 hours.
Pull the steak from the grill and turn it on high, (450 degrees Fahrenheit)
Once the grill comes up to temperature, place the steak back onto the center of the rack.
Flip every 2 minutes, rotating your steak 90 degrees the second time around if you desire to have the ideal grilling marks.
For a medium steak, once the internal temperature reaches 125 degrees Fahrenheit, pull it from the grill and let rest 8-10 minutes before slicing.
Recommended Products
As an Amazon Associate and member of other affiliate programs, I earn from qualifying purchases.
Nutrition Information:
Serving Size:
1
Amount Per Serving:
Calories:

615
Total Fat:

41g
Saturated Fat:

16g
Trans Fat:

0g
Unsaturated Fat:

19g
Cholesterol:

214mg
Sodium:

410mg
Carbohydrates:

0g
Fiber:

0g
Sugar:

0g
Protein:

58g
Nutrition data provided here is only an estimate. If you are tracking these things for medical purposes please consult an outside, trusted source. Thanks!