Perfect Grilled Filet Mignon is not only possible, but it is also simple too. Whether you are cooking the best Valentine's Day dinner you've ever had, or just surprising your loved one with a special steak, grilling filet mignon is one of the best dinners you can ever prepare.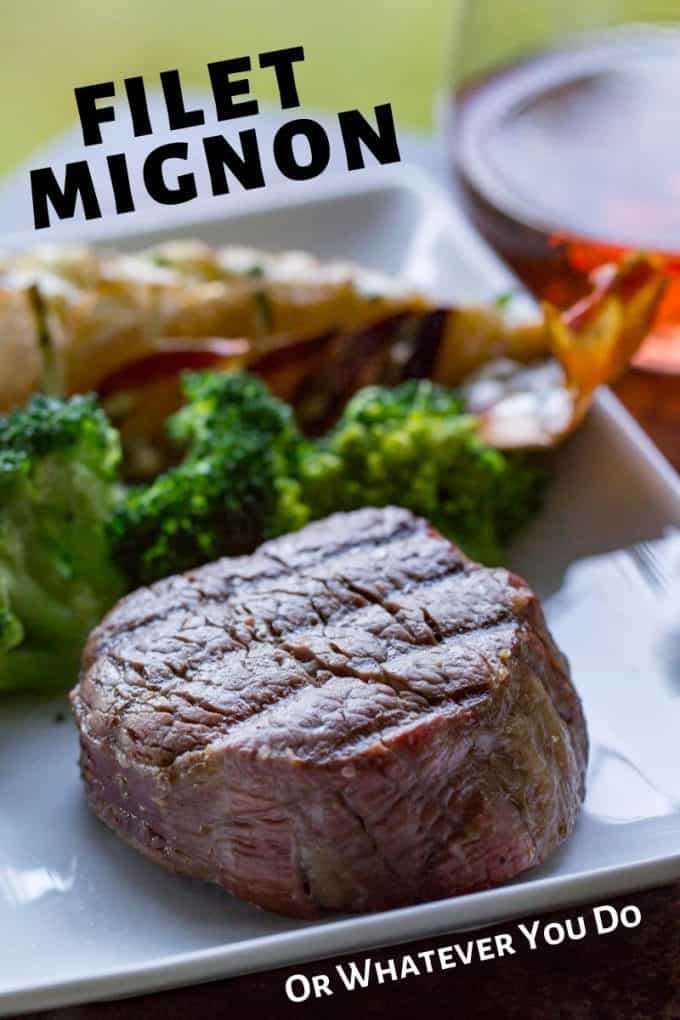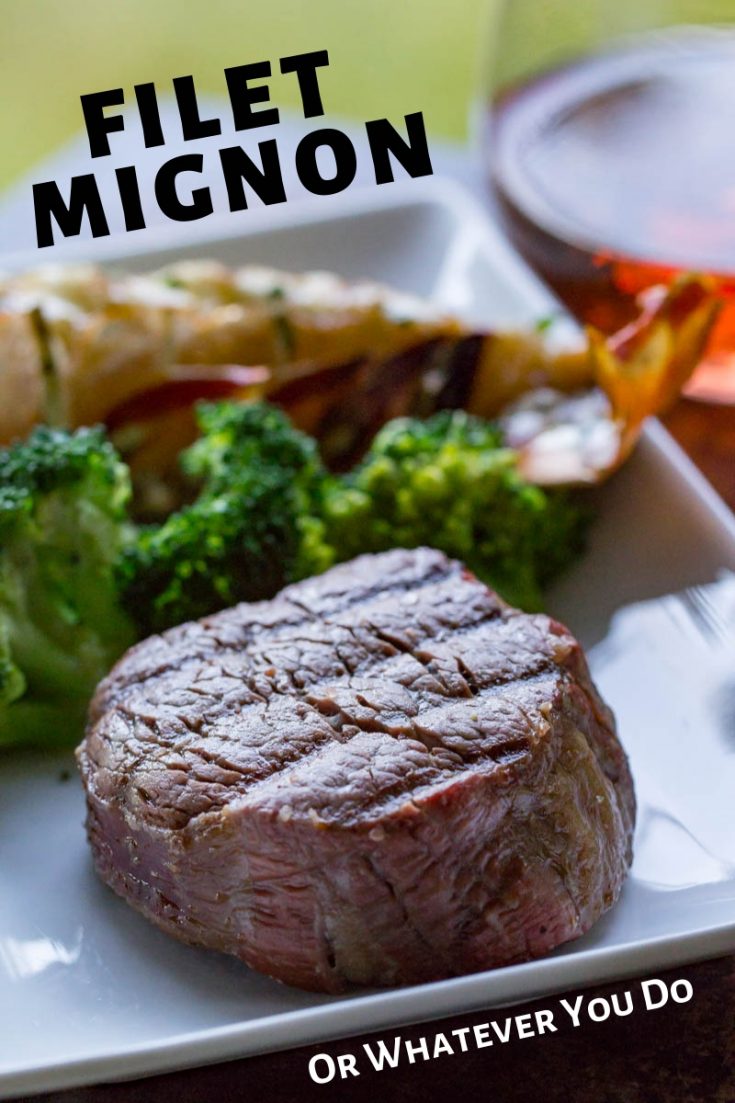 Filet Mignon
Known for its delicious flavor and ultra-tender bite, the filet mignon is one of the fanciest cuts of meat that you can get. Maybe surpassed in recent years by the tomahawk ribeye, but not by much.
What is a Filet Mignon?
The filet mignon is a steak cut from the small side of the tenderloin. It is known for being one of the most tender cuts of meat.
It can be pretty expensive when you order it out at a restaurant, and really? Secret time.
There's nothing super special about restaurant steaks.
You can make a steak at home that tastes every bit as good (or better), than anything they can put out at a restaurant, only at a fraction of the price.
When I go out to eat I like to order things that would be super difficult to replicate. Like, occasionally I'll spend a week making Ramen, but uhhhh. I can't do that all the time. So I get my ramen fix in-between homemade batches anytime I possibly can when I am out.
Also, potatoes. We don't really cook them here because one of the kids has a really rare (and severe) allergy to them, so when I go out to eat it is basically just a big quest to see how many different ways I can order potato.
But I digress…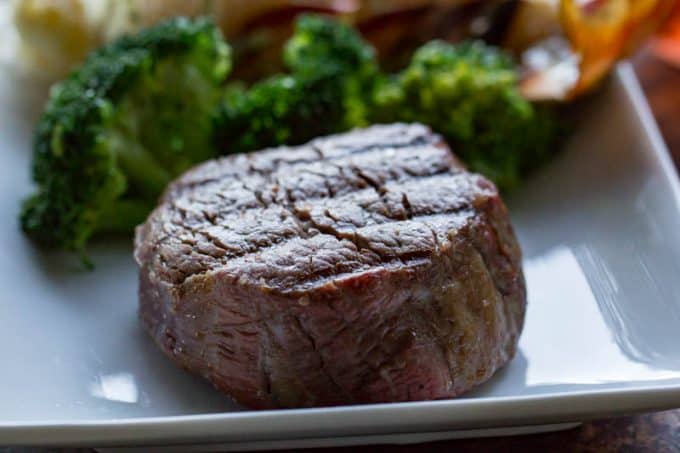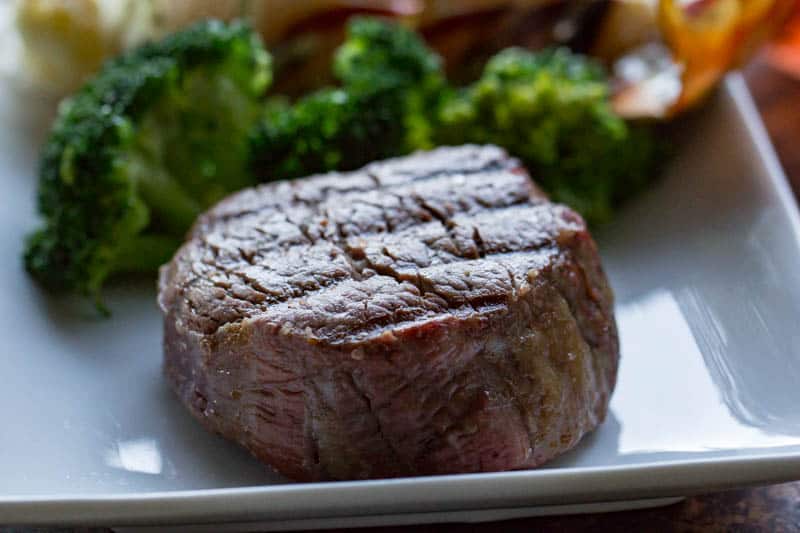 What is the best way to cook filet mignon?
The best way to cook filet mignon is debatable. I actually prefer it pan-seared in cast iron over high heat, and then finished with compound butter, but if I was choosing seconds it would definitely be this wood-pellet grilled filet mignon that you are seeing here today.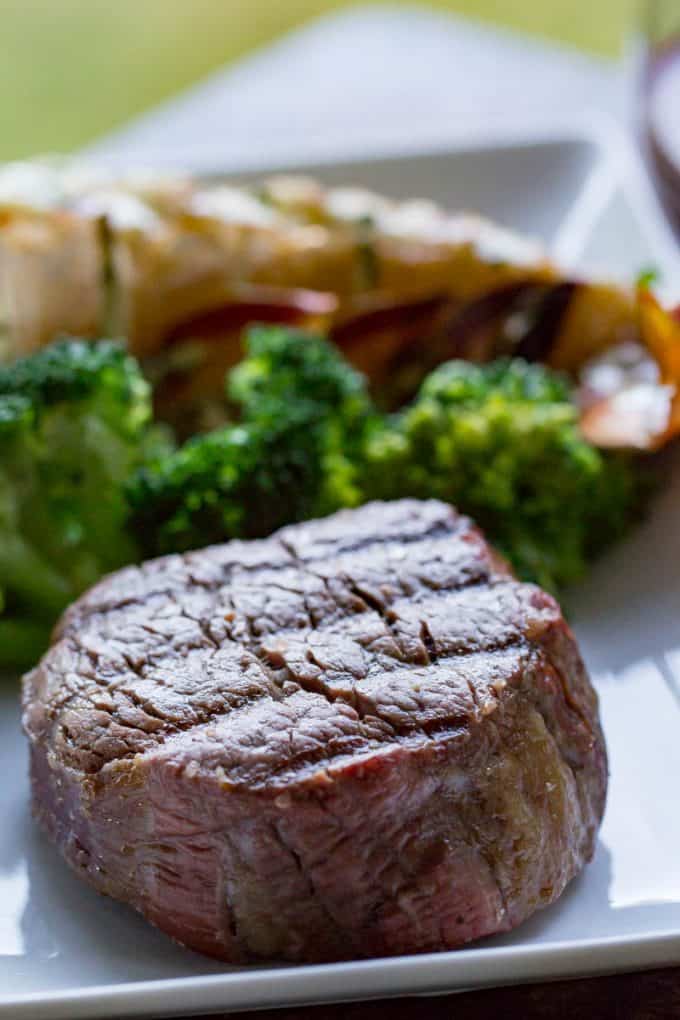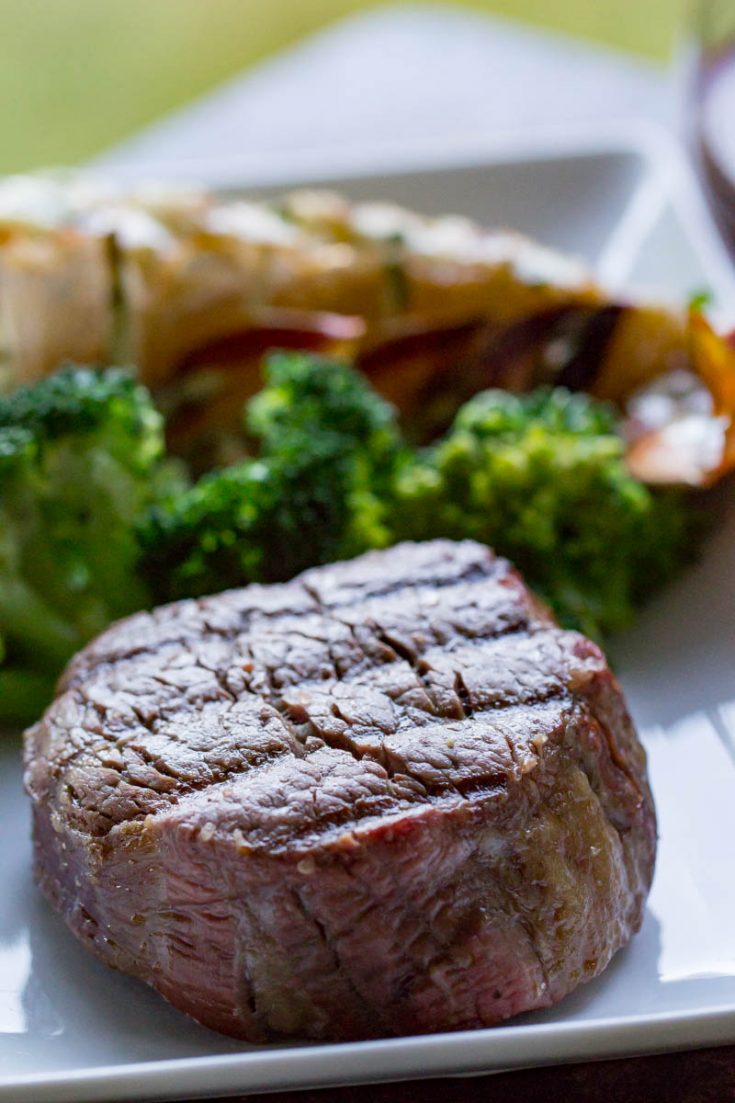 How do you grill the perfect filet mignon?
HIGH heat. That's the key. You can also reverse sear it, but for this particular recipe we cranked up the Traeger to high and cooked for 5 minutes per side.
Remove, let rest for 10 minutes, and then enjoy.
What temperature should filet mignon be?
What temperature your filet should be will depend on how you like your steak. Refer to the following guidelines, and always cook to TEMP and never to time when you are grilling.
Rare | 125° | Cool red center |

Feels like the pad of your thumb when touching your thumb and pointer together.

Medium Rare | 135° |

Feels like the pad of your thumb when touching your thumb and middle finger.

Medium | 145° |

Feels like the pad of your thumb when touching your thumb and ring finger.

Medium Well | 150° | Feels like the pad of your thumb when touching your thumb and pinky finger.

| Stop. Please don't wreck a filet by cooking it this much.

Well | 160° | Stop. Don't go here. Definitely not with a filet.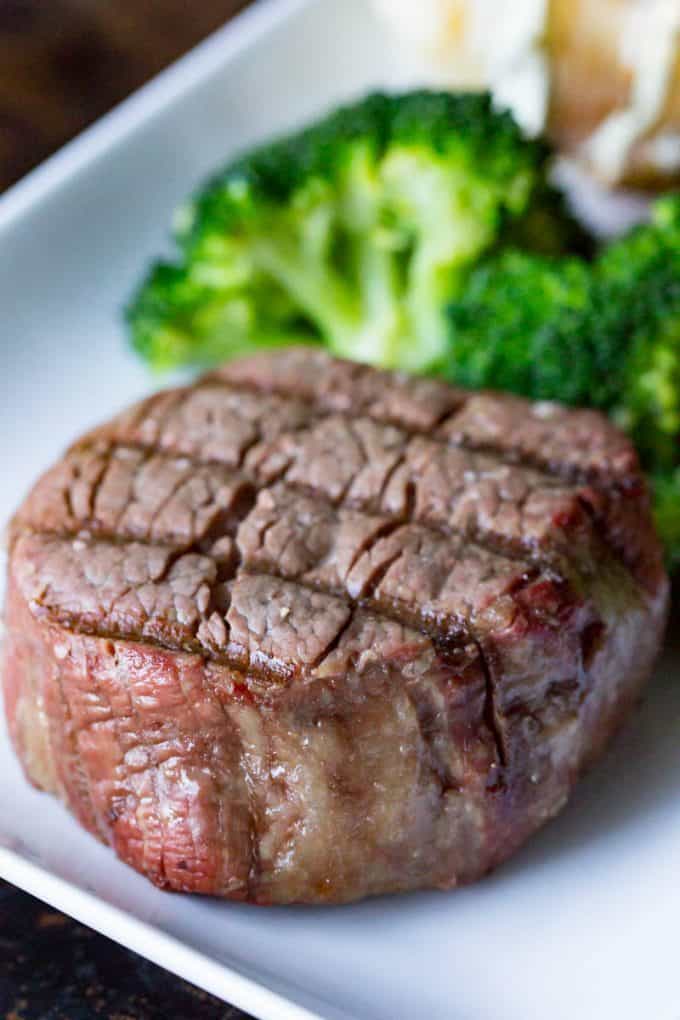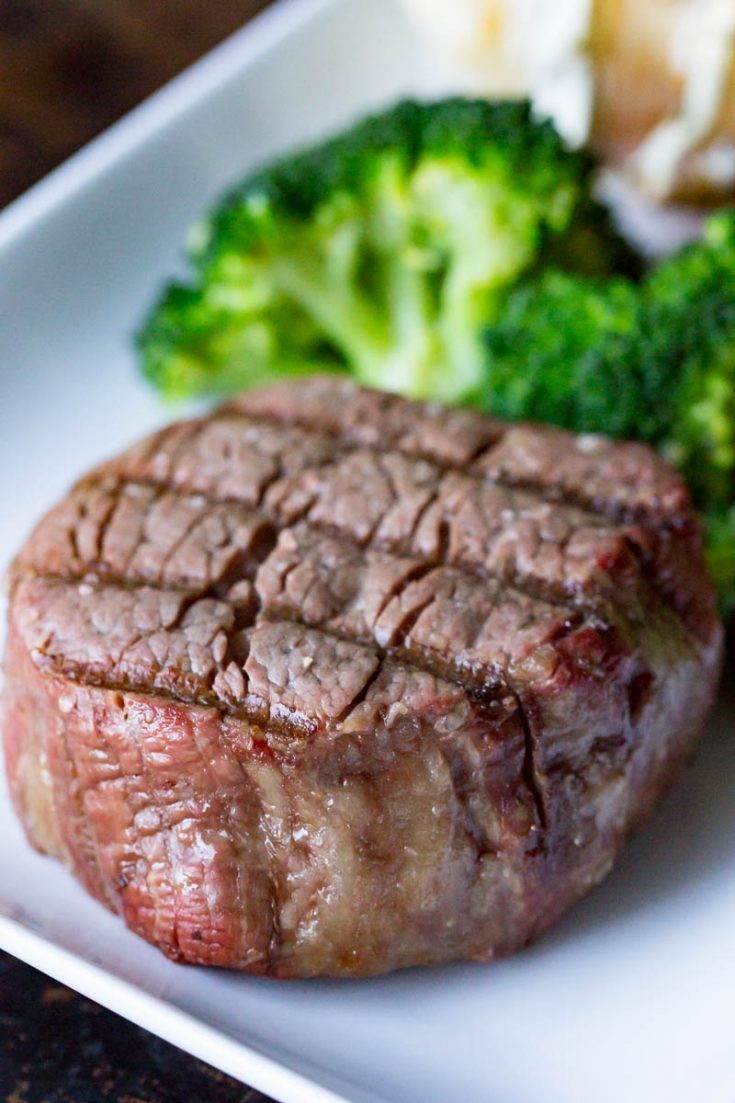 How long should I grill filet mignon?
See above! Never ever cook according to a set time when you are dealing with meat and a grill. It isn't an accurate way to grill or roast meat, so avoid at all costs!
Always grill to temperature using a thermometer for the best end results.
How hot should the grill be for filet mignon?
As hot as you can get it. 450° is ideal for this recipe. If you are going to reverse sear it, it'll take a much cooler grill initially and then a blast of heat at the end.
What is the difference between beef tenderloin and filet mignon?
The only difference between a filet and a beef tenderloin is that the tenderloin is whole. A filet mignon is a slice off of the smaller side of the beef tenderloin.
Make sure to check out my Smoked Beef Tenderloin recipe.
What is silverskin on beef tenderloin?
Silverskin is a super touch band of connective tissue that runs almost all the way across one side of the beef tenderloin. You want to remove this before slicing into steaks or roasting whole.
For a full tutorial on how to trim and dress a whole beef tenderloin, you'll love this post from Northwest Edible Life.
What should I serve with filet mignon?
Filet mignon, in my humble opinion, needs to be served with a rich hearty side like some creamy scalloped potatoes, smoked smashed potatoes, pan-fried potato wedges, and perfect grilled asparagus.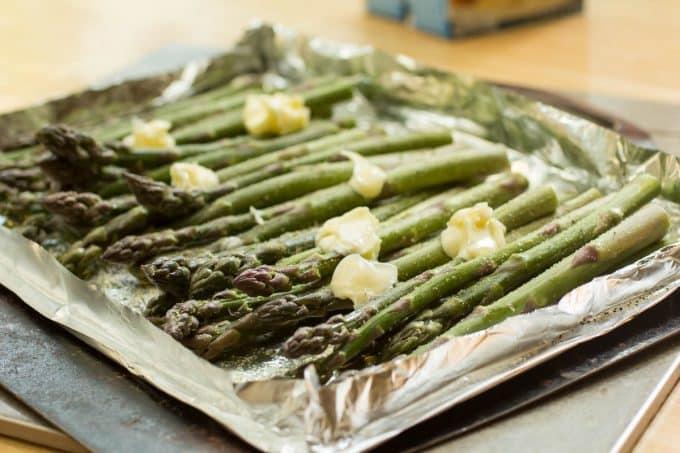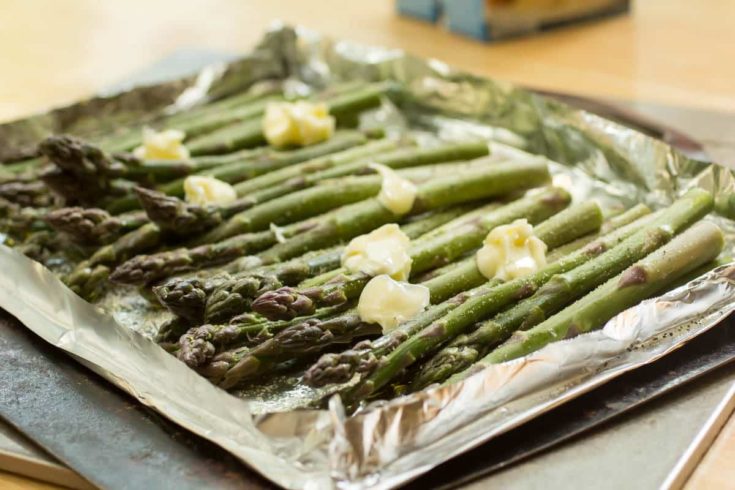 Is prime rib or filet mignon better?
These are both amazing cuts of meat, so you won't go wrong no matter which you choose, but the end results are much different.
Prime Rib is going to be much fattier and take much longer to cook. It is cooked as a whole roast and served with au jus for dipping.
The filet mignon is cooked much faster, can be made for fewer people, and has less fat, overall.
If you are looking for a great prime rib recipe, make sure and check out my Traeger Smoke Prime Rib. It was a hit this past holiday season!
Is it okay to freeze filet mignon?
You can, but I wouldn't recommend it. This cut of meat is so tender and expensive, you really want to just cook it while it is fresh.
If you do need to freeze it, I recommend wrapping tightly in plastic wrap, and then vacuum sealing the steaks to make sure they don't get freezer-burned.
What can I make with leftover steak?
Answer: ALL THE THINGS. All of them. You can make a fast dinner out of leftover steak that tastes like it came from a fancy restaurant. Buy a few extras and cook them up for a quick and easy meal that the whole family will love.
Whether you are making the most romantic of Valentine's Dinner, cooking up something special for an anniversary, birthday, or just to say, "I love you", this Traeger Grilled Filet Mignon will not disappoint.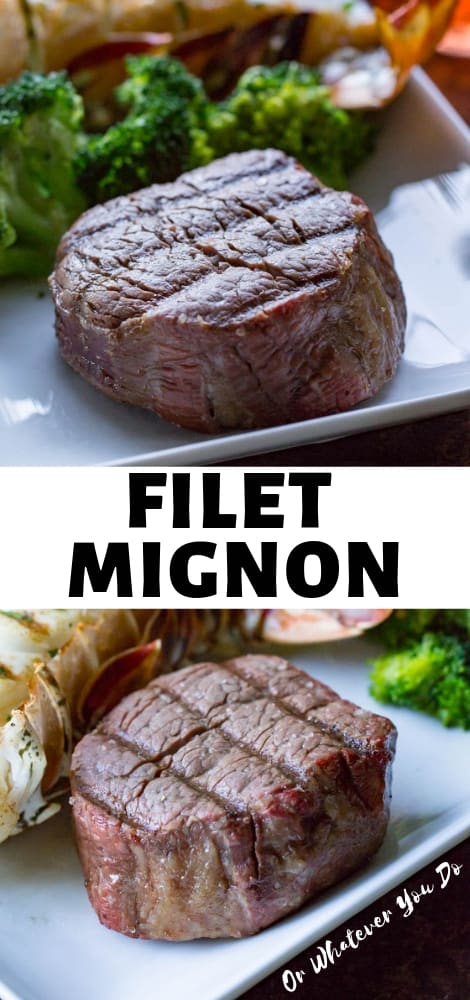 Yield: 3 servings
Traeger Grilled Filet Mignon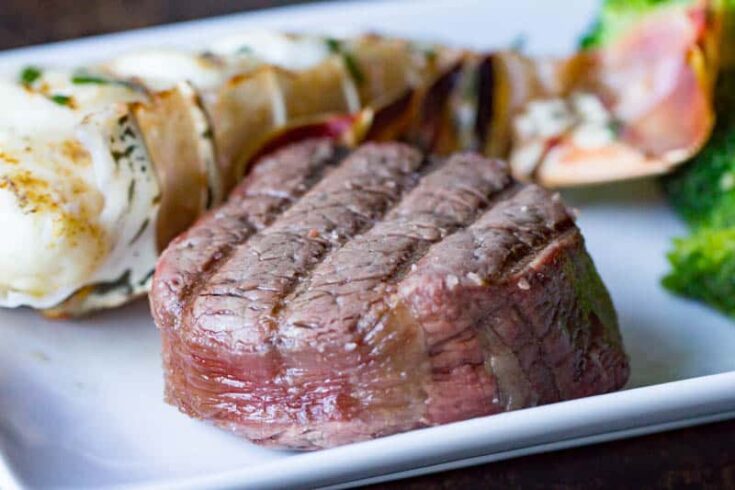 These delicious filet mignons are quickly grilled on the Traeger wood-pellet grill, and then served hot with your favorite sides!
Ingredients
3 filet mignons
salt
pepper
Instructions
Preheat the grill to 450°.
Season the steaks well with salt and pepper. Go heavy here! Meat needs decent amounts of salt and pepper to help enhance the flavor.
Place on the grill and grill for approximately 5 minutes per side, or until the internal temperature reaches your desired doneness level (see notes).
Notes
Pull off the grill at 4-5 degrees before your desired doneness level. Let rest, and the temp will continue to rise several degrees.
Rare | 125°
Medium Rare | 135°
Medium | 145°
Medium Well | 150° | NOT SUGGESTED
Well | 160° | NOT SUGGESTED
Recommended Products
As an Amazon Associate and member of other affiliate programs, I earn from qualifying purchases.
Nutrition Information:
Yield:
3
Serving Size:
1
Amount Per Serving:
Calories:

229
Total Fat:

15g
Saturated Fat:

6g
Trans Fat:

0g
Unsaturated Fat:

7g
Cholesterol:

82mg
Sodium:

240mg
Carbohydrates:

0g
Fiber:

0g
Sugar:

0g
Protein:

23g
Nutrition data provided here is only an estimate. If you are tracking these things for medical purposes please consult an outside, trusted source. Thanks!