This Smoked Tri-Tip Recipe is coated with a bold Roasted Garlic Rub before being reverse-seared on our pellet grill. This is one of the easiest beef roasts to make, and one of the most impressive too!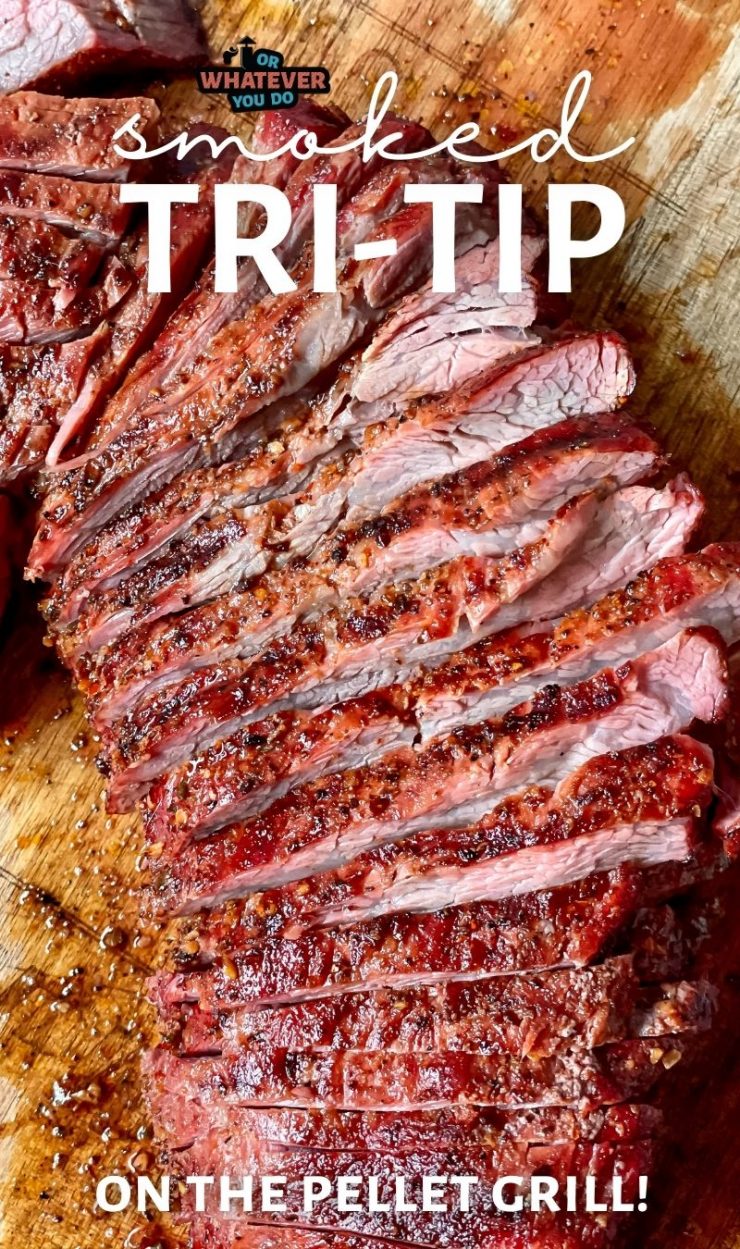 Traeger Smoked Tri-Tip Recipe
The tri-tip is one of those roasts that a lot of people, surprisingly, have never made. It isn't a cut that's featured at many restaurants, at least that I've been to, and I didn't have my first taste until I was well into my 30's and had been diving head-first into the barbecue and smoking world for several years.
We started to hear more and more about how amazing tri-tip is, and since we are frequently found perusing the meat department in Costco, where they tend to carry these roasts, we decided to try it out.
Our first Traeger Tri-Tip recipe is cooked a bit differently than this one, and tasted AMAZING (even if we DID cut it wrong in the pictures the first time around, as so many of you so kindly pointed out), but this time we decided to do a reverse sear with a new rub we wanted to try out a much lower and slower method.
I think we found a winner, folks.
More Easy Traeger Recipes here!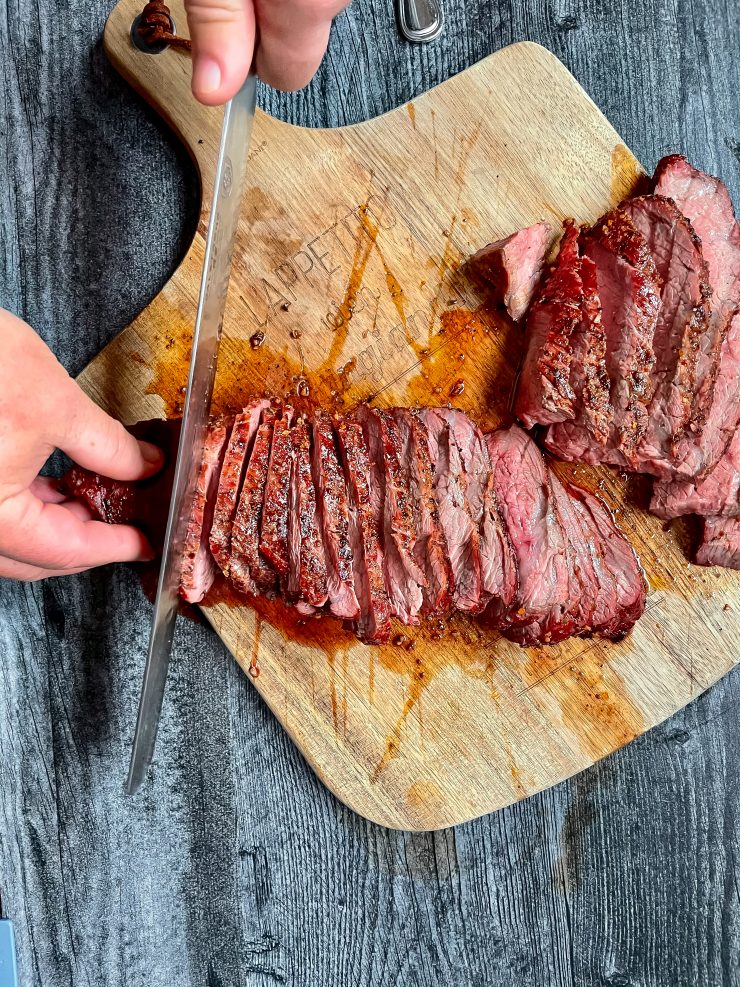 How to reverse-sear tri-tip on a Traeger Pellet Grill
There are many ways to do this, and do it well, this is just the one that we like the best.
Let the meat come to room temperature while you preheat your grill following factory instructions to 175°.
Coat liberally with rub.
Place on the grill and let it smoke for 90 minutes.
Pull the roast from the grill and tent with foil. Crank the grill up as high as it will go.
Put the roast back on the grill once it is pre-heated and let it cook until it reaches your desired level of doneness. For us, that's 120°.
Let rest for 10 minutes before slicing. It'll continue to cook a few more degrees during this time.
More Traeger Beef Recipes here!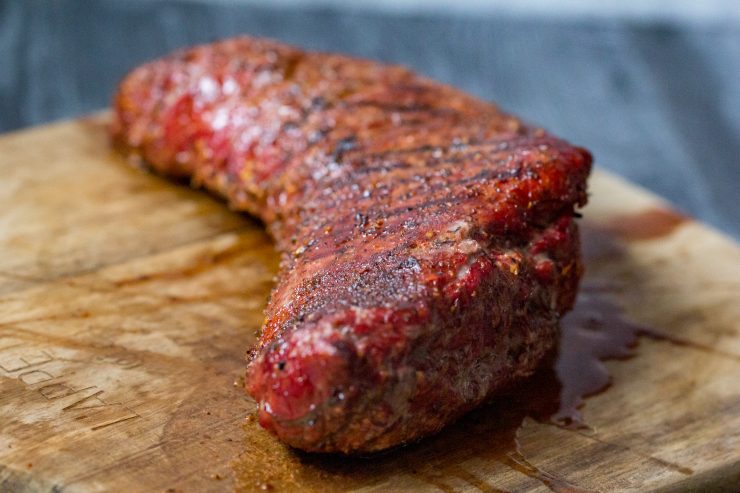 What's the best rub to use on Tri-Tip?
Secret time, folks. OWYD is making our VERY OWN RUB. One of several varieties, in fact. While I was looking for a company to assist in the production and bottling process, I happened upon The Spice Guy.
You. Guys.
He sent me a few rubs to try along with our test batch of the soon-to-be-released OWYD Everything Rub, and this Roasted Garlic Blend seemed like a perfect match for the delicious tri-tip we picked up the other day.
It was. You need it. Order it immediately and thank me later. I need an industrial-sized vat of this stuff, and it is a really good thing there's no socializing right now because yikes. Garlic hits me hard, and I also do not care.
Buy your Roasted Garlic Blend here!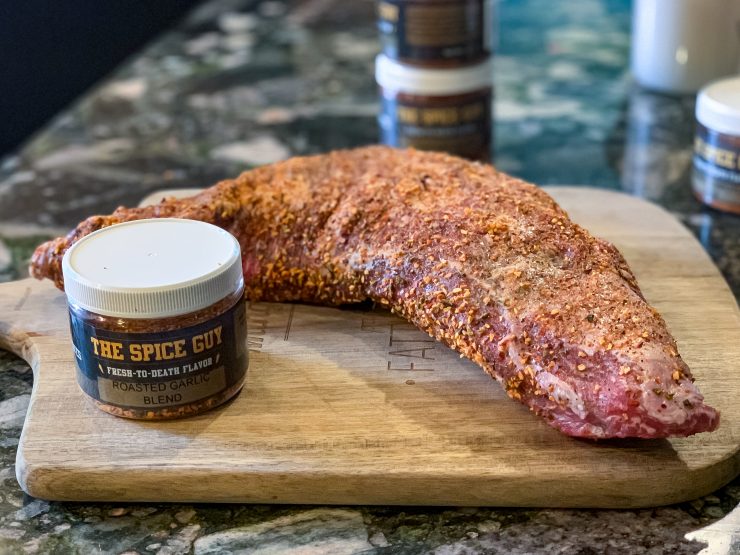 How can you tell when a tri-tip roast is done?
When you are cooking a roast and do NOT want to make it fall-apart tender, you MUST have a thermometer to tell if it is done to the correct temperature or not.
We use a Thermapen Pk4 and a Smoke Wireless almost every time we grill, and this time was no exception. You can see all the cool ThermoWorks stuff I love here on the OWYD ThermoWorks page!
I like my steak medium-rare and more on the rare side of medium-rare than medium. We tend to pull our roasts and steaks off at 120° so that it doesn't get up above 125° after the rest.
Use the chart below to decide when to pull YOUR roast off.
| | | |
| --- | --- | --- |
| STEAK TEMPERATURES | PULL | FINAL |
| RARE | 115° | 120° |
| MID-RARE | 125° | 130° |
| MEDIUM | 130° | 135° |
| MEDIUM-WELL | 135° | 140° |
| WELL | 140° | 145° |
Follow me on Instagram!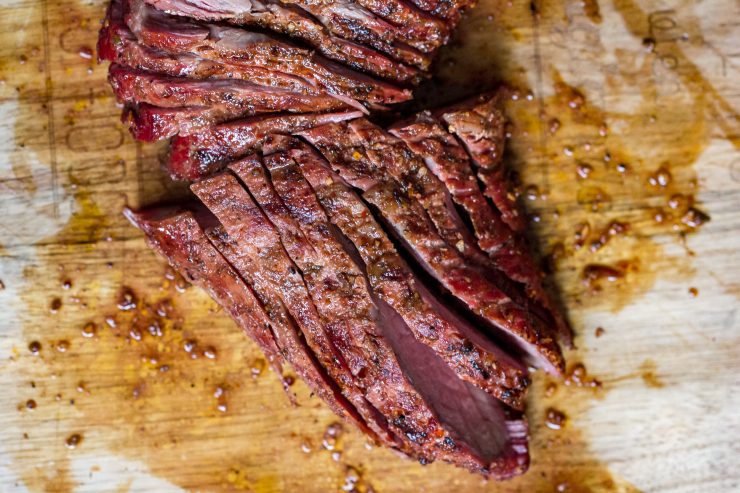 What should you serve with smoked tri-tip?
What you should serve along with this tender tri-tip depends on how you'll be eating it. We love to slice it thin and pile it up, sandwich-style. Melt some cheese on there, maybe some caramelized onions, and you are SET.
You can also serve it sliced on its own with barbecue sauce on the side.
A big vat of homemade creamy coleslaw is never unwelcome either. How about some barbecued baked beans too.
If you want some cocktails, whip up a pitcher of my Tropical Rum Punch and everyone will be your new BFF.
Featured Reader Reviews!
"Turned out perfect. Just enough smoke and seared to a medium rare. Only a couple of small pieces left!"

– Donna Price in our Easy Traeger Recipes group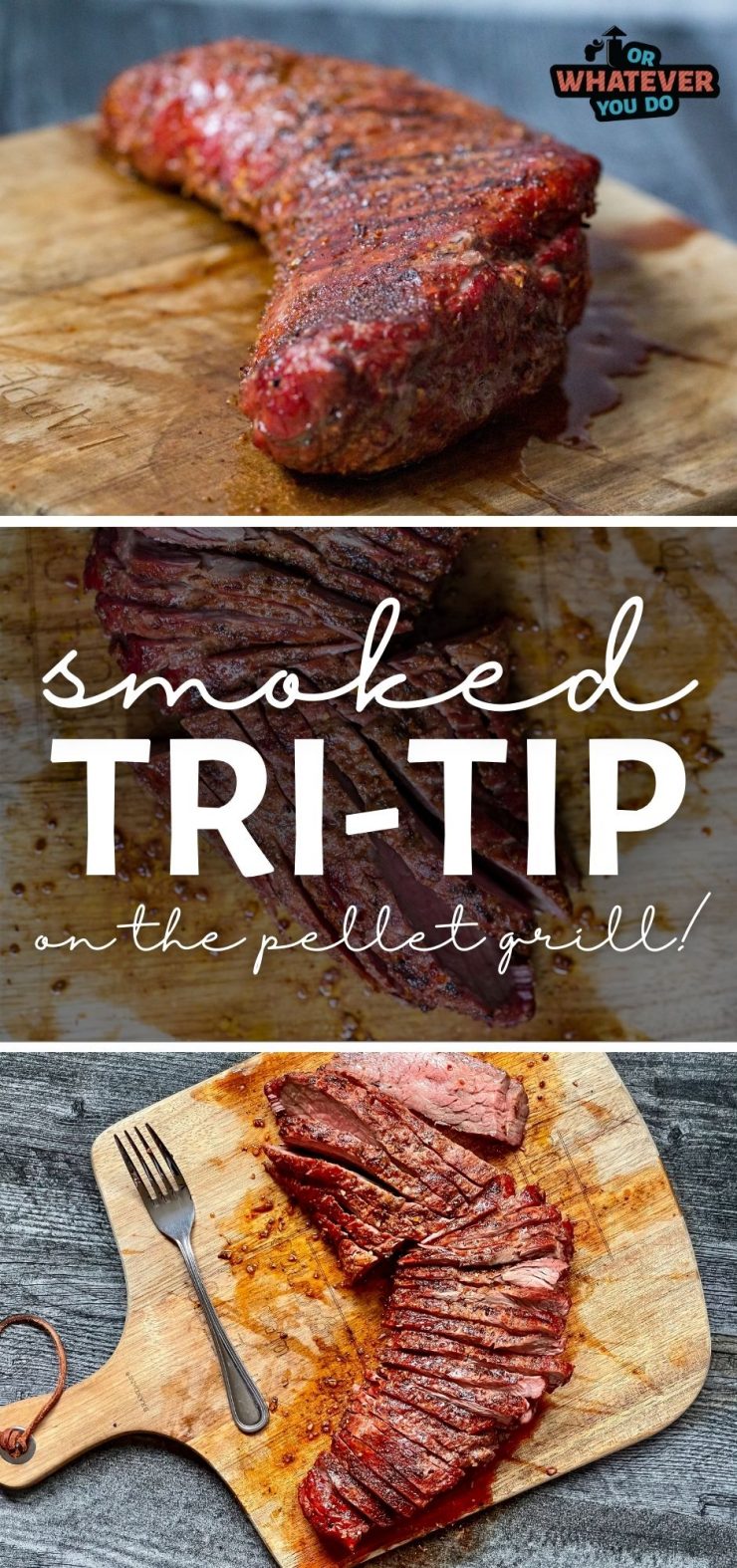 Yield: 8 servings
Smoked Tri-Tip Recipe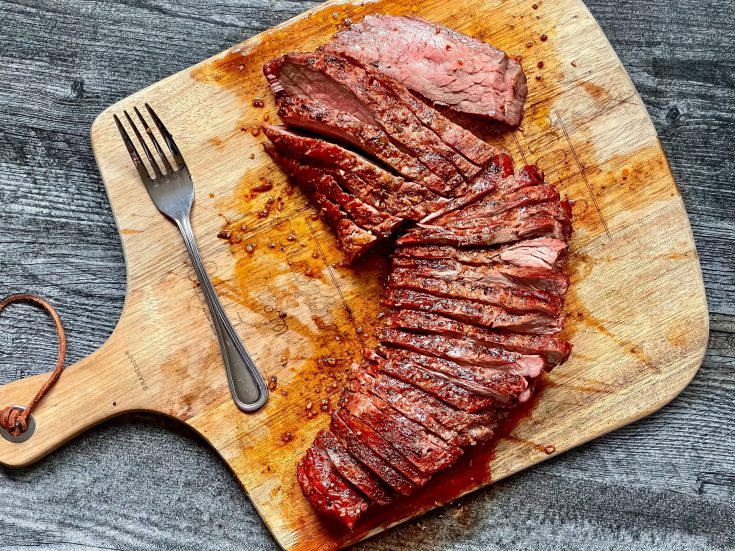 This delicious smoked tri-tip recipe is reverse-seared on our pellet grill after being coated with The Spice Guy's Roasted Garlic Blend. Tender, boldly beefy, and simple to cook perfectly.
Total Time
2 hours
15 minutes
Ingredients
1 tri-tip beef roast
Roasted Garlic Blend (or a combination of garlic powder, onion powder, paprika, salt, and pepper)
Instructions
Preheat your pellet grill to 175°.
While the grill is heating, take your roast out of the fridge and coat liberally with the rub.
Place the meat on the grill and let cook for 90 minutes at 175°.
Remove to a plate and tent with foil. Turn the heat on the pellet grill up to high, and let it preheat again.
Once it is heated at maximum temps (usually around 400-450°), place the roast back on the grill and continue to cook until the internal temperature reaches the "pull at" temp that you like.
Let rest for 10 minutes before slicing.
Notes
Make sure to slice it right! Tri-tip needs to be cut across the grain
Nutrition Information:
Yield:
6
Serving Size:
1
Amount Per Serving:
Calories:

244
Total Fat:

13g
Saturated Fat:

1g
Trans Fat:

0g
Unsaturated Fat:

1g
Cholesterol:

96mg
Sodium:

57mg
Carbohydrates:

0g
Fiber:

0g
Sugar:

0g
Protein:

29g
Nutrition data provided here is only an estimate.
See my Web Story featuring this post here!